Merry New Year to all HSL members and their families!
As you can see, your From the Bullpen staff has been working tirelessly over the holidays to update the official HSL organ for the new year. The home page of our HSL website now sports the visage of a young Walter Johnson, just embarking on his Hall of Fame career with the Washington Senators.
DRAFT DAY - SATURDAY, MARCH 27, 2004
At our recent HSL holiday luncheon on December 22, it was discussed and decided that we should have our Draft Day on Saturday, March 27, 2004, beginning at 1:00 p.m. Following this meeting, I circulated this date via e-mail and asked for everyone to advise if there were any conflicts, and thus far, no one has indicated a problem with this date. However, I must point out that at the time this date was selected, we were all assuming that the 2004 baseball season would begin the following Monday, March 29. Unfortunately, in checking the official MLB website to look for an Opening Day venue, I discovered that the 2004 Major League season will not begin until Monday, April 5, a week later than anticipated. As such, since we ordinarily try to schedule our Draft for the Saturday just prior to the start of the season, I wonder if people would prefer to have the Draft on Saturday, April 3?
I need people to weigh in on this as soon as possible, so we can change the 2004 Draft Day to the Saturday before the season opener if this is everyone's preference, and if everyone is available. Please let me know by January 10 if you would prefer April 3, and if you would be available for our Draft that afternoon. If everyone is in agreement and available, we will plan to move the Draft to this new date.
This year's Draft represents a league milestone, the 20th year of the Hot Stove League. Although it would be fitting to have our 20th Draft at Cooperstown, or in the shadow of Fenway Park or Yankee Stadium or some other revered venue, I suspect we will hold it again in Omaha. However, the Draft will no longer take place within the hallowed confines of the old GPH War Room at Regency One Building, since our firm has relocated to a new building. As you read this issue of From the Bullpen, our law firm is now situated at Regency Center, located at 10250 Regency Circle, Suite 300, just two doors down from our old building. We are now located on the other side of the Marriott Hotel, just adjacent to I-680. We are now in the old Kirkpatrick Pettis building, in brand new digs designed to emulate the futuristic home of Spaceley Sprockets in the old Jetsons cartoon show.
Our funky new-age décor is a direct byproduct of our own beloved Tirebiter, who had a substantial role in the building out of our new space. Crack business attorney by day, old Jim Ed apparently is a closet interior decorator by night, which explains more than a few things that a few of you may have wondered about in the past. Surprisingly, to date you will find absolutely no wall fish art adorning the walls of our new office space.
This year's Draft will take place in the large conference room of our new business premises, which is no longer dubbed as The War Room, and is yet to be nicknamed. Perhaps there will be a few naming ideas from the creative members of this league, come Draft Day.
Our holiday luncheon on December 22 at the Trovato's Wine Room was well-attended and much-enjoyed by all in attendance. Tricko passed out his 2003 championship sweatshirts to all who came, and everyone agreed that Magpie did a bang-up job with this year's new designer clothing article, with an assist from B.T.'s crackerjack design team at Art FX. Thanks to Curbie for sparing no expense on this year's generous outlay.
This year's holiday luncheon also involved a surprise award to yours truly, a beautiful Mont Blanc writing instrument, with my moniker Skipper engraved thereon. As touched as I am by this award, I can't help wondering if it isn't more of a bribe directed at influencing me to continue last year's practice of having guest authors for our weekly editions of FTB during the baseball season, instead of the same old drivel from the Skipper. Either way, I'll take it as a compliment, and my sincere thanks to you all for this thoughtful gift.
For those of you who were not present for our luncheon, my gift pen was contained in a hollowed-out book ostensibly entitled "Secrets of Great Bullpen Writing," by David ("Skipper") Ernst. The "Table of Contents" for this book was quite clever, and worth sharing with you here: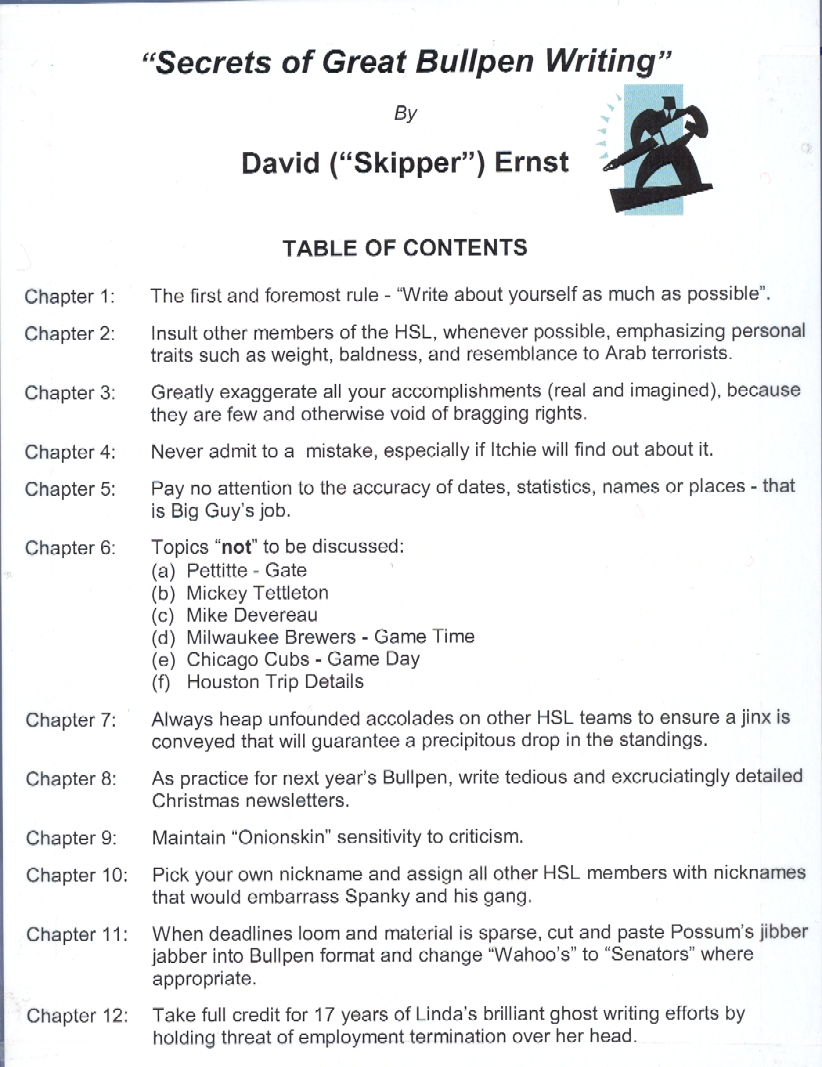 Very funny. While Magpie attempted to share credit/blame for the chapter titles, it is quite clear to me that only the facile and decidedly dark mind of Tricko could come up with these catchy chapter titles. For this, Tricko will pay. Oh, how he will pay.
Anyway, I agree with the sentiment of all that the practice in 2003 of sharing the writing duties for our league newsletter was a good one, and should be continued over to 2004. It certainly lightens up my workload, but more importantly, makes each of you slag balls actually use your brains two times a year, and provides all of us with each of your own unique insights on baseball, the Hot Stove League, and the world at large. A new tradition, well worth continuing. Thanks to each of you for all of the effort you put forth last year in penning your respective editions. Especially you, SloPay.
To quell the incessant carping of Possum, I share with you now the results of our four-round mock draft at our annual holiday luncheon:
| | | | | |
| --- | --- | --- | --- | --- |
| Team | Round 1 | Round 2 | Round 3 | Round 4 |
| 1. Reds | ARod | Nomar | Wood | Thome |
| 2. Jax | Pujols | Brown | Hudson | Posada |
| 3. Senators | Prior | Halladay | Gagne | Magglio |
| 4. Cubs** | Helton | Schmidt | Smoltz | Piazza |
| 5. Chiefs | Vlad | Zito | Millwood | Boone |
| 6. Red Sox | Schilling | Sheffield | Berkman | IRod |
| 7. Bombers | Bonds | Sosa | Vasquez | Colon |
| 8. Red Birds | Pedro | Tejada | Oswalt | Ichiro |
| 9. Pirates | RJ | Soriano | Jeter | Wilson |
| 10. Tribe | Delgado | Kent | Beckett | Cabrera |
| 11. Blues | Manny | Mulder | Beltran | Sweeney |
| 12. Tigers | Giambi | Mussina | B.Giles | Wags |
Yes, there may have been a few trial balloons.
Bonds over Pujols for 2003 NL MVP? Preposterous. I was surprised and dismayed to see that Barry Bonds won his third consecutive MVP award in the National League this year, and his sixth overall, in a virtual landslide despite a much worthier effort by Albert Pujols. As I see it, it was nothing more than sheer laziness on the part of the writers, who failed to truly compare the statistics of these two tremendous hitters. As you will see below, while Bonds bested Pujols in slugging average and on-base-percentage (by quite a margin, admittedly), as well as in home runs, but just by two, Pujols had superior performances in batting average, hits, runs scored, doubles, and runs batted in. And, Barry only played in 130 games and batted in only 90 runs. While the Giants won their division title and the Cardinals did not, I have a hard time attributing the Giants' success directly to Bonds, while the Cardinals clearly owe a great majority of their wins to Pujols. Does anyone else agree with this analysis? I would be interested in hearing.
Comparison: Bonds vs. Pujols
| | | |
| --- | --- | --- |
| | Bonds | Pujols |
| At Bats | 390 | 591 |
| Average | .341 | .359 |
| Runs | 111 | 137 |
| Hits | 133 | 212 |
| Doubles | 22 | 51 |
| Home Runs | 45 | 43 |
| Triples | 1 | 1 |
| Stolen Bases | 7 | 5 |
| Walks | 148 | 79 |
| Slugging % | .749 | .667 |
| OBP | .529 | .439 |
Although nothing is yet etched in stone (surprise, surprise), Possum continues to promise that one day, possibly even in January or February of this year, he will be hosting a championship party for Tricko. He may have to send his spouse on a three-week solo vacation to Hawaii or the Caribbean to accomplish it, but it is wildly rumored that this celebration might even take place within the confines of the Bridges' opulent Fairacres estate. That is correct, history may soon be made by at least one member of the Hot Stove League not named Bridges setting foot in the Bridges mansion, if even for a minute.
Of course, the proof of this will be in the pudding, and so you may want to hold off on making book on this until you are safely inside the Bridges home. More soon on a date and time, Possum promises.
That will do it for the first edition of our 2004 From the Bullpen. Here's hoping that each and every one of you have a terrific new year, and that 2004 will be the year that a new name is etched on The Cup by one of our long-suffering non-titlists.
Skipper