CUBS* WIN**!!
<![if !vml]>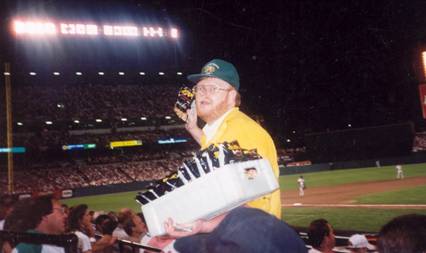 <![endif]>
In a fairytale season that even the Brothers Grimm would have thought too hokey to include in their book, the long-suffering, embattled and embittered Hot Stove League heavyweight Charles "Shamu" a/k/a "Sir Charles" a/k/a "C. Dwight" a/k/a "Snickler" a/k/a "Fastest Ever from First to Third -- On a Diagonal" Sinclair finally garnered a Hot Stove League championship over the course of an entire baseball season, besting the second place Highlanders by a whopping 875.50 points to waltz his way to the 2007 crown. Finally a legitimate member of the Winners' Circle in his 23rd year of Hot Stove League competition, the much-loved Shamu can now leave behind as nothing but a distant memory the taint and stench of the 1994 campaign in which his Cubs* used a season-ending strike to staunch a massively-hemorrhaging Baby Bears team that was dropping like Curbie in Los Angeles from the top of the leaderboard. Now that the 2007 title is his, Shamu will finally be allowed to have the accursed asterisk removed from all future (but not past) references to the Hot Stove League franchise known as the Cubs*.
| | | |
| --- | --- | --- |
| 1. | Cubs* | 12823.00 |
| 2. | Highlanders | 11947.50 |
| 3. | Bears | 11753.50 |
| 4. | Chiefs | 11649.25 |
| 5. | Wahoos | 11523.00 |
| 6. | Monarchs | 11466.00 |
| 7. | Redbirds | 11154.50 |
| 8. | Skipjacks | 10923.50 |
| 9. | Tigers | 10735.75 |
| 10. | Tribe | 10559.25 |
| 11. | Blues | 10447.00 |
| 12. | Bombers | 10439.75 |
| 13. | Senators | 8498.50 |
A future issue of From the Bullpen will explore how Shamu's Cubs* were finally able to earn a bona fide title after so many years of futility, including the suggestion made by B.T. that because Shamu's personal life was in shambles in 2007 (that little career hiccup), it was simply Shamu's year to win the title. Pictured above hard at work at his new job hawking nuts at an Iowa Cubs game, Shamu insists that this kind of talk is nonsense and poppycock, but it is a theory that should not be dismissed out of hand. Whatever the reason or reasons for the Cubs*' dramatic reversal of fortune, From the Bullpen salutes Shamu as the official 2007 Hot Stove League winner!
There's plenty of excitement in the air with the culmination of the pennant and wild card races last evening, but for the Rockies and the Padres who will be playing off tonight at Coors Field for the final spot. Oh, to be in the Mile High City for this exciting event!
It was great to see the much-maligned Phillies capture the National League East Division title, especially since they took it from the reeling New York Mets, who blew a 7-game lead with only three weeks left in the season. I should not delight in seeing Tom Glavine take it on the chin for the final, desultory loss, but I do. His arrogance at the time of the 1994 players' strike still sticks in my craw some 13 years later. And not just because he and his wealthy chums helped bestow the 1994 title on Shamu.
I was glad to see the Cubs make it into the playoffs in their first year under Sweet Lou, and it will be exciting to see if the Cubs can make it to the World Series to try to stop their reign of futility before it reaches the century mark in 2008. At the same time, I was disappointed that the Milwaukee Brewers did not make it into the playoffs for the first time since Harvey's Wallbangers back in 1982. Since they are no longer owned by the Selig family, there is no reason to do anything but cheer them on in their attempted return from the baseball bowels.
I see that my editor is telling me that it is time to go to press with this issue, so I will close this one out now with a promise of more praiseful commentary on the Cubs*' magical season very soon.
Skipper
P.S. On second thought, it may be more appropriate to refer to the 1994-2007 Cubs as the Single Asterisk Cubs (Cubs*), while the post-2007 Cubs shall be referred to as the Double Asterisk Cubs (Cubs**), so that we can more easily keep our eras straight. What do you think?