In spite of my dung-heap baseball team that I have mismanaged and nonmanaged into the league basement, the rumors about my demise are wildly exaggerated. I am still here, at command central, trying to survive the Kingswood Athletic Association baseball season, and almost ready to reengage in Hot Stove League baseball. We will see if that makes any difference.
My involuntary sabbatical from HSL participation has not been without meaningful baseball activities. However, instead of enjoying the nightly box scores and/or the ESPN Baseball Tonight highlights of my star Senators players, I find myself using every available appendage to plug holes in the porous KWAA dike while using my speakerphone to man the baseball crisis hotline on a nightly basis. Man, if it isn't one thing, it's another. Mostly, it's answering inane questions by e-mail or telephone that some people are simply too lazy to figure out on their own, or responding to some whiny complaint from a baseball mom whose precious little slugger tore out the knee in his baseball pants while sliding into third base -- so why the heck can't we provide him with a brand new pair of baseball pants, and purchase softer, more protective bases for our Wittle Swugger?
And if you think I'm exaggerating, allow me to show you where you can sign up to join our volunteer baseball board. You pretty much have to live it to believe it.
On the other hand, we only have two weeks left in the season, I haven't yet had any death threats or any Molotov cocktails thrown at my house; I've learned how to umpire and how to drag and chalk the fields; and I've been witness to a lot of pretty darned good baseball. So not all good, but mostly good.
<![if !vml]>

<![endif]>
Although my baseball administration duties have kept me chained up close to home these past few months, I had to venture down to Wichita for the deposition of an accident reconstruction expert (read: prostitute) two weeks before last. To my great good fortune, the AA farm club of the Omaha Royals -- the Wichita Wranglers -- was in town for a game, and the white-haired stadium in which they play, Lawrence-Dumont Stadium, was just a quick walk over the Arkansas River from my downtown hotel. To my delight, I learned that it was "5-dollar ticket" night at the ballpark, in which all seats to the game were priced at only half a sawbuck. My crispy green Abe Lincoln got me a seat on the aisle a mere four rows behind the home dugout on the third base side, no better place in the galaxy to watch a game.
<![if !vml]>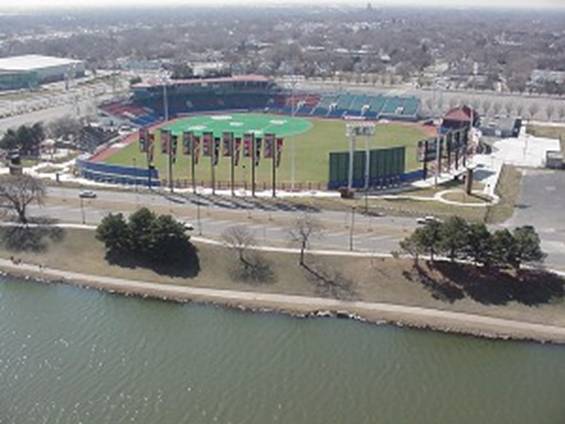 <![endif]>

I settled into my seat behind an amiable albeit moderately tattooed cluster of dedicated Wrangler fans. Being the open-minded chap that I am (hey! suppress that scoff, mister!), I disallowed the charming body ink to color my perception of these fine local denizens, remembering that one should never judge a book by its cover. At the same time, I wondered to myself how many shots of tequila must have been involved in making some very questionable ornamentation decisions.
Lawrence-Dumont Stadium is a darned good place to watch a baseball game. Although the infield playing surface is curiously composed of Astroturf -- which added nothing to the ambience -- the ballpark offers a charming view of the Wichita skyline, which is nothing to write home about, but pleasant enough. The scoreboard is old style, sans jumbotron and blaring rap music. The cleverly-named seating sections in the stadium offer "Marshall," "Sheriff," "Deputy," and "Outlaw" game seats. Or, if one is particularly adventuresome, he or she can watch the game from the "Sunset Saloon," featuring seating for 180 fans in front of the visitor's bullpen down the right field line. If only the Omaha Royals had this kind of crackerjack marketing plan, they wouldn't have to think about replacing Rosenblatt.
My program informed me that Lawrence-Dumont Stadium was built in 1934 to play host to the National Baseball Congress World Series, which continues to be an annual event at this ballpark. The park was originally named for Robert Lawrence, an influential former Wichita mayor and civic leader. Hap Dumont, the founder of the NBC tournament, was added to the marquee in 1972. The ballpark seats 6,111 fans, but if there were 300 people in attendance on the evening of May 30, I would be surprised. Lawrence-Dumont Stadium is currently the 7th oldest ballpark in use in all of professional baseball. Which makes one wonder, what are the six ballparks that are older?
As the game start time neared, the National Anthem was sung by the gaily-festooned Air Capital Quartet, a cheerful band of aging baby boomers who knocked the socks off of the small but vocal throng in attendance with their harmonic rendition of baseball's greatest song. And with that, the game was under way.
Unfortunately for the hometown faithful, the woeful Wranglers were pummeled by the visiting Frisco Roughriders, dropping their record to 22 and 30 and sinking them lower into the Texas league standings. Inasmuch as this will be the Wranglers' last season in Wichita -- they are moving next year to the Bentonville, Arkansas area, where they will no doubt be renamed the Wal-Mart Mega-Merchandisers, or something similar -- this is not the way that the Wrangler faithful had hopes to finish their stay in Wichita.
Knowing of his love of wacky sports mascots, I heartily encourage our beloved Brother McBlunder to attend a Wranglers game before the end of this season, if for no other reason than to be able to set his eyes on Wilbur the Wrangler, a Mr. Ed look-alike who added great joy and frivolity to all in attendance on this magical evening. As I learned throughout the course of the evening, Wilbur is a bodaciously mischievous but lovable horse-like mascot whose madcap antics included "sneaking" out onto the playing surface and whipping the crowd into a lather by holding up a homemade sign which encouraged the rabid throng of attendees to chant, "Swing, batter, swing!" What will these crazy mascots come up with next?
And if that wasn't enough, in the top of the 8th, who should show up at the ballpark but the "Garbage Gremlin," encouraging all good little ballpark boys and girls to "clean up their litter" and to make the place tidy for the following evening's game.
And if I forgot to mention it, one of the whimsical features of baseball at Lawrence-Dumont Stadium is the sound of a horse whinny (no doubt that of Wilbur) whenever a foul ball hits the press box or comes in close proximity to it. Nice touch.
The World Baseball Congress has its own remarkable history, which is detailed in numerous places in the concourse. For example, Joe Garagiola played at this stadium during WW II, when he was stationed at an army base in Wichita as an 18-year-old. More recently, Barry Bonds, Rafael Palmeiro and Pete Incaviglia all played at Lawrence-Dumont Stadium as members of the same baseball team, participating in the 1982 (if memory serves) WCBC National tournament. Oddly enough, this talent-laden team did not even make it to the championship game that year.
And so on and so forth. I also learned that when the WBC hosts its national tournament in August, covering a 10-day time frame, the participant teams play around the clock during the concluding weekend of the tournament. Imagine playing your way through the losers bracket with a 4 a.m. start time! One of these days, I suggest that we load up the mobile sewage treatment plant and head the gang south to Wichita to attend this history-rich event.
Okay, I've tested your eyesight and interest levels long enough with this issue of From the Bullpen. Time to close this one out and get back to riding herd on my field crew to get the nine KWAA fields ready for tonight's games, and then to start my daily "Dialing for Umpires" routine. It's all in a day's work, at least for another two weeks.
Skipper