In what has been a foregone conclusion for at least the past month or so, Jonnie "a/k/a Stretch a/k/a McJester a/k/a McBlunder" Blongewicz and his surprisingly dominant and resilient Blues captured the 24th annual Hot Stove League title, easily besting the second place Butterflies by the tally of 12771.7 to 12241.2. This 530.5 point spread between first and second is the third largest margin of victory for a Hot Stove League champion, surpassed only by 1998 when the Blues bested the Chiefs by 701 points (9787 to 9086) and 2007 when the Cubs massacred the Highlanders by 875.5 points (12823 to 11947.5).
Congratulations are due to Stretch for picking a splendid team of competitors, both on Draft Day and during the early days of the free agent market, and for recognizing his team's strength and then essentially standing pat for the season, not falling prey to the overmanagement bug that has bitten a few of us over the years.
After I have a bit more time to reflect on the season past and to absorb myself in the names and numbers, I will pass along some thoughts about the making and maintaining of the 2008 Blues team.
Congratulations also to Screech, who picked a good team and rode them near the front of the pack for the first 24 weeks of the campaign, before digging the spurs into the hindsection as we reached the stretch turn and headed for the finish line. Shamu's fins are still blistered from the heat generated by the Monarchs' mad dash to the finish line during the final fortnight of the season.
To the third place Reds, kudos for staying with it all season long and finally breaking through at the end to claim the final money finish, yet another top three season for the franchise that defines "consistency in excellence."
For B.T., a hearty "attaboy" for prevailing in the pitched final-weekend battle with Possum's Wahoos to claim the 5th place position, albeit by a mere 5 points.
In a similar vein, plaudits to U-Baldo for staving off my Senators' eleventh-hour surge to lay claim to the eleventh place position. Maybe eleventh place isn't anything to write home about, but it's certainly worth writing about here. If David Marannis wasn't talking about Vince Lombardi in When Pride Still Mattered, then he must have been talking about the Hot Stove League. We all know that pride really does matter here.
As for the rest of you, my thanks to all of you for competing long and hard for the past 26 weeks, and in caring so darned much about our league and the great game of baseball. It wouldn't be half the fun if all of us only cared 90% as much.
| | | |
| --- | --- | --- |
| Rank | Team | Points |
| 1. | Kansas City Blues | 12771.70 |
| 2. | Millard Monarchs | 12241.20 |
| 3. | Highlanders | 12102.70 |
| 4. | West Des Moines Cubs | 12032.50 |
| 5. | Lincoln Chiefs | 11728.70 |
| 6. | Wahoos | 11723.60 |
| 7. | Lincoln Bears | 11550.70 |
| 8. | Omaha Skipjacks | 11524.50 |
| 9. | Omaha Bronx Bombers | 11411.00 |
| 10. | Redbirds | 10872.10 |
| 11. | Lincoln Tribe | 10592.40 |
| 12. | Omaha Senators | 10579.30 |
| 13. | Moribund Slugs | 10343.30 |
Next week: Updated record of Final Finishes and more.
Today's edition of From the Bullpen comes to you courtesy of my drive to and from Wayne, Nebraska, where I had the pleasure of attending a final pretrial hearing before the judge at the beautiful old Wayne County District Courthouse at the corner of 6th and Pearl Streets.
This was my first visit to this beautiful old edifice, but it will not be my last as I am scheduled to try a medical malpractice case here in late March of next year, just a week or so before the 2009 Draft. For any of you that care, the two-story building, which is made of Omaha pressed red brick and Lake Superior red stone, was constructed in five months in 1899 at a cost of $32,000. This magnificent old courthouse is the last example of Richardsonian Romanesque architecture remaining in northeast Nebraska. The ornate tower with corner turrets and a peaked roof rises to a height of 80 feet. The building is located near a hilltop, and approaching the town from the south it has a castle-like appearance. It was placed on the historical register in 1979.
It was a beautiful day to drive my car, which I now call "Wheels of Justice," up Highways 275 and 15 to the clean, safe, friendly, all-American town of Wayne. The fall colors have now reached their full potential, and my two-hour drive each way across the rolling hills of the northeastern portion of our state were the panacea for anything that could have been ailing me today. Wheels of Justice was in fine tune, and my four-hour mid-day sojourn beat the holy heck out of sitting in a windowless deposition room all day long. The final hour of my drive home coincided with the first NL playoff game, making an already top drawer day even better.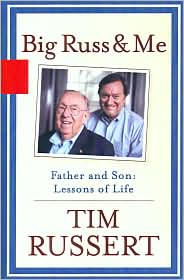 Last week at the Midway Airport, en route to Michigan, I picked up the book written a couple of years ago by the late Tim Russert about his upbringing and his relationship with his dad, entitled Big Russ & Me. I had seen this book on the bookshelves for the past couple of years, and had been meaning to buy it and read it long before Russert passed away earlier this year. With his very sad and premature death this past summer, I knew that I had to buy my copy and read it.
Russert was born and raised in South Buffalo, an Irish Catholic enclave, the son of a hard-working Irish garbageman who also had the name of Tim Russert. As young Tim grew up in a very modest, working-class household, he learned many lessons about life from his taciturn but fair paternal parent. From parochial elementary school to Canisius High School to college and law school in Cleveland to working as the campaign manager for Patrick Daniel Moynihan to attaining his position as moderator on Meet the Press (a post long occupied by the late great Lawrence Spivak), Russert did an excellent job of chronicling the impact of his father's example and advice on his own maturation from child to adolescent to young man to full manhood, as well as how he put his own father's advice to use in living the role of father to his own son.
Big Russ & Me is a very fast (two flights and an hour at Midway) and easy read, and should be required reading for all of us males who are winning the bread for our families and trying to learn or master the worthy and noble job of serving as fathers to our children. Be forewarned, however: Big Russ & Me may leave you misty-eyed as you deal with the melancholy of reconsidering your own upbringing and your relationship with your own father. If you're too much of a manly-man to cry, remember to read it in private.
Anyway, to all of you I commend Big Russ & Me highly. I don't think you could find a better way to spend three hours.
I will use the final part of this week's From the Bullpen to announce a decision that I have been mulling over, stewing about, cogitating on, and just plain thinking about for many years. That is, for which major league team should I root, since I have not had a team to call my own since the 1985 Royals.
Since the Kansas City Royals did not come into existence until 1969, I was not a die-hard Royals fan from the womb on. Because my dad did not have a particular major league team that he favored, I was on my own as a lad to choose to whom I would devote my allegiance. Like many other boys growing up in the '60s, I loved Mickey Mantle and Roger Maris, but the Yankees were slipping into a morass of mediocrity as my love of baseball began leafing out to full maturity. When the Kansas City Royals came along, and particularly when they started to win in the late '70s, I temporary threw my support down I-29 to the Kansas City club. I even initially named my Hot Stove League baseball team the Omaha Royals, before re-naming them the Senators in 1989.
After the Royals reached their highest glory in 1985 by beating the St. Louis Cardinals in the Denkinger Series, I continued to be a fan of theirs for a few more seasons, until they stopped caring about putting a winning team on the field and started sending all of their best pitchers and everyday players elsewhere, in exchange for large sums of money.
For many years I was content to be a fan without a team, which some would liken to being a man without a country, but a couple of years ago I decided that I needed to find a single major league team to adopt as my own. For a while I considered the Rockies, but decided that this would be poaching on B.T.'s territory, and so I quickly discarded that notion. I next considered adopting the Minnesota Twins, but I soon realized that I could never pretend to be a fan of a team that plays in the Baggydome.
Although I love Wrigley Field, I decided that there were already way too many obnoxious Cubs fans in this world, and so punted on that idea. I very nearly, almost decided to become a fan of the St. Louis Cardinals, a team with some of the most knowledgeable and best fans in the country, but the thought of having to agree with Tirebiter on all things Cardinal baseball was too much to stomach, and so I have ruled out being a permanent Redbird rooter.
Finally, it came to me, the perfect team to support: The Pittsburgh Pirates. Here's my rationale:
1. They have a great, long, proud history.
2. Honus Wagner, Big Poison and Little Poison, Pie Traynor, Ralph Kiner, Roberto Clemente, Big Daddy Reuschel.
3. Now that SloPay has ditched his Irate sobriquet for the more manly "Bear Cubs," I don't have to worry about stepping on any HSL toes.
4. The Pirates are so bad (last place, again) and have been so bad for so long, nobody can accuse me of being a Jump On The Bandwagon type (oh, yes, Shamu, we know that you have always loved the Rays).
5. Since my GI doctor recently moved from Chicago to Pittsburgh, I have a built-in reason once a year to visit PNC Park.
6. PNC Park is one of the best baseball ballparks ever.
7. I just recently found my black and gold Pirates baseball chapeau, which my wife had cruelly hidden away with about 20 of my other cherished baseball caps.
8. Nobody looks better in a three-cornered hat and an eye patch than me.
Anyhow, I'm not kidding, I am now officially a Pittsburgh Pirates fanatic. I don't plan to change my HSL team name from the Senators to the Buccos anytime soon, but if my slug players continue to malperform and keep me in or near the league bowels for the next couple of years, I may have to make a change to shake things up. Doubtful, but possible.
* * * * * *
Okay, that's a wrap for this issue. Congrats again to all of you for your final placement in the 2008 Hot Stove League season.
Skipper
<![if !supportFootnotes]>
<![endif]>