Brethren,
Just a short ditty from your staff at From the Bullpen to tide you over until Itchieís much-anticipated chronicling of The Trip to End All Trips next week.
Week 10

thru 6/14/09

Upper Division

1.

Wahoos

4959.70

2.

Chiefs

4738.70

3.

Skipjacks

4697.70

4.

Monarchs

4646.00

5.

Bombers

4612.70

6.

Tribe

4504.10

Lower Division

7.

Cubs

4494.10

8.

Redbirds

4371.30

9.

Blues

4299.90

10.

Highlanders

4127.00

11.

Bears

4125.90

12.

Senators

3887.10

13.

Tigers

3877.20
Week 10

Thru 6/14/09

1.

Wahoos

552.7

2.

Monarchs

548.4

3.

Bears

509.3

4.

Highlanders

468.3

5.

Chiefs

462.3

6.

Cubs

426.1

7.

Tribe

422.5

8.

Blues

416.8

9.

Redbirds

416.7

10.

Senators

413.6

11.

Bombers

401.5

12.

Skipjacks

359.9

13.

Tigers

241.2
JOE JACKSON ERNST: PITCHER, BALLPLAYER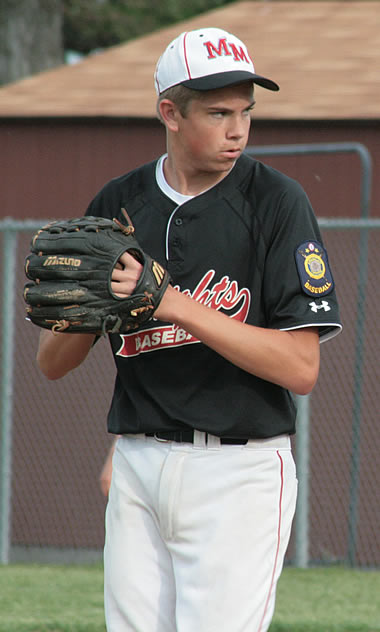 Since I know that none of you have had your fill of my fatherly boasting and bragging, I thought I would share with you a couple of magical moments from Joe Ernstís Junior Legion baseball season. On Tuesday of last week, moundsman Joe Jackson Ernst took the hill and hurled a complete game gem against the visiting Yutan 9, a tough squad who handed their lunch to the Mount during their first game of the season. Though Joe only gave up 3 hits in 7 frames, the aggressive Yutan team managed to plate 3 runs on those 3 hits, using stolen bases and sacrifices to efficiently produce 3 tallies. Then, in the bottom of the 7th, with the Mount Michael 9 behind by the score of 3-2, Joe Jackson came to the plate with the bases loaded and one out. Hero or goat time. With ten times more confidence at the plate than his light-hitting Old Man ever had, Joe Jackson stroked a laser beam into the gap between left and center, knocking in two runs and earning the win for the Mount Michael team and himself. The ear-to-ear grin which split across the face of Joe Jackson was worth more to me than all of the oil in the Middle East, as Joe got to experience that thrilling moment of being the team hero. Wow. What a moment for Joe (and his folks).
As if that wasnít enough for one season (or one baseball lifetime), last night Joe took the bump again for the Mount Michael Knights, tossing a complete game one-hitter against the visiting boys from Plattsmouth. Although not quite as dramatic as his bottom of the 7th game-winning hit last Tuesday, Joe murdered a Plattsmouth pitcher offering in the bottom of the second inning to the fence in left center, culminating in a head-first slide into third for a triple. Iím not absolutely sure about this, but this may have been the first time in history that the words ďErnstĒ and ďtripleĒ have ever been used in the same sentence.
So exhilarating have the experiences of the Ernst baseball boys been this season, B.T. and I are both convinced that Aunt Kathi must have a hand in all of this in some way, pulling a few strings and levers to help the Ernst men deal with a difficult time on the home front. While I believe this to be a plausible explanation for some of the diamond heroics we have seen this summer, I have to wonder why Iím not getting this same sort of help with my Hot Stove League team this year. ďHey, Kathi, how about a little love down over here!Ē Okay, I get it, Iím 52 years old and capable of taking care of myself, and besides that, Iíve already got four Hot Stove League titles under my belt. Fair enough.
Anyway, thanks for bearing with me and sharing in some of the greatest joys of my life.
Canít wait to see all of you in the Big Apple tomorrow for the trip of a lifetime. Safe travels, B.T., Shamu and Stretch, and Iíll see the rest of you at Eppley tomorrow morning.
Skipper