The 25th Anniversary League Trip is now in the books, and the junket hereafter known as the "Granite State Getaway" was indeed one for the ages.
Undaunted by the forecast of 72 consecutive hours of torrential rainstorms, 10 league members descended on the Big Apple for the annual rite of summer that consists of baseball, bonding, BS'ing, and a bender (chiefly undertaken by a select few). The trip was lengthened to four days this year, but there was nary a moment to relax as we filled the weekend with enough activities to ensure that there was no chance of taking a side trip to Albany to look at a gold dome just to say we had been there.
Seven of us brave souls originated our trip in Omaha on Thursday morning, hopping a Continental Express flight with the faint hope that our pilot might make it into Newark without croaking in the cockpit. Our departure was uneventful, but things started to get a bit interesting once we got to 35,000 feet. The pilot was fine, but the Possum decided that staying in his seat with his seat belt fastened and his tray table in its full upright and locked position was a bit boring, so he made the decision to circumvent the directives of the crew and to engage all passengers in the cabin in a "stream of consciousness" diatribe. Positioned halfway in his seat, halfway in the aisle, on his knees and facing backwards, the Possum regaled all travelers with various yarns about baseball, puts and calls, and reversion to the mean while the flight attendants bristled at his unwillingness to yield the aisle to the beverage cart. "Sir Lawrence Oblivier" eventually realized that his entire audience had suddenly become sleepy to the point of a mandatory nap, and conceded his position so that the beverage cart could make its way to Curby, who was quite firm in his request for a Bloody Mary. Even though it never occurred to Curby to offer the rest of us a drink, he "broke the seal" and set the tone that would let the rest of us put aside our worries for a few days to have fun for just once in our life. Even Screech, dealing with numerous domestic and familial issues, was able to let his mullet down once we arrived in New York.
Due to the precise planning and significant clout of Mouse and the Possum, the limos were waiting for us upon our arrival, ready to whisk us off to the new Yankee Stadium after a quick stop to drop off our steamers at the Millennium Hotel in Times Square. Four of us had the good fortune to be escorted by Mumbai Roy (Roy is a very common name in India, it's just like Mike), who was not concerned with timing nor focus in reaching our destination. He was, however, concerned with getting paid, and spent the better part of our trip through the Lincoln Tunnel looking into the back seat in an effort to identify whose credit card was going to cover his fee. After his inept maneuvering resulted in the merger of orange and purple paint from the Fed Ex truck and my shoulder, Roy was admonished to "Focus!!" and get our asses to the stadium right now. You'll get your damn rupees when you get us there safely. Roy complied and we arrived in the Bronx at about 1:05, just in time for the first pitch.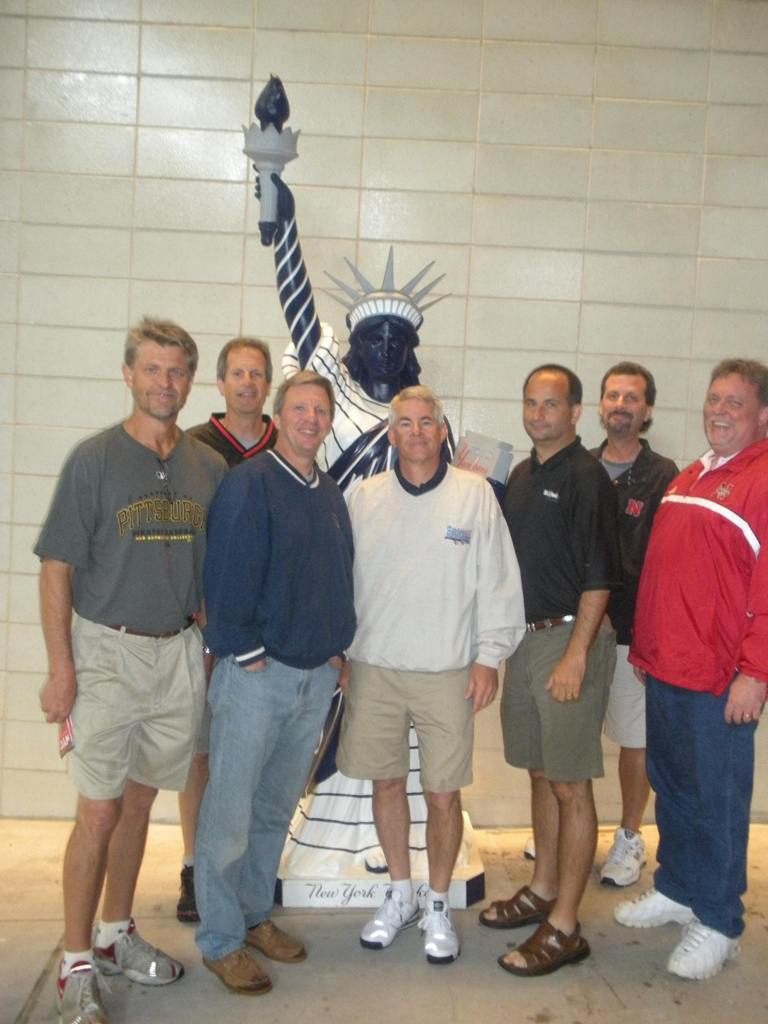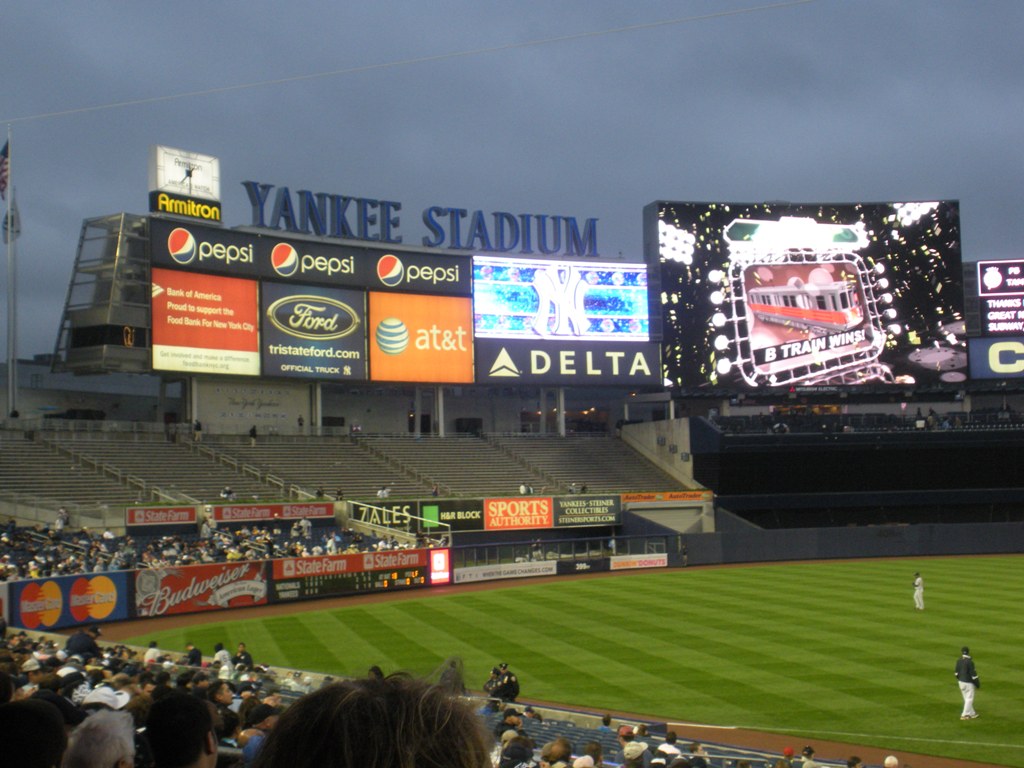 We walked into the new House that Jeter Built but immediately realized that we were once again hit with the Joba Jinx, which is defined in Webster's dictionary as a mandatory five-hour rain delay whenever there is an HSL trip to a stadium where Joba is slated to pitch. It happened in Detroit, and it happened in New York, but with the vendors open for business and selling food and beverages at bargain basement prices, we passed the time munching on $6 funnel cakes and washing them down with $9 beers.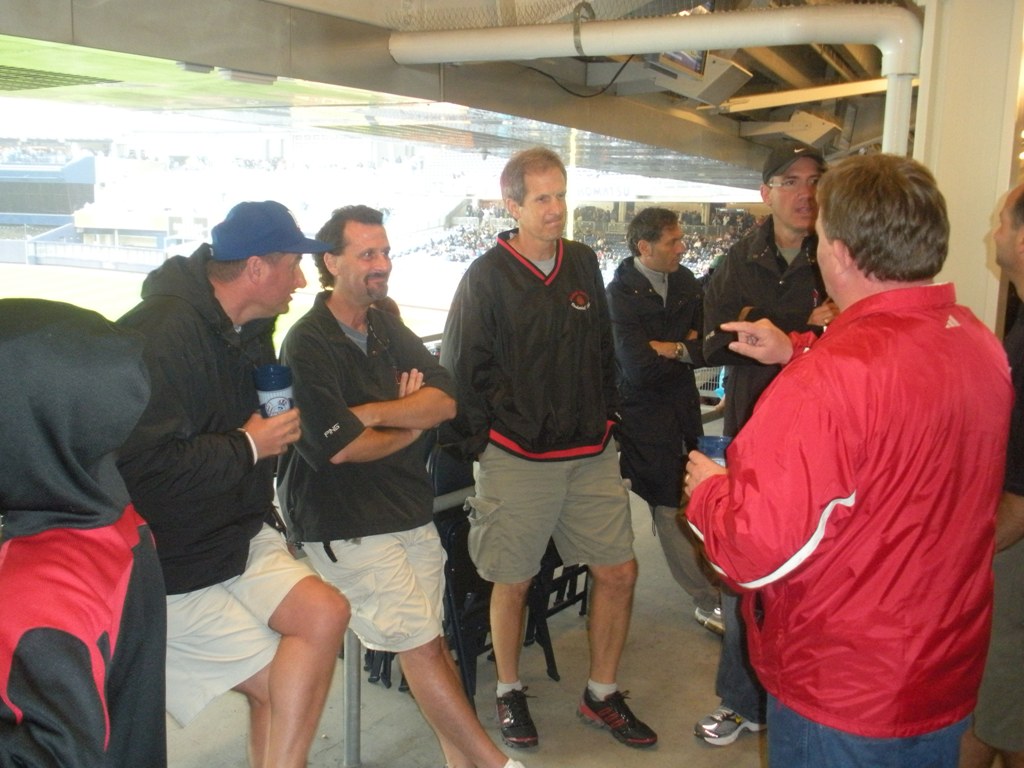 After the brief five hour and twenty minute rain delay, Joba launched the first pitch at 6:25 EDT, and it was "game on."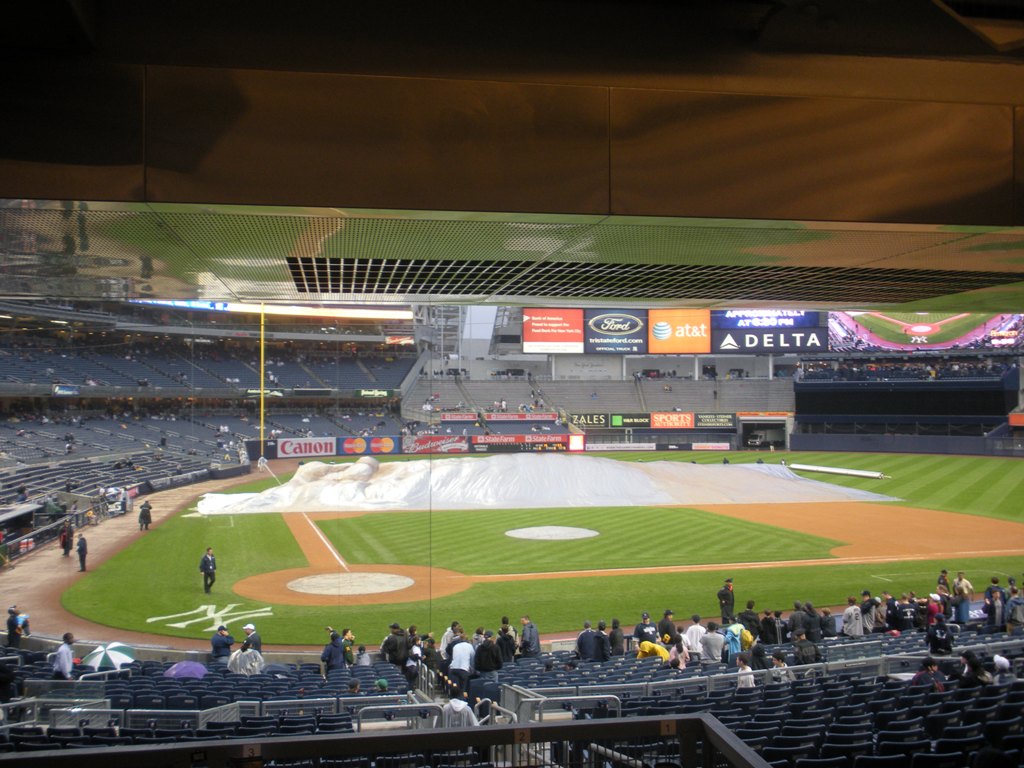 We settled into our lower level seats,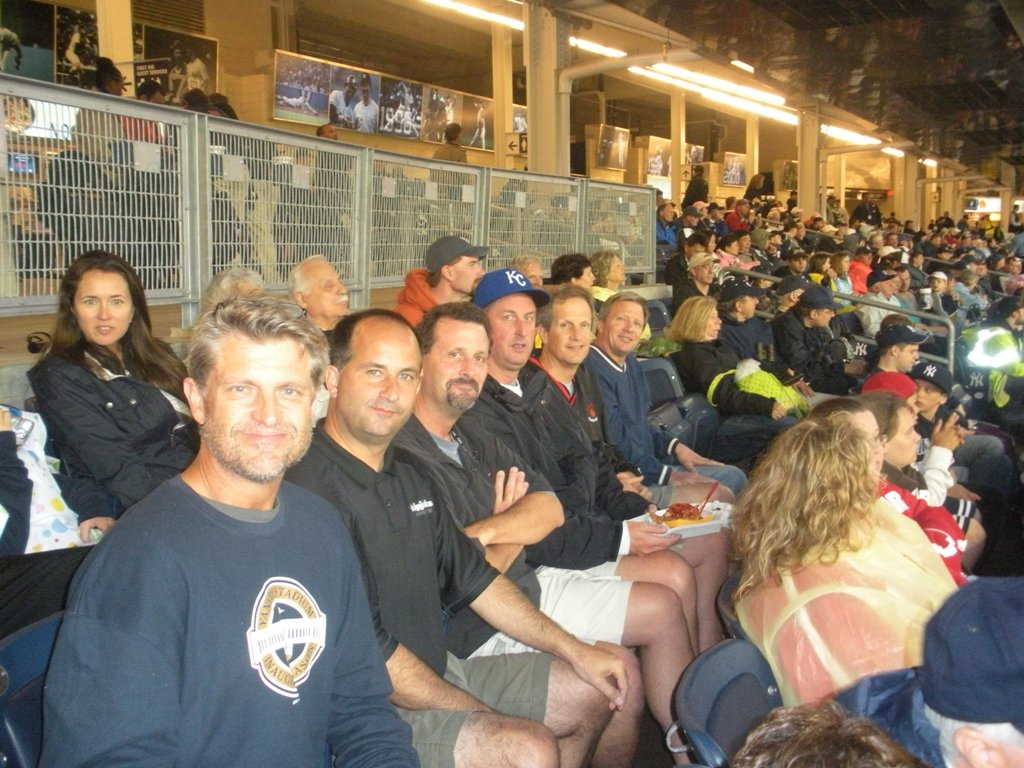 knowing full well the game would be a slugfest, with this being an Interleague matchup with the powerful Washington Nationals lineup coupled with the jet stream that flows out to right center field. But instead of the slugfest, the HSL crew once again witnessed a game that went down in the history books. That's right. In addition to attending the latest finishing game in the history of the American League in Detroit, we can now claim our presence at the first game EVER in New Yankee Stadium in which no home runs were hit. Perhaps even more shocking, this was the first ball game I ever personally attended where beer sales were shut off in the first inning.
With the Yankees playing like their charter jet was waiting on the tarmac with the engine running, the Nats built a 3-0 lead with some timely hitting and held on for the win due to the defensive play of slick fielding shortstop Cristian Guzman (sorry Ted). Only later did we find out that the Yanks had been playing a bit short-handed, with A Rod soon to be benched for "fatigue." I guess Joe Girardi is tired of him hitting .219.
There was no fatigue in our traveling party, so with the game in the books the group headed down to Times Square for a little revelry and a few highballs to finish off the night. Imagine the shock and dismay when we found out that our entry to the ESPN Zone was denied. Yes, that's New York, the city that never sleeps, unless it is 11:00 on a Thursday night and they are closed. Go figure that one. Undeterred, we made our way over to the Hard Rock Café to re-live the day's activities. While Big Guy reconnected with a high school buddy to discuss the relative importance of biochemistry, zoology, and the human genome in a lab setting with a placebo group, the rest of us talked baseball and planned out our quick hop over to Cooperstown the next day. All in all, a banner first day.
Friday, Day 2, Cooperstown Here we Come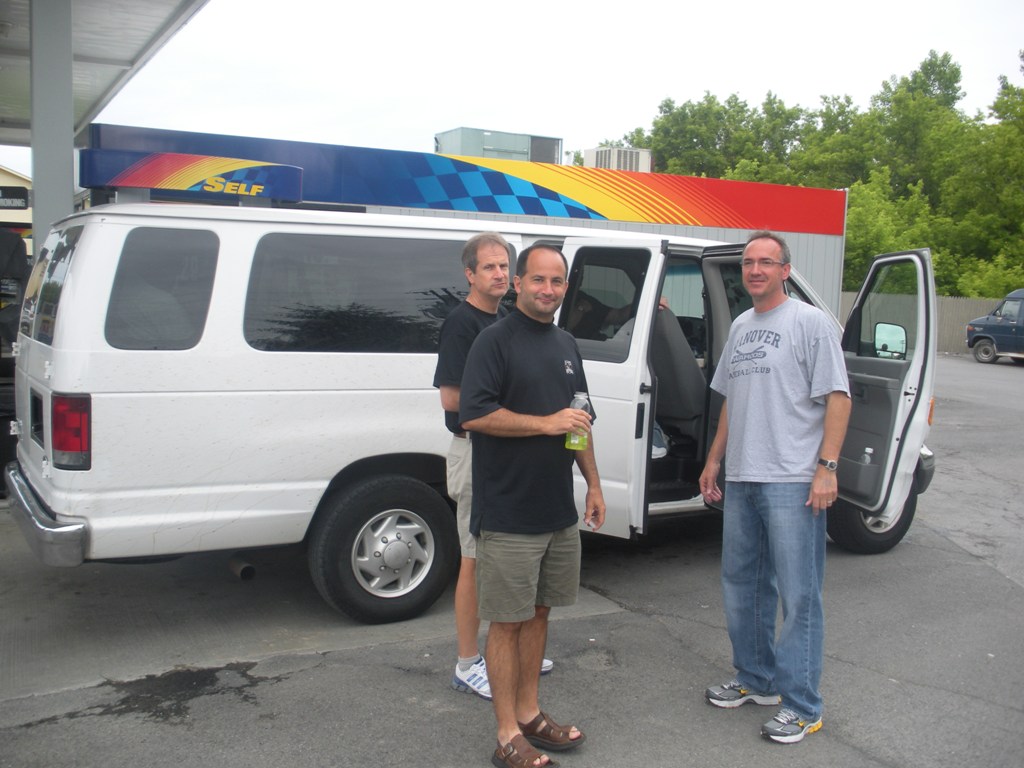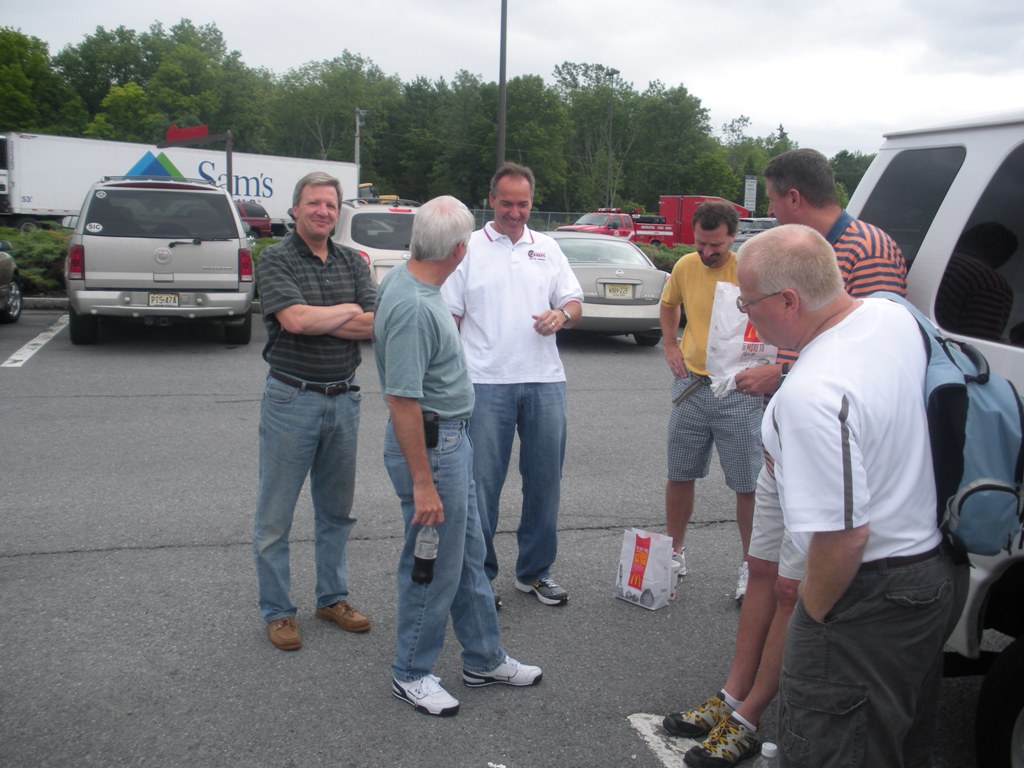 Our transportation of choice for the drive to Cooperstown was a 15 person passenger van, nice and clean at the start but soon to be transformed into a rolling dumpster by spilled alcohol, flatulence, Skoal drippings, day old French fries, unbathed males, urine stained cargo shorts and cat feces. BT opted to take the helm of this beast, and over the course of the next two days became quite close with a British woman whose only contribution to the ongoing dialog consisted of one word: "Recalculating."
As we set out on the five hour journey to upstate New York, we were all keenly aware of the sights and sounds around us, including a life lesson in Management/Organizational Behavior playing out right there on the streets of Manhattan. Before we could hop on the interstate and get rolling, we were privileged to see Sal from the union instruct one of his employees on the proper procedure for handling a shovel and using it to move freshly poured concrete into an unfilled hole. The young black male seemed somewhat unreceptive to his boss' instructions, so Sal opted to give him a "hands on" demonstration of the desired behavior, and added a little color of his own. While this clearly showed us the necessity for employees to follow their supervisor's wishes, the lesson learned was somewhat bittersweet as we later found out that Sal was found on the very same street corner with two slugs in his head and a red bandanna tied around his genitals. Sal, don't gang the gangster.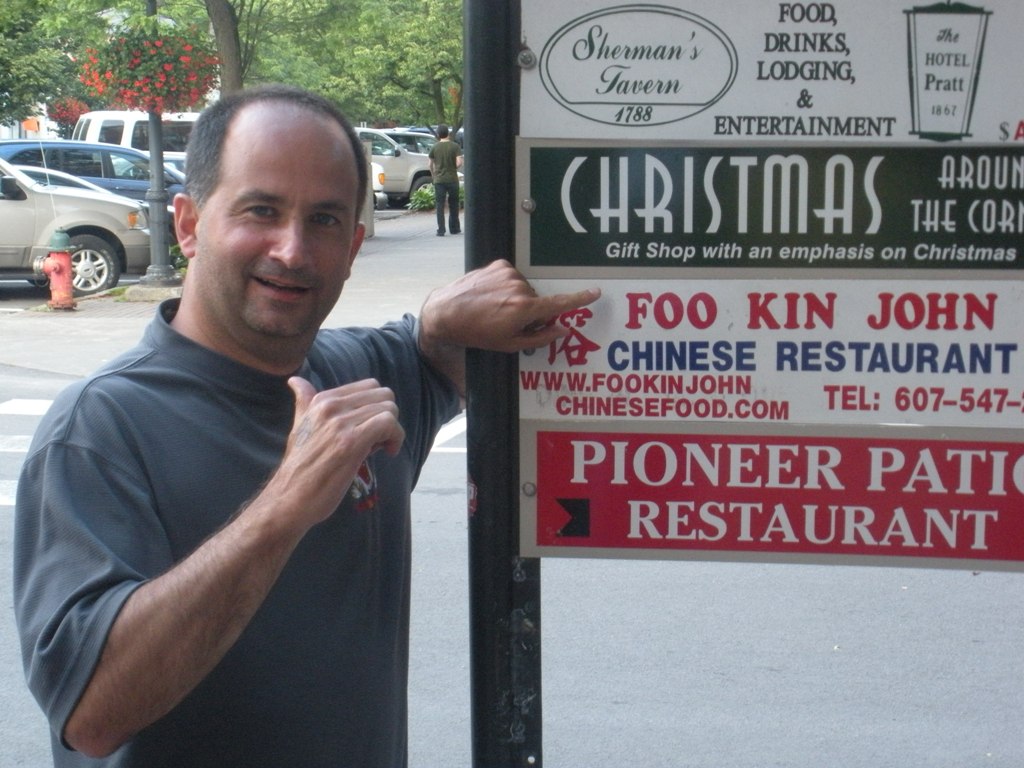 We arrived later that day in Cooperstown, hungry for some Foo Kin Chinese food and anxious to visit the hallowed halls of baseball's greatest shrine. We spent the better part of five hours in the Hall of Fame, taking in the wonderful displays such as the evolution of World Series rings, the no-hitters thrown through the years, Hank Aaron's battles with racism on the way to the all-time home run crown, Barry Bonds' asterisk home run ball, and Sam Crawford's propensity to hit triples. Nothing though, captivated the group like the numbers that are such a fabric of the game of baseball. Without a doubt, any true baseball fan must be able to recognize and cite the numbers that are indelibly etched into the history of the sport:
511 wins
56 games
59 innings
$770 million
If you don't recognize these numbers, you're no baseball fan. I know Scooter Krause, and you're no Scooter Krause.
After our history lesson in the Hall, we checked into our spacious accommodations at the Baseball Hotel, marked off our territories, and decided to venture out to the local pubs to see the best that Cooperstown has to offer for night life.
The "fun meter" got ratcheted up a bit this evening.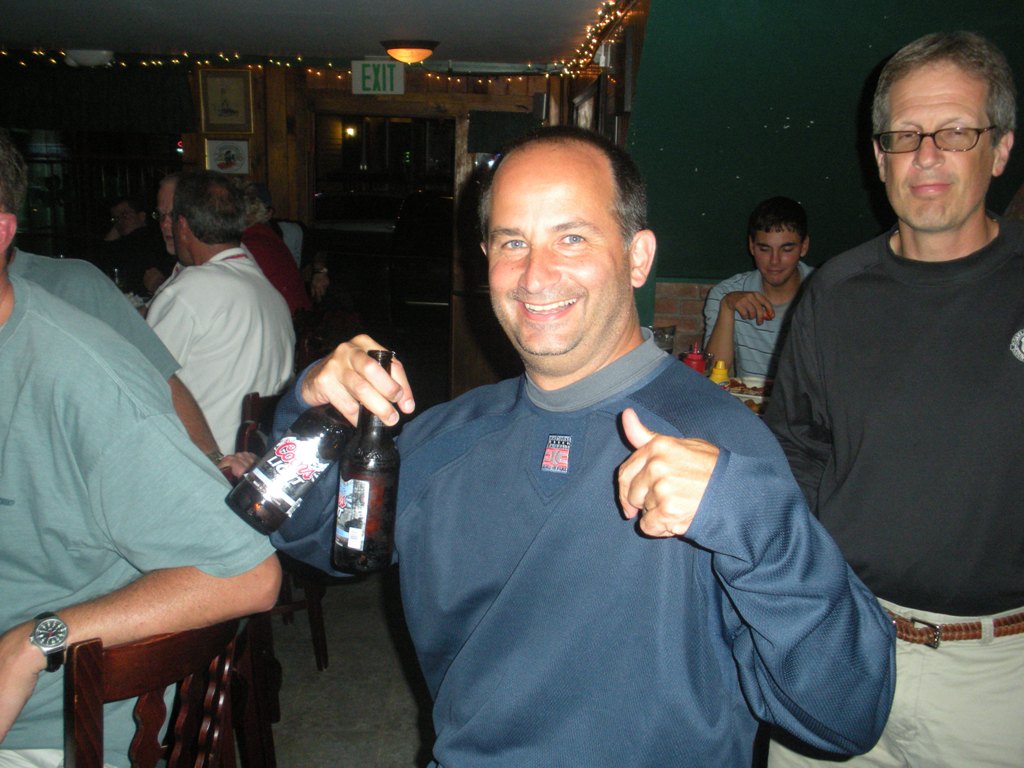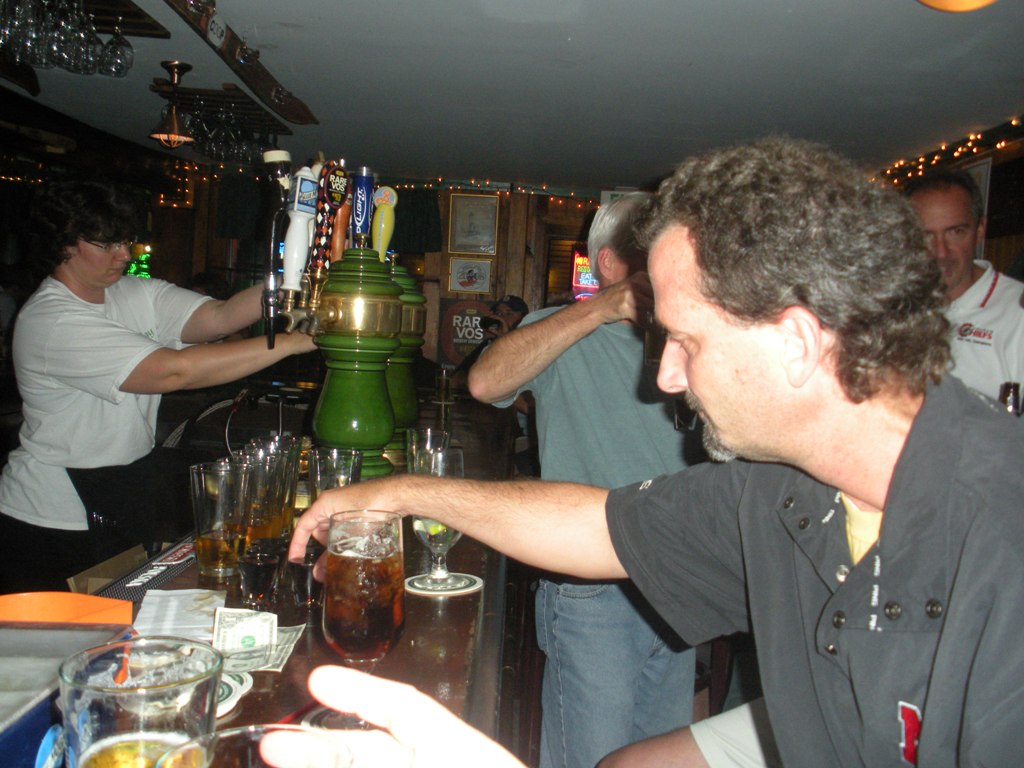 While the bars filled with nurse oncologists and desperate housewives looking for a touring gentleman to provide their ticket out of Cooperstown, Jagerbombs magically appeared on a tray, neatly lined up in a 5 x 5 grid. Alcohol consumption accelerated, and we suddenly all became smarter, better looking, richer, and funnier. While one member of the group was dubbed "Sally" by the bartender for his inability to keep up, the rest of the group dutifully consumed the concoctions served as part of the now mandatory HSL ritual.
"People watching" was the order of the evening, with the nurse oncologist providing the most fodder for our group. In one evening, this married woman was picked up more often than Luke Hochevar in the free agent draft; three times to be exact, including once by Mumbai Roy's little brother, Delhi Dan.
After several hours of observing these "Cooperstown Debs" trying to hook a man, we got wind from the locals that Sherman's was the real hot spot bar in town, and that was the joint where we should go to really get our drink on. Not wanting to buck tradition or get sideways with local customs, part of our group complied while the others in the pack retired for the evening.
Once in Sherman's, we ordered a few drinks and felt like we were blending right in when we suddenly witnessed the 2009 version of the scene right out of "An Officer and a Gentleman," when the local flannel shirt-wearing, pool-playing, tough guy has had enough of the out of town visitors trying to mow his grass and make off with his woman.
It seems that the Possum, in the role of Zack Mayo, must have brushed elbows with the Town Pump, and Pool Shooting Guy took exception and was ready to throw down with our league eccentric. "You Hot Stove Leaguers come in here like you're hot stuff, wearing your ice cream suits and trying to make off with our women." Luckily, the Possum's 90 decibel guffaw scared the daylights out of the dude, and order prevailed.
Having had enough excitement for the evening, we headed quietly back to our rooms, careful not to upset the tranquil environs of our lodging mates.
Saturday, Day Three, the morning after
On Saturday, we started our morning with a hearty breakfast at the Triple Play Café.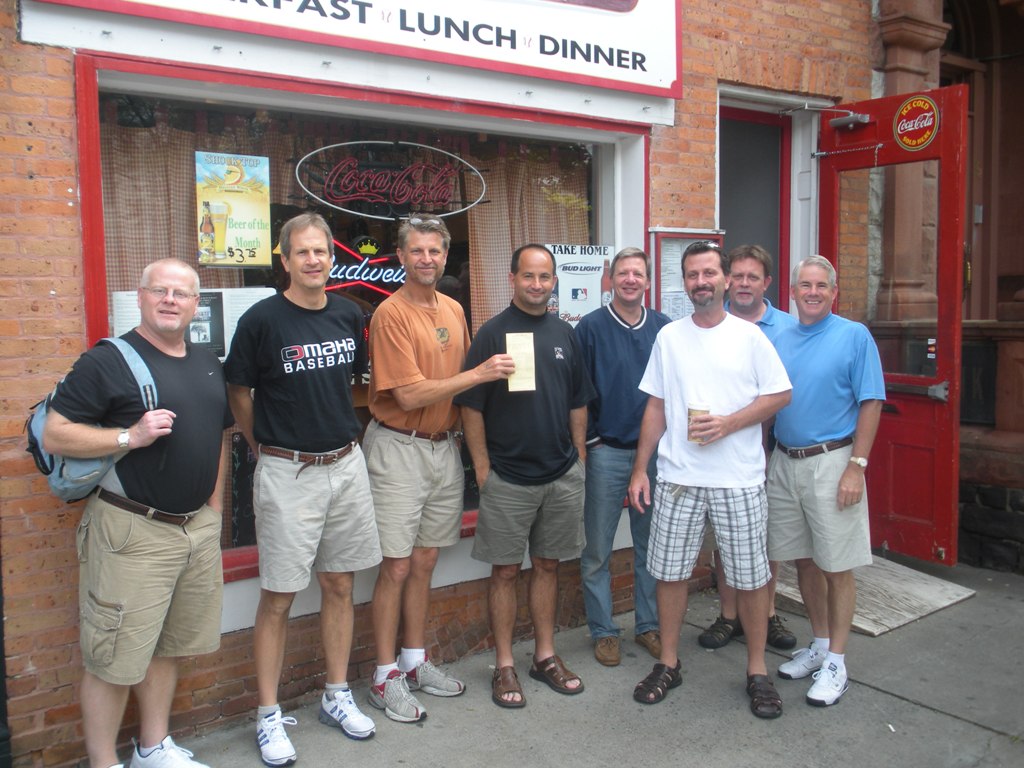 After consuming some sandpaper flapjacks, undercooked eggs, and three month old jelly, we left to deal with our own triple play. It seems the local constable was not real happy with the parking spot that was occupied by the 15 passenger van, and cited the driver with three traffic violations of the local Cooperstown traffic code. BT took over negotiations with Constable Fife, and after threatening him with the wrath of the six lawyers present in the traveling party, BT succeeded in getting two of the violations "comped."
With our legal troubles now behind us, we set out for the return to New York City. With a lengthy drive ahead of us and the Mets/Rays game scheduled to start at 4:10, it was pedal to the metal for most of the drive. The trip back was rather uneventful, save for the Possum's roadside antics after an emergency restroom stop and his five hour obsession with Troy Tulowitzki.
As we approached the city, there was some debate, led by Shemu, as to whether or not we should take that "Tarzan Bridge" to avoid traffic or stay the course that the British babe had laid out for us. The debate was moot, as we all know that BT marches to his own drummer in deciding the proper route to his desired endpoint. True to form, we pulled into the parking lot at the new Citi Field on time and under budget, ready to witness Met ace Johan Santana duel with the Ray's James Shields.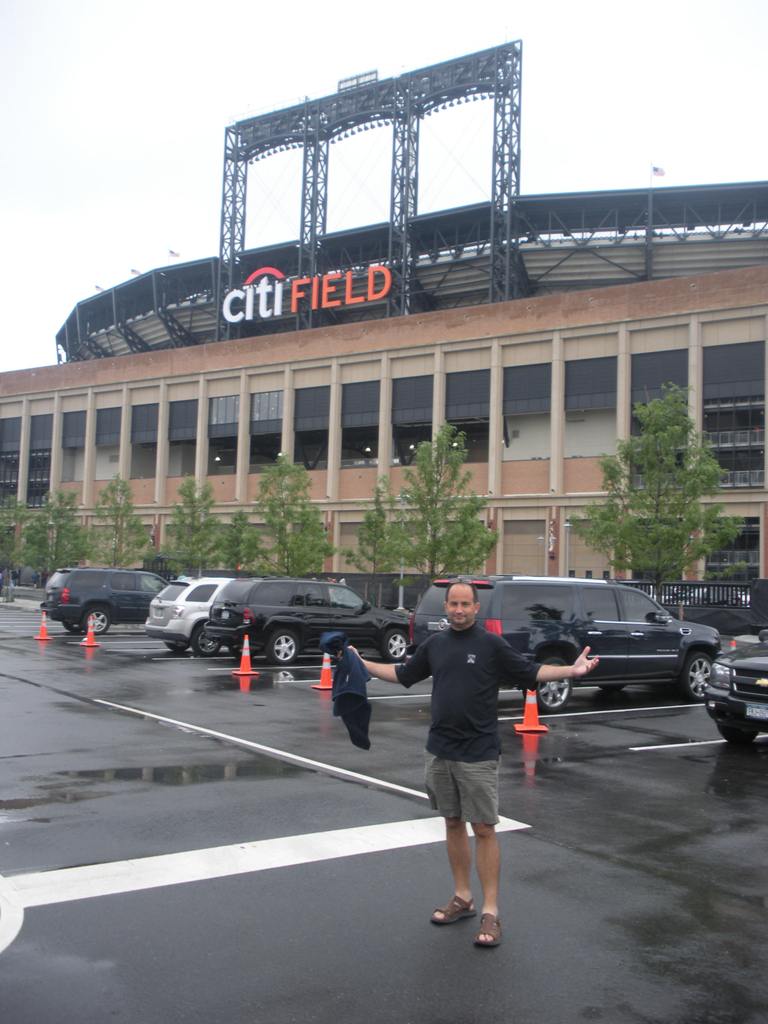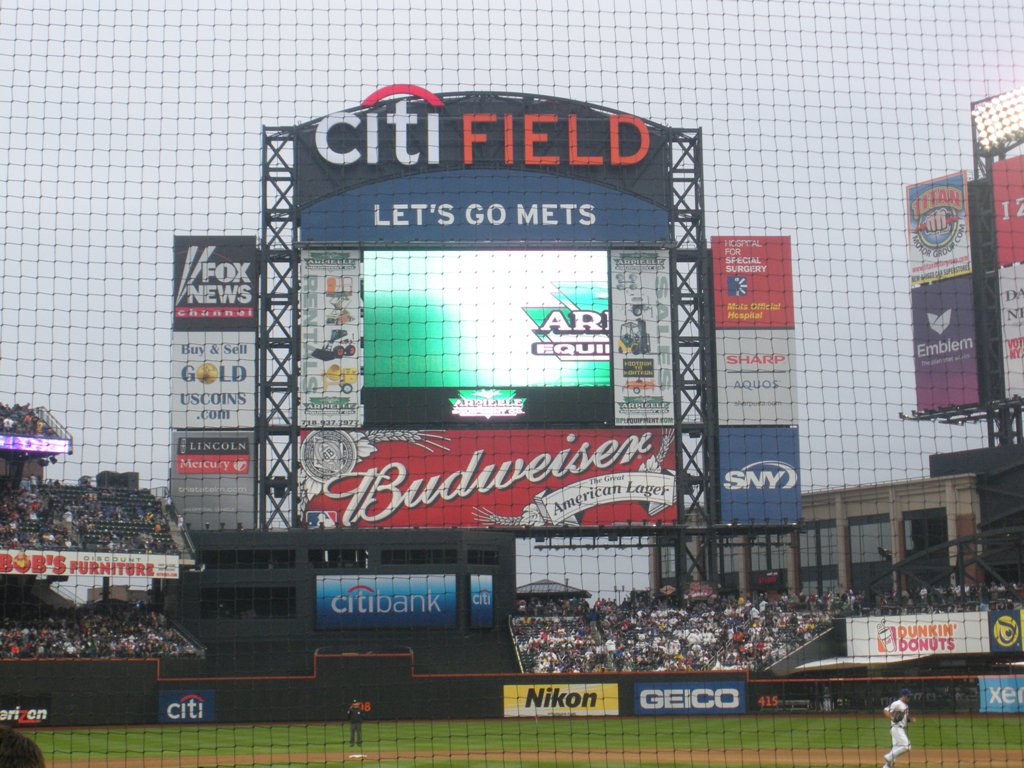 The near unanimous opinion of the group is that Citi Field blows away the new Yankee Stadium as far as being a preferred venue for taking in a ballgame. It didn't hurt that Curby had secured seats located in the on deck circle, but it is definitely a stadium that will likely fall in everyone's top 10. If it didn't happen to be located in a Hellhole city, it would likely vault to number one for most of us. The only other negative was that we were all flabbergasted that we couldn't find a Wells Fargo ATM at Citi Field. Just because a company pays $500 million for naming rights shouldn't give them exclusivity on ATM deployment. What the hell are they thinking?
The game was indeed a pitchers' duel, and after another hour and a half rain delay in the seventh inning, the Rays went on to close out the Mets and pull off the victory, with the game being saved by the Skipjacks own J. P. Howell.
With a final evening in New York awaiting us, we took the recommendation of Dan the Citi Field Security Officer and opted to partake in an Italian dinner in Manhattan. We knew it would be a safe bet, as Dan proved himself to be an expert on all cuisines and all things in life. He let us know that he had tried to live in various places outside of New York, but was pulled back to his roots because in those others places, you just can't go get a piece of pizza at 3:30 in the morning. He was unwilling to make the trade-off for a better cost of living, cleaner city, increased educational opportunities, lower crime rate, and less traffic because there is no 3:30 pizza. Enjoy the Big Apple, Dan.
Nine of us feasted on an authentic Italian meal while McJester left the group to go have dinner with Darren "Dutch" Daulton. It was the third time they have had dinner together, so we are all anxious to be updated on what's going on in his post-Phillies' life.
With our stomachs full and our bones weary from travel, we retired back to the Millennium for a quick forty winks before scattering to various airports for the Sunday trip home and the adulation awaiting us all for Father's day.
What a great trip.
Special thanks go to:
Mouse for all his hard work in lining up the logistics of the trip. For any of you that have carried that banner before, it is no small task to make everything click for a traveling party of 10.
Magpie for arranging a professional photographer to snap a mugshot of this motley crew in front of the Hall of Fame. This photo is an instant keepsake, and one that I'm sure will be proudly displayed by many of us on the trip. Also thanks are due for the tickets at Citi Field that were unanimously proclaimed as the "best seats ever" on any HSL trip Scott for his generosity and creativity in producing the 25th anniversary T-shirts, and for "focusing" for hours upon hours of driving through the Big Apple and the winding roads of upstate New York.
All of you for your commitment to the joys of this league, the camaraderie, and the lifelong friendships that have been borne out of a "rotisserie" baseball league.
This was an all-time great trip, and for those of you that couldn't make it, you were there with us in spirit. If you ever do make it to New York, make sure you visit these two new stadiums but more importantly, make sure you take that trek to the top of the Granite State Building, that architectural icon that has been a symbol of New York for years.
Best of luck to each of you in your race to the HSL finish line.
Itchie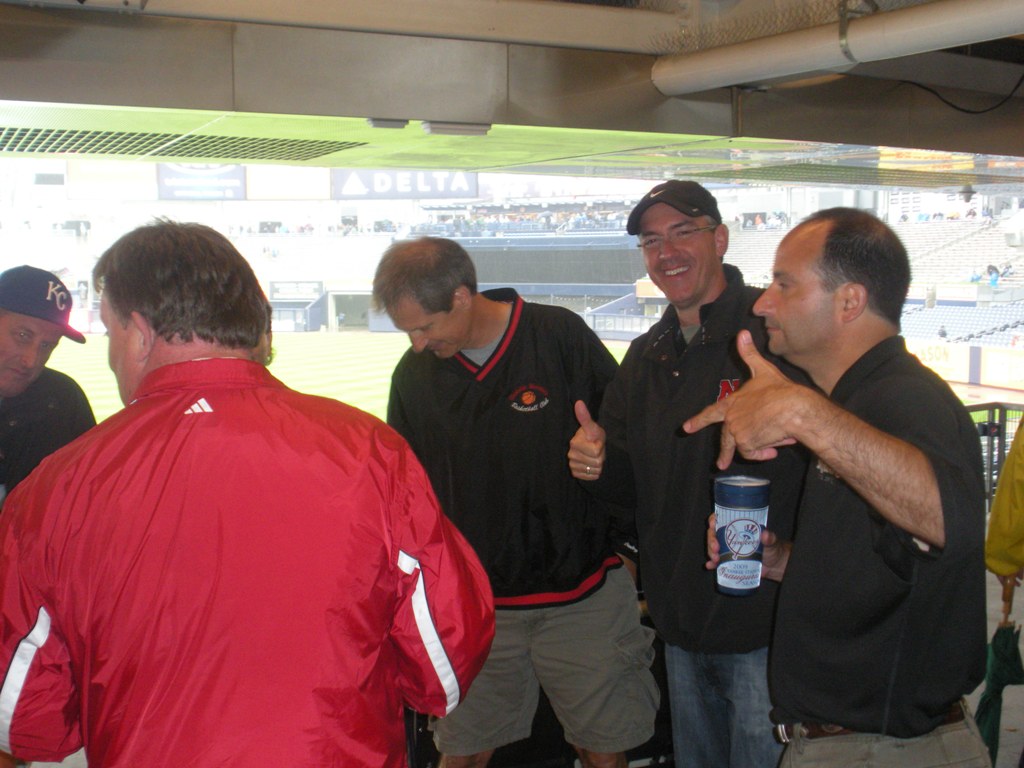 Itchie "The Gangstah" Thielen flashes a sign to a Yankee
Stadium beer vendor, signaling an immediate call
for liquid refreshment for him and his peeps.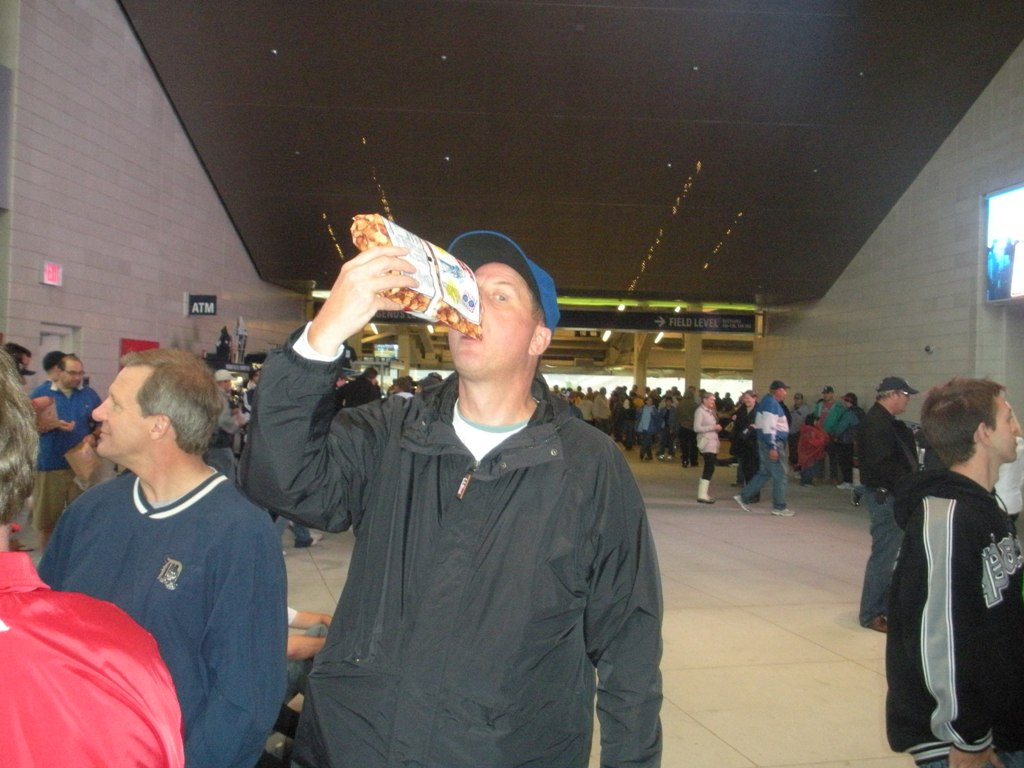 Don't get cheated, McJester.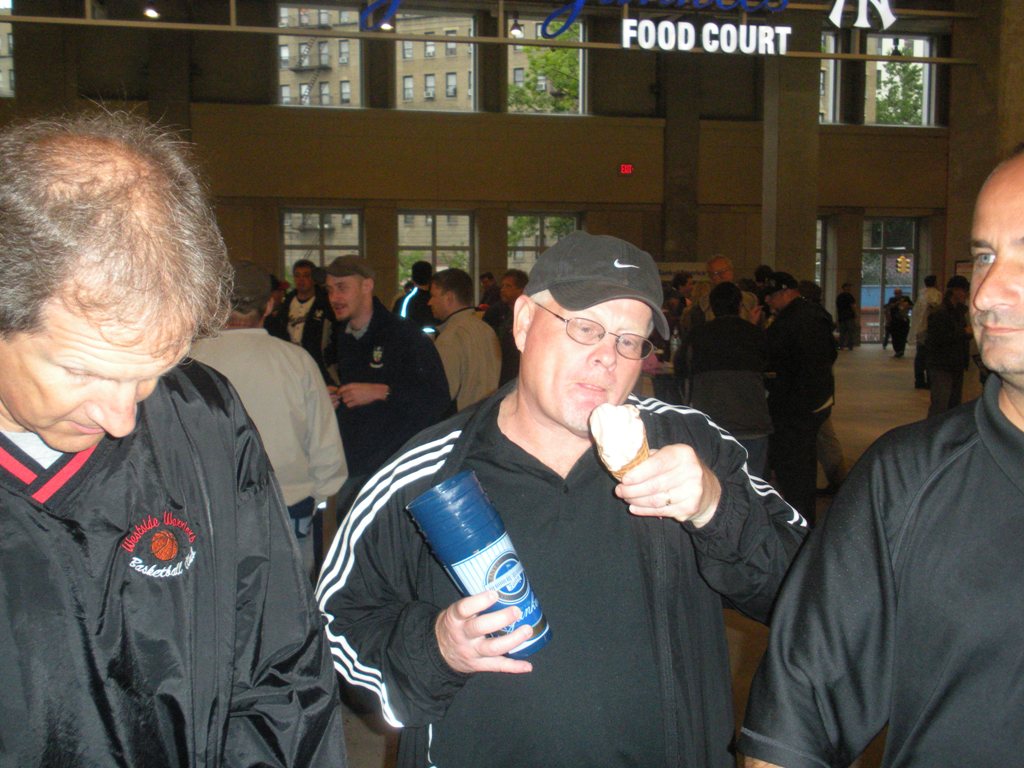 Different day, different city, same routine.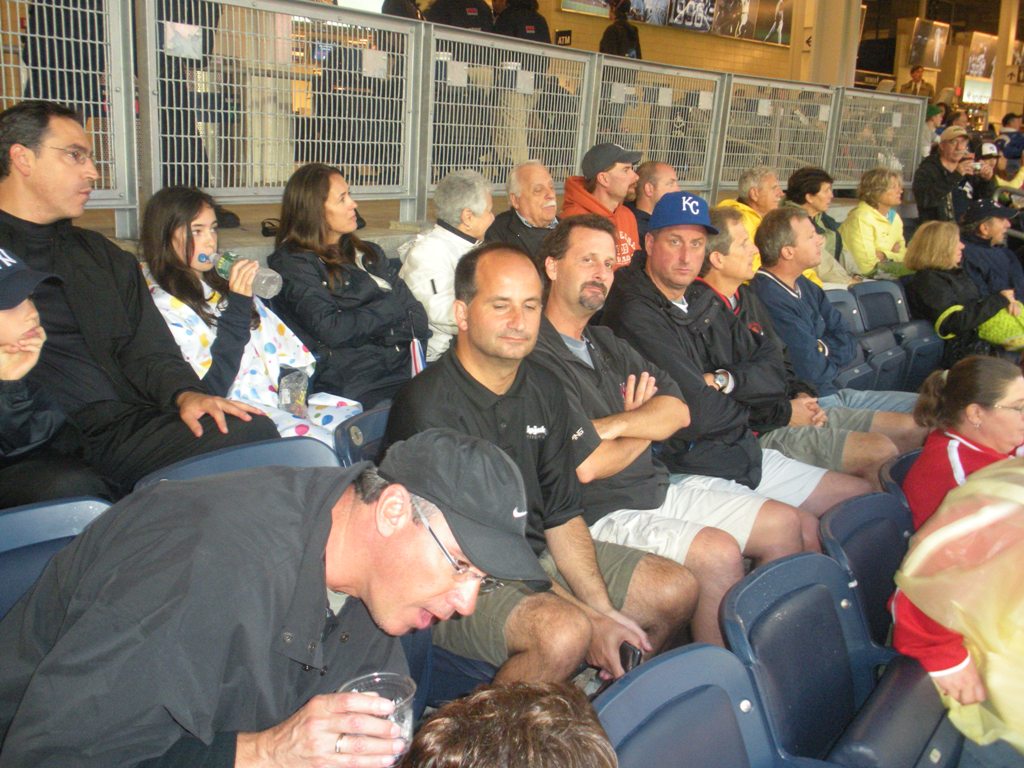 "Lookee here, guys, they have fancy built-in cup-holders. Shazam!"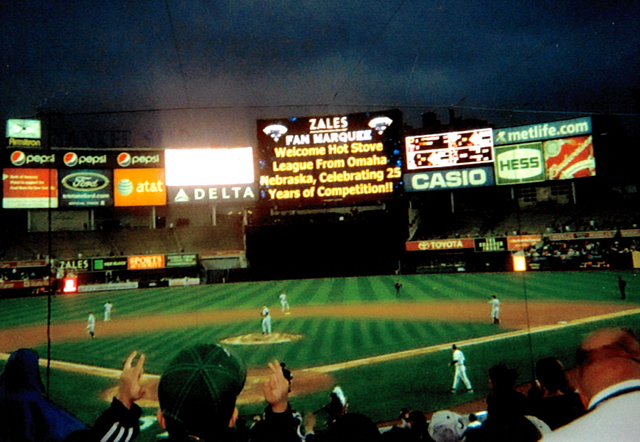 Nice touch, Mouse! You da man!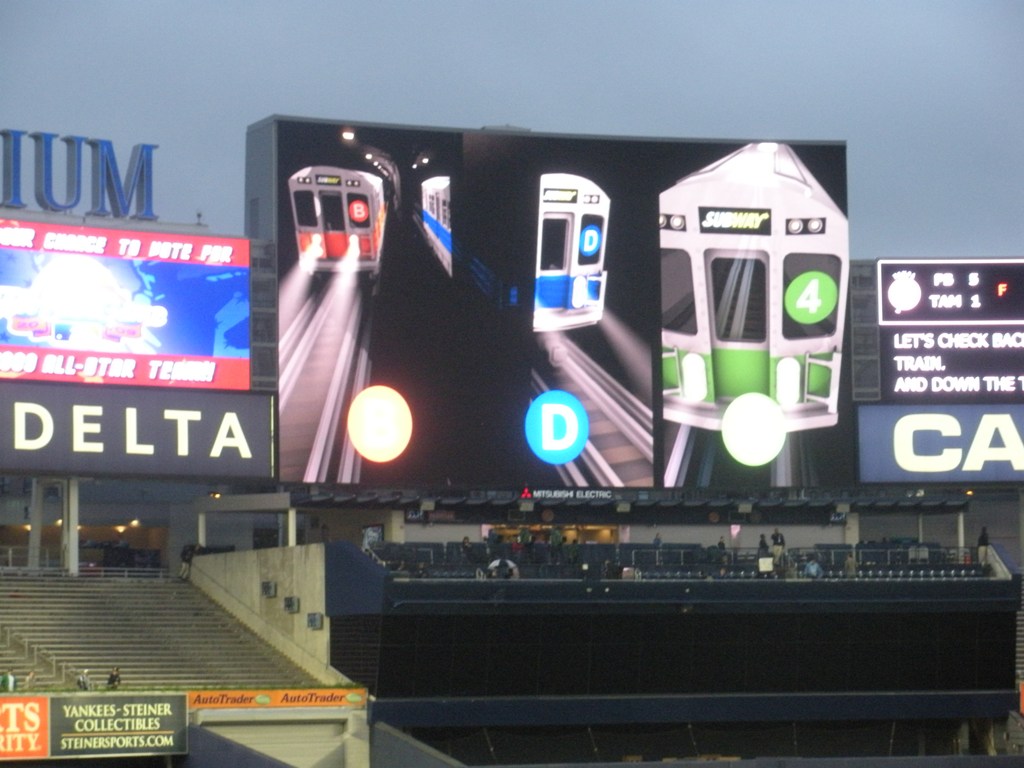 The moment in every game that McJester lives for.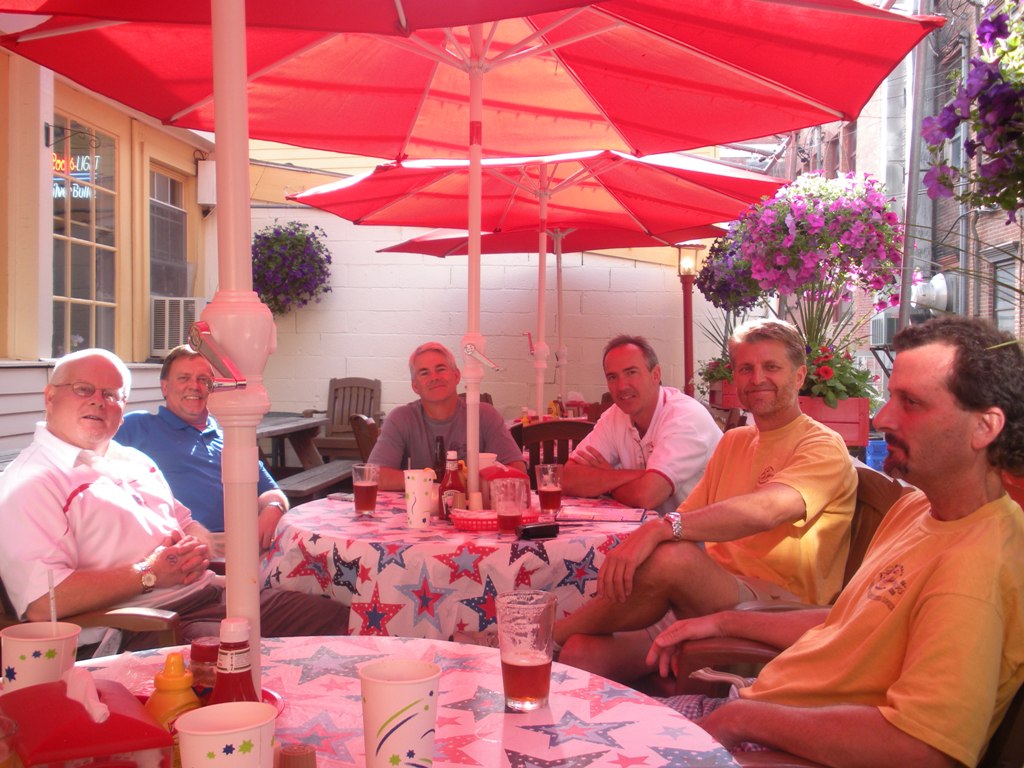 Dinner at a quaint spot in Cooperstown, as the boys
rest up for the big night ahead.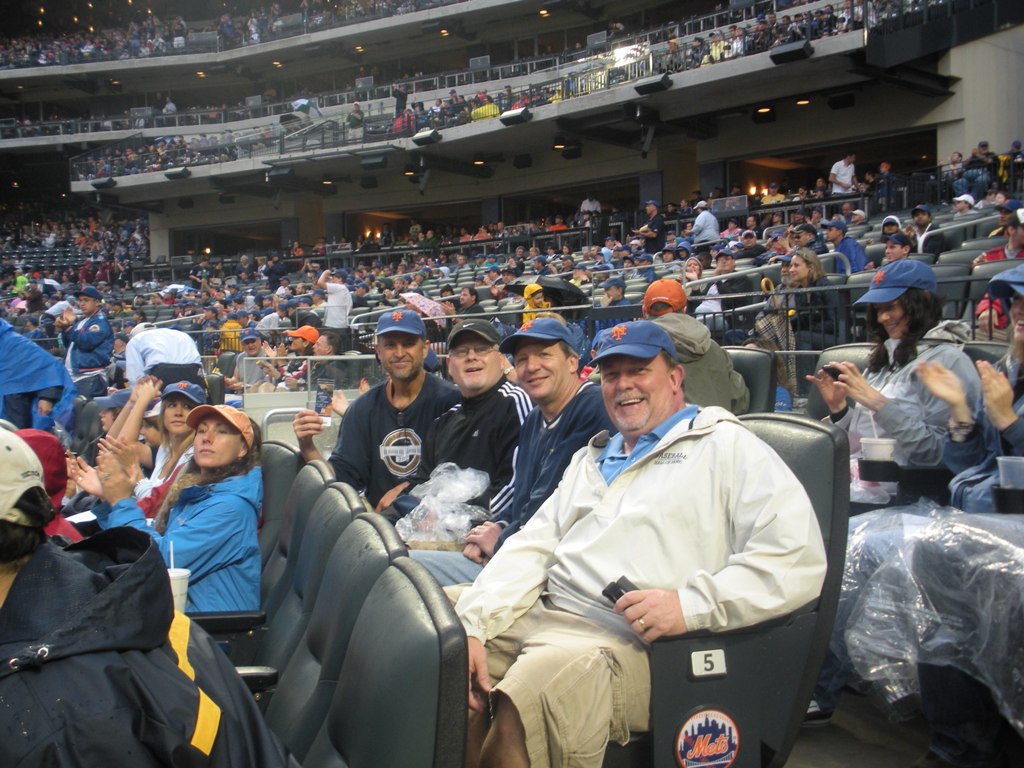 Tricko and the boys in the "best seats ever" at Citi Field,
courtesy of a top drawer Wall Street law firm.
Santana vs. Longoria: How it looks from the fifth row.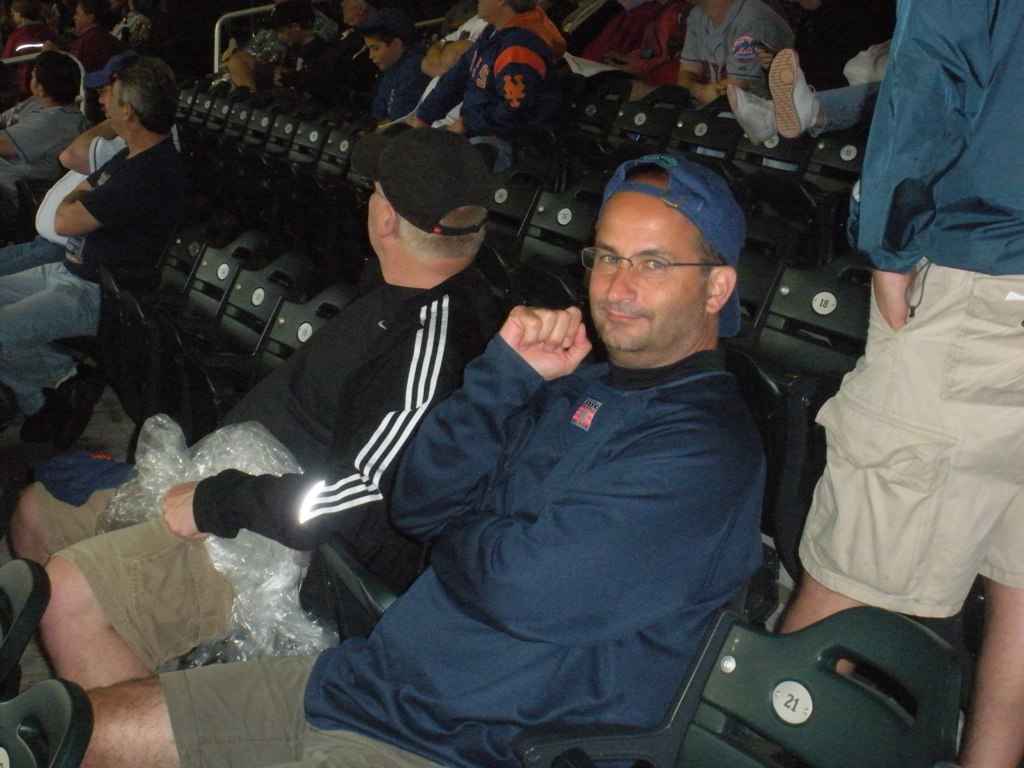 Shamu scans the concourse for a funnel cake vendor,
as Itchie plans to hatch his next scheme.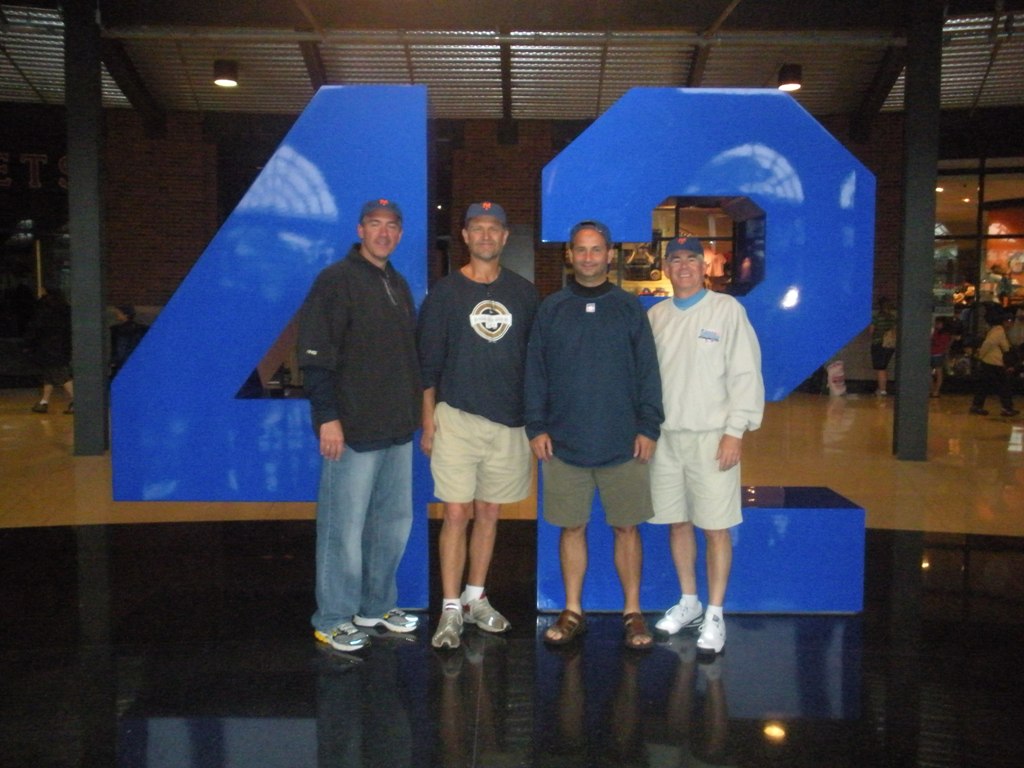 A quartet of HSLers pay tribute to Jackie Robinson.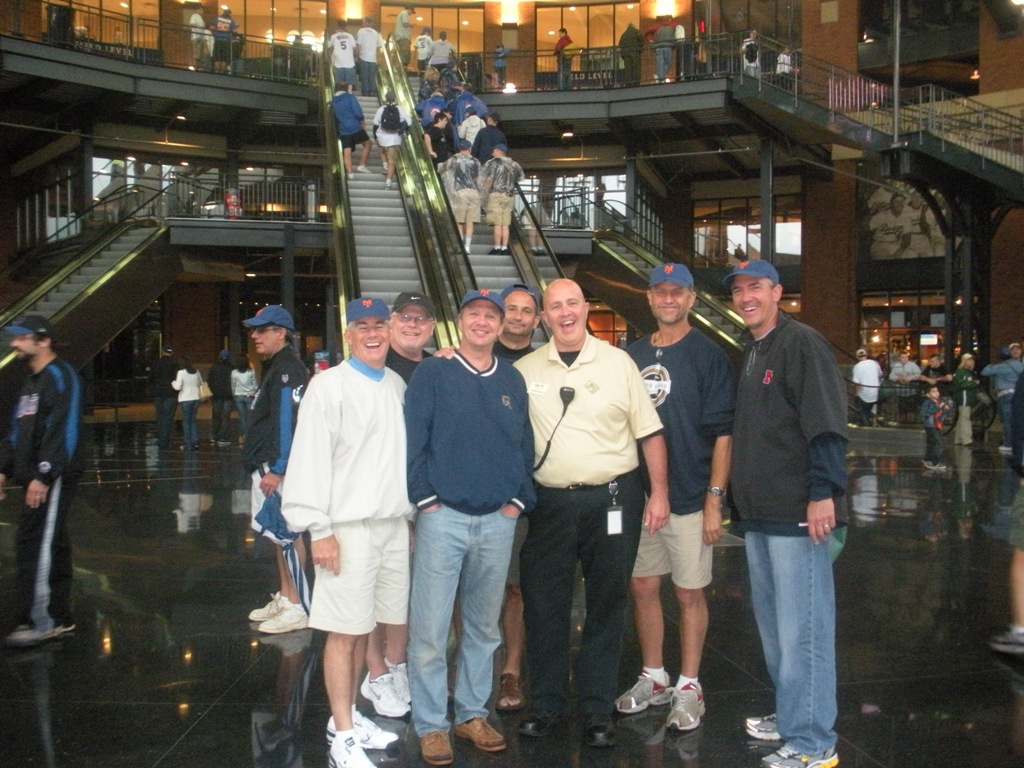 The boys and Citi Field boss "Dan," the 3:30 a.m. pizza lover.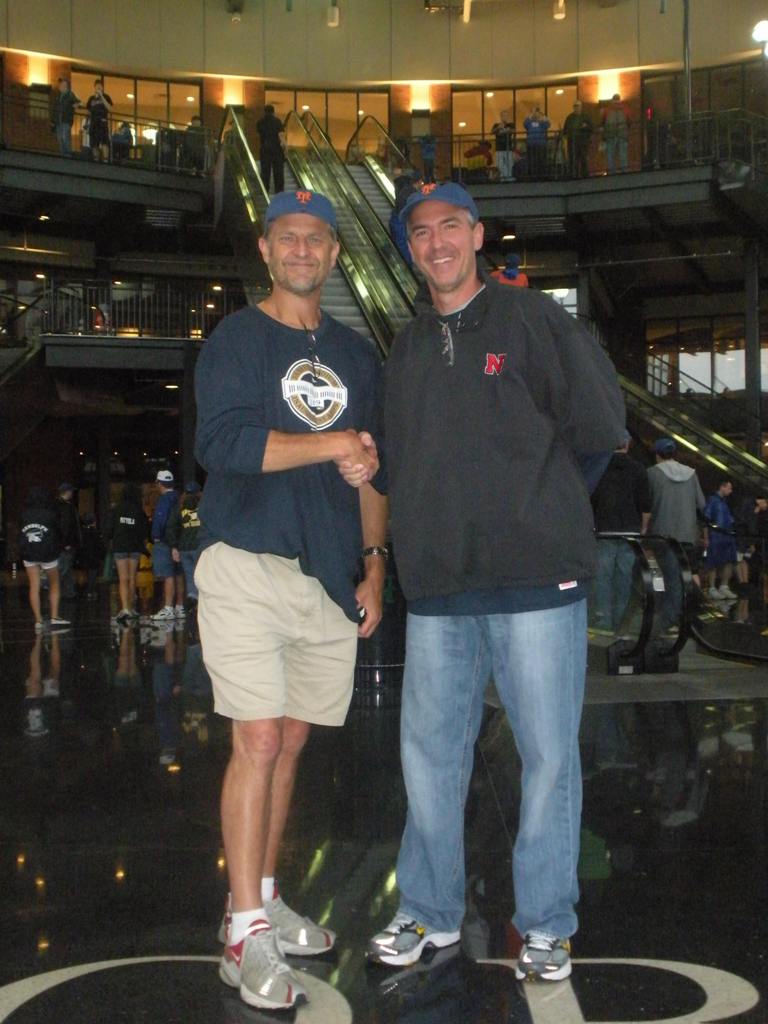 Skipper congratulates B.T. on another
successful HSL ballpark visit.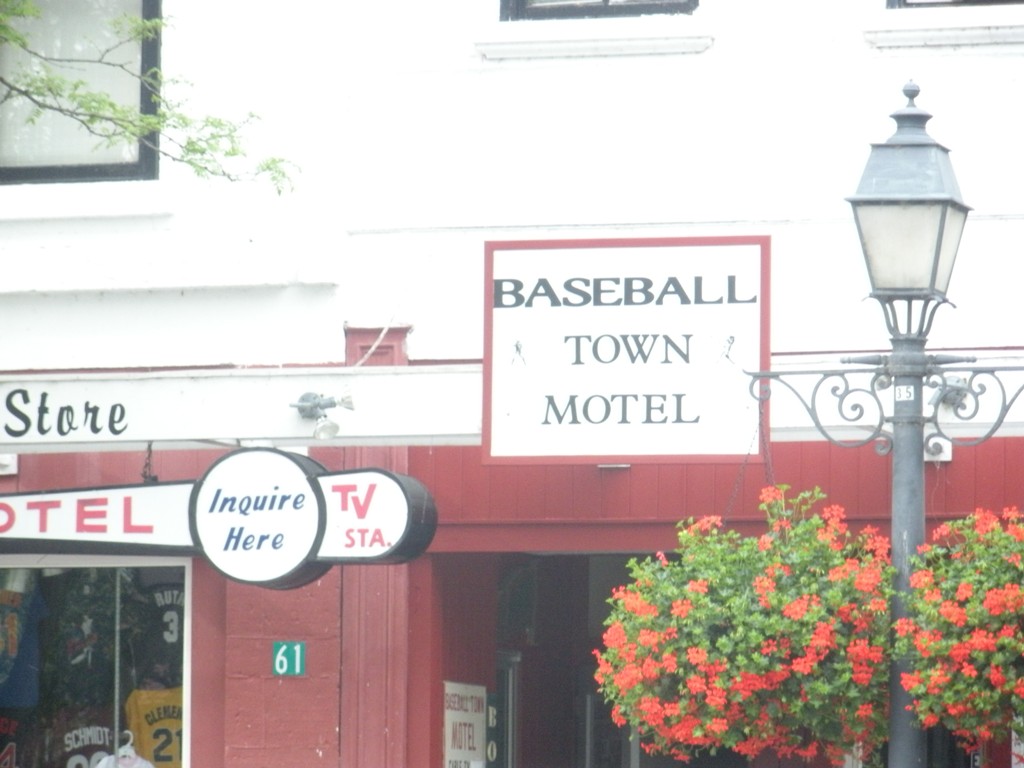 Nothing but the best for the boys!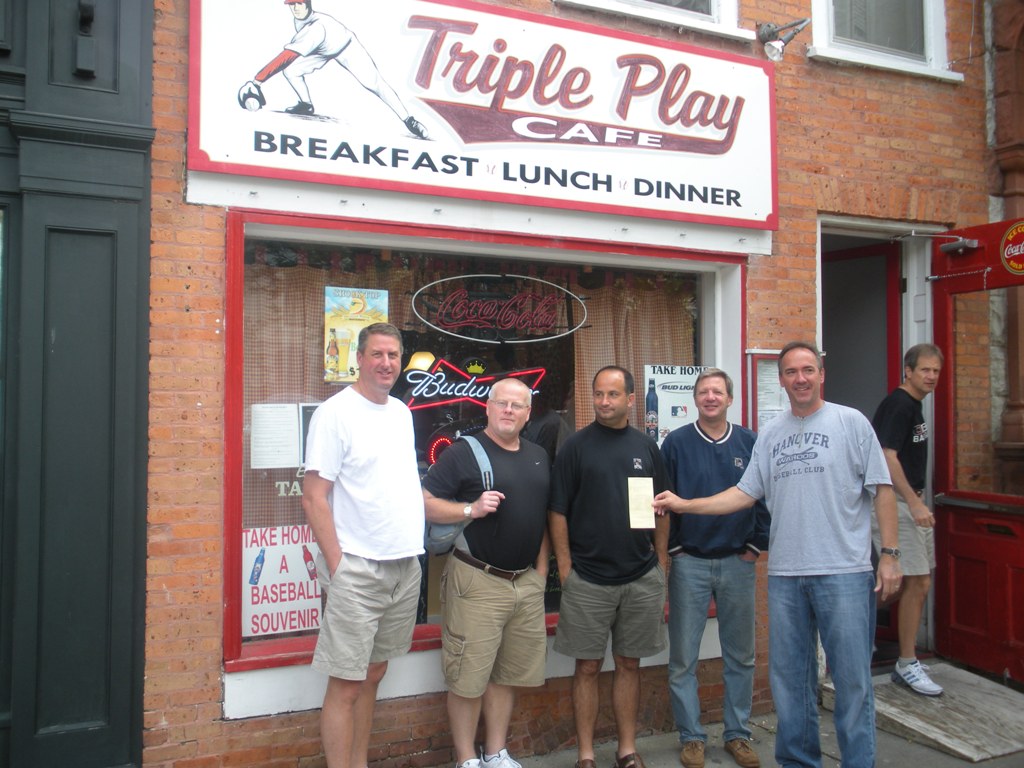 B.T. attempts to hand off the breakfast tab to any other
Hot Stove Leaguer. Stretch can't get his hands in his
pockets fast enough.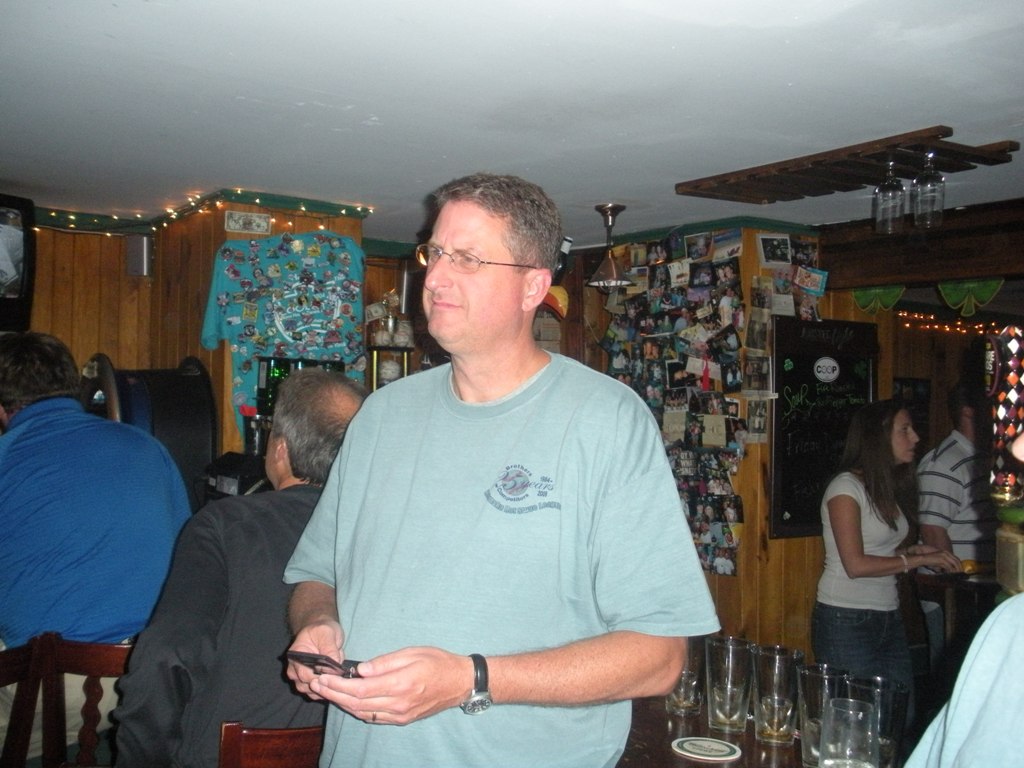 Thought bubble: "Why on earth is Possum texting me to walk
across the street to another bar? We have all the
Jagerbombs we need right here."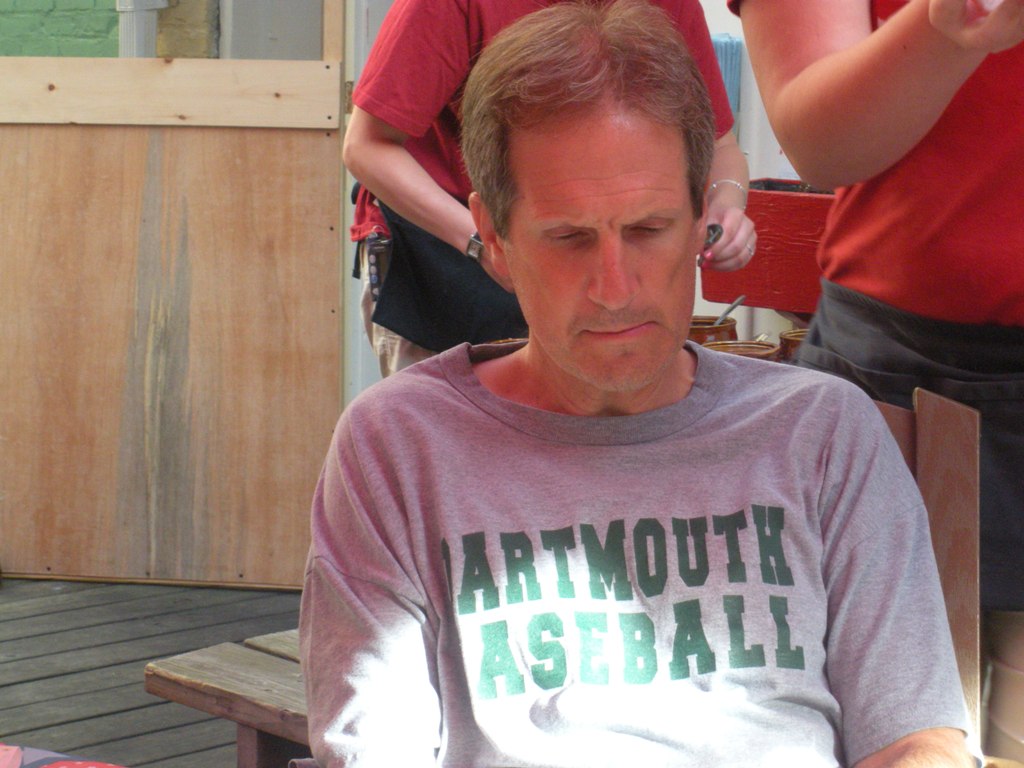 Sir Laurence Oblivier ignores the activity and tumult
behind him.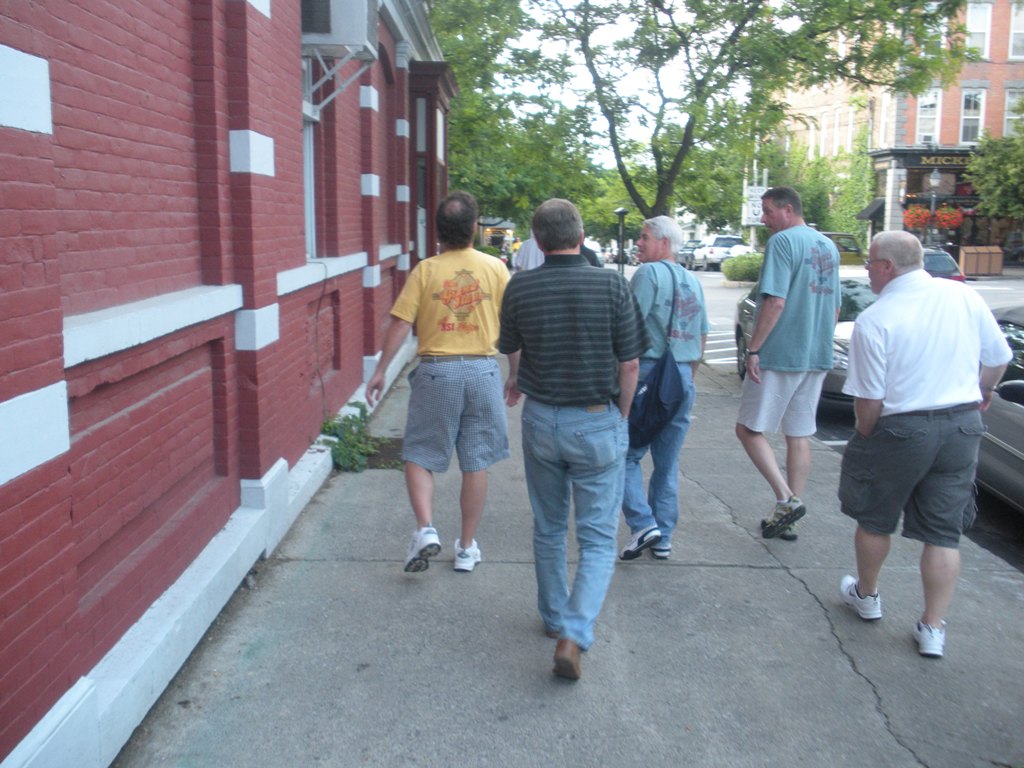 On the streets of Cooperstown.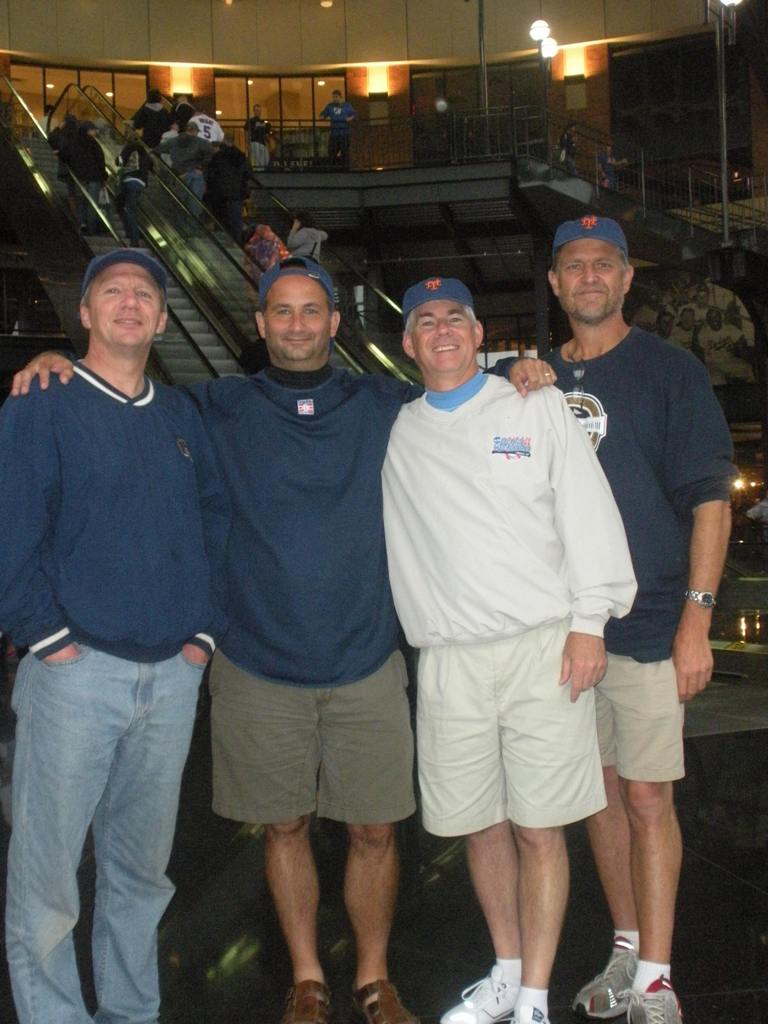 Chief Bender snuggles up with Big Guy
and Mouse, just prior to urging them to buy
him just one more cold ale to satisfy his
Native American thirst.