THE MAKING OF THE 2009 CHAMPION CUBS:
FRANKENSTEIN REDUX
Men,
As is customary, I have endeavored to conduct a critical analysis of the making of this season's championship team, Brother Shamu's enigmatic and hyperachieving Cubs. Never before has this task been so daunting, as almost every other HSL championship team has had a rational and easily understandable explanation for its success in that given season, such as career years from two or three players on the team, a couple of lightening-in-a-bottle free agent pick-ups, a fortuitous transaction resulting in a one-sided trade, etc., etc. Not one of these factors played into the success of the 2009 Cubs. Probably all that you really need to know about the 2009 Cubs is that a pitcher by the name of Homer Bailey (he of the 5-ish ERA) had 25+ points on the final day of the season to help the Cubs clinch the deal.
So how did Dr. Frankenstein put together this collection of misfit bodies and body parts in the 2009 Campaign? Let's take a look.
| | |
| --- | --- |
| ● | Picking out of the 4-hole, Shamu definitely started things off right by selecting Chase Utley of the Phillies, who had a very strong regular season and a spectacular World Series. Yet Utley did not exactly over-achieve this season, but merely did what was expected of him, scoring 704.3 points, the sixth highest total of all players. |
| | |
| ● | Shamu's second-round pick, Johan Santana, had an injury-plagued and subpar year, and did not even crack the top 25 list of pitchers. |
| | |
| ● | In Round 3, Shamu went with Justin Morneau of the Twins, a savvy pick until Morneau was injured and finished the season on the DL, having played in only 135 games and notching only 100 RBIs. |
| | |
| ● | In the fourth round, Shamu took the aged Vladdy, who between injuries and just being too old, scored only 313 points for the year. |
| | |
| ● | In Round 5, Shamu took Joe Nathan, who although he had a very respectable 47 saves, totaled only 508 points, 36th among all league pitchers. |
As one continues to look down Shamu's Draft Day roster, one would not have expected this team to even be in contention for a Hot Stove League crown, much less to win it all.
The place that Shamu won this thing was in the free agent market, where Shamu shopped early and often. In April alone, while most of us were still rubbing the sleep out of our eyes and trying to alert ourselves for the new season, Shamu went to the free agent well 14 different times. And just look at the fourteen studs that he picked up during April:
| | |
| --- | --- |
| 1. | Miguel Batista |
| 2. | Mark Ellis |
| 3. | Jeff Bennett |
| 4. | Aaron Heilman |
| 5. | Pedro Feliz |
| 6. | David Aardsma |
| 7. | Jordan Zimmerman |
| 8. | Lyle Overbay |
| 9. | Dan Meyer |
| 10. | Kiko Calero |
| 11. | Garrett Mock |
| 12. | Jason Hammel |
| 13. | Brian Tallet |
| 14. | Bill Hall |
Not exactly the stuff that dreams are made of, is it? And yet, this first month of the free agent draft was a paradigm of Shamu's free agent shopping for the entire season, picking up players literally from A (Aardsma) to Z (Zimmerman), and primarily consisting of the flotsam and jetsam of the free agent market—castoffs and has-beens that nobody else wanted. Not a bona fide star to be found in this group, but plenty of fill-in, plug-in, points-amassing component parts, the sum of which was far, far greater than the mere addition of the individual parts.
In May, Shamu followed the same formula, again going to the free agent well for some rancid, lukewarm water a total of 14 times. The month of May yielded the following back-alley bargains for the Cubs:
| | |
| --- | --- |
| 1. | Mike Aviles |
| 2. | Jorge DeLarosa |
| 3. | Michael Cuddyer |
| 4. | Franklin Gutierrez |
| 5. | Shairon Martis |
| 6. | Josh Outman |
| 7. | Brian Tallet (again) |
| 8. | Joe Blanton |
| 9. | Vicente Padilla |
| 10. | A.J. Pierzynski |
| 11. | Seth McClung |
| 12. | Miguel Batista (again) |
| 13. | Jeremy Hermida |
| 14. | Juan Rivera |
Not a jaw-dropper in the whole group, but merely fourteen more cogs for Shamu's well-meshed machine.
Sticking with a winning formula, Shamu drafted fourteen more free agents during the month of June, precisely the same number as in April and May. His June draftees were so forgettable, they won't even be mentioned by name here.
In July, Shamu drafted –– you guessed it –– fourteen more players from the free agent market, including such household names as Brett Cecil, Anthony Swarzak, Tim Stauffer, and Ryan "Sad" Sadowski. Impressive, eh? However, Shamu also entered into the trade business in July, swapping the aged Bobby Abreu for the Highlanders' Troy Tulowitzki, who had previously been imprudently dropped from the roster of the Wahoos, possibly costing them the HSL title. In any event, as you are all well aware, Tulowitzki went on to have a bang-up second half of the season, finishing with 32 home runs, 92 runs batted in and a total of 659.3 points in our league, good for 11th best among hitters. Tulowitzki was Shamu's second top hitting performer by a long margin, easily outdistancing his third place hitter, Andre Ethier, with 598.1 points.
In August, sensing an actual shot at winning the Hot Stove league in 2009, Shamu set a league record for most times visiting the free agent market in one month, a staggering total of 40 times. I repeat myself, but again, the names are mostly forgettable, like Tom Gorzelanny, Bud Norris, Gio Gonzalez, Ryan Roland-Smith (I didn't even know we had any hyphenated players in the league), Geoff Blum (he's still playing?), Junichi Tazawa (isn't a bridge in upper Manhattan named after this guy?), Chris Volstad, Eugenio Velez, Koyie Hill, Chris Narveson, and Paul Janish. I'm not even sure all of these guys played in the Major Leagues –– did Shamu have access to minor league players and players in the Netherlands and elsewhere?
Never one to over-manage a team, Shamu took it to a new level in September, drafting from the free agent pool a preposterous 53 different times, including a recycling of many players previously on the Cubs roster and then dropped. If this had been an actual Major League baseball team, they would have gone broke just providing uniforms and lockers to all of these new players, and lettering and re-lettering the uniforms. As far as I can tell, Cub middle reliever Shawn Marshall had the most stops on the Cub line express, being drafted by Shamu for the fourth time on September 28. He was probably hoping to be able to last the rest of the season with the Cubs, but he was dropped like a ugly stepbaby on October 2 when Shamu had the chance to snatch up Blue Jay utility man Randy Ruiz.
And finally, during the four days of October before the regular season finally ended, Shamu drafted from the free agent pool an additional 28 times, his final selection being some one or some thing named Fu Te Ni, allegedly a reliever with the Detroit Tigers. I'm pretty sure that this is a fictional player, and that Shamu somehow jobbed the Yahoo! system into listing this on the Transactions Board as a way of finally thumbing his nose at the competition, primarily B.T. Maybe I'm wrong on this, but I don't think so.
I knew that Shamu had done an amazing job of supplementing his Draft Day team through the free agent market, but I really had no idea of the extent and degree of his managerial prowess until I went through his free agent transactions line by line for the entire season. In all, Shamu drafted from the free agent market 179 different times, and picked up 134 new players for his Cubs team. From his original Draft Day roster, only Chase Utley, Andre Ethier, Mike Lowell and Vlad Guerrero, among hitters, ended up on his final day roster, a total of 4 out of 16. From his Draft Day pitching staff, only Ryan Dempster, Joe Nathan and Trevor Hoffman made the final cut, a total of 3 out of his 10 Draft Day pitchers. One of his four utility players, John Roush alone, ended up on his roster on the final day. In sum then, out of the 30 players selected by Shamu on Draft Day on April 4, 2009, only 8 were on his team on the final day of the season on October 4. The other 22 players were picked up either through the free agent draft (21 of them) or by trade (Tulowitzki).
Take a few minutes to give thought to what Shamu accomplished this season. After a mediocre Draft Day, Shamu may have pulled off the best-ever management of his team for the following six months. We can only guess how much jeopardy this placed him in with his employment and family status, but let us tip our hats to this Lion of the Hot Stove League for his epic 2009 season.
THE MACHINE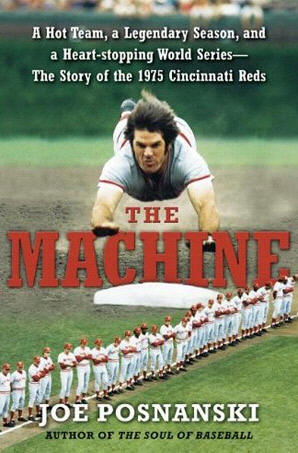 After reading an excerpt from it in Sports Illustrated earlier this year, I decided that I had to buy The Machine, subtitled "A Hot Team, a Legendary Season, and a Heart-stopping World Series: The Story of the 1975 Cincinnati Reds," authored by Joe Posnanski, a sports columnist at the Kansas City Star since 1996. By the way, I don't get why they have to use such long subtitles these days. Either too many books, or not enough creativity, I guess.
In any event, although I don't remember being particularly enamored by any of Mr. Posnanski's sports columns in the Kansas City Star when I have stayed in that city in the past, his book about the 1975 Reds is a gem. Perhaps it is because I have such strong memories about the Big Red Machine and the Fall Classic of 1975, when I was a freshman student at the University of Nebraska, but I couldn't wait to read this book, and once I dug into it, I could barely put it down.
To try to whet your appetite for this book a bit, let me share with you this excerpt about Pete Rose which describes his actions in the sixth inning of Game 7 of the 1975 World Series, in Boston, with the great Big Red Machine down by the score of 3-0:
"What the hell's wrong with this team?" Rose shouted, dusting off the dirt from his kamikaze slide. "What the hell is wrong with you?" He paced back and forth, choking in the dust of the dugout, a lion in his cage. He slapped the knees of players. He pumped his right fist. The din outside grew louder, the howls of those desperate and bundled-up Boston Red Sox fans. Fenway Park seemed to be dressed in black wool. And the noise sounded like a wave crashing over a junkyard—all roar and rattle and squeak.
"We're not going to lose this game," Rose shouted. "No way. You hear me? We are not losing tonight. You know what people are going to say about us? We're nothing. They'll say we're losers."
Pete walked up and down the bench and looked hard at each player's face.
"We're not f--king losers," he shouted.
After Rose's tirade, Tony Perez hit a two-run homer off Bill "Spaceman" Lee which sailed far over the Green Monster, closing the gap to 3-2. In the 7th inning, Ken Griffey walked, stole second, and scored on Rose's single. In the top of the 9th, with the score tied, Griffey walked again, and was pushed over to 2nd base on a bunt. After Rose was walked with two outs, Morgan came to the plate, and with the count 2-and-2, he barely got a bat on a nasty slider from Red Sox reliever, Jim Burton, dropping the ball in front of Fred Lynn for a soft single.
In the bottom of the 9th, Will McEnaney got Juan Beniquez to fly to right field, and Bob Montgomery to ground out to shortstop, bringing up the great Yastrzemski. McEnaney threw his best fastball, and Yaz hit a lazy fly ball to Cesar Geronimo in center field which ended the game and the Series.
The best part of the book, in my opinion, is finding out about the interrelationships between the team members, especially the stars, Pete Rose, Joe Morgan, Johnny Bench and Tony Perez, together with their manager Sparky Anderson. There is a great part about a spring training speech that Sparky gave to the Reds in Tampa in February 1975, in which he told the team members as a whole that there were four superstars on the team, the aforementioned Rose, Bench, Morgan and Perez, who made their own rules, who had no curfew, and who had special privileges. As Sparky described it to the team members, these four were royalty, and the rest of the players were "turds." But on the subject of Sparky's clubhouse speeches, Will McEnaney, one of the turds, probably said it best more than thirty years later: "None of us ever knew what the F Sparky was talking about."
One of my favorite quotes from the book came from Sparky, commenting upon the great backstop Johnny Bench, who won ten straight gold gloves for defensive excellence: "Don't ever embarrass anyone by comparing him to Johnny Bench."
I will include one photo from the book, below, showing Johnny and his unique ability to hold seven baseballs in one hand.
Having met Bench at a Boys Town fundraiser a couple of years ago (see picture below), and having had the chance to shake his hand, I can confirm that he has an absolute set of bear paws for hands.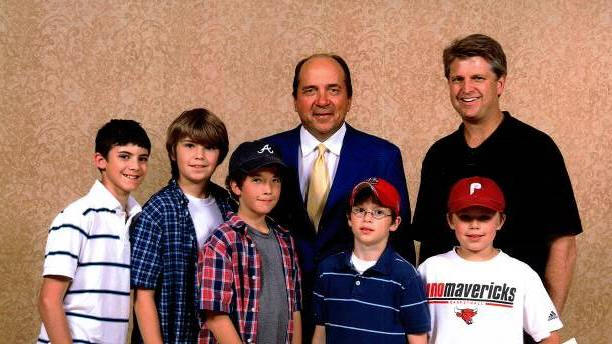 Do yourself a favor, and read The Machine. It will be worth your while.
* * * * *
Okay, that's enough for this issue of From the Bullpen, except to give you the following reminders regarding upcoming league events:
Christmas Lunch: December 22, 11:45 a.m. Jams
Winter Meeting: Friday, January 9, 2010
UNL hockey game, the Qwest Center
If I don't see you at the holiday luncheon or elsewhere, have a great holiday season.
Skipper