Band of Brothers,
After three weeks of play, we are starting to see a bit more separation between the Haves and the Have-Nots. In the Have camp, we plainly see that the Cubs, the Wahoos, the Highlanders and the Bronx Bombers are members. This is foreign territory indeed for Brother Mouse, whose charges are typically getting themselves injured or girding themselves for underachievement at this point in the season. Could this be a harbinger of a title run for the Bronx Bombers in 2010? Maybe so, maybe no, but my advice to you, Mouse, is to enjoy the ride, however long it lasts. The rest of us down here by the crapper should be so lucky.
And then there are the Have-Nots. The Bears and the Blues seem to be firmly entrenched already in the lower intestines of the league, with the Redbirds and the Chiefs also vying for membership in this unhappy club.
As for the rest of us, the Skipjacks, Monarchs, Tribe, Tigers and Senators, only time will tell whether we are Contenders or Pretenders.
The standings through three weeks of play look like this:
1.

Cubs

1477.60

2.

Wahoos

1423.50

3.

Highlanders

1385.20

4.

Bombers

1362.70

5.

Skipjacks

1339.10

6.

Monarchs

1322.00

Lower Division

7.

Tribe

1258.10

8.

Senators

1225.80

9.

Tigers

1214.30

10.

Redbirds

1171.90

11.

Chiefs

1131.60

12.

Bears

1061.00

13.

Blues

1057.20

<![if !supportMisalignedColumns]>
<![endif]>
Just so everyone's crystal clear on the subject—and this means you, SloPay—we do not have a separate disabled list this season. Big Guy could probably write a doctoral thesis on the headaches recently caused by SloPay's ill-conceived transaction which led Mouse to cut Ian Kinsler loose, but rest assured that my unfairly besmirched name has been restored to solid gold now that I have agreed to trade Kinsler to Mouse for a handful of magic beans so that he can be rightfully restored to Mouse's roster. Yes, I lost my No. 1 waiver selection position because of this colossal cluster cluck, but I'll live with it in order to silence the angry mob which surfaced recently to call for my tarring and feathering. In the future, at least for this season, nobody should operate under the premise that we have a separate spot on our rosters where we can store injured players.
Not that I'm squawking, because I'm not, but I have four players currently on the DL, a couple of who were selected on Draft Day while on the Disabled List. I mention this only to preempt any future whining, carping and moaning about the impact of the no-DL feature by others in the league, who shall remain nameless but whose proclivities toward whining, carping and moaning are well known to all of us. We're all playing under the same rules, so live with it.
We are adjusting the Guest Article Assignments for the balance of the season, as follows:
| | |
| --- | --- |
| May 3, 2010 | Stretch |
| May 17, 2010 | SloPay |
| May 31, 2010 | Mouse |
| June 14, 2010 | Big Guy |
| June 28, 2010 | Magpie |
| July 12, 2010 | Tirebiter |
| July 26, 2010 | Possum |
| August 9, 2010 | Shamu |
| August 23, 2010 | Itchie |
| September 6, 2010 | Screech |
| September 20, 2010 | B.T. |
| October 4, 2010 | Underbelly |
Next week's guest article will be authored by Stretch, who should make sure to get his missive to Linda no later than the close of business on Tuesday, May 4. Late articles are subject to arbitrary and capricious editing by yours truly.
Inasmuch as nobody has met the deadline of declining to participate on this year's Trip to Target Field in August, it looks like all thirteen of us will be making the trek together. I discovered recently that the St. Paul Saints are in fact playing in the Twin Cities during the same weekend, so we should be able to see not only one or two Twins games at Target Field, but also a Saints contest (against the Lincoln Saltdogs, no less) at Midway Stadium.
It ought to be a really good time for all. Plan accordingly.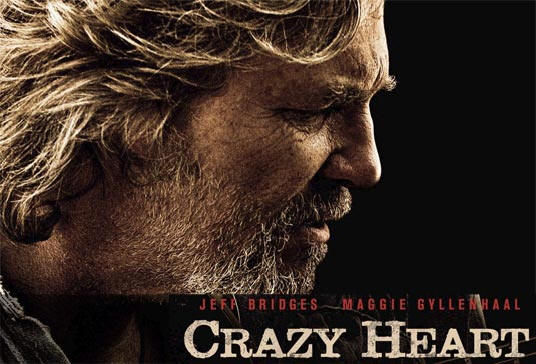 I don't have a new book to review for you in this issue of From the Bullpen, so I will don my Gene Shalit mustache and put in a plug for Crazy Heart, which I recently watched on DVD. Don't know if any of you have seen this movie which led to an Oscar award for Best Actor for Jeff Bridges, but it is a fantastic movie that you'll all want to watch. The music is outstanding, and Bridges' performance as an alcoholic, washed-up country western singer is spot-on. I bought the soundtrack CD a couple of months ago, and the music in the movie is fantastic. The cameo appearance by Robert Duvall—who played a similar role in Tender Mercies about twenty years ago—is engaging, to say the least.
Two thumbs way up for Crazy Heart.
Last weekend was a banquet for this baseball-loving dad. Will's Dirtbag team played in a tournament in Council Bluffs hosted by the C.B. Yellowjackets, with the Dirtbags returning as the defending champions. After winning two games in pool play on Saturday and getting the No. 1 seed for Sunday, the Dirtbags rallied from a 4-3 deficit in the bottom of the 7th of the semi-final game to gain the finals, and then came back from an 8-0 deficit in the championship game, plating two runners in the bottom of the 7th once again to win the title for the second year running. My boy Steinway didn't have such a great day at the plate or on the bases, but he was brought in to close out the last two innings of both games, and Junior Smoke got the job done without allowing a run or even a hit in either game, and earned both wins in relief.
Our pitching coach, Scott Sorenson, a former Creighton pitcher, told me after the first game that he absolutely loved watching Will take the mound without any fear, challenging each hitter with his fastball and daring them to try to hit his best stuff. Junior Smoke's best stuff was good enough this weekend, as he sat down most of the hitters that he faced with strikeouts, and caused the rest of them to ground out or pop out meekly. Coach Sorenson observed that pitchers are born to be closers or not, that the closer mentality is not something that can be taught. I only hope that Steinway's future coaches at Mount Michael ascribe to the same baseball philosophy.
Spring is here, we've got baseball on TV every night, and best of all, we've got the Hot Stove League. As Underbelly so adroitly commented in his recent excellent edition of The Bellyflop, how did we all get so lucky to be assembled together in this magnificent congregation of thirteen kindred baseball souls? How indeed.
Life is good. Savor it.
Skipper