Dear gang,
Pretty hard to follow last week's Jiggernaut, another hilarious edition from our beloved Foster Thielen. Especially those captions on the pictures, which were the work of a comic mastermind. I particularly liked the Possum 7-Xanax day. Nailed it!
The standings for Week 21 are posted below. Because my team is hopelessly mired in last, with no chance of moving up in the standings, my only reason to check these days is to see if there is any chance that the Chiefs might catch fire and make a run at screwing Possum out of his ninth Hot Stove League title. Well, it should be nine, and so we'll just count it as nine.
| | | | |
| --- | --- | --- | --- |
| 1. | | Wahoos | 10681.5 |
| 2. | | Lincoln Chiefs | 10193.4 |
| 3. | | West Des Moines Cubs | 9977.8 |
| 4. | | Da Bums | 9811.3 |
| 5. | | Millard Monarchs | 9776.6 |
| 6. | | Redbirds | 9146.9 |
| 7. | | Malden Missiles | 9054.1 |
| 8. | | Itch's Bitches | 9076.8 |
| 9. | | Lincoln Bears | 8818.8 |
| 10. | | Lincoln Tribe | 8705.5 |
| 11. | | Obama Bombers | 8616.0 |
| 12. | | Kansas City Blues | 8645.2 |
| 13. | | Omaha Senators | 8189.7 |
WEEK 21 POINT TOTALS
| | | | |
| --- | --- | --- | --- |
| 5. | | Millard Monarchs | 630.6 |
| 4. | | Da Bums | 589.7 |
| 2. | | Lincoln Chiefs | 543.9 |
| 7. | | Malden Missiles | 541.9 |
| 1. | | Wahoos | 512.7 |
| 9. | | Lincoln Bears | 471.8 |
| 8. | | Itch's Bitches | 446.3 |
| 6. | | Redbirds | 437.0 |
| 3. | | West Des Moines Cubs | 402.8 |
| 10. | | Lincoln Tribe | 400.8 |
| 11. | | Obama Bombers | 392.8 |
| 13. | | Omaha Senators | 334.4 |
| 12. | | Kansas City Blues | 253.6 |
But enough about the rest of you. Let's focus now on what I've been up to recently.
My law practice took me to Little Rock and Fort Smith, Arkansas, last week, giving me a chance to reacquaint myself with the Natural State. So very glad I did.
The last time that I was in Little Rock was in the mid-1980s, when I was handling a bankruptcy fraud action involving a Little Rock bank known as Savers Federal Savings & Loan. During that trip, I was hosted by a gregarious young lawyer named Tim Groom (who was a high school classmate of Kevin McReynolds), who introduced me to darn near every lawyer in the Rose Law Firm, including several guys with names like Billy Ray Robinson, Bubba Thomas, and the like, each of whom had a funny yarn to spin for me or a joke with which to regale me. Thinking back on it, I am pretty sure that I did not get the chance to meet Tirebiter's heroine, Hilary Rodham Clinton, although I believe that she was probably a member of that firm at that time. My loss. I do remember that Mr. Groom and his firm treated me like visiting royalty from England, picking me up at the airport, putting me up in the stately old Peabody Hotel, and taking me out to lunch at the Little Rock Club, where I was served by elderly black men wearing black suits and white gloves. You just don't get service like that anymore.
Anyway, please pardon the digression, as I snap myself back to the present and my recent trip to Little Rock. A creature of habit, I once again stayed at the Peabody Hotel (thanks to the world's best travel agent, Linda) which was offering incredible room rates to try to spur business during a very slow time for the Peabody. It was there at the hotel bar that I met my new friend and psychologist, the bartender, John, a native of England who played professional soccer in Dallas and met his future wife on a trip to Little Rock, where he has now resided for about the past ten years. As he plied me with drink (once he learned that his customer was a former bartender himself, good old John's sense of volume measurement increased generously, as my drinking glass literally runnethed over) and counseled me on my personal woes on the eve of my 20th wedding anniversary; I returned the favor and listened sympathetically as he bemoaned the difficulty of supporting a family on a bartender's salary with a wife who has a taste for champagne and baubles. In the end, I'm not sure if he was shrinking me or I him, but we became fast friends and both benefited enormously from the colloquy and camaraderie. He even suggested that we both apply to be on the same episode of "Wife Swap," and while I saluted the concept, I told him that it likely was not in the cards, and promised him that he would thank me later for putting the kibosh on the proposal.
On my drive from Little Rock to Ft. Smith, about 150 miles, my reading of the billboards and advertisements along the way were a constant reminder that I was, in fact, in Arkansas, not Nebraska. Where else would you see a sign advertising a fine dining and catering establishment named "The Catfish Hole"?
Where else but here would you find an orthodontist who advertises his product as "razorbraces"?
Where but in the Natural State would you find a liquor store named "Hog Trough Liquor"? Where but here would you be able to stay at the Lester Flatt RV Park? Or see a sign describing rates as "high as a cat's back"? Where else but here could you find an upscale jewelry store named "Sissy's Log Cabin"? And where else but here could you take your kids to play at Toad Suck Park?
I also noticed that a lot of people in Arkansas go by names like "Billy," instead of Bill or William, and "Bobby," instead of Bob or Robert. In fact, the current Arkansas legislature has a "Jimmy," a "Billy," and a "Johnny" in it, among others. Also, there are probably more Sonnys in Arkansas than in the rest of the free world combined. One of these days we'll have to have a Famous Sonnys Contest on one of our Hot Stove League trips, to compliment the Famous Billys and Famous Bobbys naming contests that we have had in the past.
After my meeting with clients in Fort Smith, it was back to Little Rock for a meeting with a pediatric infectious diseases specialist that I am using as an expert witness in a case. Fortunately, I had just enough time in between meetings to pay a visit to the State Capitol in Little Rock, now No. 32 on my list. A beautiful, stately building patterned after the U.S. Capitol in Washington, D.C., the Arkansas Capitol is truly a magnificent statehouse. Although its design, financing and construction were all rife with corruption and scandal, when it was finally completed in 1915 at a cost of $2 million-plus, the good people of Arkansas finally had a Capitol Building for the ages.
When I walked into the Capitol Building and set off the metal detector with my cell phone, one of the three state troopers who were standing around and kibitzing said to one of the others, "You take him, I'm out of bullets," which got a chuckle out of me. I wondered to myself if any of these three yuckmeisters might have been involved in escorting floozies to the governor's mansion when Bill Clinton was in office there, and briefly considered asking it as a joke, but then thought better of it. I can report that Slick Willy's boy governor portrait is still proudly displayed in the Capitol rotunda, in case any of you wanted to know.
JEWEL ON THE ARKANSAS RIVER: DICKEY-STEPHENS PARK
On Tuesday evening last, I made the excellent decision to attend an Arkansas Travelers baseball game against the Tulsa Drillers at beautiful Dickey-Stephens Park, located just across the Arkansas River from downtown Little Rock. This beautiful gem of a baseball diamond opened in 2007 as the new home of the Arkansas Travelers of the Southern League, an institution in Little Rock for a good many years. Although situated hard by the Arkansas River just a mile from downtown Little Rock, the ballpark is officially located in "North Little Rock," and for some reason the team hats have "North" and the letters L and R on them. Must be something political with the name.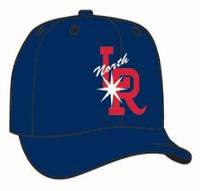 Anyway, Dickey-Stephens Park is named after two sets of brothers: Hall of Fame catcher Bill Dickey of the Yankees, and his brother George "Skeeter" Dickey, who caught for both the Crimson Hose and the Pale Hose; and the Stephens brothers, Witt and Jack, who were contractors in Little Rock and doers of public good and were the uncle and father of Warren Stephens, the man who purchased and donated the property for the site of the ballpark. And speaking of good, this is a very good ballpark, as colorful and charming as any that you will come across in the minor leagues, with the best view of a downtown skyline after PNC Park in Pittsburgh. Not only can you see the famous Peabody Hotel and the old Statehouse located right next to it, you can even see the Clinton Presidential Library from the ballpark, so at least it has that going for it, which is nice.
The food at this ballpark was quite sumptuous and ever so affordable. Although I don't think I've had a corndog since college, the foot-long corndog for four bucks was too tempting to resist, and as it turned out, an excellent choice. The only disadvantage was that the corndog stick in the middle was a foot long and sharp as a spike, and one has to take care not to give oneself a tracheostomy while working one's way down the corndog. Houston salted peanuts were two bucks a bag, and pretty good, but not great. The tangy polish sausage that I had for dessert was mouth-watering good, and came at the modest price of three bucks. They serve a wide variety of tasty beers at the park, ranging in price from $3 to $6.50, so it is much cheaper to get a snootful at Dickey-Stephens than at Yankee Stadium, for sure.
One remarkable feature of this ballpark is that it has a large section of bleachers past the first base line in which smoking is allowed, if not encouraged. When I first got to the ballpark, I sat in one of the seats in this area, not knowing that it was for smokers, but I was quickly puffed out of the section by multiple fans lighting up and creating a stink. Later on in the game, when I moved around to the other side and had a better view of the smoking section, I concluded that there were probably just about as many fans in the smoking section – maybe a thousand or fifteen hundred – as in all of the other sections of the stadium combined. I guess this shouldn't be surprising, it is Little Rock, after all.
As has been said so many times by so many, The Trip to the Twin Cities was a blast, and it was swell to have all thirteen league members present. I agree with Stretch that it is somewhat depressing to think that we have to wait a year for the next HSL Trip, but maybe we can break it up a bit with a final junket down to Kansas City before the 2010 Campaign concludes. I note that the Royals are in town quite a bit in September, including the last week and the final weekend. Failing that, we should at least start the conversation about next year's Trip, so we all have something that we can look forward to.
Since there are no new ballparks opening in 2011, we have many other options to consider. Closer to home, we could plan a revisit to Wrigley, which we haven't seen as a group since my bachelor party in 1990, and before that, our official HSL Trip in 1989. Looking the other direction, a trip back to Coors Field and the Eagle's Nest would certainly be palatable, and it has now been more than a dozen years since we last visited this venue, back when Moises Alou was busting his hump each and every game of the 162 contest campaign.
Wrigley? or …
Coors?
Although I would be glad to revisit either Wrigley or Coors for next year's Trip, we could also look at Seattle, San Francisco or The Ballpark in Arlington, three venues that have never hosted an official HSL junket. A trip back to Fenway Park also wouldn't be a bad idea, nor would a revisit to Camden Yard or Chavez Ravine.
Seattle?
San Francisco?
Arlington?
Fenway Park?
Oriole Park at Camden Yards?
Or Chavez Ravine?
Many possibilities. Get on that Message Board and weigh in on your thoughts.
Last night was the final home game of the Omaha Royals at Rosenblatt Stadium, a jewel of a ballpark if ever there was one. A number of Hot Stove League faithful (SloPay, Tricko, Big Guy, B.T., Underbelly, Mouse and Possum) attended this grand finale to help close down the Grand Old Lady in style. Possum shared with us all some of his memories of Rosenblatt, both good (playing Legion baseball on this hallowed ground, attending numerous memorable College World Series games here) and bad (being forced to participate in the marching band event at a freezing cold game in 1973, bedecked in a geeky band uni and blowing into his Flooglehorn) as the rest of us sat in stunned silence. Now we understand, Possum. Now it makes a lot more sense.
The end of the game was perfect, with the center fielder snagging a fly ball to the raucous cheers of a 20,000+ crowd in full throat. Following the game, there were numerous speeches by former players, current fans, the general manager, the owner, legendary groundskeeper Jessie Cuevas, and by the son of Johnny Rosenblatt, Steve Rosenblatt. The final on-field activity prior to the fireworks was a "hit" by Steve Rosenblatt off of a pitch thrown by Tom Kelly, the grandson of the pitcher Tom Kelly who threw the first-ever pitch at Rosenblatt. Pretty cool.
After the game, my son Joe and I reminisced about the many great games that we have seen at Rosenblatt, and we shared our mutual regret at the fact that this beautiful ballpark on the hill will soon be demolished. Although we both acknowledged that there will be many great memories at the new downtown ballpark which will begin hosting the College World Series next season, and at the new ballpark in Sarpy County which will be the home of the Omaha Royals (or whatever they are renamed) next season, we agreed that there will never be another one like Rosenblatt. Thanks for the memories, Old Friend.
* * * * * *
That will do it for this issue of From the Bullpen. Go Huskers!
Skipper