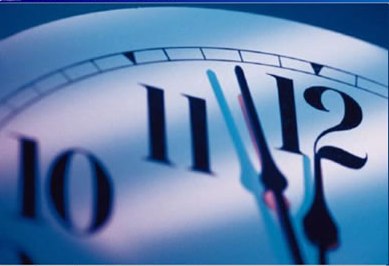 As I was reminded by Rafiki while attending the Broadway musical The Lion King this past week with my daughters, "It is time." Time for this seemingly endless winter to be over (it is snowing again this morning, as I dictate this), time for the grass to turn green and the trees to return to life, and most importantly for all of us, time for baseball to begin. By my count, it is three weeks and one day to Draft Day, and 23 days until Opening Day. Get here!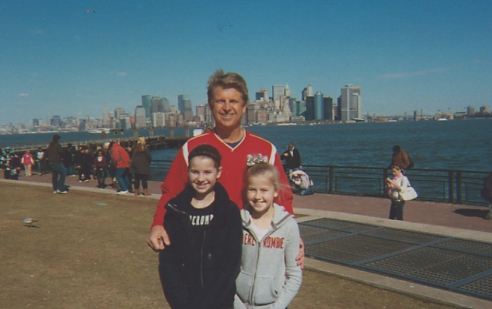 Just returned from the Big Apple after spending three days there with Savannah and Emily on Emily's official "What does Daddy really do on his work trips?" work trip. Had a great time seeing a couple of Broadway shows (The Lion King, Mama Mia) with the two of them, visiting some of the usual tourist venues, but most of all, seeing the world of Manhattan through their tender eyes. Broadway plays, Times Square, the Statue of Liberty, subway rides, taxi rides, Central Park, Madison Avenue, a lot of great stuff to see in three days, and yet I think that the funnest time for the both of them was our two different trips to F.A.O. Schwartz, one of the bestest toy stores in the whole world. Oh, to be 10 or 12 again. If only our band of Men of a Certain Age could return to those simple and carefree times of our lives.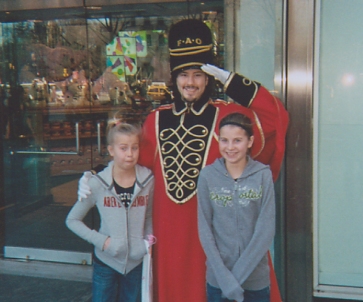 The girls were asking me how many times I had been to New York, and after thinking about it a bit, I came up with around 15. The first time was with Underbelly and T. Cole when I was in law school and I learned just how much money stood to be made off of the uneducated and naïve three-card monte players and other street gamblers. Without exception, I always get excited about spending a few days in New York City, and without exception, I'm always thrilled to return to the calm, friendly environs of the Midwest after spending any significant time around the hard-edged Gothamites. And they are a titanium-surfaced lot, as a whole. During our many miles of pounding the pavement, if I saw two people smiling, it would be a surprise. Heads down, scowls on their faces, bracing themselves for another day in their dog-eat-dog worlds. Not a place I would ever want to live.
The girls were amazed by all of the different languages being spoken all around us, and the very different looking people from those they see on a daily basis in West Omaha. Our cab driver from LaGuardia to our hotel was a chipper young Afghani man named—no kidding—Ali Baba. The girls got a huge kick out of this. My new friend Ali Baba told me everything there was to know about New York City during our ride from LaGuardia to Park Avenue, assuming that it was my first visit to the city. Beautiful start to our trip.
I know it's always dangerous to generalize, but you can lump 80% of the people that we saw in Manhattan into five or six broad categories: (1) power brokers (mostly males) in power suits; (2) Hasidic Jews, in their traditional garb; (3) old Jewish men who look like Milton Berle, Billy Crystal or George Burns; (4) old Jewish women who look like Joan Rivers or Estelle Costanza; (5) Italian guys named Tony, wearing Yankees hats and two days of hard stubble; and (6) aging blonde beauties (shopping 5th Avenue), with furs, high heels and fluffy little dogs. What a great place to people-watch.
I've noticed this before, and I noticed it again on this trip, that New Yorkers are unabashed and unyielding about their smoking. Seems as if 50% of the people we saw in Manhattan are cigarette smokers, and none of them seem even remotely concerned about the impact of their secondhand smoke on others. So why would Manhattanites, with higher than average intellects and educations, be such fervent puffers? Two obvious reasons: one, stress relief for their highly stressful lives; and two, it's just not very high on the list of the many problems in their lives. In fact, most of them would probably welcome an earlier end to their miserable existences, even if by heart disease or lung cancer.
As on every trip, I spotted several of Shamu's look-alikes on this trip, including this fellow who shared our boat ride out to the Statue of Liberty: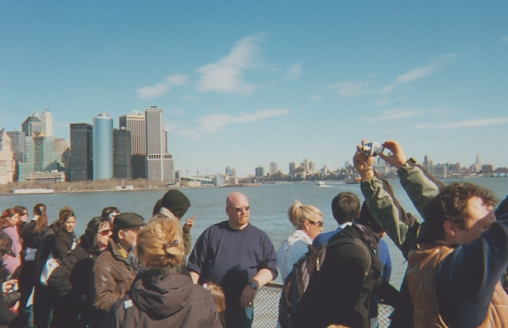 That's it about New York. Just wanted to share a few thoughts while they were still fresh in my mind.
We are the three in the circle: B.T. on the aisle, then me, then U-B is standing up.
From reading my most recent issue if Baseball Digest, I learned that there is another item to add to the old baseball resume. Turns out that when B.T., U-Belly and I went to the Rockies' first-ever game—at Mile High Stadium on April 9, 1993—for their inaugural contest against the Expos, we were part of the eighth-largest (80,227) crowd ever to watch a major league baseball game, and the only one on the list of the top ten not at the LA Coliseum or at Cleveland Stadium. So I guess we can puff our chests out a little more these days, B.T. and UBob, old buddies.
| | |
| --- | --- |
| * | I read in the same issue of Baseball Digest that Hensley Muelens is the hitting coach for the San Francisco Giants this upcoming season. No wonder, with that stellar major league career of his. I am guessing that the 20,000 Hensley Muelens rookie cards that B.T. and I bought as the "core" of our baseball card joint venture will now skyrocket in value. And I owe it all to B.T. for his vision and moxie. |
| * | Andy Pettitte has the most wins among all major league pitchers for the 2000-2009 decade, a total of 148. No big surprise, nor is it surprising that RJ is second in wins last decade with 143. What is surprising is that third place on the list is not Halladay, Oswalt, Hudson, Sabathia or Mussina, but puff-ball pitcher Jamie Moyer. That's right, the same 48 year-old who is trying to win the fifth starter's spot for the Phillies this season. Never sell him short. |
| * | Although Dennis Martinez is the all-time winningest Latin American pitcher with 245 wins, he never once won 20 games in a season, and in fact, he never won as many as 19, 18 or even 17 games in one campaign, as incredible as that may seem. During his career, El Presidente won 16 games in a season four different times, in 1978, 1982, 1989 and 1992. |
| * | Although Bobby Cox has piloted six Braves teams to 100-win seasons—joining Joe McCarthy of the 1930s-era Yankees as the only manager to so lead his team—Cox's postseason record is an even 66-66, with only one World Series ring (1995) in fourteen postseason appearances and five Fall Classics (1991, 1992, 1995, 1996 and 1999). Not exactly a manager in the clutch. |
| * | Most of you know that the Splendid Splinter was the last major leaguer to finish a season with a batting average of .400 or higher, with his .406 in 1941; but how many of you knew that but for having 16 hits taken away from him because of batting box violations, fan interference and corked bat violations, Rico Carty would have hit .3996, which would have been rounded up to .400, during his 1970 season for the Atlanta Braves? |
| * | Willie Davis, the speedy left fielder for the Los Angeles Dodgers of the 1960s and '70s, passed away this week at age 69 from unknown causes. This fleet-footed native of Mineral Springs, Arkansas, finished his major league career with two World Series rings (1963 and 1965), 110 triples, 1004 runs, and 398 stolen bases. He still holds Dodger franchise records for the longest hitting streak (31 games in 1969), hits, extra base hits, at bats and total bases. In the 1965 World Series, he stole three bases in one inning. Not known by many, Davis was extremely popular outside of baseball during his heyday, making appearances on such shows as The Flying Nun and Mr. Ed. R.I.P., Willie. |
My hat is off to Bender who, sensing my need to turn the page and move on with my life, served as my wing man last Saturday night, introducing himself around as "Big Johnny," plying potential prospects for Skipper with grain alcohol, and finding a beautiful, blonde bombshell for his brother-from-a-different-mother. When Itchie asked me what sort of woman I was looking for, I responded, "Someone nice, attractive, blonde, funny, appreciative, shapely, wealthy, worldly, sexy, and intelligent." Itchie suggested that I not let intelligence be a deal-breaker.
In any event, as always, it was a fun night with Itchie last Saturday evening, and I appreciate him taking one (hangover) for the team. Thanks to Bender, I am back in the game. Details to follow, as available. What a pal, what a pal.
* * * * *
Finally, I leave you with a link to a very funny last page from my Delta In-Flight magazine, authored by Dave Hanson, who apparently is a TV writer. I thought it was pretty darned funny, and assumed you would like it as well.
Skipper
P.S. I made up that deal about Rico Carty. Just checking to see if everyone's reading these things closely.