Brethren:
With a mere three weeks to go in the 2011 HSL Campaign, it would appear that the Chiefs are all but a lock to capture their second league crown, although the Cubs, the Wahoos and the Tribe hover close enough nearby to make things at least a little bit uncomfortable for the chief Chief. Here are the standings through Friday, September 9, 2011:
(Sorry, guys, but I could not access DDE's
Yahoo Fantasy Baseball Account tonight for some reason,
so the point totals will have to wait for another time. Linda)
Business took me to Clearwater, Florida recently for the deposition of a neurology expert, and as fate would have it, I was able to work in two minor league games on the afternoon of Sunday, August 28. The first game, between the Clearwater Threshers (the Phillies Class A affiliate in the Florida State League) and the Lakeland Tigers, took place at a beautiful gem of a field known as Bright House Field. Opened in 2004 to provide both a spring training home for the Philadelphia Phillies and a home field for the Threshers, this little jewel of a ballpark holds 8500 fans and features Frenchy's Tiki Bar just beyond the left field fence.
On the particular day of my visit, the perky and well-endowed bartender was serving up 24-oz. Coronas for a mere four dollars. Well, I may be old and prematurely senile, but I ain't stupid, and I quickly recognized this as the best deal in the house. I also found that the view from the Tiki Bar was quite satisfactory, as good as any seat in the house for following the action.
A number of years ago, I attended a Phillies' spring training game at their prior complex, Jack Russell Field, which had a nostalgic feel to it, but could not hold a candle to Bright House Field. If you are ever in Clearwater during the month of March, you should by all means pay a visit to Bright House Field for a spring training game.
I was amazed to see that the Threshers have an Omaha boy on their roster, a lad by the name of Darin Ruf, as well as a Sioux City player by the name of Kyle Lafrenz. It will be interesting to see if they make it past A.
Also of note, the manager of the Threshers is Dusty Wathan, son of former Kansas City Royals catcher (and manager) John Wathan. One of the coaches of the visiting Lakeland Tigers was a guy named Roof, whom I assume was former major leaguer Phil Roof. The catcher for the Tigers that day was also a Roof, whom I assume to be his son. All in the family, I guess?
The only bummer about the game was that there were probably more employees present for the game than fans, which I would estimate to have numbered fewer than 100. I assume that this is because it was an extraordinarily hot and humid afternoon to be hanging out at the ballpark, and because it was a day game after a Friday night game which involved fireworks. I would imagine that there were several thousand fans in attendance the evening prior to the game that I saw.
As soon as the Threshers had dispatched the Tigers to the tune of 4-3, I hopped into my rental vehicle and checked into my hotel on Clearwater Beach, a fairly hoity-toity joint called the Sandpearl Resort, which was very reasonably priced during the off-season but which probably goes for $300 to $500 a night in the spring. Nice digs for a gomer from Omaha.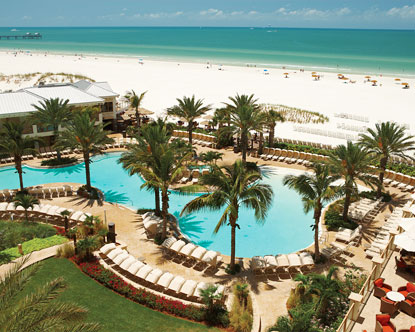 After checking out the beach and the pool, I hopped back into my vehicle and headed north about five miles to Dunedin, and its more aged ballpark, Florida Auto Exchange Stadium, for a 5 p.m. contest between the Dunedin Jays and the Daytona Beach Cubs. Another Florida State League matchup. There isn't a lot about this ballpark to recommend it to others, but the beer was cold and inexpensive and the fans were enthusiastic and vocal. Noteworthy was the fact that former Husker baseball player Jake Opitz was on the roster of the Jays, and former Detroit Tiger phenom Barbaro Garbey is the hitting coach for the Cubs. I guess Sparky was wrong about Barbaro.<![if !supportFootnotes]>[1]<![endif]> Also noteworthy, I thought, was the fact that there were quite a number of stunning young women in the stands for this game, most of them sitting alone, apparently there to show support for their "guy" and hoping that they had hitched their wagons to a winner who could someday provide them with the lifestyle of a major league trophy wife.
Good golly, it was good to be back out on the road again, watching minor league baseball.
There was a great article in this month's edition of Baseball Digest about Tilden, Nebraska native Richie Ashburn, a testament to his abilities in the outfield. While I never thought that he had the offensive numbers to put him in the Hall of Fame, after looking at his accomplishments in terms of putouts during his distinguished Phillies career, I can now see why he deserved to be inducted into Cooperstown. Ashburn absolutely blows away the competition when it comes to outfield play, as evidenced by his putout statistics mentioned below in the article. It is hard to imagine that this diminutive little Cornhusker had the speed or athleticism of someone like Willie Mays or Henry Aaron in his prime, but he sure must have known how to play outfield, because he got to more baseballs than anyone. My hat is off to Richie.
I was thinking the other day about how little leisure time there seems to be these days, at least among my circle of friends and acquaintances. When was the last time that any of us had time for a nap, or to hang out on the front porch and watch cars go by? Answer: Never.
Is this because of the fast-paced world that we have created for ourselves, with e-mail, texting, twittering, cell phones and the like, or is it because we have all set our standards so high that we have to run around like scalded dogs in order to meet our own standards?
Whatever the reason, are we better off, worse off, or just different, because of the way that we immerse ourselves in the rat race? I'd love to hear your thoughts on this, since I am quite sure that I am not the only one who has noticed it.
* * * * * *
That will be it for this issue, men. Have a great week, and enjoy the last few weeks of the season.
Skipper
<![if !supportFootnotes]>

<![endif]>