This week's edition of From the Bullpen comes to you courtesy of my scratches and scrawlings made while on a brief but enriching junket to the Great Northeast with my girlfriend,* Michele. With my three-week jury trial in Madison declared a mistrial after only two days, and with some unscheduled time on my hands, I decided to surprise Michele with a short trip up to see the beautiful fall colors of New England, and was not disappointed. Allow me to share with you all a few notes from the trip:
* I am led to believe that it is probably no longer acceptable to introduce her or to refer to her merely as my "friend" without the "girl" qualifier.
Concord, New Hampshire
l Loved the little capital city of New Hampshire, Concord, not to be confused with Concord, Massachusetts, of Revolutionary War renown. This small (population approximately 20,000), quaint capital city has a beautiful downtown area with the cornerstone being the capitol building, which as you know, was a mandatory stop for me.
State House, Concord, New Hampshire
l The New England capitol building (they call it a State House there, as in most of the northeastern states) is full of political tradition with the customary first-up New Hampshire primaries. Earlier the same day of our visit, Republican front-runner Mitt Romney was at the State House to register for the Granite State primary. No word on the whereabouts of Herman Cain or Michelle Bachmann.
l Not only is there not a metal detector at the New Hampshire State House, but we were told that virtually all of the legislators carry weapons and are allowed to have them at their legislative offices. We also learned that there is a bill in the hopper in New Hampshire right now which would eliminate the need for New Hampshire residents to have a gun permit to carry a weapon. Made me want to run right out and buy an Uzi for myself.
l We spent the first night in Portland, Maine, one of the most picturesque and vibrant seaports that I have visited. Had an interesting conversation with a shopkeeper about the departure of Terry Francona from the Red Sox, and he was convinced that the team is now in for another long World Series drought.
Aerial view of Portland, Maine
Looking west across harbor to Portland
Portland Head Light
l Had a chance to visit the State House in Augusta, Maine, one of the oldest such buildings still in use (erected in 1832). One of the best features of this capitol building was the open veranda on the third floor, which allowed us to look out upon a most beautiful green space in full autumn splendor. Oh, yeah, and the mangy camp full of "Occupy Wall Streeters" squatting on the premises. In addition to the largest portrait of George Washington that I have ever seen, the capitol also prominently displays the portrait of Possum's personal hero, Brigadier General (and Brevet Major General) Joshua Chamberlain. He was responsible for receiving the surrender of the Army of Northern Virginia at Appomattox Court House in 1865, and was a Medal of Honor recipient who later served as governor of the Pine Tree State, adjutant-general of Maine, and president of Bowdoin College; furthermore, he distinguished himself at Gettysburg, where he led the 20th Maine in its valiant defense of Little Round Top. A Civil War hero, to boot.
State House at Augusta, Maine
Looking out the front window.
l In stark contrast to their neighboring legislators in New Hampshire, the State House in Maine expressly bans all weapons from the premises. Apparently the NRA hasn't spread enough money around in Maine.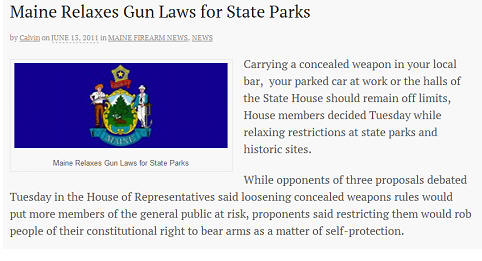 l By the way, the state motto of New Hampshire is "Live Free or Die." Or put another way, perhaps, "Either let me pack heat, or put a bullet through my head." Makes sense.
Enough about New England and gun control. Having completed this junket, I now only have one remaining state left to visit, that final frontier, Alaska. Is there a minor league baseball team in Alaska that might give reason for a future HSL trip there? Don't think so, but I'll check.
Have any of you seen Moneyball yet? Although a bit slow at times, I thought it was a pretty decent baseball flick. I wasn't expecting Brad Pitt to be very convincing as Billy Beane, but he proved me wrong.
Did anyone else remember that Billy Beane was a super-stud, multi-sport, five-tool baseball prospect in high school? I did not. Turns out, Stanford wanted him to sign a letter of intent to play quarterback, filling in for the graduating John Elway. Instead, he signed with the Mets and was labeled a "can't miss" prospect. He missed, badly. His lifetime statistics include a batting average of .219 in 148 games over 6 seasons with 4 teams, and a grand total of 3 home runs.
I had forgotten, until seeing the movie, that the 2002 Oakland Athletics won twenty consecutive games toward the end of that season, overcoming a miserable start and probably saving Billy Beane his job as general manager. This in a season after they lost Jason Giambi to free agency and replaced him with the injured former Boston catcher, Scott Hatteberg. In the twentieth game, which set the American League record for consecutive wins, the A's got out to a lead of 11 to 0 after three innings before faltering horrifically and allowing the Royals to tie the game. The A's scored a run in the bottom of the ninth inning to nail down the win, with a walk-off homer from Hatteberg. You couldn't script a more sensational way of setting the record.
I am concordant with Underbelly that Phillip Seymour Hoffman was entertaining in his depiction of Art Howe, the Oakland manager who didn't quite buy into Beane's revolutionary methodology of evaluating players.
I am reminded that the author of Moneyball, Michael Lewis, also wrote a terrific book that I just recently finished, known as Liar's Poker. This book chronicles Lewis' remarkable experience as a bond trader apprentice at Solomon Brothers in the '80s, where avarice and the thirst for power ruled the day. If one believes the author—and I do not yet have a reason not to—Lewis gave up a chance to be a boy billionaire because of moral compunction and the awful taste left in his mouth from sipping at the Solomon Brothers cup. He has another book about the excesses of Wall Street that only recently came out.
As many of you know from the Message Board, B.T. and Big Guy are both grandparents for the second time. Big Guy's daughter Abbey gave birth to an almost 9-pound Lucy on October 20, while B.T.'s daughter-in-law Brittney Krause delivered a strapping lad by the name of Harrison "Scary Harry" Jesse Krause on Halloween. Congratulations to these two proud grandfathers, who by the way are making the rest of us seem pretty old by association.
l How about that Game 6 of the Cardinals-Rangers World Series? Personally, it was one of the most exciting baseball games I have ever watched, and I can't even imagine how great it would have been to be there for it at Busch Stadium. I would imagine that it was one of the most electric atmospheres ever at a sporting event, given the circumstances and the makeup of the Cardinal fan base.
I was amazed at how calm David Freese and Albert Pujols and Lance Berkman looked as they were standing at the plate in clutch situations late in the game, before they came through with their pressure-packed hits. They all three looked like they had icewater in their veins. True professionals, all three, and what a great story about the home town boy, David Freese.
When I heard that Tony LaRussa had retired, I was at first disappointed. Upon further reflection, I think it was a great move on his part, to retire at the very top of his game, after winning his third World Series as a manager. Attaboy, Tony!
l Was it great to see the resurgence of the Husker defense at the Michigan State game, or what? And if there ever was a tougher, better, classier, gamer running back than Rex Burkhead, somebody's going to have to show him to me. I can see now why his nickname in high school was "Superman." The fact that the Longhorns passed on him until too late in the recruiting game makes it even sweeter that he is carrying the load for the Big Red.
l Somebody needs to tell Shamu that the O W S acronym in the Occupy movement does not stand for "Occupy Washroom Stall." With a satchel full of Baseball Weeklies and USA Todays, his co-workers at EMC might not see him again for months. I guess Sir Charles was just ahead of his time back when he worked for Allied in Lincoln and then Continental Western in Des Moines.
l For no reason at all, other than I like it, here's a picture of Will Ernst, Football Player.
With any luck at all, I will complete in time for the next issue of From the Bullpen my summary and analysis of the construction of the 2011 Championship Chiefs. Until then, this is your Skipper, signing off.
Skipper