Brethren,
A little food for thought for all of you for the weekend.
I ran the numbers for this year's Draft, based upon 2010 points, and they reveal that Possum picked the best team based on last year's gross points. For his top 12 hitters and his top 8 pitchers, Possum picked a team that scored 10,085 points in 2011. Next best was the Monarchs, with 10,054, followed by the Bombers with 9883, and then the Cubs with 9822. Full totals below.
Possum also picked the best hitting team with 6257 points, followed by the Monarchs with 6024, the Cubs with 5914, and then the Bombers with 5718.
Shockingly, the Blues picked the top pitching squad, based upon the point totals for the top 8 pitchers, with 4329 points. Perhaps even more shockingly, the Senators picked the second best pitching team based on 2010 points, with 4317. The Wahoos picked the 11th best pitching team with 3838.
Two teams that marched to their own drummer, the Chiefs and the Bears, fared very poorly based on 2010 points. The Chiefs, last year's runner up, finished in 12th with 8969 total points, and also 12th in pitching with 3693. The Bears, led by the iconoclastic Fightin' Denny Bontrager, finished dead last in overall points with 7357 points, more than 600 points behind the 12th-place Chiefs, with 4494 hitting points and 3089 pitching points.
Of course, we all know that past performance is no guarantee of future results. Possum makes that quite clear to his stock brokerage clients each and every day. No doubt, the Chiefs' and Bears' managers will manage the holy crap out of their teams, and I do not expect either of them to finish anywhere near 12th or 13th place. Still, you have to take a look at what happened last year, at least in terms of evaluating the Draft Day selections.
Here are the totals from top to bottom, based on last year's points:
TOTAL POINTS

1.

Wahoos

10,095

2.

Monarchs

10,054

3.

Bombers

9883

4.

Cubs

9822

5.

Tigers

9779

6.

Bums

9684

7.

Senators

9682

8.

Blues

9666

9.

Redbirds

9655

10.

Skipjacks

9641

11.

Tribe

8974

12.

Chiefs

8969

13.

Bears

7357

HITTING

1.

Wahoos

6257

2.

Monarchs

6024

3.

Cubs

5914

4.

Bombers

5718

5.

Redbirds

5702

6.

Skipjacks

5679

7.

Tigers

5572

8.

Senators

5365

9.

Chiefs

5276

10.

Blues

5237

11.

Bums

5219

12.

Tribe

4904

13.

Bears

4494

PITCHING

1.

Blues

4329

2.

Senators

4317

3.

Bums

4265

4.

Tigers

4207

5.

Bombers

4615

6.

Tribe

4070

7.

Monarchs

4030

8.

Skipjacks

3962

9.

Redbirds

3953

10.

Cubs

3908

11.

Wahoos

3838

12.

Chiefs

3693

13.

Bears

3089
A couple of other comments. First of all, Fightin' Denny's team fares so poorly under this method of evaluation because he is the King of the Flyer Pick, and several of the players on his team for this year either didn't play at all last year, or played minimally and scored minimal points. This year will no doubt be a different story.
Secondly, this evaluation is already old news, as a number of you have already completely revamped your teams, with multiple new players on your rosters and a weeding out of the old players. Still, some food for thought.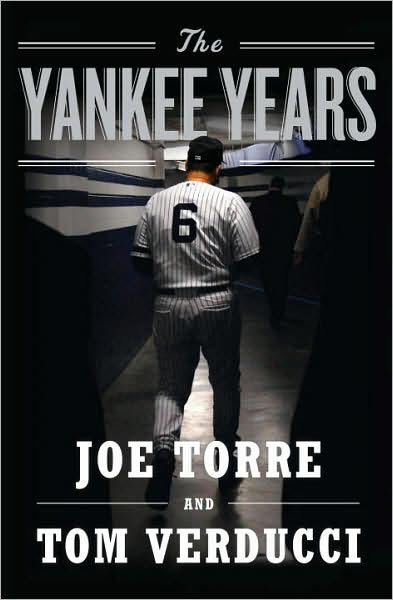 I'm about two-thirds of the way through an excellent book called The Yankee Years, written by Joe Torre (sort of) and Tom Verducci (mostly). To lead with a quote from the Daily News, it is "one of the best books about baseball ever written." I agree.
Verducci is an excellent writer, and Torre is full of great insight about his Yankee teams from 1996 to 2007. It is absolutely required reading for a Yankee fan, so Screech and Mouse, get busy. However, if you are merely a baseball fan, and all of you are rabid ones at that, you should do yourselves a favor and read this book.
Just to whet your appetite, one of the fascinating things that is pointed out by the book is how important healthy starting pitching is to a team's success. During Torre's years at the helm of the Yankee Clipper, there was one year when only two of his starters made at least 25 starts, and that was 2005. In 1997, 2001, 2002, 2004 and 2007, three of his starting pitchers made at least 25 starts. In 1996, 1998, 2000, 2003 and 2006, four of his starters made at least 25 starts. In 1999, five of his starters made at least 25 starts. Torre's four World Championships came in 1996, 1998, 1999 and 2000, all in years in which either four or five of his team's starters made at least 25 starts.
Obviously, not just a coincidence.
There is much more great stuff to share with you from this book. If I remember to do so, I will include a few more tidbits in future Bullpens.
That's it for now. Have a good week.
Skipper