ANATOMY OF A HORSESHIT BULLPEN
Brethren,
I woke up this morning at 6:15 a.m. I hopped out of bed on this beautiful Friday spring morning, chipper as all get-out, savoring Joe's sterling relief pitching performance last night in Seward and thinking ahead to the Jimmy Buffett concert in Kansas City this weekend. After getting the coffeemaker going, I sauntered downstairs to put a load of clothes into the dryer, let the dogs out for their morning constitutionals, filled up the dog cereal bowl, mapped out a game plan for breakfast for the kids, and began formulating some thoughts for a short From the Bullpen to be posted for my beloved baseball brethren today. And then life intervened, to-wit:
6:30 a.m.

Girls: "We know, Dad, we're awake, remember, we need to leave for school at 7:00 a.m. sharp!"

6:50 a.m.

Emily: "Dad! We are all out of bubbles! I need bubbles for a school project today!"

6:51 a.m.

Dad leaves for Walmart.

6:59 a.m.

Dad returns from Walmart with bubbles.

7:00 a.m.

Girls: "Dad! It's 7:00. We have to leave for school. Come on!"

Dad and girls leave for school.

7:10 a.m.

Dad drops off girls at school.

7:10 a.m.

Savannah: "Dad, I forgot my backpack. You need to go home and bring it to me! Dad! I have to have it! All my homework is in there!"

7:10 a.m.-

7:20 a.m.

Dad returns home.

7:20 a.m.

Dad: "Will, where's Joe? Is he still in bed? Are you kidding me? Why didn't you wake him up?"

7:20 a.m.

Dad: "Joe, it's 7:20 a.m., you're going to be late for school, get up!"

7:20 a.m.

Will: "Dad, where are my socks, I can't find any socks."

7:21 a.m.

Dad: "There are 11 clean pair of your socks on my bed. Did you look?"

Will: "Uh, no."

7:24 a.m.

Will and Joe start walking toward the garage to leave for school.

7:24 a.m.

Will: "Dad, I need a folder for school."

7:25 a.m.

Dad tears house apart looking for folder.

7:26 a.m.

Dad leaves for Beadle Middle School to drop off Savannah's backpack.

7:35 a.m.

Dad calls directory assistance, looking for adoption agencies.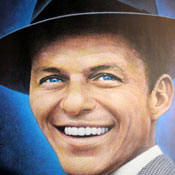 But, unlike Old Blue Eyes, mine are not too few to mention. Let's start with Ben Zobrist. Last night he had ten RBI for the Devilrays. I was going to take Zobrist early on in the Draft this year, but B.T. snapped him up ahead of me.
Howie Kendrick. Did I mention that I was planning on taking Howie Kendrick as my starting second baseman this year? Yup.
How about Grady Sizemore. Man, is he hot. I figured this would be his comeback year, I just didn't pull the trigger on him.
U-Baldo. I figured that this year would be more like the second half of last season that the first. Unfortunately, I did pull the trigger on him.
Carl Crawford. I have never liked the guy as a Hot Stove League player, but I figured in that Boston lineup . . . .
And on it goes.
Provided is a schedule of responsibility for guest articles. Note that I have moved Possum to the top of the list, per his request. At the other end of the spectrum is B.T., who now has a full five months to put together his pièce de résistance, or more likely, to subcontract this baby out to someone else.
If any of these dates do not work for one or more of you, feel free to swap your spot with someone else, but you are responsible for making this arrangement, and for notifying Linda of the change.
| | | |
| --- | --- | --- |
| Week No. | Author | Due Date |
| 5 | Possum | May 2, 2011 |
| 7 | SloPay | May 16, 2011 |
| 9 | Screech | May 30, 2011 |
| 11 | McBlunder | June 13, 2011 |
| 13 | Itchie | June 27, 2011 |
| 15 | Jim Ed | July 11, 2011 |
| 17 | Big Guy | July 25, 2011 |
| 19 | Underbelly | August 8, 2011 |
| 21 | Mouse | August 22, 2011 |
| 23 | Tricko | September 5, 2011 |
| 25 | Shamu | September 19, 2011 |
| 27 | B.T. | October 3, 2011 |
Yesterday I had the distinct pleasure of watching the Mount Michael Varsity Nine defeat the hometown Seward club by a score of 9-5, on a beautiful spring day at a very nice small-town field. Joe had a so-so day at the plate, driving in one run but just missing an opposite field home run by a couple of feet. More enjoyable was watching him close out the game on the mound, as he pitched a nearly flawless sixth and seventh innings to secure the win for the Knights.
The Mount Michael Knights are now 11 and 3, and preparing to host a district tournament beginning a week from tomorrow. The first game of the districts is Saturday, May 7, 2011 at 2 p.m. on our home field. Hope that a few of you might be able to make it.
I neglected to mention in an earlier From the Bullpen that the boys and I made it down to Kansas City to watch the Royals take on the visiting Angels in our annual Opening Day (almost) sojourn. It was a beautiful night at the K and we saw a fantastic game between the Royals and the Angels. The game concluded in the bottom of the ninth with the Flyin' Hawaiian hitting a walk-off home run to lead the Royals to victory.
This was the third Opening Day trip game that I have seen with the boys which was ended by a walk-off home run, and when I include the Opening Day game I saw with Scott at Coors Field back in 1995, when Dante Bichette hit a walk-off home run in the bottom of the twelfth, this is the fourth Opening Day game that I have been to which ended in this fashion. As Mel Allen used to say, "How about that!?"
Okay, men, that's it for this issue. If I didn't tickle your funny bone much or make you think enough, blame my four needy and irresponsible offspring. As for me, I am off to Kansas City to do a little bit of Havannah Daydreamin' with my buddies Stretch and Jimmy.
Skip