Gentlemen:
I began this issue of From the Bullpen (the 13th of this year, the 490th overall) as I drove hurriedly in to work on a fine Tuesday morning, hoping to make it in time for our firm lottery which determines the order of selection of the firm's College World Series seats.
After eight weeks of play in the 2012 Hot Stove League season, the natural order of the universe has reverted to the mean, and we find the Bums, Wahoos, Cubs and Chiefs occupying the first four spots in the standings, the Blues in the penultimate position, and the sorrowful Senators in last. I have tried my best to manage my team to a respectable position, but between inattention to detail (pitching starts) and a cadre of regular players entrenched on the DL (Jonathan Lucroy, Emilio Bonifacio, Chase Utley, Jered Weaver, and Neftali Feliz), it does not appear to be in the cards for the Senators to contend in '12. Not that I'm giving up, mind you. And not that I'm bitching about the league's DL rule either—God knows we've had enough squawking about that on the league Message Board.
In any event, here are the standings through eight weeks of play:
| | | | |
| --- | --- | --- | --- |
| 1. | | Da Bums | 4279.00 |
| 2. | | Wahoos | 4186.50 |
| 3. | | Cubs | 4083.30 |
| 4. | | Chiefs | 4078.90 |
| 5. | | Monarchs | 3933.40 |
| 6. | | Bronx Bombers | 3825.70 |
| 7. | | Tigers | 3689.60 |
| 8. | | Redbirds | 3645.70 |
| 9. | | Skipjacks | 3611.00 |
| 10. | | Bears | 3561.60 |
| 11. | | Tribe | 3551.70 |
| 12. | | Blues | 3543.60 |
| 13. | | Senators | 3499.90 |
I certainly enjoyed The Tiger's Tale from last week, and all of the information provided by Big Guy concerning leading hitters and pitchers in the league, by position and the like. If my team wasn't mired in 13th place and if I actually had any player producing right now, I would probably be providing you with similar statistical grist for your amusement and consumption, but with the total suckage going on with my team right now, I'd just as soon avoid thinking about the accomplishments of players on other teams and turn my thoughts to matters of more interest to me.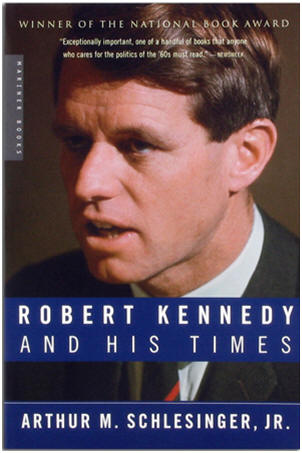 After picking it up about 25 years ago and then setting it down, I recently picked up again a magnificent book about Robert Kennedy written by Arthur Schlesinger: Robert Kennedy and His Times. I am endlessly fascinated with the Kennedy family, but this is the first book solely about RFK that I have read. An amazing persona.
There are a hundred points of interest that I could share with you about Bobby Kennedy, a "Boy Wonder" in politics and world events if ever there was one, but the one that surprised and fascinated me the most came out of the chapter about his long-standing feud and fights with Jimmy Hoffa, and his repeated attempts to uncover Hoffa's corruption and put him in prison. The battle was prolonged and personal. As it turns out, one of the persons who worked for the union cause with Hoffa in Chicago those days was a fellow named Jack Rubinstein, a Teamsters member who later moved to Dallas and shortened his name to Jack Ruby. Moreover, within weeks of that fateful day in November of 1963, Ruby had documented telephone contact with at least two of Hoffa's Teamster goons, Red Dorfman (who took over the Waste Handlers local union in Chicago when its president was murdered in 1939—for which Rubinstein was picked up for questioning) and the supersized Barney Baker, a knuckle-breaking hoodlum who probably sent more than one mob enemy to sleep with the fishes. Well, I've never been a conspiracy theorist, but you do the math.
On Saturday last, the Mount Michael Knights faced the Millard Black Sox legion baseball team in the second game of the Sam Crawford Memorial Tournament in Wahoo. On Saturday morning, I learned from Joe that his old teammate and chum, Joe Beeson, was starting on the mound for the Black Sox. I already knew that young Wilbur Ernst had the starting assignment for the Knights that day, but I also knew that I would not be able to be in attendance for this match-up because Saturday afternoon was Emily's one-time-a-year dance recital. Talk about wanting to be in two places at one time—I can't think of a more poignant example in my life.
Before the boys left for the field, I admonished Will that while I did not want to put any undue pressure on him, he would not be allowed back in my home if he did not bring back a win for the Knights. Like a foot soldier at My Lai, Will grimly nodded his acknowledgement of the task ahead.
Heading off to the dance recital at the Westside Middle School, I confirmed the arrangements for my informants to keep me advised of all significant game developments via text message. Linda was poised in her seat at Sam Crawford Field, iPad and brand-spanking new Game Scorer App at the ready, cell phone nearby to send me inning-by-inning updates. Another Mount Michael parent, Rick Bohnhoff, likewise assured me that he would provide updates on all significant developments as the game progressed.
As Emily's recital began and I watched my young swan exhibit her graceful dance moves, the text messages began coming in. I steeled myself to only look at them in between dance numbers, intending to not miss a single twist, turn or pirouette from my youngest offspring. I was cheered to learn that our young fireballer shut down the Black Sox in the top of the 1st, and that the Knights took a 1-0 lead in the bottom of the frame.
Murder in his eyes.
As the dance recital continued with more exhilarating dance numbers by the Pee-wees (4 and 5 year olds), the text messages came across like clockwork as I "watched" the Knights take a 2-0 lead on a home run, then learned that Will had given up a run to tighten the score to 2-1.
The vibration mode of my cell phone continued to signal me about updates as I watched in wide-eyed amazement while the 6-8 year olds pranced across the stage with great rhythm and glee, allowing me to catch up with the game as it progressed to a 3-1 contest, and then to a 3-2 contest as Will escaped a bases loaded mess by giving up only a solitary run.
At some point during the game, I received a text from Joe Beeson's dad, Tom, asking whether I was at the game in Wahoo. When I replied that I was instead dutifully watching the little ballerinas at the Westside Middle School, good friend Tom began joining in the text parade of updating messages.
As the dance recital proceeded to page 3 of my 4-page program, I learned from my gameside confidantes that the Knights had pushed across an insurance run and were now leading the Black Sox by the score of 4-2 through six innings. I was also advised that Will had been relieved in the top of the 7th by one of our returning legion-babies, Jake Rauterkus, who was arguably our top pitcher last season, and who seemed perfectly capable of closing out the game and preserving a win for the Knights and my young fireballer son.
But that would have been too easy. Just about the time that Emily was about to take the stage for her fifth and final dance number of the afternoon, I received a grim message from Linda that Jake had given up the ghost and allowed the Black Sox to tie the game at 4-4, going into the bottom of the 7th. It was then that I had to shut down the mobile message unit (crap!) so that I could fully enjoy Emily's final dance number. As soon as she finished her swan song, which was an aesthetic delight, I responded to my vibrating phone to see a message from Tom Beeson that the bases were drunk with Knights and that it was Joe Ernst at the plate to face his old friend and comrade-at-arms, Joe Beeson. The exact text message that I received (June 2, 6:20 p.m.) read like this:
Bases loaded, joe e facing joe b…
Joe e wins it.
Additional text messages then poured in, confirming the outcome and fleshing in some of the detail. As the dance recital concluded and I rushed to the stage with a bouquet of roses for my beautiful trouper Emily, I exclaimed joyously, "Emily, we won!", I mean, "You were awesome!"
And the good thing is, I meant every word of it. She was indeed awesome, and we did, indeed, win.
Ain't life grand?
The Mount Michael Knights are an airy 8-1 on the Legion season, having finished second in the Wahoo Sam Crawford tournament over the weekend to the hometown Reds (after taking a 6-0 lead in the Championship game after two innings). Joe is off to a torrid start, a sparkling 3-0 record on the mound, an ERA of 0.00, and complete game, shutout wins against Bennington and the always-tough Gretna Dragons. At the plate, he has been white hot, going 16 for 29 (BA .552) with 14 RBIs, 7 doubles, 1 triple, and a home run, with two game-winning RBIs to his credit. His on-base percentage is .629 and if I knew how to calculate slugging percentages, I'm sure it would be Ruthian.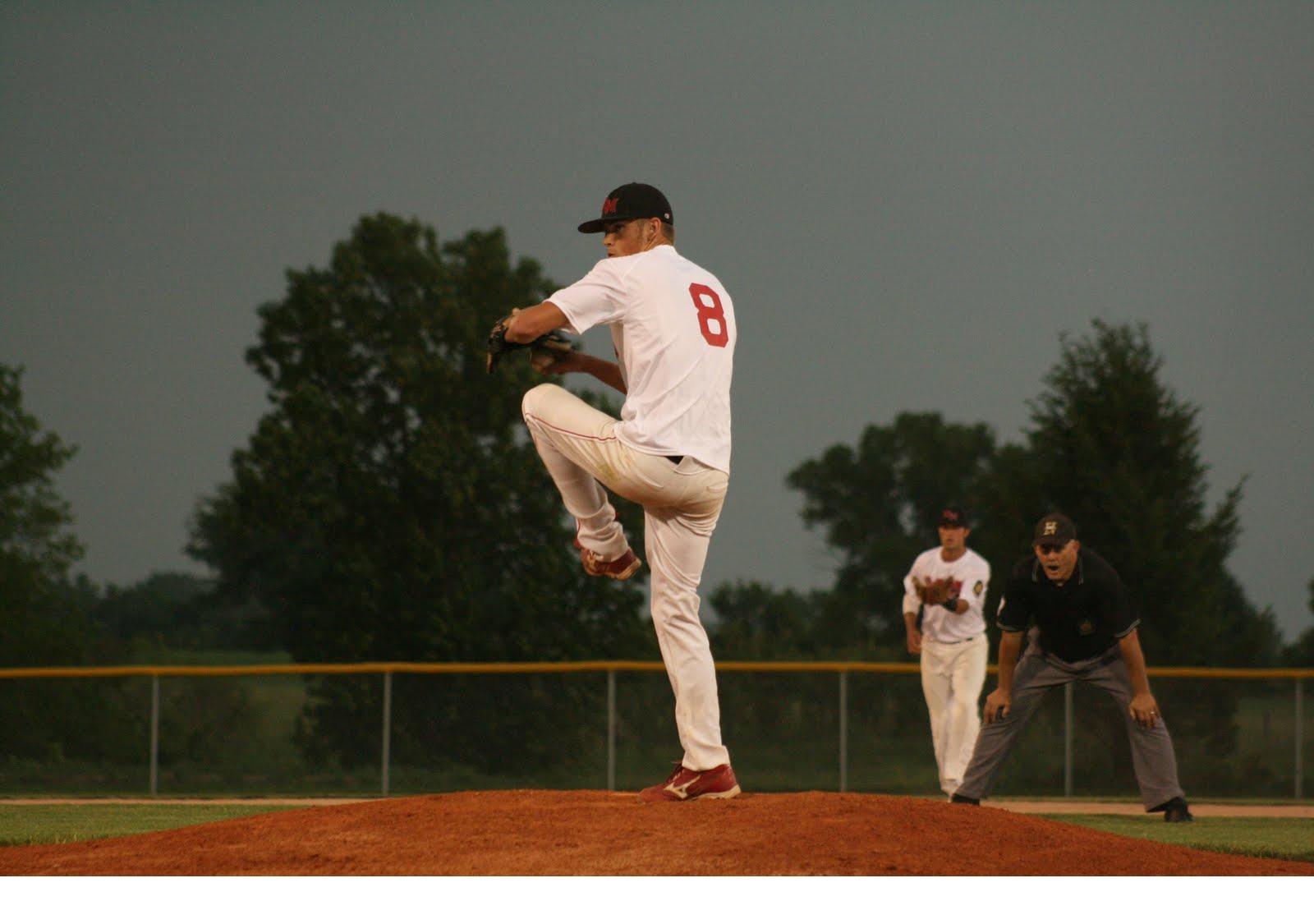 Joe the Dragon Slayer
Although Joe pitched well enough during the spring season, his hitting certainly wasn't what he expected it to be after his successful junior season, and it seems to me that his current success probably has to do largely with the fact that two of our best players from last year's legion team are back from college for another season and batting in the 3-hole ahead of him and the 5-hole behind him. Not only does he have more people on base to bat in, but he has solid protection behind him, and even more than that, he probably isn't heaping as much responsibility on himself to shoulder the load, so to speak. Certainly the team is playing with much more confidence now than it was during the spring season, and hitting is without a doubt contagious, as we all know. In any event, the 2012 legion season is off to a great start for Mount Michael and for Joe, and here's hoping that it continues all the way to State.
Okay, it is time to put this issue to press and pack my bags for my annual trek to Pittsburgh. Have a great weekend, and look forward with me to next year's guest edition of The Mousetrap from Brother Mouse.
Mazal Tov, Brethren.
Skipper