Brethren:
Here are the standings through today, June 21, 2012:
| | | | |
| --- | --- | --- | --- |
| 1. | | Da Bums | 5508.00 |
| 2. | | Wahoos | 5318.70 |
| 3. | | Millard Monarchs | 5168.50 |
| 4. | | West Des Moines Cubs | 5098.50 |
| 5. | | Bronx Bombers | 4979.20 |
| 6. | | LINCOLN CHIEFS | 4916.90 |
| 7. | | Tigers | 4643.10 |
| 8. | | BEARS | 4631.40 |
| 9. | | Kansas City Blues | 4629.40 |
| 10. | | Skipjacks | 4599.70 |
| 11. | | Redbirds | 4586.50 |
| 12. | | Tribe | 4544.80 |
| 13. | | Omaha Senators | 4433.60 |
A month ago, we all thought that the Wahoos were going to run away with the 2012 crown. Now we are similarly concerned about Da Bums. Are they really that good? If we look at this team through the lens of June 13, we would have to say yes.
June 13 was indeed a night to remember for Magpie and his Bums. As if Matt Cain's perfect game (54 points) wasn't enough, Magpie also had four other pitchers who threw quality-start outings, including Lance Lynn (43 points), Mat Latos (29 points), Matt Harrison (24 points), and Ricky Nolasco (12 points). Throw in the hold from Sean Marshall (7.5 points), and you have a pitching night totaling 169.5 points. On the hitting side, even though he left Chris Davis' 12.0 points and Jhonny Peralta's 15.3 and Danny Murphy's 6.8 points on the bench, Da Bums still accumulated 33.5 hitting points for the night, for a total team output of 203 points. I'm pretty sure—but please correct me if I'm wrong—that this is the first time a Hot Stove League team has accumulated more than 200 points in a single evening. As I mentioned elsewhere, this would be a damn fine week for the Senators. But that's another story. A very sad one.
BALLPARK REPORT: COHEN STADIUM
Last week I made a trip to El Paso, Texas (my first, and likely my last) for a deposition of a carpetbagging OB expert, and as luck would have it, the El Paso Diablos were in town for a game against the Amarillo Sox at Cohen Stadium.
After leaving my deposition late in the afternoon, I climbed into my rental furnace, er, car and returned to my hotel in stifling 109° heat. After changing into my leisure togs, I headed out to Cohen Stadium on the outskirts of El Paso to watch the Diablos.
The hometown Devils play in the same independent league (the American Association) as the Lincoln Saltdogs, and so I wasn't expecting a huge crowd, particularly with the prevailing ambient temperature. I soon purchased my $8 box seat ticket and found myself nestled in with about 200 fans in a very intimate ballpark setting.
Not the most unique or remarkable green cathedral I have been in, Cohen Stadium is a nice little bandbox, but nothing to write home to the folks about. I suppose that the most distinctive feature would be the 13 palm trees planted equidistantly just outside the outfield fence. Unfortunately, 12 of the 13 trees were dead, either frondless or with brown, dead fronds. Thus, it's so damn hot and desolate in this Godforsaken place that even palm trees won't survive.
To battle the elements, the friendly concessionaires at Cohen Stadium sell the biggest darn beers that I have ever seen, something on the order of 36 oz. or so for a very reasonable 6 bucks.
Perhaps it was the combination of the oppressive heat and the impressive ales, but I was soon caught up in the majesty of the moment as I cheered ardently for the Satanic Nine to crush the visiting Sox. When the Diablos took a 5-3 lead, it looked like me and my 197 new Hispanic friends would get our wish; but alas, the visiting Sox came back and took the game from the Diablos by a final score of 10-5.
The visiting Sox had former Husker baseballer Jake Opitz on the roster, who clubbed a home run that evening. The hometown Diablos had a third base coach with the name Lezcano on his uniform, whom I assume was former major leaguer Sixto Lezcano. Their grizzled manager, who looked a lot like a weathered Tom Berenger from Major League, is former Toronto manager Tim Johnson. My, how the mighty have fallen.
But the best part about the game was what happened after the Diablos' centerfielder and fan favorite Bryan Joynt hit a mammoth home run over the left field fence. After returning to the dugout and getting fist bumps and high-fives all around, Joynt promptly headed up into the stands with his helmet in hand, upside down, and fans streamed down from their seats to give him hugs, high-fives, fist-pumps, and dollar bills into his helmet. Since these guys are probably making about the equivalent of minimum wage, this quaint little practice no doubt is a powerful incentive for the Diablos hitters to reach for the fences. Loved it.
I realize that I am becoming the Commander McBragg of our league, but since there is very little else for me to cheer about these days, bear with me, will ya? Or, ignore everything that I have to say in this section of From the Bullpen, as you wish.
In any event, good ole Will got the area Arby's "Player of the Week" award this past week, published in the Douglas County-Post Gazette, for his nifty work in shutting down the Gretna Dragons in the championship game of the Gretna tournament which concluded on Sunday, June 10, 2012. They published the same picture of Will that I included in my June 7, 2012 From the Bullpen, which came from the Mount Michael website.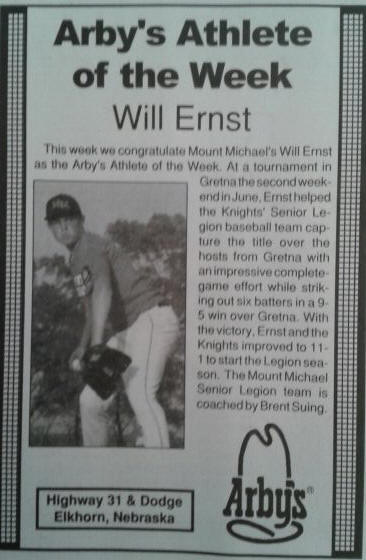 With Will's victory over the usually formidable Gretna Dragons (3-time defending Class B State champions), that made it two Ernst-boy-pitching-victories against the Dragons in the same week, with Joe getting his shutout win against Gretna on June 5, five days earlier. To say that I am a little bit proud of these boys is about like saying that Shamu gets a little bit hungry at baseball games.
I am a lucky man, and am doing everything I can to savor each and every moment, since this will likely be the only season ever that the two boys play on the same baseball team, unless Will follows Joe to Doane.
I will close out this 493rd edition of From the Bullpen (not including guest editions) with this question: What the heck is wrong with Emilio Bonifacio, and will the guy ever see the baseball field again? Arrrrggggghhhh!!!
That's it for this issue. Have a stellar weekend.
Skipper