Esteemed colleagues:
The news of the week is that Da Bums are in first, the Senators are in last (They were when I dictated this, but not any longer. Yesss!), and there seems to be very little chance that either of these two teams will move up or down between now and the end of the year. Even with Weavergate now out of the Commissionerís hands and over at Justice for criminal investigation, it would appear that Da Bums are a mortal lock to capture the 2012 crown, barring a crisis on the order of Armageddon.
Since most of you still care, I am providing the full standings in the league through games of Sunday, August 26, as follows:
| | | | |
| --- | --- | --- | --- |
| 1. | | Da Bums | 10090.80 |
| 2. | | Wahoos | 9789.60 |
| 3. | | Millard Monarchs | 9531.50 |
| 4. | | Redbirds | 9326.10 |
| 5. | | West Des Moines Cubs | 9263.60 |
| 6. | | Lincoln Chiefs | 9217.10 |
| 7. | | Kansas City Blues | 9113.90 |
| 8. | | Skipjacks | 9037.60 |
| 9. | | Tigers | 8800.90 |
| 10. | | Bronx Bombers | 8769.70 |
| 11. | | Tribe | 8564.50 |
| 12. | | Bears | 8418.10 |
| 13. | | Omaha Senators | 8381.80 |
| | | | |
| --- | --- | --- | --- |
| 1. | Miguel Cabrera | Chiefs | 598.5 |
| 2. | Mike Trout | Redbirds | 576.2 |
| 3. | Ryan Braun | Bums | 573.6 |
| 4. | Andrew McCutchen | Bronx Bombers | 564.7 |
| 5. | Josh Hamilton | Wahoos | 550.5 |
| 6. | Edwin Encarnacion | Wahoos | 547.8 |
| 7. | Robinson Canoe | Skipjacks | 533.8 |
| 8. | Matt Holliday | Monarchs | 529.6 |
| 9. | Prince Fielder | Bronx Bombers | 526.3 |
| 10. | David Wright | Cubs | 524.4 |
| 11. | Josh Willingham | Wahoos | 509.1 |
| 12. | Carlos Gonzalez | Chiefs | 496.2 |
| 13. | Chase Headley | Skipjacks | 492.1 |
| 14. | Albert Pujols | Bums | 487.6 |
| 15. | Adam Dunn | Bronx Bombers | 480.9 |
With only a 22-point separation between the No. 1 and No. 2 hitters, and very little distance between the rest of the top 15, it would appear just from the gross numbers that there is no standout hitter who has separated himself from the rest of the pack. However, when you look at it on a points-per-game (PPG) basis, the numbers tell a far different story. Mike Trout, the Studly-Dudley Angels outfielder, is averaging 5.5 PPG or 0.6 PPG more than the next best PPG average hitters, Miguel Cabrera and Joey Votto (4.9 PPG). Over the course of a 162-game season, this would amount to some 97 points more than the second-best hitter, a huge gap that probably hasnít happened since Bonds and A-Rod were last seen with Lance Armstrong, flashing more needles than a Korean tailor shop. Kudos once again to Jim Ed for picking up this diamond in the rough, after he was foolishly discharged via Possumís catch-and-release program.
As hot as Trout has been this season, from beginning to end (including 141.6 points over the past 30 days), he has not been the hottest hitter in baseball during the past 30 days. This acclaim goes to some guy I have never even heard ofóTodd Frazierówho has scorched the earth to the tune of 142.9 points during the past 30 days, and is currently gracing the lineup card of McBlunderís Blues. Where on earth did this cat come from? I canít remember even once hearing his name announced on Baseball Tonight or Sports Center. Of course, I havenít watched either program for more than about fifteen minutes total this season.
The third hottest hitter these past 30 days is a Skipjack, Angel Pagan, with 140.8 points, followed by another Skipjack, Derek Jeter, who just recently hit his 250th career home run, and who has amassed a total of 138.4 points these past 30 days. The en fuego Skipjacks also have the sixth hottest hitter over the course of the past 30 days, Chase Headley, with 135.3 points. If all of the Skipjacks hitters are so dang hot, why arenít the Skipjacks threatening the Wahoos and the Bums?
Here are the top 15 pitchers in the league, through games of August 29:
| | | | |
| --- | --- | --- | --- |
| 1. | Felix Hernandez | Bears | 670 |
| 2. | R.A. Dickey | Senators | 659 |
| 3. | Justin Verlander | Senators | 648 |
| 4. | Clayton Kershaw | Bears | 634 |
| 5. | David Price | Bears | 627 |
| 6. | Johnny Cueto | Tigers | 613 |
| 7. | Matt Cain | Bums | 606 |
| 8. | Madison Bumgarner | Tribe | 590 |
| 9. | Cole Hamels | Tribe | 581 |
| 10. | Steven Strasburg | Skipjacks | 570 |
| 11. | Kyle Lohse | Wahoos | 566 |
| 12. | Chris Sale | Bums | 552 |
| 13. | Gio Gonzalez | Bronx Bombers | 547 |
| (T) | Yovani Gallardo | Monarchs | 547 |
| 15. | Jered Weaver | Wahoos | 545 |
The hottest pitchers in baseball, for the last 30 days, are as follows:
| | | | | |
| --- | --- | --- | --- | --- |
| 1. | Yovani Gallardo | Monarchs | 6-0 | 190 |
| 2. | James Shields | Redbirds | 4-1 | 187 |
| 3. | Kris Medlin | Chiefs | 5-0 | 180 |
| 4. | Felix Hernandez | Bears | 4-0 | 175 |
| 5. | Clayton Kershaw | Bears | 4-1 | 161 |
It is noteworthy that the top four pitchers are Bears and Senators, who are positioned at the very bottom of the standings. I guess pitching isnít everything in this league. And the Bears not only have the top pitcher and the fourth-ranked pitcher, they also have No. 26, Wade Miley, who is 14-9 with 480 points, No. 36, Wei Yen Chen, who is 12-7 with 432 points; and No. 39, Yu Darvish, 13-9 with 430 points.
The hottest pitcher over the last two weeks is Kris Medlen of the Chiefs, with 115 points. (Three quality starts, 24 IP, no runs, no earned runs, 1 walk, 22 Ks. Wow!) Sorry to say, Iím not sure if I had even heard of this guy prior to today. So, therefore, is anyone surprised the Senators are in last place? I didnít think so.
A Tiger Tale
We moved Joe down to college at Doane last week, and as with all such moves, it was a bittersweet occasion. He has a nice dorm room, replete with his roommateís big screen TV and X-box, two refrigerators and a futon. And about a six-month supply of food, should the Ruskies ever lob over a nuke. He has a good roommate, an affable football player from Friend, Nebraska. He has classes three days a week, and baseball every day of the week. Not a bad set-up, not bad at all.
As I am wont to do, I scratched out a few thoughts on paper to send off with Joe to college, recounting some great memories and offering a few pearls of wisdom. It ended up being four pages. Iím sure Joe will get around to reading it just about the time that he finishes up with History of the World, Part 17. Eighteen-year-old boys just canít get enough parental advice from their fathers.
Anyway, in my letter I pointed out to Joe that I was lucky enough to coach him in baseball over the course of ten different seasons, on fifteen different teams, and that I had seen him hit each and every one of his seven career home runs, starting with the very first one at age 6. When typing this manifesto for me, good old Linda found a letter that I wrote to Joe way back in 2000 after he hit his very first home run, and it brought back some good memories. Iím sharing a few of the relevant portions here:
Joltiní Joe:
Someday you may not have a clear memory of last night's big event, so I will help you remember it with this letter. Last evening you "went yard" for first time in your young baseball career, hitting a home run over the left field fence at Field #5 at the Lake Zorinsky Baseball Complex. Your homer was in the second inning of our game against the Rockies, the fourth pitch. Since it is a coach-pitch league, and I'm the coach, it was me who served up the gopher ball.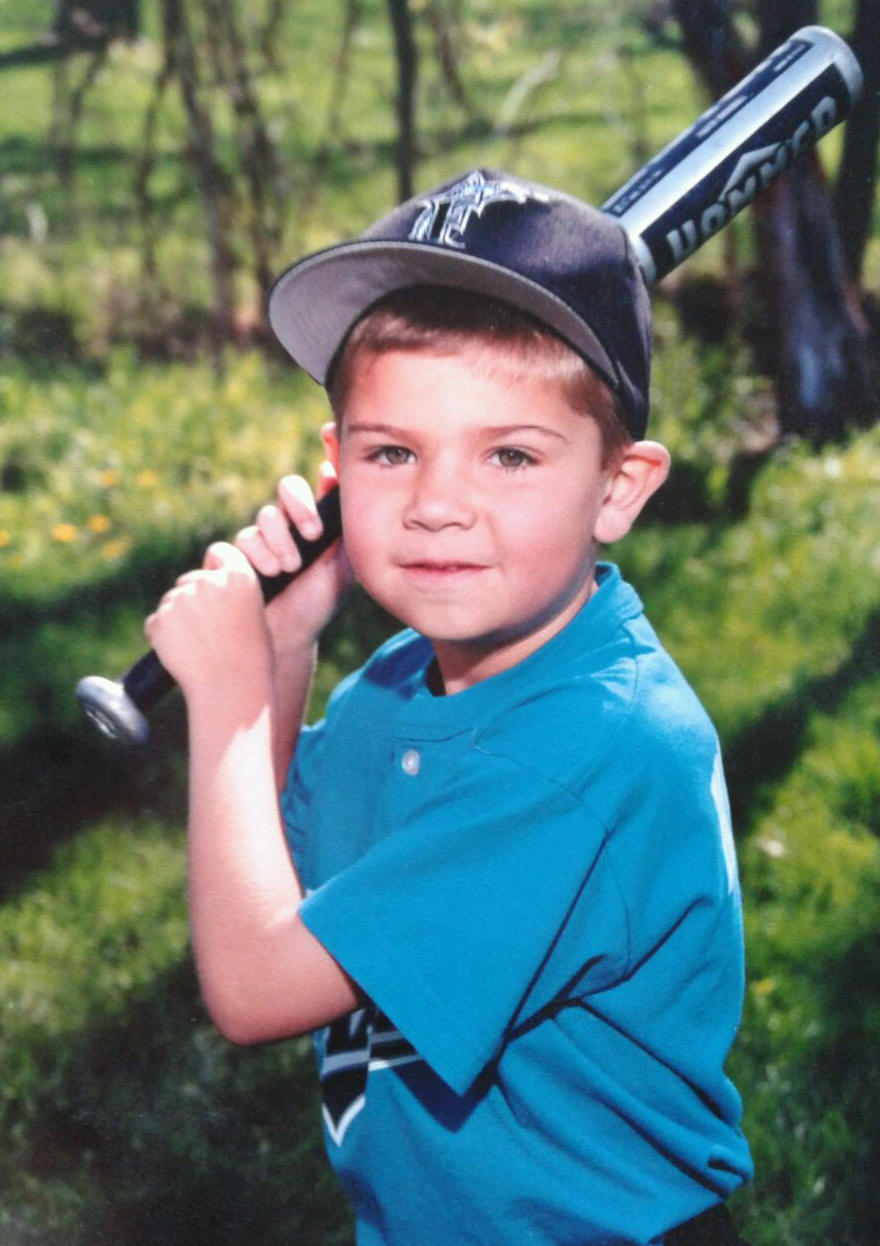 We all knew immediately that your hit would easily clear the fence, as you had full extension and got every bit of the ball. It was the first home run by any member of our Marlins team this year, and only the second one we have seen in any of the games involving our Kingswood Athletic Association baseball league of six-year-olds.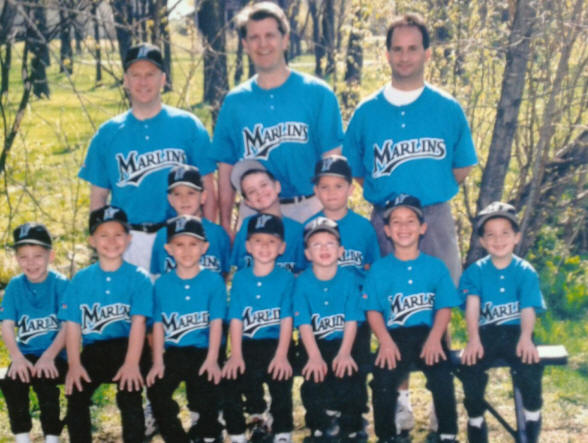 Although you are probably the best pure hitter on our 12-boy team, Joe (though I'm clearly biased, itís not really even a close call), I didn't think you would ever put one over the fence because you have this sweet line-drive swing, and not a home run uppercut like a couple of the other players have. I thought that Jack Huber or Brandon Chapman would be the first on the team to leave the yard, but it was you, little buddy, it was you.
As you trotted around the bases and I watched you from the mound, Assistant Coach Thielen came out and said to me, facetiously: "You're not proud, are you?" No, not much. Just about as proud as if you had just been elected president, or appointed Pope (if we were Catholic), or if you just won the Time magazine "Man of the Year" award for curing heart disease, or something.
When I was a young lad and played organized baseball, I had a couple of pretty decent years when I was able to knock a few baseballs over the fence, and my dad was almost always there to watch. I know now the immense sense of pride he must have felt watching his little boy hit a home run. If only he had been with me last night to see you in all your glory. Then again, he probably was.
The odds are long against you making a career out of baseball, little buddy, and I hope I never turn into one of those disagreeable, pushy, Little League Dads who tries to live his life through his son. But I do hope you hit a bunch more home runs through the years, make a lot of catches, and most of all, that you enjoy playing baseball as much as I did when I was growing up. That's what itís all about, Joe.
Guess what? I'm just a little bit proud of you, Slugger. Way to go.
Call me clairvoyant.
One interesting observation I made from Joeís move to Doane took place after I took him out to lunch at the Runza in downtown Crete. After returning to his dorm, I parked in the parking lot and the two of us got out and began walking into the dorm. Iím not sure if Joe lives in an all-athlete dorm or not, but from watching the boys entering and exiting the building, it would appear so. A significant number of athletic-appearing 18- and 19-year-olds were walking in and out of the building as we arrived. As Joe got out of my car and started walking with me into the dorm, I noticed that he was walking with the most pronounced strut that I have ever seen, chest out, head cocked back, exaggerated, loping stride, looking like the Head Rooster stomping around the hen house.
The more I think about this scene, the more amused I get. Having been a senior last year at Mount Michael, one of the ďbig dogs,Ē Joe may have been compensating a bit for freshman insecurities by trying to make it clear to anyone who was watching that he was the new sheriff in town. Eighteen-year-old males. Arenít they something?
As I returned from a deposition trip to Detroit via St. Louis on Tuesday night, I learned that our Southwest Airlines flight home to Omaha from St. Louis was to be on a plane which was coming in from Baltimore. The gate attendant announced that this was an Honor Guard flight of World War II veterans who went from St. Louis to Baltimore on a day trip to visit the World War II monument on the mall. As the flight from Baltimore taxied into the gate, a crowd of servicemen and women from every branch of the military began forming a gauntlet through which the returning heroes would walk.
As the anticipation grew while the plane emptied out its civilian passengers, the gauntlet of current military personnel dressed up their line, and on command, raised their right hands to their foreheads, delivering a crisp salute to the returning octogenarians and nonagenarians. One by one the members of the Greatest Generation filed out of the jetway, into the open airport, then through the sharply-saluting gauntlet, to the clapping and cheering of all departing and arriving passengers who were in the gate area, including me.
As they received their ovationsówhich seemed to come as a surprise to many of themóthe faces of these veterans became absolutely incandescent in their delight, as they waved and saluted and took in the touching gesture of appreciation. And as I stood there and clapped in awe and drank in the glorious moment, my eyes welled up with tearsótears of joyóto be able to witness what would likely be one of the final, bright shining moments in the lives of these old warriors. I imagine a few of them thought that if they would have died right after experiencing this exhilarating welcome, it would have been alright.
All of these old soldiers wore name tags, and I loved the simplicity of their handles, mostly monosyllabic names which evoke the very salt of the earth: Joe, Sam, Jack, Vince, Al, Woodie, Vern, Carl, Charlie, Bob, Don, Hap and Mel. Not a single Ian, Cooper, Tanner, Colton, Parker or Dylan in the group. Beauty in the sheer simplicity of their names.
After passing through the gauntlet, receiving their cheers and greeting family members, the old warriors went out through the security area and into the main portion of the airport, which produced a thunderous and seemingly endless round of applause from the throng of greeters and well-wishers who waited for these veterans. I mean to tell you, Bruce Springsteen and Elton John would not have received such a loud, hearty, emotional welcome. Some seventy years later, these old gentlemen have achieved Rock Star status.
Cool. Very cool. Indescribably cool.
Will there ever be a greater generation than the Greatest Generation? Intriguing question. Perhaps not, and maybe that is a good thing, since if there was a next and more valorous generation of fighting men, it could mean that we needed such a movement in order to vanquish a modern-day Hitler, Mussolini or Stalin, or perhaps a crackpot like Hussein or bin Laden with nuclear-powered and nuclear-armed mobile weapons. But if there ever is another threat to the existence of our democratic way of life, letís hope that the next generation of Ians and Dakotas and Tanners have the same mettle that was the common denominator of these proud old gentlemen that I was honored to honor Tuesday night. God Bless America.
Signing off, with great pride in my fellow men.
Skipper
Our 497th Issue