Brethren:
With a little over two weeks to go in the 2012 campaign, it looks like the Bums are going to rush their way to their fourth Hot Stove League crown, joining a select pantheon of legendary owners to experience such rarified air. Through games of Sunday, September 9, the Bums enjoyed a 392.8 lead over the Wahoos, and this lead has been expanded to 409.7 points through games of last evening, September 13. Short of a Mauch-ian like collapse (see 1964 Phillies), the Bums will be passing out championship apparel come January.
STANDINGS THROUGH WEEK 23 (September 9)
The bigger story of the Fall Season has been the surge by the Chiefs and Redbirds, who have vaulted past the Butterflies and Cubs to take over 3rd and 4th places. A little bit of pride and a Ben Franklin on the line for that 3rd-place finish. With Jim Ed's mind currently preoccupied with making preparations for his upcoming quest to bag Bullwinkle, it would appear that B.T. has a clear advantage in this battle for the third spot.
Telling, isn't it, that none of the top six pitchers are on teams in the top six in the standings, and that of the top ten pitchers, only Matt Cain at No. 7 and Kyle Lohse at No. 10 are on teams who are in the top six of the league.
Next year, I don't see a pitcher going until about the eighth round or so.
The top three hitters, and five out of the top six, are on teams that are currently in the top four in the standings. Like Robert has always said, it is all about hitting.
Here are the top 10 hitters over the course of the past 30 days:
HITTERS
The following are the top ten pitchers over the same 30 days:
PITCHERS
Below are the coolest hitters and pitchers over the past 30 days:
HITTERS
PITCHERS
* On the DL.
If you thought Joe's graduation from high school and the end of his Junior Legion career meant the end of my bragging about him, you thought wrong. With Joe now at Doane and playing baseball for the Tigers, I am hopeful that my Commander McBragg days are far from over.
Last Saturday Joe made his college baseball debut in a 21-inning fall baseball game against an Academy team from Kansas City, the Urquhart Orioles. Coming to the plate for the first time in the 10th or 11th inning, with two Tigers on base, Joe watched the first pitch for a strike, took a mighty cut and swished at the second offering, and then with an 0-and-2 count, laced a smoking single to right field to plate two runners in his first Doane at-bat.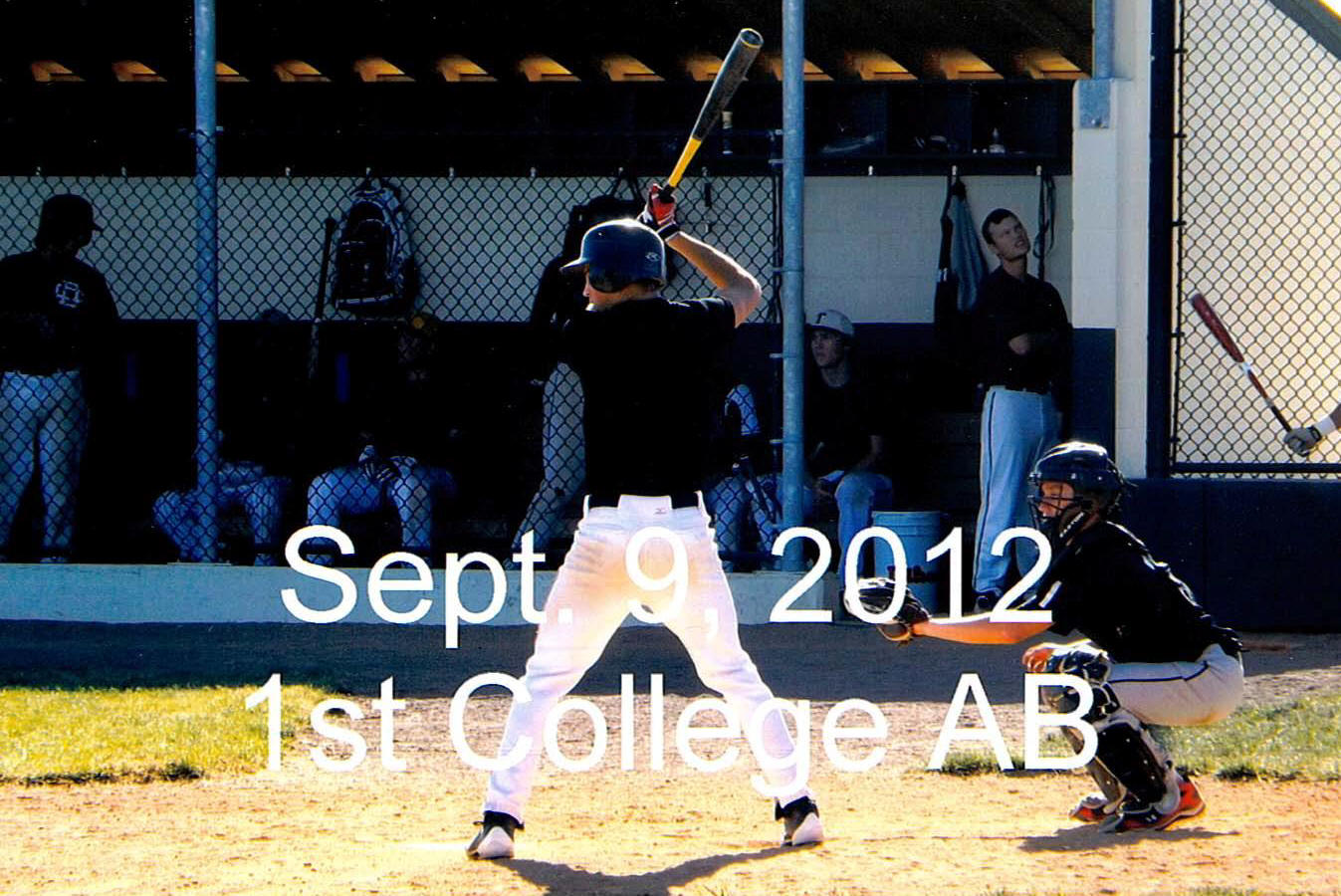 After walking and scoring in his next plate appearance, and then grounding out to short in his third, Joe came to the plate again with two runners on and, again, after falling behind in the count, ripped a 1-and-2 fastball over the centerfielder's head for his first college double, driving in two more Tiger runs. His line score for the day was 3-3-2-4. Not a bad beginning to his college career.
On defense, Joe played right field and left field, and looked competent but had no balls hit to him in either position.
Yesterday was our annual Pershing Panther reunion, as I got together with my lifelong pals Dale Mahlman, Doug Rotthaus and Bruce Kuhn, together with Coach Rollie Hughes, and we played 18 holes of golf, sipped cocktails, and dined on steaks cooked up by the lovely Michele while we reminisced about our glory days in 1966, 1967 and 1968 when we finished runner-up (4th grade) and then YMCA State Champions (5th and 6th grades) in Youth Basketball.
Pictured below in the cafeteria/gym at John J. "Black Jack" Pershing Elementary School in Northeast Lincoln, the back row was our starting five for our fourth grade basketball team, from left to right, Dale Mahlman, young Skipper, Greg Philson, Doug Rotthaus and Bruce Kuhn, with Coach Hughes behind Bruce. The back row (minus Philson, who now lives in Colorado and is a dentist) get together every year with Coach Hughes to golf and celebrate our greatness as "yoots." Dale is now the Executive Vice President of the Nebraska Medical Association, Doug is the CEO of the Omaha Area Board of Realtors, and Bruce is a respected plastic surgeon/oral maxillofacial surgeon. Coach Hughes retired a year ago as the Director of the Skutt Student Center at Creighton University.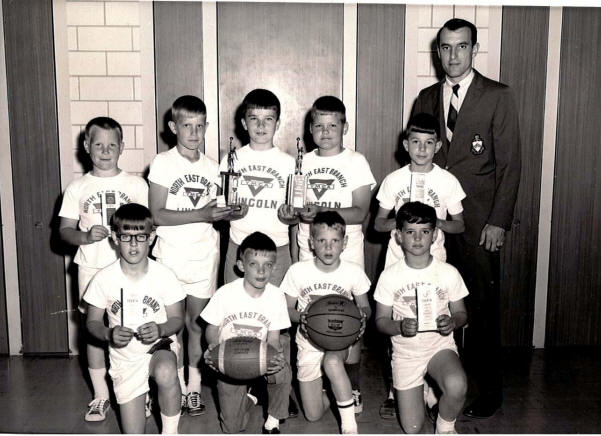 Looking back, we all owe a lot to Coach Hughes for getting us on a straight path at the tender ages of 9 and 10, and then keeping us together on that path for the next several years. He taught us a lot about competition, sportsmanship and working together as teammates, as well as being good friends, and I think most people would say that the boys from this Panther team in blue collar Northeast Lincoln haven't fared too poorly, to the credit of Coach.
Of course, we don't invite former Panthers from the front row to our gatherings, because at least one of them has spent time at Leavenworth, another has been through drug rehab, and the whereabouts of one of the others is unknown. Hey, there's a bad apple or two in every bunch, isn't there?
Anyway, we all talked yesterday about how lucky we were to have found our way onto this scrappy basketball team, and most importantly, to have been lucky enough to have been assigned Coach Hughes as our leader.
And that will finish things off for this, the 498th edition, of From the Bullpen. We look forward to hearing from Denny and The Bear Facts next week.
Skipper