Gents:
With six days to go in the 2012 season, it has turned into a donnybrook for the third money spot, with the Redbirds currently holding a 25-point edge over the fourth place Millard Monarchs, and a 44.7-point lead over the fifth place Lincoln Chiefs. Jim Ed believes that he has significant disadvantage in this race to the finish, claiming that he doesn't have time to devote 24/7 to the race as do his two competitors. To that I say: Man Up, Jim Ed. Do what you need to do and stop the whining and excuse-making!
Here are the standings through last night's games:
| | | | |
| --- | --- | --- | --- |
| 1. | | Da Bums | 12352.20 |
| 2. | | Wahoos | 11795.90 |
| 3. | | Redbirds | 11469.00 |
| 4. | | Monarchs | 11444.00 |
| 5. | | CHIEFS | 11424.30 |
| 6. | | Cubs | 11199.90 |
| 7. | | Tigers | 11058.40 |
| 8. | | Blues | 10988.70 |
| 9. | | Skipjacks | 10937.40 |
| 10. | | Bombers | 10892.70 |
| 11. | | Tribe | 10567.50 |
| 12. | | Senators | 10408.70 |
| 13. | | BEARS | 10060.30 |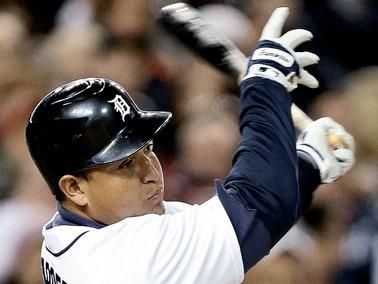 I know that this will come as a shocker to most of you, but I haven't been able to follow the goings on in the major leagues quite as closely this season as I would have liked. However, my son Will keeps me abreast of any truly compelling news, and he informed me just the other day that Miguel Cabrera has a very good shot at winning the Triple Crown. Taking a quick look at the internet this morning, I see that Cabrera is leading the American League in batting average at .326 to Joe Mauer's .323; that he is leading in runs batted in over Josh Hamilton by a margin of 133-125; and that he is but one home run behind Josh Hamilton at 42-43. So, that said, he does indeed have an excellent shot at being the first Triple Crown winner in the major leagues since Carl Yastrzemski in 1967. More on that in a bit.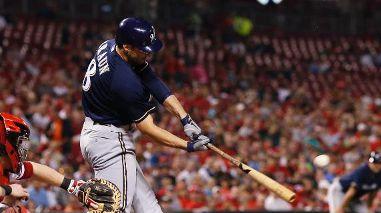 Looking over at the National League stats this morning, I see that Ryan Braun is leading the National League in home runs with 41 to Jay Bruce's 34; that he is leading in runs batted in over Chase Headley by a single RBI, 110-109; and that he is fifth on the batting average list with .319, behind Yadier Molina at .320, Andrew McCutcheon at .332, Buster Posey at .333, and Melky Cabrera at .346.
It is doubtful that Braun can make up the difference of 14 points to catch Buster Posey for second place, but wouldn't it be fascinating if he did, given that Melky is the leader at .346 but is on the shelf because of his use of PEDs. Would Commissioner Bud step in and discount the Melkster as the BA leader, giving the Triple Crown to Braun in that circumstance? If so, would that be forever tainted given Braun's positive test from last year that was later disqualified? And what would the last National League Triple Crown winner, Joe "Ducky" Medwick (1936), think about all of that? What, indeed.
Now on to Yastrzemski. In 1967, the Polish Rifle batted .326 with 44 home runs and 121 RBIs to lead Red Sox Nation to the American League pennant by one game over the Tigers and the Twins. They went on to lose the World Series to the St. Louis Cardinals in a classic seven-game series.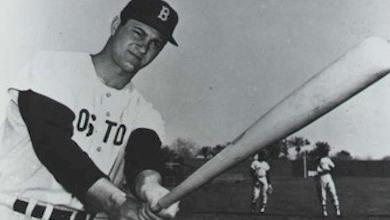 Yaz
Yastrzemski bested Frank Robinson of the Baltimore Orioles for best batting average by a margin of .326 to .311. In home runs, he tied Harmon Killebrew of the Twins with 44 home runs, but beat Killebrew soundly in runs batted in with a margin of 121-113. Yaz also led the American League in runs scored (112), hits (189), on base percentage (.418), slugging percentage (.622), and total bases (360). He rightfully was named the Most Valuable Player in the American League for that stellar season, the only time that he ever finished in the top three in the MVP voting.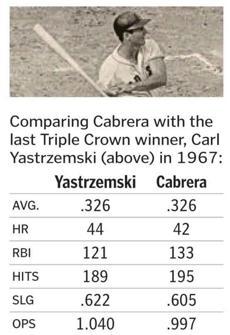 Most of you baseball mavens already know this, but Yastrzemski's 1967 Triple Crown was the second year in a row that an American League player accomplished this remarkable achievement. In 1966, Frank Robinson hit .316, had 49 home runs, and knocked in 122 runs to lead the Orioles to the pennant over Itchie's beloved Twinkies. Those powerful Birds went on to pummel the Los Angeles Dodgers in the World Series, sweeping the erstwhile Trolley Dodgers in the four-game series. Robinson topped Tony Oliva in batting average by .316 to .307, and bested Killebrew in home runs (49-39) and runs batted in (122-110).
The National League has not had a Triple Crown winner for 75 years, dating back to 1937 when Joe Medwick batted .374 and had 31 home runs and 154 RBIs for the St. Louis Cardinals. Believe it or not, even with all of that production, the Cardinals finished in fourth place in the National League standings, behind the Giants, Cubs and Pirates. Medwick easily won the batting average race by .374 to .364 over teammate Johnny Mize (how does a team have a .374 and a .364 hitter, and still finish in fourth?); and in runs batted in, he lapped the field with 154 RBIs to second place finisher Frank Demaree of the Cubs and teammate Johnny Mize with 113; remarkably, he tied for the home run title at 31 dingers with Mel Ott of the Giants. Also of interest, Ott had only 95 RBIs (to Medwick's 154), even though Ott and Ducky had the same number of home runs, although Ott played on the team that won the National League pennant that season. It makes no sense whatsoever.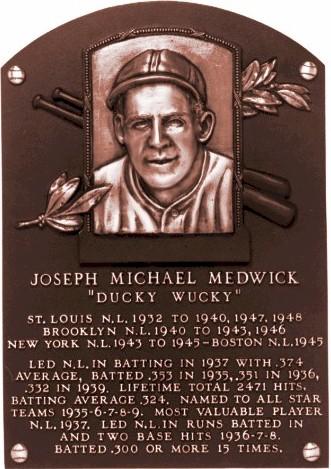 Anyway, that may be more than all of you wanted to know about the Triple Crown chances of Miguel Cabrera and some historical perspective on it, but there you go.
BOOK REPORT: CONFEDERATES IN THE ATTIC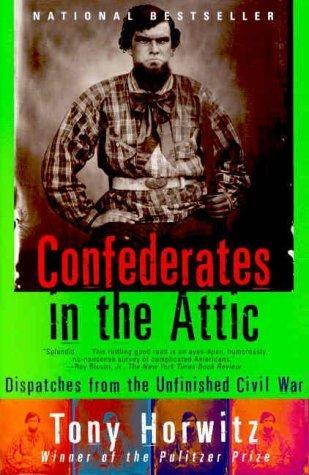 I just finished (finally) reading a national best seller titled Confederates in the Attic, written by Tony Horwitz, which also was a winner of the Pulitzer Prize. The subtitle is Dispatches from the Unfinished Civil War. The subject of the book is the incredible number of passionate Southerners who seem to still believe that they are living in Civil War times, or wish they were, in any event. Horwitz details monthly and sometimes even weekly events in the lives of hard core Civil War reenacters, who spend their leisure hours dressing up like Rebel and Union soldiers and pretending that they are fighting battles at Chickamauga, Chancellorsville, Antietam, Bull Run and Shiloh. I was absolutely amazed at the number of seemingly ordinary citizens of the South who were interviewed by Horwitz who would still apparently prefer living under a Rebel flag and owning slaves. Shocking, really.
I heartily recommend that all of you read this book. It's only 390 pages, and is an absolutely wonderful first book primer on the Civil War, which has become my new area of interest.
One of the things that I learned from this book is that there was a prisoner of war camp in Andersonville, Georgia, where roughly 13,000 Union prisoners died from starvation and disease, in conditions as horrifying as we heard about with Hitler in World War II. The Rebel commander of Andersonville, a man by the name of Henry Wirz, was charged with war crimes and went to the gallows after being convicted for conspiracy and murder relating to his command at the camp, the only man so charged in American history. In a movie about the prosecution, William Shatner played the part of the prosecutor. Wirz was hanged November 10, 1865, at the Old Capitol Prison, by the U.S. Capitol, in the present-day site of the Supreme Court of the United States.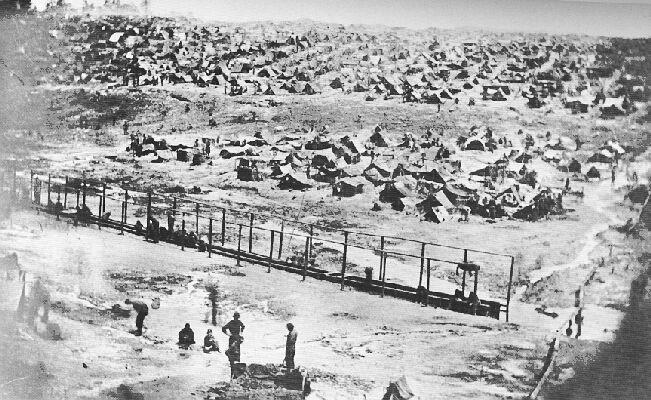 Union prisoners of war are pictured at the Andersonville Prison in Macon County
on August 17, 1864. Malnutrition and poor sanitary conditions at the camp led
to the deaths of nearly 13,000 of Andersonville's 45,000 prisoners,
the highest mortality rate of any Civil War prison.
As recounted by Horwitz in his book, current residents of the town of Andersonville annually march to a Wirz memorial, along with ardent supporters for a congressional pardon for Wirz. Wow.
Even more amazing, at least to me, is the fact that after the Andersonville prison camp was closed in the spring of 1865, and the tormented Union prisoners released, a great number of them drowned or were burned alive when the severely overloaded steamship Sultana exploded on the Mississippi River as these poor bastards were trying to make their way home at the end of the Civil War. Talk about your horrible luck.
Most people haven't even heard of the calamity involving the SS Sultana, which is the greatest maritime disaster in United States history, with an estimated 1600 deaths. The disaster was overshadowed in the press by the killing of John Wilkes Booth the day before, and the ending of the Civil War the previous week.
As Mel Allen might have said, "How about that?"
It'll be alright. According to Jimmy Buffett, anyway. Well, it'll be alright if Baby Trumpetfish does in fact provide Linda with his guest newsletter, From the Reservation. For we have made it through the entire year without one missed guest edition from the league constituency, and we're not about to start now.
No pressure, B.T. But either you have your newsletter on Linda's desk by the close of business on Monday, or I can't be responsible for what happens next.
There. You've been warned. Govern yourself accordingly.
* * * * * *
Hope you enjoyed my ramblings and musings.
Skipper
Our 499th Issue