Gentlemen:
I begin this week's issue of From the Bullpen with two excerpts from the recent funeral program of a friend and colleague, Paul Jessen, who passed away recently from the effects of melanoma cancer at the too-young age of 59:
A true gentleman is the man whose conduct proceeds from goodwill and an acute sense of propriety. Whose self control is equal to all emergencies. Who does not make the poor man conscious of his poverty, the obscure man of his obscurity or any man of his infirmity or deformity. He is a man who is himself humbled, if necessity compels him to humble another. He does not flatter wealth, cringe before power, or boast of his own possessions or achievements. He speaks with frankness but always with sincerity and sympathy. His deeds follow his words. He is a man who thinks of the rights and feelings of others rather than his own, and who appears well in any company. He is a man with whom honor is sacred and virtue is safe. A true gentleman!
~ John Walter Wayland
Paul Carlson Jessen was born on August 8, 1952, at the Howard County Memorial Hospital in St. Paul, Nebraska, to Lothard Terkeldsen Jessen and Marion Lenore (Carlson) Jessen. He lived in Dannebrog, Nebraska, for the first two years of his life. The Jessen family moved to Sioux City and lived there for several years before settling in Omaha in the mid 1950s. Paul and his family lived in the Rockbrook neighborhood where he attended Oakdale Elementary School, Valley View Junior High and Westside High School, graduating with the class of 1970. Paul continued his education at the University of Nebraska-Lincoln, where he was a member and past President of Beta Theta Pi Fraternity, graduating with high distinction in 1974. He achieved the status of Certified Public Accountant in 1974. Paul further continued his education at Creighton University School of Law, graduating summa cum laude in 1977.
During Christmas break of his first year of law school, Paul married Mary Regan Jessen and he became the proud father of Kjirsten Jessen Finnegan nine months later. When Paul was admitted to the Nebraska Bar in 1977, he and Mary were awaiting the birth of Chad.
Paul was chairman and co-founder of Koley Jessen, P.C. L.L.O. He played an active role in the community as well as the legal industry. He was named by Woodward/White Inc. as one of the Best Lawyers in America, Trusts & Estates, Tax Law, Corporate Governance Law, Corporate Compliance Law from 1995-2012; as well as by Chambers USA: America's Leading Lawyers for Business.
Paul's community and professional affiliations stretched over many areas, including College World Series of Omaha Board Member, Executive Committee Member; Knights of Ak-Sar-Ben Foundation, Member of Board of Councillors Foundation; Emeritus Board Member and Past President of the Great Plains Federal Tax Institute and so many more charitable affiliations. Paul also had a belief that Koley Jessen, as a firm, needed to be civically involved as well as give back to the community.
Paul was preceded in death by his parents, L.T. Jessen and Marion Carlson Jessen. He is survived by his devoted wife, Mary; daughter, Kjirsten and son-in-law Joe Finnegan; and son, Chad Jessen. He is also the proud grandfather of Nathan Paul Finnegan and Bridget Jessen Finnegan. In addition, Paul is survived by his brother, Peter C. Jessen D.D.S., and sister-in-law, Trish; many nieces, nephews and friends.
Paul obviously led an exemplary life, and I have to admit, I felt like a bit of a slacker while thinking about him and his life at the celebration service at St. Robert's. I also felt certain that Paul would have gladly traded all of the many wonderful accolades that were said about him for a few more years with his wife, children and grandchildren. While this notion saddens me a bit, perhaps the flip side is that Paul packed a lot more living in 59 years than most people would experience in 90.
Although Paul was a long-time and good friend, he was not a close friend that I spent a lot of time with, but I have nonetheless struggled a bit with his passing. I suppose that this is only natural when someone who has led a truly good and Christian life passes away before his or her time. In the end, I hope that I am not too old and too weathered to simply draw the inspiration from Paul's life that is there for the taking.
With the heavy stuff out of the way, let's talk about something a bit breezier, like the upcoming 2012 Hot Stove League season! With Draft Day a mere four weeks away, it is time to dust off the paperwork and to begin purchasing our Draft crutches as we make ready for our 28th year of competition. This season also marks the 20th year of play with at least a dozen franchises in our fold, meaning that Mouse and Tirebiter are both celebrating their 20th year of Hot Stove League competition in 2012. Will this be the breakthrough year for either of these determined and now-seasoned team owners? Time alone will tell.
Lots of questions to be pondered as we begin considering our Draft selections for the upcoming season. Will Ryan Braun's reversal-of-fortune catapult him to No. 1 overall Draft pick status? Will Prince Albert still be in the conversation about No. 1 picks after his defection from the Cardinals? Will this be the year that Batista goes first and then sees his statistics plummet like Newt Gingrich's post-Florida campaign hopes? So much to think about, I can hardly wait to start.
We now have affirmatives from the following owners who have committed to our April 27-29 junket to Marlins Park:
Shamu
McJester
Itchie
The Teutonic Trumpetfish
Mouse
Skipper
This leaves a septet remaining to step up to the plate and join in with your brethren for a weekend of fellowship, fun, frothy drinks and Fish. Let's get busy, fellas, and make those reservations!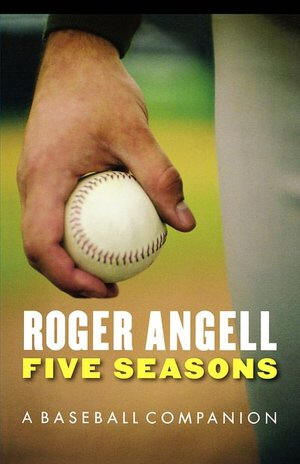 It has been a while since I have done a book report, so let me take this opportunity to tout a sublime baseball read that I just finished, Five Seasons by Roger Angell. First published in 1977, Five Seasons is a collection of Angell's writings covering parts of the baseball seasons of 1972 through 1976.
If I had the ability to write like Roger Angell, I could articulate much more pellucidly why it is that Five Seasons is such a great read. In spite of my limitations, I will try. Angell has a writing style which is so descriptive and so nuanced that at times you feel as if you are actually present with him when he is making his observations about the game of baseball and its many facets and colorful personalities. I feel like he is showing me a few glimpses of life that the general population never has a chance to see, that I am one of the privileged few who get to know his thinking on baseball matters.
I think my favorite part of the book was Angell's recounting of the 1975 World Series between the Big Red Machine of Cincinnati and the Boston Red Sox, quite possibly the best World Series of all time. Angell reminds us that the Red Sox were ahead of the Reds in every single one of the seven games, despite a clear disparity in talent, but that the Big Red Machine was able to come back to win four of those games, including the deciding Game 7 at Fenway. I love the following excerpts from Angell about this Series:
Bernie Carbo, pinch-hitting, looked wholly overmatched against Eastwick, flailing at one inside fastball like someone fighting off a wasp with a croquet mallet. One more fastball arrived, high and over the middle of the plate, and Carbo smashed it in a gigantic, flattened parabola into the center-field bleachers, tying the game.
~~
And so the swing of things was won back again. Carlton Fisk, leading off the bottom of the twelfth against Pat Darcy, the eighth Reds pitcher of the night—it was well into morning now, in fact—socked the second pitch up and out, farther and father into the darkness above the lights, and when it came down at last, reilluminated, it struck the topmost, innermost edge of the screen inside the yellow left-field foul pole and glanced sharply down and bounced on the grass; a fair ball, fair all the way. I was watching the ball, of course, so I missed what everyone on television saw—Fisk waving wildly, weaving and writhing and gyrating along the first-base line, as he wished the ball fair, forced it fair with his entire body. He circled the bases in triumph, in sudden company with several hundred fans, and jumped on home plate with both feet, and John Kiley, the Fenway Park organist, played Handel's "Hallelujah Chorus," fortissimo, and then followed with other appropriately exuberant classical selections, and for the second time that evening I suddenly remembered all my old absent and distant Sox-afflicted friends (and all the other Red Sox fans, all over New England), and I thought of them—in Brookline, Mass., and Brooklin, Maine; in Beverly Farms and Mashpee and Presque Isle and North Conway and Damariscotta; in Pomfret, Connecticut, and Pomfret, Vermont; in Wayland and Providence and Revere and Nashua, and in both the Concords and all five Manchesters; and in Raymond, New Hampshire (where Carlton Fisk lives), and Bellows Falls, Vermont (where Carlton Fisk was born), and I saw all of them dancing and shouting and kissing and leaping about like the fans at Fenway—jumping up and down in their bedrooms and kitchens and living rooms, and in bars and trailers, and even in some boats here and there, I suppose, and on back-country roads (a lone driver getting the news over the radio and blowing his horn over and over, and finally pulling up and getting out and leaping up and down on the cold macadam, yelling into the night), and all of them, for once at least, utterly joyful and believing in that joy—alight with it.
~~
The seventh game, which settled the championship in the very last inning and was watched by a television audience of seventy-five million people, probably would have been a famous thriller in some other Series, but in 1975 it was outclassed. It was a good play that opened on the night after the opening night of King Lear.
~~
Rose led off with a single in the sixth. (He got on base eleven times in his last fifteen appearances in the Series.) With one out, Bench hit a sure double-play ball to Burleson, but Rose, barreling down toward second, slid high and hard into Doyle just as he was firing on to first, and the ball went wildly into the Boston dugout. Lee, now facing Perez, essayed a looping, quarter-speed, spinning curve, and Perez, timing his full swing exactly, hit the ball over the wall and over the screen and perhaps over the Massachusetts Turnpike. The Reds then tied the game in the seventh (when Lee was permitted to start his winter vacation), with Rose driving in the run.
The Cincinnati bullpen had matters in their charge by now, and almost the only sounds still to be heard were the continuous cries and clappings and shouts of hope from the Reds' dugout. Fenway Park was like a waiting accident ward early on a Saturday night.
Five Seasons is a quintessential baseball read and a delightful baseball companion. And if you spend the evening at the ballpark with Roger, you will not wake up with a ringing Jägerbomb hangover such as you might experience after hanging out with certain other baseball companions. Just saying.
The Mount Michael varsity basketball season is now at a merciful end, following last Saturday's pounding by the Bennington Badgers at the first game of Districts, leaving the Knight cagers with a season record of 2 wins against 20 losses. In what could be his last competitive basketball game, Joe led the Knights in scoring against the Badgers with 9 points and gathered in a host of rebounds, all of which he would gladly have traded in for a Knights victory. On the other hand, winning the game would have pitted the Knights against South Sioux City and Hawkeye-bound Mike Gesell and, well, you can do the math.
In any event, despite multiple team pulverizings this season, I could not be prouder of Joe for playing basketball his senior year after not playing during his junior season, and for the yeoman effort he put forth each and every game. Every time that his coach yelled, "Great hustle, Joe!"—and these exhortations were numerous—I sat up a little taller in the saddle.
Just for fun, I will include below a picture of Joe popping a jump shot against Lincoln Lutheran—and proving that some white Ernst men really can jump, and then a nifty series of Mount Michael website photos culminating in a basket.
With the basketball season in the can, all members of the Ernst family are anxiously awaiting the start of the baseball season, which opens in a mere two weeks with a home opener at Mount Michael against Nebraska City on March 15, 6:30 in the afternoon.
Thanks to all of you for tuning in to this, the 486th edition of From the Bullpen. Enjoy the March weather, and get ready for baseball!
Skipper