Bienvenido a Miami
The official, fully sanctioned 2012 Hot Stove League trip to Miami, FL was attended by the Fab Five owners proven to have the highest levels of testosterone in their systems. Mouse, Shamu, Skipper, Stretch, and yours truly took our (questionable) talents to South Beach for the weekend, to check out the Miami Marlins newly christened digs and to sample the sights and sounds of the Sunshine state. The paragraphs that follow are an attempt to capture the highlights of what has already been labeled "the best trip of all time" by those who know these types of things.
Launching the trip on a Friday makes for a short weekend, so we felt compelled to get after it from Jump Street. Dave and I arranged to meet Mouse at the airport in Omaha, and just by chance, he ran into us in the North Terminal's Lobby Bar. Bloody Marys were the only option listed on their menu for breakfast, so we placed our order and were informed that "Doubles" were the most economical option. I loved how helpful all of our servers were this past weekend, each offering their own interpretation of how we could get more bang for our buck. I'm all about saving money, so we agreed to the "up sell" and thus started off the weekend with a spicy spirit to set the tone.
Screwdrivers were offered as the prominent brunch item, so the fun continued. With Itchie tightly grasping 39 Southwest Airlines free drink tickets in tow, we were guaranteed that the revelry would extend on to the plane once we boarded. Our 10:00 departure time approached, so we filed onto our bird in orderly fashion and settled into our seats for the quick jaunt over to St. Louis, our connecting city.
Upon reaching an altitude of 10,000 feet, I rang the call button to ensure we could promptly place our orders and take advantage of these coupons that I have worked so hard to earn over the years, precisely so I could share a free drink with my buddies and any other female passengers that had even a passing interest in imbibing. We placed our orders and the drinks came, but when it came time to "settle up", I was informed that these ducats were no longer valid because they don't contain an expiration date…. (Wait, doesn't that mean they don't expire??). Immediately my mind told me "Those freaking Mayans were right, the world is ending"….think John Belushi in Animal House when the whiskey bottle got dumped out.
It took me a few minutes to compose myself and recover, but I relented, coughed up the cash, and decided to press on without complaining. One of my five key strengths is optimism (more on strengths later), so I just knew that I wasn't going to let that flight attendant dampen my enthusiasm for the trip.
The rest of our journey to Florida was rather uneventful, save for the 55 minute wait for our "quick lunch" at Chili's To Go in St. Louis. Mouse and I ordered a burger and a beer in an effort to keep it simple, but Dave's transformation to Michele's "boy toy" reared its ugly head for the first time as he ordered Pate de Foie Gras and a Chardonnay. I guess Pookie takes care of Pookie.
After a 2 ½ hour flight, we landed in FLL and quickly secured our rental car with Dave's newly earned BFD status with Hertz. The Hertz agent informed us that a full size would be much more economical than a mid size, so upgrade we did, saved ourselves some more money, and got ourselves behind the wheel of a Dodge Avenger. I assumed the role of navigator for the ride from Lauderdale to Miami, based on my previous award winning performance in arranging driving tours of Chanhassen and the Southwest Minnesota area. I deftly directed us to the scenic A1A, giving us an opportunity to stop at a traffic signal every two or three blocks to take in the sites and experience the local culture. Experience it we did, as our stop at Publix supermarket to obtain some cerveza for the ride down to Miami was an "otherworldly" experience. Our brews helped us to relax and enjoy the "high rise condo after high rise condo" landscape until we pulled up to our oceanfront hotel, the new Casablanca.
We checked in, despite the fact that we speak a foreign language that was not understood by the staff personnel, and secured our room keys. We made our way to our rooms on floor ten, even though the hotel is only 7 stories high. Lo and behold, the new Casablanca has all the amenities you would expect…..tepid water for showers, plastic cups, a lobby business center (well, really a desk) with a dial up computer and a capacity of one user, and non plush, non absorbent, non supima bath towels that have failed to have the skid marks left by the previous guests extricated by the quick rinse cycle that is part of their new "green" policy for laundering linens. The bathroom size was rivaled only by the hotel in Cooperstown. And did I mention it is an oceanfront property? Our view of the ocean was only slightly obstructed by the more glorious view of the hotel boiler, air conditioning units, and four dumpsters. But hey, Mr. Optimism is gonna keep the bubbles and sunshine flowing here.
Stretch and Shamu had already arrived at the new Casablanca and asked us to meet them at the pool. We found them relaxing on the chaise loungers, trying to catch their breath after being a bit winded from their hand in hand frolic up and down the beach in matching Speedos. Yes, they went European on us, not only donning the matching Union Jack Speedos but opting for the "butt floss" version that exposed large chunks of derriere. Chariots of Fire, Florida version. We exchanged pleasantries, asked them to please change clothes, and we planned out our foray to the ballpark.
Given that time was tight (like Shamu's Speedo) and time for the first pitch was approaching, we decided to grab a cab and head for the big potato chip that is Marlins Park.
I will say the stadium is quite an impressive structure from the outside, with the retractable roof and glass panels making it a visually attractive building, standing out like a sore thumb in Little Havana. After Shamu completed a 60 question, 25 minute survey in order to acquire a free Marlins souvenir cup, we were able to move inside for our first glimpse at the venue from inside the walls.
My initial reaction was that we went to a Chuckie Cheese and a Candy Land game broke out. A Lime green outfield wall and the gaudy home run celebration mechanism are a bit overbearing at first glance. They like their pastels in South Florida. The stadium is almost a duplicate of the retractable domes in both Houston and Phoenix, so the potential is there. It's like a guy bought a Bentley and then put a spoiler and a racing stripe on it and painted it green. I mean, it's nice, but I don't love what you've done with it. I'm sure I am the minority opinion on this one, but it probably ranks in the 15-20 area of all stadiums with me. Food service was extremely slow, which seemed to be a problem for one traveler in our group, and alcohol lines were long, which seemed to be a major problem for one traveler in our group. Ice cream cone vendors were nonexistent….damn
We had secured great seats for this tilt due to some adept negotiations and bartering, so we settled in to watch the battle between Joe Saunders and CC (Carlos Combustible) Zambrano. The D 'backs won 5-0. Saunders tossed a complete game gem, and was aided by three double plays from his infield and a homer from Aaron Hill.
An extra, unplanned benefit for Stretch was that the local Lauderdale Lakes Leaping Lords were holding their semiannual jester convention in Miami and had sponsored an outing to the game. Stretch opted to "diss" the Hot Stove League contingent to sit with the scalawags during the game. Fearing a potential kidnapping/brainwashing episode was in the offing, Skipper intervened with the Grand Poobah Leaping Lord and ensured that Stretch stayed with his traveling party.
After the game, the roof was opened and perspective of the ballpark improved a bit…….I just don't like indoor baseball at all, although the dome is definitely a necessity to protect against the showers that seem to arrive every afternoon in Miami.
Postgame, we felt we should stay local and get the vibe of the Little Havana neighborhood, but we all began to have a Cabrini Green moment once we determined that the "Batting Cage Lounge" was not yet open for business and there were not many other options. Rather than stay local and risk certain death, we flagged down the first available cabbie to transport us back to South Beach. It didn't matter that the cab was a Mini Cooper and five of us (plus the driver) had to squeeze into the sardine can. After all, we've gone to the bathroom in the new Casablanca, so we know cramped. Even though one of the HSL contingent may have been sweating a tad (profusely and malodorously) in this tin can, it was a joyful ride filled with laughs and one liners.
As the sun continued to shine on us and "luck be our lady", we found five seats at a chic, upscale outdoor lounge and bistro right at street level in South Beach. We decided to settle in, enjoy a few beverages, and regale each other with stories of Mike McGee, Vinny Castilla, seat cushions, French beers, nurses, driving on the shoulder, angry muskrats, Canadian Customs agents, and "you can have him". You've all seen this movie before.
Our server for the evening was a Brazilian gentleman named Eric, and he approached our table to introduce himself and take our order. Yes, much like the boys in The Hangover on the Las Vegas rooftop, we began with the time honored tradition of Jager Bombs, a tradition unlike any other. We gulped them down to kick off the evening, toasting those of you not fortunate enough to make it this year. Eric had one as well, but he informed us he had to "drink it inside". So while the charge showed up on the bill, we didn't actually see him consume it.
Shamu took an immediate shine to Eric, pointing out to the rest of us that Eric was actually quite handsome and was surely one of the primary studs to frequent South Beach. Shamu then started waxing poetic on his philosophy that now that he has reached his mid 50's, he wants to live life with "No Regrets"….then he started talking about handsome, strapping Eric again…..no regrets…..I wasn't sure where this was going, but I was getting nervous. Eric must have sensed his leverage, because he worked the pasty one with a couple of major "up sells". We had ordered some simple appetizers, hummus and calamari, but Eric suggested to Chuck that he would be willing to put together a "sampler platter" especially for him. Shamu assented without hesitation, not realizing that we are at an upscale bistro in South Beach, not a Chili's in South Des Moines. The look on his face when the bill came can only be compared to the front end of the Seat Cushion episode circa 25 years ago. Without discussing all the sordid details, suffice to say that I am quite comfortable that the entire Sinclair clan and four of their neighbors can dine at Chili's in Des Moines (gratuity included) for less than the price of the sampler.
Throughout the course of the evening, we also added "Water Moccasins" to our repertoire of shots, which will serve us well for future trips. Eric suggested that we try them, and Shamu concurred that it was a great idea, letting Eric know that he wished he had thought of that. After polishing off the Mocs and deciding to call it a night, we headed back to the new Casablanca for a nightcap. We shared a few beers poolside and as words began to slur and past athletic achievements began to grow more impressive, we felt it might be time to retire for the evening. Just then, a little Cat and Mouse game broke out between Stretch and Shamu. The end goal was positioning to be the first one to sleep. As roomies, each was faced with a no win dilemma; Shamu facing the legendary noises emanating from Stretch's sleep apnea, and Stretch facing the "piercing cough" that has been labeled by Jan Sinclair as the worst noise in West Des Moines. Even though their competitive nocturnal symphony was taking place on the fourth floor, the noise was so bad that Skipper and I requested that our room on the tenth floor be moved next to the ice machine and adjacent to the elevator to drown out the noise wafting up from six levels below. A wise move indeed.
We rose at staggered intervals on Saturday morning, but eventually hooked up for breakfast in the hotel restaurant. Skipper decided to hold court at the breakfast table, telling us about the "5 Strengths" test that he co-developed with Jim Clifton to assess personalities, identify individual assets, and determine career fit. He told us that his own test had revealed no weaknesses, and he had been focused on enhancing his strengths. He was kind enough to share the results of his confidential testing, identifying his 5 key strengths as narcissism, ego, self confidence, bravado, and never being wrong. No need to keep working on those Skipper…..
We finished our breakfast and now had an afternoon to kill before heading to the ballpark again for Saturday night's game, so we headed back down to South Beach to get our grub on and get primed up. After evaluating several options, we landed at the Clevelander, a hopping spot we had bypassed the evening before because of the $20 cover charge required just to set foot in the joint.
Today's entry was gratis, so we nabbed a table just to the side of the live band, watched some NBA playoffs, and listened to some Pit Bull and Flo Rida tunes to get us pumped up. Stretch was in his element. The Clevelander represents South Florida people watching at its finest, complete with gold chains, tank tops, tats, bulging biceps, botox, augmentation, and elevated footwear on the self employed models. No regrets Shamu, no regrets.
We were approached by our server K Dean, a nice young lady, who was kind enough to give us the "inside scoop" on what to order. You know, if you're going to get one of those fruity, frozen drinks like a Rum Runner or Pina Colada (or Pink Squirrel, Dave), K Dean let us know that you probably need to add the double shot of Jose Cuervo, because those drinks listed on the menu are "machine poured" and really don't contain much alcohol. The double shot really brings out the flavor. K Dean is one smart lady. After several of these concoctions each, it got so bad that three members of our group could not identify who Dwayne Wade is…oh wait, that was before the drinks.
We decided to exit the now legendary Clevelander to sample a few other venues before heading to the ballpark. We eventually found ourselves in another local hot spot, and with all five travelers having a simultaneous need to urinate, we asked the doorman where we could find the "facilities". Perhaps sensing that we were not paying patrons and that we may have been a bit "over served" at our previous stop, he was reluctant to provide assistance. Not to worry, we located the bathroom on our own and set about our business. Unfortunately, the bathroom at this place only has one stall (which it was later determined was occupied by an employee dropping his daily deuce), and one urinal. Given that there were five of us needing to remedy a situation at the same time, this presented a problem. Well, necessity is the mother of invention, so you might imagine what happened from there. You might also imagine the employee telling his supervisor what he had heard/witnessed. Time to move on boys……luckily, we took two steps out of the place to find an empty van cab waiting to whisk us off to the ballpark. Got to keep Po Po at bay.
We made it to the park with enough time to allow for a quick stop into the Bowl Bar, where they wear orange T shirts (get it, Orange Bowl?). The only thing I can think to compare this place to is a St. Paul Saints game. You just had to be there to understand how bizarre of an experience this place is. The bar is about the size of the draft room at the Buser/Ernst law firm, and they had nine "waitresses", none of which were very proficient with the King's English. Just so you don't think I'm making this up, Mouse's order of Jager Bombs came along as Jager only without the "Rojo Toro". Everyone in the place was staring at the five gringo's who decided to stop in for a quick one. It was kind of like "mind if we dance with yo dates?" but at the Waggin Tongue. The waitresses would periodically disappear into the back room, which was being observed by the "Manager Guy" who was manning the door. We never did quite figure out exactly what was going on at the Bowl bar, but we were just glad to be able to say we've been there.
We ventured back in to experience Saturday night's game, this time from seats in Row B (as in Row A, then Row B), and witnessed a dandy. Anibel Sanchez was on the bump for the Marlins and started out like he was Heath Bell's brother. His pitch count was at 58 through two innings, and we were sure he wouldn't last through four, but he settled in and ended up striking out 14 Dbacks in seven innings. The Marlins ended up winning this one on Han Ram's walk off single in the bottom of the ninth. The HSL 5 were treated to post game fireworks, and then stopped back into the Bowl Bar for one last look around.
We made it back down to the South Beach hot spots for a couple more beverages, but focus waned when we all agreed nothing could top the Bowl bar.
Sunday was travel day, the conclusion to another very eventful HSL outing. Stretch flew out of Miami, while Shamu opted to spend one extra day in his room at the Runway Hotel, near the airport. Trust me, the new Casablanca never looked so good. Skipper, Mouse and I headed back to FLL, with a brief stop at the Fishing Hall of Fame, since the state capital was not available in Miami. Even though our flight was delayed two and a half hours and we had to be rerouted, our optimism never let us think a negative thought; we enjoyed a nice falafel (with the up sell of cayenne and cumin) and a few cold ones to delay the onset of withdrawal symptoms.
While a good time was had by all, there was consensus that a higher attendance percentage will be required for next year's trip. Phoenix has been named as a possibility, given that flights are direct and should be more reasonably priced, and lodging could be free (or minimally priced for Mitch). These experiences are really memory maker's, so let's ensure that next year's version is the best attended ever.
Enjoy the pictures, boys, and good luck the rest of the year.
Itchie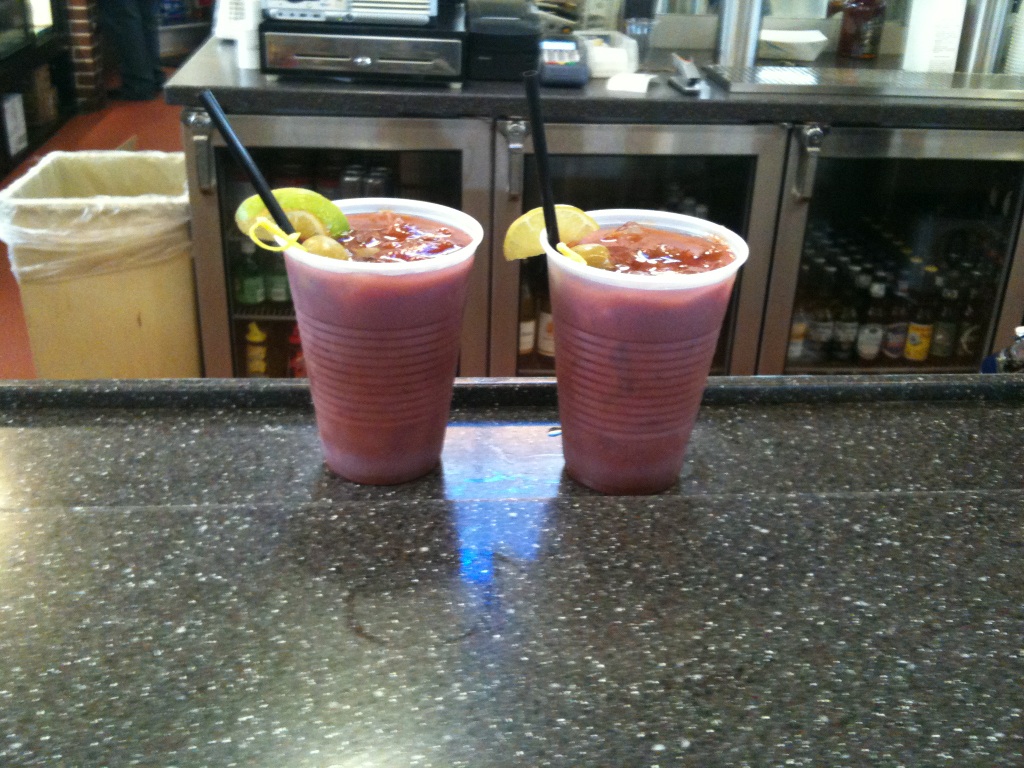 Breakfast in the North Terminal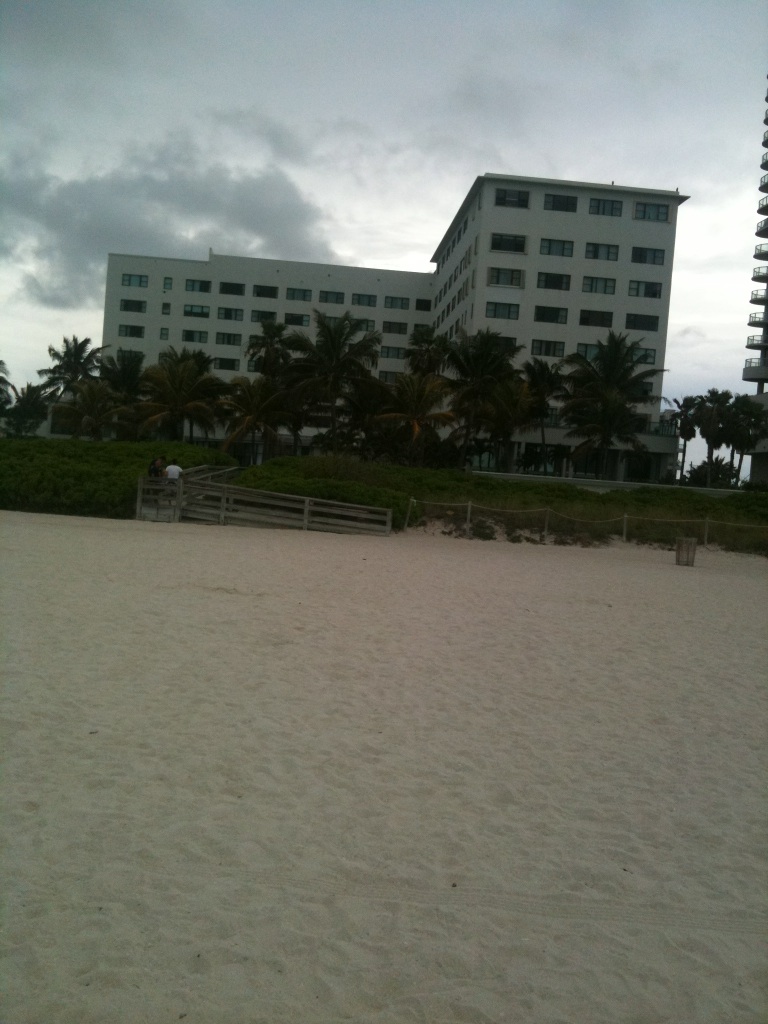 The new Casablanca...all 7, or is it 10, stories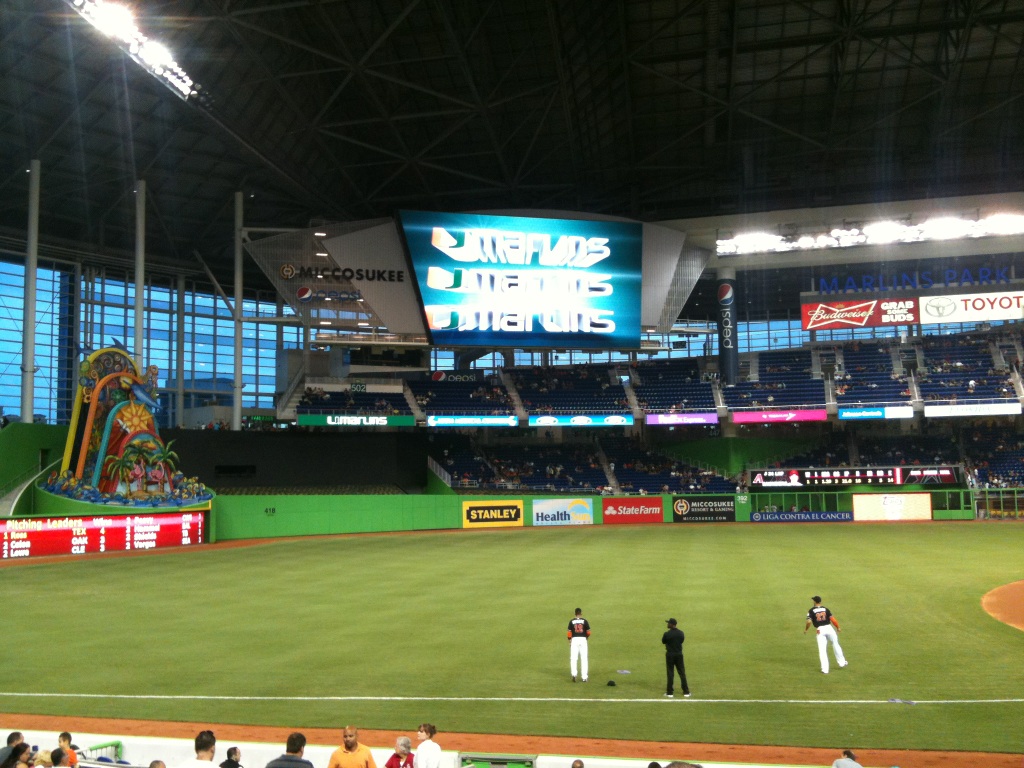 The Limey Wall and Candy Land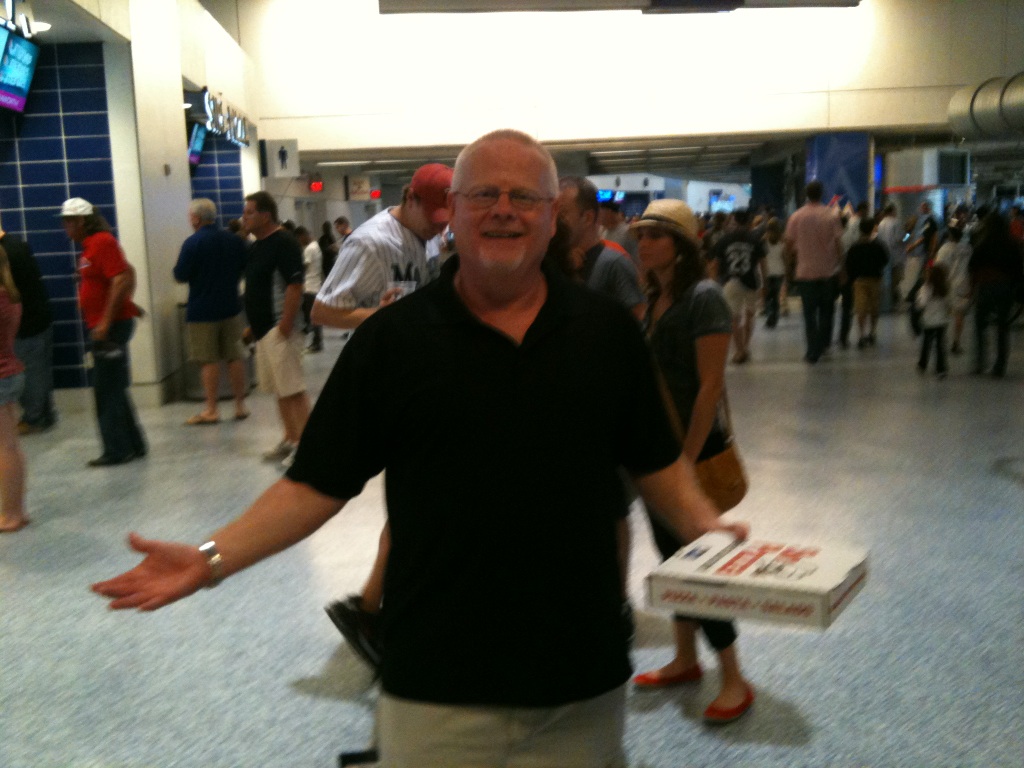 Shamu conquers the food line.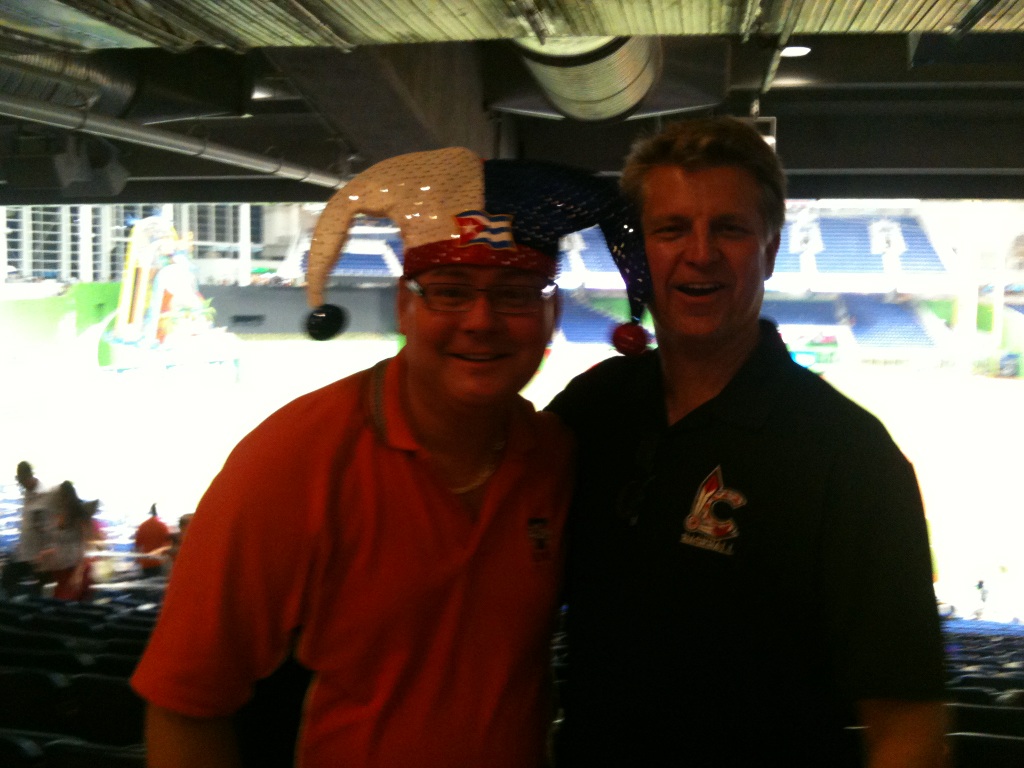 Skipper's 11th hour negotiations prevented Stretch's
abduction by the Lauderdale Leaping Lords.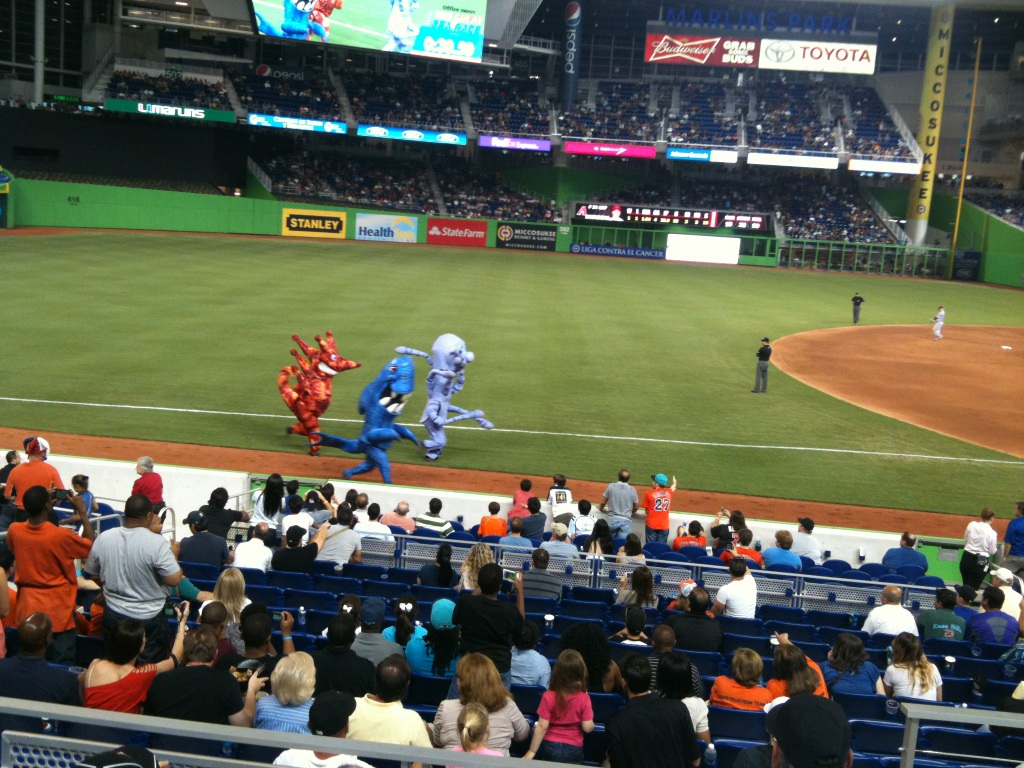 Stretch says it made the whole thing worthwhile.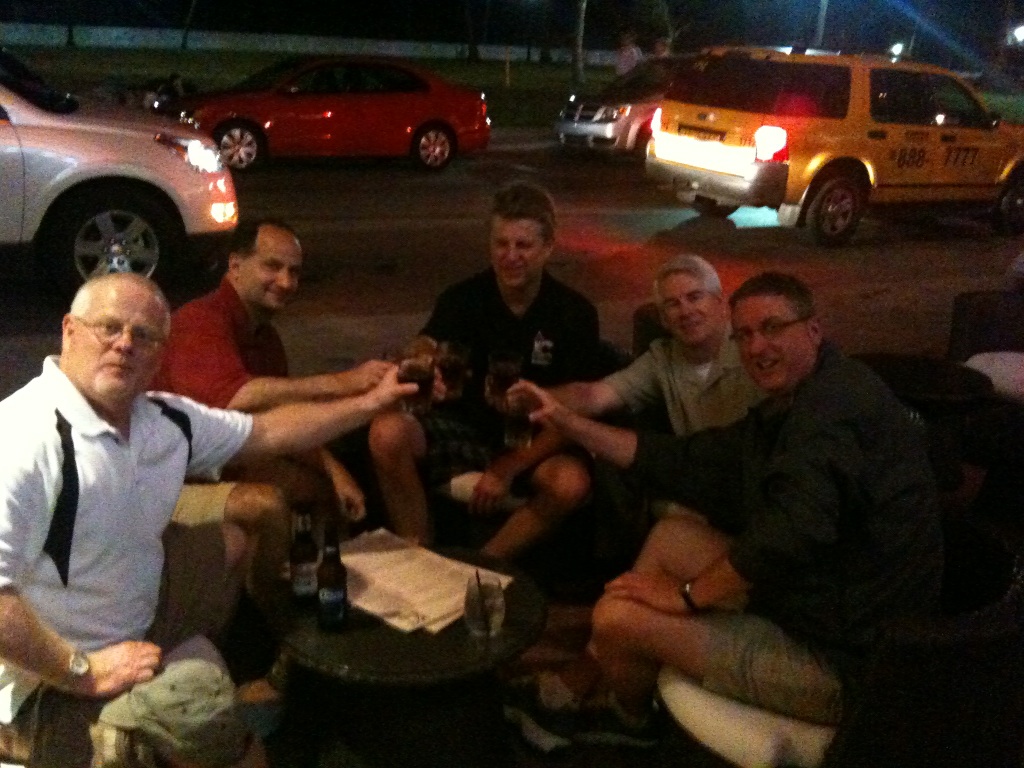 The boys hoist Jagerbombs.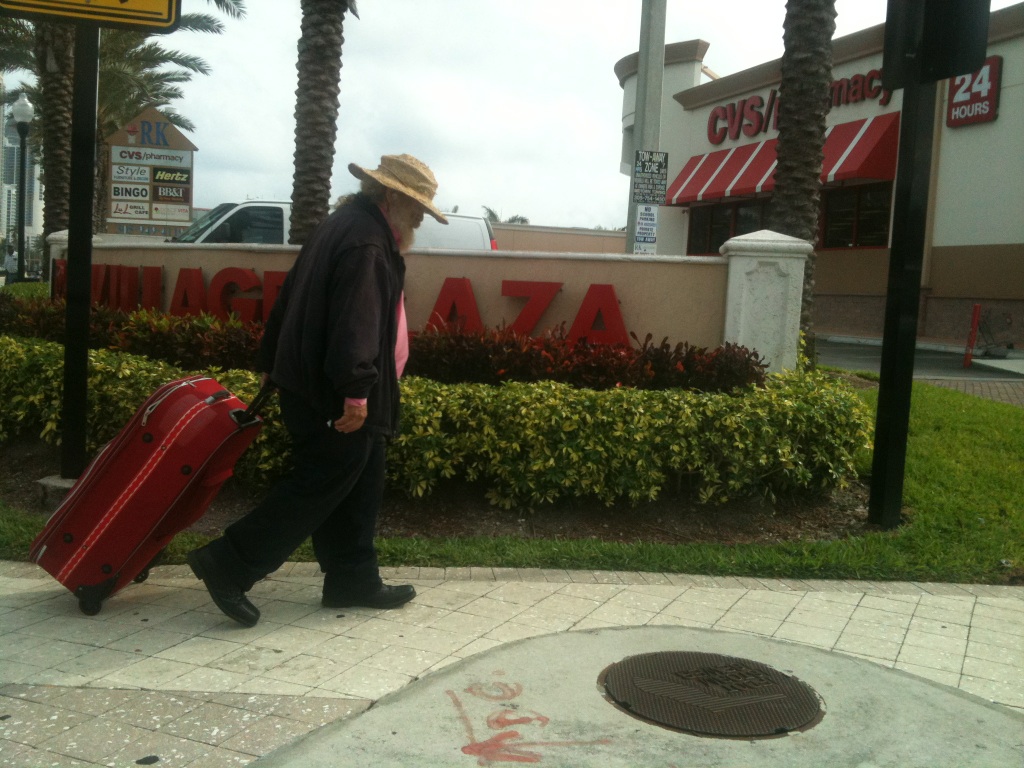 Shamu begins the walk of shame to the Runway Motel.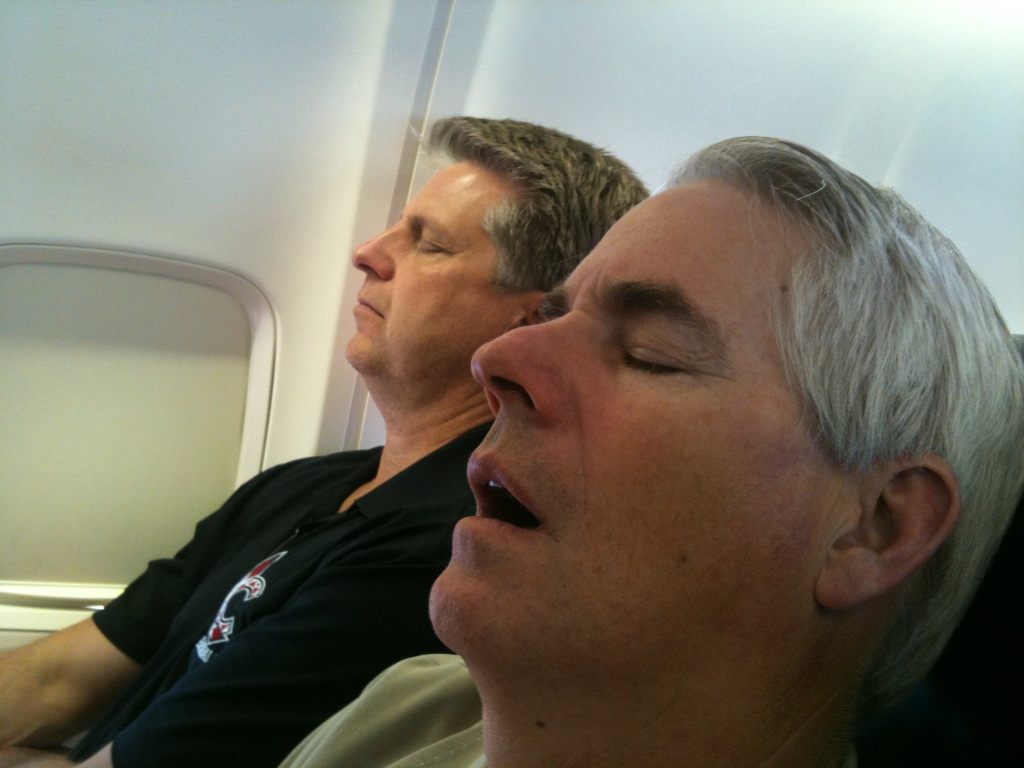 Old age hasn't slowed these boys down one bit.
SKIP'S PICS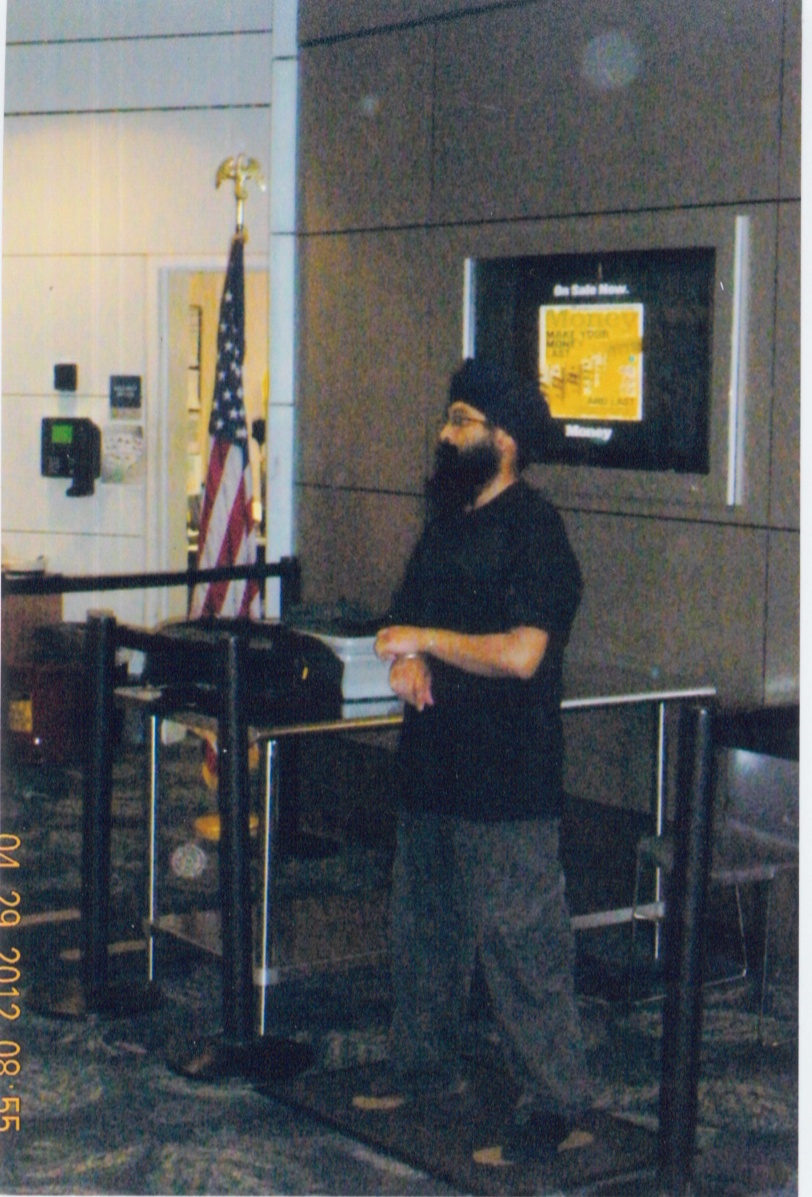 Eppley -- a rough start to the 2012 Trip for Itchie: Cavity Search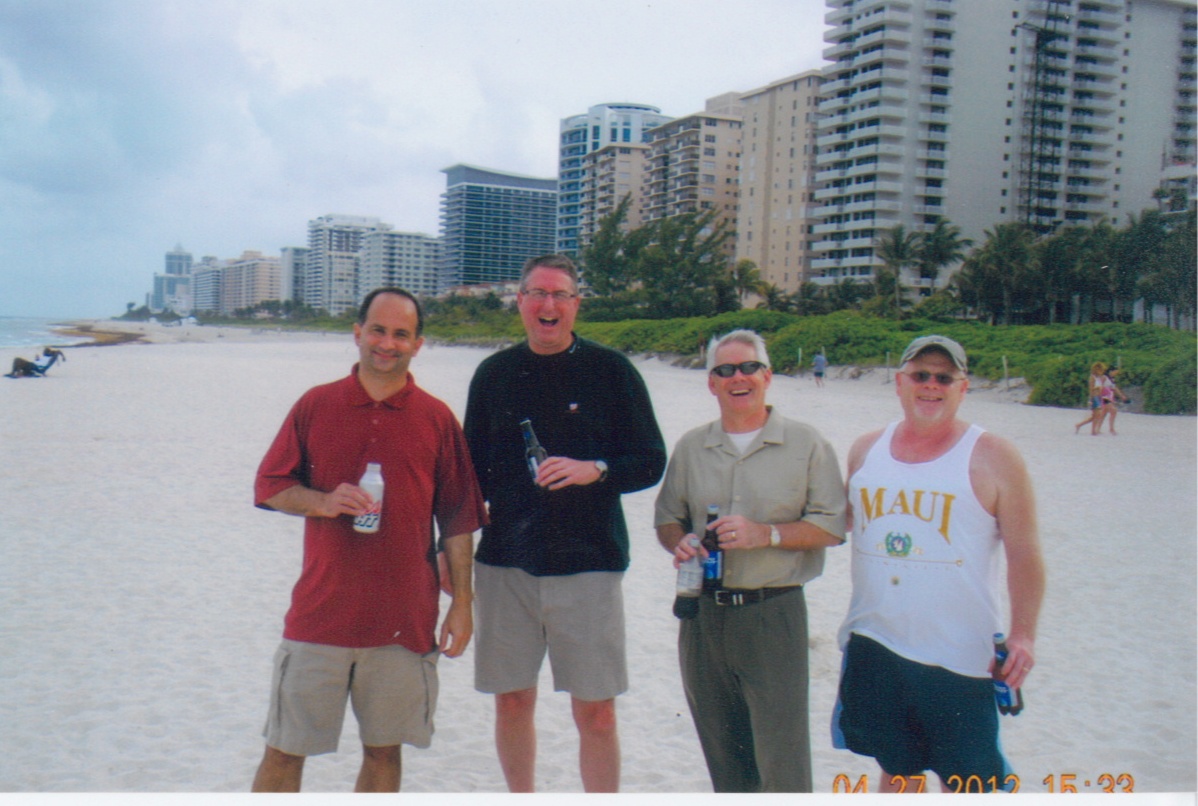 Miami Vice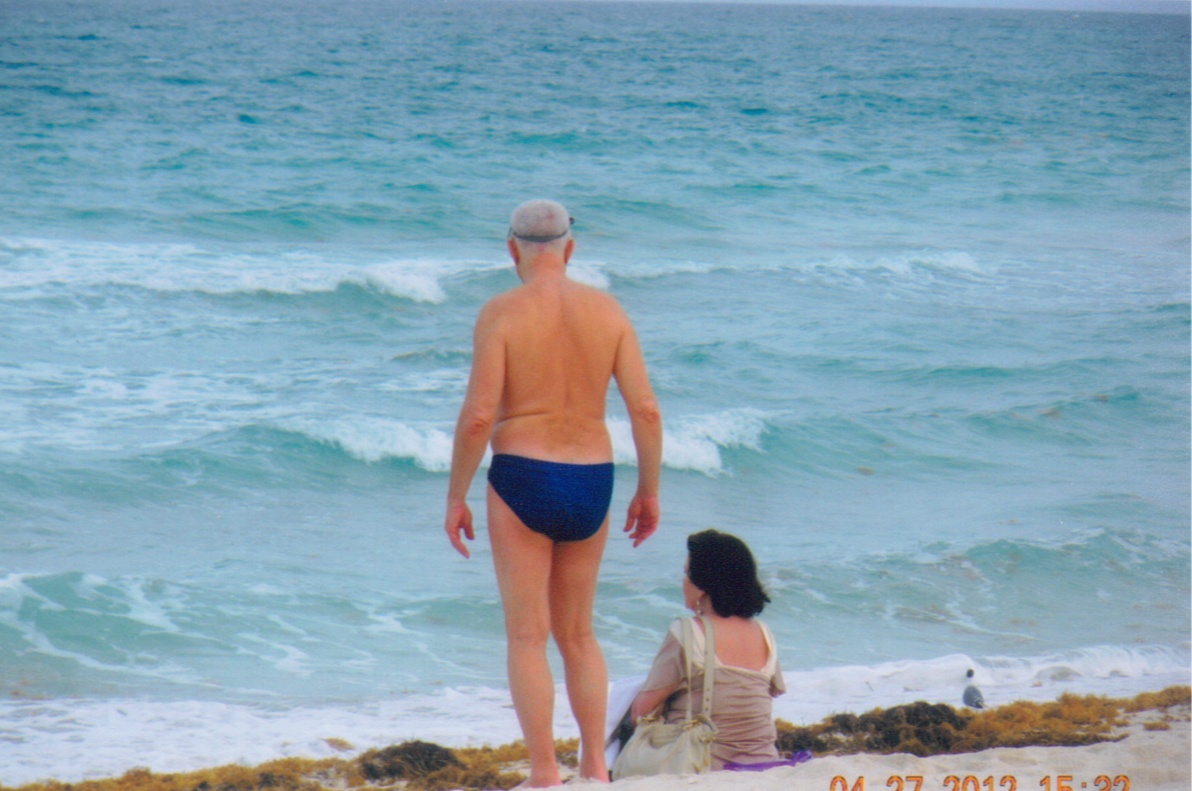 I thought B.T. said he couldn't make the Trip this year!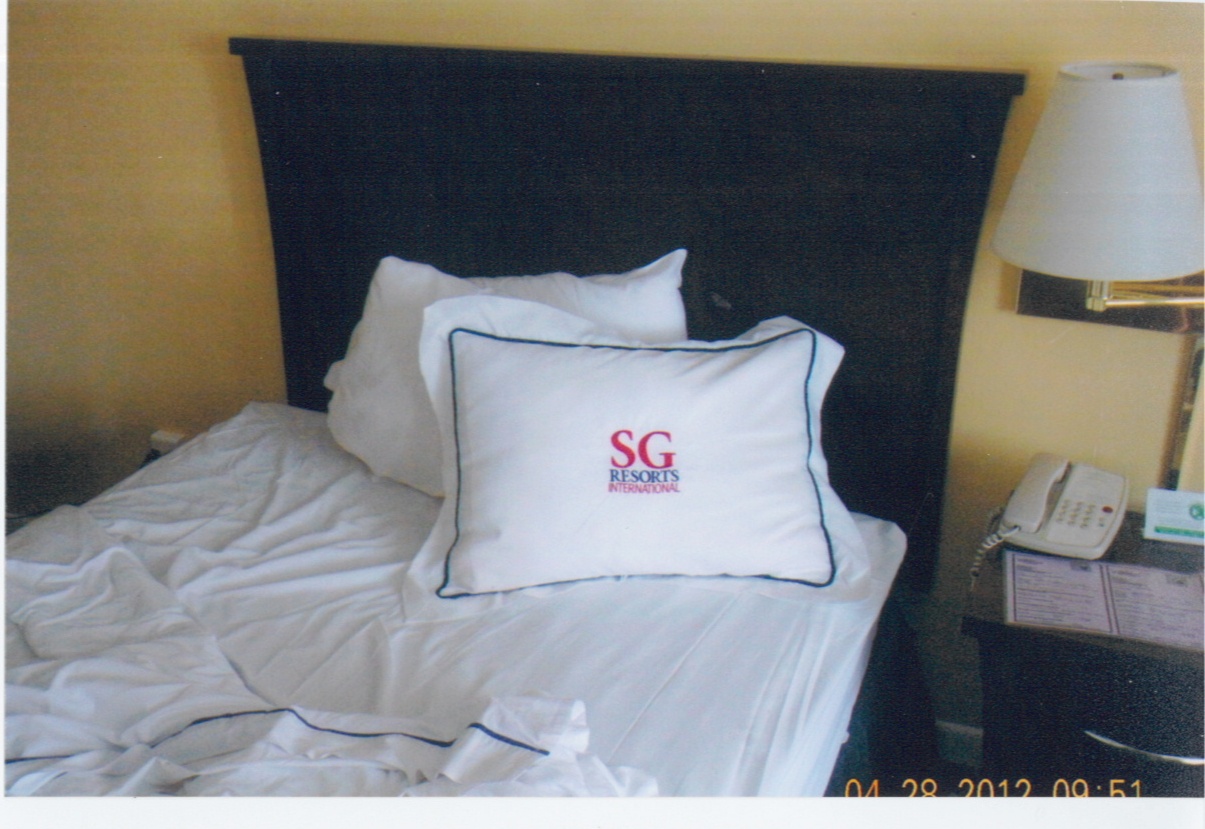 Our elegant accommodations.
McBlunder's pre-Trip tanning pays off handsomely.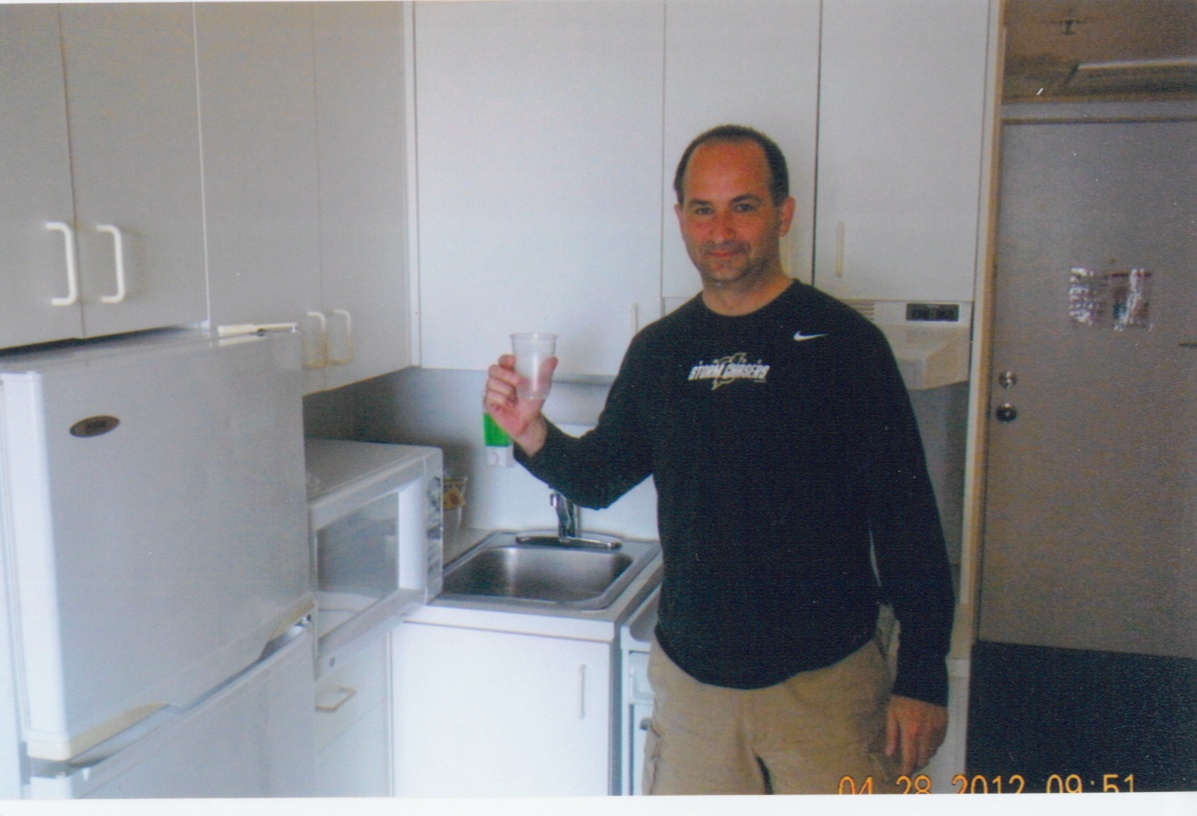 J.T. at his halfway house room at the new Casablanca,
now clean and sober for 3 hours.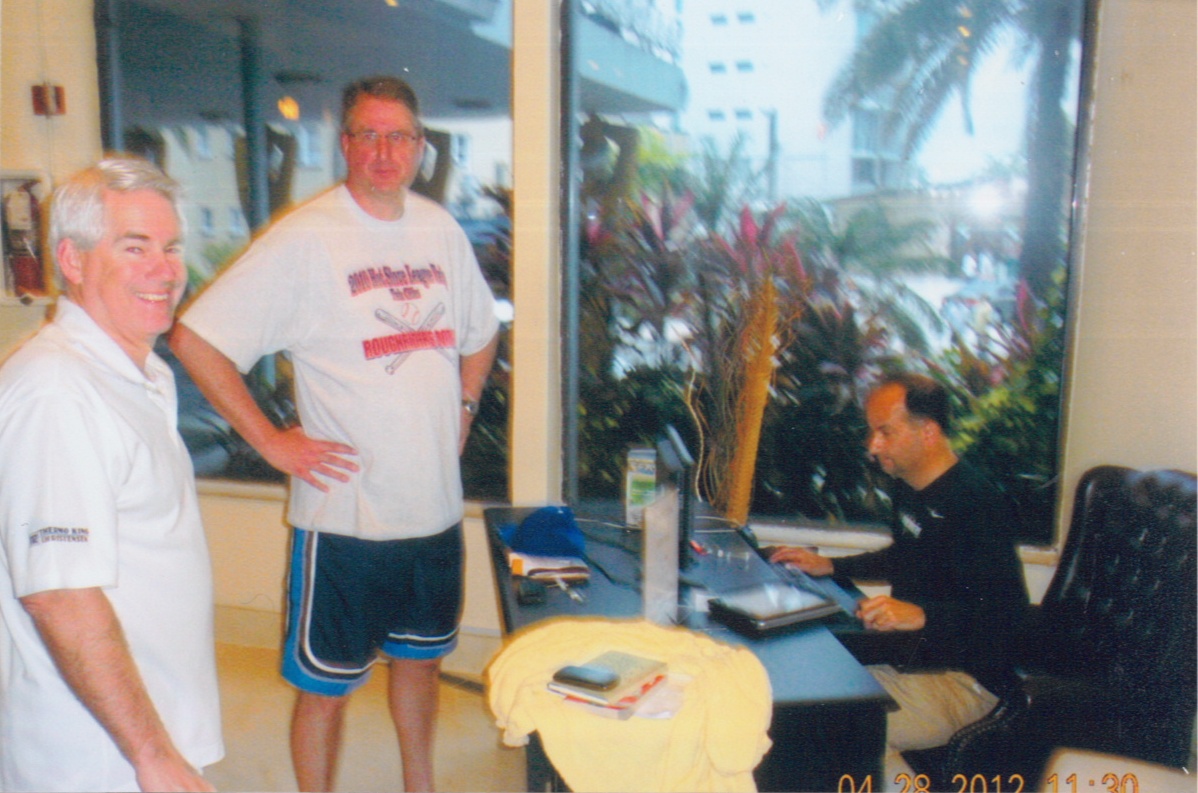 Itchie frantically searches for a local medical clinic
which treats facial sunburn victims.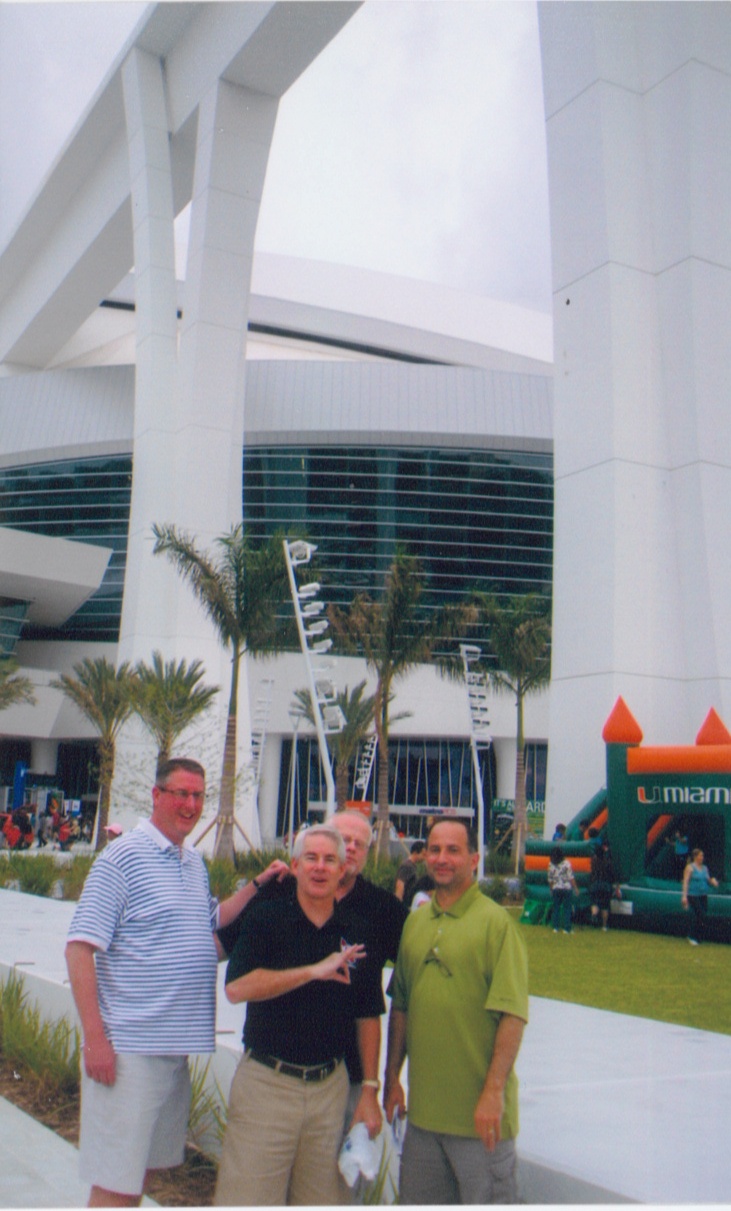 Gangsta Mr. Mouse flashes a warning to approaching ticket brokers.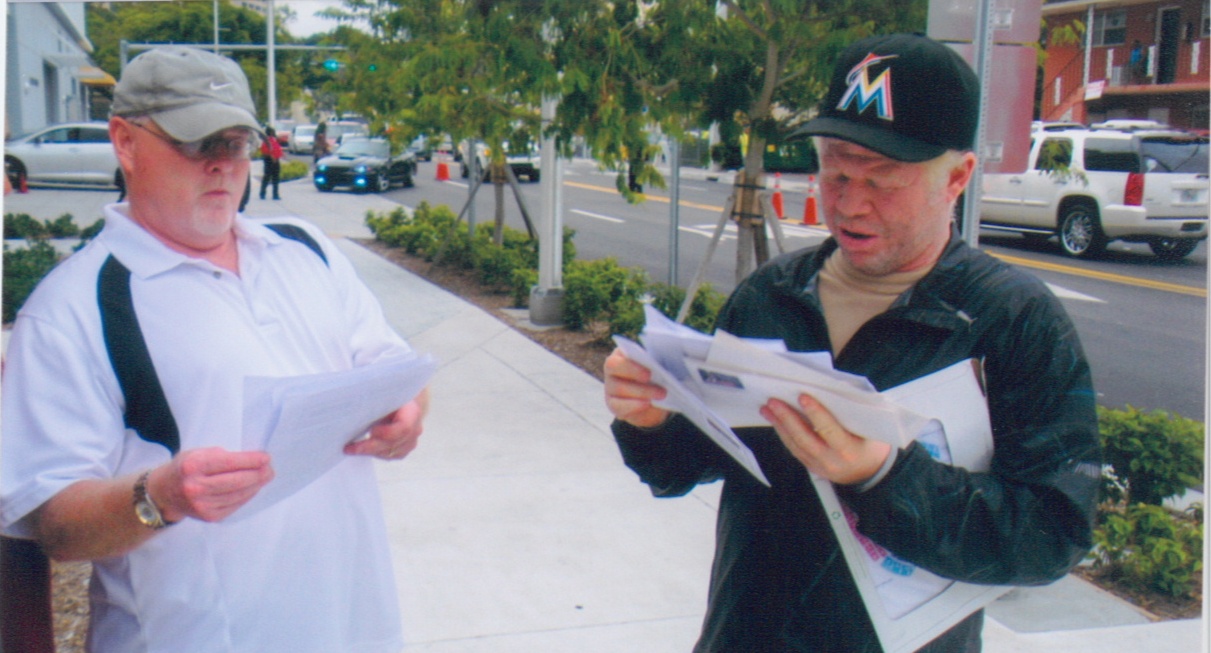 Is this broker "T" or UBelly? Or a combination (T-Belly)?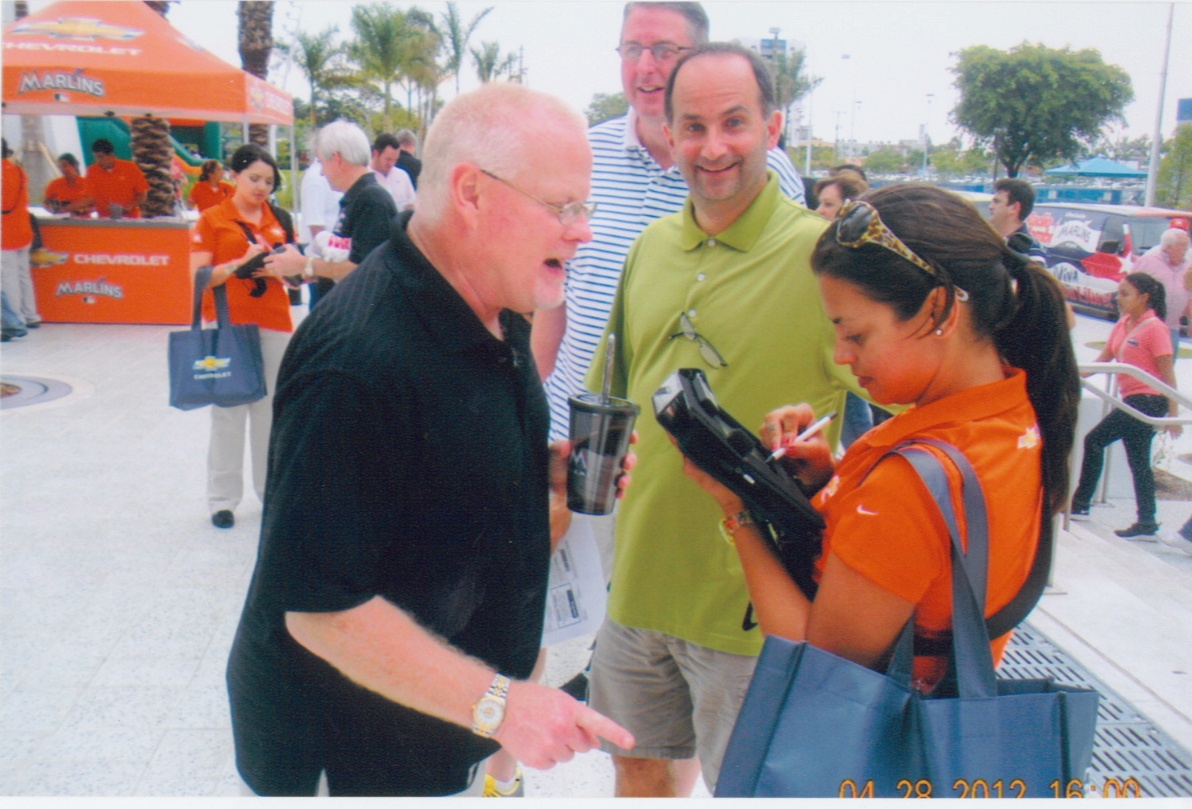 ... and 6 cheeseburgers, a personal pan pizza, 12 fish tacos,
a carton of Rocky Road, some Cracker Jax ...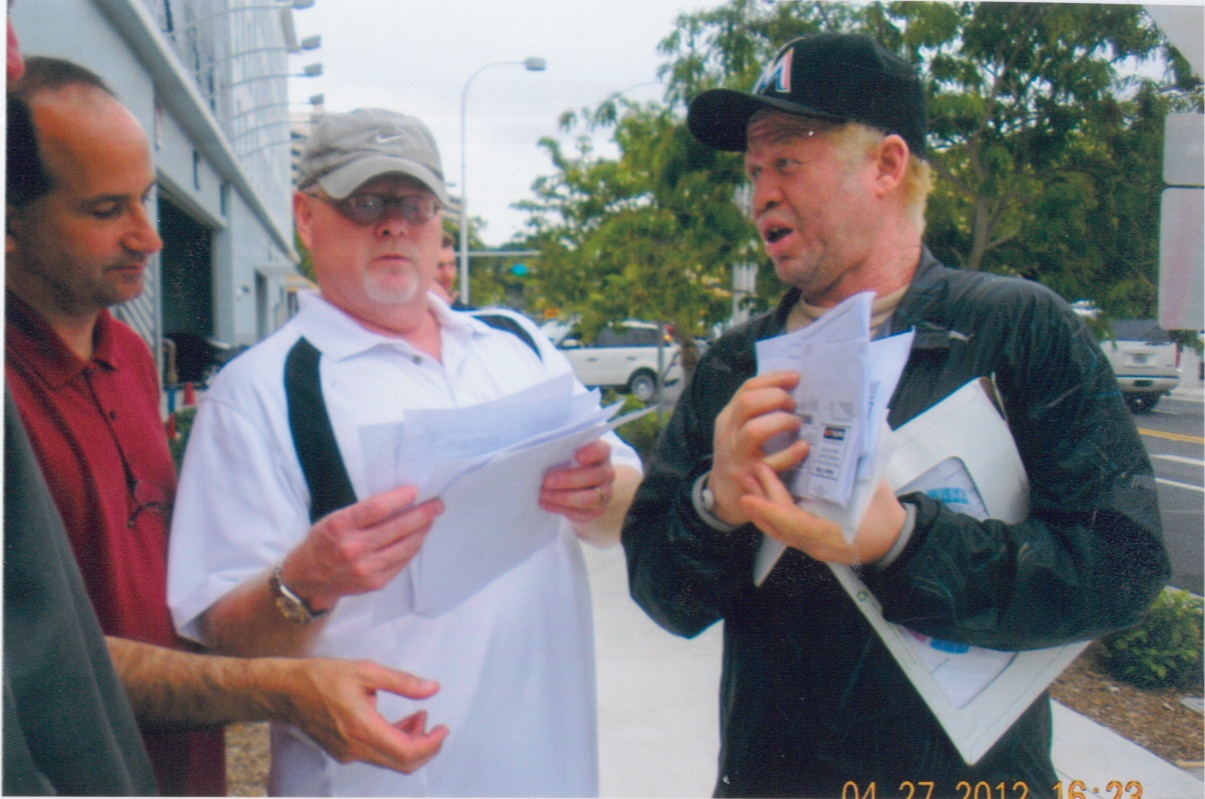 Itchie's counter flumoxes the simple-minded T-Belly.
The Boys at Marlins Park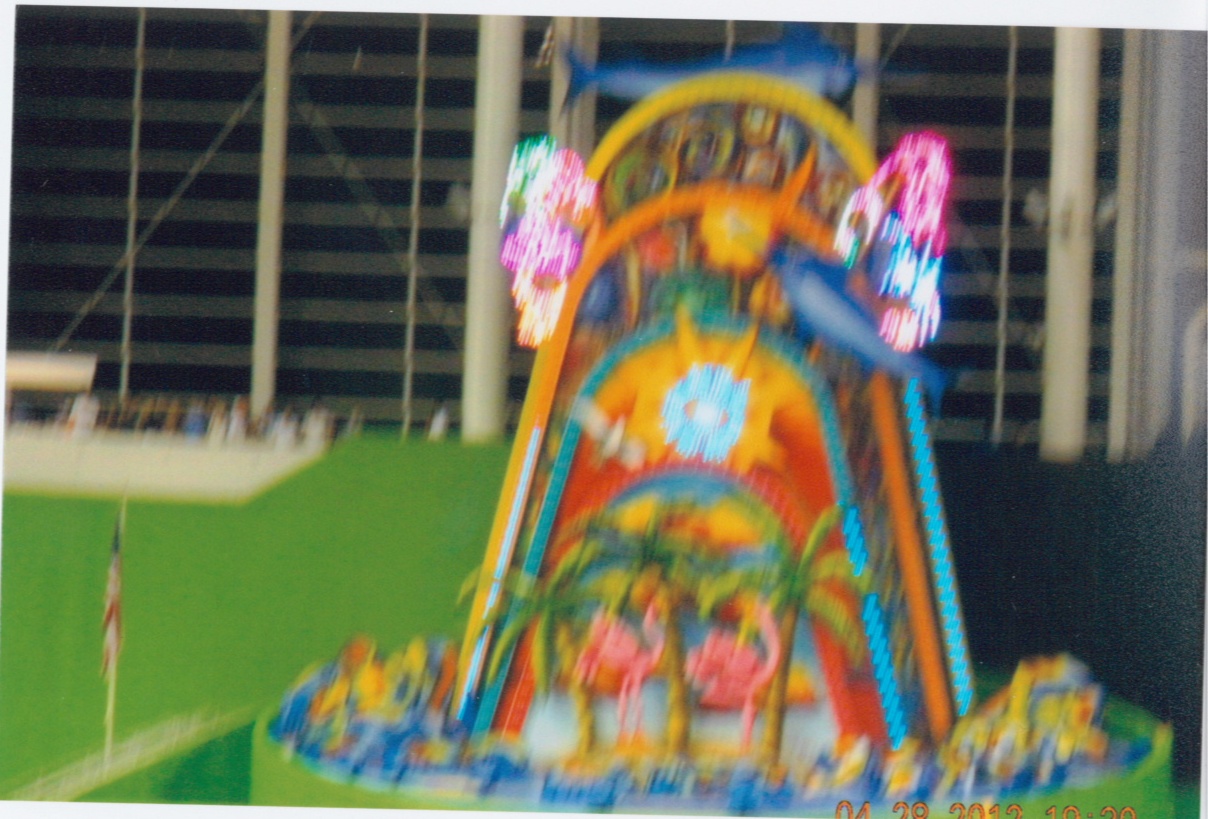 Can you say "monstrosity"?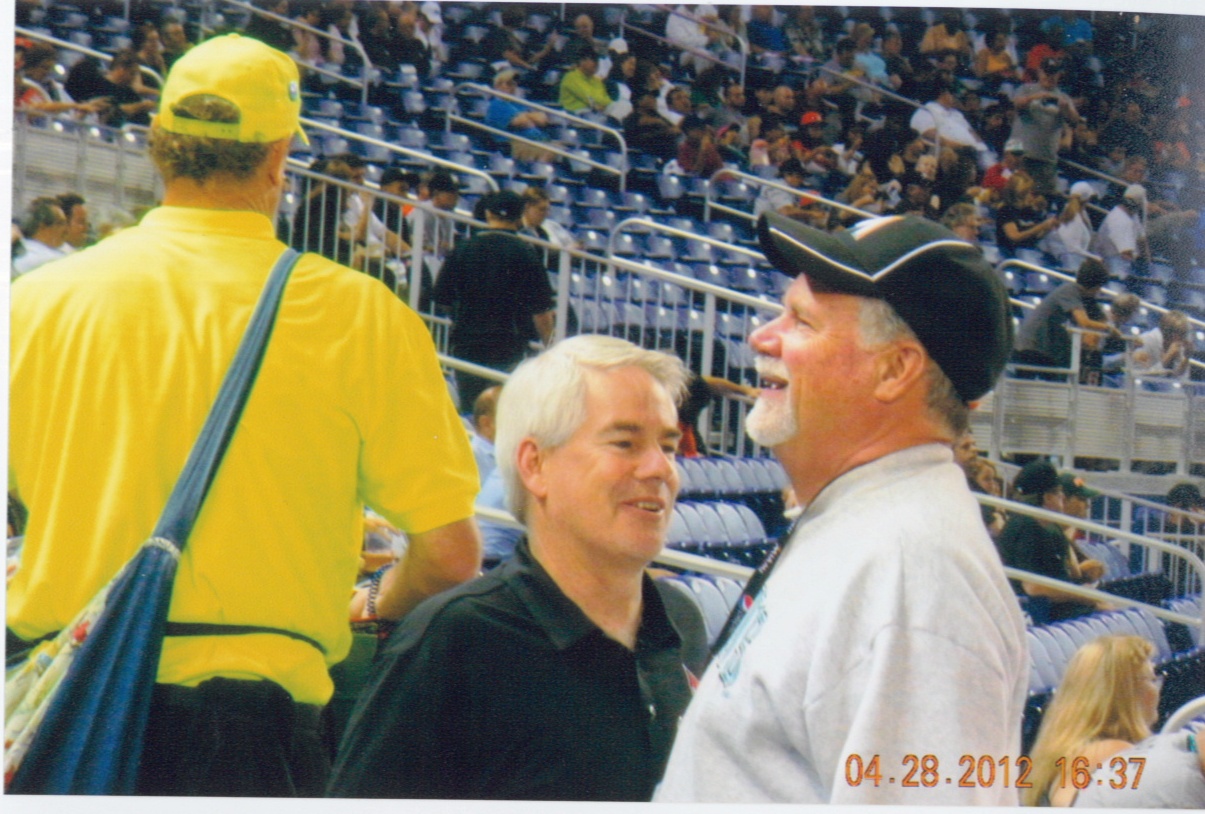 "And then yell, Hey, McBlunder, here come the Mascots! real loud!"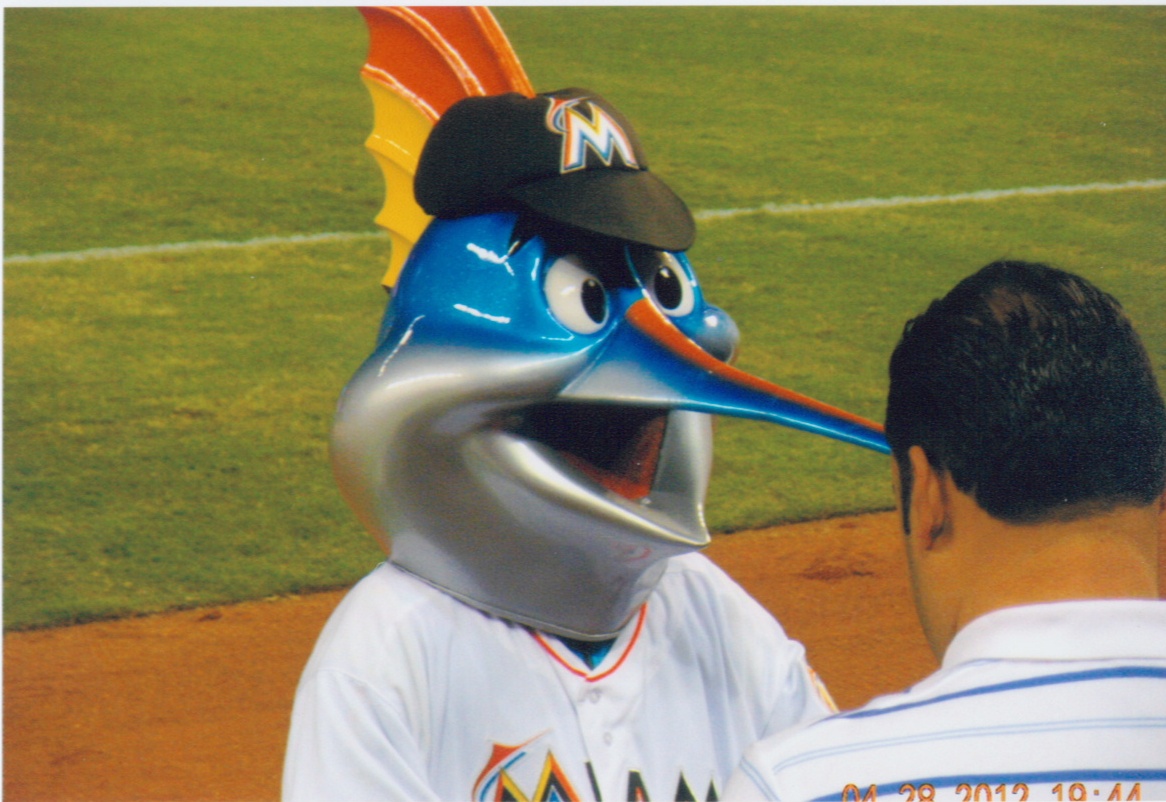 Billy Marlin spots his No. 1 fan (McJester) in the crowd,
rushing down the aisle at breakneck speed.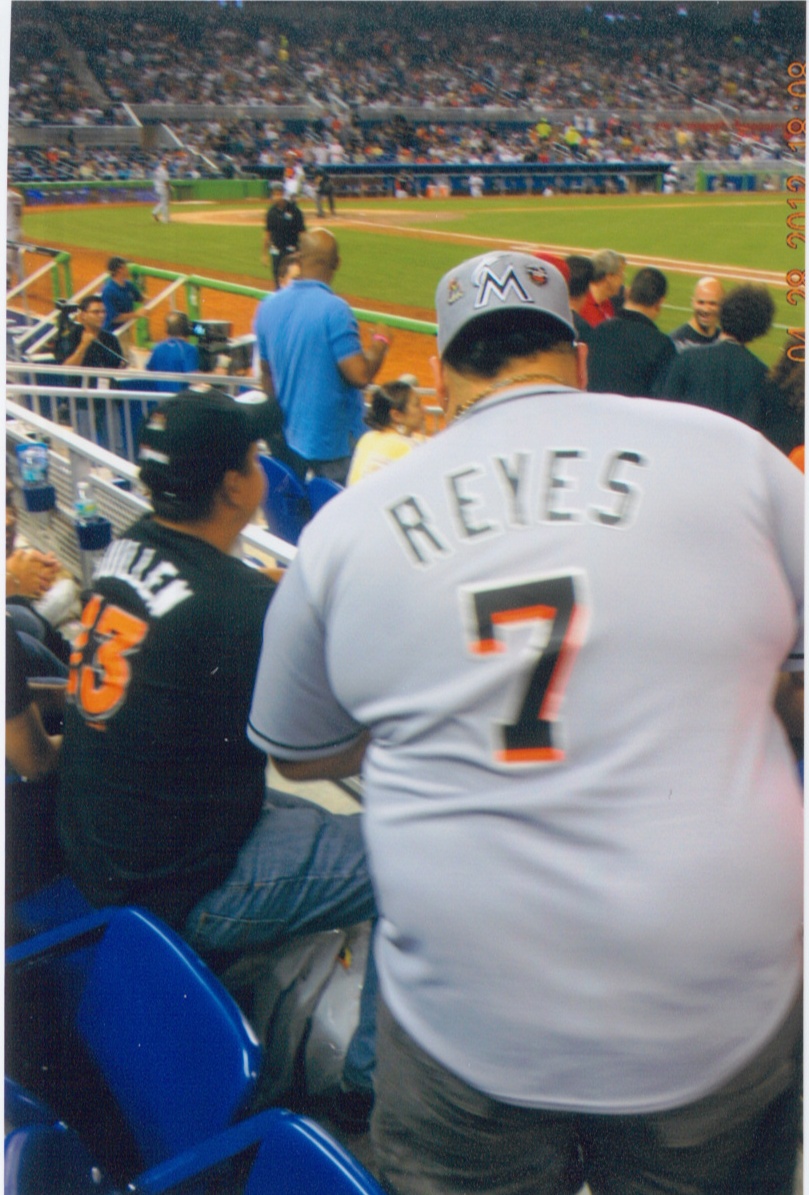 The rest of us had no inkling that J.T. was such a Reyes fan.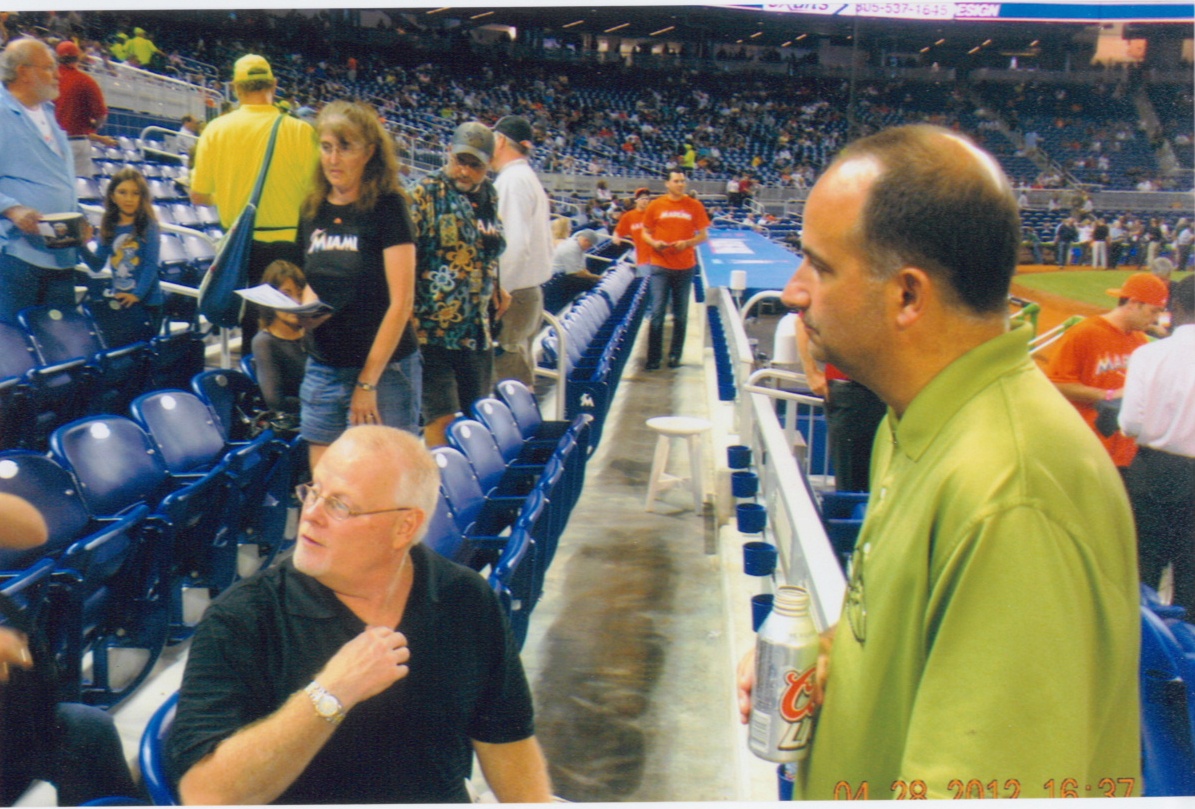 "Why, yes, I would love the rest of your burrito platter."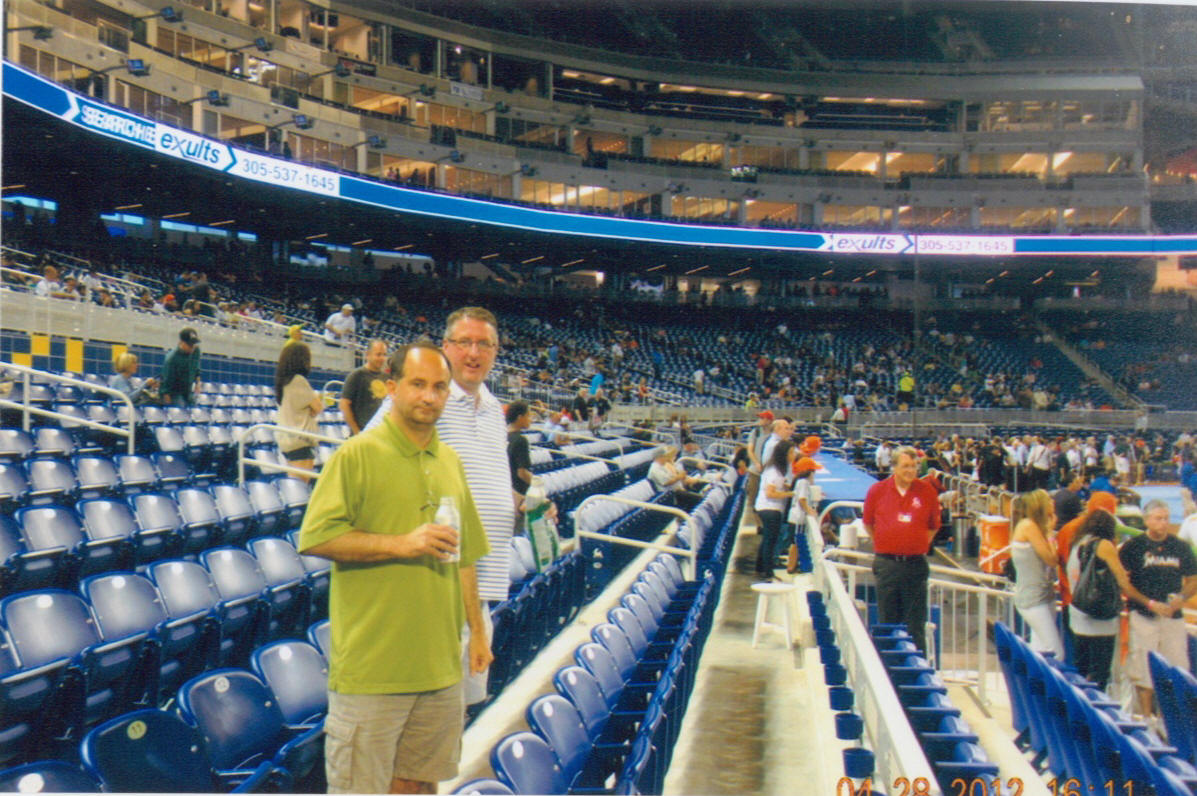 Why do entire rows around these two always seem empty?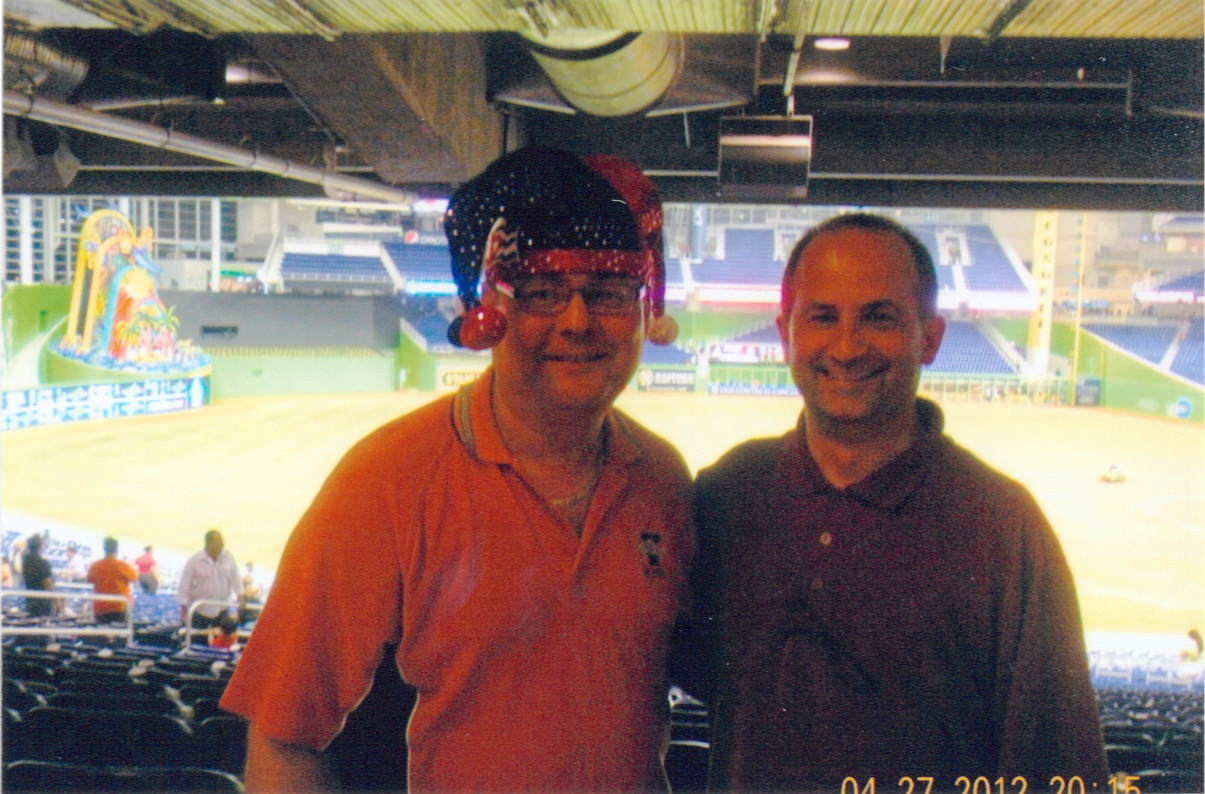 "Clowns to my left, Jokers to my right, here I am!" (Steeler's Wheel)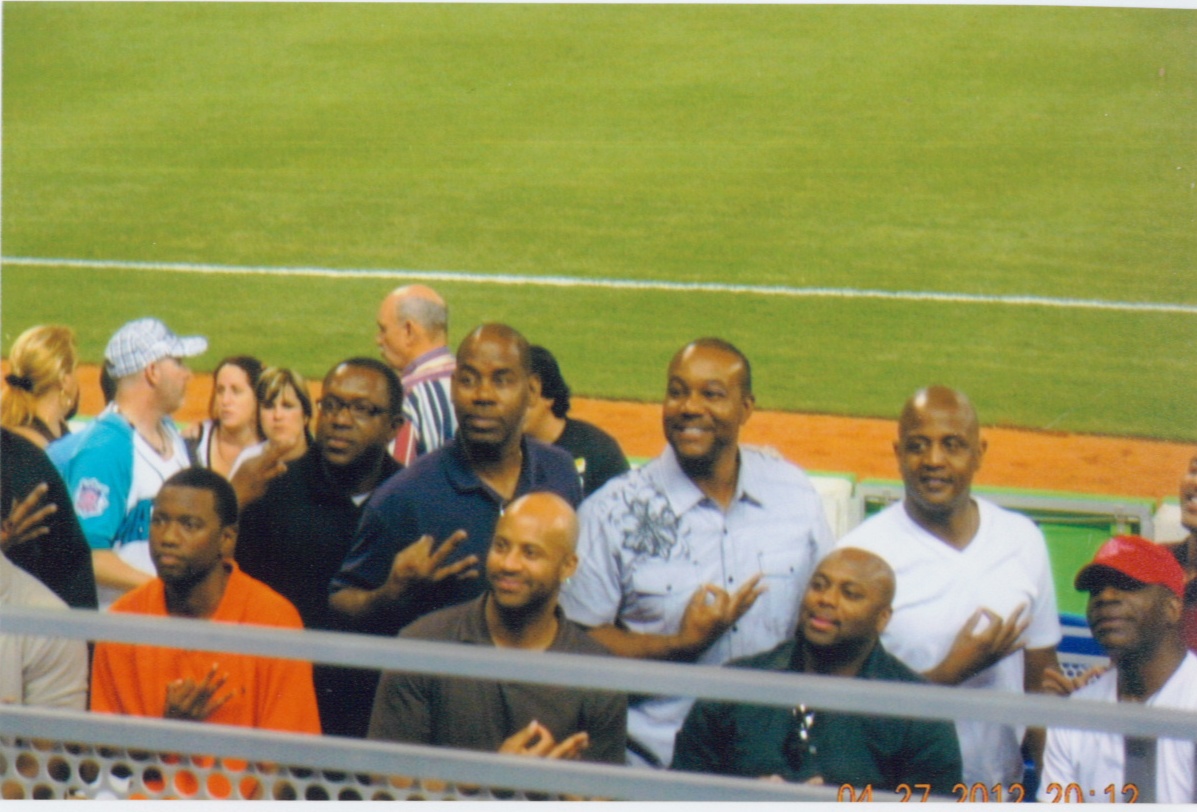 The HSL East St. Louis chapter reacts warmly to Stretch's
proposal for a truce between our gangs.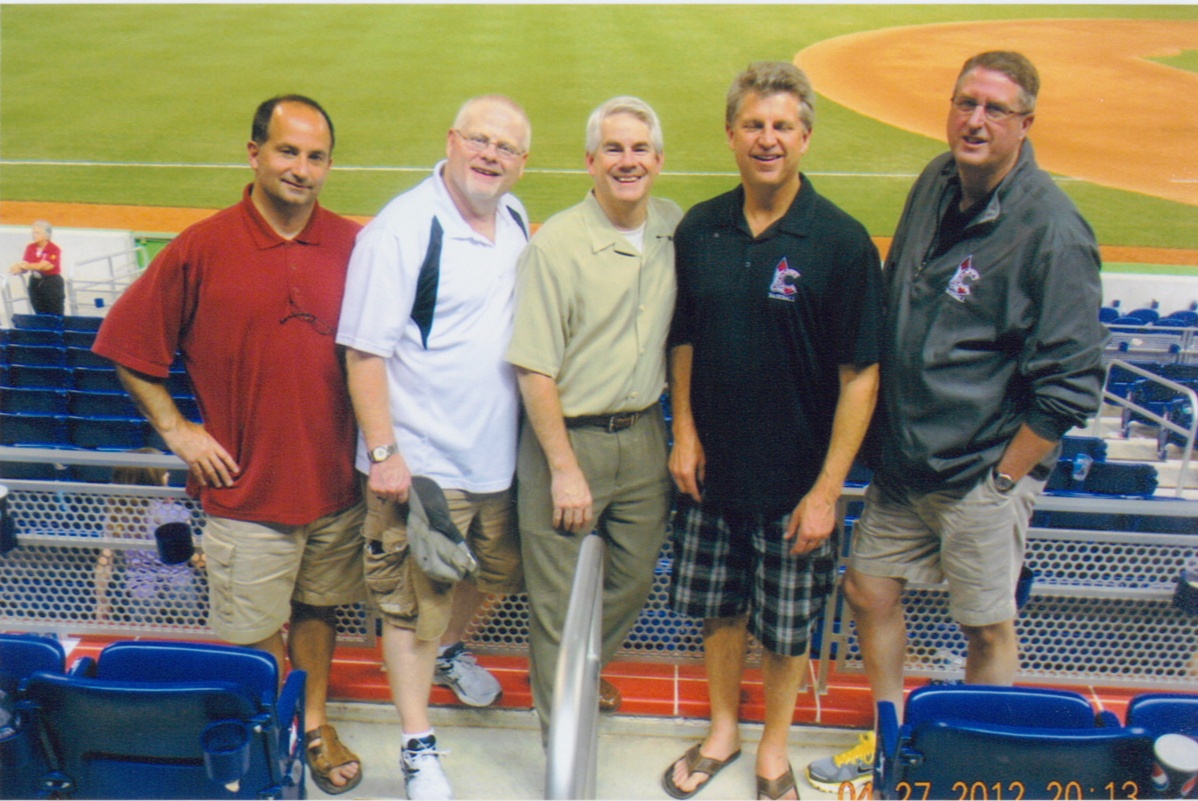 Skipper: (Make this all just a dream, please.)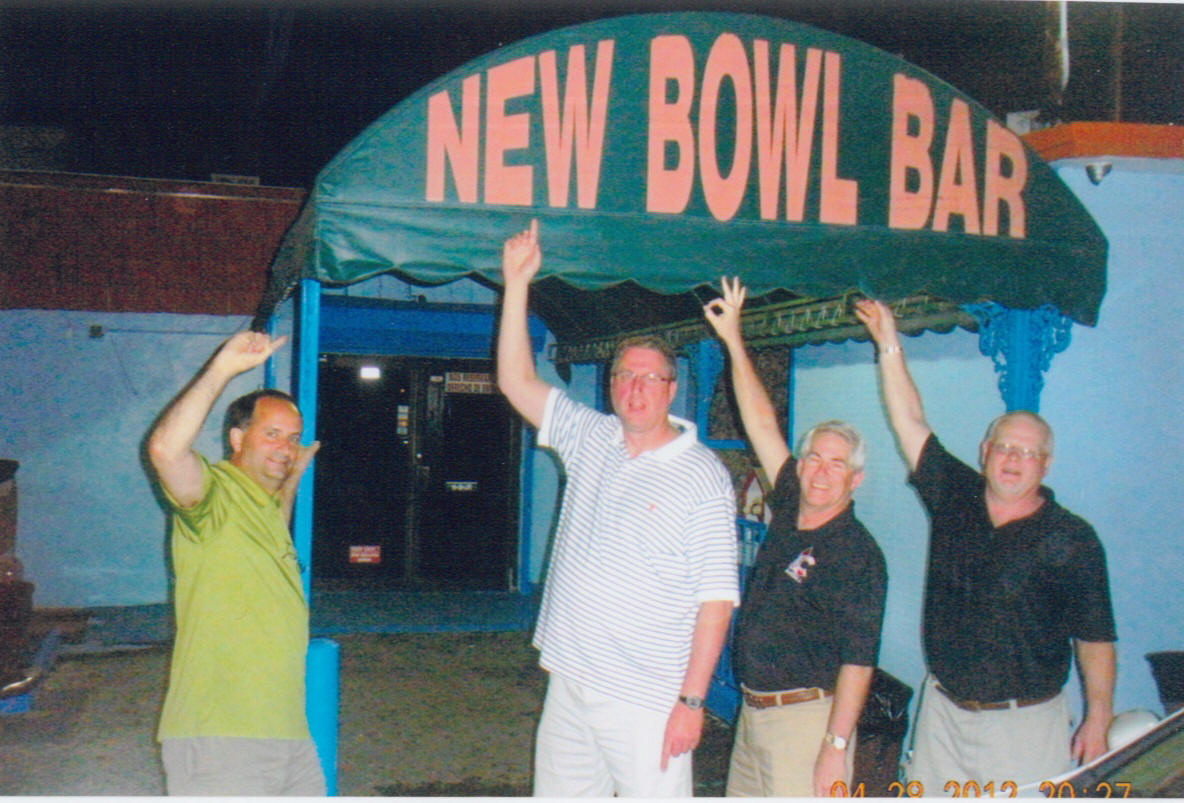 Mere moments before facing certain death.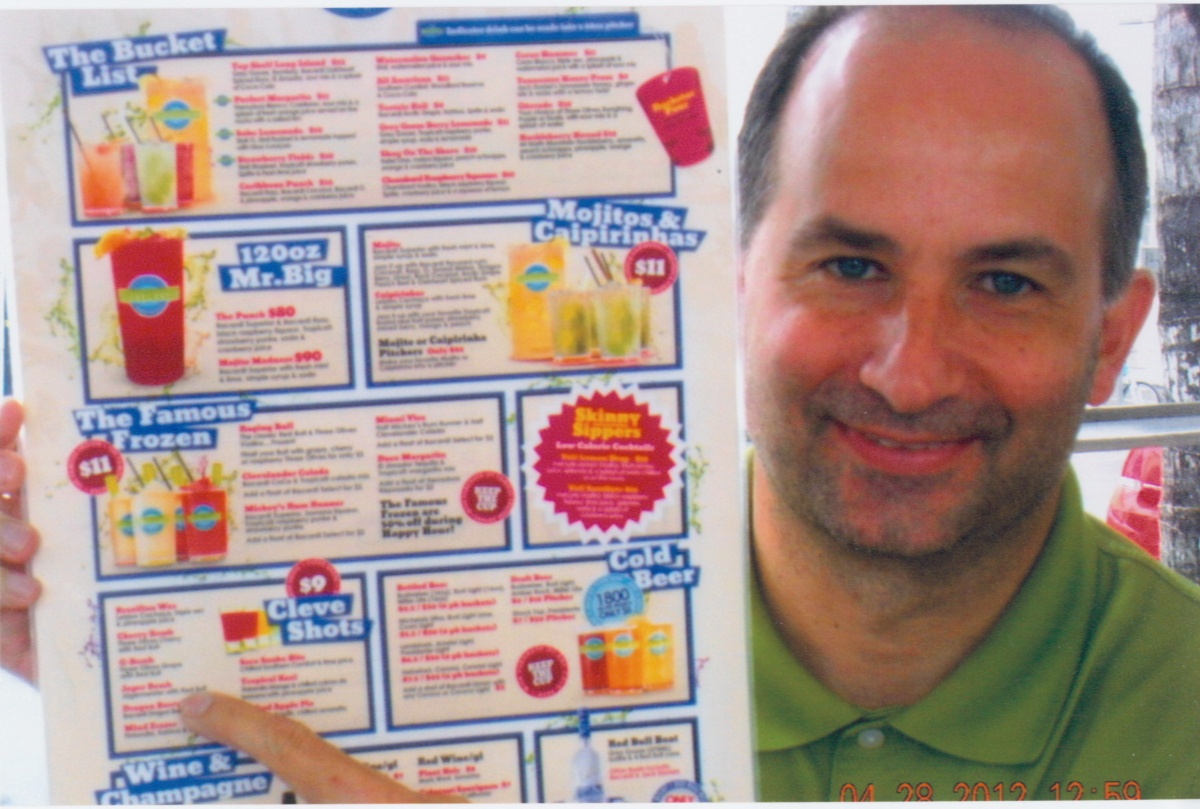 Itchie orders up more JagerBombs for the lads at the Clevelander!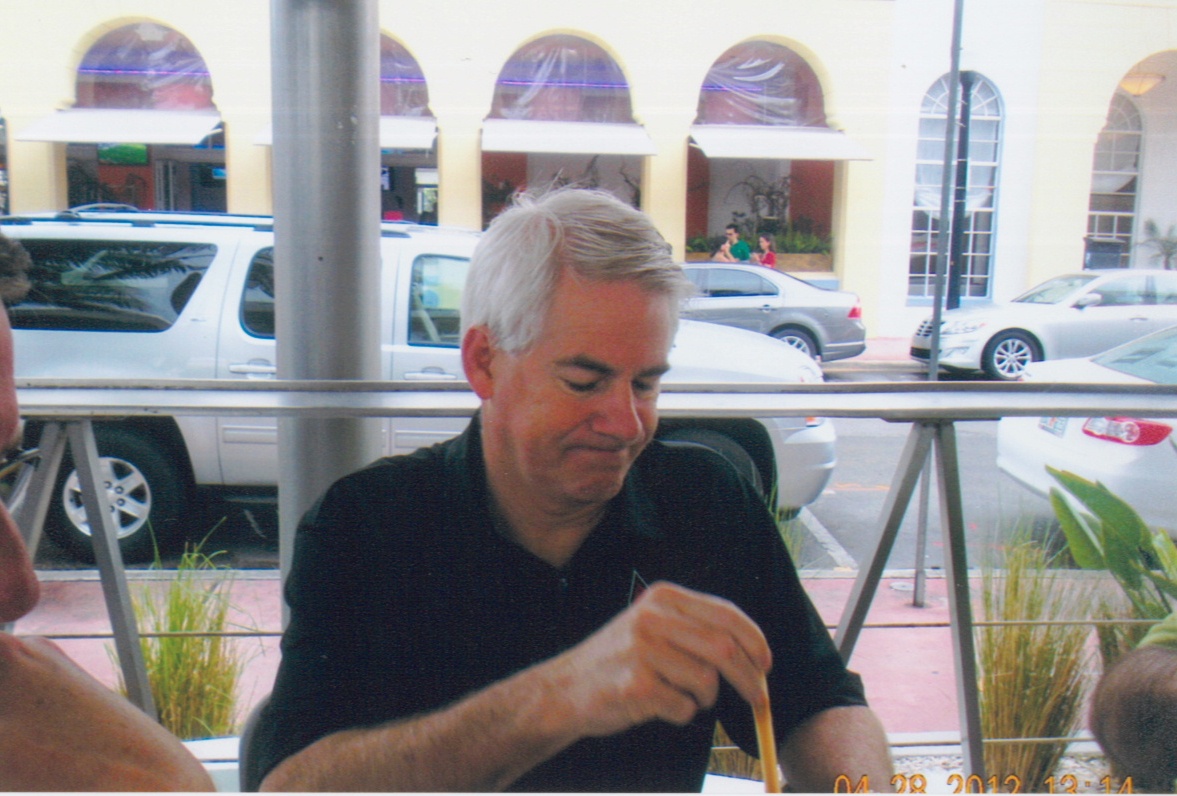 Thought bubble: What the HELL am I doing here!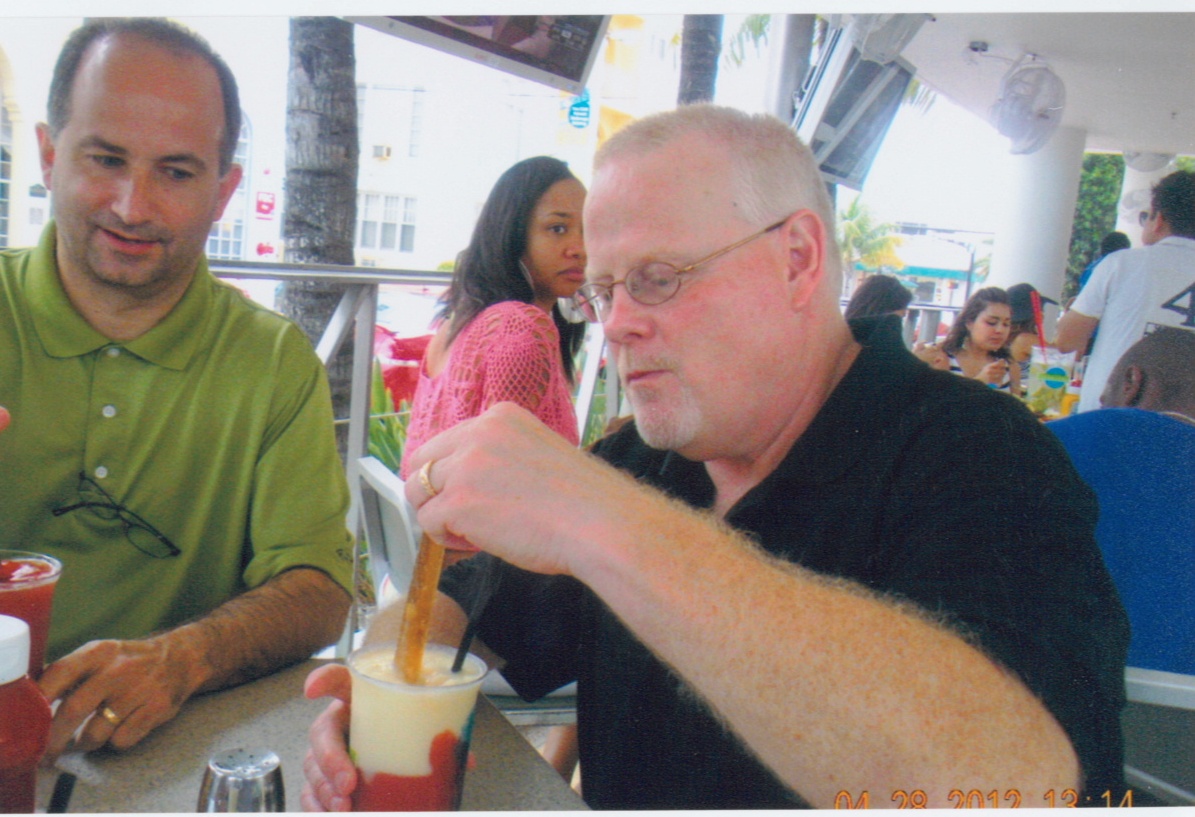 "You going to finish that, Chuck?"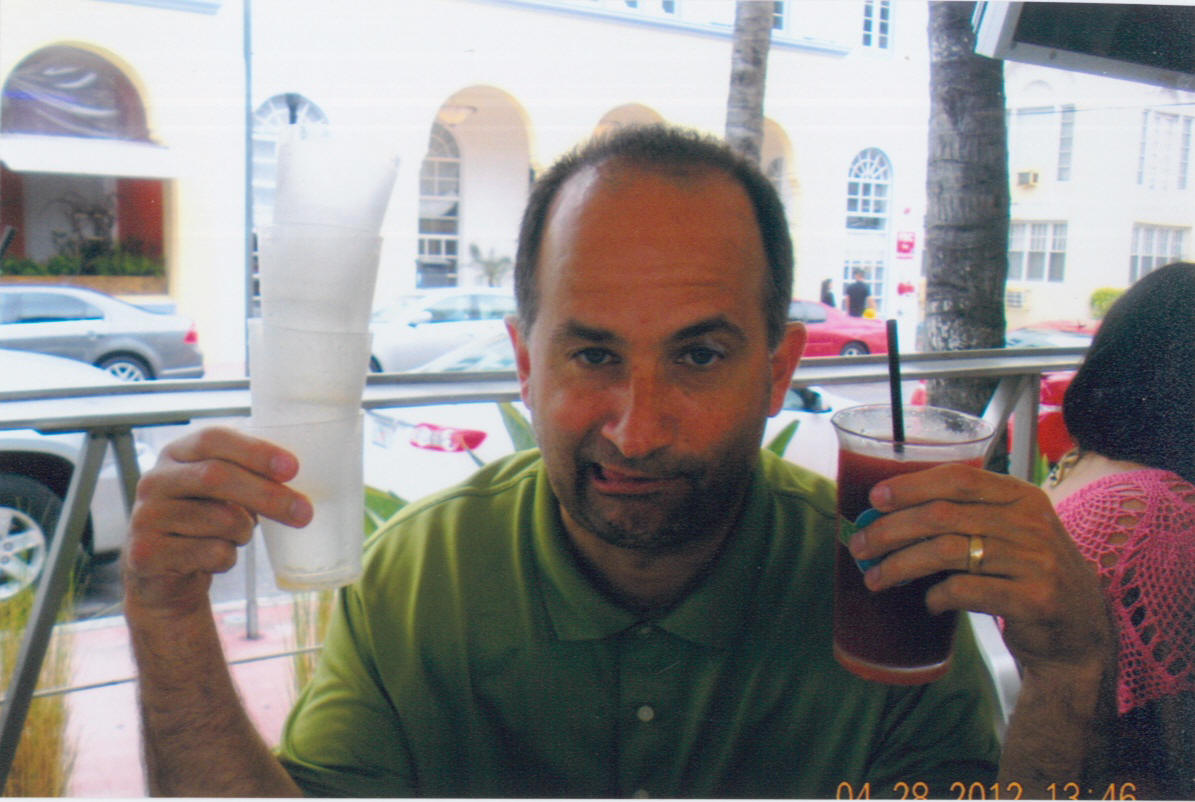 Same life, different day.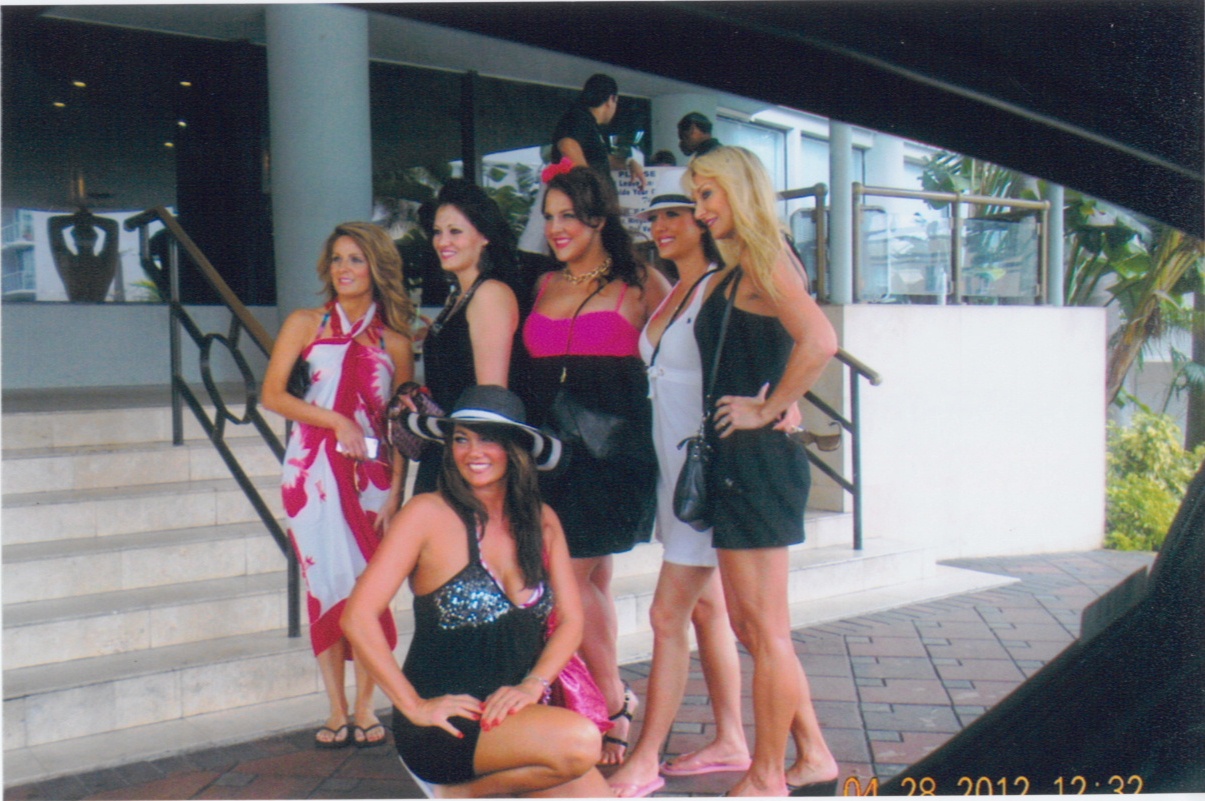 Itchie's Bitches line up to get in a picture with him.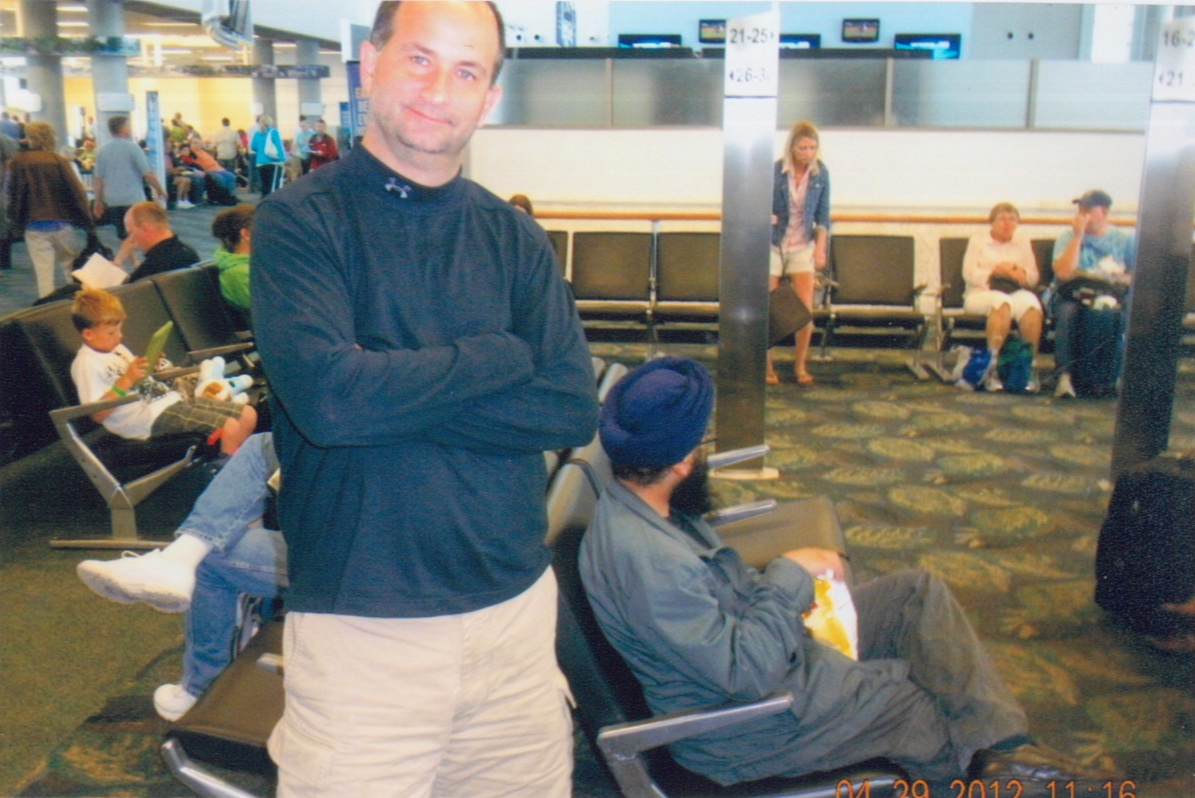 Itchie guards over Habib, returning the favor in Miami!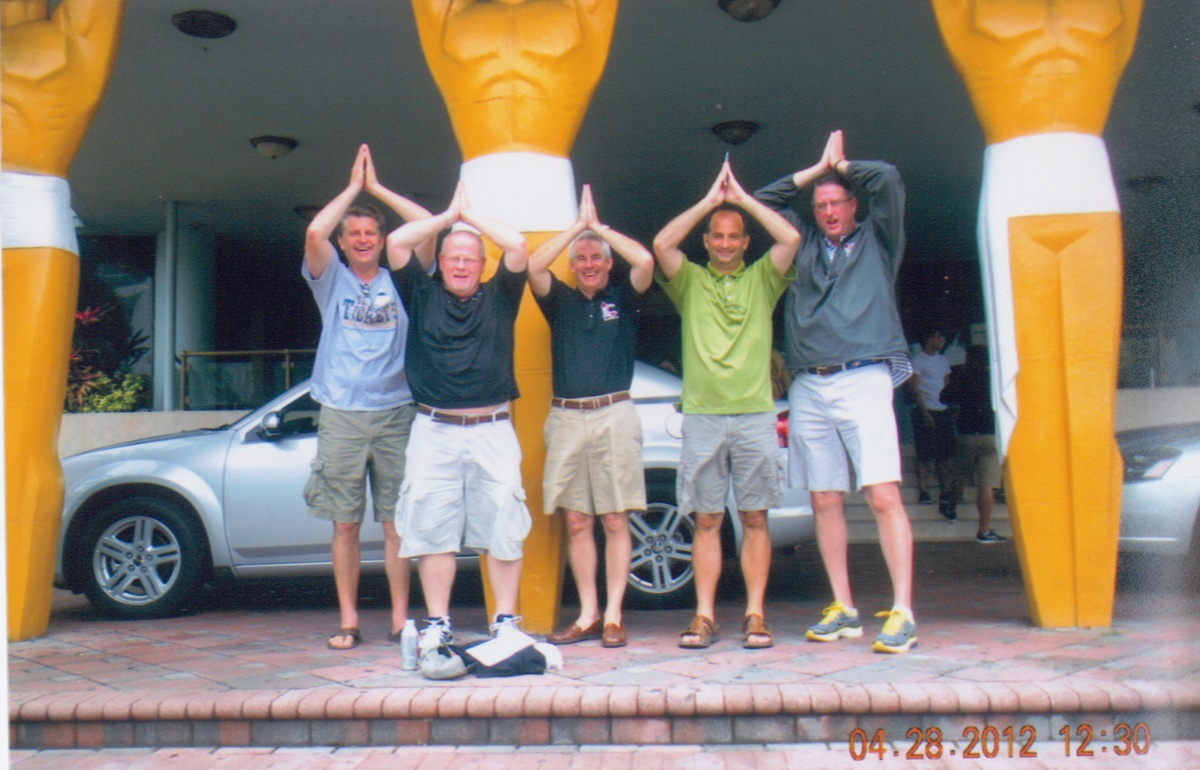 Fins to the left, Fins to the right (at the new Casablanca)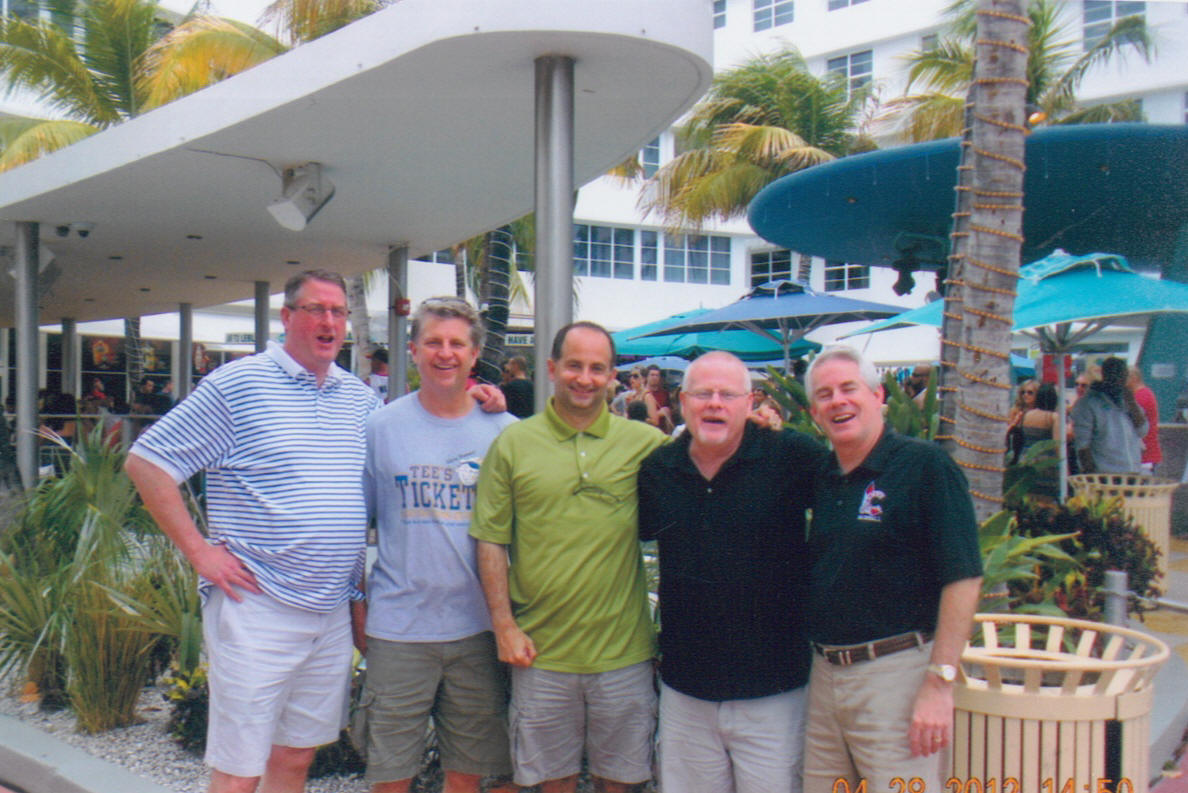 2012: Bestest Trip Ever!