Amigos,
Per League protocol, this issue of From the Bullpen will begin with our League standings, through games of Sunday, June 23:
| | | | |
| --- | --- | --- | --- |
| 1. | | | 5807.20 |
| 2. | | | 5803.40 |
| 3. | | | 5515.20 |
| 4. | | | 5466.90 |
| 5. | | | 5459.40 |
| 6. | | | 5448.10 |
| 7. | | | 5324.50 |
| 8. | | | 5234.10 |
| 9. | | | 5233.60 |
| 10. | | | 5169.20 |
| 11. | | | 5037.30 |
| 12. | | | 4999.50 |
| 13. | | | 4892.90 |
The titanic triumvirate of the Redbirds, Tribe and Tigers continue to hold the top three spots in the standings, with the Tribe narrowing the gap between 1st and 2nd to a negligible 3.8 points, and the Tigers drifting downward and ever closer to the lurking likes of the Wahoos, Chiefs and Cubs, a trio of annual contenders who are separated from each other by a mere 18.8 points.
As we approach the unofficial half-way point of the season that is the All-Star break, it should be noted that Underbelly's team is a whisker away from 1st place in the standings, not by any perceived employment of smoke and mirrors, but most definitely with the aid and assistance of blinders. Through the use of said blinders, Brother Underbelly seems to be giddily unaware that he is currently apace to reach the pitching limitation of 2000 innings by about Labor Day. Let's hope he has a safety parachute to save him from his September Free Fall.
At the other end of the standings, the Senators have passed up the Bronx Bombers and are currently occupying 11th place, with the Bears firmly ensconced in the League bowels. My 13-year plan for a return to greatness seems to be right on course.
Here are the top ten hitters and top ten pitchers through last weekend:
TOP 10 HITTERS
| | | | |
| --- | --- | --- | --- |
| 1. | Miguel Cabrera | Bums | 434.10 |
| 2. | Chris Davis | Tribe | 402.20 |
| 3. | Carlos Gonzalez | Warriors | 373.4 |
| 4. | Mike Trout | Chiefs | 345.4 |
| 5. | Paul Goldschmidt | Chiefs | 342.1 |
| 6. | Joey Votto | Wahoos | 334.9 |
| 7. | Evan Longoria | Warriors | 326.1 |
| 8. | Edwin Encarnacion | Senators | 323.7 |
| 9. | Jean Segura | Tigers | 312.1 |
| 10. | Troy Tulowitzki | Bears | 310.0 |
TOP 10 PITCHERS
| | | | | |
| --- | --- | --- | --- | --- |
| 1. | Matt Harvey | Chiefs | 7-1 | 439.0 |
| 2. | Max Scherzer | Redbirds | 11-0 | 418.0 |
| 3. | Adam Wainwright | Wahoos | 10-5 | 417.0 |
| 4. | Cliff Lee | Tigers | 9-2 | 400.0 |
| 5. | Hisashi Iwakuma | Tribe | 7-3 | 388.0 |
| 6. | Yu Darvish | Blues | 7-3 | 387.0 |
| 7. | Clayton Kershaw | Tigers | 5-5 | 385.0 |
| 8. | Patrick Corbin | Bums | 9-0 | 382.0 |
| 9. | Jordan Zimmerman | Redbirds | 10-3 | 379.0 |
| 10. | Felix Hernandez | Blues | 8-4 | 370.0 |
Miguel Cabrera is the leading hitter with 434.1 points, on the strength of a .370 batting average, 20 home runs and 75 RBIs. He has a legitimate shot at back-to-back American League Triple Crowns, although Chris Davis, the second-leading point-getter, will have something to say about that with his 27 home runs and his size 8.5 batting helmet. Apparently they haven't yet figured out how to test for SHGH (Superhuman Growth Hormone).
Jean Segura, the ninth best hitter with 312.1 points, continues to be the best gift that Big Guy has gotten since he found a Red Ryder BB gun under the Christmas tree in 1968. Not that he wasn't due for a break, mind you.
On the pitching side of the balance sheet, Matt Harvey of the Chiefs leads all Hot Stove League pitchers—in fact, all Hot Stove League players—with 439 points. Even though Harvey has a won-loss record of 7-1 to 2nd place pitcher Max Scherzer's 11-0 record, he has him beat on points by 21. Adam Wainwright, with a solid but less sparkling won-loss record of 10-5, is a close 3rd with 417 points. Hard-luck Clayton Kershaw, with a 5-5 pitching record for the pathetic Dodgers, is in 7th place with 385 points. Patrick Corbin of the Bums—whom I swear I had not even heard of until just now—has a perfect pitching mark of 9-0 and is in 8th place with 382 points. WTF.
Before I share a bit about my most recent visit to a Minor League venue, let me take a moment and toss out a crisp Attaboy! to Tricko for his outstanding contribution to the League archives with the latest issue of the Curbside Chronicles. If anyone puts more effort into his Hot Stove League guest newsletter than Mitch, they will have to prove it to me. I think he must gather and save up material for a full season before he puts together his masterful missives. The pictures, the cartoons, the commentary, the walk down Memory Lane with Itchie and his prized mantel-top pheasant, it's all just great stuff. Thanks, Tricko, for all of the hard work and thought that you put into your newsletter. Bully! Loved every word of it.
COMMUNITYAMERICA CREDIT UNION BALLPARK:
HOME OF THE T-BONES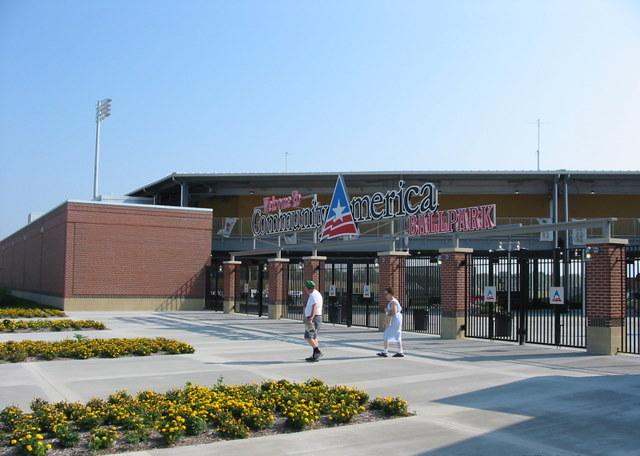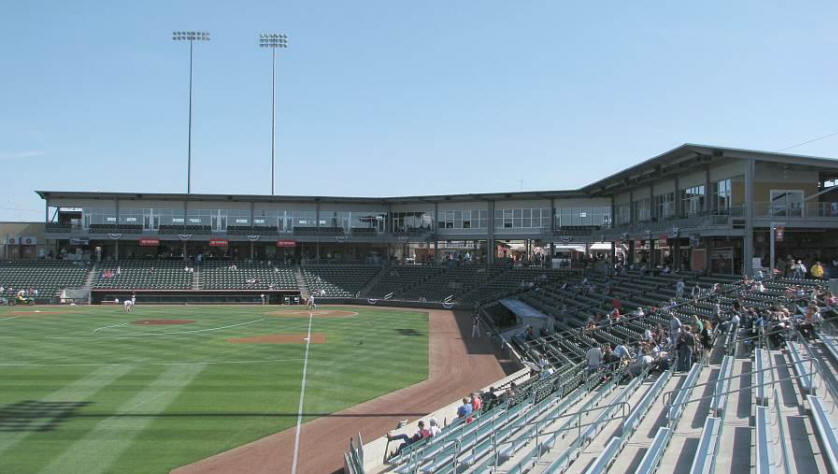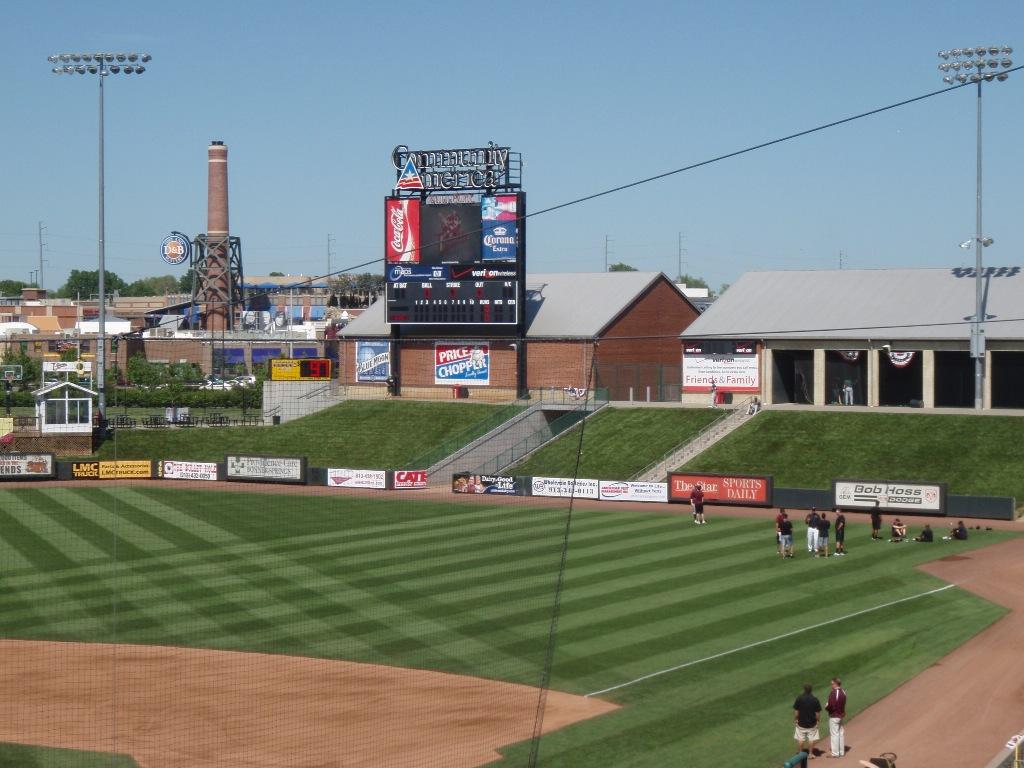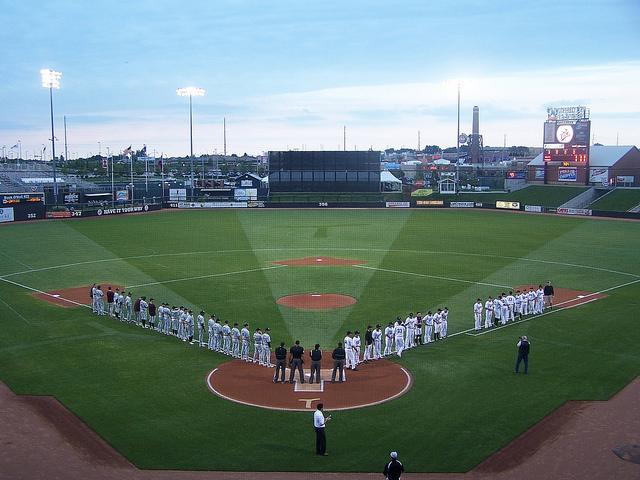 On Wednesday of last week, with a little bit of free time on my hands because of a case dismissal on the eve of a jury trial, I meandered down to Kansas City, Kansas, to catch an 11:05 a.m. baseball game between the Independent League Kansas City T-Bones and the visiting AirHogs from Grand Prairie, Texas, my first trip to CommunityAmerica Credit Union Ballpark. For those of you who have not been there, this is a really nice venue from which to watch a baseball game. My favorite feature is the bull's-eye in left field which promises a hitter a whopping $100,000 payoff, courtesy of the 7th Street Casino, if a home run travels through the bull's eye. Of course, the odds of that happening are about 1 in ten million, but it is an intriguing possibility that is a great promotional gimmick.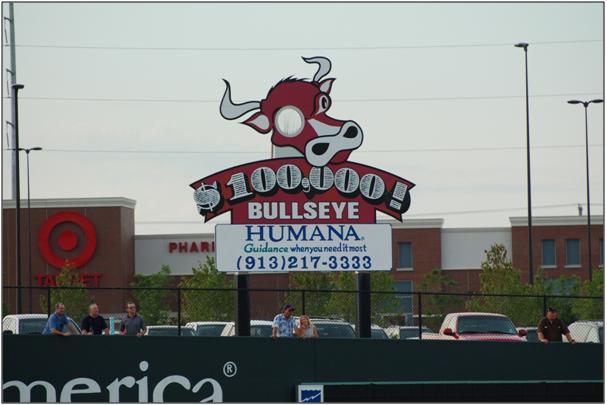 The owners of the T-Bones obviously know a little bit about promotion as the ballpark was brimming with daycare kids and campers, each of whom were provided with inflatable clapper noisemakers as they entered the ballpark, and all of whom were sitting directly behind me, exuberantly generating mega-decibels of noise.
As I watched the game between the AirHogs and the T-Bones, I moved around from seat to seat in the stadium, seeking shade from the mid-day sun on a hot and muggy afternoon, and at one point ended up in the midst of a gaggle of middle-aged women who looked they were on a Cuckoo's Nest-like field trip to the ballpark. These sweet little ladies were having such a great time on their little furlough, it was truly heartwarming to see. I kept waiting for Jack Nicholson to show up to lead them on to more adventure.
| | | |
| --- | --- | --- |
| | vs. | |
As for the game itself, it was interesting to watch the mix of youngsters trying to live their dreams and the veteran has-beens and never-will-bes just trying to hang on, all of them earning poverty-level wages and suffering through endless bus rides to allow them to continue playing this great national pastime of ours. Although they went down in defeat to the AirHogs, the T-Bones were led by two former Major Leaguers, Ray Sadler and Brandon Jones, each of whom hit home runs in the game, as they eked out a few more moments of glory as they neared the end of their playing careers and faced the uncertainty of the real word outside. On his internet bio, I read that Jones hit exactly 1 Major League home run in his career, when he was up having a pot of coffee with the Braves.
One of the AirHogs players who was just back from an injury stint on the DL is a guy by the name of Andres Rodriguez, a giant of a man who is a Big Papi look-alike and who wears #99 on his uniform. Andres did not get cheated one bit on any of his swings, and probably never has.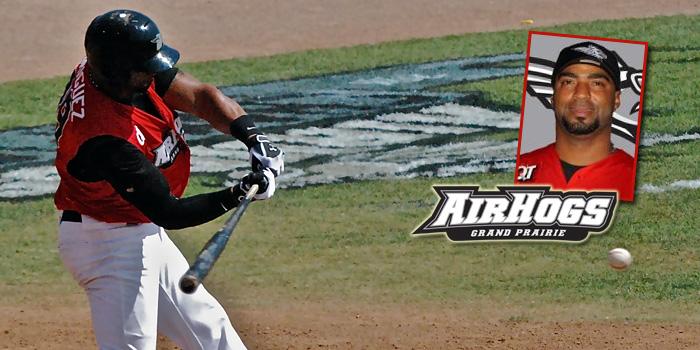 I was also intrigued by an at-bat involving the AirHog first baseman, a self-assured Ginger by the name of Frazier Hall. Frazier earned the enmity of the home plate umpire when he began trotting to first on a presumed ball 4 which was actually a called strike 2, and then proceeded to show up the umpire by taking forever and a day to get back into the batter's box for his—you guessed it—called strike 3.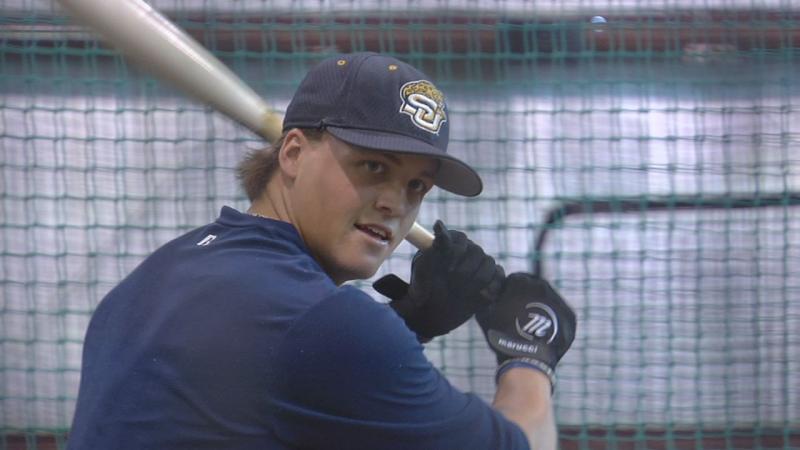 The T-Bones ended up losing the game to the AirHogs by the score of 4-3, but the happy noisemaking youth and the Cuckoo's Nest ladies who were in attendance didn't seem to care one bit, and neither did I. It was a day spent at the ballpark, which beats a day at work, in school, at daycare or at the funny farm, every single day of the week.
One semi-sad postscript to the story. The first base coach for the T-Bones is former Kansas City Royal All-Star Frank White, who had a falling out with the Royals within the last couple of years and was essentially shown the door. This proud former Major League star, still hoping for a successful write-in campaign to get him into Cooperstown, deserves better than the first base box at CommunityAmerica Credit Union Ballpark. I hope I am wrong and that Frank actually wakes up every morning delighted to be a T-Bones first base coach, but I doubt it.
Have heart, I am almost out of words for this issue. I am finishing with my thoughts as I return from Hawkeye and Gopher country, where I have spent the past two days in depositions. First, in Iowa City, home of the University of Iowa, that curious institution from which Jim Ed claims to have earned not one but two degrees; then on the road north through Cedar Rapids, childhood home of Tirebiter and former residence of the Carping Boy Orator from the Rapids of Cedar, the beloved Shamu; then north further still through Waterloo, where time did not permit me to pay a visit to the Grout Museum, no doubt one of Jimmy's favorite field trips as a youth; then north and west on the Laura Ingalls Wilder Memorial Expressway, which took me into Gopher country and eventually St. Paul. Only in Iowa would they name a four-lane ribbon of concrete for the aforementioned Ms. Wilder. I have clarity on why Jim Ed now hangs his hat in Omaha.
Okay, it's a wrap. Enjoy your weekend, and good luck in the remaining days of the first half of the Hot Stove League campaign.
Skipper
Our 512th edition