Gentlemen:
Here are the standings through games of last night, August 8, 2013:
| | | |
| --- | --- | --- |
| 1. | Tribe | 8640.80 |
| 2. | Lincoln Chiefs | 8597.60 |
| 3. | Redbirds | 8557.20 |
| 4. | Wahoos | 8345.50 |
| 5. | Kansas City Blues | 8287.20 |
| 6. | Chelsea Warriors | 8110.90 |
| 7. | West Des Moines Cubs | 8096.20 |
| 8. | Tigers | 7911.10 |
| 9. | Bums | 7847.50 |
| 10. | Omaha Senators | 7824.90 |
| 11. | Blairly Breathing | 7727.20 |
| 12. | Bears | 7668.60 |
| 13. | Biogenesis Bombers | 7584.90 |
| | | | |
| --- | --- | --- | --- |
| 1. | Miguel Cabrera | Bums | 605.90 |
| 2. | Chris Davis | Tribe | 559.00 |
| 3. | Mike Trout | Lincoln Chiefs | 558.50 |
| 4. | Paul Goldschmidt | Lincoln Chiefs | 499.80 |
| 5. | Edwin Encarnación | Omaha Senators | 491.20 |
| 6. | Joey Votto | Wahoos | 482.40 |
| 7. | Carlos González | Chelsea Warriors | 466.10 |
| 8. | Andrew McCutchen | Tribe | 444.90 |
| 9. | Adrián Béltre | Redbirds | 443.30 |
| 10. | Robinson Canó | West Des Moines Cubs | 441.40 |
| | | | |
| --- | --- | --- | --- |
| 1. | Max Scherzer | Redbirds | 640.00 |
| 2. | Clayton Kershaw | Tigers | 638.00 |
| 3. | Matt Harvey | Lincoln Chiefs | 623.00 |
| 4. | Adam Wainwright | Wahoos | 584.00 |
| 5. | Félix Hernández | Kansas City Blues | 573.00 |
| 6. | Yu Darvish | Kansas City Blues | 552.00 |
| 7. | Patrick Corbin | Biogenesis Bombers | 547.00 |
| 8. | Madison Bumgarner | Tribe | 532.00 |
| 9. | Hisashi Iwakuma | Tribe | 521.00 |
| 10. | Mike Minor | Redbirds | 516.00 |
Although my man Nelson Cruz was inching his way up the list of Top Hitters, his Biogenics suspension brings a halt to that progression. Between Nellie's shameful departure and Jason Grille's injury, the Senators' goosestep march up the Hot Stove League standings is likely at an end. Instead, it will likely be a Michael Jackson-ish moonwalk back down the standings escalator until I reach my final resting place, and likely a new team name. Oh, well, it was fun while it lasted.
SEASON TICKET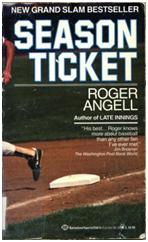 I am about a fourth of the way through a terrific Roger Angell book that was recently loaned to me by an attorney friend, one of which I was not heretofore aware, entitled Season Ticket, published in 1988. I thought I had already read all of Angell's baseball anthologies, but thankfully, I was wrong.
BOB BRENLY—A GAME FOR THE AGES
I previously shared with all of you offline an excerpt from this book about the centerfield counterparts in the 1982 World Series, Willie McGee of the Cardinals and Gorman "Walking Strip Mine" Thomas of the Brewers. Here is a short clip (from pages 14-15) about Bob Brenly that I absolutely love, particularly the quote from Roger Craig:
In September 1986, during an unmomentous Giants-Braves game out at Candlestick Park, Bob Brenly, playing third base for the San Franciscos, made an error on a routine ground ball in the top of the fourth inning. Four batters later, he kicked away another chance and then, scrambling after the ball, threw wildly past home in an attempt to nail a runner there: two errors on the same play. A few moments after that, he managed another boot, thus becoming only the fourth player since the turn of the century to rack up four errors in one inning. In the bottom of the fifth, Brenly hit a solo home run. In the seventh, he rapped out a bases loaded single, driving in two runs and tying the game at 6-6. The score stayed that way until the bottom of the ninth, when our man came up to bat again, with two out, ran the count to 3-2, and then sailed a massive home run deep into the left-field stands. Brenly's accountbook for the day came to three hits in five at-bats, two home runs, four errors, four Atlanta runs allowed, and four Giant runs driven in, including the game-winner. A neater summary was delivered by his manager, Roger Craig, who said, "This man deserves the Comeback Player of the Year Award for this game alone." I wasn't at Candlestick that day, but I don't care; I have this one by heart.
I am taking Season Ticket with me on my sojourn next week to the Great Northwest, and will be sure to highlight some more delectable tidbits from the erudite Angell to share with you later.
The Mount Michael Legion baseball season ended last week with a loss on Tuesday night, July 30, to the champion Hickman-Norris Titan baseball team in an elimination game at the State Tournament in Gering. After the much-publicized withdrawal of the Waverly Legion team from the tournament after the arrest of six of its players in the early morning hours of championship game day, the Knights were awarded the co-runner-up finish with Seward. Although one spot short of where the Knights hoped to end up, it capped a rewarding and memorable end-of-the-season march for the Knights.
After the loss to the Titans, I witnessed and was part of one of the most poignant and bittersweet experiences of my life. As we waited for our boys after the game, it soon became apparent that none of them wanted to leave the dugout, because none of them wanted the season to be over. For Joe and three of the seniors (Tommy Maliszewski, Randy Speer, and Mark Loeffelholz), it meant the end of their long, productive and extremely joyful Mount Michael baseball careers. This past season, after Joe came back from a year of college and rejoined the team, they became a Band of Brothers the likes of which I have never seen. Joe and the three seniors and Will rode to most of the games and many of the practices together in our red Suburban, Joe at the wheel, Tommy in the passenger seat, Will, Mark and Randy in their designated spots, with the team equipment bags, armaments, baseballs and scattered baseball clothing and accoutrements jammed in the wayback. They had a host of routines and habits and schticks and bits that only come from spending time together.
These boys were a perfect example of how a true team of baseball players can become much better than the mere sum of their parts. After being seeded fourth in our District, behind Wahoo, Roncalli and Bennington, the Knights, chiefly on the strength of the leadership of the Suburban Five, went out and knocked off each of these teams to earn the trip to the State Tournament at Gering. After losing the first game of the District finals to Roncalli (who knocked us out last year in our District tournament at Mount Michael), the Knights could have checked it in for the season, but instead showed their true character by pounding Roncalli by the score of 12-1 and winning on the mercy rule after five innings. Sweet, sweet revenge after last year. A band of brothers playing for each other, making each other better.
At State, after losing the first game and immediately going into the loser's bracket, the Knights beat both McCook and Aurora in elimination games, before finally succumbing to the Titans. A team that went much further than their collective talents should have taken them.
But back to the most poignant of moments. After finally realizing that they had to come out of the dugout and leave the Gering baseball field, Joe and Will led the team off the diamond and into the waiting arms of the parents. After one of the longest hugs ever with Joe, and seeing the look of pain on his face—not because of losing to Norris, because of his realization that he had taken the field for Coach Suing and with Will and his Suburban crew for the last time—I offered my condolence that the reason that it hurt so much was because it meant so much. Joe, understanding perfectly what I was saying, responded, "I know, Dad. But it still hurts." Ouch. That one still hurts to recall.
Of course, as it is with youth, in a few hours the boys were laughing and telling stories and sharing great memories of Mount Michael baseball. Even if the parents need to drag it around for a while, the boys are thankfully able to move it along.
I am sure that I will have more to say about this subject at some point in time, but I need to let it all soak in a bit, and to have the perspective of time. So, I will end this segment and this issue of From the Bullpen with one of the happiest memories that I will ever have of Mount Michael baseball, and that is a picture from the summer of the "Dugout Buddies," Joe and Will Ernst: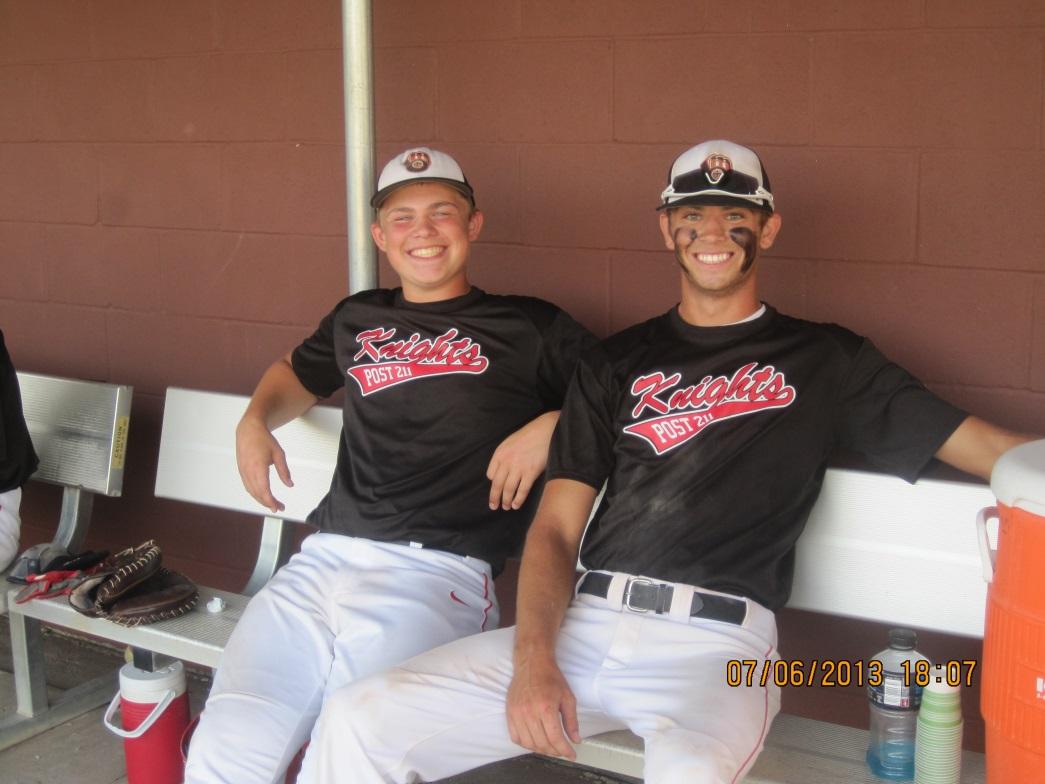 If that doesn't make you smile, you need help.
Have a great weekend, good friends.
Skipper
Our 514th edition