Brethren:
With less than three weeks to go in the regular season, it looks like the Hot Stove League pennant race is going to be a Texas death match, with three teams fighting to the finish for a chance to etch their name on The Cup. While Baby Trumpetfish had a seemingly comfortable 300+ point lead just within the last two weeks, the Crimson Chirpers have suddenly made things uncomfortable for B.T., narrowing the gap to less than 100 points earlier this week. Underbelly and his tenacious Tribe are also legitimate contenders for their first-ever Hot Stove League crown, although making up more than 200 points on two different teams in less than three weeks' time will be a tall order.
Good luck to the Chiefs, Redbirds and the Tribe in the stretch drive for Hot Stove League supremacy.
And here are the standings through games of last night, September 12:
| | | | |
| --- | --- | --- | --- |
| 1 | Lincoln Chiefs | 11169.00 | - |
| 2 | Redbirds | 11015.40 | 153.60 |
| 3 | Tribe | 10931.50 | 237.50 |
| 4 | Wahoos | 10731.80 | 437.20 |
| 5 | Kansas City Blues | 10511.90 | 657.10 |
| 6 | West Des Moines Cubs | 10421.30 | 747.70 |
| 7 | Chelsea Warriors | 10319.50 | 849.50 |
| 8 | Bums | 10210.30 | 958.70 |
| 9 | Tigers | 10101.10 | 1067.90 |
| 10 | Bears | 10002.30 | 1166.70 |
| 11 | Blairly Breathing | 9958.20 | 1210.80 |
| 12 | Biogenesis Bombers | 9911.30 | 1257.70 |
| 13 | Omaha Senators | 9894.40 | 1274.60 |
Uttering the exact same words that came out of his mouth back in 1987 when he was asked if he wanted to become the seventh member of the Hot Stove League, our own Jon a/k/a Stretch a/k/a McBlunder a/k/a McJester Blongewicz became a married man once again on Saturday, August 31, 2013, in a storybook ceremony in Estes Park, Colorado. Together with Screech and Mrs. Screech, Michele (man, was she scribbling down a lot of notes!) and I were fortunate enough to be able to attend this blessed event.
Although I don't have a picture to share just yet, the blushing bridegroom was resplendent in his black tuxedo, and his beautiful bride was positively radiant, so much so that one attendee behind me commented in a stage whisper that he wondered if there was a "little McBlunder" on the way. Guess we'll find out soon enough.
The whole day with the McBlunders, the wedding and the reception, was a fantastic experience, lots of memorable moments; my favorite memory is when the pastor began the ceremony with the traditional "Dearly Beloved," in a voice coming from a body that nobody could see, until he stepped out from the side of our elongated friend so that the people in the audience could see that there was a real live preacher conducting the service. My second favorite part was Jester's freelance soliloquy at the reception, which was heartfelt, eloquent and touching. Of course, by that time of the night, the old Skipper was well into the free wine bar at the reception, so my evaluation his speaking engagement should be taken with that in consideration.
One thing that was apparent to all who were present at the wedding is that Stretch and his beautiful bride are absolutely, positively, head-over-heels in love. And that is a beautiful thing.
Since I can no longer boast about the diamond exploits of the Ernst boys, I'll put a plug in here for Will and his prowess on the gridiron. Shown here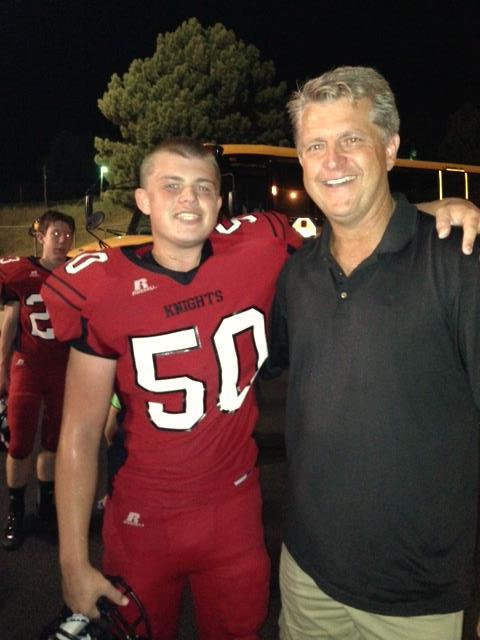 after a steamy night on the home field against hated rival Roncalli, young Will played every play, offense and defense, in the Knights' opening game 13-7 victory over the Crimson Pride, the Knights' first winning record (1-0) in football for more than a decade. Although Will was credited with 20 tackles in the Omaha World Herald standings a couple of days later, in truth more than a few of those may have belonged to the Knights' middle guard, Andy Ernst, no relation to Will. Be that as it may, one of the tackles that Will absolutely gets credit for was a quarterback sack on a critical third down play on the Knights' 17 yard line as Roncalli was driving for a go-ahead score with less than a minute to go in the game. This forced Roncalli into a 4th and long, and their desperation pass into the end zone was incomplete.
Below is a picture of the post-game victory march, with young Will in his No. 50 uniform walking side-by-side with Coach Borer. What a night!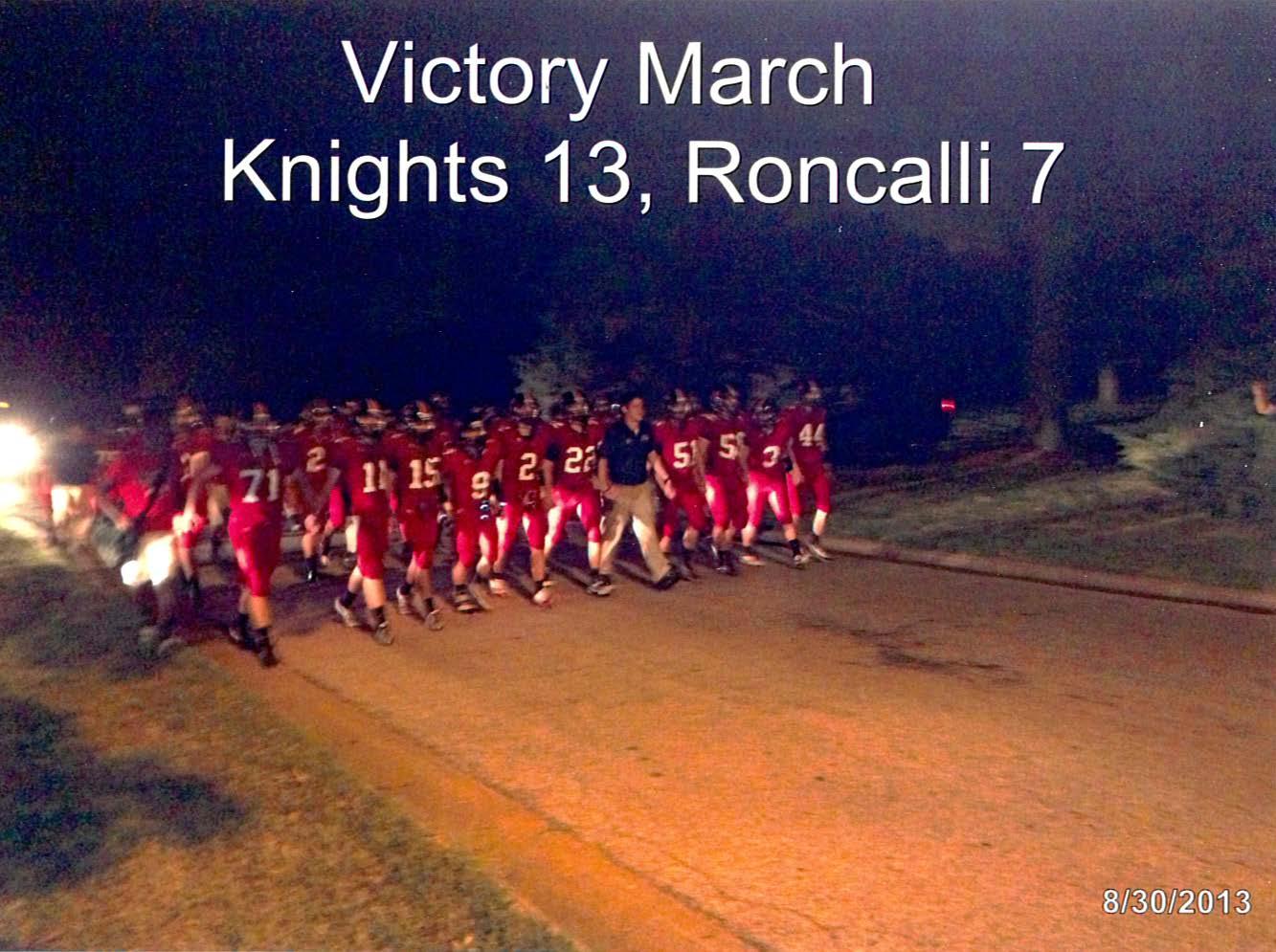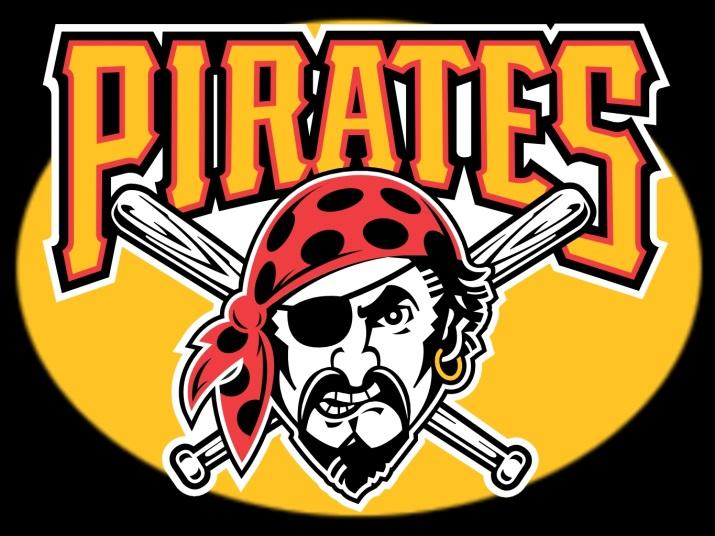 And finally, it seems certain that my beloved but much-beleaguered Pirate team will finally be in the postseason in 2013. After sweeping the Rangers in Arlington earlier this week, the Pirates are currently leading the Central Division in the National League, and barring a complete collapse, should at least be able to secure a Wild Card berth.
That's it for this issue, brothers.
Skipper
Our 515th edition