Brethren:
This issue of From the Bullpen comes to you courtesy of my trip to Hartford, Connecticut, and Worcester, Massachusetts, for a trial deposition of a plastic surgeon at UMass. My one and only other visit to Worcester was in the summer of 2011, when we traveled there for the discovery deposition of the same witness, but on that occasion I flew into Providence instead of Hartford, and had the chance to see a Pawtucket Red Sox game along the way.
During my earlier trip to Worcester, when I was questioning the doctor about his educational background, he referred several different times to his medical education and his residency and fellowship training taking place in (as he pronounced it) "Wuss'-ter." As I stared at his resume in response to his previous answers, I finally was compelled to ask him something like, "Well, when was it that you were in the town of 'Worcester?'" (pronouncing it roughly like "Worcestershire" sauce). With an uncontrollable smile on his face, the doctor informed the rube from Nebraska that "'Worcester' is actually pronounced 'Wusster.'"
As you would imagine, I was a bit embarrassed at my pronunciation faux pas, but the doctor was very nice about it and told me that non-New Englanders pronounce the name of his city incorrectly all the time. In retrospect, to my way of thinking it is all of the New Englanders who are mispronouncing it because there is no way that Worcester should be pronounced Wusster. I mean, how would they like it if they came to my city of residence and I told them that it was pronounced "Oh'-ha," leaving out one entire syllable?
In any event, I pretty much only learned how to pronounce the name of the city during my last trip here, but this time I learned that this old industrial town in middle eastern Massachusetts is the home of Robert Fulton, the father of modern rocketry. It is also the home of the Holy Cross College, where Bob Cousy was an All-American basketball player in 1948, 1949 and 1950. So there you go.
CONNECTICUT STATE CAPITOL: CHECK
My trip to Worcester also afforded me a chance to visit the State Capitol in Hartford and to add this one to my list. Completed in 1878 at a cost of about two and one-half million dollars, the Capitol Building in Hartford is ornate, very large, and dissimilar to all of the other 39 state capitol buildings that I have visited. Unlike most of the capitol buildings I have seen, it does not have an enormous rotunda in the middle of the structure which allows you to see from the floor to the top of the capitol building, and it is not particularly visitor friendly, because they do not allow tourists to walk in and view the Senate and House chambers unless they are in live session at the time.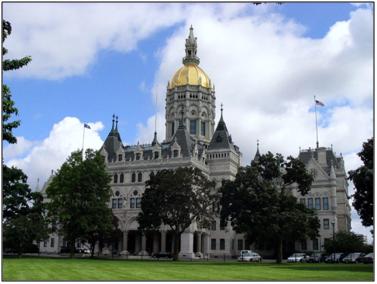 In spite of these shortcomings, my visit to the Connecticut Capitol Building was enjoyable and edifying. When and where else was I going to learn that:
It was the commander (David Farragut) of the USS Connecticut that uttered those famous words, "Damn the torpedoes, full speed ahead." (In the Battle of Mobile Bay in 1864.)

Adm. David Glasgow Farragut, c. 1863

Mark Twain spent some of the most productive days of his writing career at his house in Hartford, which included the penning of A Connecticut Yankee in King Arthur's Court.

1874-1891

Nathan Hale, a native of Connecticut (who was hanged by the British at age 21 for being an American spy), said, "I only regret that I have but one life to lose for my country," and all the time I thought he said he regretted only having one life to give.
Yadda, yadda, yadda. Blather, blather, blather. Okay, I get it, who cares? But how about some fun Connecticut facts involving baseball? Glad you asked.
A team from New Haven, Connecticut, the Yale Elis, once made it to the College World Series, with former President Bush as the captain. But all of you already knew this, doubtless.

The only Major League team to ever call Connecticut home was the Hartford club from 1876, one of the original founding members of the National League. Known as the Hartford "Dark Blues," they apparently wanted to set themselves apart from some team with a different hue of blue. The star of that team was pitcher Candy Cummings, a member of the Hall of Fame who purportedly was the inventor of the curve ball. After one season in Hartford, the club relocated to Brooklyn, New York, where they were cleverly known as the "Brooklyn Hartfords." After posting a 31-27 record and finishing in third place, the franchise folded, and there has not been a Major League team in the state since.

The Hartford Dark Blues, 1875

A rumor was started back in 2010, reportedly by Peter Gammons, that the Tampa Bay Rays might relocate to Connecticut. However, it was generally surmised that the ownership of the Yankees, Mets and Red Sox would never allow such an infringement into their market territories.

Connecticut has been home to a great number of Minor League teams over the years. Currently, New Britain (a suburb of Hartford) is home to the Rock Cats (what in blue blazes is a "Rock Cat"?), the Double A affiliate of the Minnesota Twins, playing in the Eastern League. The Bridgeport Bluefish, playing in the Atlantic League of Professional Baseball, play at a place called "The Ballpark at Harbor Yard." The Connecticut Tigers, a Detroit affiliate playing in the short series A League, call Norwich, Connecticut, their home.

There are numerous Major League players who are natives of the Constitution State, including Brad Ausmus, Steve Blass, Ricky Bottalico, Darren Bragg, Rob Dibble, Walt Dropo, Jay Johnstone, Hi Ladd, Dick McAuliffe, Charles Nagy, "Tricky" Nichols, "Queenie" O'Rourke, Carl "The Truth" Pavano, "Pretzel" Pezzullo, Jimmy Piersall, "Spec" Shea, Tim Teufel, Mo Vaughn and that popular New Englander, Bobby Valentine.
And finally, mention needs to be made here of the passing of Itchie's personal hero, C. "The Bearded Truth" Everett Koop, former surgeon general during the Reagan era, who passed away Monday at the ripe old age of 96. Shown below in a state of bemusement after being heckled by J.T. at a graduation ceremony at Itchie's alma mater, Vatterott College, the two later struck up a life-long friendship which centered mostly around their mutual love of intoxicating spirits. Rest in peace, good fellow.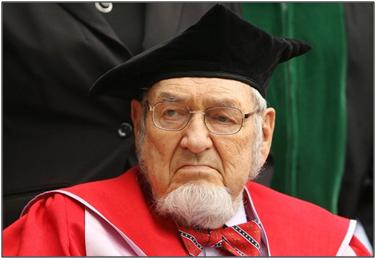 * * * * * *
Keep the faith, brethren.
Skipper
Our 505th edition