Brethren:

With our Draft Day for the 2013 HSL season a mere two weeks away, I thought I would share with you all a few tidbits from my recent trip with Will to Duke in Durham, North Carolina, to take some of the intense pressure off from Draft preparations.

I had already booked our trip to Durham when I learned that the Duke basketball team was hosting the Miami Hurricanes on Saturday evening last at 6 p.m. at Cameron Indoor Stadium. When I recognized this window of opportunity, I

checked on StubHub to see if tickets were available, and found that the cheapest ducats for sale were going for $750 a pop. As such, I warned Will that we would probably end up watching the game at a Buffalo Wild Wings or some other sports bar, but recommended that we still make our way over to the campus to see if any cheaper tickets might be available.

We arrived at the Duke campus at about 5:30 p.m., found a parking spot, and began walking toward the basketball arena.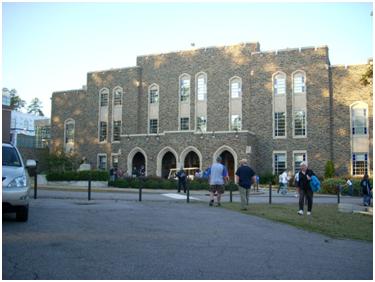 Cameron Indoor Stadium
We didn't see a single person advertising tickets for sale, but found ourselves among a host of desperados looking for one or two tickets, and assumed that we would be watching the game on television. After waiting around at the arena entrance for about 30 minutes and not seeing a single entrepreneur in sight, we began walking toward the rental car to make our way over to a sports bar to watch the game. Just then, as fate would have it, a young entrepreneur approached me and asked me how much we would be willing to pay for two tickets. When I told him that I didn't even know what the market was, he informed me he had just sold a single ticket for $600 right next to the pair that he was offering me. I told him that this figure was not within our budget. He then asked me how much I would pay, and I shot him a low-ball offer. Much to my surprise, he countered at a much less-unreasonable figure, and with only a few minutes to spare before tip-off, we were able to conclude the transaction, and found ourselves inside the Cameron Indoor Stadium. We pinched ourselves, and were still there, goose bumps and all.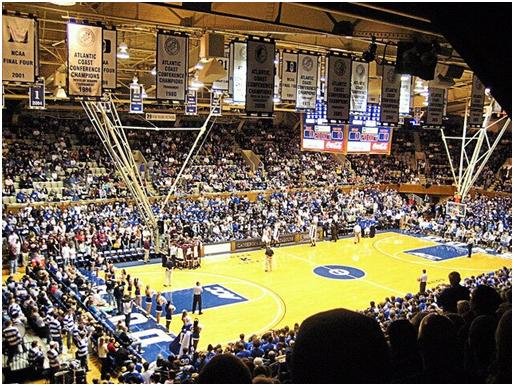 Feeling like a couple of wildcatters who had just struck black gold, Will and I made our way to Section 4, Row M, Seats 23 and 25, and discovered that there isn't a bad seat in the house at Cameron. We then settled in to watch what will undoubtedly be the most exciting basketball contest that either of us will ever attend.
As some of you may know, when Duke played at Miami earlier in the year, they were spanked by something on the order of 30 points. However, for the home game against the Hurricanes, the Dukies had back in the lineup Ryan Kelly, a 6-foot-10, 3-point shooting star who had been out of the lineup since early January with a foot injury. As Coach K put it in his press conference after the game, Kelly put on a performance that was "one for the ages," and "Probably as good of performance as any Duke player has had in Cameron," scoring 36 points on 10 field goals in 14 chances, including 7 treys. After giving up a 10-point lead in the last two minutes, the Blue Devils regained the advantage and survived when the Hurricanes missed two open threes in the last 10 seconds, including one by Barry Larkin's son, who is the fastest, quickest college basketball player I have ever seen. In the end, Duke bested Miami by the score of 79-76, giving Coach K career win number 952 (879 at Duke).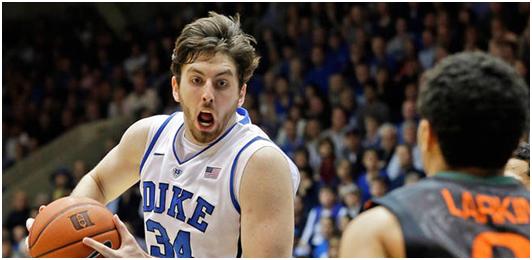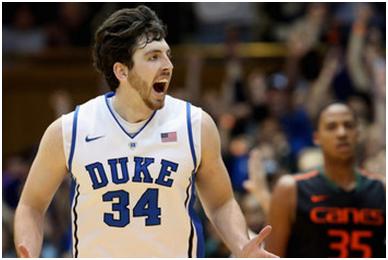 After the game, Will and I agreed that we had just witnessed a game that neither of us will ever forget. At the time, Duke had a #3 National ranking and Miami was ranked 5th, with the #1 seed for the NCAA tournament on the line. After a bit of mental cogitation, I placed the contest (easily) in my top 10 list of all spectator sports events attended.
The following night, Will and I were having a steak at the Ruth's Chris Steakhouse adjacent to our hotel. As we were sitting at the bar digging into our filets, a tall young man with a thin face and blond hair walked past and gave a big hug to a woman seated at the same bar. Will turned to me and commented that this young man looked an awful lot like Mason Plumlee, the 6-foot-11 senior center on the Duke team. While acknowledging to Will the facial resemblance of this young man to Master Plumlee, I reminded my son that the Duke center stands 6-foot-11, and that this young man in our midst was plainly not 6-foot-11. After my definitive rebuffing of Will's observation, our bartender meandered over and said, "That is Mason Plumlee." Wrong again, Dad.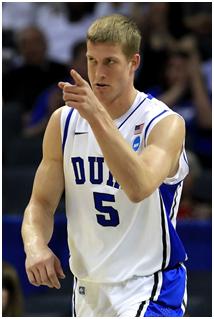 Plumlee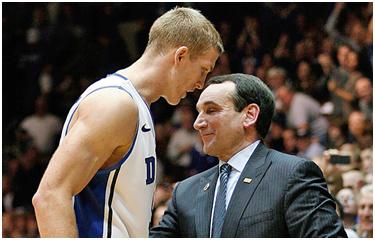 "Hey, Coach, I'm gonna grab a steak over at Ruth's
Chris—boosters are buying again—wanna come?"
The bartender then asked us if we saw Ryan Kelly sitting at the table right next to us, but we both had to admit that we did not. Unfortunately, Mr. Kelly had already left the restaurant by the time the bartender told us this, so we did not get a chance to congratulate him on his tour de force evening and to get an autograph for Will. Still.
On Sunday afternoon, we made our way over to the Durham Athletic Park to watch the Duke nine take on the Towson University (formerly Towson State) Tigers. On a 50-degree temperature day, we were fortunate that the sun was out, and we watched the Blue Devil baseball squad come back from a 2-run deficit and defeat the visitors from Maryland by a score of 8-6. In the midst of a number of pitching changes for both teams, Will wondered aloud how he would do if he had been called upon at that moment to take the mound in relief. Seriously deluded, no doubt, I responded to Will that if that had in fact happened, my money would be on him.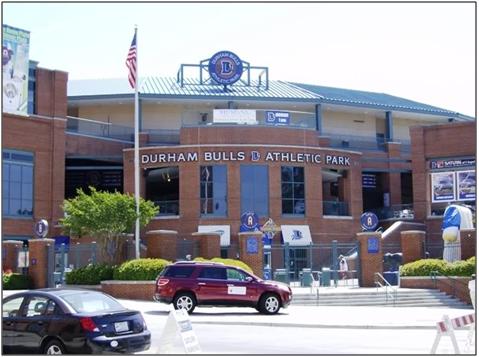 As to the green cathedral, I absolutely loved the Durham Bulls Athletic Park. It is smack dab in the middle of downtown Durham, right next door to a tobacco company and surrounded by a number of new office and apartment buildings. If I'm not mistaken, this ballpark has been located in the same place for many, many years, but has been recently refurbished.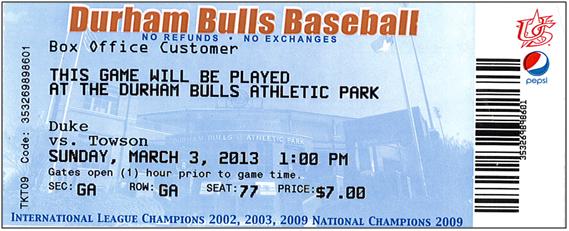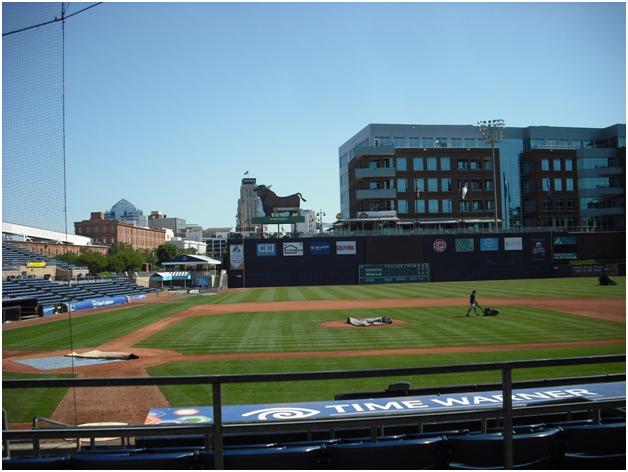 There is a giant bull located way up high over the left field fence, and I believe that if a Bulls player hits a home run, it emits smoke out of its nostrils. There is a sign that says if you hit the bull, you win a steak. Right below that, there is a sign that says if you hit the grass that the bull is standing on, you win a salad.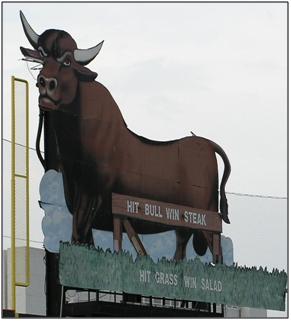 There is an advertisement for Burt's Bees (Balm) on the outfield wall in left center, and it says if you hit Burt, you win balm. There are a couple of similar signs in right field as well.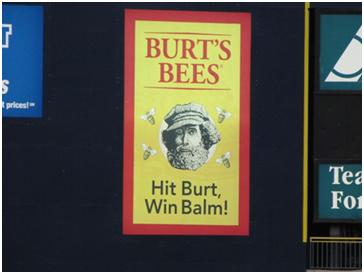 Because it was a 1 p.m. college game in the early part of the season, there were only about 75 to 100 fans in attendance, and the park did not have nearly the same ambiance that you would expect for a summer Bulls game in June or July. Not content to merely speculate about this, I am putting just such a visit on my Baseball Bucket List.
Our official visit to the Duke campus on Monday afternoon was outstanding. Located in a secluded area of Durham on land donated by the family of Washington Duke, it is surrounded by thousands and thousands of 30 to 60-foot high pine trees. The buildings are uniformly of the gothic style of architecture. If one were to draw on paper what an ideal southern college campus should look like, it would look just like Duke.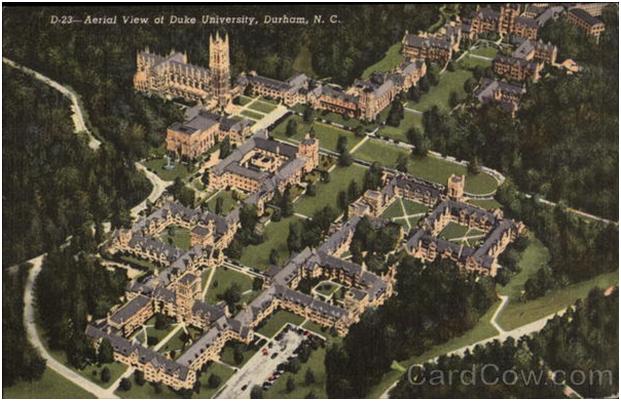 During our orientation session, we learned that Duke has just shy of 7,000 undergraduate students, and more than 9,000 graduate students, including the Duke Law School and the Duke College of Medicine. I am actually working on a case currently in which I have a Duke University orthopedic surgeon as my expert witness, and last fall went to the Duke campus for his deposition, but on this visit to Duke he was over in India teaching and so he was not available to visit with Will and me.
We learned some great fun facts about Duke during this trip, as follows:
While the Duke baseball team has been roughly as successful as the Nebraska basketball team during the last 40 years or so, for a time they were a bit of a Southeastern powerhouse. The Blue Devils baseballers made it all the way to Omaha and the College World Series on three different occasions in the 1950s and '60s. In what can only be described as the oddest of coincidences, in both 1953 and 1961, the Blue Devils made it to the CWS along with the seldom-seen nines from Northern Colorado and Boston College. In both appearances, the Blue Devils lost to a Big 8 team (Texas in 1953, by a score of 1-2; Oklahoma State in 1961, by a score of 2-3), then beat Northern Colorado in their second game at each Series, but then lost to and were eliminated by Boston College in their third and last game, each time by 1 run and both times in extra innings. Strange, but true.

The beautiful little gem of a ballpark on the Duke campus is known as Jack Coombs Field, named after the most successful coach in Duke history, Jack Coombs. Over the span of 22 years, Coombs compiled a record of 382-171 at Duke from 1929-1951.

Jack Coombs

You have all heard of John "Colby Jack" Coombs, a star (but not Hall of Famer) pitcher for the Philadelphia Athletics from 1906 to 1914, and then with the Brooklyn Dodgers from 1915 to 1920. He compiled a remarkable 31-9 record for the 1910 Philadelphia Athletics, notching 13 shutouts, and then won Games 2 and 5 for the A's in their 4-1 World Series defeat of the Chicago Cubs. The following year he was 28-12, and won Game 3 of the World Series against John McGraw's Giants, a 4-2 Series win for Connie Mack's Athletics. After a 21-10 season in 1912, Coombs became ill with typhoid fever which caused him to go from 180 to 126 pounds, and he only started in two games in 1913 and then two games in 1914 before being traded away to the Dodgers.

Colby Jack was born in LaGrand, Iowa, a tiny farming community about fifty miles northwest of Des Moines. When he was about 4 years old, his family moved to a farm near Kennebunkport, Maine, where he attended a prep school in Waterville, Maine. He then entered Colby College in 1902, starring in baseball, basketball, football and track, and was the fastest sprinter in New England, running the 100-yard dash in 10.2 seconds. He majored in chemistry at Colby College and was accepted to MIT for graduate work when Connie Mack's brother, who lived in "Wusster," Mass, signed him to a big league contract in 1905. As a senior, Colby Jack led his school to a 14-3 record, including a 6-0 win over rival Bowdoin (Max Bridges' alma mater) for the Maine championship. His Major League debut on July 5, 1906, was memorable as he pitched a 7-hit shutout to defeat the Washington Senators.

After his Major League career was over, Coombs found his niche as a college baseball coach, first at Williams (head coach, 1921-24), then at Princeton (pitching coach, 1925-28), and finally at Duke for 22 years as head coach. As Duke's coach, the Blue Devils earned 7 North Carolina State Collegiate championships, 5 Southern Conference championships, and earned the title of "Mr. College Baseball." Twenty-one of his players made the Major Leagues, including Dick Groat (starting shortstop for the 1964 Cardinals) and his nephew, Raymond Franklin "Bobby" Coombs. In a strange statistical anomaly, Bobby Coombs played only two years in the Majors, in 1933 for his Uncle's Philadelphia Athletics (where he pitched in 21 games in relief, went 0-1 and had a 7.47 ERA) and in 1943 for the New York Giants, where he pitched in 9 games and had a 12.94 ERA. His career mark with these teams was 0-2 with a 9.32 ERA.

As the Duke coach, Colby Jack Coombs always wore a coat, tie and hat in the dugout, usually with a vest, despite repressive heat at times. He was forced out by Duke in 1952 at age 70 (University policy) and moved to Palestine, Texas, where he lived until he passed away on April 15, 1957.

Two other Duke coaches you may have heard of were Heine Manush (who coached them for a single year, 1917) and "Country" Enos Slaughter, who was the Duke coach from 1971 to 1977. Some pretty well-known coaches.

The only recent Major League players who played for Duke (at least ones that I have heard of) were Quinton McCracken and current ML pitcher Chris Capuano.

In hoops, as most of you are aware, the Blue Devils have captured four National Championships, in 1991, 1992, 2001 and 2010. Strangely enough, two of these Final Fours were in Indianapolis and the other two were in Minneapolis.

Duke's football program is not talked about much these days, but still has an impressive history. The most famous Duke football season was in 1938, when Wallace Wade coached the "Iron Dukes" team that shut out all of its regular season opponents, one of only three teams in history that can claim this feat. That same year, Duke made its first Rose Bowl appearance, losing 7-3 when USC scored a touchdown in the final minute of the game.

In one of the best sports trivia questions of all-time, the only Rose Bowl game ever played outside of California took place at Duke's home stadium (now known as Wallace Wade Field) in 1942, due to the attack on Pearl Harbor, and the concern that a large gathering on the West Coast might be in range of Japanese aircraft carriers. Unfortunately, even with the home field advantage, the Duke Gridironers lost to Oregon State in that game.

Duke's football team won the ACC championship game in 1989, when they were coached by Steve Spurrier. They have not had a winning football season since 1994.

And finally, a bit of Duke political trivia: Former President Richard Nixon attended Duke Law School, finishing 2nd in his class. However, demonstrating the paranoia that would later result in Watergate and its aftermath, Nixon was so concerned about how he had done on his final exams as a freshman that he broke into the office through the ceiling to check out his scores. Caught, and suspended briefly, he was allowed to return and finished 2nd in his class, as aforementioned.
* * * * * * *
And finally, for your viewing pleasure, a photograph of Itchie's basketball-playing Madge in action against young Mike(ayla) McGee.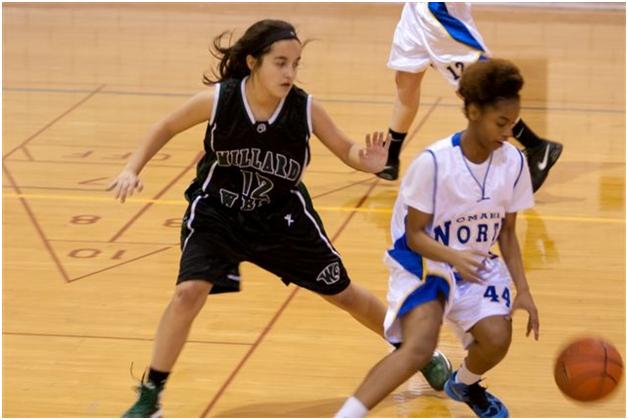 In a game reminiscent of the 1976 debacle, Mikayla McGee prepares
to dump two (of many) on Bender's offspring.
And now, signing off,
Skipper
Our 506th edition