Dry Heat (Heave) Draft deemed a smashing success

Fellow HSL'ers, here is a brief recap of the events that took place in late March, 2013 during the first ever "off site" HSL Draft Day in the idyllic Southwestern desert city of Scottsdale, AZ. Age has taken away most of my memory, and I didn't realize until the plane landed back in Siberia on Sunday night that I was on the hook for this synopsis of shenanigans, so it may be a tad bit shorter than my previous missives.

The Vision

I first have to say that never in my wildest dreams did I think we could pull off the draft somewhere other than the Ernst Buser War Room in Regency. To coordinate the participation and the associated logistics of getting thirteen guys to a city 1,354 miles from Omaha at the same time is Houdini like. But one day last December, the Teutonic Tickler had a vision that the draft will be held in Scottsdale, because quite frankly, "that's where I am going to be in March and if they want me to be a part of the draft, they are going to have to bring it to me". And so the idea was born.

The Tickler immediately went telemarketer, waiting until dinner time and then hopping on the phone with his much rehearsed spiel and proceeded to dial the other 12 league members with an offer too perfect to be refused. He went meticulously through his script, prepared for any and all objections with a list of rebuttals that simply could not be argued. He closed like Larry Tate, understanding that the first "No Way" response is really just a request for more information. After a mere 90 minutes, he had pocketed the order of each and every league member. 13 for 13.....and so it is done.

Early activities

The crew arrived on various days, at various times, at various airports, via various means, but everyone did in fact arrive. Those of us on the early bird out of Omaha on Thursday morning got there in time to enjoy a round of golf at The Legacy. With the temperature at 75 degrees, bright sunshine, no wind, and unlimited access to cocktails, it was a dream come true. After a slight delay in our tee time caused by the ineptness and inability of three seasoned professionals to operate a GPS device, we finally headed to the first tee to get started. Much to the delight of the first threesome (Big Guy, Stretch, and me), they opted to pair up a fourth golfer with our group. We exchanged pleasantries and handshakes and did the obligatory introductions. It was then that this fine New Yorker who was to spend the next four hours with us informed us that his handle was "Kibby".... (WTF did he just say? Did he say Kibby??? Are you kidding me?? Who the hell names their kid Kibby?)

After composing ourselves and trying to bring focus back to the golf game, we eventually completed our round in a timely fashion, and retired to the patio to enjoy some more sunshine and a post round beverage. It was here that Magpie drove the conversation to focus on the IPO (initial public offering) of my employer's (West Corporation) stock, telling me how much money I have made when in reality, I have monetized the proceeds of my holdings and purchased a medium Little Caesar's pizza and two Happy Meals. This IPO scab was continually picked over the weekend until I nearly bled to death, with the Possum and Tirebiter piling on as well. It's all fun and games until somebody gets hurt.

Thursday night included a foray to the Giants spring training facility in Scottsdale, to watch the hosts battle the Colorado Rockies in a late spring tune up for the regular season. Our seats on the berm were fabulous, so close you could almost make out the color of the Giants jerseys. The night was highlighted by our one to one interactions with several legendary ex major leaguers, including Gaylord Perry, Rollie Fingers, and my personal favorite, Jim "Mudcat" Grant, the pitching star on the pennant winning 1965 Minnesota Twins. While most of us enjoyed seeing these one time stars, BT immediately called into question the legitimacy of Rollie's handlebar mustache, likening it to another legendary, well known fraud, Bill Self's toupee. There are a lot of other things in Scottsdale that are not real, most of which are positioned on females between the waist and the shoulders, so I'm not going to argue with him. He seems to be pretty adept at spotting flim flam, double dealing, and chicanery, like the time that guy tried to Comp his room in San Diego.

Speaking of fraudulent transactions, on Friday morning the Possum, Magpie, and I set out for an early morning round of golf at the posh Phoenician resort. I was just there to get some exercise, play a leisurely 18 holes, and talk baseball with some friends, but Magpie insisted on turning my peaceful walk into a high stakes gambling outing, badgering me to wager on our round for the front nine, back nine, and the total score. Reluctantly, I agreed to put up 200 shares of West stock, but no, he insisted on raising the stakes to $5 per side.

The reason that golf employs a handicap system is so that golfer's of different skill levels can have a contest that levels the playing field. The problem with this system is that it assumes golfers are honest when they post scores to set their handicaps. I can assure you with more than reasonable certainty that this is not always the case. We set the wager with my handicap being a 12 and Magpie informing me that "I'm about a 26"........and after watching him launch 260 yard drives, back up wedge shots, hit "knock down" 4 irons from 215 yards out, and hole every putt inside 10 feet, he has the gall to say "wow, I'm just having a really good day today". Magpie, Bill Self thinks you are phony.

The rest of the league brethren opted for low key Friday morning lounging sessions at BT's "mid tier" condo and Buser's "high end/ upscale/top notch" condo, in preparation for the scheduled Friday night pub crawl. Look, if I had been offered to spend the weekend in that porn palace up in Kierland, I probably wouldn't have left the facility either. While most of us filled our weekend diet with hot dogs, chips, and kettle corn, these uppity bastards were feasting on caviar, pate de foie gras, and mimosas, drinking high end liquor and shouting down their car service to fetch them some Dom Perignon. Snobs.

The Friday night dinner and Pub Crawl produced some of the most memorable moments of the trip. We opted for dinner at the Yard House, a nice combination of restaurant/bar at Scottsdale Fashion Square. After five minutes of waiting for the group to be seated, Magpie determined that he had had enough and took matters into his own hands on behalf of the crew. He approached a nice young lady trying to enjoy her bridal shower and her last moments as a single woman, and let her know that the Hot Stove League was here, and she best get her fat ass out of her chair and clear off the table so his boys could get their grub on. She complied, the HSL was seated, and the feast was on.

After dinner, the pub crawl began, with BT leading us to a host of his local haunts to enjoy some libations and run through several mock drafts in advance of Saturday. Things started calmly enough, with Screech setting the tone for the night and ordering Fire Bombs for the entire party, then handing the tab to BT. It was shortly after this point that something odd happened with Stretch. Perhaps sensing only a few more months of happiness remaining before his planned August nuptials, the cantankerous Kansan admonished us all to step up our game and get drinking more heavily. Trying to have fun just once in his life, big Jon was stunned when Magpie informed him that he was going to retire for the evening rather than booze it up with his buddy. This disclosure led to a disappointment not seen since the seat cushion incident in Milwaukee. Jon's idol had now fallen off the pedestal he had resided on for the better part of 25 years, and Jon did not go quietly into that goodnight. The vitriol about to spew from Stretch's pie hole would have shocked even the most seasoned of sailors.

With smoke coming out of his ears, Jon latched onto the one thing that immediately comes to each and every one of our minds when we visualize the competitor in the arena, the one who stays to fight, the one that just won't quit.....Jori Krause, Warrior. Drawing the side by side comparison between Magpie and Jori led him to utter the obvious, a saying that will live in Hot Stove League infamy...

Jori....Warrior, Mitch....Pussy!!

After the real men who stayed behind to drink some more digested this event and decided to call it a night ourselves, fate once again showed up at our doorstep in the form of a rickshaw/pedicab/golf cart waiting outside the bar. We chose to hitch a ride back to BT's crib on this golf cart, which less than comfortably seated eight. This alleged leisure ride, piloted by the hereafter famous Chelsea, would soon turn into a "Death Race 2000" like trek up Scottsdale Road and was about to forever alter the shape of the Hot Stove League. Chelsea, who would ultimately prove herself a Warrior in the mold of Jori, seemed to subscribe to the Ted Bridges School of traffic laws....oblivious to all of the elements around her.

Weaving through lanes on Scottsdale Road with nary a glance to check her blind spot nor the desire to conform to the flow of traffic, Chelsea pointed us northward toward the Krause enclave. My God, I thought we were in a real life Frogger game. Upon approaching the final turn with the condo now in sight, Chelsea dismissed the red turn arrow out of hand and went Joey Chitwood with the vehicle, turning left directly in front of the Hummer bearing down on us and navigating the turn on two wheels, much to the shock and awe of the eight passengers in tow.

She pulled up to the condo and it then dawned on me, clear as a bell that this happened for a reason. It was right there, obvious to see:

Chelsea=Warrior Mitch= Pussy

And thus ended the participation of the Skipjacks (nee Mudhens) in the Hot Stove League and ushered in the new era of the Chelsea Warriors.

The draft itself on Saturday went off without a hitch, save for the Mark Reynolds fiasco. When Reynolds finishes the year with 70 home runs, there is going to be a need for some retroactive point adjustments and some lengthy explaining to do. After 27 years, you would think there would be an understanding that you cannot draft 6 third baseman, but I do realize the draft is a complex formula.

As for my team, I love them. Sure, I might have taken Dominic Brown 100 picks early, Teixeira and Hanley Ramirez are on the DL for 3 months, Yasiel Puig is in the minors, and I am the only guy in the league with two Houston Astros, so really, what could go wrong?

After the draft was completed, a gaggle of HSL'ers made our way to Diamondbacks/Rockies sparkling new spring training facility to witness the matchup between the Rockies and the Padres. Balls were flying out of the park, including a dinger by old man steroid himself (Todd Helton) and the Chelsea Warriors own Wilim Rosario...(is there a chance he is Kibby's brother??? who names their kid Wilim, other than Mrs. Dafoe?) The ballgame also marked the beginning of the end for Freddy Garcia, who not so shockingly was roughed up trying to sneak his straight as an arrow, 78 mph fastball past the Rockies hitters, and was released by the Pads the following morning. I must say, that is one of the most impressive facilities I have had the pleasure of watching a ballgame in that is not a regular major league stadium. It was a helluva day and a helluva night.

On the way back to my bungalow in North Tucson, we ran into a little trouble with Vicki, the 2001 Crown Victoria that serves as my "car service" when i am in Phoenix. Big Guy and Ernie began to fret at the multitude of noises emanating from the engine block, the rear axle, and the tires. "Not to worry" I told them, and quickly fixed each and every problem. Rolling up the windows and turning up the radio always seems to work like a charm...you should try it sometime.

Sunday was "Getaway" day, but not before another round of golf, this time at Eagle Mountain with Tirebiter, the Skipper, the Possum and me. The course proved to be more than tough, with the windmill and the clown's mouth making each green an adventure in itself. After the round, the boys met for a few more cocktails, some NCAA basketball watching, and more discussion regarding the relative strengths and weaknesses of their newly drafted rosters.

Getaway Day would have a bit of a different meeting for Big Guy once he got to Sky Harbor airport. Pressed a bit for time, we made it to the airport roughly one hour before our scheduled departure. Not a big deal, except the security line involved a 45 minute trek to serpentine our way to the face to face interaction with the crack TSA employees checking ID's and boarding passes. Screech and I made it through unscathed, but Big Guy seemed to run into a problem. Not a big deal, we thought, he probably got flustered and forgot his city of birth again or made some crack about being at war with Mexico. Yet we waited and waited, and there was no Big Guy.

With now only 15 minutes left until our flight takes off, Screech and I did what every man would do when confronted with the "no man left behind" dilemma...we headed for the gate to board and said "he'll figure it out"..if not, I suspect he can catch a flight tomorrow. Only later did we learn that Big Guy tried to pass off his itinerary as his boarding pass, and Shaneequah wasn't having any of it. She directed him back downstairs to the ticketing counter, to stand in line and rectify his blunder before he was going to be allowed to "pass through her gate on her watch". Calling on the Houdini karma that permeated the weekend, Big Guy made it downstairs, validated his credentials, made his way back through the throng of humanity and boarded the bird with 30 seconds to spare. Take that Shaneequah.

All in all, I think most of you would agree that this expedition would probably rank

at or near the top of all HSL trips. It is great fun to spend a few days with a great group of guys who share this common passion for baseball, camaraderie, and having fun, and I look forward to a great 2013 season. May the best (Chelsea) team win!!

Much thanks to the generosity of all that provided food, lodging, transportation, and alcohol to this band of brothers...let's do it again!

Play Ball!!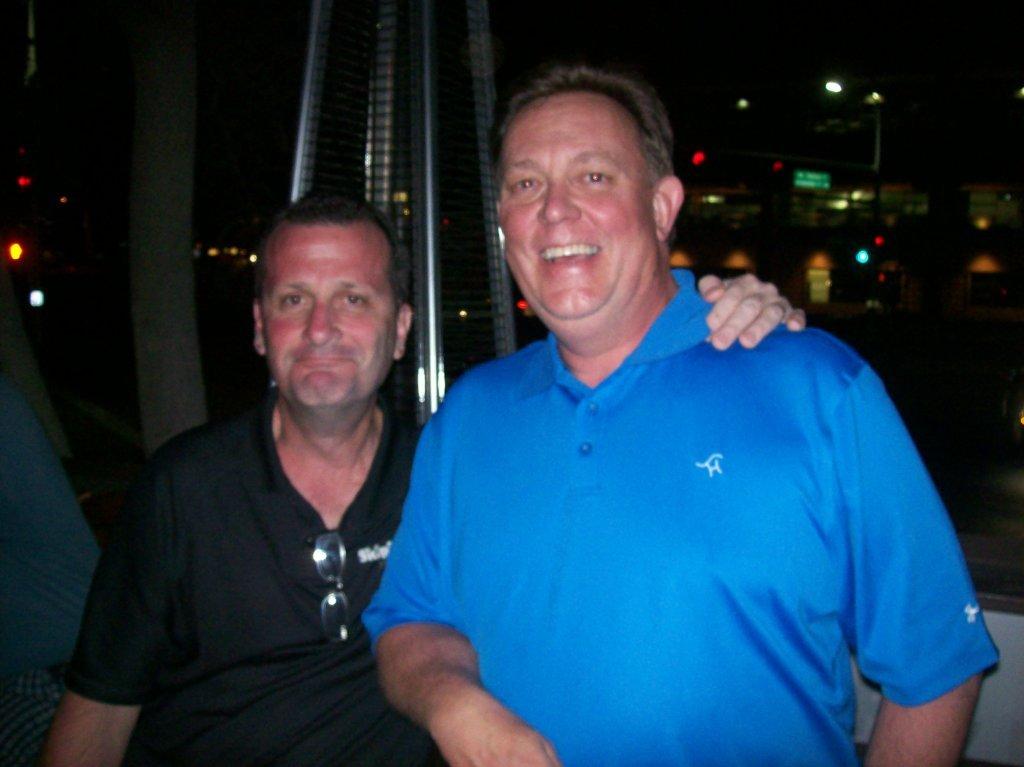 "You have exactly 2 seconds to get your hand
off my shoulder, buster!"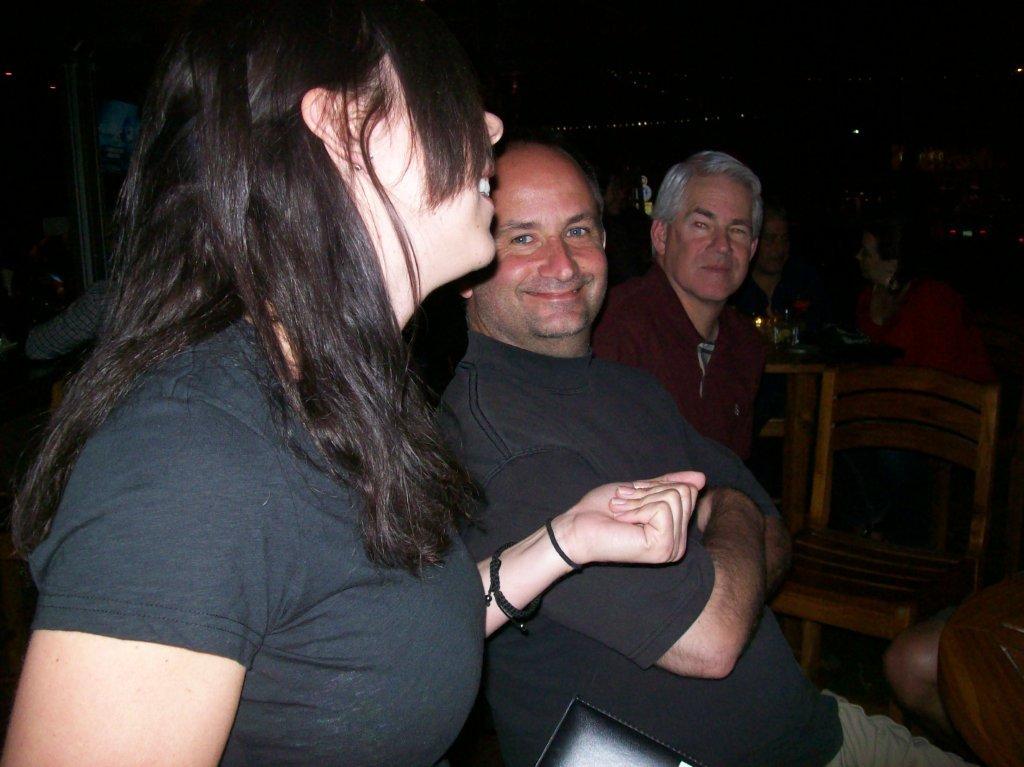 Big Johnny attracts them all!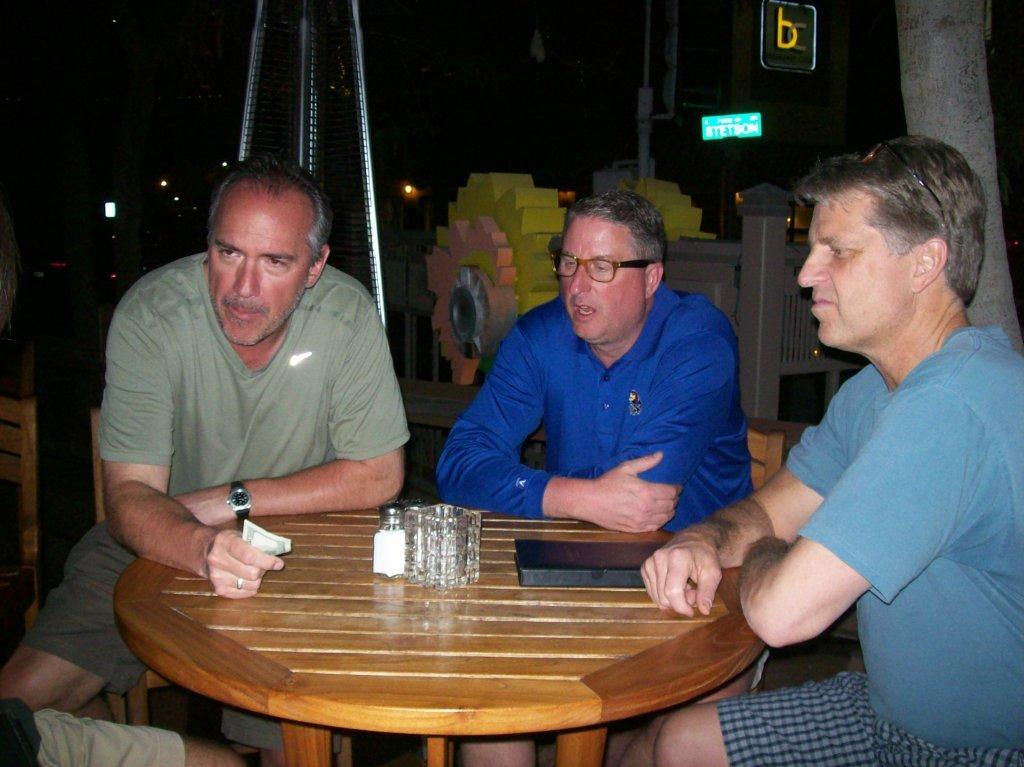 BT and Skipper desperately try to stay focused
on Stretch's engagement soliloquy.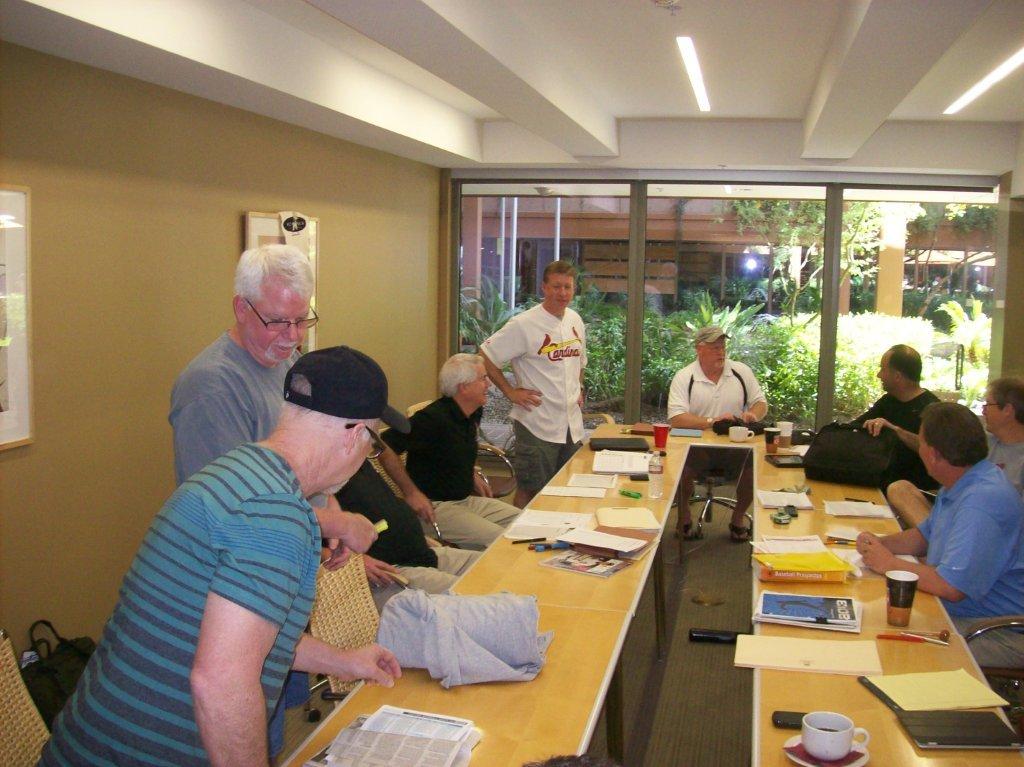 Time for a Group Geezer Nap.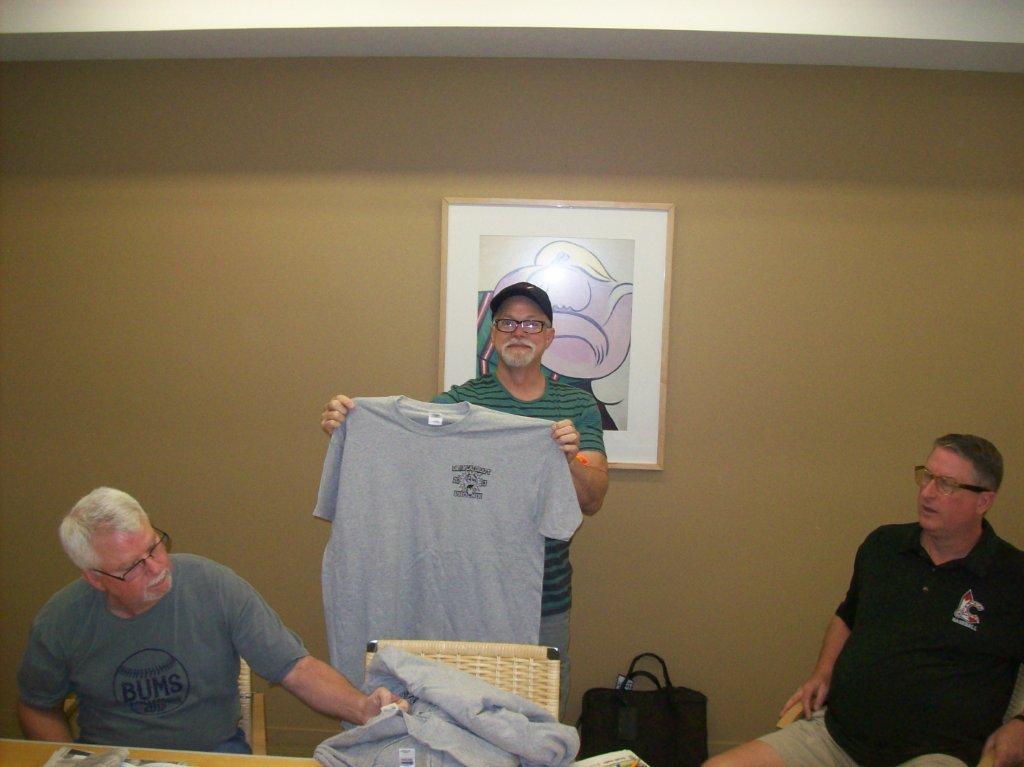 5A? Perfect.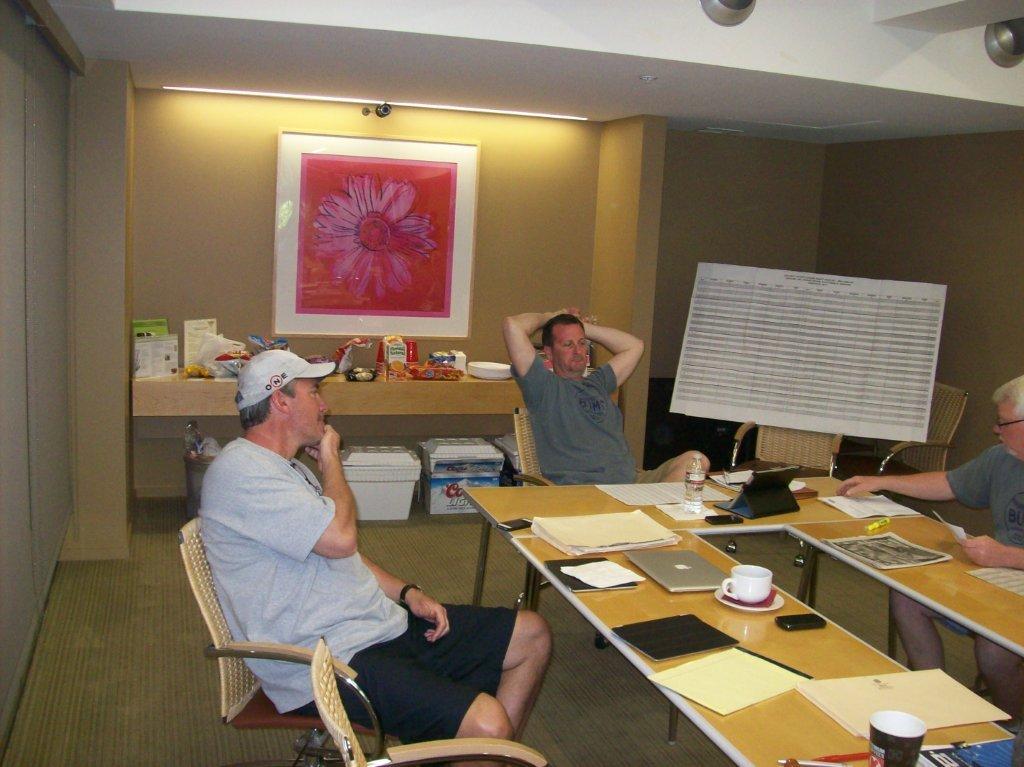 BT and Screech both wonder at Draft's end--
How did it go so wrong?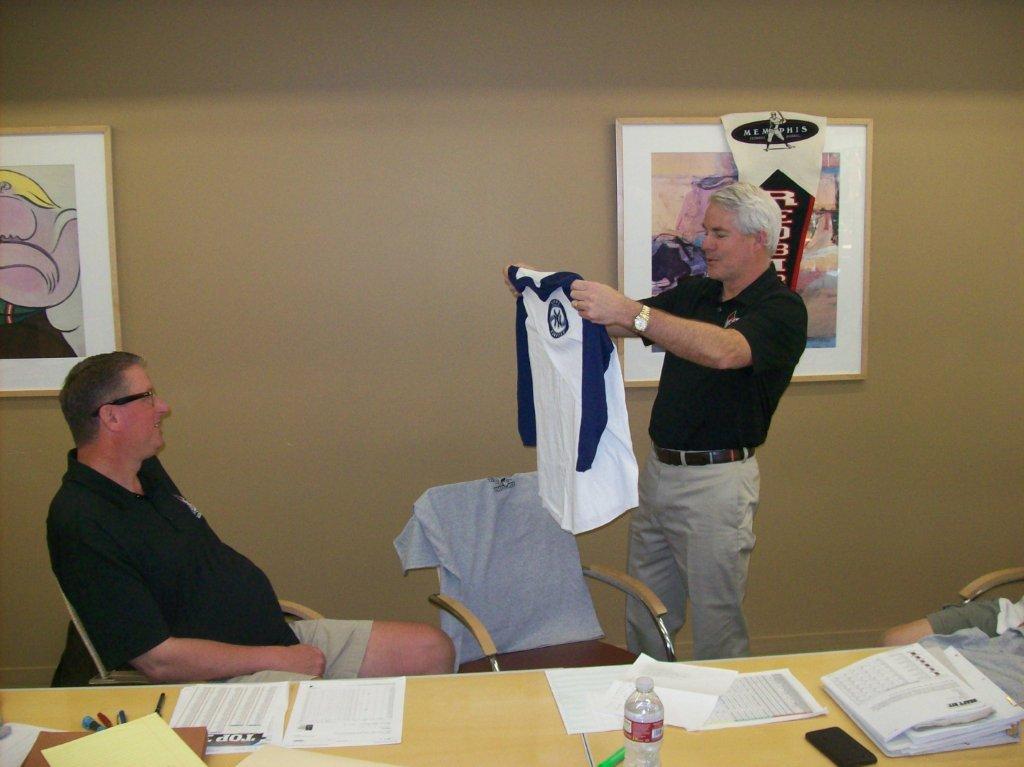 Mouse proudly displays his Top Ten Reasons I Always
Finish in Tenth shirt as McJester thinks to himself:
Dang, Mouse is cute. If things don't work out with Deb . . . .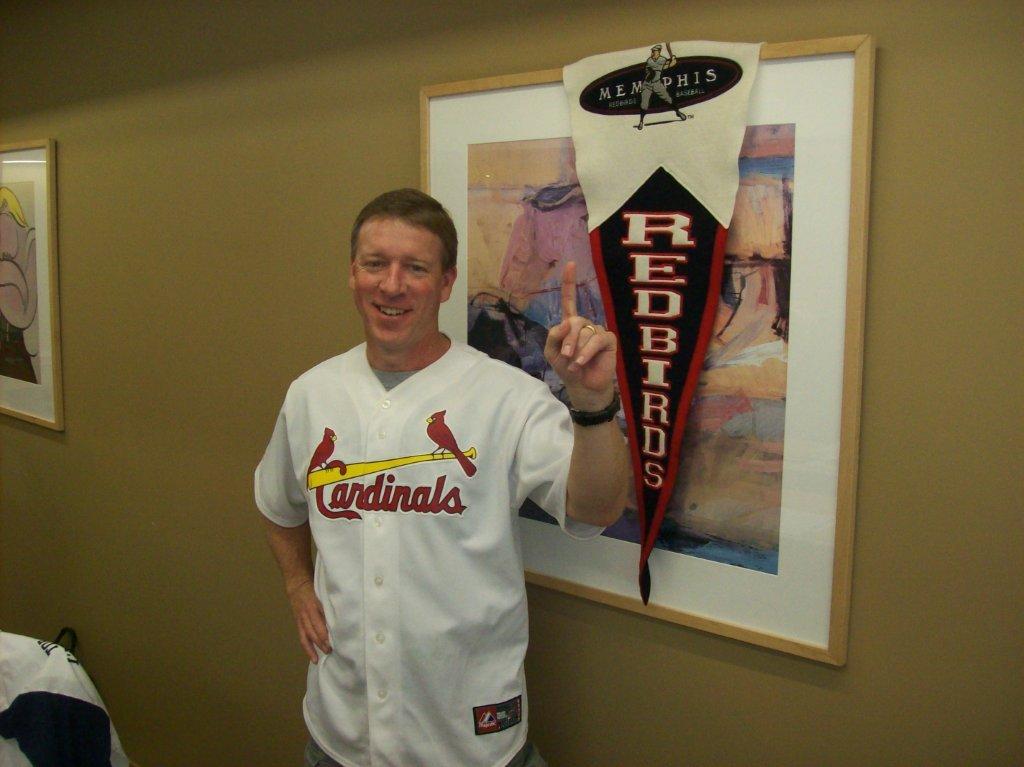 One what?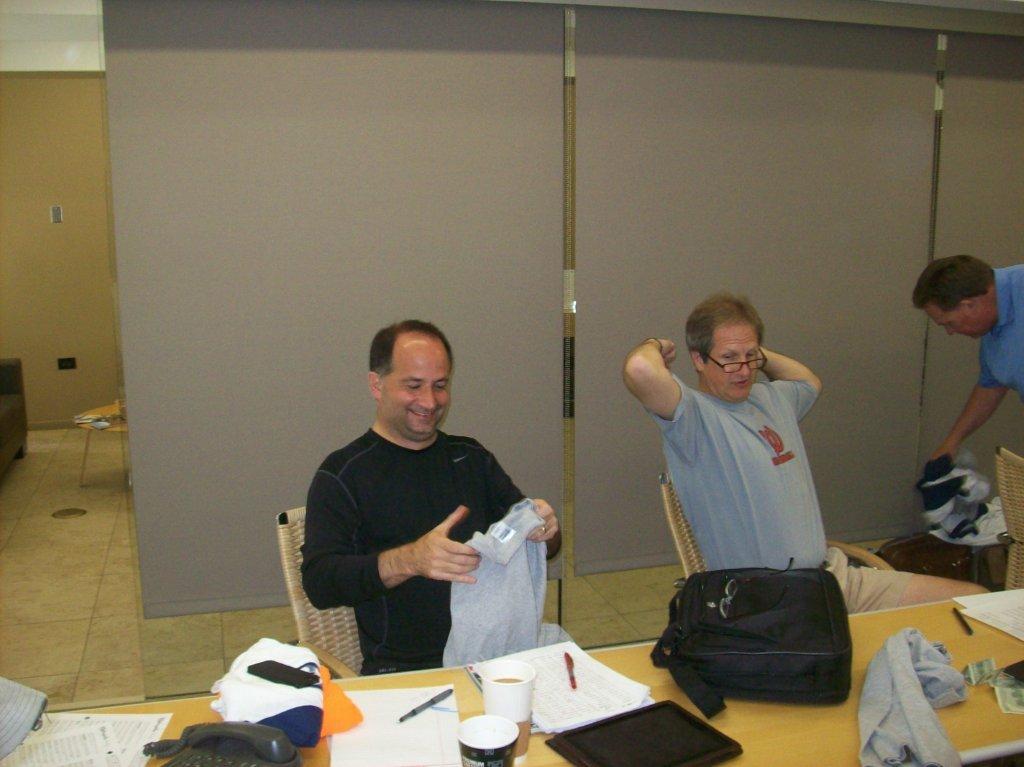 Possum finishes up his table aerobics, while Itchie
expresses amusement at his new Dry Heave tee shirt.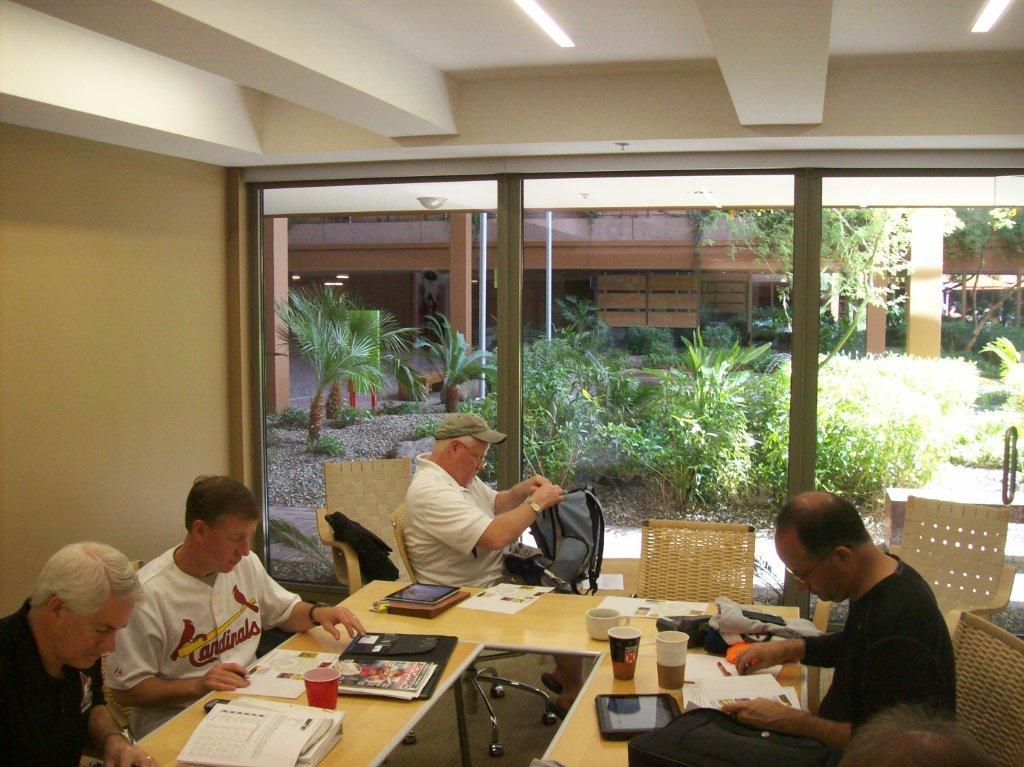 Shamu loads the rest of the pizza and submarine
sandwiches into his trusty backpack, "Jaws."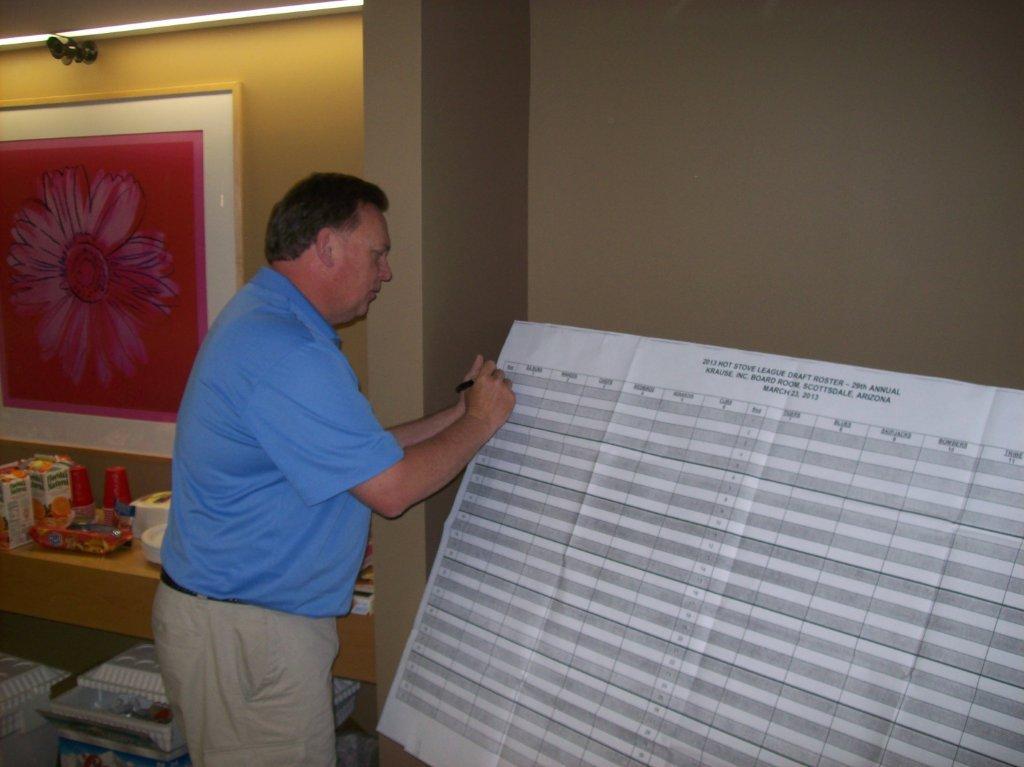 Back-to-back? No, only if you are a Warrior.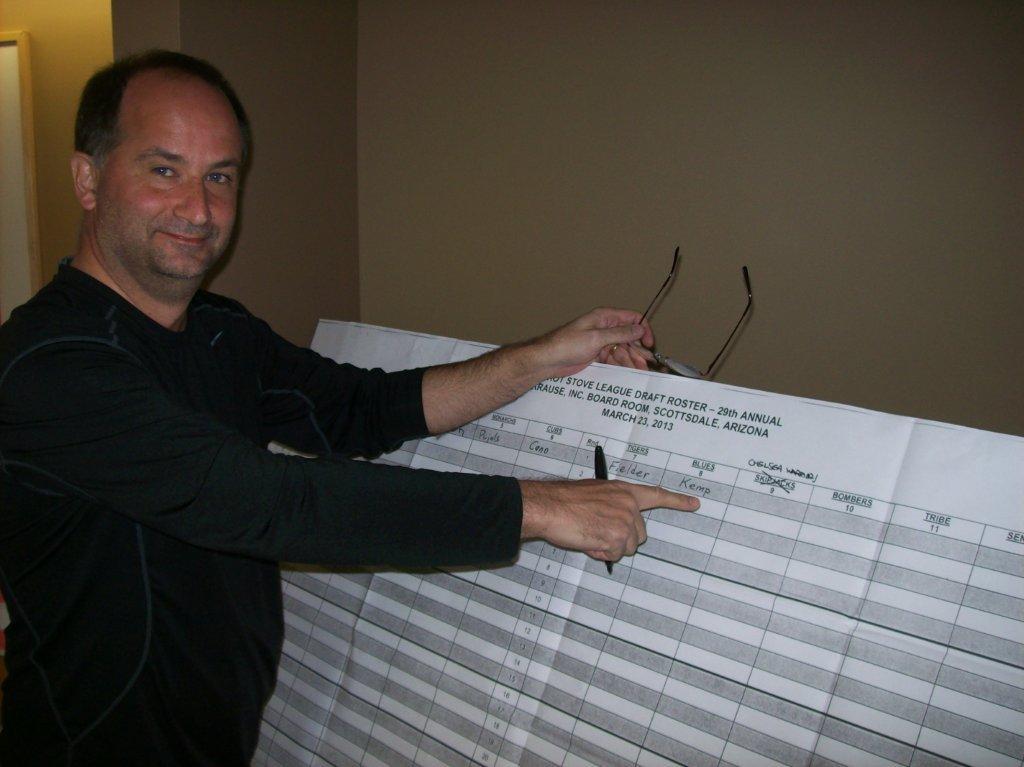 Itchie announces the jaw-dropping team name change
to the Chelsea Warriors.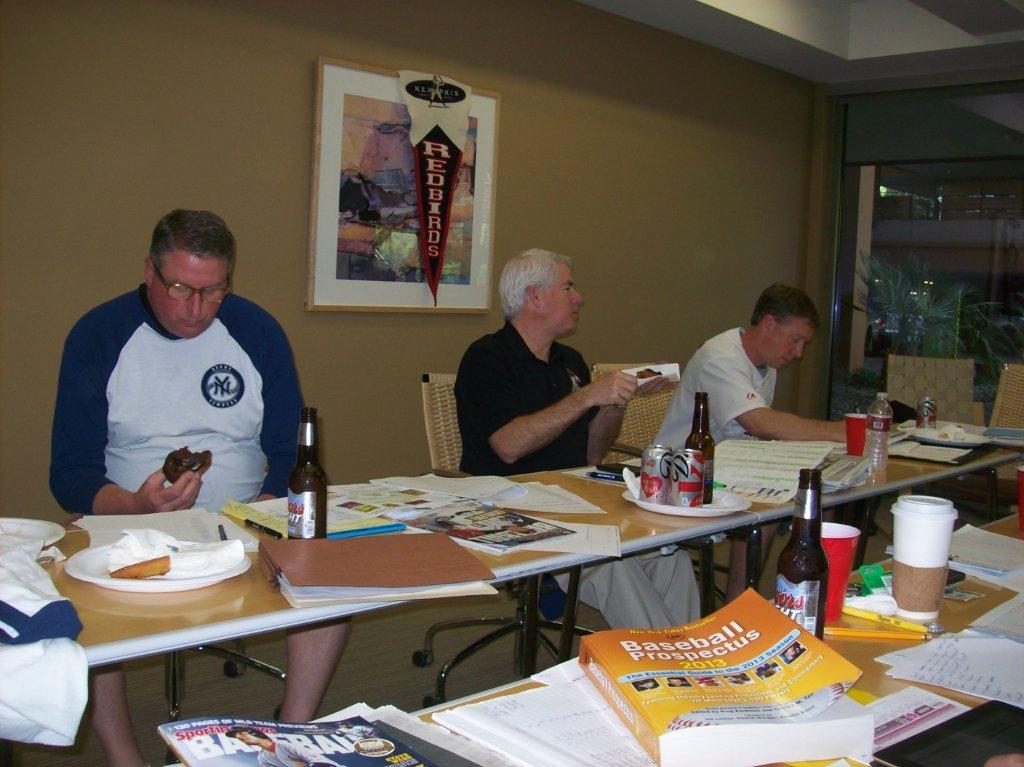 (Dang, thinks Stretch, this cookie is gooder than shit.)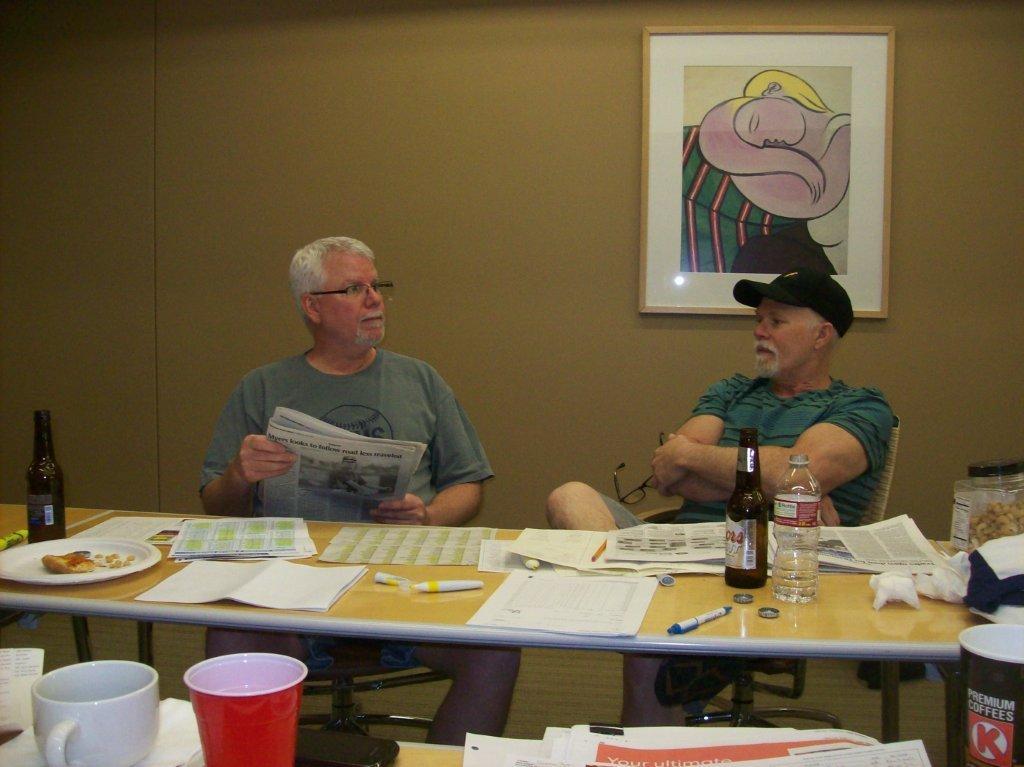 Well, Dennis, I think you were the last person to touch my draft book.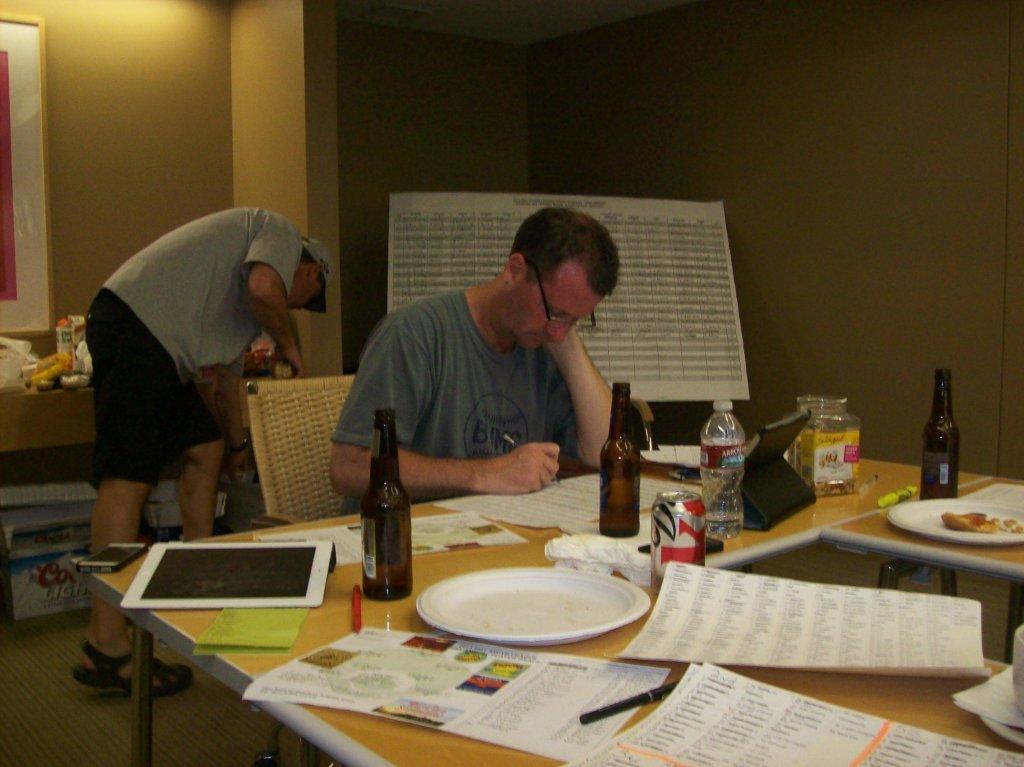 If only the Gallup Organization could get this much
concentration out of Screech.
Crabby Old Men Club watches ballgame
or
7 innings at 2 beers/inning takes its toll.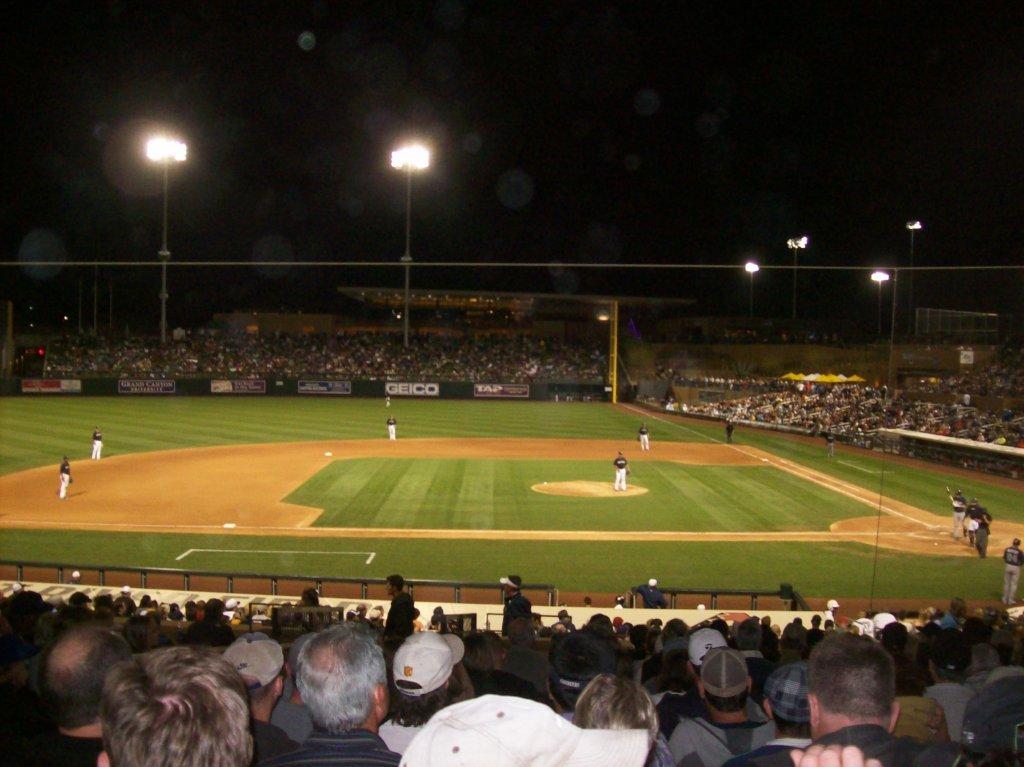 Spring Training--what could be better?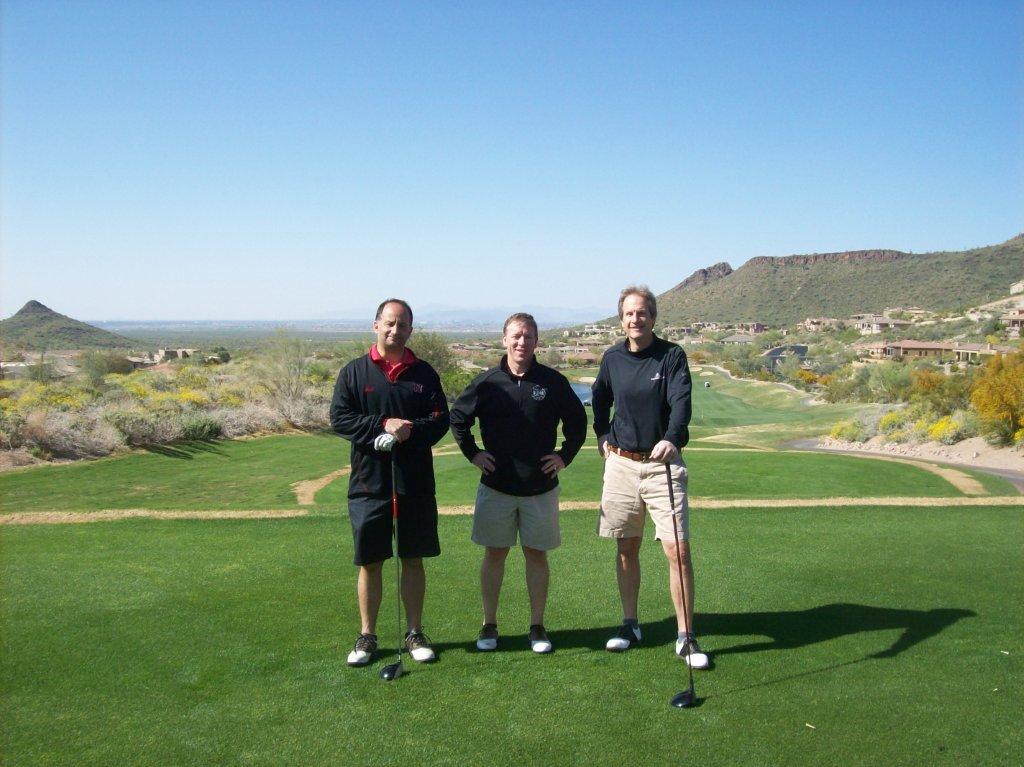 Curly, Moe and Larry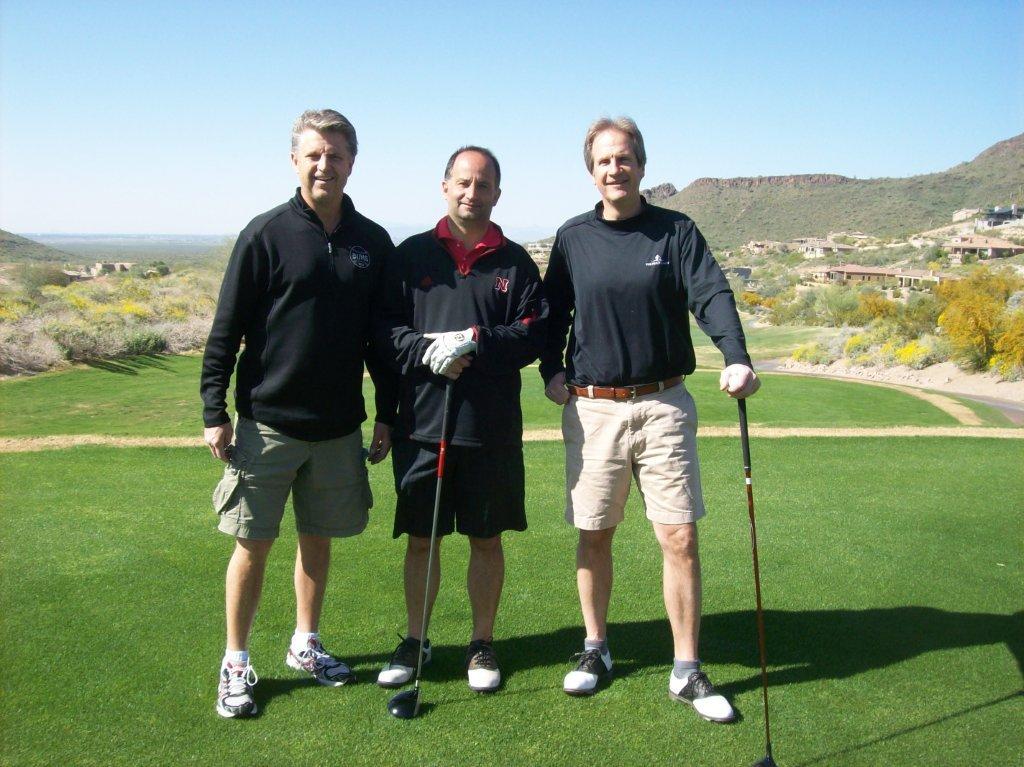 Phil, Tiger and Jack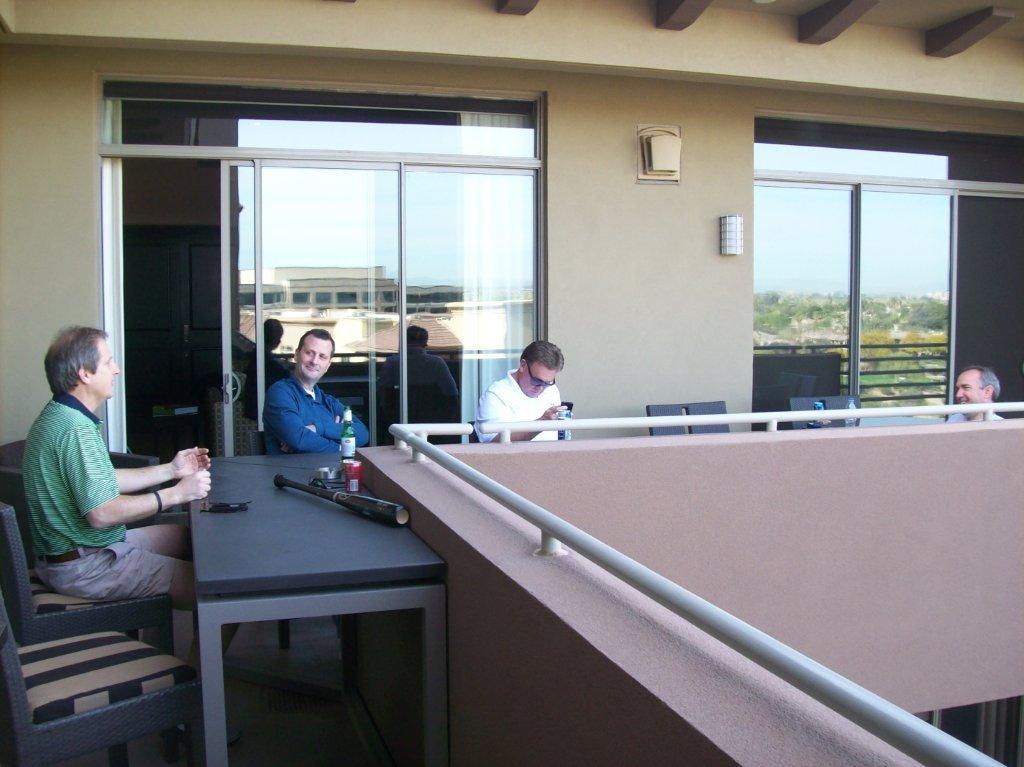 Living the life they deserve.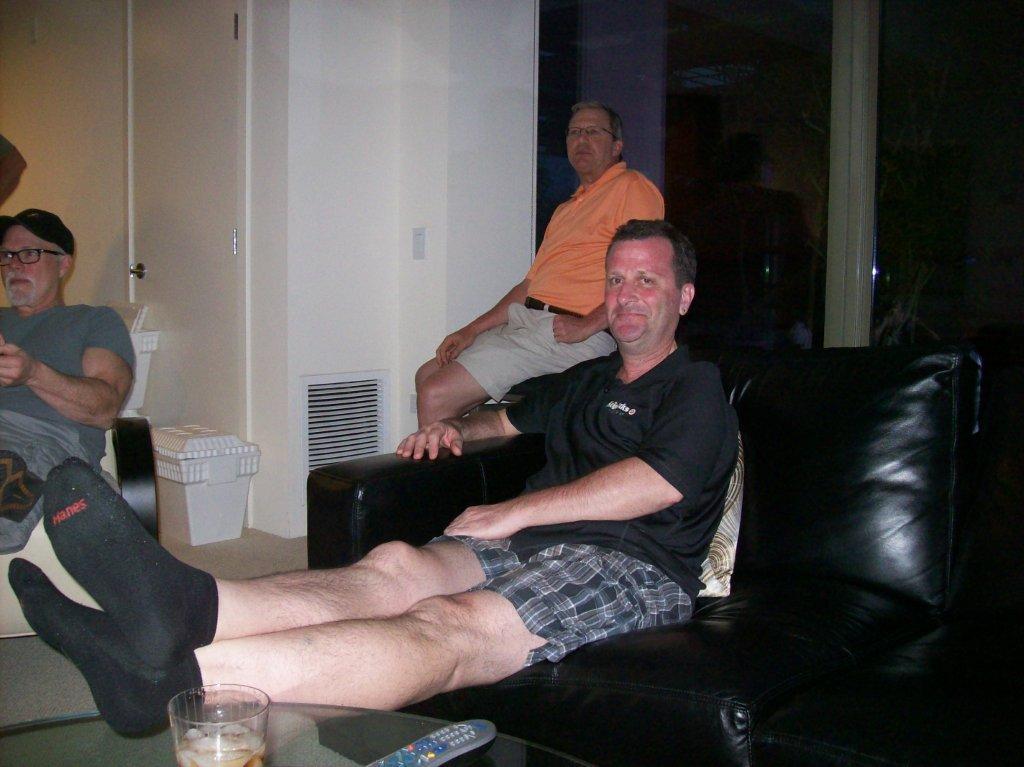 Nice socks.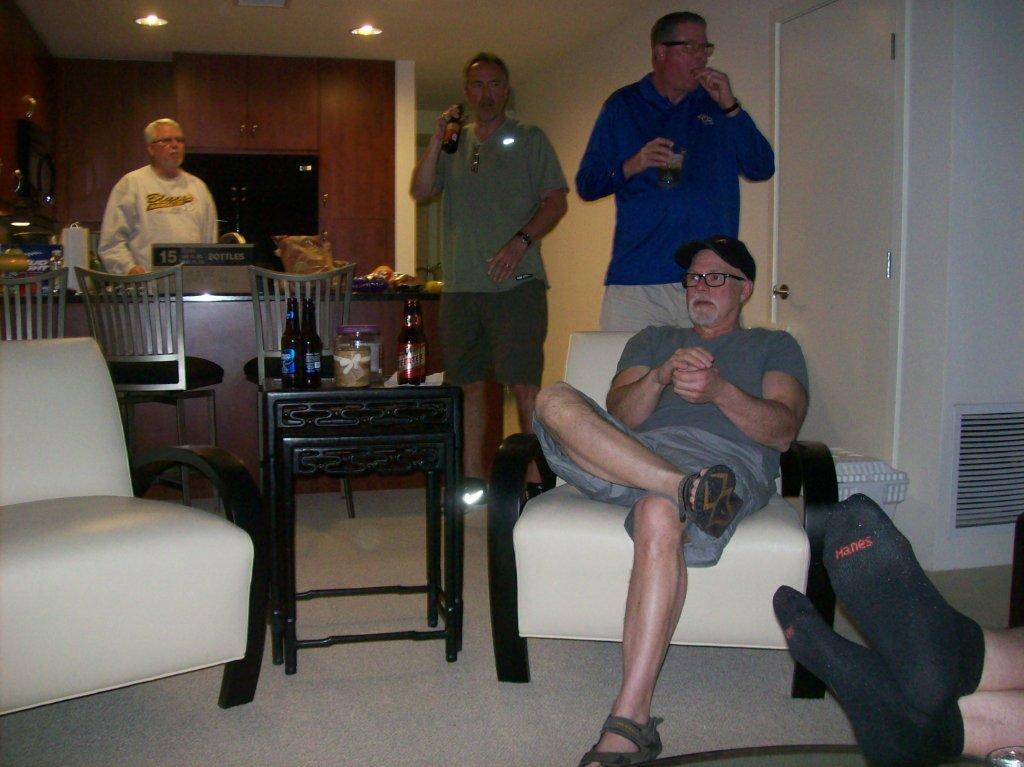 A Portrait in Self-Satisfaction