Brethren,
Standings thru games of Wednesday, June 11
| | | | |
| --- | --- | --- | --- |
| 1 | | Monarchs | 5202.20 |
| 2 | | Tribe | 4950.40 |
| 3 | | Wahoos | 4902.30 |
| 4 | | Tigers | 4814.00 |
| 5 | | Cubs | 4795.10 |
| 6 | | Redbirds | 4671.70 |
| 7 | | Chiefs | 4596.70 |
| 8 | | Bums | 4575.60 |
| 9 | | Blues | 4504.20 |
| 10 | | Senators | 4439.80 |
| 11 | | Skipjacks | 4350.30 |
| 12 | | Bombers | 4310.80 |
| 13 | | Bears | 4259.20 |
Thanks to Mouse for regaling us with his Mousetrap last week and his insightful if not provocative commentary on the league, the game of baseball, and the Trip, including all of the swell pictures.
And speaking of pictures from the Trip, provided below are a few more, courtesy of Mouse, from the Milwaukee leg of the junket: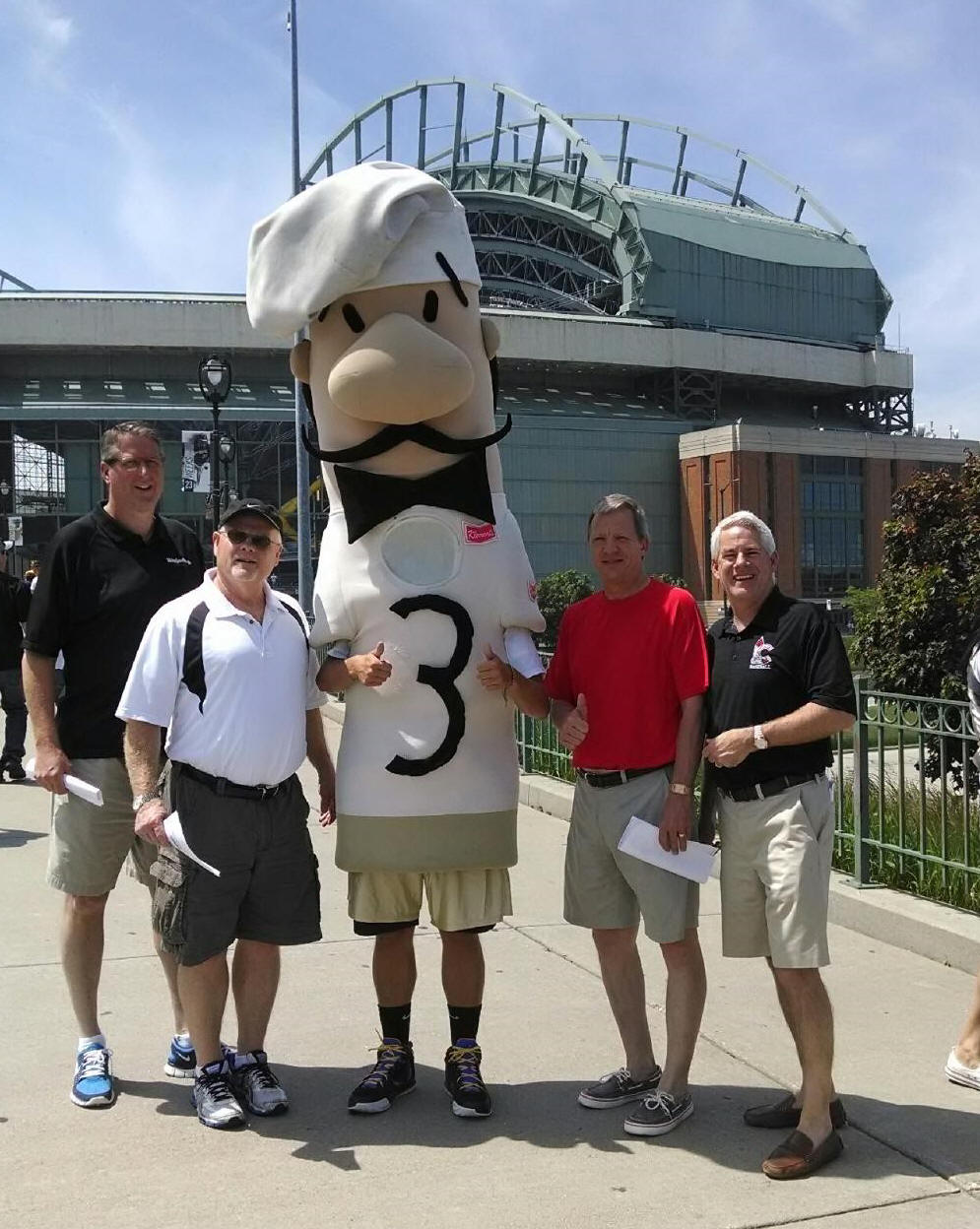 Shamu and friends befriend Chef Carl,
another beloved MLB mascot.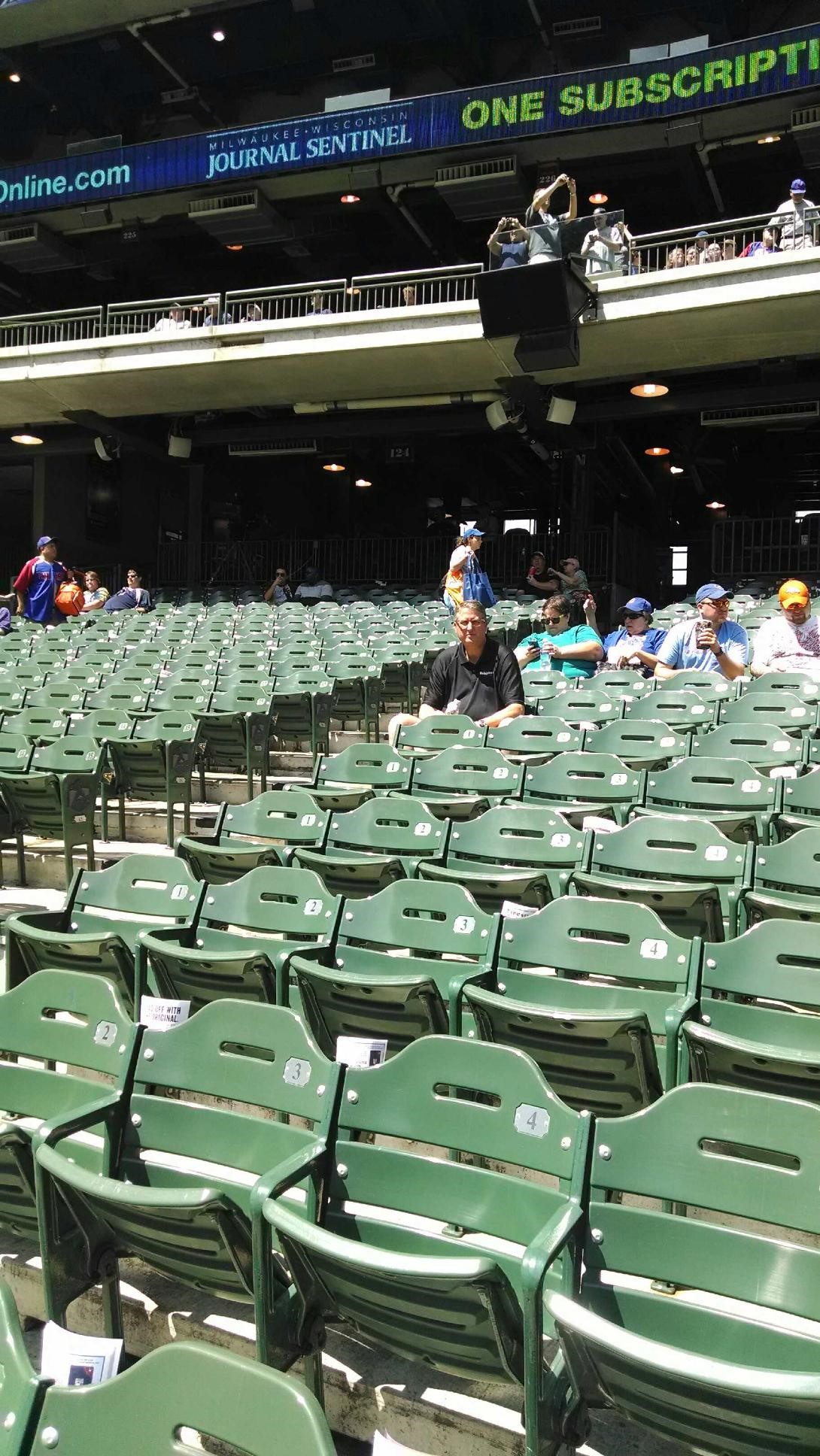 Colonel Curmudgeon and friends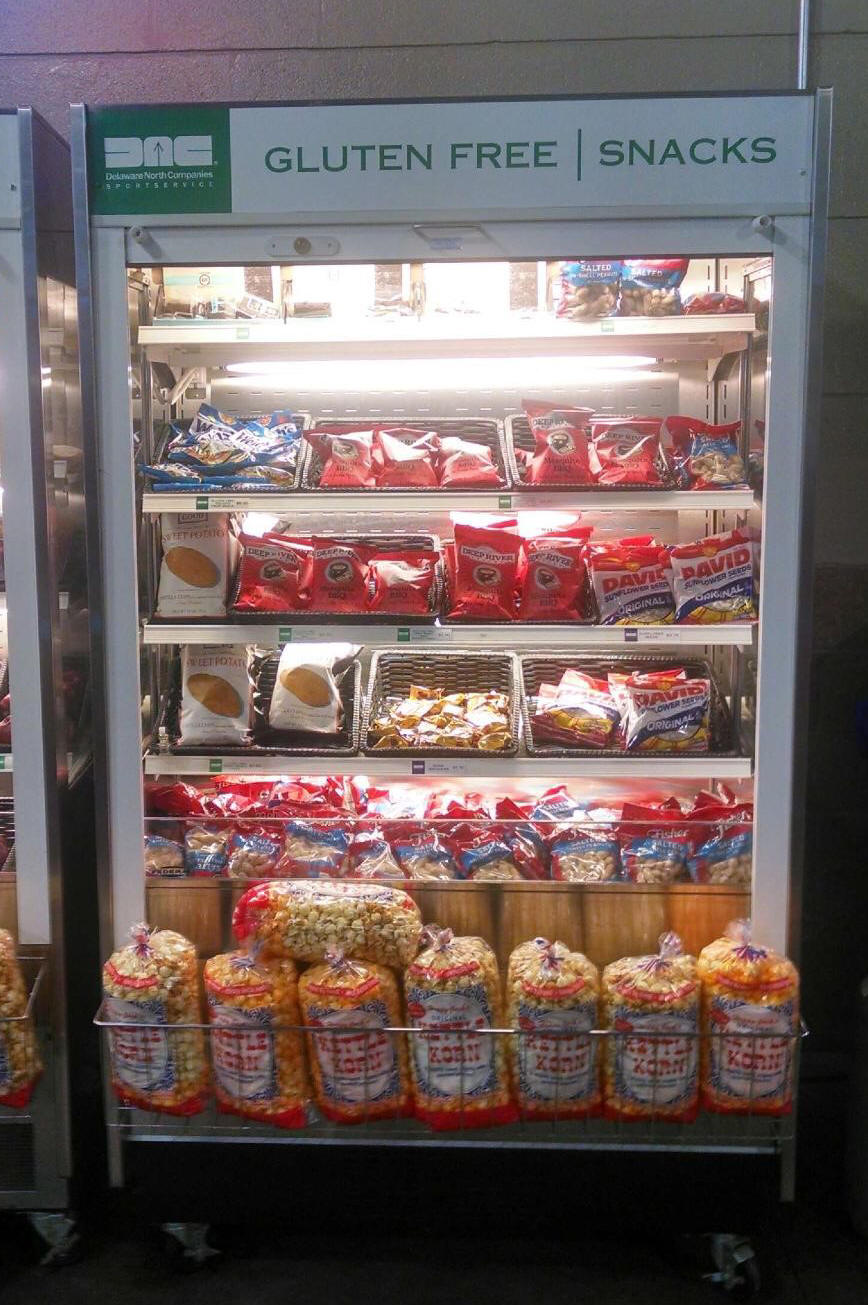 BT's dream concession stand!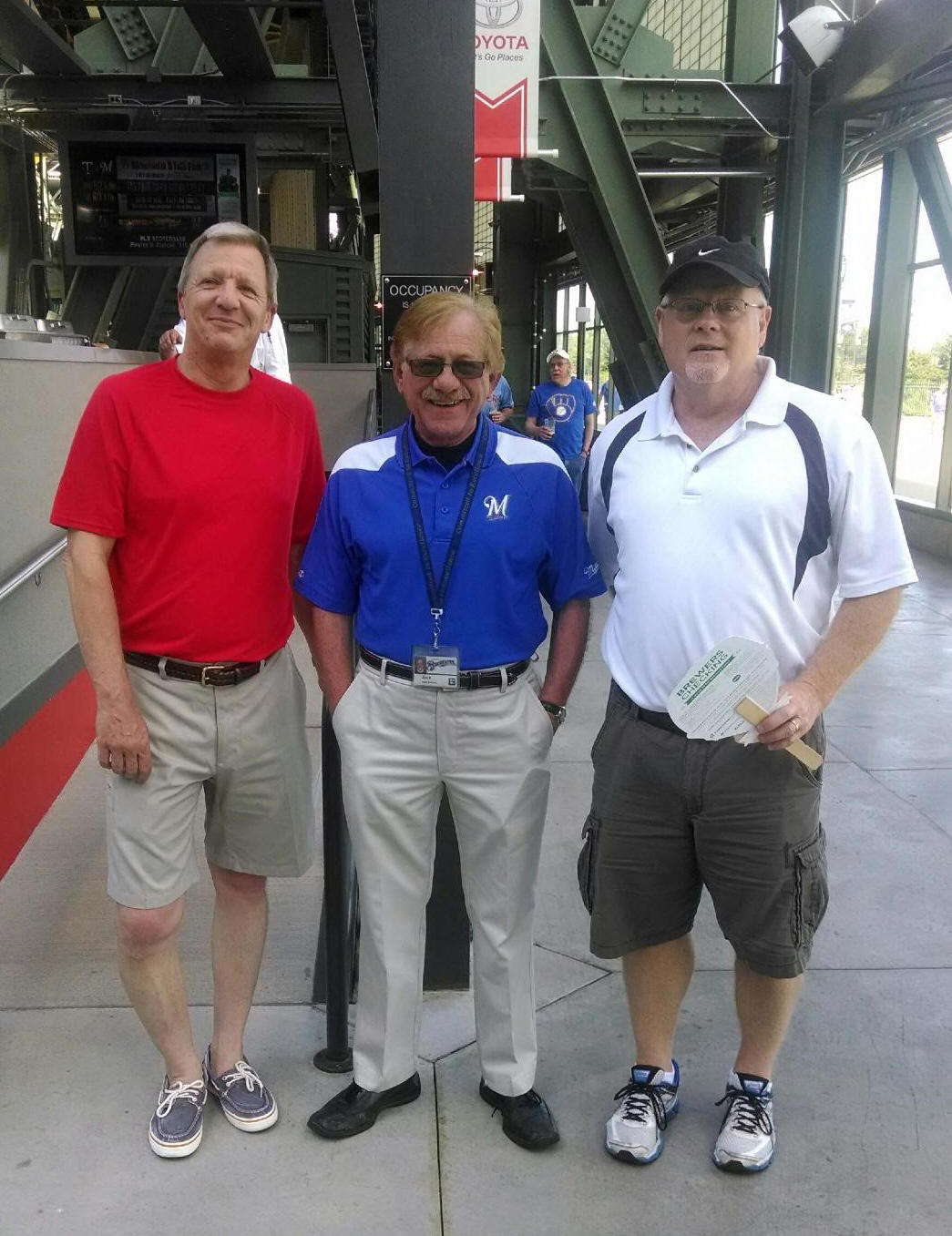 Big Guy, Shamu, and a declining Rusty Staub
Thanks to all of the participants on the Trip, allowing us to extend our skein to 30 consecutive years. Wow, just listen to the sound of that: Thirty consecutive years! Let's make sure that we extend it to 31 next season with a blockbuster junket to Tampa!
As most of you may be aware, I recently put our acreage—my beloved One Particular Harbor—on the market. There just aren't enough hours in the week to tend to it the way that I want to, and with Will heading off to college in the fall, it just seems like the right time. Or so I thought.
One night last week—Tuesday—I was awakened with a start by a dream, a very realistic dream which involved the intervention of God in the form of James Earl Jones. Or at least I think it was a dream, although I was working on a model airplane earlier in the evening. Anyway, the dream went something like this.
(Skipper lurches upright in bed)
"IT IS TIME!" (voice of James Earl Jones)
"Time for what?" (me)
"TIME FOR YOU TO LISTEN TO ME."
"But it's freakin' 4 a.m., dude!"
"IT IS TIME FOR YOU TO GET YOUR BUTT OUT OF BED AND GET YOUR PROPERTY READY FOR THE TWO SHOWINGS TODAY, THE FIRST ONE AT 10:15 A.M."
"But I'm tired, and I didn't get home until 1:30 a.m. because of that crazy storm that blew through Nebraska last night."
"I KNOW ALL ABOUT IT, MY SON. I WAS THE ONE THAT WHIPPED UP THAT LITTLE SURPRISE FOR YOU. THAT IS WHY YOUR FLIGHT HOME FROM ATLANTA HAD TO BE DIVERTED TO KANSAS CITY, AND WHY YOU EVENTUALLY HAD TO RENT A CAR AND DRIVE BACK TO OMAHA."
"But why would You do that to me?"
"TO TEACH YOU A LESSON, MY SON. TO MAKE YOU UNDERSTAND THAT IT MAY NOT YET BE TIME TO SELL YOUR PROPERTY. YOU SHOULD HAVE ASKED ME FIRST. OH, AND IN ADDITION TO THE THREE HOURS OF SLEEP, WHEN YOU GO OUTSIDE YOU WILL ALSO FIND THAT I HAVE ARRANGED FOR HUNDREDS AND HUNDREDS OF TREE BRANCHES, LEAVES AND OTHER ARTICLES OF TREE AND LAWN DEBRIS TO BE DROPPED UPON YOUR DRIVEWAY, AROUND YOUR FRONT AND BACK DOORS, IN YOUR POOL, AND IN THE ENTIRE POOL AREA. YOU WILL NEED TO CLEAN ALL THAT UP BEFORE YOUR FIRST SHOWING THIS MORNING."
"Well, that sucks, but at least I have my four children to help me out, so that's a relief."
"YOU HAVE BEEN SNIFFING AIRPLANE GLUE AGAIN, SKIPPER. YOU ARE ON YOUR OWN ON THIS ONE."
"Tell me something I don't know."
"IT IS ALL PART OF THE LESSON AND MY GRAND PLAN FOR YOU."
"Who are You, anyway? You sound a lot like the guy from Lion King, and what is that little creature on Your shoulder?"
"OH, YOU MEAN RAFIKI? HE IS MY SIDEKICK."
"Wasn't he with You in Lion King? Why is he here with You now?"
"HIS AGENT IS MY BROTHER-IN-LAW. WHERE I GO, HE GOES."
"Back to the clean-up drill. So You are saying, not only do I have to pick up my kids' perpetual messes in their rooms, in the basement, family room and kitchen, I also have to clean up all of the storm debris in the pool area and all around the house?"
"THAT IS RIGHT. YOU ARE A QUICK STUDY."
"But that will be hours and hours of exhausting work. It's only fair that my kids should help."
"THE ONLY FAIR AROUND HERE HAS MOVED TO GRAND ISLAND, AND THAT'S NOT UNTIL SEPTEMBER."
"And I will have to do this before each and every house showing, I mean, work for hour upon hour like a Tasmanian devil, to get it all picked up and cleaned up and such?"
"HOW ON EARTH DID YOU MAKE IT THROUGH COLLEGE, SON? YES, OF COURSE, BUT ONLY IF YOU WANT TO SELL THE PLACE."
"Do I have any other options?"
"HOW MUCH INSURANCE DO YOU CARRY? I HAVE THIS FRIEND, TIMON THE TORCH, I COULD REFER YOU TO."
"No, thanks. I'm sure I'd get caught. And I wouldn't do well in prison."
"INDEED, YOU WOULD NOT."
"Could You remind me again why my kids won't be out here helping me with all this work?"
"IT IS THEIR BIRTHRIGHT. IN THE SUMMER, THEY GET TO SLEEP LATE EVERY DAY, GET UP, HAVE ALL OF THEIR FRIENDS OVER TO SWIM AND HOT TUB AND TRASH THE PLACE, AND EAT YOU OUT OF HOUSE AND HOME, ALL WITHOUT LIFTING A FINGER TO HELP. ACCEPT YOUR BLEAK FATE AS A PARENT AND MOVE ON."
"Okay, I guess I'll get to work, Big Guy in the sky. You know, we've been here at One Particular Harbor for 17 years this fall. I will really miss this great place, although not all the work."
"GO ON."
"Well, I'm just saying, this is a big change for me. Do You have any advice?"
"FOR THAT, I GIVE YOU MY SAGE FRIEND RAFIKI."
RAFIKI: (in a deep Caribbean accent) "CHANGE IS GOOD, MY FRIEND, BUT IT'S NEVER EASY."
"That's it? You woke me up at 4 a.m. for that?"
"I DO WHAT I CAN. HAPPY HOUSECLEANING, MY FRIEND."
And then I woke up. And with that, I bid you farewell for this issue. Have a great weekend!
Skipper