Brethren,
Instead of starting with the (ho-hum) standings, showing the Blessed Butterflies in 1st place by a landslide, and while simultaneously showing the Senators (yawn) vying for a spot near the League cecum, let's talk about something a little bit more elevating, such as a recent great read. Okay, so I am copycatting Jester and his excellent 7th Inning Stretch of last week, but I am hoping that he will take it as the highest form of flattery, so here goes:
By Jack Kerouac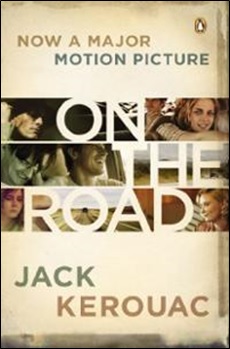 Now that I have finished reading the seminal book about the Beat Generation and road-tripping across the USA, I can hardly believe that I waited this long to pick up a copy and dig it. While it wasn't one of those rare books that I just couldn't put down, it is definitely an intriguing story of travel and the Beat lifestyle of a small cadre of some true and some self-styled intellectuals. Personally, I would be uncomfortable sitting cross-legged on a bed with any of you, staring into your eyes and "digging" you while you blurted out some made-up nonsensical prose, following which we would both snap our fingers. Awkward, with a capital A. But hey, I'm not judging.
What I did not know was that the "Beat" Generation had its true beginnings in the late 1940s, not the '50s, and that most of these people were shiftless loners who sponged off their friends and relatives to support their carefree lifestyles. I found it somewhat surprising that there was not much talk about the use of mind-altering substances to go along with the rampant dialogue about all of the abundant free love that these dudes seemed to be experiencing, until the very end of the book when they made a road trip south of the border and got their hands on some really amazing smokes. Timing-wise, it seems as if the Beat Generation essentially morphed into the 1960s decade of the hippies, and that the hippies took what they liked about the beatniks (freedom, complete lack of responsibility, free-wheeling sex), cut out the stuff they didn't (phony intellectualism, finger-snapping), and added in the psychedelic drugs to give their generation their own mark. Not a terrible formula.
Bottom line on the book: A good read. I'm guessing several of you (Stretch, Possum, Tricko, Screech perhaps) have already read On the Road, but anyone who hasn't and who would like to borrow my copy, let me know and I will drop it in the mail for your consumption. Hope you really dig it, man.
The 7th Inning Stretch listed several books that McJester has read, or is reading, this summer, and it would appear that Stretch, like me, has several different books that he is working on at any given time. I don't know if he does what I do, but I will pick up a book and start reading it for a while, and then—unless it is a scintillating page-turner that I can't put down—put it on my night shelf to be resumed next week, next month, next year, maybe even next decade. I do eventually finish reading almost every book that I start—with only a few exceptions—but sometimes it takes me a very long time to wrap up with a read. A perfect example is the Arthur Schlessinger book on Robert Kennedy that I finally finished up sometime last year, but which I originally picked up and started to read some twenty or thirty years ago.
Anyway, I blather on. Here are the books that are currently on my nightstand, in various stages of completion:
1. A Farewell to Arms—Ernest Hemingway
2. Connie Mack in the Early Years of Baseball
3. Younger Next Year
4. The History of the World in Bite-Sized Chunks
5. Welcome to the Big Leagues—Every man's
journey to significance—the Darrel Chaney Story
6. Seven Men and the Secret of Their Greatness
7. Baseball in the Garden of Eden
8. The Art of Fielding
9. Men are from Mars, Women are from Venus
10. Scorpion Tongues: Gossip, Celebrity and American Politics
11. The Kid from Tomkinsville
12. Einstein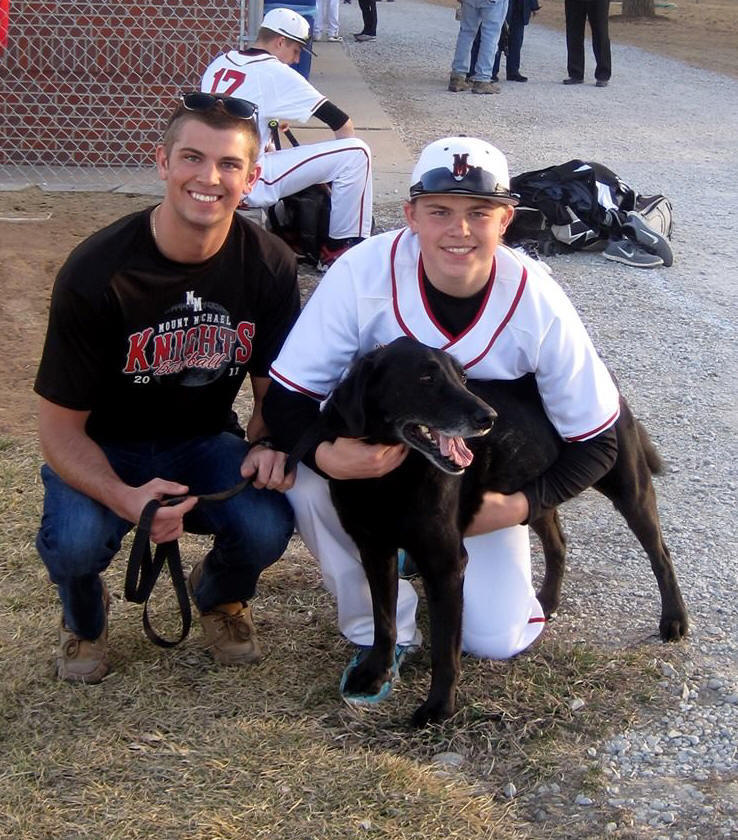 Our beloved black Labrador, Bear, drifted off to sleep one final time last month, ending more than a decade of valiant and loyal service to the Ernst family. Although his breath was horrific and I cleaned up more of his messes than I care to reflect back upon, Bear will be sorely missed. He guarded the homestead at One Particular Harbor and the four Ernst children with great courage and tenacity, as his strong bark and fierce baring of his teeth kept many a uniformed service person at arm's length; and yet he never bit anyone, to my knowledge, and was friendly and agreeable with everyone once he knew that they were not at our house to do harm to his family.
Bear came to us a playful and ornery little pup, and left us a dignified and brave senior statesman, er, senior statescanine. Even his last days were filled with courage and glory, as he took down two menacing raccoons at OPH not two weeks before drawing his final breath and, like Chelsea, was a warrior to the very end.
Rest in peace, good and faithful friend. You will be missed.
A VISIT TO HORNED FROG COUNTRY
A couple of weeks ago I took a trip down to Fort Worth with Will for orientation at Texas Christian University, where Will will be matriculating in the fall. TCU is one of the most beautiful college campuses I have ever set foot on, a beautiful assembly of buildings with the same architectural style and color, with lots of recent and new construction, apparently chiefly financed by Texas oil barons. At least two of the buildings that I saw on the trip were constructed through multimillion dollar donations from a 94 year-old oil tycoon by the name of William Alvin "Tex" Moncrief, Jr., who might as well be named J.R. Ewing, so steeped in scandal and intrigue is the family.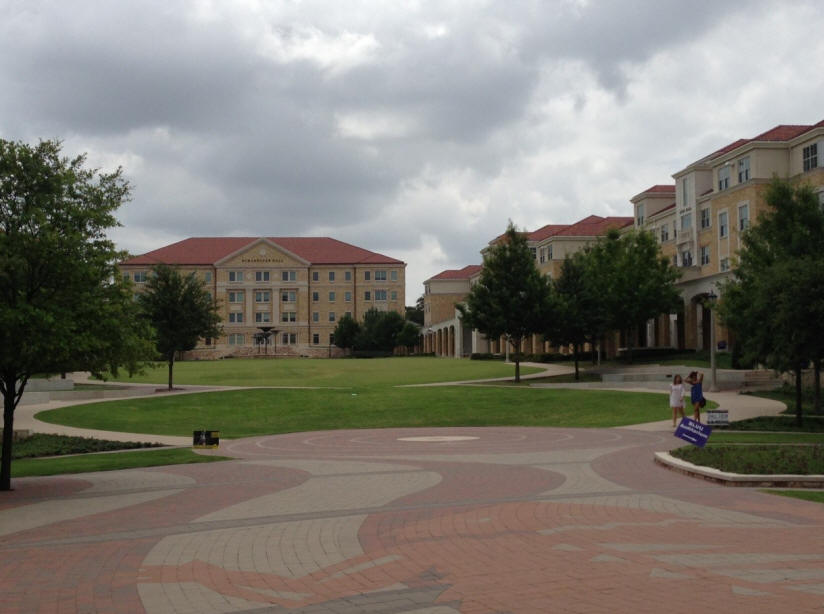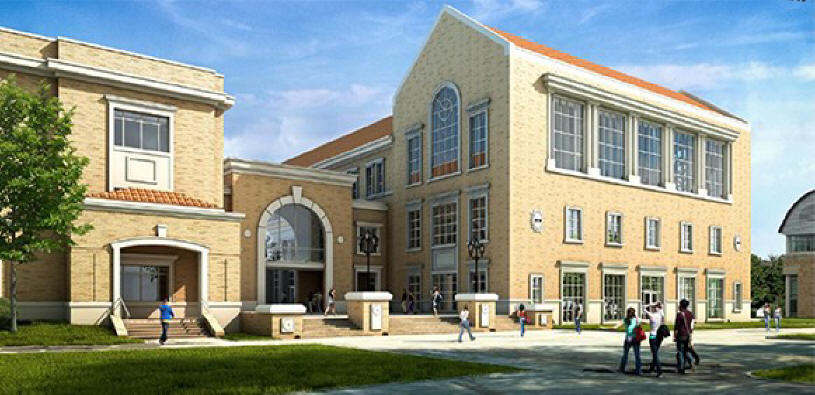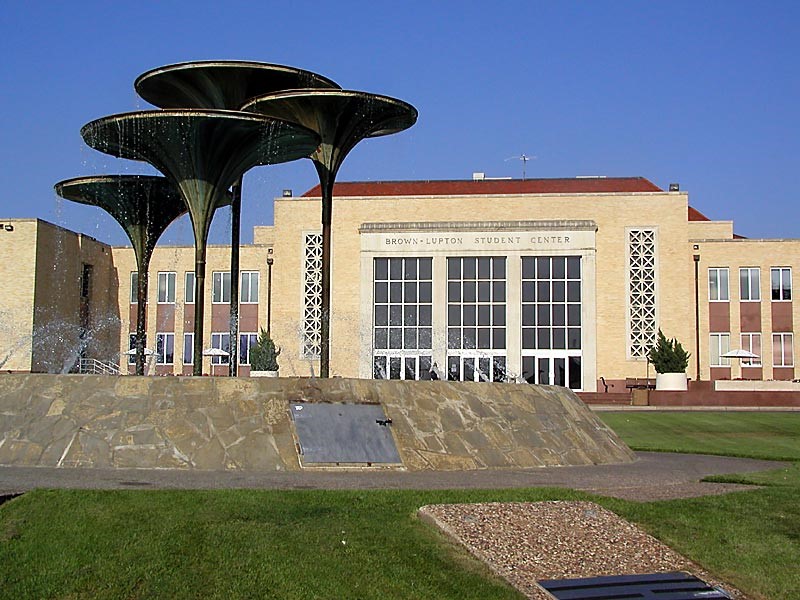 After having visited TCU, I can see why Will is opting to be a Horned Frog instead of a Cornhusker. With a 63% to 37% female-male ratio, and about 98% of the 63% being gorgeous, this was not a difficult decision for young Will. I kidded Will about taking a sabbatical from my firm and going back to school with him, á la Rodney Dangerfield, suggesting that we would have a much better chance of getting into a good fraternity if we went in as a package deal and he let me do most of the talking. Needless to say, young Will wasn't even remotely entertained by the idea.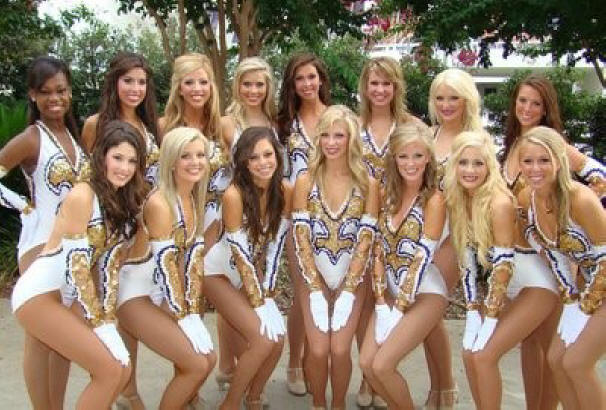 When we first walked onto the campus, I suggested to Will that we stroll over to the football stadium to get a look at it. When we walked inside, there was a game going on, or so it appeared. At first I thought it was perhaps a high school All-Star game, but since we were there on a Thursday, this seemed unlikely. The players seemed way too small to be college football players, and hence the thought about a high school contest of some sort. Then, I noticed that the 200 or so fans in attendance were all dressed up in what appeared to be 1960s garb, as were the reporters who were "covering" the game, and I quickly surmised that they were filming a movie.
I spotted a guy wearing 2014 apparel who was taking notes, and so I approached him and asked him what he could tell me about the movie that they were making. The scribe from the Fourth Estate cheerfully informed me that they were making a movie about the relationship between former Texas Longhorns coach Darrell Royal and a gutsy little ballplayer from Denver, Colorado, by the name of Freddie Steinmark, who started every game for the Longhorns at defensive back during the 1969 season despite being in tremendous pain from what eventually would be diagnosed as cancer of the leg, resulting in the amputation of his leg at the end of the regular season and his eventual death in 1971. The movie is set to come out in 2015, and will be titled My All American. Here is a blurb from the internet about this great story:
Of all the players in the glorious history of University of Texas Longhorns football, the late Freddie Steinmark remains one of the most loved and revered. "In his short time at Texas, Freddie became a hero," current Longhorns Head Football Coach Mack Brown wrote in the prologue to Courage Beyond the Game: The Freddie Steinmark Story, a new biography of the hard-hitting safety whose heroic story riveted the nation. "Not necessarily for what he did, although he was a fine player, but for who he was."
It's little wonder that two large photos of Steinmark adorn the walls of the tunnel leading to the field at Darrell K. Royal-Texas Memorial Stadium in Austin. Just seconds before charging onto the turf before games, each Texas player touches one of the photos with the Hook 'em Horns hand salute.
It is one of the university's most respected traditions.
Coming out of high school and enrolling at The University of Texas (UT) in the fall of 1967, Steinmark provided an underdog story that touched every heart. Not a single big-time football program recruited the feisty scatback in spite of his selection for the Denver Post's Golden Helmet Award as the best high school scholar/football player in Colorado. That was before Coach Darrell Royal studied film of the diminutive Steinmark and decided to take a chance.
Royal dispatched Assistant Coach Fred Akers on a fact-finding mission to Steinmark's hometown of Wheat Ridge, Colorado. Akers knocked on the door, and a slight youngster greeted him with a big smile. Akers actually thought it was Steinmark's younger brother, Sammy, six years his junior.
On his recruiting trip to Austin, Steinmark wore high-heeled cowboy boots, hoping he would look taller. He stood 5 feet, 9 inches and weighed 150 pounds.
When he sat down on the other side of Royal's long oaken desk, he could barely believe what the coach said.
"Son, let me tell you something very interesting," Royal said. "I didn't get to the University of Oklahoma until I was 25 years old because of the war. I was just about your size. I quarterbacked the Oklahoma Sooners to a national championship one year. On defense, I broke the record for interceptions. I don't care how big you are."
That day, Steinmark committed to UT and made a vow to himself that he would start every game. He did not care how high the odds were stacked. When Steinmark arrived for fall practice, sophomore rover Mike Campbell mistook him for a team manager.
"The kid looked like he was 15 years old," Campbell recalled.
That was before Steinmark was issued a uniform and began knocking freshman teammates all over the field.
Playing for the Yearlings (the freshman team's mascot) during an unbeaten five-game schedule, Steinmark led the Southwest Conference (SWC) in interceptions with four. During a 45-0 victory over Texas A&M University in the season finale, Steinmark returned a punt 76 yards for a touchdown.
Everything was clicking for the young man with the warm smile and bright, sparkling eyes. He strolled the campus with his blonde-haired, blue-eyed girlfriend, Linda Wheeler, whom he had dated since the eighth grade. Freddie was making good grades, attending Catholic mass on a regular basis and living the ideal life.
On the first day of preseason drills in 1968, Steinmark replaced Scooter Monzingo at safety on the varsity defense. It was rare when Royal opened the season with a sophomore in the starting lineup, but Steinmark, with his speed and agility, offered the perfect antidote to some of the country's best passing attacks, which were popping up all over the SWC. (The conference was formed in 1914 and disbanded in 1996, with four of its members—UT, Texas A&M, Texas Tech University and Baylor University—uniting with the Big Eight Conference to create the Big 12 Conference.)
The Longhorns began the 1968 season raggedly, tying Houston and losing to a mediocre Texas Tech team. But with James Street replacing Bill Bradley at quarterback, the wishbone offense began to roll in the third game against Oklahoma State. The Longhorns won eight straight games en route to 18-wheeling Tennessee 36-13 in the Cotton Bowl, finishing the season as the third-ranked team in the national Associated Press (AP) poll.
The start of the 1969 season generated enormous hope. America's sporting press trumpeted Texas as a possible national champion, and the ABC television network persuaded Texas and Arkansas to move their mid-October game to December 6 with the prospect of playing for the collegiate title on national TV.
Steinmark was named to the preseason All-SWC team. But he had developed a limp, and the Texas coaches were keeping an eye on him. The hitch in Steinmark's gait had first been spotted that summer by his boss at a car dealership in Denver. Then his dad, Fred Steinmark, noticed him running unevenly during conditioning sprints.
In the early part of the season, Steinmark tried to hide his pain. Finally, Akers insisted that he undergo treatment from team trainer Frank Medina. He initially diagnosed the injury as a charley horse that would heal in time. Steinmark limped his way through the season, intercepting only one pass.
Both Arkansas and Texas rolled through the season with nine straight wins. The Horns and Hogs were ranked 1 and 2, respectively, in the AP Top 20 poll for the "Big Shootout'' in Fayetteville, Arkansas. Steinmark was limping so badly in pregame warmups that his friend, Bill Zapalac, began to call him "Ratso," the gimpy, third-rate con man played by Dustin Hoffman in "Midnight Cowboy."
The Texas coaches considered benching Steinmark before recognizing the extent of his contributions during the 18-game winning streak. In spite of his limp, Steinmark remained a savvy coverage man, never letting a receiver past him. Plus, when tackling, he packed a sledgehammer wallop.
The Shootout
December 6, 1969, was cold and drizzly in Fayetteville. Almost every seat in Razorback Stadium was filled more than an hour before kickoff, and President Richard Nixon was in attendance.
Steinmark was limping badly.
Arkansas built a 14-0 lead through three quarters. But two Texas miracles were coming: Street opened the fourth quarter by splitting the Arkansas defense and sprinting 42 yards for a touchdown. He also scored the two-point conversion. With six minutes and 32 seconds left to play, he completed a 43-yard pass to Randy Peschel on fourth down to set up another touchdown. Jim Bertelsen's 1-yard touchdown run and Happy Feller's extra-point kick made it 15-14.
That deficit was almost erased on Arkansas' next possession. The Hogs targeted Steinmark on a post route by Chuck Dicus. The little safety showed a huge amount of gumption, grabbing the All-America wide receiver as he ran past him. The holding penalty moved the Hogs to the 7-yard line—but they did not score. Three plays later, Steinmark's gamble paid off as UT's Danny Lester intercepted quarterback Bill Montgomery at the goal line, killing the scoring threat.
At the final gun, the pain finally died in Steinmark's leg. Numbed by the excitement and the adrenaline, he danced with his teammates along the sideline. Then he took off running at full speed for the dressing room. When he came upon teammate Steve Worster, he asked, "Why are you crying?"
"No, Freddie," Worster replied. "Why are you crying?"
Tragic News
Three days later, Steinmark finally confessed his pain to Royal. The coach sent him for X-rays, and a few hours later, Steinmark learned he might have a tumor at the tip of his left thighbone. He was flown to Houston's M.D. Anderson Hospital, and a biopsy was scheduled. Royal caught the next flight back from New York, where his team was receiving the MacArthur Trophy as the national champion. He paced the hospital's hallways, repeating the same phrase. "I can't believe this is happening."
The biopsy revealed that Steinmark had played most of the season with almost an inch of his femur devoured by cancer. The leg was amputated at the hip. But Steinmark was not about to be beaten by osteosarcoma, a malignant bone tumor. He was up and walking on crutches within a few days, and soon announced that he would stand on the sideline during the Longhorns' Cotton Bowl matchup with Notre Dame.
Nineteen days after the operation, he crutched down the long Cotton Bowl tunnel to a standing ovation. He saw his team rally in the fourth quarter once more to defeat the Fighting Irish 21-17.
Twelve days later, he walked across the stage on a shiny new prosthetic to receive his letter jacket from Royal. There was not a dry eye among the 6,000 fans at the Austin Municipal Auditorium.
Steinmark's life in the next few months became a whirlwind of change. One night at a restaurant, he broke up with Linda, telling her: "Linda, I might not make it. You, on the other hand, have a long life ahead of you. We are going to live two different lives."
He moved into the Catholic rectory on the east side of town. He drove his first car, a brand-new blue Grand Prix. He learned to play golf and water ski on one leg, visited Nixon in the White House, grew his hair out, and even started drinking beer for the first time.
By the fall, he was missing Linda so badly that he asked her to come back. They were walking across campus one day when Freddie spit blood on the ground. Linda rushed him to the hospital, and soon he was undergoing painful chemotherapy treatments for lung cancer. With his hair falling out, Steinmark asked his friend, Texas offensive tackle Bobby Wuensch, to shave his head in front of the entire team as a form of "hazing" for becoming a freshman coach. Steinmark, who had been named a coach by Royal, did not want the team to know his condition was deteriorating.
Over the Christmas holidays, Freddie and Linda went to see "Love Story," the movie about two Harvard students, Jennifer Cavalleri (played by actress Ali MacGraw) and Oliver Barrett IV (Ryan O'Neal). In the movie, Oliver marries Jenny, and she is soon stricken with deadly leukemia.
Before seeing "Love Story," Freddie and Linda knew nothing about the storyline. Thus, they were rendered speechless at the end. Standing outside in the falling snow, in Denver, a tearful Freddie said, "We just watched our future."
A few days later, in spite of his bleak condition, Freddie proposed marriage. Rings were purchased and a date of May 23, 1971, set for the wedding. Linda sewed her own dress, and Freddie bought a white Italian suit for the wedding. Invitations went out.
But the wedding was called off: On May 23, Freddie was beginning to slip in and out of a coma. He died on June 6, 1971, and the funeral held in Denver drew the largest crowd in the history of the state.
The glorious life of Freddie Steinmark spanned 22 years, five months and nine days. On the morning he died, he was a national symbol for courage. His great friend and teammate Tom Campbell compared Steinmark to Notre Dame legend George Gipp, who died at the age of 25 and is considered by some to be the greatest all-around player in the history of college football. "Freddie," Campbell said, "was George Gipp without all of the hype."
Or, as former trainer Spanky Stephens summed up: "Freddie gave us a road map for life."
It looks like a movie that we won't want to miss.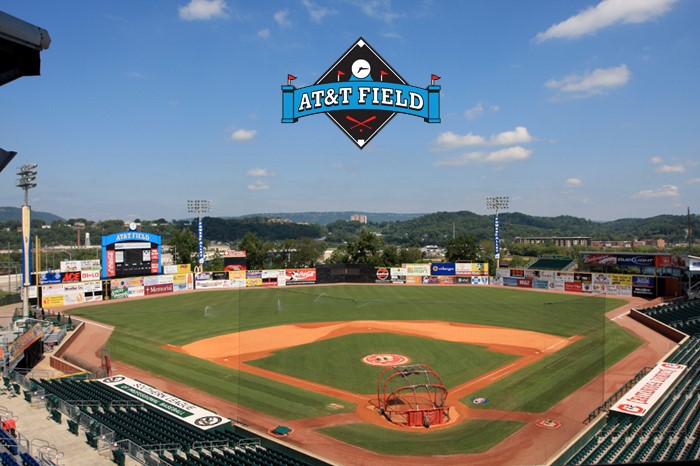 Last month I took a trip to Chattanooga to depose an expert in emergency medicine, and as luck would have it, the Chattanooga Lookouts, a AA farm club of the Los Angeles Dodgers, was in town and hosting the Mobile Bay Bears at AT&T Field. Built in 2000, AT&T Field is a charming venue located in downtown Chattanooga, adjacent to the Tennessee River.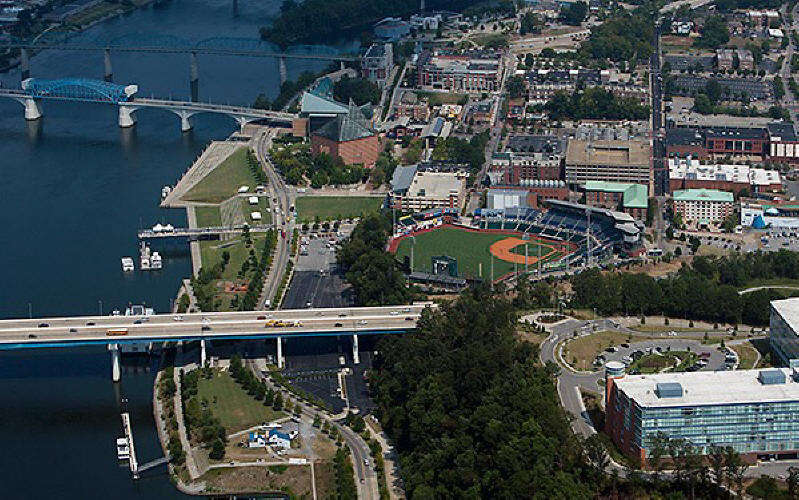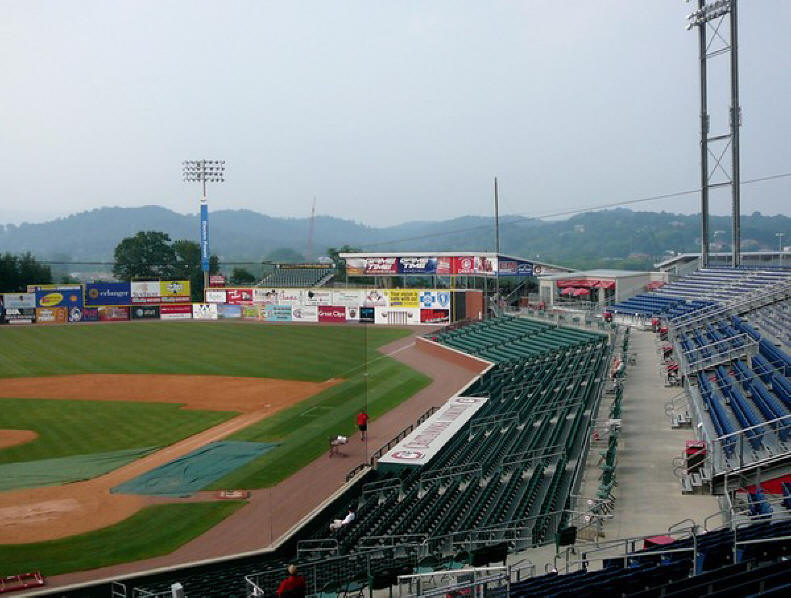 AT&T Field is a beautiful jewel of a ballpark, with uber-friendly stadium workers with sweeter-than-honey southern drawls. The ballpark features Lasorda's Landing (see picture below, with beloved mascot Looie the Lookout working the crowd) along the first base line, and a section deep down the first base line where you can sit and look directly down the line to the batter, a spectacular viewpoint for the game.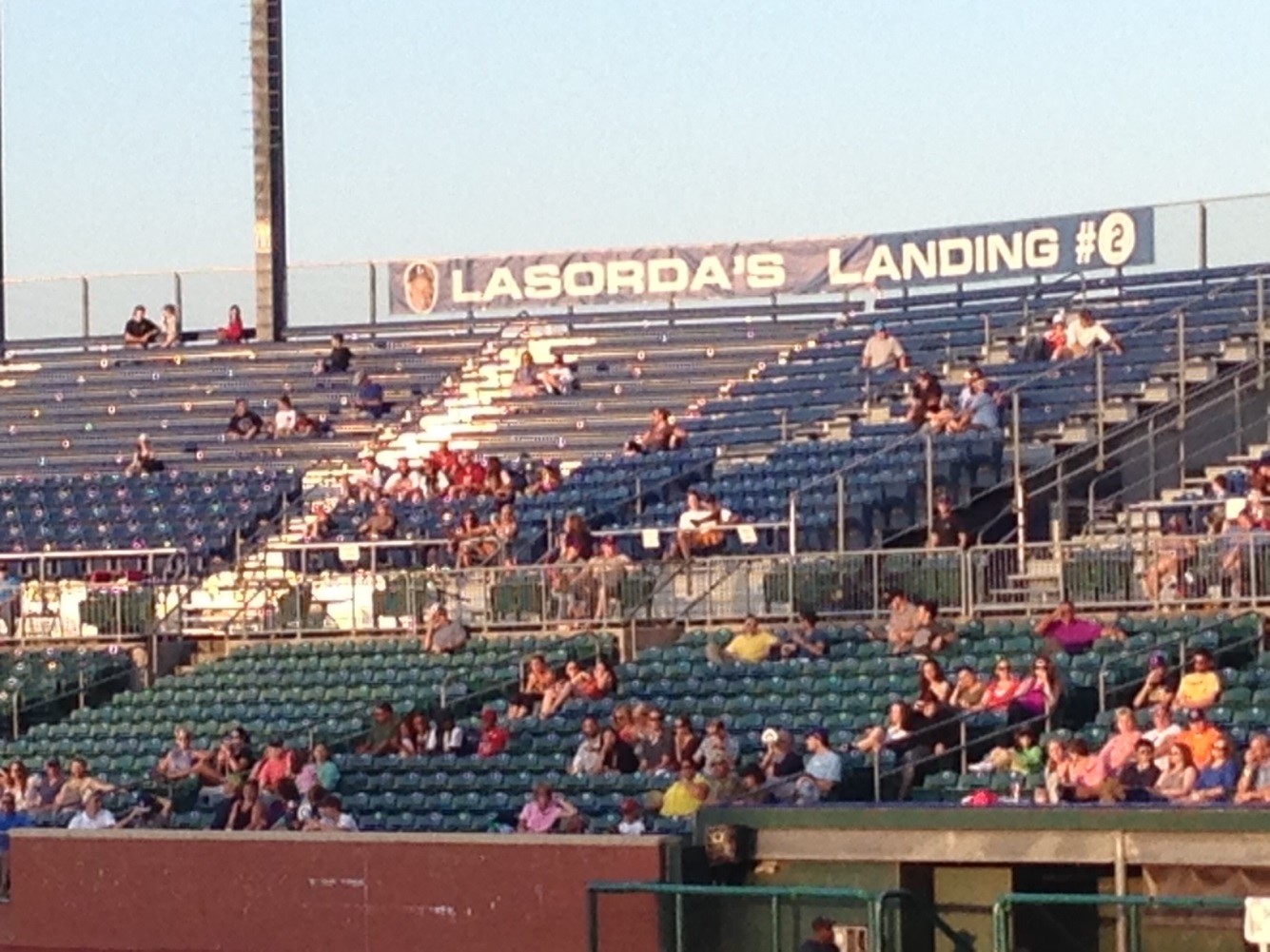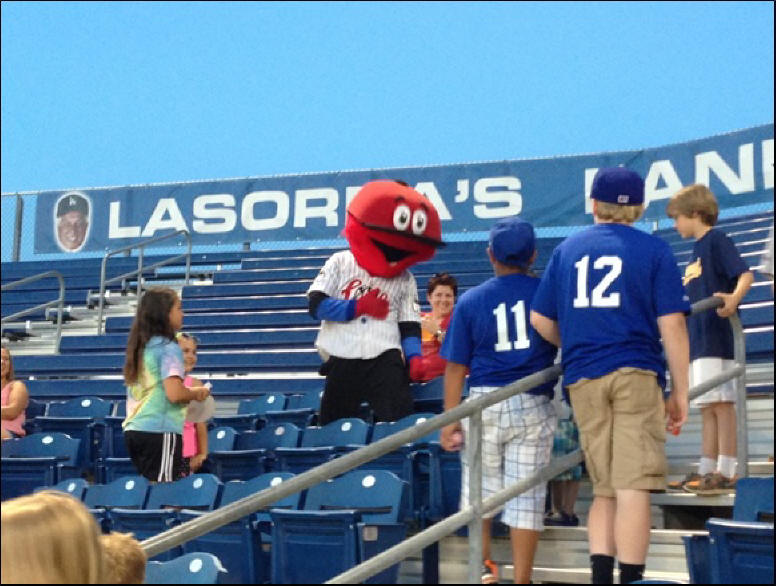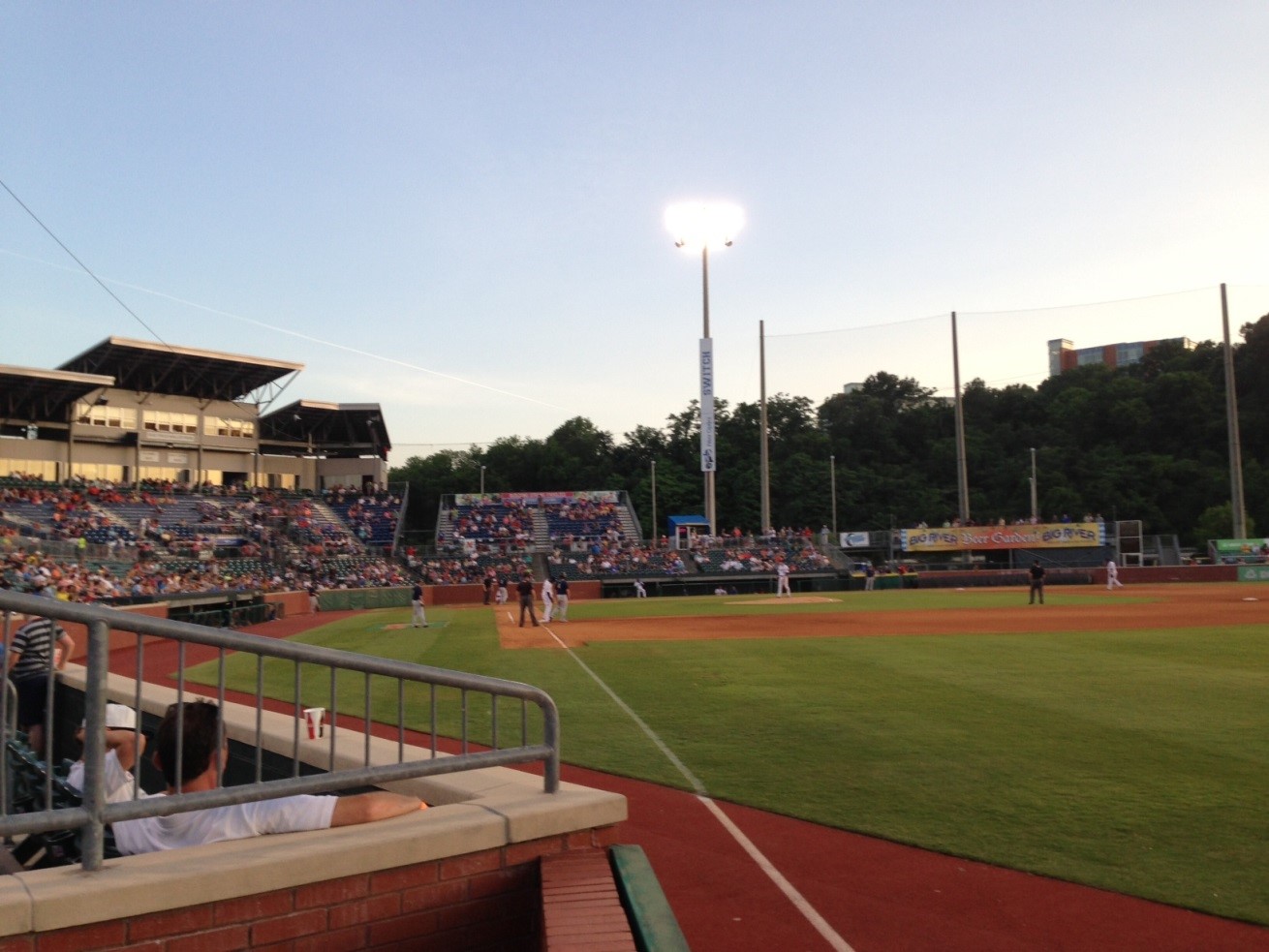 The quintessential minor league journeyman, Razor Shines, manages the Lookouts and was entrenched in the third base coaching box for the game, as depicted here.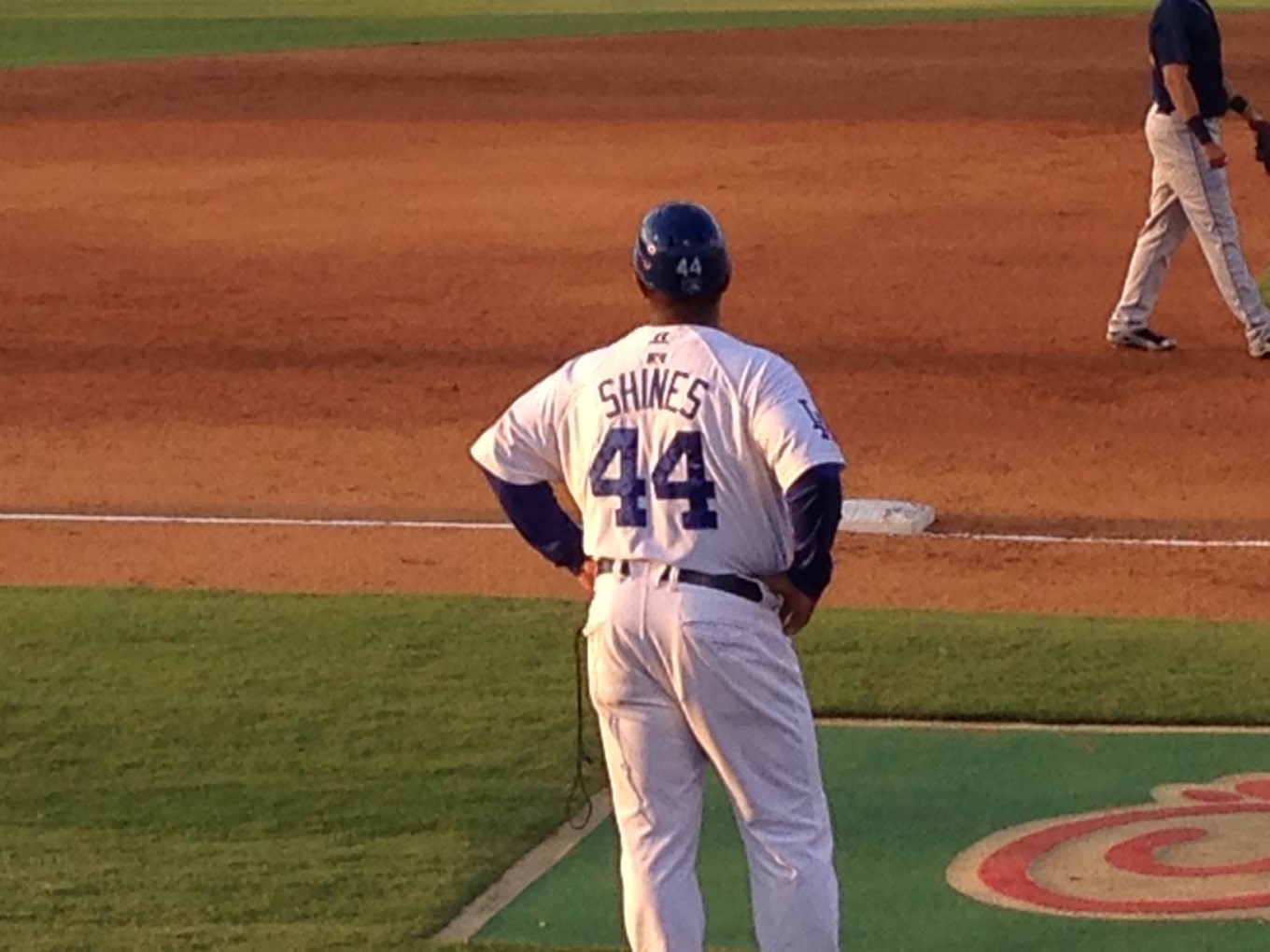 Last season, Yasiel Puig began the year at Chattanooga, and absolutely tore up Double-A pitching before being promoted to the parent club. This season, a 23-year-old native of Cedar Rapids by the name of Scott Schebler is the hitting star for the Lookouts. After high school, he played for a season or two at Des Moines Area Community College before being drafted by the Dodgers in the 26th round of the 2010 Amateur Draft and entering the professional ranks. The night before the game I saw, Schebler had a monster game at the plate, hitting for the cycle.
Scott Schebler came to hit in the ninth inning knowing what he needed to do.
The game was pretty much out of hand, with Schebler's Chattanooga Lookouts down, 16-7, to Mobile in the Double-A Southern League. But Schebler, No. 15 on the Dodgers' Top 20 prospect list, knew he needed just one more hit for his first professional cycle: a home run.
With one on and one out, Schebler came through off of Jimmy Sherfy, hitting a two-run shot to give himself the hard-to-achieve offensive feat, albeit in a 16-9 defeat.
The homer, Schebler's 11th of the season, capped off a four-hit day for the outfielder. The No. 5 hitter in Chattanooga's lineup, Schebler started off with a strikeout in the second. He then singled and scored in the fourth, tripled to lead off the bottom of the sixth, doubled in a run in the seventh, then hit the two-run blast his final time up.
A year ago, Schebler put his name on the radar map with a huge year in the California League, leading the Class A Advanced circuit in extra-base hits and total bases, finishing with 27 homers and 91 RBIs to go along with his .581 slugging percentage. His 11 home runs this year puts him in a tie for second in the Southern League and he's third in slugging with a .533 mark
On the night (June 2) that I saw Schebler play, he had a double and an RBI in a 7-6, 10-inning win, but he also hit a monster blast that was just foul down the right field line, and then another long ball that was caught at the fence in right. Not that the Dodgers have a lot of room for outfielders in their lineup, but I would look for this young fellow to be a future Major League fixture in L.A.
In addition to Razor Shines, also coaching for the Lookouts was Shawn Wooten and Scott Radinsky, once again demonstrating that there is always a spot somewhere in the Minors for a former Major Leaguer of good character and good cheer.
For my money, AT&T Field is one of the top Minor League venues in the land.
And now, without further ado, our league standings through 14 weeks of play:
| | | |
| --- | --- | --- |
| 1 | Monarchs | 7038.80 |
| 2 | Wahoos | 6809.30 |
| 3 | Tigers | 6616.30 |
| 4 | Redbirds | 6458.10 |
| 5 | Cubs | 6443.50 |
| 6 | Chiefs | 6414.20 |
| 7 | Tribe | 6412.70 |
| 8 | Bums | 6272.10 |
| 9 | Blues | 6055.10 |
| 10 | Bears | 6026.90 |
| 11 | Senators | 5984.90 |
| 12 | Skipjacks | 5947.80 |
| 13 | Bombers | 5873.70 |
Next week: Jimmy sounds off with THE CRIMSON CHIRPER.
Best,
Skipper