Brethren,
Last week's Bellyflop was another masterpiece from Brother Underbelly, chocked full of his wry and keen observations about contemporary baseball players, fantasy baseball and life. As soon as his lucrative retirement plan at the Art F/X shipping department is fully vested, I think he should tell The Man to "stick it" and then make his way out on the stand-up comedy circuit. Cult worship awaits him if he can perfect an arid delivery (think Bob Newhart) of his fabulously funny material.
Mindful of the act that I am following, this issue of From the Bullpen will be mostly factual and informational, with little to no attempt to evoke any laugh-out-loud responses. With the bar thusly set low, we will begin with the standings through games of last night, Wednesday, August 20, 2014:
| | | |
| --- | --- | --- |
| 1 | Monarchs | 9831.00 |
| 2 | Wahoos | 9532.10 |
| 3 | Bums | 9336.40 |
| 4 | Chiefs | 9301.90 |
| 5 | Redbirds | 9154.20 |
| 6 | Tigers | 9147.90 |
| 7 | Cubs | 9071.60 |
| 8 | Bears | 9047.50 |
| 9 | Tribe | 8908.20 |
| 10 | Blues | 8685.60 |
| 11 | Bombers | 8512.00 |
| 12 | Skipjacks | 8480.40 |
| 13 | Senators | 8405.30 |
TOP TEN HITTERS
| | | | |
| --- | --- | --- | --- |
| 1. | Giancarlo Stanton | Skipjacks | 553.10 |
| 2. | Mike Trout | Chiefs | 551.80 |
| 3. | | Monarchs | 498.00 |
| 4. | | Bears | 493.30 |
| 5. | | Monarchs | 491.10 |
| 6. | | Wahoos | 490.50 |
| 7. | | Redbirds | 490.00 |
| 8. | | Bears | 487.80 |
| 9. | | Tigers | 474.20 |
| 10. | | Bums | 473.60 |
TOP TEN PITCHERS
| | | | |
| --- | --- | --- | --- |
| 1. | Félix Hernández | Tigers | 730.00 |
| 2. | Johnny Cueto | Monarchs | 715.00 |
| 3. | Corey Kluber | Tribe | 642.00 |
| 4. | David Price | Bombers | 635.00 |
| 5. | Clayton Kershaw | Cubs | 630.00 |
| 6. | Max Scherzer | Blues | 624.00 |
| 7. | Adam Wainwright | Cubs | 605.00 |
| 8. | Jon Lester | Wahoos | 581.00 |
| 9. | Julio Teherán | Wahoos | 547.00 |
| 10. | Chris Sale | Tribe | 543.00 |
WILL THE THRILL GOES TO COLLEGE
I just moved Will into his dorm room at TCU in Ft. Worth yesterday, and for all of you who have dropped a kid off at college in another state, you know how bittersweet the feelings are. Thrilled to death to see your young man or young woman ready to begin one of the most exciting and enriching times of their lives, and yet, not yet quite ready to let them go. At 19 years of age and living with a dorm full of boys more than 600 miles away, I have to realize that there's not a lot more I can do at this point in time to impact young Wilbur's manifest destiny. It's time for someone to grow up. Me. Will, he's going to be fine.
After moving Will into Clark Hall, we met up with my brother Dan—who lives in the Dallas area—for lunch at Dutch's, a greasy burger joint about two blocks from Will's residence hall. After watching the events of the lunch hour, the comings and goings of the excited coeds starting or resuming their college careers, I can imagine Will being a frequent flyer at Dutch's. And thinking, it probably wouldn't take much to convince me to trade spots with him, given the chance. Four years of college at TCU wouldn't be a bad way to spend anyone's next four years.
As I steeled myself to say goodbye and hit the road for parts north, and after capturing one final hug as the emotions torrented through my head, Will calmly and rationally reminded me, "See you in three weeks, Dad," (TCU family weekend). Yes, that's true, and it is time for someone to grow up.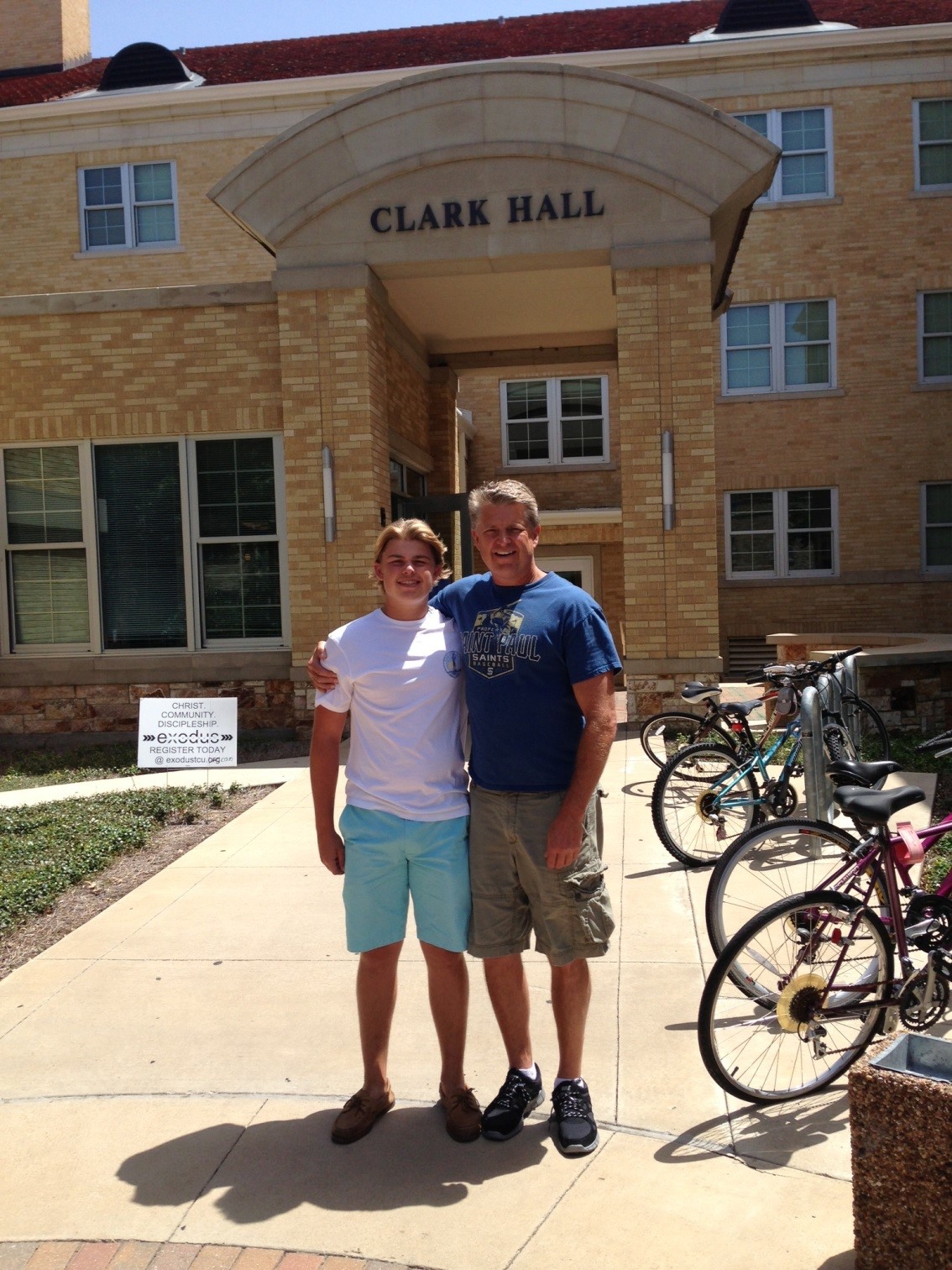 Son comforts dad.
AT THE OLD BRICKTOWN BALLPARK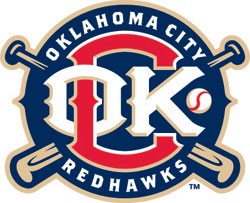 As I was motoring home from Ft. Worth, right around 6:00 p.m. last evening, I was passing through Oklahoma City when I saw a sign that there was a ballgame at the old ball yard, the Chickasaw Bricktown Ballpark, to be precise. What luck. A venue which I have long yearned to visit, and wouldn't you know it, the hometown RedHawks were playing in a PCL game against El Paso there that very evening at 7:05 p.m. Not one to turn his back on such pure kismet, I persuaded my Ford Explorer off the interstate and across the Cinderella City until I reached 2 South Mickey Mantle Drive. I parked my car, walked past the impressive granite tributes to hometown hero Johnny Bench and the winningest southpaw of all time, Warren Spahn, and plunked down my 13 bucks at the ticket window for a seat inside Bricktown.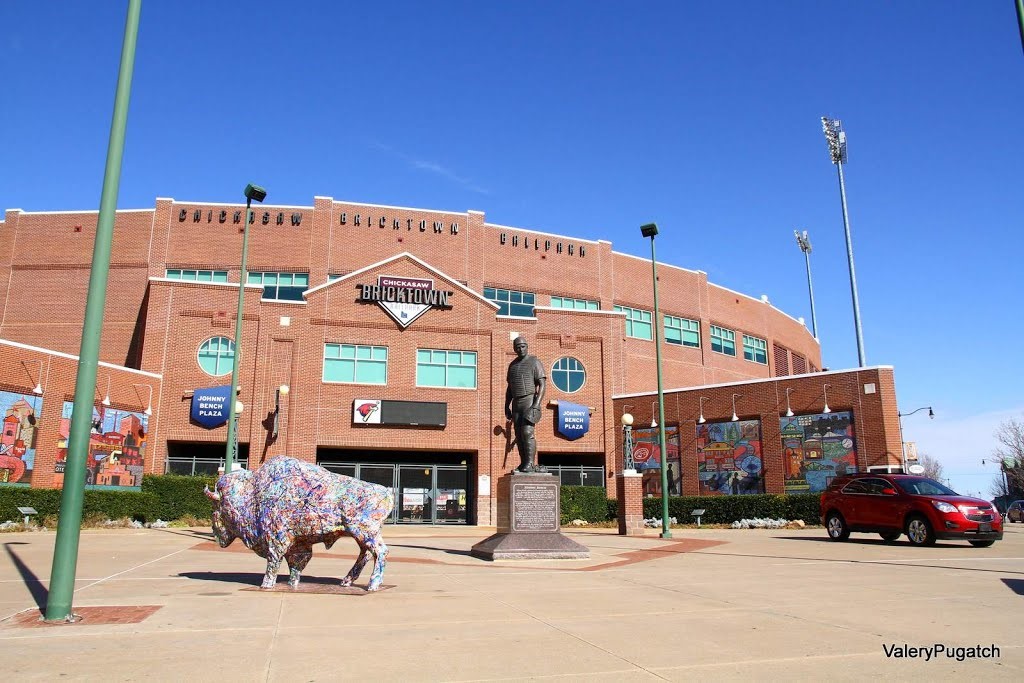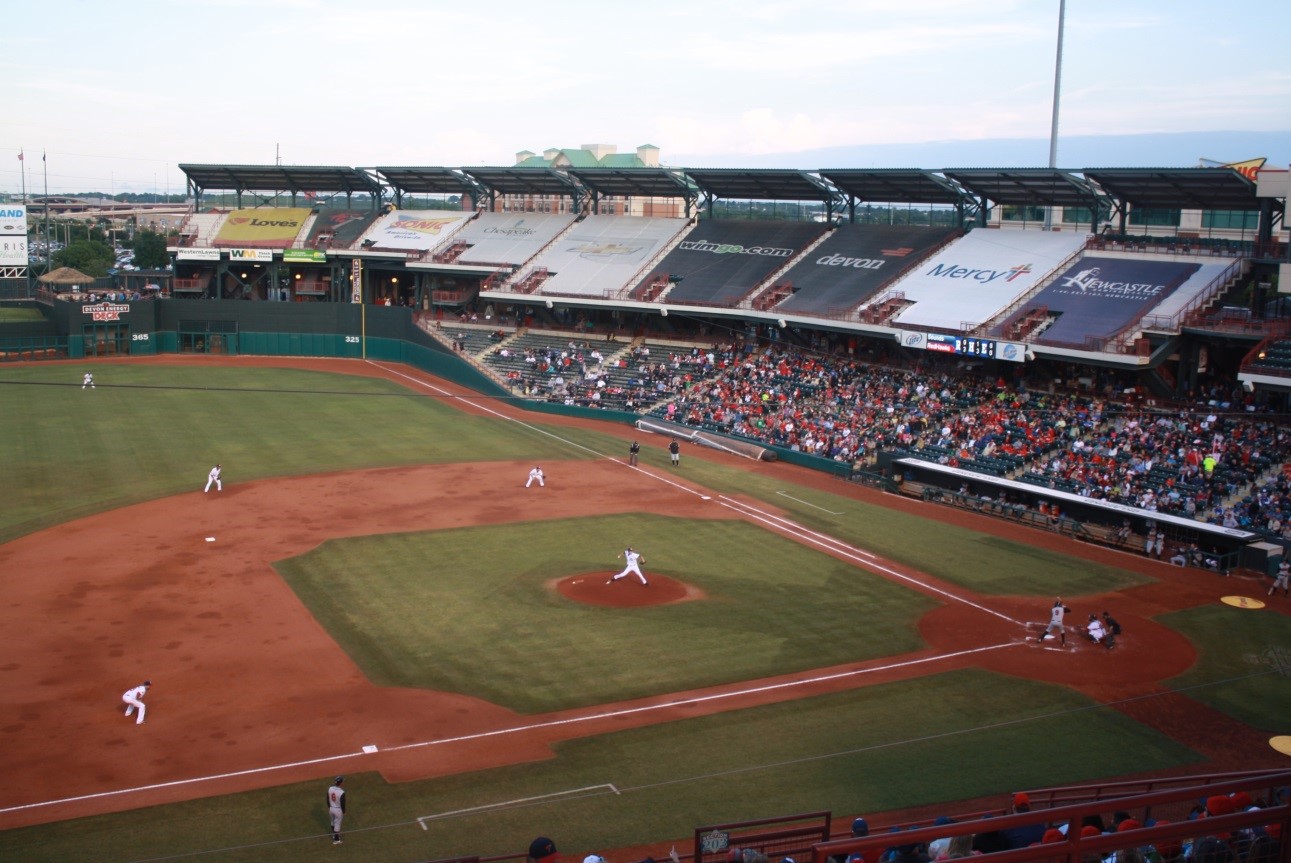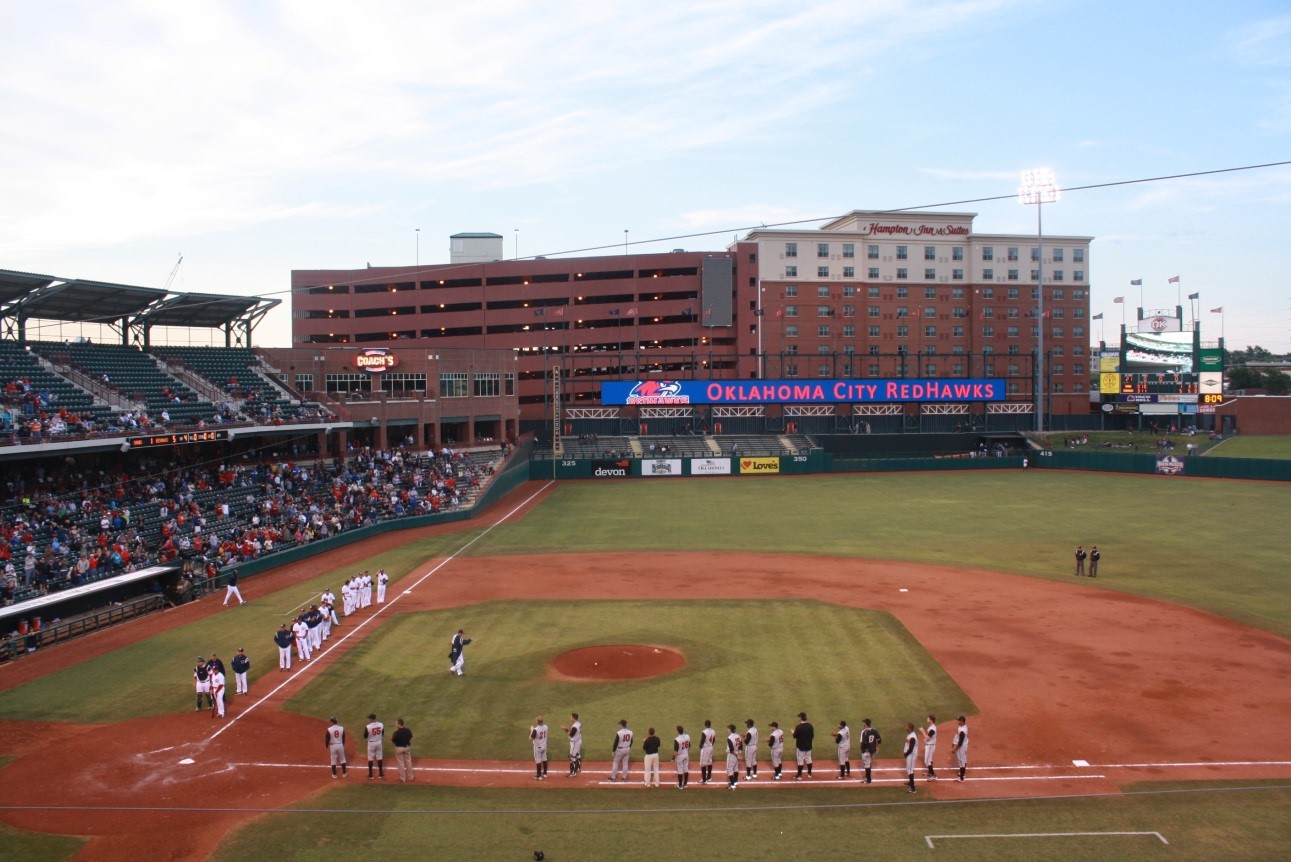 Once inside the ballpark, I immediately understood all of the hullaballoo about this beautiful baseball cathedral. Red brick and green steel forming the structural elements of the ballpark, green grass and Oklahoma-red dirt on the pitcher's mound, batter's boxes, base lines and warning track. Two tall red brick hotels just beyond the left field fence, close enough so that motel guests on the upper floors can stand on their balconies and watch games in progress. It isn't hard to see why the Bricktown Ballpark is the annual site of the Big 12 baseball championships.
Yet in spite of its visceral appeal, the Brickyard Ballpark this night played host to fewer than 500 paying customers, by my unofficial estimate. The 97-degree heat and blazing sun at game time might have had something to do with this. As a beneficiary of this sparse attendance, I watched the ballgame and drank my cold ales and enjoyed my salted goobers from some of the best seats in the house. Not a single Turk in sight.
I caught the first six innings of the game between the RedHawks, the Triple A affiliate of the Houston Astros, and the El Paso Chihuahuas, the Triple A farm club of the San Diego Padres, before heading back to the interstate so I could make it to Wichita before calling it a day on the road. When they announced the Chihuahuas' starting lineup, I learned that former Senator Jeff Francoeur was now back down in Triple A after a stint with the Padres (both as an outfielder and pitcher), and that Jason Lane was batting in the DH hole for the Chihuahuas. You may recall an earlier reference to Lane's comeback attempt on the Message Board earlier this year, in which it was reported that after finally reaching the end of the road as a hitter in the Major Leagues, Lane was trying a comeback as a pitcher for the Padres. After several seemingly successful stints on the mound, Lane continued to inexplicably find himself back on a Triple A Minor League roster. Undaunted by the odds, Lane continues to pursue his quest to prolong his professional baseball career, either as a pitcher or a hitter.
At 37 years of age, Lane has a remarkable baseball resume, as reported on Wikipedia:
Jason Dean Lane (born December 22, 1976) is an American professional baseball player for the San Diego Padres of Major League Baseball. Originally starting his career as an outfielder, Lane has since switched positions and is now a pitcher.
He was drafted into MLB in the sixth round in 1999. Lane graduated from El Molino High School in Forestville, California in 1995. Notably, Lane is one of those rare pitchers in major league history who throws left-handed but bats right-handed.
Amateur career
First attended Santa Rosa Junior College, where he was selected as the 1997 California Junior College Northern California Player of the Year and Bay Valley Conference MVP before transferring to University of Southern California. At Southern California, Lane earned All-America honors during his senior season (1999), including pitching 2.2 innings in the 1998 College World Series championship game to pick up the win and help USC to its 12th NCAA baseball championship, topping Arizona State University 21-14. Lane served as the DH in the game, going 3-6 with a ninth inning grand slam setting a CWS record with 11 hits overall, and led the tournament with a .417 batting average. Morgan Ensberg was also his college teammate on the USC national championship squad.
Professional career
Houston Astros
The Astros believed Lane's future was at the plate rather than on the mound, so he began his professional career as a first baseman. He was later moved to the outfield because of Jeff Bagwell, who played first base.
In 2005, while hitting 26 home runs, he led the major leagues in fly ball percentage (51.3%). When asked after Game 4 of the 2005 National League Division Series (an 18-inning game) who would pitch if Roger Clemens had begun to tire, Astros manager Phil Garner stated that he would have had Lane pitch for the victory with Clemens taking his place in the outfield. Lane hit the last home run and made the last out at Busch Memorial Stadium on October 19, 2005.
On July 12, 2006, Lane was optioned to Triple-A Round Rock after Houston acquired utility slugger Aubrey Huff. In August, Lane was called back to the majors, and on August 29, 2006, he hit a pinch hit grand slam off Milwaukee Brewers relief pitcher Dan Kolb in the 8th inning.
Lane finished the 2006 season with 15 home runs, although he hit just .201 over 112 games.
Lane began the 2007 season with the Astros, but carried an abysmal .165 batting average into June. With Rookie of the Year candidate Hunter Pence's spectacular play earning him the starting job in center field, Lane became expendable and was demoted to Round Rock. On July 23, with Pence out with a fractured wrist and Lance Berkman struggling with a hand injury, Lane was called back up to the big league club. Lane had hit well at Round Rock (.308 with 8 HR and 35 RBI in just 42 games), but then again, he has always hit well at the minor league level where he has a lifetime batting average just under .300 and has hit over 100 HR. The Astros hoped that he could repeat his 2005 success and become the outfield mainstay that they had long expected him to be, but it would not happen despite Lane being given every opportunity to succeed. While Pence was on the DL, Lane received the bulk of the playing time at center field despite an abysmal .172 average as of August 12, 2007.
On August 22, 2007 Lane was demoted once more to Triple-A. The Astros recalled relief pitcher Travis Driskill to the majors to help their bullpen. Lane was recalled when rosters expanded in September.
San Diego Padres
On September 24, 2007, he was traded to the San Diego Padres for cash consideration. Lane was not offered a new contract by the Padres and became a free agent on December 12, 2007.
New York Yankees
On January 10, 2008, Lane agreed to a minor league contract with the New York Yankees and was invited to spring training. However, he did not make the team, and was assigned to the Yankees Triple-A affiliate in Scranton/Wilkes-Barre.
Boston Red Sox
On August 19, 2008, after opting out of his contract with the Yankees, Lane signed a minor league contract with the Boston Red Sox. He became a free agent at the end of the season.
Toronto Blue Jays
Lane signed a minor league contract with the Toronto Blue Jays in December and was invited to spring training. Lane had a chance to take the DH role, but instead it went to Adam Lind. He was then sent to triple-A Las Vegas.
Southern Maryland Blue Crabs
Lane signed an Atlantic League (independent league) contract with the Southern Maryland Blue Crabs. His first appearance for the Blue Crabs was pinch hitting on June 28, 2010. At his first and only at bat of the game he was walked.
Arizona Diamondbacks
On December 9, 2011, Lane signed a minor league contract with the Arizona Diamondbacks, now playing as a pitcher. He was invited to spring training, and in his first professional outing, allowed 3 hits and an unearned run in an inning.
Sugar Land Skeeters
In June 2012, Lane signed a contract with the Sugar Land Skeeters of the Atlantic League. In July 2012, Lane was awarded "July Pitcher of The Month" of the Atlantic League. This coming as Lane's first year as a full-time pitcher since his college days at University of Southern California. At the end of the Sugar Land Skeeters 2012 season, Jason has been named as the Skeeters first ever MVP. He was the ace of the pitching staff and an anchor in the middle of the batting order. Lane returned to the Skeeters for the 2013 season.
Second stint with Padres
Lane signed a minor league contract with the San Diego Padres on July 23, 2013. He was called up to the major leagues on June 3, 2014, entering the game (against the Pittsburgh Pirates) in the 4th inning. Lane retired all 10 hitters he faced. He was designated for assignment on June 7. He was called back up to start on July 28, 2014 against the Atlanta Braves. Lane became the oldest starting pitcher to make his debut for the Padres, breaking the mark set by Walter Silva, who was 32 in his first start for San Diego. Lane pitched well, allowing just one earned run in six innings in a losing effort. He was designated for assignment for the second time the next day. [Editor's note: And hence his appearance with the Chihuahuas in OKC.]
Like Chelsea, Jason Lane is a Warrior.
IT'S A WRAP
That's it for this issue of From the Bullpen, lads. Next week: The Monarch Missive, aka Butterfly Bullshit.
Best,
Skipper