Greetings My Fellow HSL Brethren;
As we past the 1/3 of the season mark, some things have changed while some things stay the same. As usual, the Wahoos are fighting for the lead, the Cubs are making a mockery of the number of transactions, and the Bombers are fighting to stay out of the cellar. And on the other side, the Monarchs are in the lead and on the verge of a historic finish, followed by the Tribe in hopes of leaving the select "Never Won" club, and pitching is ruling the day.
Monday, May 23rd
| | |
| --- | --- |
| | Hyun –Jin Ryu comes within six outs of throwing a perfect game against the Reds, one day after the ageless Josh Beckett threw a no-hitter for the Dodgers. |
| | Red Sox beat Atlanta to end a 10 game losing streak on the back of Big Papa who hit a game-tying three-run homer with two outs in the fifth and a go ahead sac fly in the seventh! |
| | The A's hit five home runs by five different players to beat the Detroit Tigers. |
Tuesday, May 26th
| | |
| --- | --- |
| | 50 Cent's physics-defying first pitch at Citi Field which challenges Carly Rae Jepson as the worst "first pitch ever!" You must see the video if you haven't already. |
| | Brewer's beat Baltimore in 10 innings on a pinch-hit walk-off double by Yovani Gallardo after Baltimore intentionally walked Mark Reynolds |
| | Lance Lynn throws his first career shutout against the Yankees in St. Louis with my son and me in attendance to watch the hapless Yankee line-up. Ouch! |
Wednesday, May 27th - A day of walk-off wins
| | |
| --- | --- |
| | Blue Jays beat Rays with pinch-runner Kevin Pillar scoring from first on a throwing error by Rays pitcher Juan Carlos Ovieda after fielding Anthony Gose's bunt |
| | Phillies beat the Rockies on Ryan Howard's 3-run homer with two outs in the bottom of the ninth inning. |
| | White Sox beat the Indians on a ninth inning single by Moises Sierra completing a three game sweep of the Tribe |
| | Oakland rallies to beat the Tiger's on Josh Donaldson's three-run homer with one out in the ninth |
Thursday, May 28th
| | |
| --- | --- |
| | Edwin Encarnacion hits his 16th homer in May which ties Mickey Mantle for the all-time American League record in the month, one shy of Barry Bonds for the MLB record |
| | Houston hosts the Civil Rights Game against Baltimore and takes the field as the Eagles- the only Negro Leagues team to play in Texas. |
| | Nelson Cruz drove in Baltimore's only run in that game for his 49th RBI tying him with Giancarlo Stanton for the MLB lead. |
Friday, May 29th
| | |
| --- | --- |
| | The HSL "Six Survivors" watch the Padres beat the White Sox 4-1 on the strength of Yonder Alonso's bat. |
| | Speaking of Yonder's bat, did you know he had a line of 4 1 3 2 for a cool 13.6 point for the Cubs? |
| | Have you ever seen the Cubs speechless when he is not thinking about food, more specifically while staring at Scott's five gallons of ice cream. Well Yonder left him speechless as those 13.6 points were accumulated while on the Cub's bench. |
Saturday, May 30th
| | |
| --- | --- |
| | The HSL " Four Survivors Left Standing" watch the Chicago Cubs put a beating on the Brewer's on the Bomber's own Wily Peralta. |
| | There was talk of Peralta 's perfect game through three innings and facing the hapless Cubs before Anthony Rizzo woke up and belted a pair of two –run homers. |
| | "We went to a tailgate party and a baseball game broke out!" The Brewer fans can definitely tailgate and the parking lot resembled one big happy party. |
Sunday , May 31st
| | |
| --- | --- |
| | Twins score 6 runs in the top of the ninth to beat the Yankees at home. The Twins efforts were lead by ex-Yankees Phil Hughes and Eduardo Nunez. |
| | Shutout Sunday included dominant pitching performances by Mark "Perfect Game" Buehrle, rookie Roenis Elias, Kyle " Hand Fan Mask" Lohse, the nasty Yu Darvish, Tim " Why didn't Atlanta want me" Hudson, and Chris " Not For" Sale. |
| | The return trip to Chicago of the "Four Survivor's Left Standing" via the scenic route much to the chagrin of the I-94 Cubs. |
In reflecting on how much time we all spend on our first draft picks, I thought it would be interesting to see how our first round picks performed. Per the chart below, you can see that the Bears were the only team to nail their first pick. Troy Tulowitzki was his first pick and is currently his highest point leader. On the other end of the spectrum the Bomber's current high point leader was a free agent draft and my first round pick truly is a "pain in the neck" and is out for the year. Of the Current Points Leaders 10 are pitchers, with Kluber and Cueto being the biggest surprises, yet only one pitcher was taken in the first round. Injuries have certainly taken their toll on the hitters this year.
Team

1st Pick

Points

Current Leader

Round

Selected

Points

Chiefs

Mike Trout

237.2

Josh Donaldson

6th

283

Redbirds

Miguel Cabrera

228

Michael Wacha

7th

261

Underbelly

Paul Goldschmidt

230.3

Corey Kluber

17th

283

Wahoos

Joey Votto

137.9

Julio Teheran

8th

298

Cubs

Clayton Kershaw

166

Adam Wainwright

3rd

349

McBlunder

Hanley Ramirez

191.1

Scherzer/Strasburg

4th/3rd

267

Skipjacks

Bryce Harper

59.2

Giancarlo Stanton

2nd

284.9

Bums

Andrew McCuthchen

218

Nelson Cruz

9th

294

Monarchs

Edwin Encarnacion

275.9

Johnny Cueto

14th

350

Bears

Troy Tulowitzki

298.5

Troy Tulowitzki

1st

298.5

Tigers

Robinson Cano

187.1

Felix Hernandez

3rd

336

Bombers

Prince Fielder

104.9

Dallas Keuchel

FA

260

Senators

Carlos Gonzalez

154.6

Masahiro Tanaka

8th

331
Yes, Mouse does actually read one book a decade. I recently finished "Where Nobody Knows Your Name" by John Feinstein and would highly recommend it for your reading enjoyment. John tells the stories of a Cast of Characters made up of Players, Managers, and an Umpire as they bounce around the Minor Leagues before hitting the Majors.
"….John Feinstein explores the colorful and mysterious world of minor-league baseball – a gateway through which all major-league players pass in their careers….hoping never to return."
A big "Atta Boy" to Jon on making the arrangements for the recently completed HSL "Survivor Trip" to Chicago and Milwaukee! While small in numbers, it was big in memories and fun. Plus Big Guy crossed off two more stadiums from his list. And we even saw some good baseball. Is it just me, or does anyone else feel like they are busier than ever? Aren't we supposed to slow down as we near the big 6 0?
Thanks for your time and may each of you have a wonderful summer filled with Family, baseball, and golf!
Mouse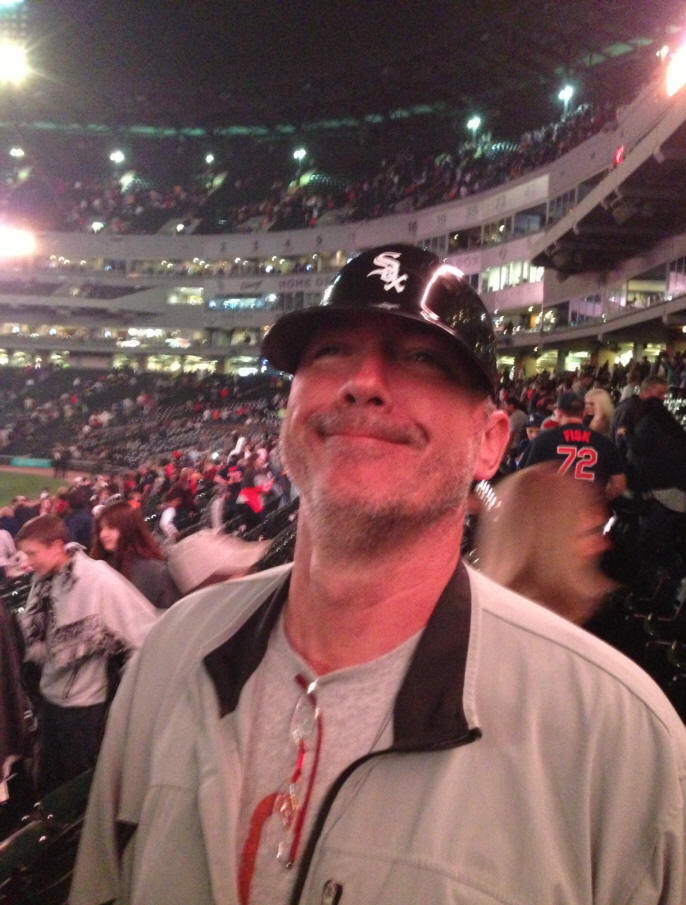 Out on a Day Pass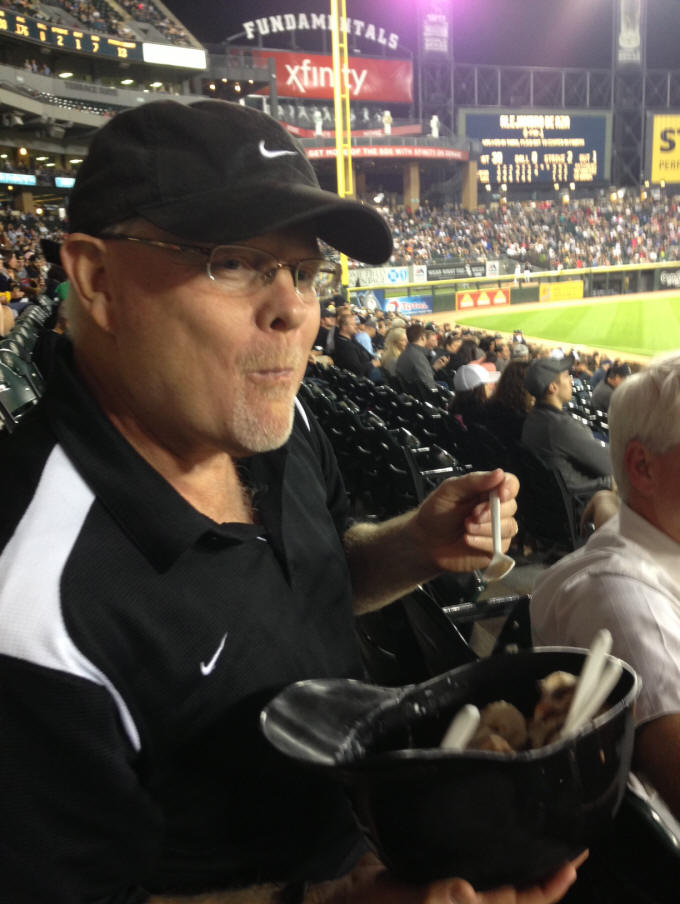 Oh, I like my ice creams. Yes, I do.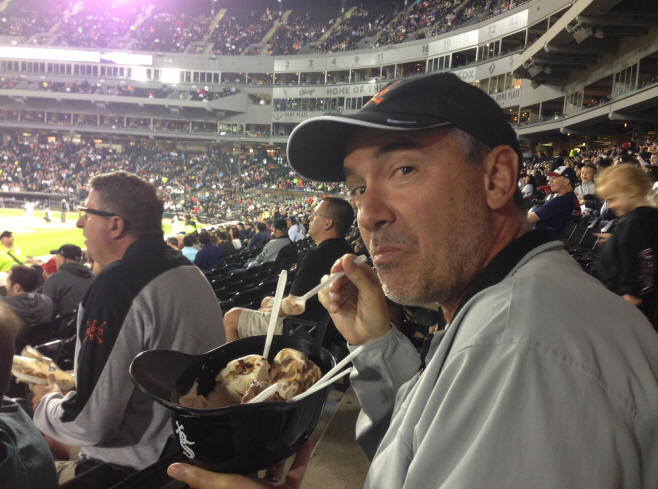 Whaddaya mean, this ain't gluten-free?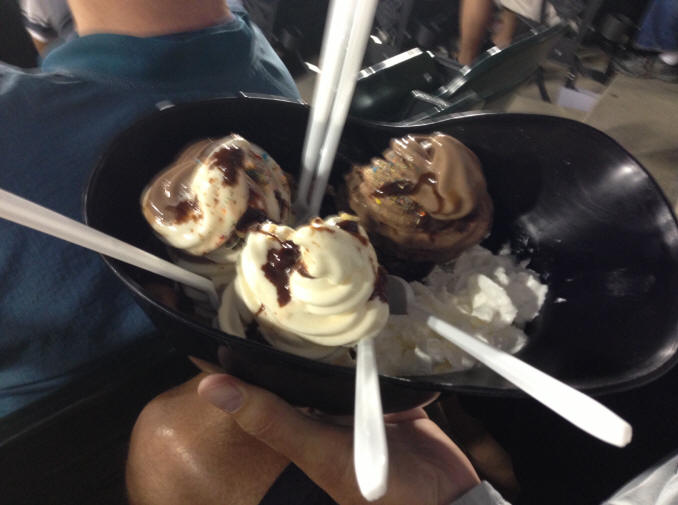 17 dollar, make you want to holler!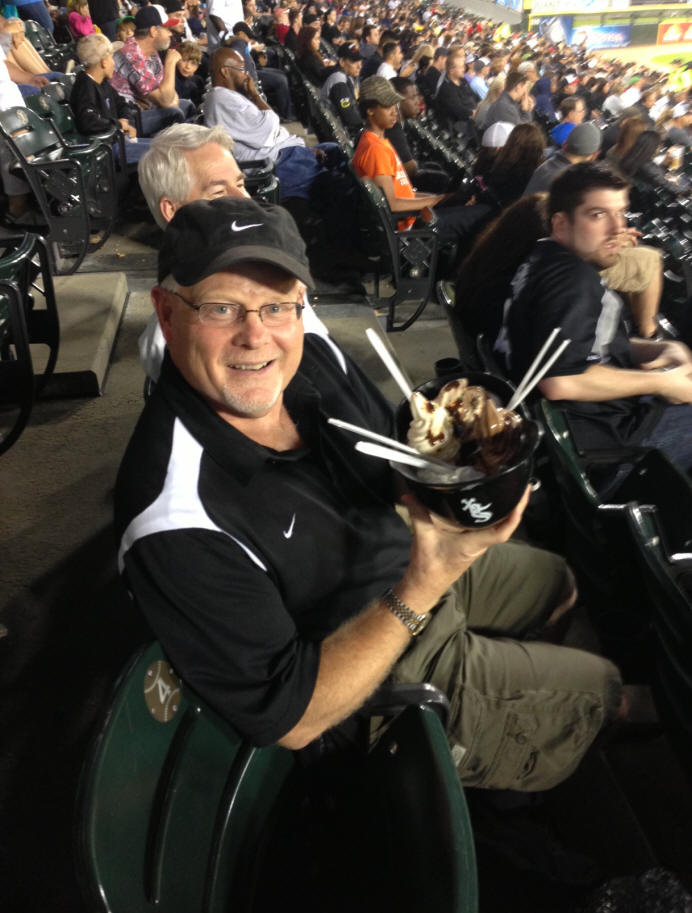 Some dream of fame; some dream of riches; some, of glory.
For others, their dreams are much simpler.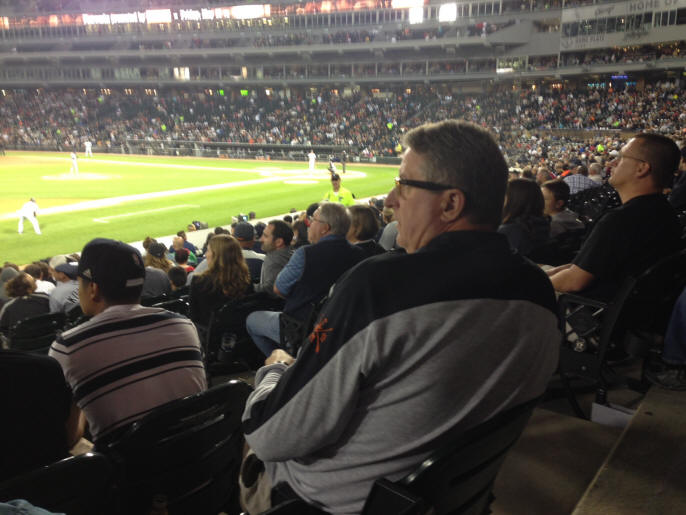 Stretch glowers at the oncoming mascots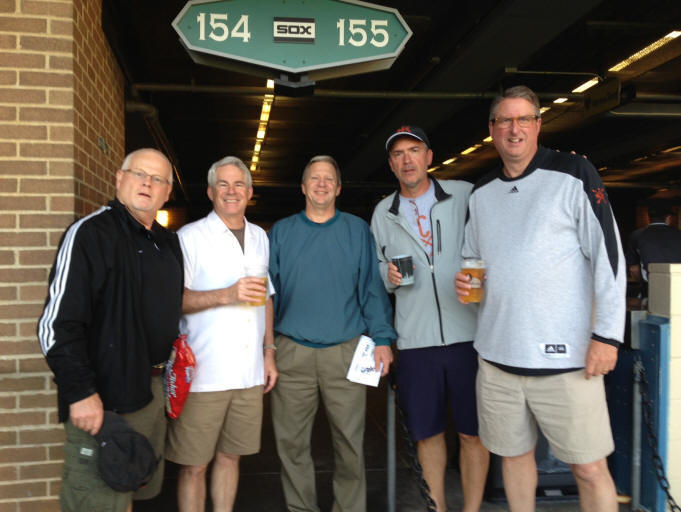 5 recently-released Gitmo detainees enjoy their newfound freedom.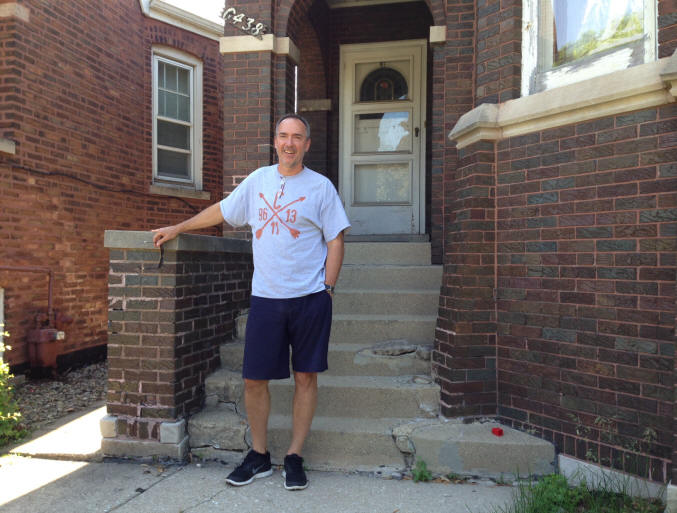 Kunta Kinte Krause explores his roots.

(The house that Pat Krause grew up in near Midway airport.)
Dig deep, Shamu!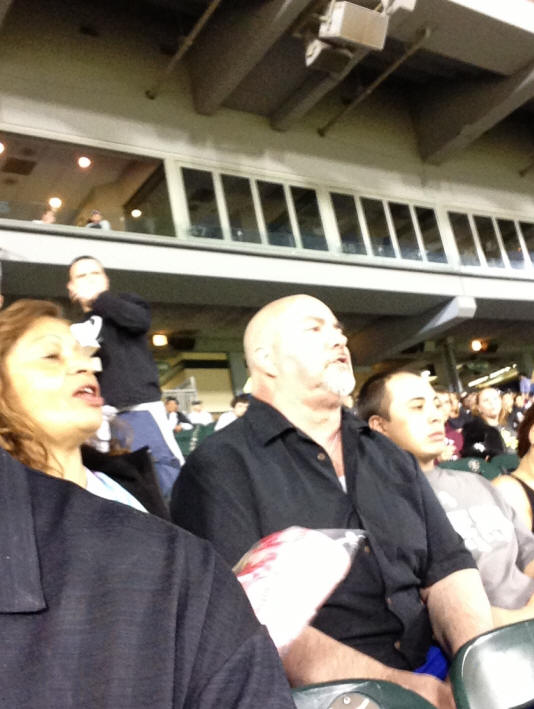 Thought bubble: "if I don't get me a 3 dollar giveaway shirt,

I am going to kick me some ass!"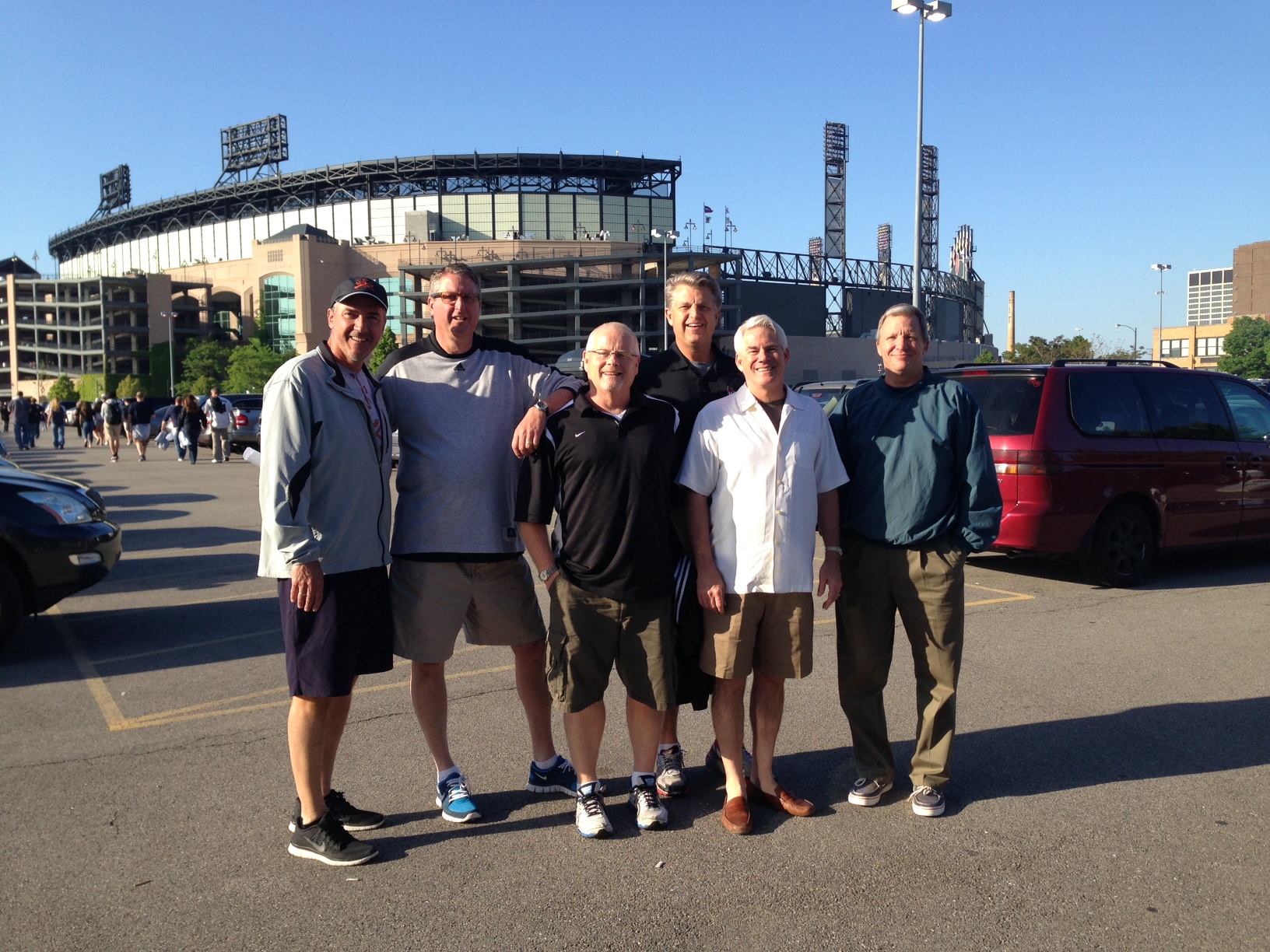 2014: Chicago/Milwaukee--Best Trip Ever!