Gentlemen:
Let me begin this issue of From the Bullpen by thanking Mouse for his excellent recent issue of The Mousetrap, which was darned good reading, as usual. It is always great to hear from each and every one of you, and in particular, to read about your own perspectives on the Hot Stove League, your fantasy baseball team, baseball in general, and life. We are all incredibly fortunate to have found this 13-man Band of Brothers who share such a deep passion for baseball, as well as the other important things in our lives, like family, friends, the Cornhuskers (well, most of us), a good steak, a frosty mug of beer, and all of the freedoms accorded us as citizens of this great nation.
Sometimes we take it for granted, but in this country, on each and every single day, we have the right to and the opportunity for the pursuit of happiness. So instead of getting home from work and having to protect myself and my family from a missile strike from Hezbollah or ISIS or one of Putin's henchmen, I can jump in my car and head out to Werner Park and watch a beautiful game of baseball, while sipping on a cold beer and cracking open a bag of salty peanuts. That is how I pursue happiness. God Bless America!
WHATAFIELD FIELD
My God-given right to pursue happiness was decidedly exercised last week as I ventured down to the Lone Star State for a meeting with an expert witness in Houston. Although the Astros were in town during my trip, instead of seeing another game at Minute Maid Park, I decided instead to incorporate a slight detour (just a short 3-1/2 hour drive) down to Corpus Christi (or in Spanish, the Body of Christ) to catch a Hooks (the AA Texas League franchise of the Astros) game at Whataburger Field. And what a field it is!
Built in 2004, Whataburger Field is a beautiful gem of a ballpark venued in the downtown port area of Corpus Christi, right next door to a water park, with the expansive Harbor Bridge as the backdrop. The bridge is the means of getting from downtown Corpus Christi to an area called North Beach, a tourist area that has seen its better days, for sure. At night, the bridge is lit up in a kaleidoscope of colors, making it very visually pleasing to the eye of anyone seated at Whataburger Field.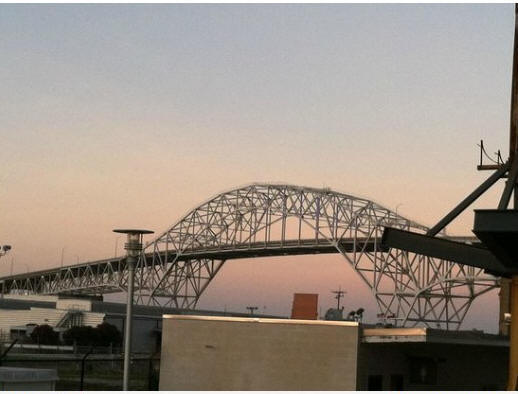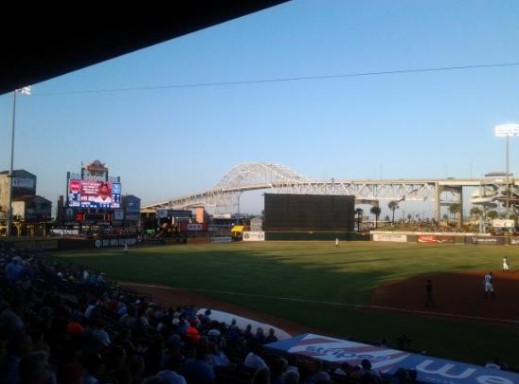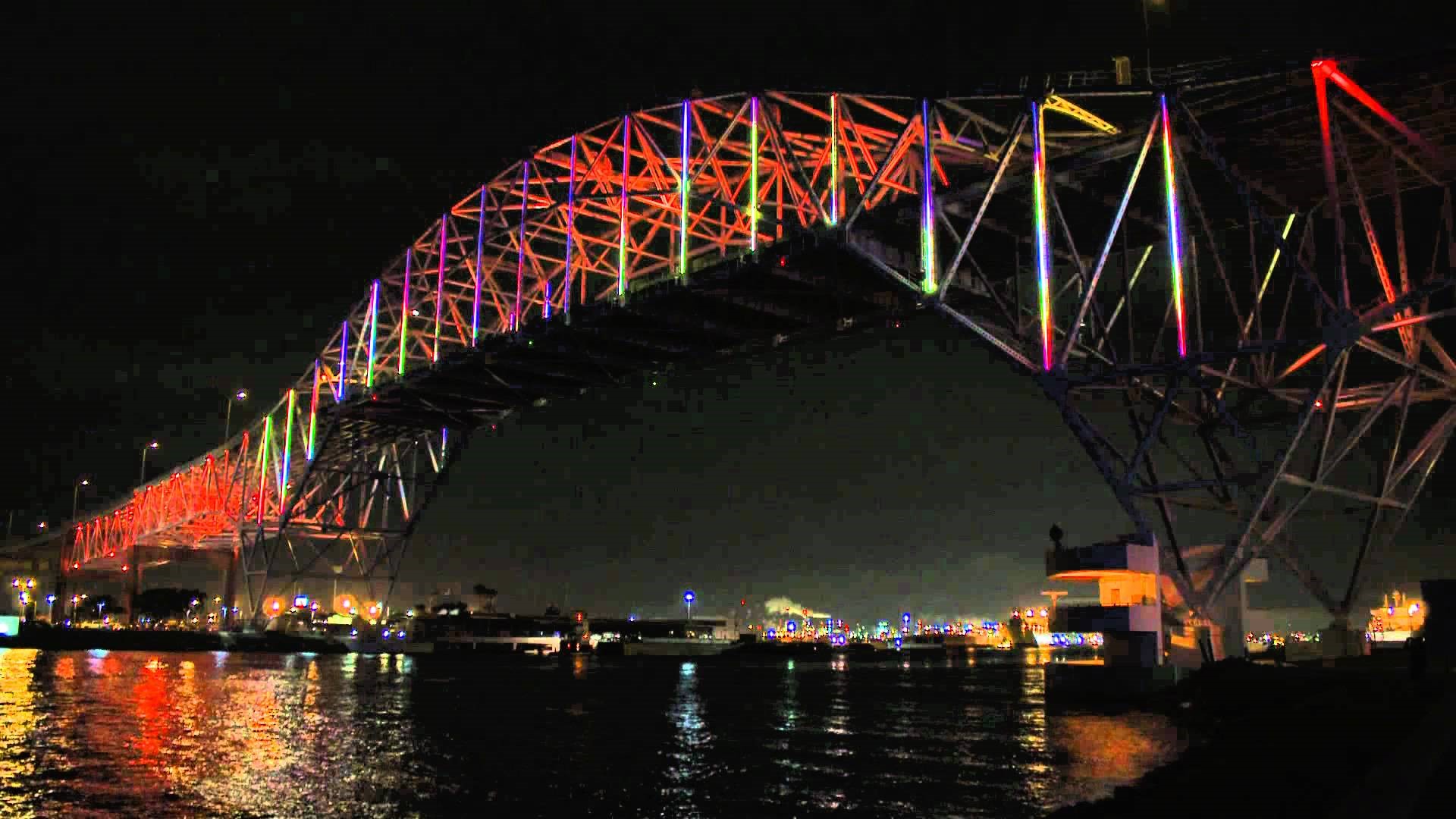 Whataburger Field is a cozy and intimate place to see a baseball game, with gobs of epicurean delights awaiting the fan all along the concourse. Texas barbecue is the sandwich of choice, including the Nolan Ryan restaurant known as Smoke 5714 (the same number of strikeouts that Ryan had in his career).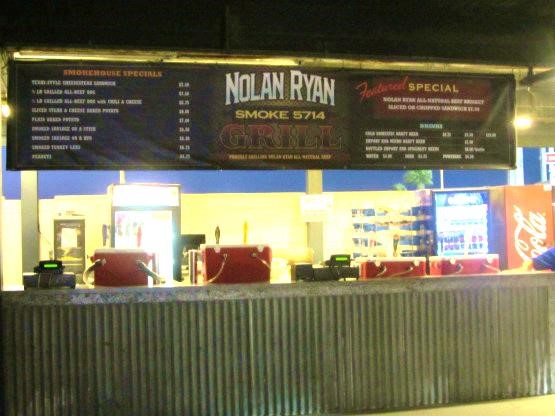 Just outside the playing field itself, beyond the outfield seats, there are a host of facilities intended for use by kids of all ages, including a miniature playing field for whiffle ball or kick ball, a ground-level trampoline, a full basketball court with rubberized floors, a rock-climbing wall, multiple pieces of playground equipment, and more. It is a perfect place for the parents to drop off the kids while they take in a Hooks baseball game.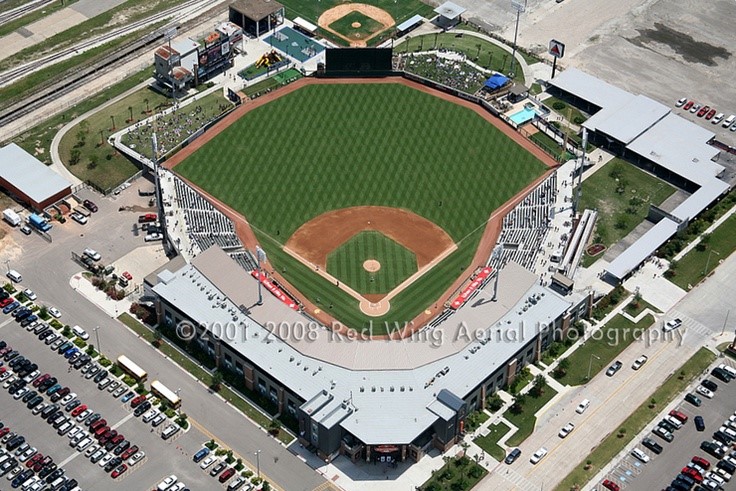 Just past the power alley in right center, there is a swimming pool and hot tub that can be rented out by party groups who want to watch the game while keeping cool from the South Texas heat. Although it was not in use on the particular evening that I was at the ballpark, I would imagine that it gets rented out most weekends for parties.
Prior to the start of the game, players on the Hooks' team signed autographs for kids and posed for pictures with youngsters, in a way that you would certainly not be likely to see at a Major League baseball game. Just prior to the singing of the National Anthem, the Hooks' starting players went out to their respective positions with a player or two from a local youth baseball team, which was reminiscent of a couple of events that we lined up a dozen years ago at Rosenblatt with the then-Royals, when Joe and Will were playing youth baseball.
The crowd at the game was a decent one for a Tuesday night game, mostly loyal fans who likely attend the bulk of the Hooks games, mixed with people just looking for a good excuse to drink beer and sit outside in the beautiful early-summer weather before the smothering humidity of July and August comes to town.
By merely sitting in my seat and listening to the voices of my fellow fans, it was crystal clear that I was in South Texas. By visual observation alone, I'm not sure that I could have made that connection, although with the significant number of Latino fans present, I think I could have guessed that we were either in South Texas, Arizona, New Mexico or Southern California.
The game itself was a pleasure to watch, with the hometown Hooks using mostly speed and small ball to race out to a 5-0 lead through six innings. The starting pitcher for the Hooks, Vincent Velasquez, held the visiting NW Arkansas Naturals (a AA farm club of the Kansas City Royals) in check, yielding no hits through 6-1/3 frames before giving up a solo bomb down the left field line to Royals prospect Jorge Bonifacio. The final score of the game was 6-1, raising the Hooks' record to 34-16 and dropping the Naturals to 31-18.
One of the youngsters who played for the Northwest Arkansas Naturals that night was Raul Mondesi, the shortstop, who is 19 years old and apparently the son of formerly Major League star player Raul Mondesi. Young Raul had a rough night at the plate, going 0-for-4 with two strikeouts, and committed one error at shortstop. It will be interesting to watch his progression through the Minors. In trying to get more information about him on the internet, it looks to me like there may be another Minor League player, three years older than this one, who also is the son of Raul Mondesi, and who also is playing Minor League baseball. I guess if George Foreman could have eight or nine kids named George, then Raul should be able to have two sons named Raul.
I'm not sure where I will rank Whataburger in the hierarchy of Minor League ballparks that I have seen. My initial reaction is that it is one of my favorite Minor League venues, but then whenever I visit a new Minor League ballpark, I tend to initially rank it very highly while still in the throes of my excitement over attending a game in a new ballpark. After a few months or years of solemn reflection, I will give Whataburger Field its proper due (by my lights), but I am confident that it will end up in my All-Time Top Ten, somewhere close to Campbell Field in Camden, New Jersey, Louisville Slugger Field in Louisville, and Franklin Covey Field in Salt Lake City.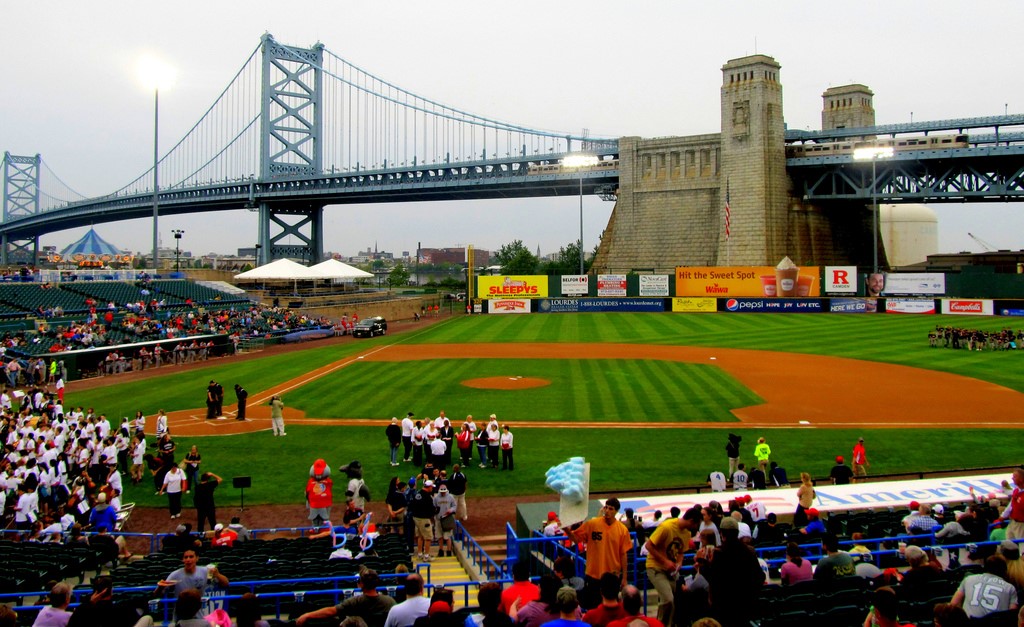 Campbell Field, Camden, NJ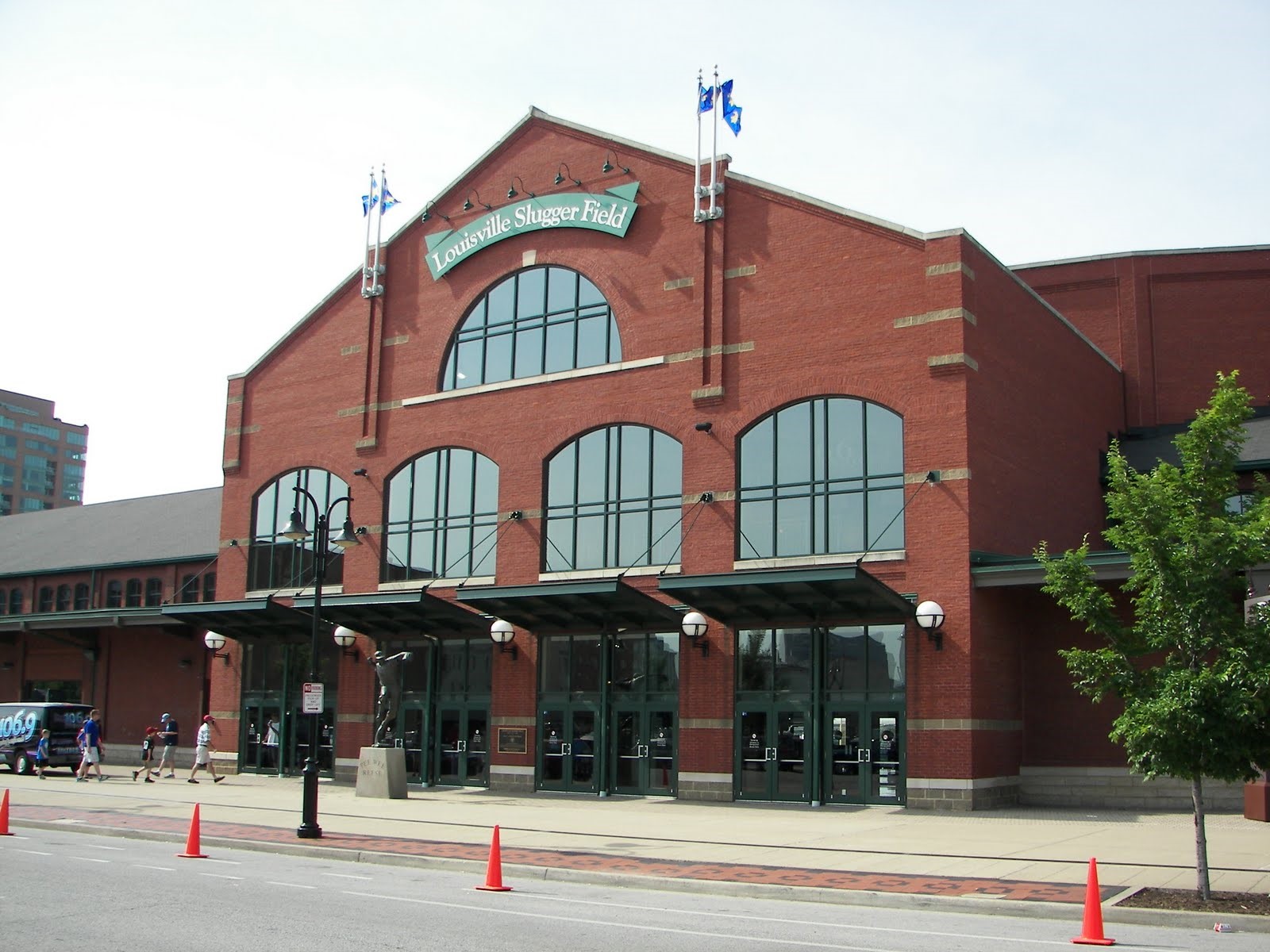 Louisville Slugger Field, Louisville, KY

Louisville Slugger Field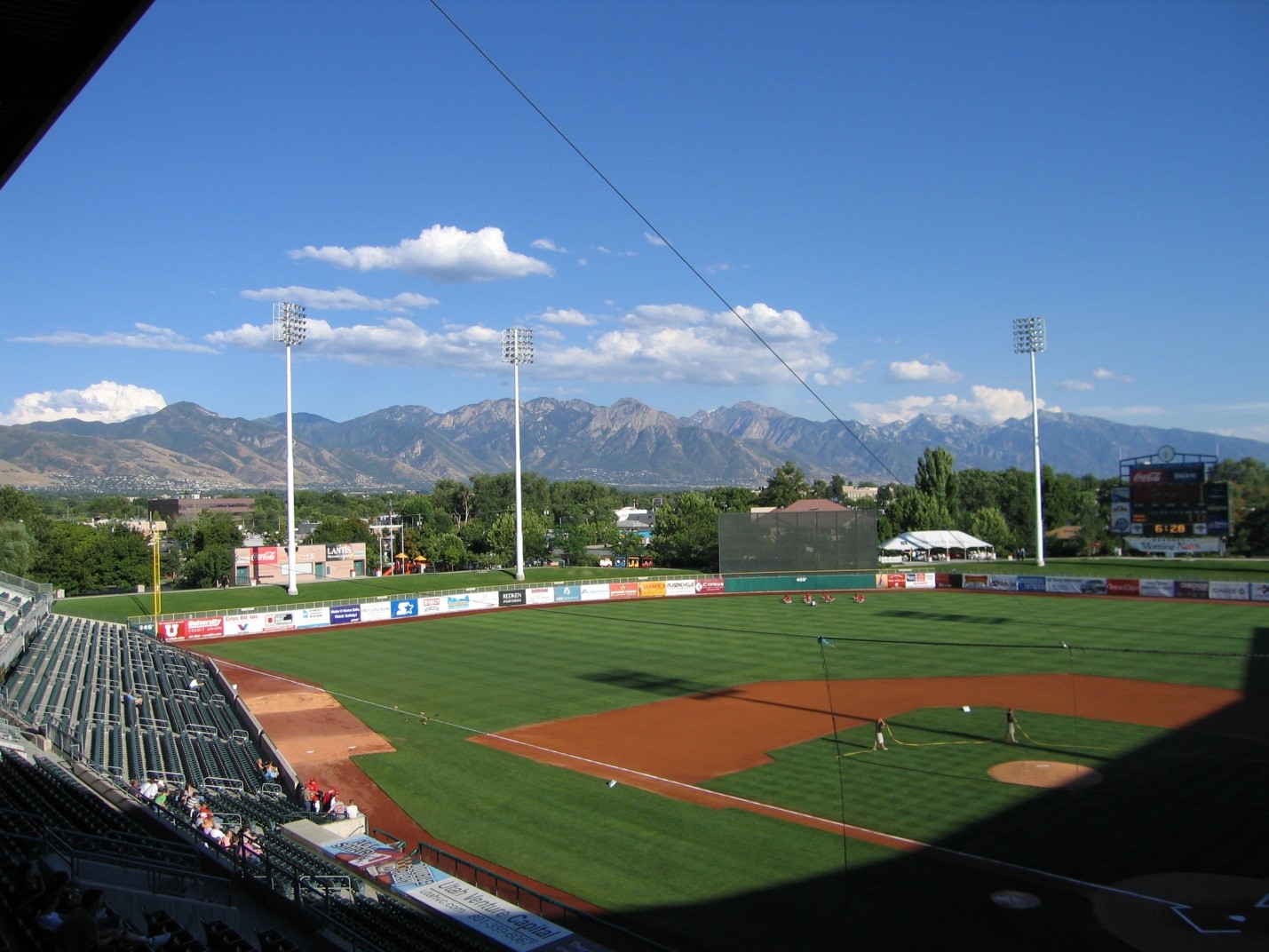 Franklin Covey Field, Salt Lake City, UT
Whataburger Park, which opened in 2005, is located on what used to be old cotton warehouses upon the city's waterfront. Naming rights were paid for by Whataburger, Inc., which was headquartered in Corpus Christi before relocating to San Antonio in 2009. Fans are able to see the USS Lexington and the Texas State Aquarium from inside the park. Whataburger Field features 5,050 fixed seats, 19 luxury suites and two outfield berm areas that are able to accommodate nearly 2,000 fans.
On June 30, 2005 the stadium unveiled For the Love of the Game, an 18-foot statue depicting a young ballplayer in a contemplative pose. The statue is believed to be the largest bronze statue of a baseball player.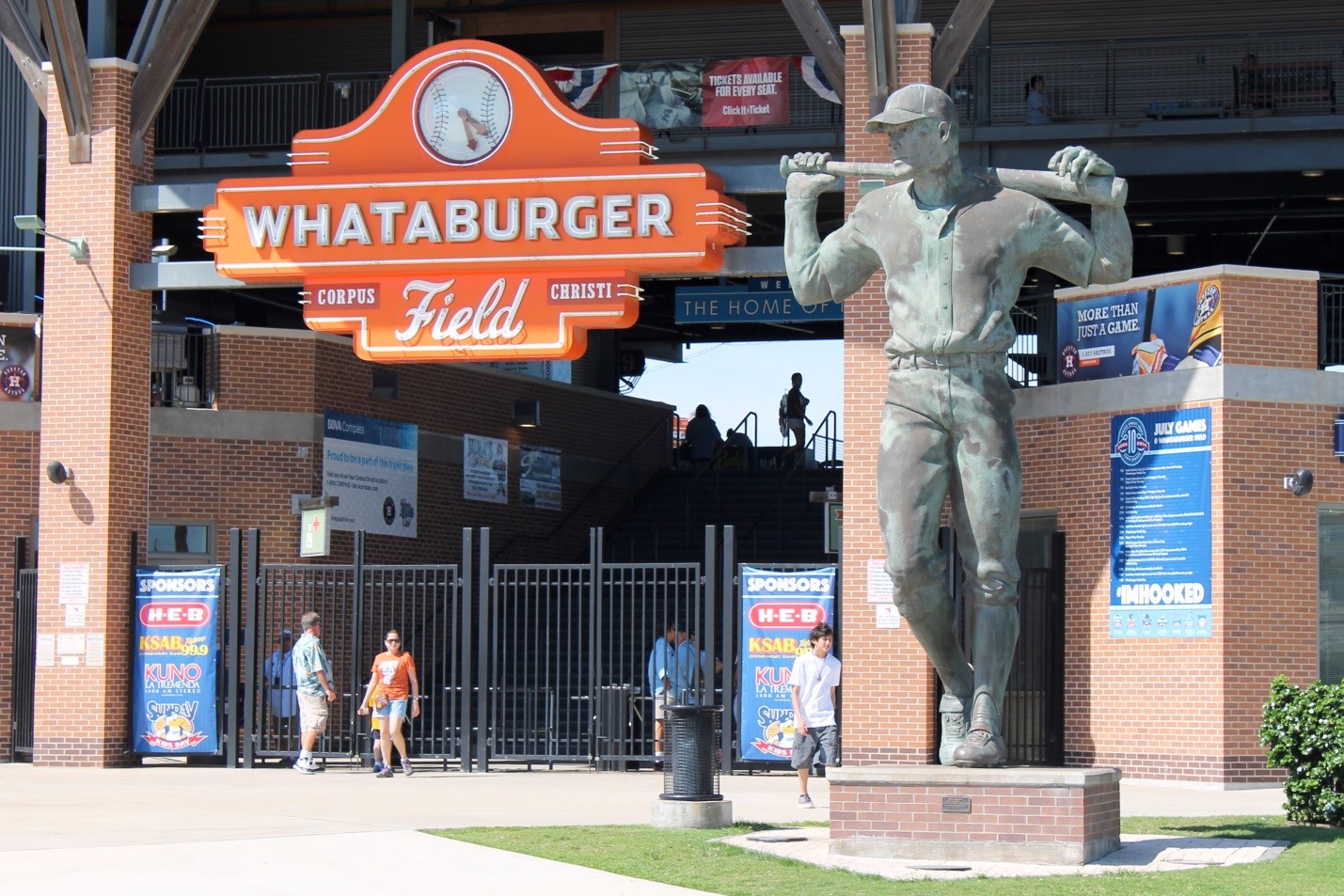 IN CASE YOU WERE WONDERING
Since it is a big enough deal to sponsor a Minor League baseball park, I was naturally curious to find out a little bit more about the franchise known as Whataburger, which, unlike Carl's Jr. and In-and-Out Burger, I have not yet had the pleasure of sampling for myself. Turns out Whataburger was founded way back in 1950 by two fellas by the names of Harmon Dobson and Paul Burton, with the first restaurant opening in Corpus Christi that year. As of 2012, there were 735 Whataburger stores across the Southern United States.
According to the internet (so it must be correct), Dobson's goal was to make a better hamburger that took two hands to hold, and tasted so good that when you took a bite you would say, "What a burger!" The burger originally cost 25 cents. In 1951, Burton and Dobson ended their partnership after arguing about Dobson's desire to raise the price of the burger from 25 cents to 30 cents. Currently, the company is privately held by the Dobson family, with headquarters in San Antonio and annual sales of over a billion dollars.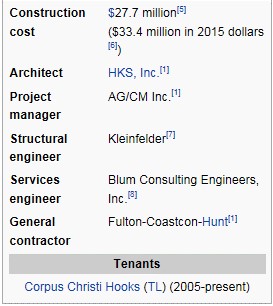 In addition to my destination visit to Whataburger Field, my side junket to Corpus Christi was also edifying in several other respects. As I made the drive south and west from Houston on Highways 59 and 77, through such towns and villages as Wharton, El Campo, Ganado, Edna, Victoria, Refugio (birth place of Nolan Ryan), and Sinton, I was able to see that the landscape is mostly made up of rugged pastureland and oil fields, and very little cropland. Most of the businesses along the highway are related to the oil industry or ranching, with a remarkable number of small churches and barbecue restaurants interspersed between the cities. As a matter of fact, I stopped in at a friendly little place called Junior's along the drive, and for $5.95 was treated to one of the biggest and tastiest pork brisket sandwiches that I have ever introduced to my pie hole. It certainly put Famous Dave's and every other Omaha-area barbecue joint to shame, that's for sure.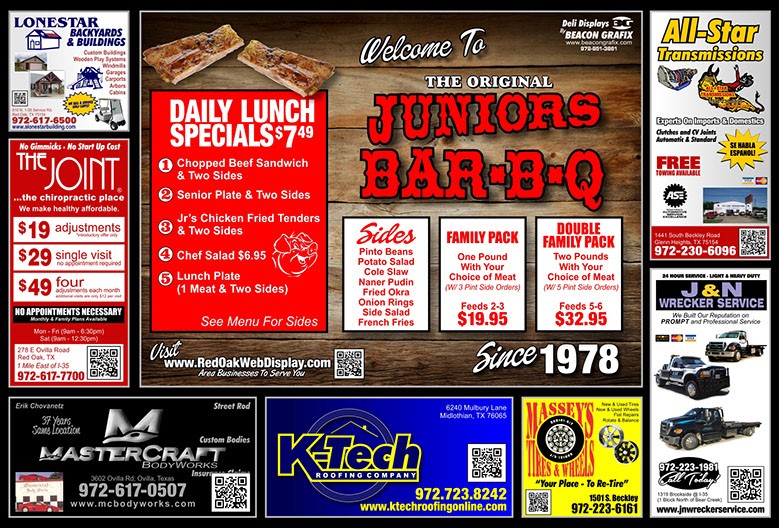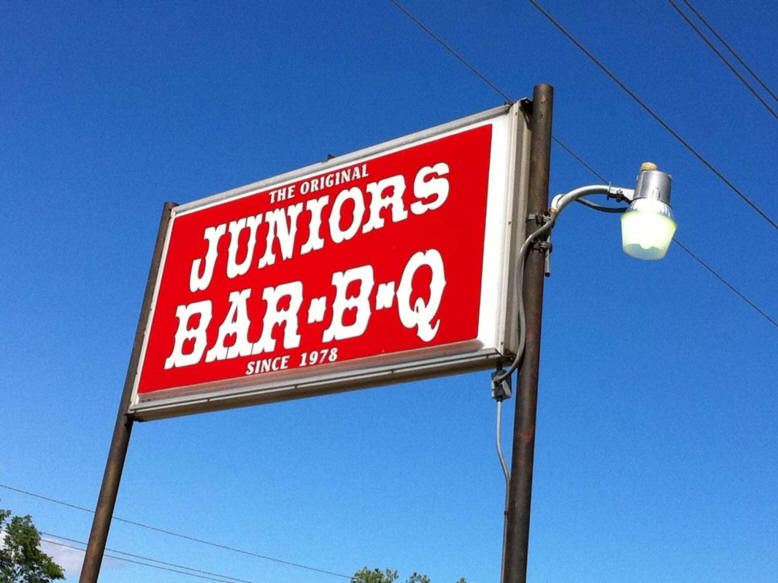 I should also point out that although we are nowhere near an election cycle, from the signs posted along the way, it is quite clear that South Texas would not be in favor of a third term for President Obama, and will not likely be voting for Hilary Clinton in November of next year, as well. Having said that, there is no shortage of American flags on display along the highways and byways of South Texas, and so it is clearly a patriotic bunch, staunch defenders of the (alleged) right to bear arms and of freedom of speech, just as long as your speech is being written by a rock-ribbed Republican. I know several Hot Stove Leaguers who would fit in well here, and a few who might be at risk for being lynched. Just saying.
But enough about my trip. Let's talk about the Hot Stove League. Here are the hitting and pitching leaders through games of Sunday, June 7:
TOP TEN HITTERS
| | | | |
| --- | --- | --- | --- |
| 1 | Paul Goldschmidt Ari - 1B | Chiefs | 317.30 |
| 2 | Bryce Harper Was - LF,CF,RF | Chiefs | 309.90 |
| 3 | Anthony Rizzo ChC - 1B | Bears | 274.30 |
| 4 | Josh Donaldson Tor - 3B | Bombers | 274.00 |
| 5 | Jason Kipnis Cle - 2B | Chiefs | 261.20 |
| 6 | Nelson Cruz Sea - LF,RF | Tribe | 251.00 |
| 7 | Miguel Cabrera Det - 1B,3B | Wahoos | 249.60 |
| 8 | Adrián González LAD - 1B | Bums | 249.40 |
| 9 | Todd Frazier Cin - 1B,3B | Bombers | 243.60 |
| 10 | Mike Trout LAA - CF | Monarchs | 242.70 |
TOP TEN PITCHERS
| | | | |
| --- | --- | --- | --- |
| 1 | Chis Archer TB - SP | Bums | 333.00 |
| 2 | Gerrit Cole Pit - SP | Wahoos | 319.00 |
| 2 | Dallas Keuchel Hou - SP | Blues | 319.00 |
| 4 | Félix Hernández Sea - SP | Senators | 318.00 |
| 5 | Sonny Gray Oak - SP | Skipjacks | 316.00 |
| 6 | Max Scherzer Was - SP | Wahoos | 304.00 |
| 7 | Zack Greinke LAD - SP | Cubs | 301.00 |
| 8 | Jacob deGrom NYM - SP | Redbirds | 287.00 |
| 9 | Chris Sale CWS - SP | Redbirds | 283.00 |
| 10 | Clayton Kershaw LAD - SP | Tigers | 281.00 |
WHO'S HOT—HITTERS
| | | | |
| --- | --- | --- | --- |
| | José Bautista Tor - 1B,CF,RF | Cubs | 56.50 |
| | Maikel Franco Phi - 3B | Tribe | 52.70 |
| | Troy Tulowitzki Col - SS | Skipjacks | 49.00 |
| | Anthony Rizzo ChC - 1B | Bears | 43.60 |
| | Adam Jones Bal - CF | Senators | 42.50 |
| 5. | Joey Votto Cin - 1B | Wahoos | 42.50 |
| | Dustin Pedroia Bos - 2B | Tigers | 41.80 |
| | A.J. Pollock Ari - CF | Bums | 41.50 |
| | Giancarlo Stanton Mia - RF | Bums | 41.10 |
| | Kevin Pillar Tor - LF,CF | Monarchs | 40.50 |
WHO'S NOT—HITTERS
1

Trevor Plouffe Min - 3B

Senators

-8.60

2

Mark Trumbo Sea - 1B,LF,RF

Monarchs

-5.50

3

Melky Cabrera CWS - LF

Tigers

-5.00

4

Caleb Joseph Bal - C

Tribe

-4.40

5

Ryan Zimmerman Was - 1B,3B,LF

Skipjacks

-3.70

Preston Tucker Hou - LF

Redbirds

-3.00

Pablo Sandoval Bos - 3B

Bears

-1.60

Jake Lamb Ari - 3B

Bums

-0.60

Aramis Ramírez Mil - 3B

Tigers

-0.50

Michael Morse Mia - 1B,LF

15-Day DL

Monarchs

0.00
WHO'S HOT—PITCHERS
| | | | |
| --- | --- | --- | --- |
| 1 | Chris Sale CWS - SP | Redbirds | 85.00 |
| 2 | Chris Archer TB - SP | Bums | 82.00 |
| 3 | Lance McCullers Hou - SP | Chiefs | 66.00 |
| 4 | Johnny Cueto Cin - SP | Bears | 58.00 |
| 5 | Marco Estrada Tor - SP,RP | Bombers | 50.00 |
| 5 | Mike Leake Cin - SP | Skipjacks | 50.00 |
| 5 | Mike Pelfrey Min - SP | Senators | 50.00 |
| 8 | Lance Lynn StL - SP | Wahoos | 46.00 |
| 8 | Colby Lewis Tex - SP | Senators | 46.00 |
| 10 | Clayton Kershaw LAD - SP | Tigers | 45.00 |
WHO'S NOT—PITCHERS
| | | | |
| --- | --- | --- | --- |
| 1 | Garrett Richards LAA - SP | Wahoos | -18.00 |
| 2 | Jeff Samardzija CWS - SP | Monarchs | -12.00 |
| 2 | Rubby De La Rosa Ari - SP | Tigers | -12.00 |
| 2 | Nick Martínez Tex - SP,RP | Blues | -12.00 |
| 5 | Tsuyoshi Wada ChC - SP | Bums | -11.00 |
| 6 | Shane Greene Det - SP | Blues | -7.00 |
| 7 | Jered Weaver LAA - SP | Senators | -6.00 |
| 7 | Yordano Ventura KC - SP | Bums | -6.00 |
| 7 | Aaron Harang Phi - SP | Tigers | -6.00 |
| 7 | Andrew Cashner SD - SP | Tigers | -6.00 |
| 7 | Yimi García LAD - RP | Tribe | -6.00 |
TEXAS LEAGUERS
*

I have made more managerial gaffes this season than Dan Jennings, Grady Little and Ted Turner combined. The worst was drafting and elevating Matt Garza, who moonwalked me backwards by almost 30 paces. Second worst was continuing to keep R.A. Dickey in as a starter, in spite of repeated bludgeonings, before finally cutting him loose. Tied for third would be the 20 times I have left one of my utility players on the bench on a night when he scored anywhere between 10 and 20 points, most recently an episode with Brandon Phillips which cost me 13.5 points. It is absolutely uncanny how often that this happens, seemingly wildly disproportionate to the fortuitous promotions, demotions and non-decisions which result in meaningful positive points for my team.

*

I cannot believe how many 120-150 points I see from the six teams ahead of me in the standings. Every time I have a decent night from my hitters and several pitchers starting on the mound, I have at least one starting pitcher douse himself with rocket fuel and cancel out a stellar start from one of my other pitchers. Why doesn't this same phenomena happen to the Wahoos, Chiefs, Bums, Cubs, Bombers and Skipjacks? Maybe this is why they are ahead of me in the standings. Or maybe it does happen to their teams as well, but it sure doesn't seem like it.

*

I'm not sure if I'd rather be in 7th place or 13th place. I mean, I feel like I have been absolutely busting my hump to stay on top of things this season, and yet here I am after two months seemingly locked into 7th place, with very little prospect of moving up in the standings. On the other hand, if I let down my guard for even a minute, I can expect to freefall in space toward the Tribe. If I was already in 13th place, I could coast and nobody would blame me.

Alright, having thought about it rationally for a moment, I would certainly rather be in 7th place than 13th place, but I'd also much rather be in 1st or 2nd place than 7th place. Fair enough?

*

It's hard to believe that Tirebiter's Hawkeyes almost won their NCAA baseball regional, barely losing out to Missouri State for a spot in the Super Regionals. Contrast the Squawkeyes with the Huskers, who in late April looked to be a shoo-in for hosting a regional, only to collapse in the last month of the season and lose out on any chance for postseason play. By the way, if Tirebiter even mentions his Yellowbirds baseball prowess on the Trip, it'll be time for a Husker blanket party. Don't say that you haven't been warned, Jim Ed.
TRIPLE A ALL-STAR GAME, JULY 15
Looks like there will be quite a few of us attending the Triple A All-Star game at Werner Park on Wednesday, July 15. I am hopeful that I can get my act together enough that we will be able to have a pre-game tailgate or cookout or some darned thing prior to the start of the actual game. Keep this on your calendar, gentlemen, and details to follow.
NEXT WEEK
The Curbside Chronicles. Like all of you, I'm sure, I can't wait to hear from Magpie.
And that is all.
Skipper