Baseball Brethren:
A TWO-HORSE RACE
Through games of Sunday, August 23, 2015, with a mere five weeks of play left, here are the Hot Stove League standings:
| | | | | |
| --- | --- | --- | --- | --- |
| 1 | Chiefs | 9953.70 | -9472.40 | 481.3 |
| 2 | Wahoos | 9766.20 | -9309.90 | 456.3 |
| 3 | Cubs | 9440.70 | -8978.70 | 462.0 |
| 4 | Bums | 9145.80 | -8547.90 | 597.9 |
| 5 | Bombers | 8871.40 | -8409.70 | 461.7 |
| 6 | Redbirds | 8830.60 | -8311.10 | 519.5 |
| 7 | Skipjacks | 8587.90 | -8178.80 | 409.1 |
| 8 | Blues | 8587.60 | -8077.20 | 510.4 |
| 9 | Bears | 8495.30 | -7927.90 | 567.4 |
| 10 | Tribe | 8457.80 | -7986.60 | 471.2 |
| 11 | Senators | 8299.20 | -7921.20 | 378.0 |
| 12 | Tigers | 8148.80 | -7791.30 | 357.5 |
| 13 | Monarchs | 8044.10 | -7686.80 | 357.3 |
No disparagement of Shamu's Cubbies' intended, it is clearly a two-horse race toward the finish line, with Possum's Wahoos seemingly in the driver's seat with a sizable stockpile of pitching innings (36.2) to spend during the balance of the campaign. With the Chiefs' pitching staff projected (+11.0) to blow through the 2000 innings limit early, it looks like another case of Premature Ecapulation for Baby Trumpetfish. I guess he hasn't heard that there are treatments for that.
With a 294.9-point lead over the fourth place Bums, Shamu is a lock for yet another finish in the money, in spite of his protestations to the contrary on our recent junket to the Mile High City.
As for the rest of the field, it looks like the Bombers, Bums, Redbirds and Skipjacks will be fighting it out for the remaining Upper Division berths, the Blues, Bears and Tribe for the remaining single digit spots, and the Senators, Tigers and Monarchs waging war to avoid the cellar position. And while it's not yet official, not by a long shot, there is more than a small chance that Screech and his beleaguered Butterflies could go first-to-worst for just the second time in league annals.** Heavy is the head that wears the crown.
ANOTHER ROCKY MOUNTAIN HIGH
Since Itchie has inexplicably refused to reassume responsibility for chronicling our annual trip in a guest newsletter, I am forced to recount here some of the highlights of our recent junket to the Mile High City and Coors Field. Apparently J.T. doesn't understand that when one is retired, one needs to find other ways to be a productive member of society, such as giving back time at the local soup kitchen, mentoring disadvantaged yoots, helping little old ladies across the street, and entertaining all of us with an issue of The Jiggernaut. Perhaps Queen Anne, his long-suffering wife, coined it best: Johnny takes care of Johnny. Amen that.
HIGH ON KEMP, NOT HEMP
As the boys of Summer reunited late Friday afternoon (August 14) at a lively pub (Ignite)
just across the way from Coors Field, little did they know that they were about to witness baseball history. After polishing off an alarming quantity of unconventional appetizers (including some delectable "man candy"-flavored bacon, and some disgusting flavored broccoli balls being touted by Possum—of course) and ample spirits, the eight stalwarts of the 2015 Trip Class* marched resolutely past multiple weed distribution outlets in the LoDo area, preferring to get loaded by imbibing on liquids instead of the now-legal cannabis which is fueling an economic boom the likes of which Denver has not seen since the last time Big Johnny and One-Way Tony patronized a Mile High City "gentlemen's" club in their glory years at First Data.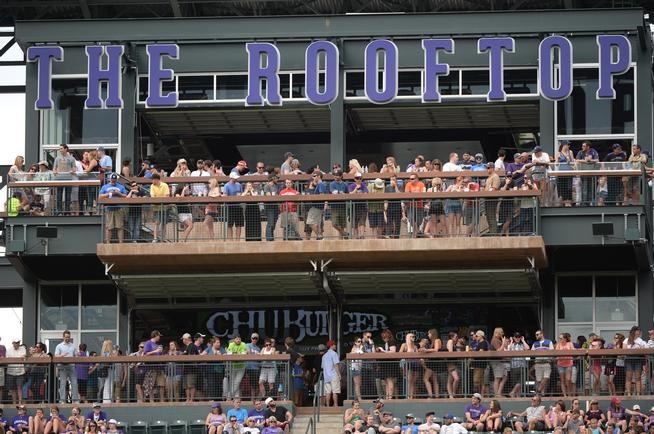 Once inside the beautiful ballpark, we made our way up to the refurbished right field roof area and immediately took advantage of the $3-beers. As play began with the Rockies hosting the perennial doormat Padres in the first game of a weekend series, Matt Kemp (he of the league-leading Chiefs' outfield starters) promptly stepped to the plate and hit a laser beam home run to deep center field on an 0-and-1 count. Little did we realize that we were seeing the beginnings of an historic night for Kemp.
As the game wore on, and HSL attendees supped more and more $3-beer and sampled more and more of the Coors Field epicurean delights, Kemp went about his business, and on a 2-and-1 count added a line drive single to deep center field in the 3rd inning. Soon, a few of the more shopworn HSL owners retreated to their seats high above the right field foul pole, reminiscent of our 1995 trip to Coors, in its inaugural year, while the more youthful and energetic members of the league remained vertical at the drinking helm. Before long, Kemp quietly recorded a line drive double to deep center field in the 7th inning, completing 75% of his night's work, even as a few of the more elderly HSL members took cat naps. Finally, in the 9th and last inning, and with only two Hot Stove League members remaining upright and awake, Mr. Kemp completed his night's work by scorching a triple off the right field wall just below us, completing his first cycle and achieving the first cycle in San Diego Padres' and Hot Stove League history. Just how many of the superannuated Hot Stove Leaguers up in the seats (addled not only by age but also by consumption of spirits), recognized this feat as it played out is open to interpretation and subject to the selectivity of our memories, but all eight of us were there for it, and that's what counts. Not since A-Rod's debut game in Boston 21 years earlier—when John Valentin, playing shortstop (that's right, Foster, shortstop)—turned an unassisted triple play have the league members been witness to such an historic event on an official HSL junket.
UP ON THE ROOFTOP
After the game, which was won by the Padres by the score of 9 to 5, their spirits soaring with the witnessing of the Kemp cycle, the HSL Boys each at their own peril followed the league Superball-in-a-Closet to a nearby rooftop bar known as The View House,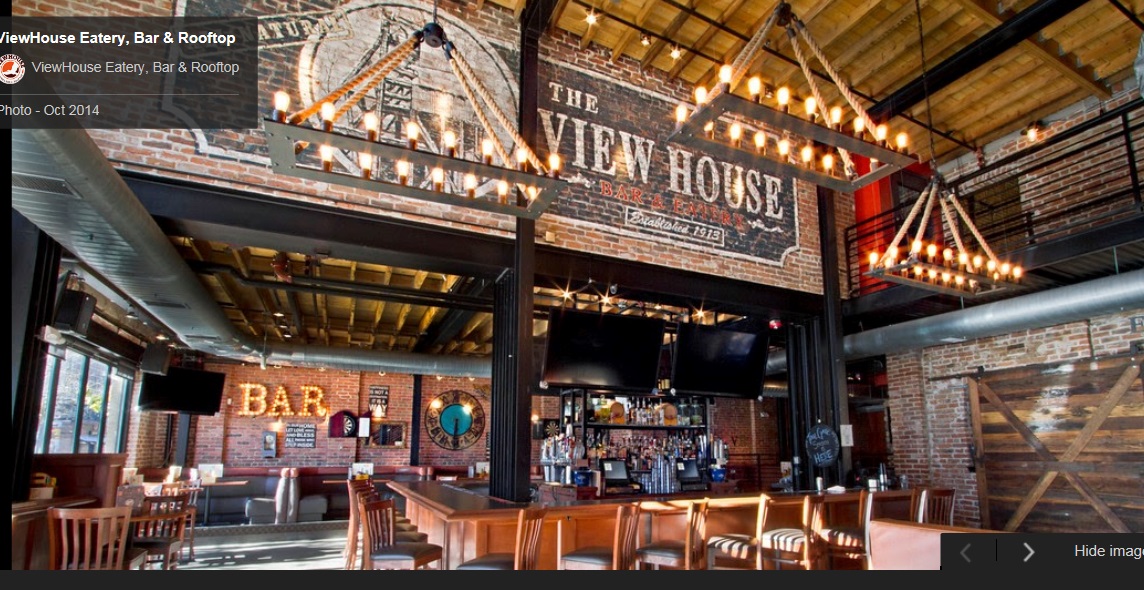 where loud music (eh? What's that, Shamu?), young talent and delicious adult beverages were the order of the evening. Big Johnny quickly worked his Itchie magic and seduced a young waitress by the name of Celestina (her parents apparently could not decide between Celeste and Sabrina) into bringing our group trayful after trayful of shots of a wonderful Chemistry 101 concoction known as a "Fireball." Great idea, J.T. You can be Napoleon in the upcoming movie version of George Orwell's Animal Farm. On the other hand, that would require you to actually stop drinking the following day, so scratch that idea.
Predictably, Celestina tired of having to shout out the "Hey, Big Johnny!" tribute every time she delivered a tray of booze, and so soon she became as scarce as Shamu's pocket calorie counter. Finally, as a few of the HSL fossils began whining about needing their beauty sleep, Big Johnny bankrolled a final round of Fireballs for the brave and hearty (read: stupid) members still willing to partake. "One more for the ditch," toasted Big Johnny, as he grabbed his shot glass and downed it with great gusto.
The other member of this dynamic HSL drinking duo, McBlunder, somehow managed to dip his supersized proboscis into the heart of the shot glass to extract every last drop of the magical elixir, sending him into a spiral of inebriation and unrecognizable spurts of the English language (we think) which lasted the entirety of our trek west on I-70 and all the way up the mountain-goat-walking-path that is the road to Eagle's Nest. Once there, McJester quickly went horizontal and engaged the activation switch of the Evergreen saw mill. It was Big Guy who quickly recognized that there would be no need that weekend for the continued services of Sparky the electronic dog that is situated in B.T.'s bedroom at Eagle's Nest, and that we could save a penny or two on electricity by relying on McBlunder's terrifying nocturnal outbursts to keep burglars, assorted ruffians and overprotective mother bears from encroaching upon our mountain retreat. To our good fortune, this highly-effective, high-decibel protection continued to serve us well the following afternoon during Stretch's four-hour nap, although a few shorts in the wiring nearly led us to redeploy Sparky near the end of Stretch's deep REM session.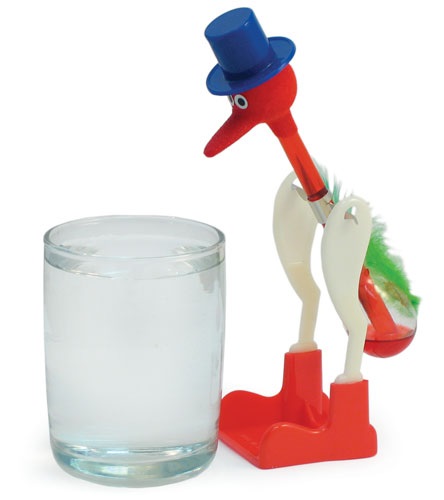 While McBlunder peacefully albeit noisily dreamt sweet dreams of Margaritaville, Kemp, hemp, and more of Celestina's lip-smacking, proboscis-pleasing nectar, Shamu, Big Guy and Skipper ran the rags on the deck of the Eagle's Nest on a beautiful starlit night, awaiting the furtive arrival of the Red Badge of Courage (our fourth at cards in law school) and making wagers about how many blocks of Runza cheese would be changing hands after the card game outcomes were tallied. Pretty much the perfect end to a perfect day.
DAY TWO
Thirteen collective outdoor nocturnal comfort breaks later, the Eagle's Nest Four were up at the crack of 9:45 and yearning for morning vittles. Stretch was informed that he had slept well on the front room couch; and upon recognizing his whereabouts, began asking for details on his trip up the mountain, quite certain that he had been beamed up by Captain Kirk or air-dropped by the Evergreen Helicopter Rescue Team. Shamu paid the first of many visits to B.T.'s beloved, hand-crafted honey shack out back, to the relief of him and all.
Twenty-five miles to the east, Bender arose crankily from his bed and stumbled out of his room at the hoighty-toighty hotel where the Upper Crust faction of the trip bedded down, demanding to know who had emptied out the entire contents of his room's minibar. Mouse's plausible denial notwithstanding, Big Johnny a/k/a Sandjigger a/k/a Foster a/k/a Bender a/k/a Garrett a/k/a Napoleon issued a proclamation that as the de facto HSL social chairman, there would be no more hard liquor served on the 2015 Trip, and potentially into HSL perpetuity. The scoffing, sneering and downright incredulity at this statement reached a fever pitch, as Bender's HSL Upper Crust colleagues fully realized that Napoleon would likely be slurping on a Hair of the Dog Cocktail before the noon whistle at the Bedrock quarry. They weren't wrong.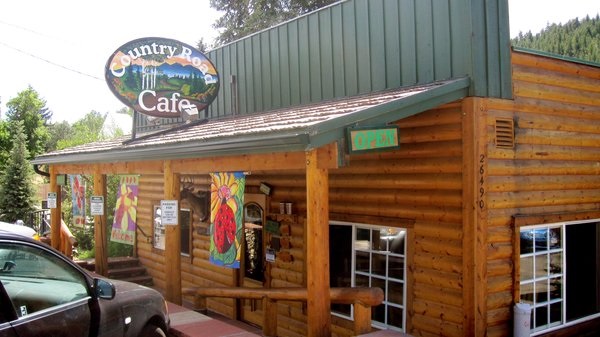 Meanwhile, back in Evergreen, Shamu's Simonesque anticipation of a ranch hand breakfast reached its zenith as Skipper described the bill of fare at the Country Road Café in nearby Kittredge. Explaining to our designated driver his urgent need for a 3,000 calorie breakfast to stave off yet another worrisome hypoglycemic attack, Shamu pleaded with Big Guy to find a shortcut down the mountain from Eagle's Nest, even if it meant blazing a new trail through the thicket of evergreens and aspen trees. Reminded that he had just consumed a pizza pie that would have sated Pavarotti at 1 a.m. on the way home from the bar, Shamu relented and Big Guy guided us safely down the mountain and into Kittredge for our breakfast. Despite enormous portions that would have sent Henry VIII looking for a bottle of Tums, Shamu licked his plate clean and then glanced longingly at the unfinished stack of giant flapjacks on Skipper's plate. "Would you like to finish mine, Charles?" he offered. "Oh, no, I simply couldn't," said he, as the thought bubble over his head cursed his failure to bring his Valentino's-bankrupting knapsack along with him on this trip.
The Eagle's Nest Four then returned to the cabin and quickly warmed to Skipper's idea of a hike up the mountain to see the abandoned Boy Scout camp, not only to work off the giant portions from breakfast, but also for generalized bonding purposes. Initially, McBlunder harrumphed the idea of taking bear spray along for protection on the hike, until learning that a mother bear and two cubs had recently been spotted near B.T.'s cabin, and realizing that the rest of the foursome did not need to be able to outrun the bear, just him.
After hiking up almost 100 feet at the steep 3-degree incline, Shamu was doubled over and breathing heavily, concerned that he might be having a hyperglycemic reaction from the morning's repast in Kittredge. Catching his wind and calling upon his deep reservoir of inner strength, Shamu boldly cinched up his mesh shorts overlying his whitey tighties, and the Eagle's Nest Four resumed their march up Bear Mountain. Nine or ten similar rest breaks later, we had finished our climb and were back safely on the deck of Eagle's Nest, just in time for Stretch to hunker back down on the couch for a refreshing drawer-opening-and-closing, wallpaper-dislodging four-hour nap. Once again, in the interest of energy conservation, Sparky the electric dog was unplugged.
COORS REDUX: THE LAP OF LUXURY
On Saturday evening, the Hot Stove League octet met at Coors Field at our luxury box seats in sections 235 and 238. Compared to the previous evening, the group was noticeably subdued, save Napoleon, who was eagerly anticipating getting back in the cups. The major excitement of the day was when Shamu advised Possum that there was a cap on saves in the Hot Stove League, and that Possum was getting dangerously close to the limit. The whirring and clicking from inside Possum's devilish skull was at once audible, as the league mountebank began conjuring up every conceivable bait-and-switch proposal available within the confines of the Wahoos' roster. Before long, all in attendance were well "Familia" with what they were seeing before their very eyes, the Devil Boy plotting to dish off one of his surplus relievers in a multi-pronged trade proposal beyond anyone's hope of understanding or resisting. Give the Devil his due, he got it done.
I should not fail to mention that one highlight of the evening was when Possum was touting the strengths of his newest reliever, Colorado Rockies closer, Tommy Kahnle, even as we all watched him douse himself with rocket fuel and self-ignite in the top of the 9th inning, giving up 3 hits, 1 walk, and 2 earned runs. Undeterred, Possum tried to package him up for a quick "fire sale," pun intended, but the HSL shoppers weren't buying.
After the game, which the Padres won by the score of 7 to 5, the boys made it out to another nearby bar (the "Tavern) for a single adult refreshment before repairing to the hotel bar at the Grand Hyatt for a nightcap before closing it down for the night.
On Sunday, six of us returned to our homes in Omaha and Kansas City, rejoicing at yet another successful Hot Stove League trip. Shamu was placed in the guardianship of Possum for a return trip to Coors Field for a Sunday ballgame with high hopes of keeping his ice-cream-on-every-trip skein alive, and has not been seen nor heard from since. Meanwhile, Possum remains free on a personal recognizance bond.
Another great trip, boys. To close things out, a few photographs from this year's Rocky Mountain High. Thanks again to everyone who attended and made it a great weekend in the mountains, and especially to Scott and Mouse for planning and executing the trip, and to Scott for graciously allowing us the use of Eagle's Nest even in his absence.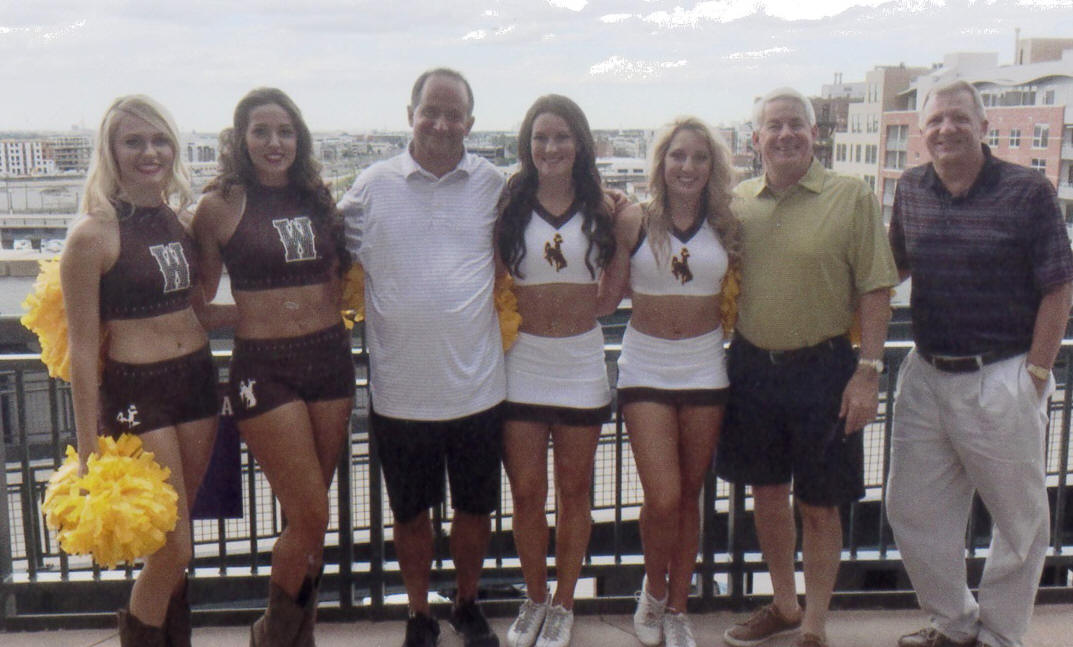 Big Johnny: The straw that stirs the drink.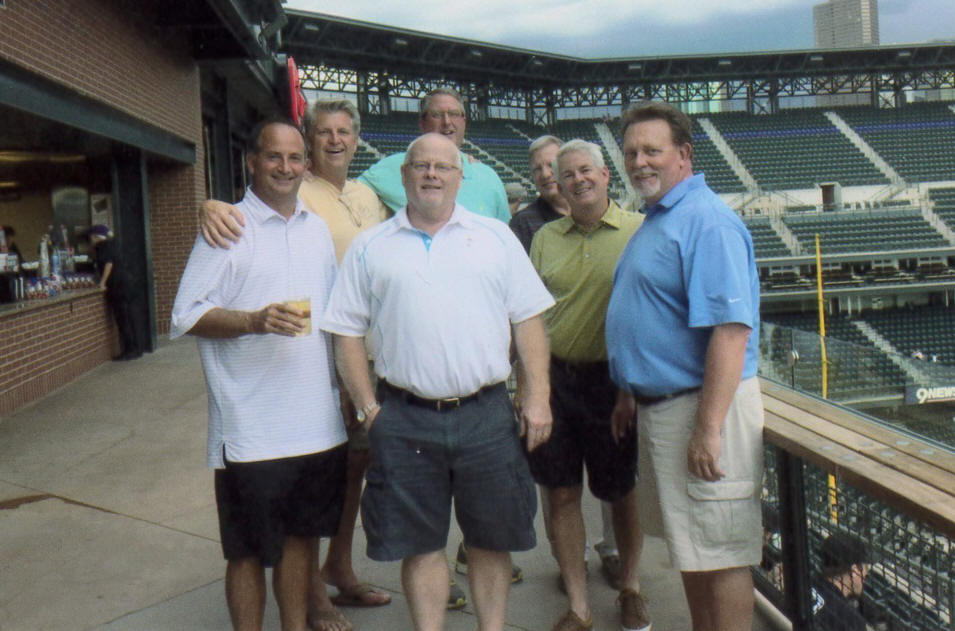 2015 Trip to Coors Field: Kemp, not hemp!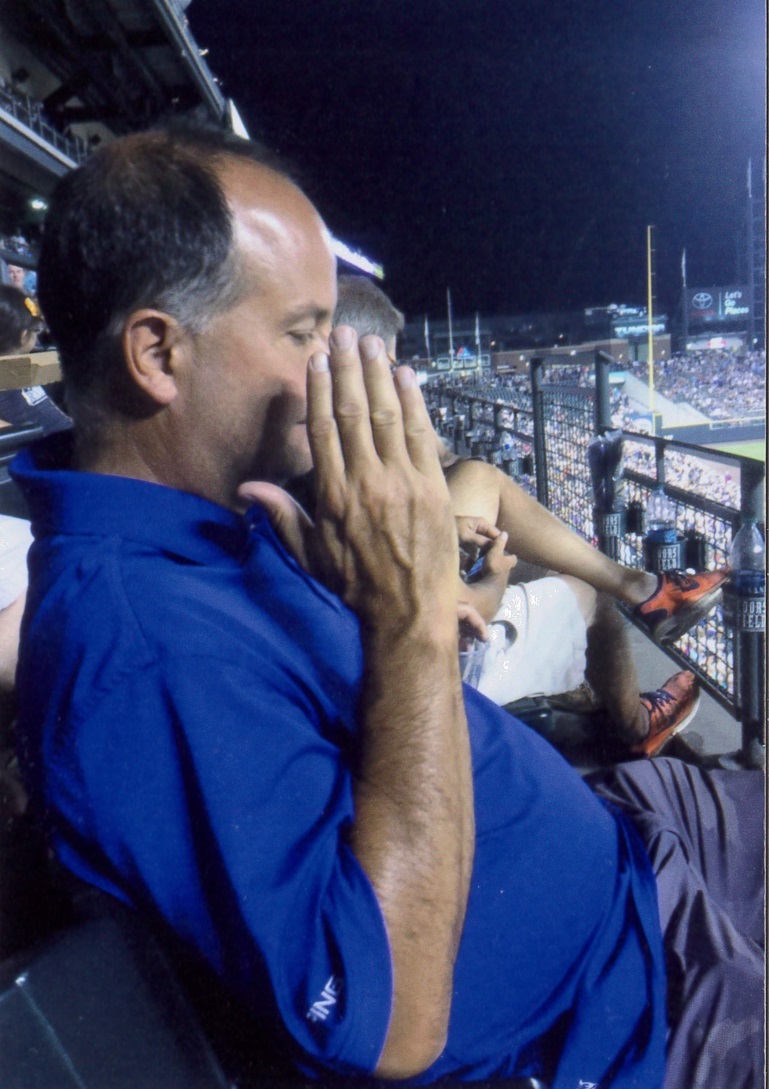 "Sorry, no interviews."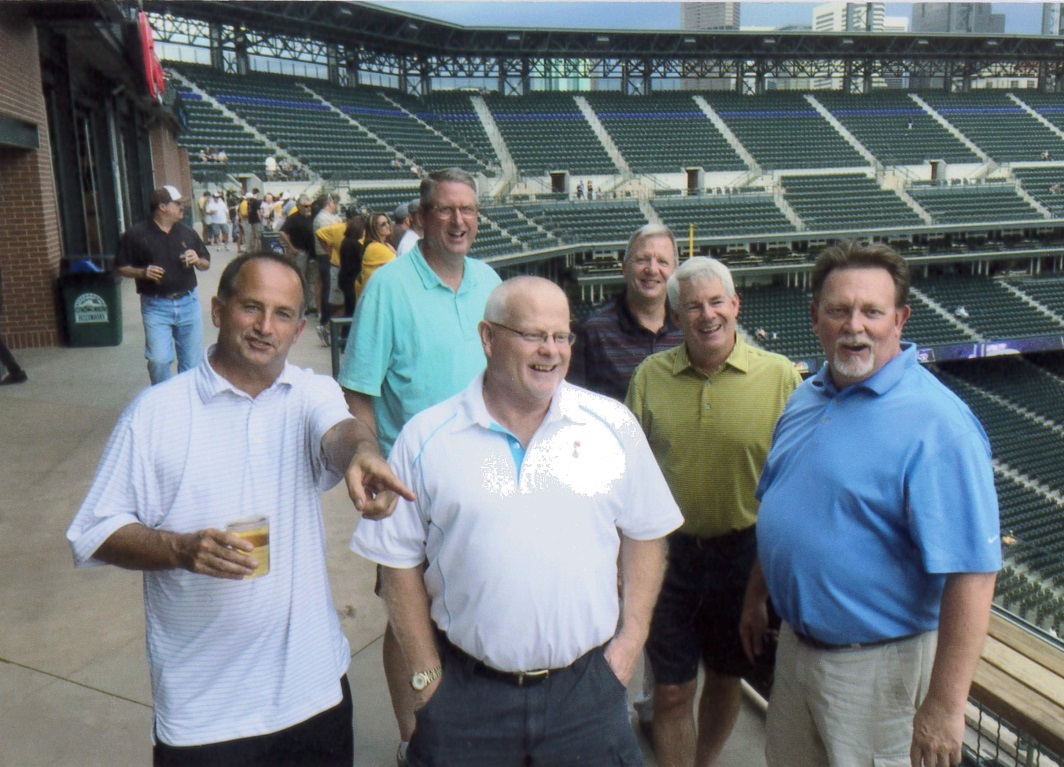 "Look, it's One-Way Tony, with a tray full of shots!"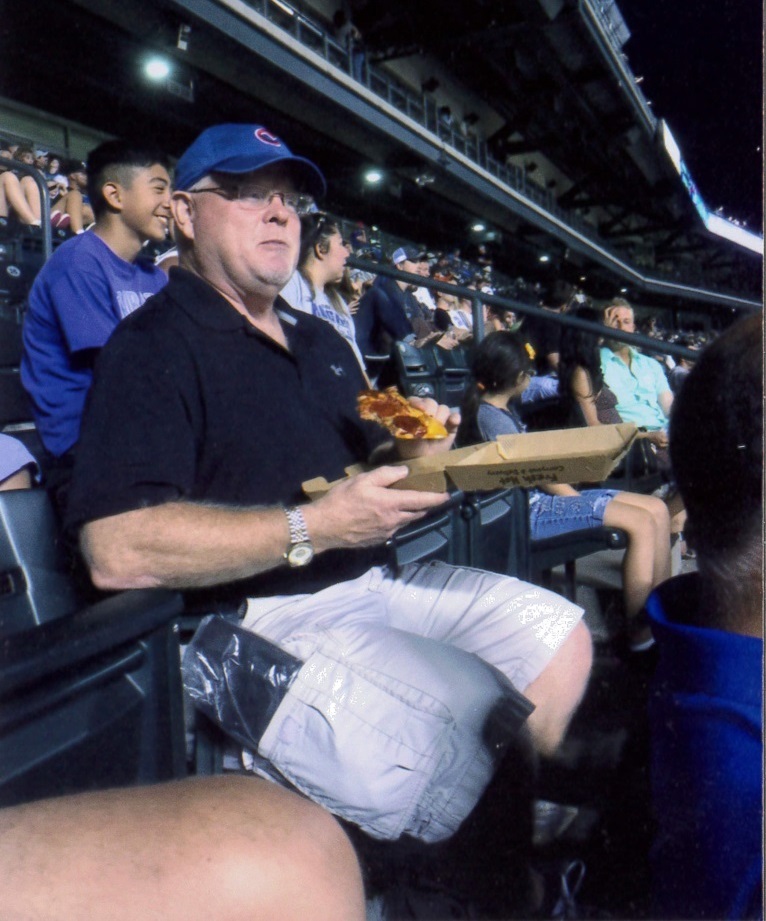 Shamu thought bubble: "This will have to tide me over until I can
get a full pizza pie after the game. Damn, I hope my
hypoglycemia doesn't flare up again."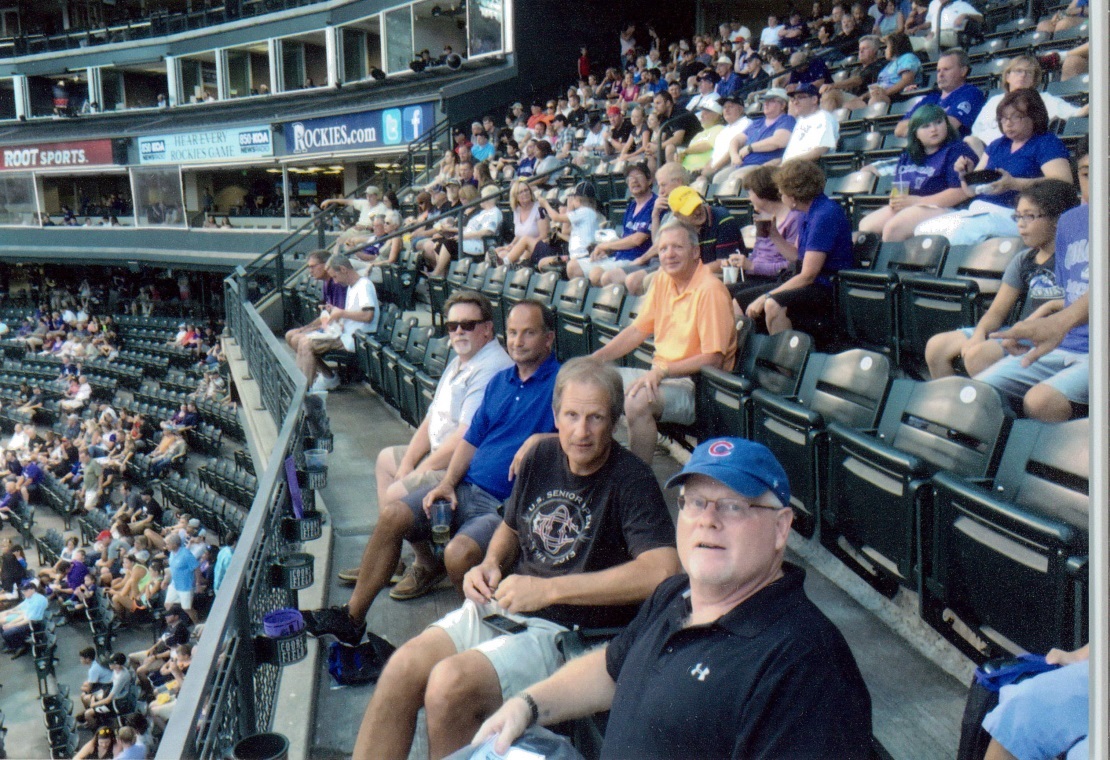 Shamu: "Is that a giant bucket of ice cream . . . for me?"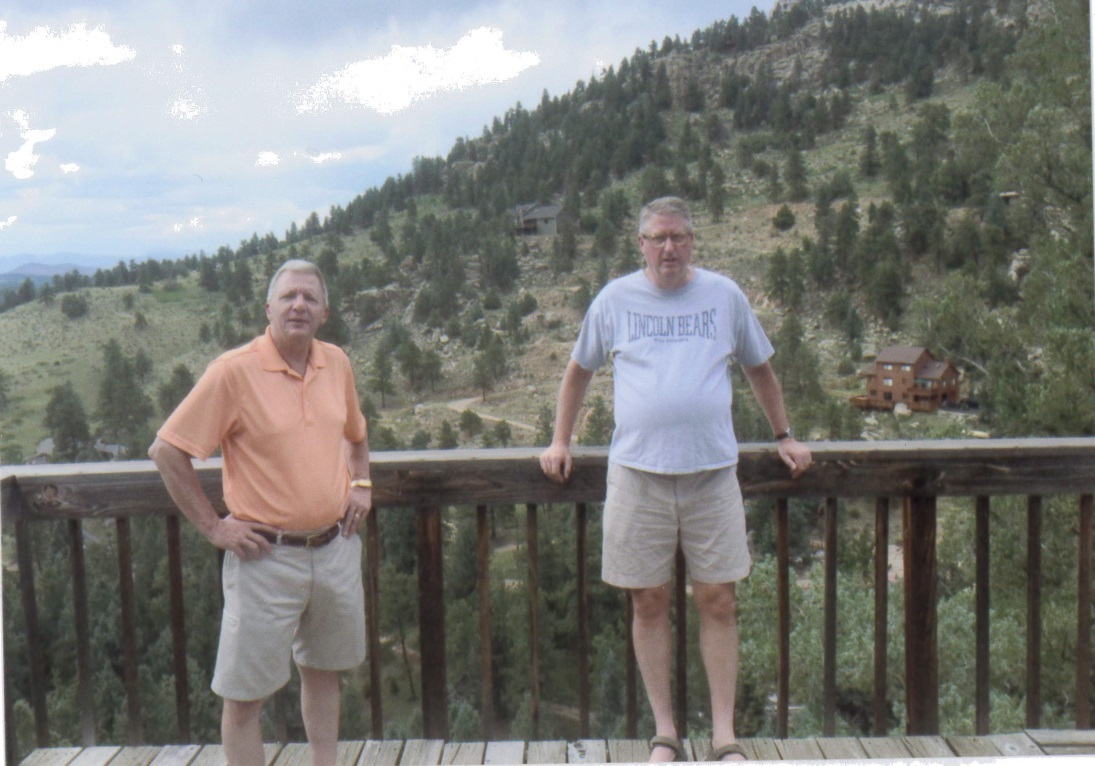 Big Guy and Stretch test the strength capacity of
the deck at Eagle's Nest.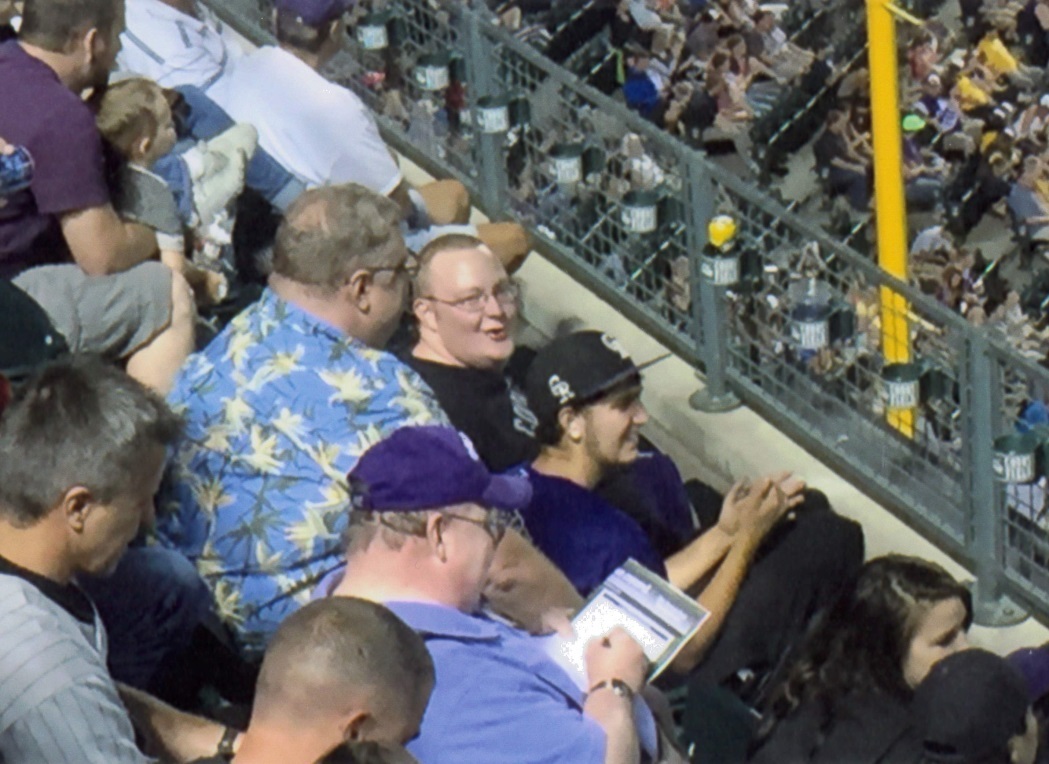 Shamu, times two?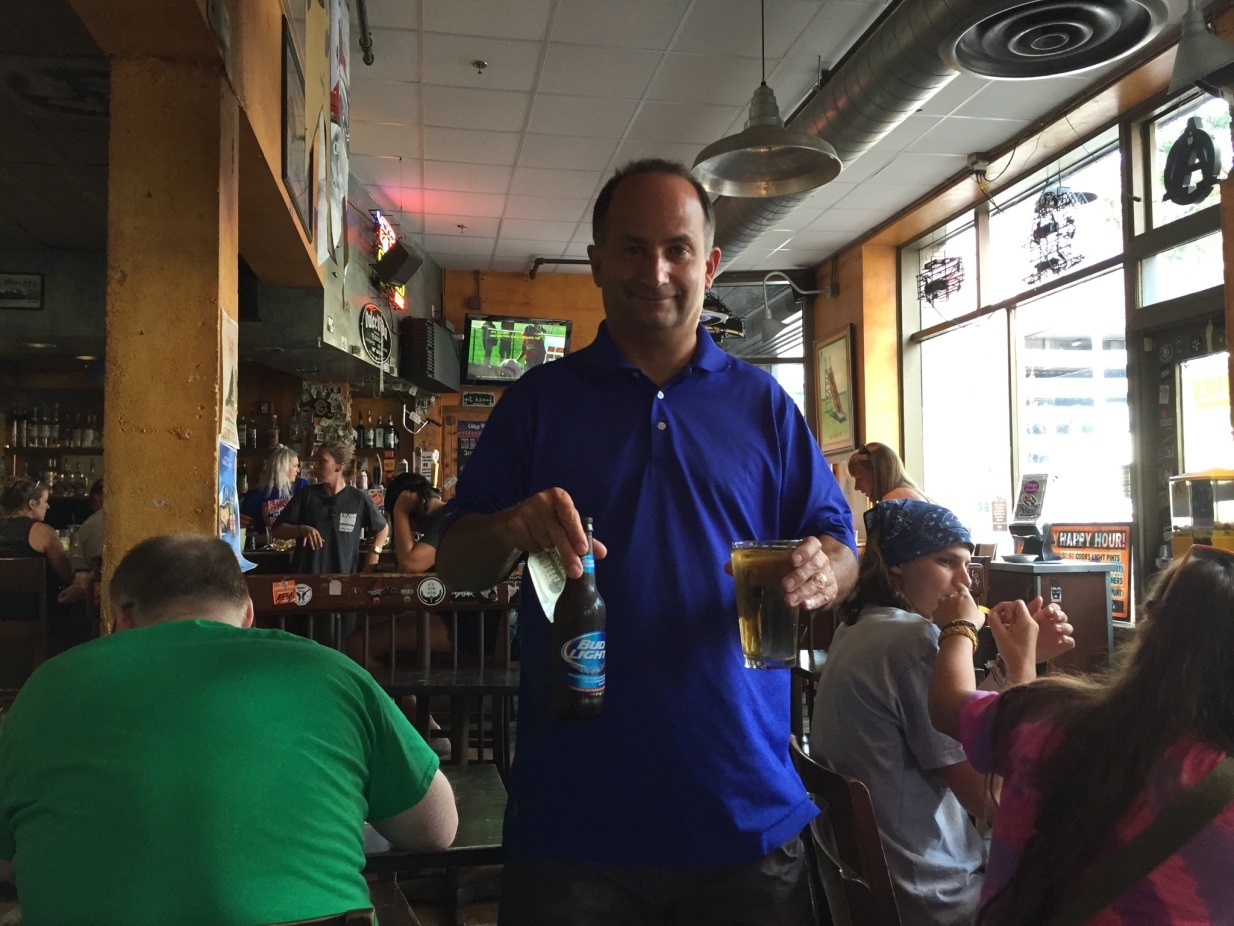 "So I like to drink. So what?"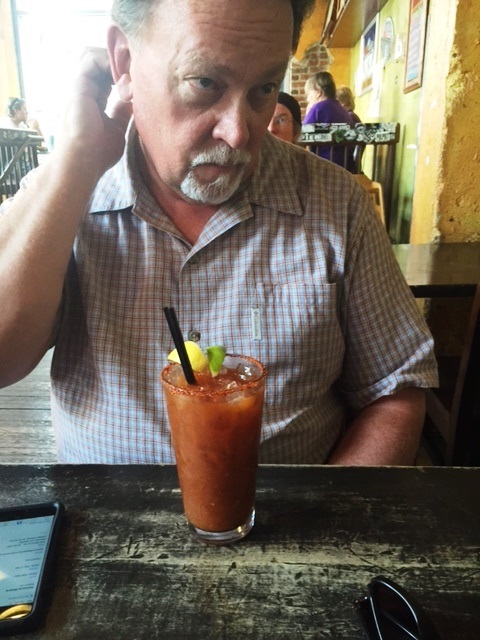 "This is not my fourth Bloody Mary. It's my third."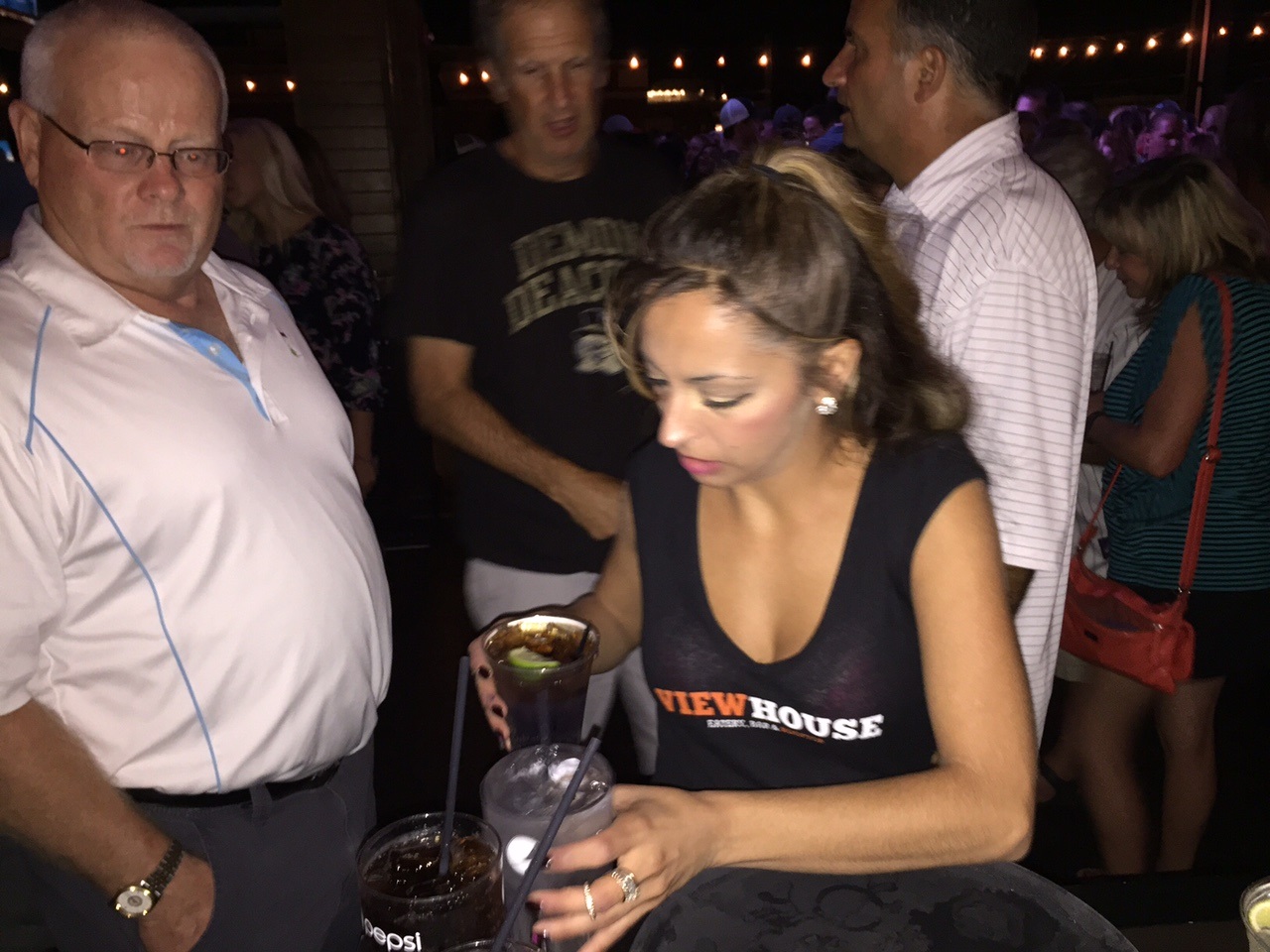 Celestina hard at work, as Shamu
steals a "view."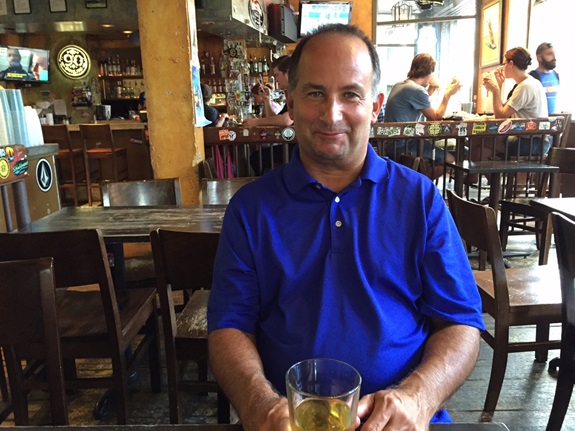 "Just one more gulp, please!"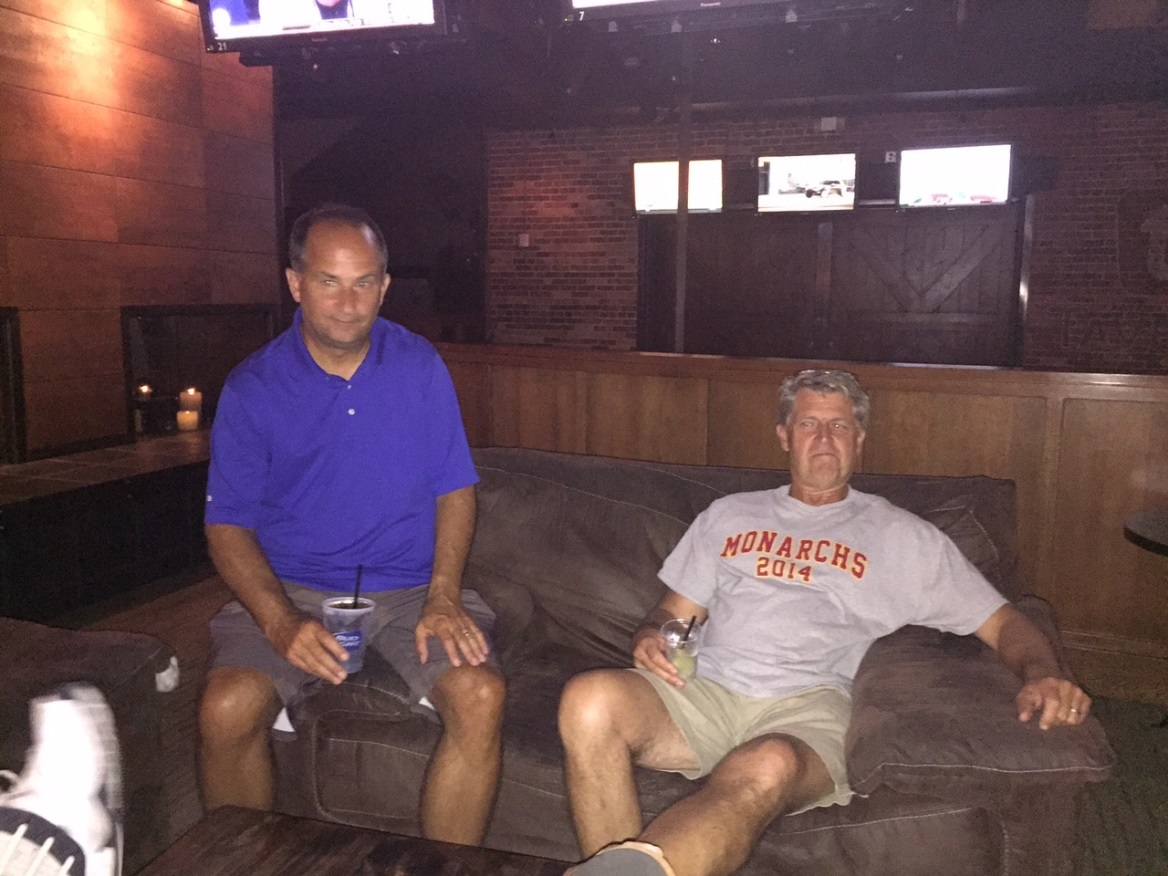 Skipper is sad. The well has run dry.
NEXT ISSUE: BASEBALL'S BACK IN BROOKLYN
CONEY ISLAND CALLS
JARED VOGEL: A RETROSPECTIVE
Skipper
_____________________________
* Possum, Magpie, Bender, Krause, Big Guy, Shamu, Stretch and Skipper (with B.T. getting an honorary participant ribbon for missing only because of a last-minute fatherly emergency, not to mention his contribution of the use of Eagle's Nest to the four manly men who bunked there during the trip.
** The 1994 Champion Cubs fell all the way to last the following season, 1995. The Skipjacks nearly returned the favor the following year, going from 1st place in 1995 to 11th place in 1996.