Brethren:
Hail to the Chiefs!
Because I have previously neglected to do so in this publication, congratulations and high-fives to Baby Trumpetfish and his Chiefs for finishing on the top of the Hot Stove League heap for the fourth time overall and the third time in the last five years. That, my friends, qualifies as a dynasty in this august association. Nobody has won our league three times in such a short span of time since the Dead Ball Era of 1987-89, when Big Guy and his Tigers went back-to-back-to-back. Great job, BT!
Congratulations also to Possum for finishing a close second and making a bit of a race of it at the end. According to my calculations, this is Possum's 5th runner-up finish, all of which he actually could have won, in his own mind, which means all of which he did win, in his own mind, for a total of 9 Hot Stove League championships for Possum.
Our third money spot finisher was Shamu, who once again proved that as Hot Stove League transactions go, less is not more, and his constant vigilance and attention to the free agent wire (193 moves, 45 more than the next closest) has once again served our affable friend quite well. This was Shamu's 4th third place finish, and his 8th top three finish overall in 31 years of Hot Stove League competition.
FINAL STANDINGS
Here are your final standings for the 2015 campaign: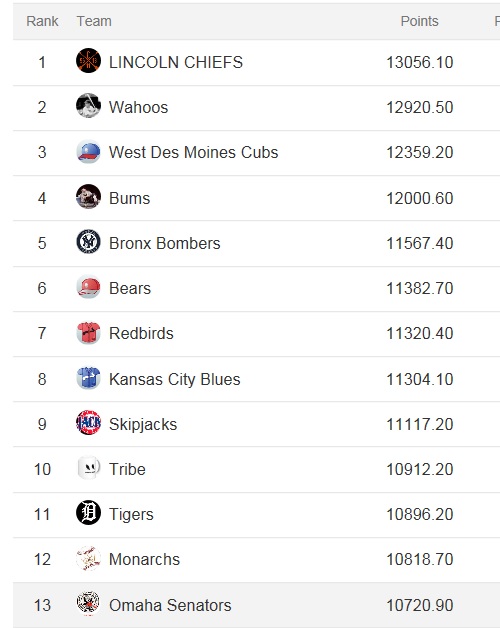 Kudos also to Brother Mouse, whose Bombers finished in 5th place, matching their highest-ever final ranking in 23 years of spirited competition. Next stop: Top of the heap.
To avoid the elephant in the room syndrome at BT's championship celebration a week from Saturday, allow me to point out that my Senatorial Freefall at the end of the season resulted in my team's finish in last place for the sixth time in the past nine years, narrowly allowing Screech to avoid a colossal First-To-Worse encore performance for the 2015 season. That's just the kind of guy I am, always looking out for one of my brother owners.
Anyway, the 2015 campaign was another great year of competition with 13 great guys, and we can all look forward to our 32nd year of play in 2016. Thanks to all for competing.
BOOK REVIEW:
THE CURSE OF ROCKY COLAVITO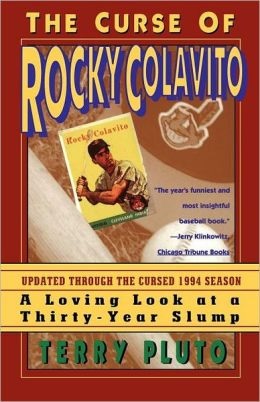 On a recent trip to Portland, we visited one of the country's best bookstores anywhere, Powell's Books, and if you love bookstores and if you are ever in Portland, it is a must place to go. In any event, as I was salivating over the racks and racks of baseball books, new and used, I found a book entitled The Curse of Rocky Colavito: A Loving Look at a Thirty-Year Slump, written by author Terry Pluto in 1994, at the very start of the 1990s resurgence of that proud franchise. In any event, it is a terrific read, and blames the despised former Indians general manager Frank Lane for crippling the franchise with his 1960 trade of the uber popular Colavito to the Detroit Tigers for an aging Harvey Kuenn. To understand why it was such a terrible trade, you have to know that in 1958 at age 24, Colavito batted .303, hit 41 home runs and drove in 113 runs, leading the Majors with a slugging percentage of .620. The following year, 1959, Colavito saw his batting average drop to .257, but he led the Majors with 42 home runs and drove in 111 runs. For the combined two years of 1958-59, Colavito led the entire Major League with 83 home runs and 224 RBIs. However, during contract talks over the winter, Colavito apparently made Lane mad by having the temerity to ask for a raise of his $28,000 a year salary, and Lane pointed out to Colavito that the Yankees had just recently cut Mickey Mantle's salary from $70,000 to $66,000—although Colavito had a much better year than Mantle. In any event, Lane finally signed Colavito to a salary of $35,000, a raise of $7,000, and then proceeded to trade him to the Tigers for Harvey Kuenn, who had signed for $42,000.
Colavito went on to be a star for the Tigers, cracking out 45 home runs in 1961 and driving in 140 runs, followed by 37 home runs and 112 RBIs in 1962. Kuenn, on the other hand, played only one season in Cleveland, batting .308 in 1960 with 9 home runs and 54 RBIs, before being traded off to the San Francisco Giants before the 1961 campaign.
The book also chronicles the hiring of Frank Robinson as the first black manager in Major League baseball, when he debuted with the Indians in 1975 as a player-manager, guiding them to a 79 and 80 record in 1975 and a 81-78 record in 1976. However, star pitcher Gaylord Perry, undeniably a southern racist at the time, gave Robinson no support and refused to be a leader in the clubhouse for him. Rico Carty, picked up late in his career after some great years in Atlanta and some mediocre years for other teams, presented an even greater problem for Robinson, constantly bucking his authority and trying to second-guess the new manager. Eventually, Robinson was canned by the Indians in 1977 and did not return to managing until he took a job with the Giants in 1981, and later had mixed results with the Baltimore Orioles, Montreal Expos, and Washington Nationals. In his sixteen year managing career, Robinson's teams had a collective won-loss record of 1065 and 1176, a .475 winning percentage.
Anyway, The Curse of Rocky Colavito was some very interesting reading, and a book which I highly recommend to all.
THIS AND THAT
| | |
| --- | --- |
| * | I recently listened to Killing Reagan on a long road trip back from Oshkosh, Wisconsin, to watch Michele's son, Tommy, run at Cross-Country Nationals. Also a great "read," or "listen." I had no idea until listening to this tape that John Hinckley first tried to take out President Carter before going on to shoot Ronald Reagan in 1981, and that Hinckley actually got stopped and arrested at the airport in Nashville when three handguns were found in his luggage. That same day, President Carter was in Nashville on presidential business. Hinckley was fined $50 and court costs by a judge in Nashville that day, his three handguns confiscated, and, unbelievable as it seems, he was then released to return to his parents' home in Evergreen, Colorado. Yes, Evergreen, Colorado. |
| * | Although he is keeping it on the down low, Tirebiter has been quietly assuring everyone in his Herky Jerky inner circle that his beloved Hawkeyes will put a beating the Huskers come Friday. We shall see. Maybe Jim Ed will finally have something to brag about. |
| * | If you've never watched the cult classic Best in Show, it is a must watch. Filmed in 2000, I have had many people over the years tell me that it is a hilarious movie, and I finally just figured out how to get it on our home TV system last Sunday. If there is a man alive funnier than Fred Willard, somebody will have to prove it to me. |
Closing out this issue of From the Bullpen, let me wish all of you and your families a fantastic Thanksgiving holiday, and I eagerly await our celebratory shindig in Lincoln next Saturday.
Skipper