Brethren:
I thought I should get out a final 2015 Bullpen to touch on a couple of matters, and to allow everyone to take one last look at Screech's annoying Bucky Dent masthead before B.T. picks the new photo(s) for the 2016 version of our website home page.
YEAR-END PARTY
Thanks again to B.T. for the fantastic cap on the 2015 Campaign on December 5. Between watching the Husker basketball game from the ArtFX luxury box at Pinnacle Bank Arena to our tour of the Ploughshare Brewery to our 17-course feast at MōMō's, it was a Hot Stove League celebration event to remember. Throw in the magnificent pieces of victory apparel (tee shirt, polo, hoodie and cat-burglar stocking cap) and I think that we can pretty much all agree that B.T. should win this league in perpetuity. If B.T. is able to draft Trout, Harper, Goldschmidt, Cabrera, Donaldson, Kershaw, Scherzer and Greinke in the first eight rounds next year, we will know that the fix is in.
A DAY/AND NIGHT TO REMEMBER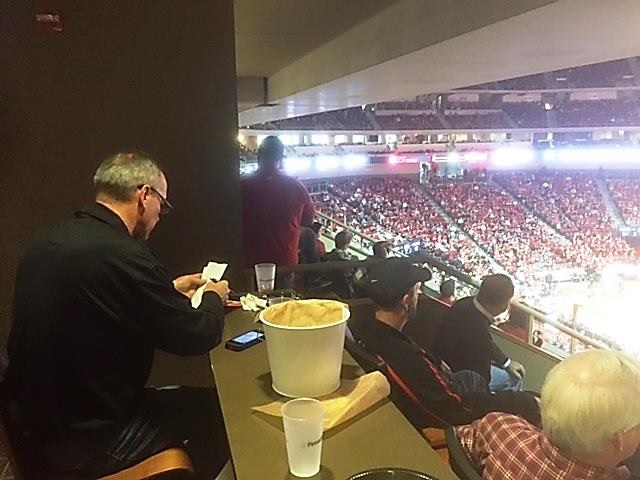 B.T. studies the race form before
calling his bookie.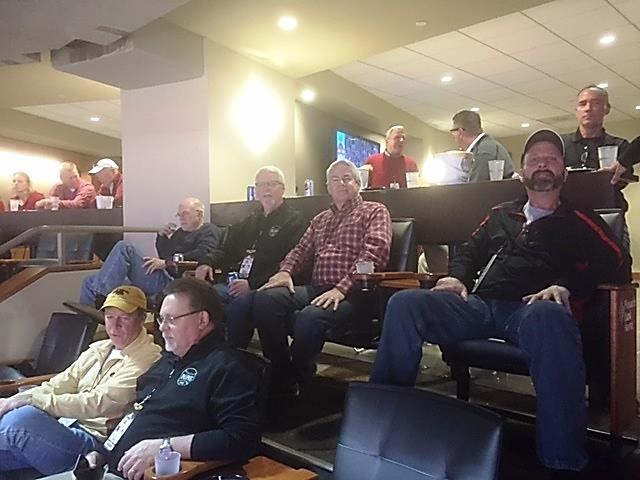 Tirebiter: "Well, Tricko, I do think the Hawkeyes
will beat Michigan State, and by
at least three touchdowns."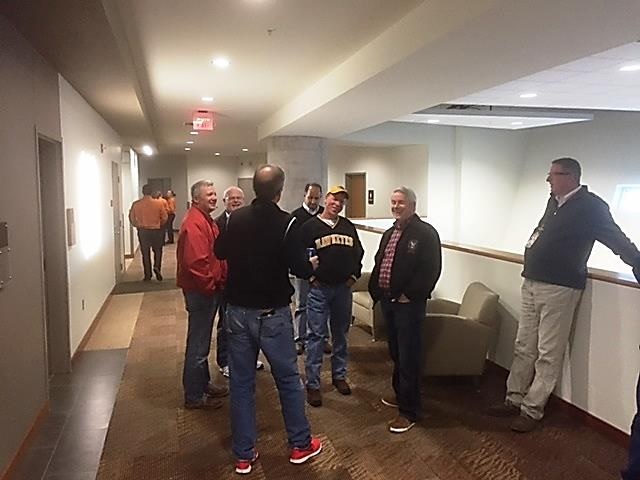 The HSL boys laugh off yet
another Possum DL proposal.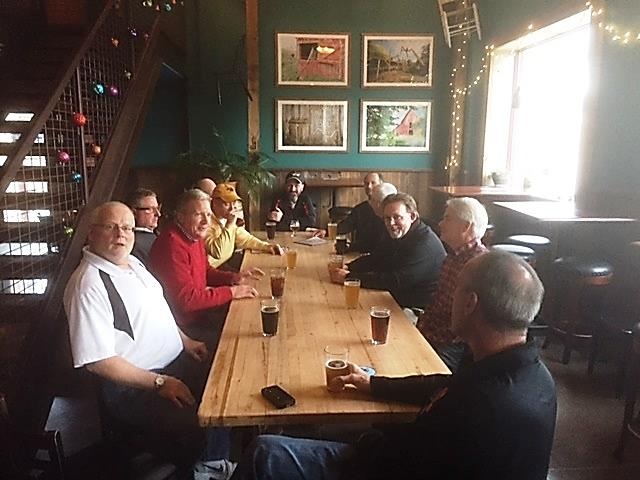 Shamu thought bubble: (Hmm. I wonder
if that dude over there is going to finish
his pitcher of beer and French dip sandwich?)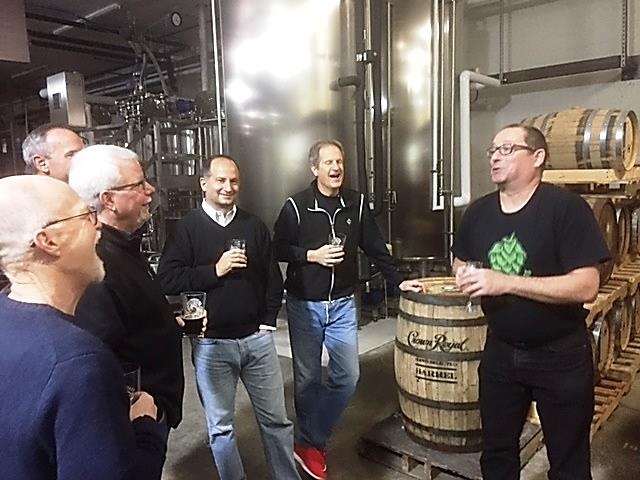 Underbelly roars after our tour guide finally
tells Big Johnny to pipe down.
Screech patiently waits for his
two gallon mug to be filled.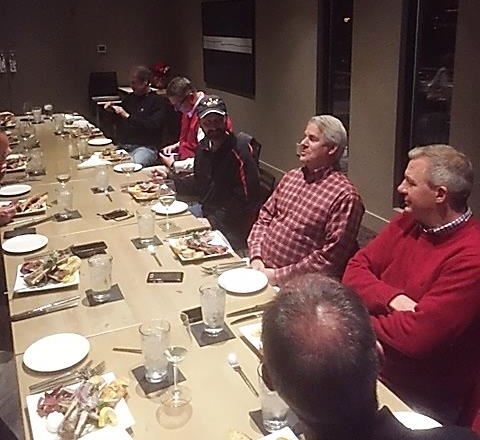 Mouse feigns sleep rather than to have
to eat his marrow or listen to another
Screech tale of woe.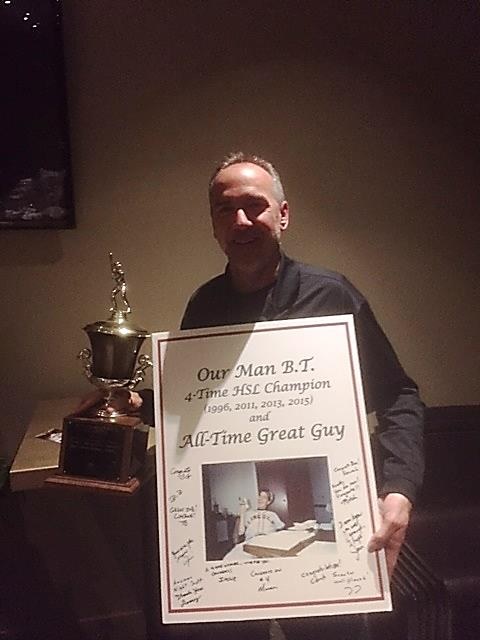 The sign says it all.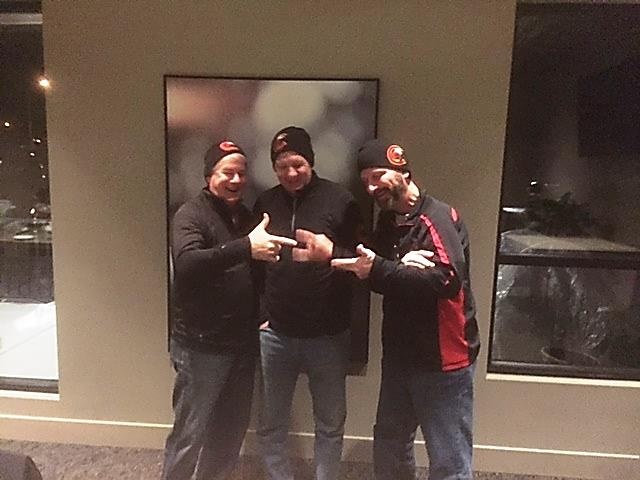 Mouse and Screech try to count how many
years it has been since the Tigers were competitive.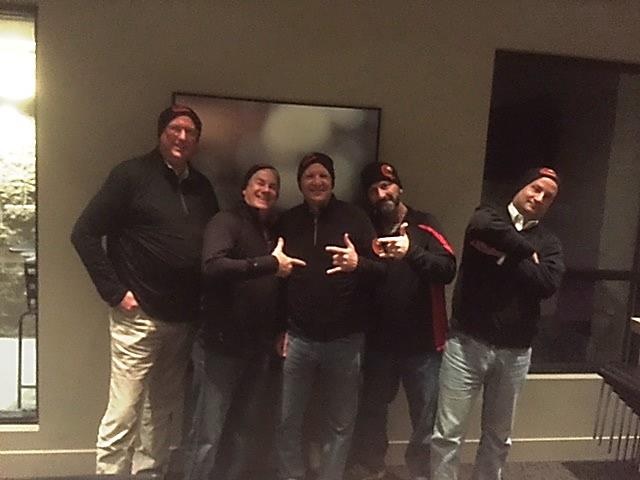 As the boys flash their gang symbols, Itchie
starts tipping to the left on his way down to the floor.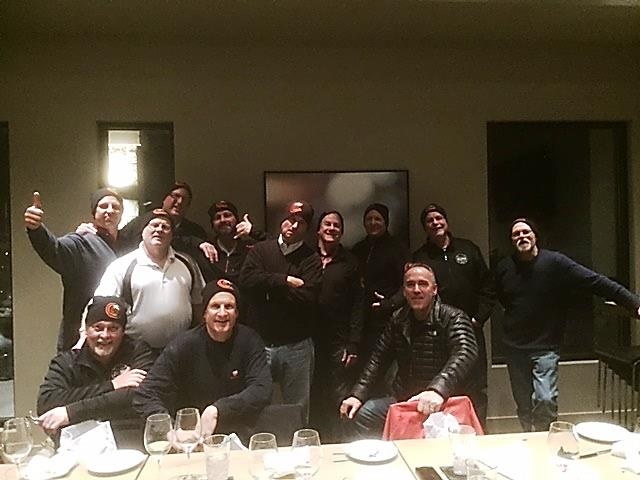 The term "motley crew" doesn't even begin
to describe this collection of misfits.
BOOK REPORT I
I recently finished reading George Will's tip of the hat to Wrigley Field for its 100-year anniversary, entitled A Nice Little Place on the North Side: Wrigley Field at One Hundred.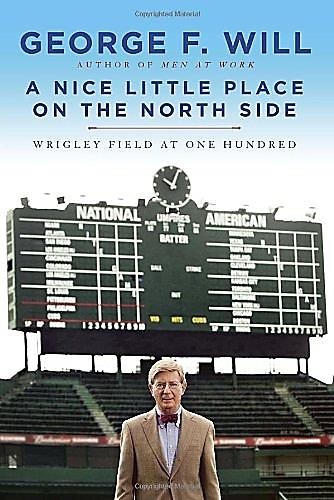 Only 194 pages in length, this is a quick, easy and worthwhile read for any baseball fan. A couple of my favorite excerpts:
It is somehow fitting that the Phillies' manager in 1979 was Danny Ozark, who was given to mind-bending thoughts such as, "Even Napoleon had his Watergate" and "Contrary to popular belief, I have always had a wonderful repertoire with my players." He was not talking about the 23-22 game, but he could have been when he said, "It is beyond my apprehension." He once remarked of baseball, "Half this game is 90 percent mental."
The venue is more important in baseball than in any other sport, for two reasons. The first is that baseball, with nine defensive players thinly dispersed across an eye-pleasing swath of green grass and reddish-tan manicured dirt, is best seen in person rather than on television. . . . Second, because baseball is a game of discrete episodes rather than of flow, like basketball or soccer or hockey, baseball allows contemplation and conversation and a general awareness of where you are. Or at least it allows it when baseball owners do not take leave of their senses and try to replicate, with loud music, the excruciating experience of being in an NBA arena. The NBA experience—strobe lights, lasers, smoke, and cacophonous music—is like being held prisoner in a Wurlitzer jukebox. . . .
William Zinsser, a gifted writer of short essays, is a New Yorker who gloomily anticipated the coming of the new Yankee Stadium and the Mets' new Citi Field because he assumed that they would "feature the latest advances in audio-visual assault." He said he had quit going to Mets games when the din made it impossible for him to talk with whomever he was with. Baseball, he wrote, has its distinctive sounds but it is also "a game of silences. Every half inning it invites its parishioners to meditate on what they have just seen and to recall other players they once saw play."
BOOK REPORT II
An even better read, for my money, is the 2014 offering by the prolific John Feinstein, author of A Season on the Brink, A Good Walk Spoiled, and many other well-regarded books on sports. His latest publication, Where Nobody Knows Your Name,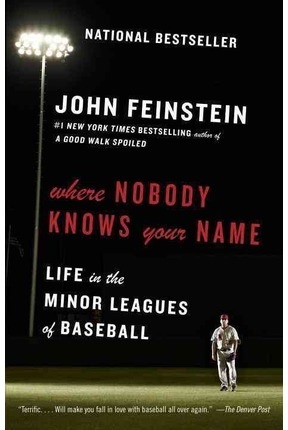 chronicles life in the minor leagues (primarily Triple A) of several players, managers, an umpire, and even a broadcaster, all of whom are trying to either make it to the major leagues or, once there, to stay in the major leagues.
Some of the players and other characters included in this tour de force about life in the high minors are:
Scott Podsednik
Scott Elarton
Jon Lindsey
Nate McLouth
Charlie Montoyo
Brett Tomko
DRAFT DAY
SATURDAY, APRIL 2, 2016
I know that we discussed this important date on the Hot Stove League calendar at our dinner at MōMō's, but I do not remember if a consensus was reached. With Opening Day officially being on Monday, April 4, 2016, and one or more games slated to take place on the day before, is it our consensus that we should have our Draft on Saturday, April 2, or do we want to back it up a week to Saturday, March 26? Please weigh in on this on the Message Board if you have strong feelings one way or the other, or if you have an irreconcilable conflict on one of these dates. To be crystal clear, I suggest that we plan on Draft Day being on April 2 unless there is a groundswell of opposition.
THE TRIP
For our 2016 Trip to PNC in Pittsburgh, let me float the following weekends past you on the 2016 Pirates schedule:
June 24-26 vs. Dodgers
July 8-10 vs. Cubs
July 22-24 vs. Phillies
August 5-7 vs. Reds
August 19-21 vs. Marlins
September 2-4 vs. Brewers
September 9-11 vs. Reds
September 23-25 vs. Nationals
Take a look at your calendars and let me know about preferences, conflicts, recommendations, etc.
HAPPY CHRISTMAS TO ALL, AND TO ALL A GOOD NIGHT!
To close out another outstanding year of Hot Stove League competition, the entire staff of From the Bullpen wish you and yours a very merry Christmas and a happy, healthy and prosperous 2016!
Skipper