Gentlemen:
Since the perfect four-word phrase "Pitchers and Catchers Report" has already been uttered for the 2015 season, let me share with all of you a bit of advice, with a different four-word phrase: Gentlemen, Start Your Engines! That's right, with the funnest day of the year—Draft Day—now less than a month away, it is time for those of you who have gone baseball dormant over the winter to get your butts off the couch where you have been binge-watching House of Cards or The Americans or some other television series, and fire up the laptop or head down to the Kum & Go to pick up a few of the latest Draft preparation magazines. As we embark upon our 31st season of Hot Stove League competition, you certainly don't want to be embarrassed by not having a solid game plan on March 28, or worse yet, risk finishing the 2015 Campaign in the league bowels as did Brother Bender in his SOS (Season of Shame) campaign of 2014.
As previously agreed and mentioned on multiple occasions, we will gather at the Pansing Hogan Ernst & Bachman Washington Armed-preparedness Room (WAR) at 1:00 p.m. on Saturday, March 28, to conduct our annual Hot Stove League fantasy draft. As always, do what you need to do to make yourself ready for this matchless day on the Hot Stove League calendar. While in the old days, this meant spending 30-plus hours of reviewing commercial fantasy draft publications, or priming the pump for a 12-pack or 18-pack afternoon of guzzling beer, or pre-conditioning your stomach to consume three or four Runzas or a couple of cups of chili or a Big Fred's pizza or all of the above; or heading down to the Quik Trip to consult with Jugdish; with the greying of our membership, in current terms it probably means (1) heading into the urologist for a quick TURP to take care of that enlarged prostate and cut down on your trips to the men's room; or (2) doubling down on the blood pressure medication to help you deal with the pressure of getting to our draft location on the right day and at the right time, and being prepared enough to avoid embarrassment; or (3) making sure that you get here soon enough to secure a spot at the draft table that is at least a safe yard or so beyond the arc of Possum free-swinging his splintered 34-inch Hillerich & Bradley "Jackie Robinson model" baseball bat.
Just a thought, but it is my suggestion that we consider drafting only 25 players this season, instead of the customary 30, to try to keep our draft from stretching into an 8-hour ordeal as we get older and lose memory and focus. Almost all of the round 26-30 picks are catch-and-release victims anyway, but what's the harm? Possum, please try to keep your rebuttal under 10,000 words on the Message Board, so we don't run out of space for the season too early this year.
I'm not real clear on exactly what was decided concerning this year's HSL Trip at our Winter Meeting, other than some vague references to a trip in early August to Phoenix for a game at Chase Field, and a few harrumphs and head nods. Has anyone agreed to be in charge of our 2015 Trip? And do we really want to go to the Phoenix area in early August, when it is approximately 125 degrees in the shade? Just saying.
As a possible alternative, I wonder how people would feel about a junket across the Hawkeye State to see the Field of Dreams in Dyersville, followed by a visit to Jim Ed's old stomping grounds in Cedar Rapids to watch the Kernels in a minor league contest? Any conscientious objectors in the crowd?
This Friday the Pope (B.T.) and I are heading down to Scottsdale for a few days of R&R in the Valley of the Sun, including a round or two of golf with Big Tommy and Sam Gifford, the latter of which is Scott's insurance agent but also long-rumored to be the adopted love child of former NFL greats Frank Gifford and Sam "Bam" Cunningham. Although Bender was also an invitee for the weekend, he apparently decided that he would prefer to stay home and put the finishing touches on his off-season refurbishment project involving his Basement Shrine to himself and his Stuffed Pheasant collection. I'm sure the recent Carl McPipe sighting at the Walmart Store near Itchie's house had nothing to do with his reluctance to leave town.
In any event, the Pope has promised a visit to the fairly new spring training venue for the Cubs, known as Sloan Park, which replaced the venerable Hohokam Park for the 2014 spring training campaign. I can still remember the good old days at Hohokam, where one had to buy a six-pack of Schlitz Malt Liquor at the nearby 7-Eleven and walk it through the gate—still in the grocery sack—in order to comply with the dying wishes of Brigham Young. I wonder how long it will be before people are saying the same thing about being able to enjoy an adult beverage at the Pinnacle Bank Arena in Lincoln.
Scott told me recently that his son, Jesse—the proverbial apple that is still on the tree—has been filling his work days at his new law firm in Lincoln by reviewing old issues of From the Bullpen, in the Archives on our website, and that he has noticed that some of the same comments about certain owners and managers that appeared in the late 1980s and early 1990s continue to appear as recently as this decade. There may be a smattering of truth to that, but I say, if you have a winning formula, why deviate?
In any event, Scott's comment led me to the website and to review my first FTB from the 1986 season, dated April 14, 1986. Here's what I found interesting from this review.
**

My predicted order of finish for the six teams in the league that year, and their actual place of finish:

| | | |
| --- | --- | --- |
| Predicted OOF | Name of Team | Actual Finish |
| 1. | Royals (now Senators) | 2. |
| 2. | Cardinals (now Chiefs) | 4. |
| 3. | Tigers | 3. |
| 4. | Red Sox (now Wahoos) | 1. |
| 5. | Braves (now Tribe) | 6. |
| 6. | Cubs | 5. |

**

Secondly, I had forgotten that Scott was actually absent from our Draft that day, and the team was picked by his then-partner, Craig Dietz.

**

In this issue of From the Bullpen, two nicknames were bestowed upon league participants, together with the rationale for same:

"Possum" Bridges: This sobriquet was selected because of Edson's dogged defense of his selection of Gary ("I'm 32 and fading") Carter over Don "The Bat" Mattingly. That's "possum" as in "treed possum."

"Rookie" Hurlbut: Mike Heath, 8th round pick. Enough said?

**

Under "Notables" in this first edition of the 1986 FTB, it was pointed out that "Sure-handed Billy Buck has managed 3 errors thus far." Prescient, you say? Of course, in his next-to-last game of that season, Billy let one go through the wickets to keep the Mets in Game Six of the World Series.

**

Another notable was that George Brett had three home runs during the first week of the season, Wade Boggs was 10-for-27, and Danny Tartabull had already scored 13 runs and driven in 13 RBIs.

And my comment about the Hawk was "Andre Dawson is just too damn old, Chuck."

**

The final comment in this issue of FTB were "suggestions for a name for our league are being taken." So, I had forgotten this, but apparently we were not the Hot Stove League until some point later in 1986. Perhaps Big Guy can enlighten us with his memory of who came up with Hot Stove League for the name of our league. I'm sure there are at least six of us taking credit for it, but who was it who actually threw this one out there for consideration?
I'm sure you all have been dying to know the winner of our captioning contest from the first issue of From the Bullpen. Just to remind you, I have included the picture below, with the winning caption contained beneath it:
And the winner is . . . .
"Is there nuff food for bof us?"
And that was so much fun, let's have another caption contest for this ancient selection from the HSL archives: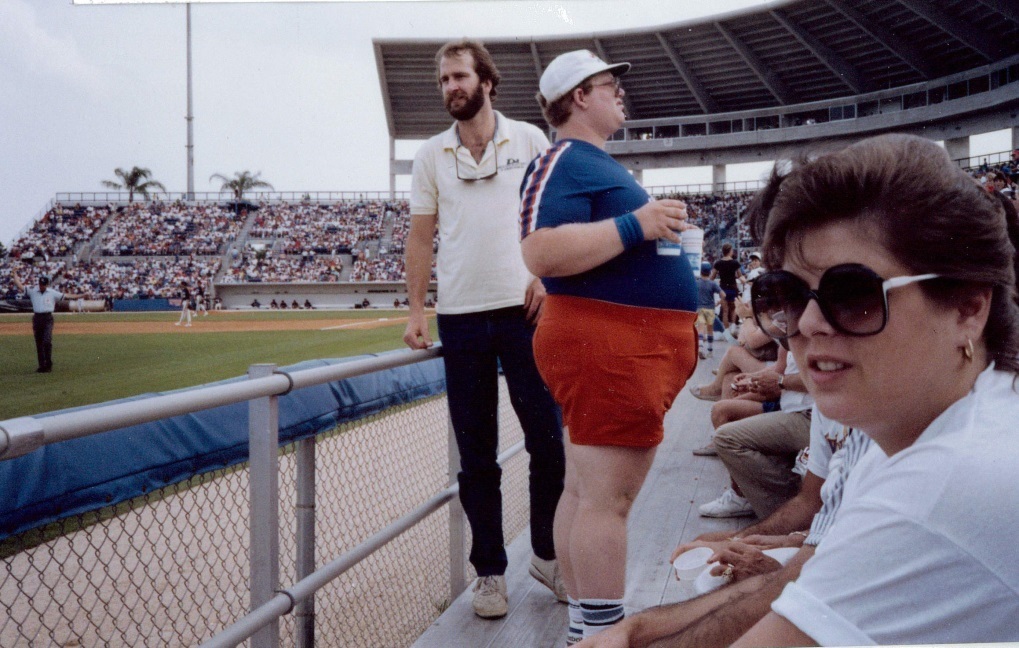 _______________________________________________________
Finally, I include our Mock Draft trial balloon results from the Winter Meeting, which may be taken for whatever they are worth.
| | | | |
| --- | --- | --- | --- |
| | | 1. | 2. |
| 1. | Screech | Trout | Encarnacion |
| 2. | Ted | Miggy | Freeman |
| 3. | B.T. | Paul Goldschmidt | Puig |
| 4. | Magpie | Stanton | Votto |
| 5. | Jim Ed | Abreu | Wainright |
| 6. | Big Guy | Kershaw | Posey |
| 7. | Shamu | Batista | Cargo |
| 8. | SloPay | McCutcheon | Hanley |
| 9. | UBelly | Tulo | Rizzo |
| 10. | Stretch | Bumgarner | Harper |
| 11. | Mouse | Fielder | Carlos Gomez |
| 12. | Skip | Scherzer | Cano |
| 13. | Garrett | A. Jones | King Felix |
Have a great week. See you all here soon.
Skipper