Gentlemen:
As we are now less than a week away from our cherished Draft Day, let me try to mitigate the crescendoing tension a bit by sharing a few entertaining tidbits from the Al Michaels memoir (You Can't Make This Up) I just finished. Co-written with L. Jon Wertheim, this 2014 tour de force by Michaels is an easy-to-read and enjoyable recounting of some of his myriad great moments announcing some of the biggest events in all of sports.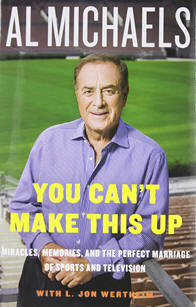 I learned in this book that Michaels was raised in a somewhat non-traditional Jewish household in Brooklyn, and that his father's unbridled love of the Brooklyn Dodgers was passed down to Michaels at an early age; while his fascination with the Sport of Kings—horse racing—was instilled in him by his mother, whom he described as a cross between Joan Rivers and Phyllis Diller. When Michaels was a mere 12 years of age, because of overcrowding at his Brooklyn school, he attended class each morning from 8 a.m. until noon only, which allowed him to witness more than 50 of the then-home slate of 77 Dodger home games at Ebbets Field. Wow, what a start in life! Could you even imagine listening to Red Barber and a very young Vin Scully announcing the games of the 1955-57 Dodgers, which included Jackie Robinson, Duke Snyder, Roy Campanella, Gil Hodges and Carl Furillo? What memories Michaels must have.
Michaels' father took a job in the Los Angeles area just a few months after the O'Malley family moved the Dodgers west, so Michaels attended high school in the Los Angeles area, followed by college at Arizona State University, where Michaels announced the majority of the Sun Devils' home baseball games. The team was coached by Bobby Winkles and featured such future major leaguers as Sal Bando, Rick Monday and Reggie Jackson, the latter of whom was the starting right fielder and a cornerback on the ASU football team.
After graduating from college, Michaels took a job working for game show originator Chuck Barris, helping to line up contestants for "The Dating Game" in the summer of 1966.
After a very short and unsuccessful gig (at age 22) as the color man for the Los Angeles Lakers, Michaels returned to work for Chuck Barris on a game show pilot. Within a few months, he had landed his first enduring sports announcing position, as the voice of the Hawaii Islanders, a AAA franchise in the Pacific Coast League, where at the age of 22 Michaels made a whopping salary of $15,000 per year. While in Hawaii for his job, he had a chance to appear in an episode of Hawaii Five-0 when it was in its second season in 1969, playing the role of a young public defender. In this same episode, a young actor by the name of Christopher Walken also appeared. So there's that.
After a couple of seasons in Hawaii, Michaels got his big break and was asked to fly to Cincinnati to interview for the job of radio play-by-play man for the Cincinnati Reds, who were at the front end of their dynastic Big Red Machine run. He met with the team's general manager, Bob Howsam, and his then-second-in-command, Dick Wagner, who just so happens to be Underbelly's uncle. Michaels had a follow-up dinner with Wagner at the Maisonette Restaurant where they continued to negotiate, and after Wagner sweetened the pot a bit, Michaels accepted the job and became the radio voice of the Cincinnati Reds for the 1971 season.
The following year, at age 27, Michaels had the opportunity to announce the World Series between the Cincinnati Reds and the Oakland As, and from there his career just continued to take off.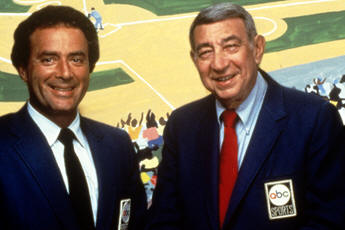 Two great stories from the book. First, from chapter 11, entitled "The One and Only," devoted entirely to his former broadcast partner, the supremely arrogant and cantankerous Howard Cosell. During the 1982 National League playoffs between the Cardinals and the Braves, with neophyte commentator Tommy Lasorda in the booth, Cosell gave a lionizing tribute to the late Cardinals third baseman, Kenny Boyer, who had just passed away from lung cancer two weeks earlier at the age of 51. As reported by Michaels, Cosell gave this stirring tribute to Boyer:
"So when you look at the long and storied history of the St. Louis Cardinal franchise, you can go back and you can have your Rogers Hornsby. You can have your Joseph "Ducky" Medwick and Jerome "Dizzy" Dean, as well. You can take Albert "Red" Schoendienst and, yes, even the Man himself, Stanley Frank Musial of Donora, Pennsylvania.
"Because when it comes to the embodiment of the St. Louis Cardinals franchise, look no further than the countenance of one Kenton Lloyd Boyer. He was a man's man. And we'll miss him."
Cosell then lowered his voice another notch, and told the audience, "We'll be back after this."
During the commercial, Michaels turned around and noted that Lasorda was sniffling, that his eyes were moist and there were tears running down his cheeks. Howard noticed it as well, and asked Tommy, "What's the matter?" Tommy responded by saying, "Howard, in the minors, I actually roomed for half a season with Kenny Boyer. I loved him. He was one of my dearest friends. What a man. A tremendous man. Howard, I've never heard a eulogy like that. Only you could do it. That was just beautiful."
According to Michaels, Cosell leaned back, working on the cigar that he had going. He peered over at Lasorda and then says, "Hey, Tommy, just understand one thing, Kenny Boyer was a prick!"
Then there is a great story from the 1980 Winter Olympics in Lake Placid, New York, wherein Michaels made his quintessential "Do you believe in miracles?" call as the fresh-faced Americans unbelievably beat a veteran Soviet hockey team. Prior to the match against the Soviets, the US team played its second game against Czechoslovakia, reportedly the second best team in the world and likely to win the silver medal. Late in the game, as a Czech player leveled American Mark Johnson in the open ice, nowhere near the puck and forcing a stoppage as Johnson received medical attention, American coach Herb Brooks barked at the Czech player, "We'll bury that goddamned shit right in your throat, number Three"; and "You're gonna eat that goddamned Koho (hockey stick), Three!" Reportedly both of these emphatic statements by Brooks were picked up on the microphone, but did not result in a fine or a tongue-lashing from the Federal Communications Commission.
Until reading Michaels' book, I had forgotten that the USA had to go on to play another match after dispatching the Soviets, against Finland the following Sunday morning, and that if the Soviets had gone on to beat Sweden and the USA had lost to Finland, it was still possible that the Soviets would win the gold. At the end of the second period against Finland, with the Americans trailing by the score of 2-1, Herb Brooks delivered this no-nonsense motivational statement to his young players, just as they were getting ready to head back out onto the ice:
"If you lose this game, you'll take it to your fucking grave."
As described by Michaels, perhaps the greatest pep talk ever. Loved it.
Okay, that's it for the digression. Back to preparing for the Draft. See you on
Saturday at noon
At the Pansing Hogan Ernst & Bachman War Preparedness (Washington) Room
And remember, stay calm and carry on!
Skipper