Gentlemen:
So as not to "waste a ton of space" (grrr) with a bunch of meaningless standings and statistical information, we will cut to the chase and provide you here with only the League standings for Week 14, with games played through Sunday, July 3:
| | | | | |
| --- | --- | --- | --- | --- |
| | | | Points Behind | Position Change |
| 1 | Wahoos | 6763.2 | - | +1 |
| 2 | Cubs | 6737.9 | 25.3 | -1 |
| 3 | Tigers | 6386.4 | 376.8 | +2 |
| 4 | Blues | 6230.8 | 532.4 | -1 |
| 5 | Bombers | 6227.0 | 536.2 | -1 |
| 6 | Bums | 6198.6 | 564.6 | +1 |
| 7 | Skipjacks | 6104.5 | 658.7 | -1 |
| 8 | Chiefs | 6013.5 | 749.7 | 0 |
| 9 | Monarchs | 5884.9 | 878.3 | 0 |
| 10 | Senators | 5764.1 | 999.1 | 0 |
| 11 | Bears | 5754.4 | 1008.8 | +1 |
| 12 | Redbirds | 5744.6 | 1018.6 | -1 |
| 13 | Tribe | 5182.5 | 1580.7 | 0 |
It continues to be a two-team race between the Wahoos and Cubs, and a Texas Death Match for the third money position. At the other end of the universe, the Senators have dropped more precipitously than the pound after Brexit, the disastrous move that was voted upon by those dentition-averse twits across the pond. At the pace that the burning Senator dirigible is plummeting, Underbelly is no longer a lock to finish in the cellar. Grim.
THIS, THAT, AND THE OTHER
*

The recently-completed College World Series was one of the best in memory, with the Coastal Carolina Chanticleers outlasting the Arizona Wildcats in the championship game by a score of 4-3, the Wildcats having stranded two runners on base in the bottom of the 9th. I was fortunate enough to be in attendance for championship games 1 and 2, but not the finale. Bender, Joe, Will and I figured out that buying a general admission ticket for $11.50 and then sitting up in Section 303 (reserved seat price $46) is not a bad way to see a game. For one thing, with our bird's-eye view we were able to see firsthand that the Chanticleers' bullpen was devoid of other pitchers warming up in the bottom of the 8th and 9th innings of Game 2, which was absolutely astounding to us.

*

I'm almost finished reading a terrific book called Bottom of the 33rd, which recounts the longest professional baseball game in history, a 33-inning affair at McCoy Stadium in Pawtucket, Rhode Island, on April 18 and 19 (Easter Sunday), 1981, with the final frame played on June 23, 1981. Pawtucket won the game by the score of 3-2. Wade Boggs and Cal Ripken, Jr. both played in this unforgettable endurance match. More on this fantastic book as soon as I have finished it.

*

A week ago Sunday, Father Tom Fangman handled his final mass at Sacred Heart Church in North Omaha, the site of my first "date" with Michele back in October 2010. I couldn't have known and wouldn't have predicted it then, but Father Fangman would become one of my favorite clergymen of all time, a truly inspirational man who is doing great work for the Catholic church. I especially admire and like him because whether the Pope approves of it or not, he unhesitatingly serves communion to non-mackerel snappers, even unclean Martin Luther devotees such as myself, unlike most Catholic clergy at whose masses I have been in attendance.

Pictured above, Father Fangman recently accepted an assignment from the bishop to lead the congregation at St. Patrick's Catholic Church in Elkhorn, a most difficult move for him after 18 phenomenally enriching and productive years at Sacred Heart.

Even though I don't live my life at the foot of the cross like Itchie, and probably could spend a lot more time in church on Sunday morning, Father Fangman is proof positive to me of the existence of a Higher Power, the Big Guy in the sky. He is an absolutely wonderful man, and the good folks at St. Patrick's are indeed fortunate to have him.
THAT AND A DIME WILL BUY YOU . . .
I love using dusty and sometimes archaic similes, metaphors, idioms and other sayings around my kids, because I am virtually guaranteed to draw a groan and an inevitable request for an explanation of the meaning and/or origin of the saying. Or even if they don't ask for an explanation, I insist on giving one anyway.
Remember the old bromide, "That and a dime will buy you a cup of coffee"? Not anymore. Now the saying would be, "That and $4.50 will buy you a venti, decaf, three-pump, caramelized mocha frappe on ice," or something along those lines. Kind of gets lost in the translation.
Digressing momentarily, while most of you know that Hall of Famer Richie Ashburn hails from the tiny, missed-it-if-you-blinked village of Tilden, Nebraska, how many of you know the even more famous (or perhaps infamous) individual--now deceased--who called Tilden, Nebraska, his home? Hint: He founded a crackpot belief system. Answer below.
Back to the topic at hand, some of my other favorite idioms that often produce groans and/or the rolling of eyes around the Ernst house include:
A day late and a dollar short.
Katy bar the door.
Hell-bent for leather.
No rest for the weary.
Best thing since sliced bread.
That won't cut the mustard.
Straight from the horse's mouth.
No good deed goes unpunished.
If any of you have similarly well-liked sayings which cause similar dyspepsia amongst your tribe, please share.
ANSWER TO TILDEN, NEBRASKA RIDDLE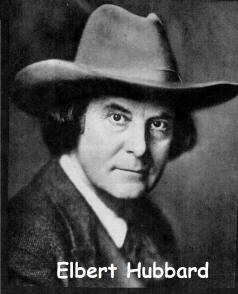 My brother Dan, the computer geek (he is honored, not offended, by this moniker), who lives in the Dallas area, is a pretty sharp cookie and has a facile mind and quick wit, but every once in a while he--like all of us--has a problem with the synapses not firing on all cylinders and asks a question that is, well, pretty lame. The other day, he texted me and asked me if I still had our dad's prized used book collection from an author named Hubbard. Answer, yes. He then posited his inquiry about whether Jack's favorite author was L. Ron Hubbard, who, of course, was the founder of the Church of Scientology, the cult system of beliefs favored by Tom Cruise, John Travolta and many others, but most assuredly not Jack Ernst. I had to set Dan straight that our dad's most cherished scribe was a man named Elbert Hubbard, of upstate New York, who was the founder of the Roycroft Press of East Aurora, New York, and who perished on the RMS Lusitania in May 1915 when it was torpedoed by a German U-boat. But that's another story.
Before texting Dan back with the comforting assurance that he was not in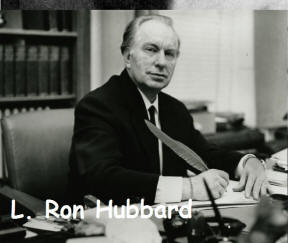 fact raised by a practicing Scientologist, I decided to Google L. Ron Hubbard and find out a little bit more about him, such as when and where he was born, when he died, and other useful tidbits of information. It was in this way that I learned that L. Ron Hubbard was a native (born 1911) of Tilden, Nebraska, home of the Tilden Flash, Richie Ashburn, although this is not something that you're likely to see publicized on any of the Chamber of Commerce signs leading into Tilden from Highway 275. So there's that. Sometimes, the truth is stranger than fiction. And now if I could replicate the sounds of the theme music to the Twilight Zone, I would.
* * * * * * *
That's it for this issue of From the Bullpen. Looking forward to hearing from Screech with his Guest Edition of The Blessed Butterfly, as he does a brutha a solid and pinch-hits for Mouse next week.
Skipper