WEEK 21: CUBS CLAW WAY BACK INTO SECOND;
TIGERS TUMBLE; CHIEFS CRUMBLE;
SKIPJACKS SURGE; BLUES BOTTOMING;
TRIBE TRYING; REELING REDBIRDS REBOUNDING
Gentlemen:
Here are the standings after 21 weeks of play:
Standings through Week 21, August 28, 2016
Points

Behind

Position

Change

1

Wahoos

10429.8

-

0

2

Cubs

10247.3

182.5

+1

3

Tigers

10236.4

193.4

-1

4

Bums

9951.8

478.0

0

5

Chiefs

9788.5

641.3

0

6

Skipjacks

9634.7

795.1

+2

7

Bombers

9617.8

812.0

0

8

Blues

9496.5

933.3

-2

9

Monarchs

9266.6

1163.2

0

10

Bears

9201.0

1228.8

0

11

Tribe

9119.6

1310.2

0

12

Senators

9003.0

1426.8

0

13

Redbirds

8979.8

1450.0

0
After closing the gap in the standings to something approaching double digits, the Tigers have faltered a bit and allowed the pesky Cubs to claw their way back into second place. With fewer than 200 points separating the top three teams and only about a month to go in the season, it's looking like it is going to be a barnburner of a finish.
After a recent surge in which it appeared that the Chiefs might be bound for the glory of a top three finish, BT's boys may have tapped into the fire water a little too early and now appear headed the other direction. On the other hand, Itchie's Skipjacks put together a monster week with 580.0 points to move up two meaningless positions in the standings--supplanting the sagging Blues--while the savvy owner of the Tribe has been pushing all of the right buttons and pulling all of the right levers, and looks poised to overtake his old LNE classmate and perhaps even the faltering Monarchs. And way down at the bottom of the league business, Jim Ed and his Crimson Chirpers are trying everything possible if not legal to avoid finishing in the league bowels, and have closed to within 24 points of the Senators' shitstorm.
Point Totals for Week 21
| | | |
| --- | --- | --- |
| 1 | Skipjacks | 580.0 |
| 2 | Tribe | 561.0 |
| 3 | Bums | 531.7 |
| 4 | Wahoos | 524.7 |
| 5 | Cubs | 517.6 |
| 6 | Bears | 495.1 |
| 7 | Bombers | 489.1 |
| 8 | Monarchs | 484.6 |
| 9 | Tigers | 468.6 |
| 10 | Redbirds | 465.3 |
| 11 | Senators | 462.2 |
| 12 | Chiefs | 388.5 |
| 13 | Blues | 354.8 |
Bitching Pitching -- Top 15
| | | | |
| --- | --- | --- | --- |
| 1 | David Price | Wahoos | 68.0 |
| 2 | Iván Nova | Skipjacks | 67.0 |
| 3 | Carlos Rodon | Tribe | 62.0 |
| 4 | Kevin Gausman | Bombers | 61.0 |
| 5 | Jon Lester | Wahoos | 56.0 |
| 5 | Andrew Triggs | Cubs | 56.0 |
| 7 | CC Sabathia | Skipjacks | 52.0 |
| 8 | Derek Holland | Cubs | 49.0 |
| 9 | Max Scherzer | Monarchs | 45.0 |
| 10 | Mike Foltynewicz | Blues | 44.0 |
| 10 | Anthony DeSclafani | Blues | 44.0 |
| 12 | Cole Hamels | Monarchs | 43.0 |
| 13 | Matt Moore | Redbirds | 42.0 |
| 14 | Carlos Carrasco | Bombers | 41.0 |
| 14 | Chris Archer | Senators | 41.0 |
A whole bunch of no-draft and low-draft types make the list once again this week. Interesting that there are two Blues pitchers on the list, even though their position in the standings has been moving south. On the Trip next week, I plan to challenge Stretch to pronounce the names of his two No. 10 pitchers as fast as he can say them, but only after he has dipped his prominent proboscis into seven or eight Rum and Cokes.
Pitching Pukes--Bottom 20
| | | | |
| --- | --- | --- | --- |
| 1 | Yovani Gallardo | Blues | -20.0 |
| 2 | Danny Duffy | Chiefs | -10.0 |
| 3 | Blake Snell | Tribe | -9.0 |
| 3 | Jacob deGrom | Cubs | -9.0 |
| 5 | Marco Estrada | Cubs | -8.0 |
| 6 | Josh Tomlin | Blues | -7.0 |
| 7 | Jeremy Hellickson | Tigers | -6.0 |
| 7 | Joe Musgrove | Chiefs | -6.0 |
| 9 | Martín Pérez | Blues | -5.0 |
| 9 | Christian Friedrich | Blues | -5.0 |
| 9 | Jason Hammel | Tribe | -5.0 |
| 12 | Kyle Gibson | Senators | -4.0 |
| 12 | Adam Wainwright | Skipjacks | -4.0 |
| 14 | Steven Wright | Tribe | -3.0 |
| 14 | Ariel Miranda | Redbirds | -3.0 |
| 15 | Eduardo Rodríguez | Blues | -3.0 |
| 17 | Tanner Roark | Bums | -2.0 |
| 18 | Lucas Giolito | Wahoos | -1.0 |
| 18 | Gerrit Cole | Redbirds | -1.0 |
| 18 | Ricky Nolasco | Bombers | -1.0 |
And now we see why the Blues have not moved up but down even with their two hot pitchers for the week. Five, count 'em, five pitchers with negative production. Ol' Stretch has apparently been trotting just about anybody with a connected upper extremity out to the mound to see what sort of mettle he is made of, and the answer is as above.
Who Hot Hitters
| | | | |
| --- | --- | --- | --- |
| 1 | Gary Sánchez | Bums | 64.5 |
| 2 | Josh Donaldson | Bombers | 58.5 |
| 3 | Asdrubal Cabrera | Redbirds | 53.0 |
| 4 | Kris Bryant | Tribe | 51.2 |
| 5 | Nolan Arenado | Skipjacks | 50.6 |
| 6 | Freddie Freeman | Redbirds | 45.3 |
| 7 | Scott Schebler | Cubs | 44.5 |
| 8 | Manny Machado | Bears | 44.0 |
| 9 | Corey Seager | Bears | 43.7 |
| 10 | Grégory Polanco | Bears | 43.0 |
| 11 | Dustin Pedroia | Tigers | 42.6 |
| 12 | Ryan Schimpf | Skipjacks | 42.3 |
| 13 | Adrián González | Skipjacks | 41.2 |
| 14 | Mark Trumbo | Monarchs | 41.1 |
| 15 | Trea Turner | Bears | 40.5 |
| 16 | Joe Panik | Redbirds | 40.1 |
| 17 | Ender Inciarte | Senators | 39.6 |
| 18 | Starlin Castro | Senators | 39.3 |
| 19 | Brian Dozier | Tribe | 38.1 |
| 20 | Daniel Murphy | Monarchs | 35.9 |
| 21 | Bryce Harper | Wahoos | 35.0 |
| 22 | Robinson Canó | Bums | 34.9 |
| 23 | Chris Davis | Wahoos | 34.7 |
| 24 | Xander Bogaerts | Tribe | 34.1 |
| 25 | Paul Goldschmidt | Cubs | 34.0 |
Note that the top hitter for the week, Sánchez, had a preseason ranking of 1190, No. 7 Schebler had a preseason ranking of 1247, No. 12 Schimpf had 1134 as his preseason ranking, and No. 15 Turner was barely in three digits at 998. The lesson: At this time of year, anybody can be a one-week wonder.
Not Hot Hitters
| | | | |
| --- | --- | --- | --- |
| 1 | Rajai Davis | Tigers | -6.0 |
| 2 | Ryan Zimmerman | Chiefs | -3.6 |
| 3 | Yangervis Solarte | Chiefs | -3.4 |
| 4 | Joc Pederson | Chiefs | -2.5 |
| 5 | Steven Souza Jr. | Tribe | -2.3 |
| 6 | Carlos Beltrán | Tigers | -2.0 |
| 7 | Josh Reddick | Monarchs | -2.0 |
| 8 | Cameron Rupp | Blues | -1.9 |
| 9 | Jay Bruce | Bombers | -0.9 |
| 10 | Hunter Pence | Skipjacks | -0.5 |
| 10 | Mike Napoli | Skipjacks | -0.5 |
| 10 | Tyler Naquin | Bears | -0.5 |
With three of the coolest cats for the week on BT's roster, it is no wonder that the Chiefs are in static mode. And by the way, there was a reason that Ryan Zimmerman got cut from the Senators' dismal roster, and that was it. He is the crown prince of dismal.
A SANCTUARY IN SAN BERNARDINO
Earlier this month I was able to negotiate a visit to San Bernardino--which recently won the ignominious distinction of being named the Golden State's most dangerous city--at the back end of a deposition trip, which meant an opportunity to take in a California League baseball game between the Inland Empire 66ers (at the west end of Route 66), a farm club of the Los Angeles Angels, and the visiting Lancaster JetHawks at San Manuel Stadium. It was a beautiful evening for a ballgame, and while the ballpark formerly known as Arrowhead Credit Union Park is a bit shopworn and does not have all the amenities of some of the more recently-constructed minor league ballparks, the backdrop of the beautiful San Bernardino mountain range alone makes it worthy of a visit.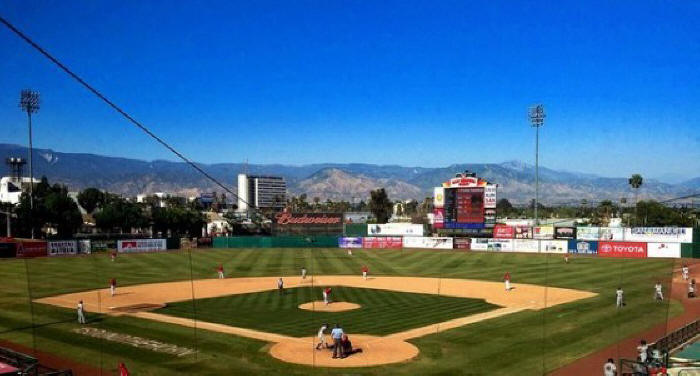 San Manuel Stadium
The last-place 66ers carried a disheartening record of 40-77 into the game against a plucky 65-51 JetHawks nine. Withal, the hometown heroes jetted out to a 3-0 lead in the bottom of the 2nd when Taylor Ward went yard to left center field with one man aboard, followed by a double and then an RBI single. However, in the top of the 3rd, the Lancaster batsmen quickly demonstrated why 66er starting pitcher Jake Jewell came into the game with a record of 1 win against 11 losses and began treating his pitches like the batting practice fare that they were. Compounding his lack of viable stuff, Jewell dogged it while backing up home plate on one of the JetHawks' torrent of frozen rope base hits and cost himself and his team an unearned run as a direct consequence.
Although I have no proof of it, I suspect that Jewell's mental gaffe resulted in him getting the "Flanagan treatment" from his skipper, because he was allowed to twist in the wind until he had given up a total of 8 hits and 7 runs in just three innings, elevating his ERA to the catch-and-release mark of 6.38, and earning him his 12th loss of the campaign. One would have to look it up, but it is doubtful that there have been very many professional hurlers who have hung on for long with a record of 1-12 and an ERA of 6.38.
The visiting JetHawks went on to win the game by a final tally of 8-6, withstanding a late inning rally by the 66ers. The winning pitcher for the JetHawks was a young man of uncertain lineage by the name of Akeem Bostick (4-1, ERA 4.31), and good old Dean Deetz notched his first save for Lancaster by hurling a perfect bottom of the 9th and striking out two of the three Inland Empire batters he faced.
FEEL THE BERN
As entertaining as the 23-hit game was, the crowd was even more entertained by the madcap San Bernardino mascot ingeniously monikered Bernie. As one can see from the pictures that follow, it is uncertain, to say the least, what type of creature Bernie is designed to represent, and at first I thought that the Bern was going to be just one more annoyingly perky team mascot.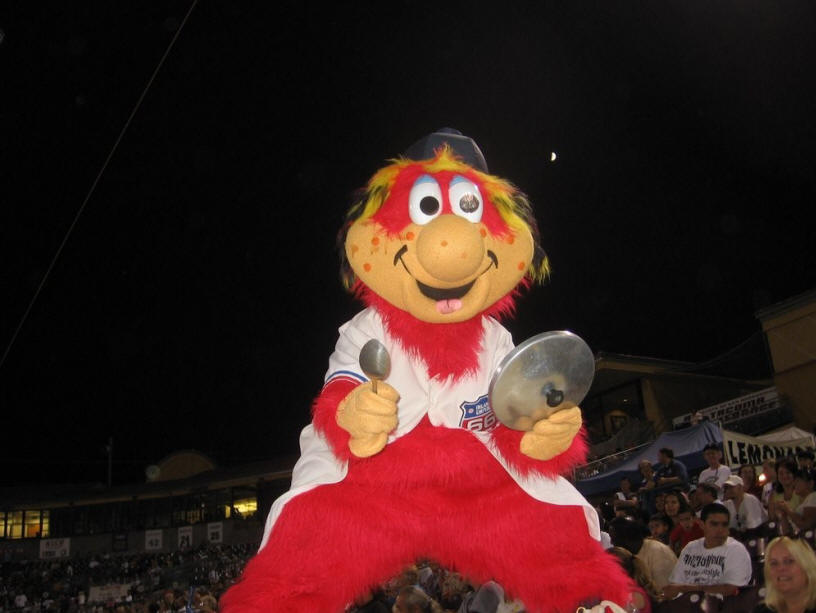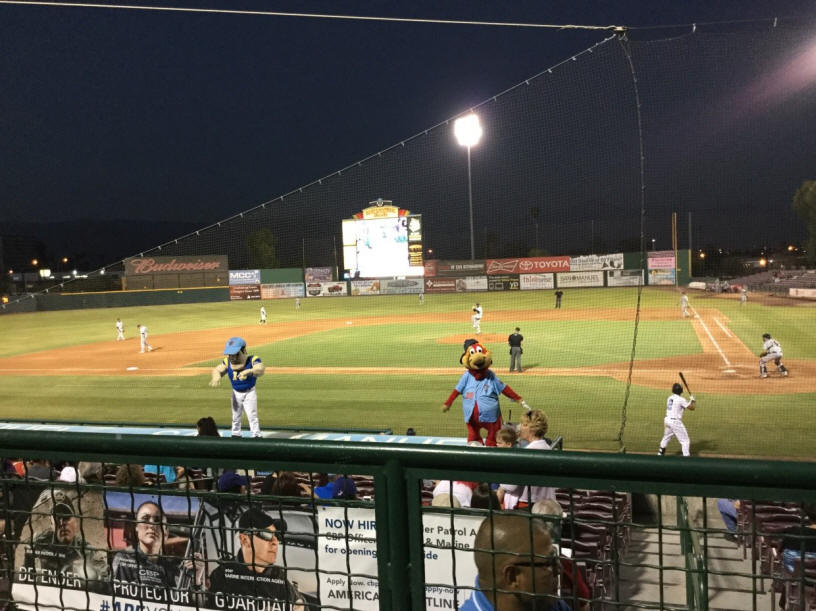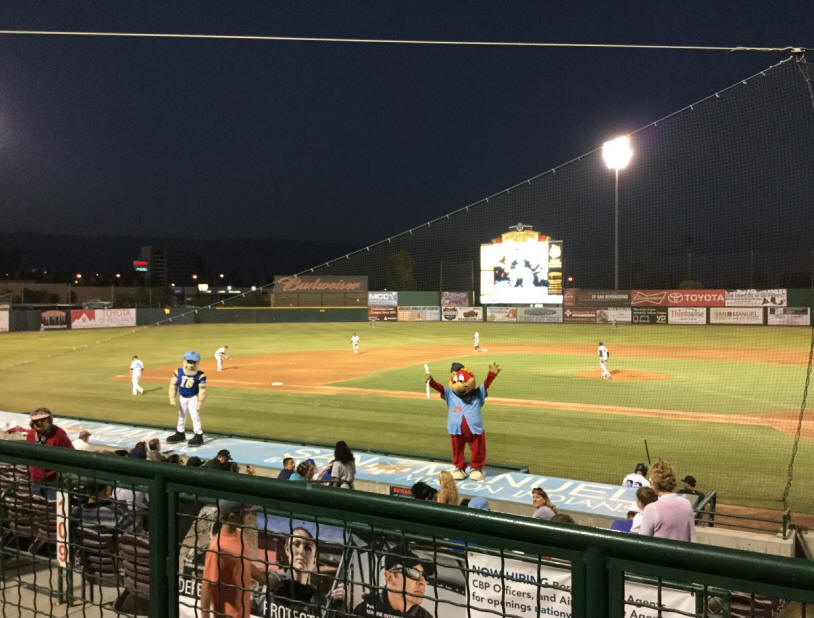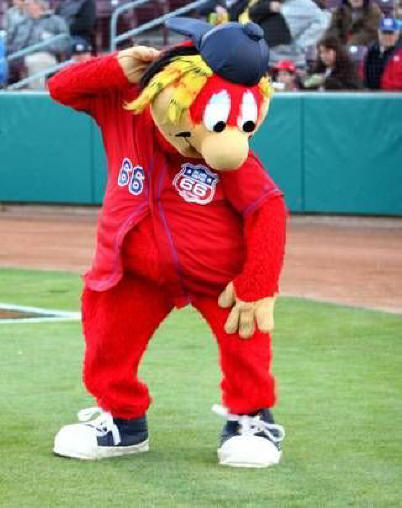 However, as I watched in amazement as Bernie entertained the simple, blue-collar crowd with his vast array of gags and shticks, I realized that I was watching a master at work. Playing the frenzied crowd like a virtuoso plays a Stradivarius, Bernie exhibited the deft touch and precision timing of a chainsaw juggler, knowing exactly how many times to strike the metal cooking pot lid with his soup spoon while scampering across the top of the visitors' dugout, and just when to pull back after faking a stroke of his spoon while eliciting oohs and aahs and a chorus of cheers from the putty-in-his-hands throng. From his classic fake stickup of a burly security guard to his naughty Dirty Dancing encounter with a chesty young Hispanic siren, Bernie kept the crowd at a fever pitch for nine strong innings, and, unless I miss my guess, is clearly destined for greater things. I'm not sure if the Philly Phanatic or the San Diego Chicken are looking for a replacement anytime soon, but my money is on Bernie to be wowing the crowds at a major league level before he dons his last sweaty, stinky mascot costume.
ROAD WARRIORS OF A CERTAIN COLOR
After my delightful visit to San Manuel Stadium, it was on to my hotel in nearby Ontario for a few hours of sleep before a 3:45 a.m. wakeup call to allow me to catch my early morning flight out of Ontario. After dropping off my rental car at the Hertz counter, I got on the rental center transport bus to take me to the airport, and as it filled to capacity, I noticed something remarkable about the makeup of our transport vehicle crowd. Out of 20-24 riders who were in the vehicle for this 4:45 a.m. ride, only one was female, only one was something other than Caucasian, and the average age of this constituency had to be around 63 or 64 years old, maybe older. The bus had a distinct odor of cigarette smoke, and it was clear from the appearance of these Gray Panthers and the content of their dialogue that this was a group of aged road warriors, out on sales calls, out on service calls, out beating the bushes for The Man at a very early hour of the morning.
What does it mean that the makeup of this group was so dominated by aged Baby Boomers, and so underrepresented, even un-represented, by people within Generation X, Generation Y and Generation Z (the inscrutable "Millennials")? Not to be leaping to unfounded conclusions, but I suspect that if one waited until late morning or early afternoon to survey the occupants of the same rental center transport bus, one would find the answer to this question. Or perhaps one would have to look in their offices or their home offices and find them interacting with clients by video-teleconferencing, Facetime, or other such new-fangled techniques. And maybe that works for Generations X-Z just fine, but as for this Baby Boomer, I'll take the company of my Gray Panther amigos at 4:45 a.m. any day of the week.
THE HURT LOCKER
I would love to know who it is who first came up with the term "The Hurt Locker" for someone who is in pain, in distress, or down on his luck, because it is one of the most elegant and descriptive terms in the English-speaking language. It doesn't matter whether one is referring to the worst hangover that they have ever suffered, or the most savage beating in a fistfight ever administered, or a textbook case of Montezuma's Revenge, or financial calamity from an cataclysmic day at the track--if someone is said to be in the Hurt Locker, we all know exactly what that means, even if we don't know the details.
And now more to the point of reference in this edition of FTB. "In the Hurt Locker" is the only way I know how to fairly describe exactly how I felt just last Friday, the day after undergoing a special little instrument of torture known as scleral buckle eye surgery--in my case, 2-1/2 hours of sheer and unmitigated misery.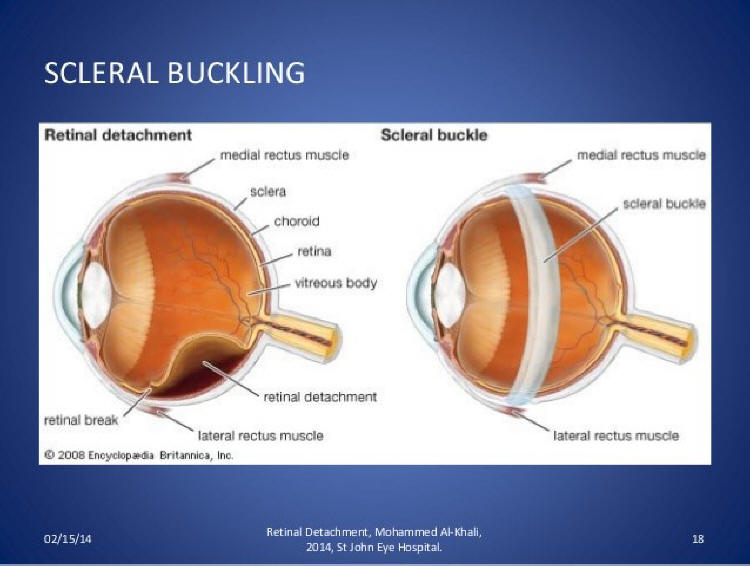 Although I don't question the competence of the nurse anesthetist charged with keeping me comfortable, and while I place no blame and have no ill will whatsoever toward my skilled ophthalmologic surgeon, short of having multiple root canals or a limb amputated without anesthesia, I can't imagine a more wretched and rueful experience.
I assume that everyone here has had this happen to them at least once in their lives: experiencing such horrible physical and/or mental pain from an acute illness or injury that you just want to curl up into the fetal position in a cool, dark spot, lick your wounds like a coyote in the wild who just got his ass kicked by a bigger, meaner coyote, and heal in silence. You don't want food, you don't want water, you certainly don't want any light or any noise, and you most assuredly don't want to hear the voice of another human being, until you have weathered the storm. I presume you have all been down this road at least once. That was my condition just last Friday.
HEAD-OVER-HANDLEBARS
(Editor's note: This next piece may be best enjoyed if read in the voice of Ralphie, from "A Christmas Story.")
In fact, while there may have been other such episodes in my reckless youth, the only other time that I can distinctly remember feeling as bad as I did last Friday was after an epic head-over-handlebars bicycle accident while flying down the hill adjacent to Lincoln Northeast High School, on my way to Havelock for a softball game with a pal of mine. You've perhaps heard me tell that tale of woe before, but if not, let me see if I can remember the details for you. Yes, yes, I can. Like they were tattooed onto my right forearm. Like they are on a teleprompter in front of me.
While I won't remember the exact year--that's irrelevant--it was a summer during my salad days*, probably in fourth or fifth grade, age 10 or 11. Conrad,** our neighborhood ne'er-do-well*** and instigator extraordinaire, convinced me (it didn't take much) to accompany him on bicycle to a construction site near Gateway Mall, about two miles due south of my home on North 63rd Street, he on his beat-up Stingray bicycle, me on my beautiful and almost new**** Schwinn "Black Beauty" model two-wheeler. The ride there was uneventful.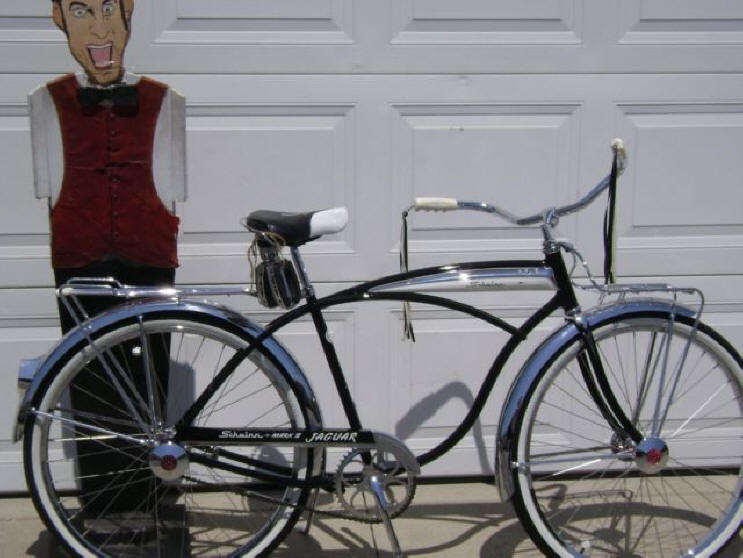 Currently selling on E-Bay for only $599 + $89 shipping
Once at the construction site, at Conrad's urging, we walked our bicycles up a gigantic mound of dirt formed by a nearby excavation, planning on a triumphant ride back down. However, as these things sometimes go, once up at the top, Conrad and I saw how much higher it seemed to be up there than what it looked like from down below, and so our plan for a thrill ride down the hill in glorious tandem--think Butch Cassidy and the Sundance Kid here--vanished like vapor. Instead, we defaulted to the obvious and each double-dog dared the other to drive his bicycle solo down this precipitous and perilous run. No takers.
Unable to overcome our own good senses (or our yellow streaks), Conrad came up with the outstanding idea of one of us pushing our bicycle down the steep hill in riderless fashion, headless horseman-like, to see if our equipment had the technical capability of surviving the descent, sort of a test run. Conrad having convinced me that my cherished, newer Black Beauty bike stood the greater chance of successfully completing the mission, I confidently positioned Black Beauty in the most advantageous spot, carefully adjusted the direction of the front wheel to ensure a smooth ride, and then gave a sharp push on the back of the triangular seat to enact this well-thought-out experiment. What could go wrong.
Then what to my wondering eyes did appear, but my beloved Black Beauty careening unsteadily down the slope, pitching and yawing, until it slammed into ground zero in a most awkward and undesirable position, scratching the bejesus out of the front fender and sending my front wheel off the fork and a good thirty or forty feet away, scattering a pair of startled squirrels.
Not just surprised but shocked at the unsuccessful solo journey of Black Beauty, Conrad and I fully agreed that a manned ride was not yet in the cards for us, at least not on that day. Undaunted by our temporary failure, we gathered up my loose tire and dusted off the rest of Black Beauty, and without a wrench handy to tighten up the front lug nut, we left our Kitty Hawk and began walking Black Beauty the two miles home to our neighborhood. Conrad, far too busy to be able to endure the journey home at a walking pace, suddenly and unapologetically took off on his Stingray and headed for whatever his next summer adventure had in store for him, likely one for which he would not be seeking parental approval.
Seemingly hours later, exhausted by the grueling, solo walk, parched from the hot summer sun, I finally got Black Beauty home and rolled her into the garage. While prudence and best practices would have called for an immediate reattachment of wheel to front fork with the tightening of the bolt using one of Jack's sparkling chrome wrenches, the promise of a sandwich and chips prepared and laid out as only a mother can do, led me to postpone the proper and permanent attachment of Beauty's front bicycle wheel. Instead, a somewhat hasty but firm finger-tightening would have to do for now, until I could replenish my strength and vigor with lunch and then promptly make my way back out to the garage to make things right.
Somewhere along the way, the return to the garage that afternoon was forgotten, or postponed indefinitely by a game of ball tag with the Berka boys, a visit to Ballard pool, or by some other carefree summer activity.
That evening, after supper, my friend Mike came rolling up on his bicycle and invited me to accompany him north on 63rd Street to Havelock, where we would take in the nightly softball game. Improbable as it may seem, the earlier-in-the-day bicycle misadventure with Conrad had apparently slipped the author's mind, and he hopped back aboard his mount and began peddling furiously down North 63rd Street, determined to make up the distance between the front of his bicycle and the back of Mike's bicycle, proving the intrinsic value of Black Beauty over whatever inferior model Mike was astraddle.
As I built up a full head of steam just past Cindy Landstrom's house and just before getting to the house of the old bald pervert who used to drive around in his red convertible clad only in a tiny swimming suit, my front wheel evidently hit a bump in the road, and came flying off Black Beauty without any forewarning, sending me head-over-handlebars to the hard concrete street surface below, front teeth first, followed by chin, followed by hands, knees and body. My friend Mike quickly became aware of my ruinous wreck when my riderless front wheel passed him on the right, and he turned around abruptly to see my bicuspids still sparking on the pavement. True pal that he was, Mike reversed course and came to my immediate aid and assistance, instead of forging ahead to Ballard Ballpark as might have a lesser friend, like Conrad.
A bloody mess with cracked teeth, I limped home with my Black Beauty wreckage--the front forks situated at approximately 10 o'clock and 3 o'clock--as best I could, with friend Mike hauling the culprit tire alongside. Once to my house at 2530, I thanked Mike for his friendship and bid him goodnight, and went inside for some motherly love and medical attention. Only thing was, for probably the only evening of the whole summer, Jack and Phyllis had decided to go out on the town that night, and I found myself, in my reduced state, in a vacant home. Instead of doing the smart thing and heading next door to the Berkas for a ride to the nearest emergency department, I woefully slunk down the steps, found a blanket, and holed up on the couch to lick my wounds and hope for a quick and peaceful passing. By the time that my parents found out about my horrific plunge on the mean streets of Northeast Lincoln, my bloody wounds had already congealed, my chipped teeth were already smoothing over, and my condition had downgraded from extremely serious to guarded.
So that's the story. A cautionary tale, and the lesson that I learned--some four or five root canals or three or four bridge surgeries later--is a valuable one: Don't ride a bicycle with a loose front wheel; and if you do, don't ride it downhill, fast.
STAY-AT-HOME DAD
Pardon the digression. Back to the here and now.
Following doctor's orders, I laid low all last weekend following my third eye surgery in a month, doing almost no reading, and laid on the couch and watched the boob tube the great majority of the time. Fortunately, I discovered the Documentary channel on Netflix, and watched a couple of great features on prescription drug abuse, the wine-making business, and Steve McQueen's making of the movie about Le Mans. If you want to talk about somebody who had a rough start in life, google Steve McQueen about his upbringing and early life, and you will be amazed that he didn't turn out to be a serial killer.
On Monday, again meticulously following doctor's orders, I stayed home from work. Before even thinking about working on any actual billable work, I decided to tune in the television and see what type of fare is offered for a Monday through Friday, stay-at-home mom or dad. Answer: not much. However, after just a few short hours of watching, I came up with a few important questions:
| | |
| --- | --- |
| * | How low has Fred Savage's career sunk for him to agree to serve as a co-host for Kelly Ripa? I know, a purely rhetorical question. |
| * | What is the average IQ of the audience members of the Wendy Williams Show? Low double digits, I would venture. |
| * | Is there anything more painful than watching The View? And how medicated must Lionel Richie have been to be able to spend twelve minutes at his Monday guest appearance? |
| * | How many times during the filming of the daily one-hour episode of the Today Show does her partner grit her teeth and smile while thinking: "What a phony, raging bitch" about her TV partner Kathy Lee Gifford? And how satisfying death must have been to Frank. |
| * | How many times a day does Drew Carey think to himself, "Good God, I'm a complete sellout," for being the permanent host of The Price is Right? And how is it that he has blonde hair at age 50+? |
| * | And finally, how great of a show is King of Queens? If you are a man of a certain age, King of Queens just never gets old. |
TIME ENOUGH AT LAST
This past weekend, when I wasn't supposed to read per my doctor's orders, I thought about a classic Twilight Zone episode in which Burgess Meredith (made famous through his role as Rocky's trainer, Mick) finds that his dream of finally having time to read has come true, by virtue of a nuclear blast which kills everyone and everything around him (including his nagging wife, described as "shrewish") but leaves him alone with a library of books. And then he takes his eyeglasses out of his pocket as he prepares to dig into a good book, only to find that his only pair of glasses is shattered beyond repair. Googling the episode, I found that it is titled, "Time Enough at Last," and that it is considered by many to be one of the best Twilight Zone episodes of all time, certainly in the top 5.
According to Wikipedia, Rod Serling's closing narration for this 1959 episode begins, "The best laid plans of mice and men . . . ," a quote from Steinbeck's classic novel. Ironically, or not, exactly twenty years earlier actor Meredith starred in the film adaptation of "Of Mice and Men." For Bob's benefit, the full closing narration reads as follows:
The best-laid plans of mice and men--and Henry Bemis, the small man in the glasses who wanted nothing but time. Henry Bemis, now just part of a smashed landscape, just a piece of the rubble, just a fragment of what man has deeded to himself. Mr. Henry Bemis--in the Twilight Zone.
NEXT WEEK
Thanks again to Underbelly for delighting us last week with his excellent edition of The Bellyflop. Looking forward to hearing what Shamu has to say for himself since last year, with a new edition of The Whale's Tale.
Skipper
___________________________________
* When I was green.
** Whose last name will be withheld, but who is now better known as "Der Wiener Schlinger." You do the math.
*** Stories of Conrad's prepubescent monkeyshines and tomfoolery are legion, and truer than a master carpenter's level. Another encounter with him that is still fresh in my mind began with one of our frequent wrestling matches in the backyard--usually resulting with the bigger, stronger me on top--and ended with Conrad's teeth marks in my stomach.
**** The only previous damage to Black Beauty resulted from my then four-year-old brother Dan's toes getting caught in the rear spokes while on an ill-conceived ride behind me on the back fender. There was punishment involved.