PITTSBURGH 2016: BEST TRIP EVER!
The HSL Trip to Pittsburgh this past weekend of September 9-11 was a smashing success, as the five Hot Stove League owners who still wear the pants in their family (Stretch, Screech, Shamu, Big Guy and Skipper) returned to Steel Town and drop-dead gorgeous PNC Park for a weekend series against the visiting Cincinnati Reds. In the Friday night game, the HSL Quintessential Quintet watched an exciting game that see-sawed back and forth until the Reds pushed across a run in the top of the 9th on a sacrifice fly to put them ahead 4-3, resulting in the final margin of victory. Wahoo reliever and former Husker hurler Tony Watson contributed to the Reds' victory, while pitching for the Pirates, taking the loss. Raisel Iglasius got the win for the Reds, with Joey Votto going 3-for-4 with an RBI, and Brandon Phillips hitting a solo home run to account for much of the Reds' offense.
On Saturday night, the four remaining Hot Stove League stalwarts* watched the Pirates again lose ground in the Wild Card chase by dropping the second game of the series to the Red Menace, this time by the score of 8-7. Joey Votto was again the hitting hero for the Reds, going 4-for-5 with a home run, 2 runs scored, and an RBI. Jung Ho Kang, now of the Cubs, went 3-for-4, and had a home run and 3 RBI for the Pirates. Josh Smith was the winner for the Reds, while Trevor Williams took the loss for the Pirates.
Kudos and thanks to the Dynamic Duo who planned and executed on our 2016 Trip, Stretch and Possum. In the true spirit of cooperation and teamwork that is at the very core of our HSL Band of Brothers, Stretch and Possum divided up the workload and seamlessly orchestrated our Steel City junket, working hand in glove, not unlike a well-oiled machine. The division of labor went something like this: Stretch carefully looked into and reported on available flights; he then rigorously and painstakingly reviewed and vetted lodging options, and then booked our commodious hotel; and finally, McBlunder meticulously and thoroughly investigated and then purchased phenomenal seats in Section 9 at PNC, some of the best seats that we have ever had for an HSL Trip; while Possum did his part by (1) insisting that the Trip be moved from August to September so that he personally could be in attendance, enticing us with the allure of dugout passes and after-game drinks and dinner with his email pal, Clint Hurdle; and (2) in a classic Possum Bait-and-Switch maneuver, at the last minute pulled the rip cord and bailed out on the Trip altogether.
So in sum, thanks for everything, Stretch! Possum, hope you enjoyed Jackson Hole!
TRIP HIGHLIGHTS
As usual, the 2016 Trip had its share of highlights. Here are a few of them:
*

Breakfast at Harry Carey's at Midway Airport while waiting for our connecting flight to Pittsburgh--with Screech and Big Guy both affirming Skipper's unabashed pronouncement of "best bacon anywhere!"

*

Spending the afternoon in our hotel bar slurping down libations while swapping titillating stories of law school and law-related escapades (okay, well, this may not have been Screech's favorite part of the Trip, but he politely listened), and reminiscing about prior HSL Trips, including the Tremendous Triple Crown Trip of Detroit/Toronto/Cleveland in 1992; our California Dreamin' swing in 1993; and the Epic East Coast Swing in 1994 (KC, Boston, NYC, Baltimore). The stories don't just get better, they also get bigger.

*

Waiting with gleeful anticipation for Shamu to pull the trigger on the ice cream purchase (wait for it, wait for it . . .).

*

Listening with intrigue as Charles offered up that he was personally "fighting" a troublesome ailment known as PTSD--Perpetual and Total Sweating Disorder--while Skipper politely pointed out that there seemed to be very little "fighting" going on, but rather complete and total capitulation.

*

McBlunder informing his four HSL Trip colleagues that he has been likened in appearance to internet founder Al Gore, leading to speculation that what this unknown individual may actually have meant was that he bears a striking resemblance to "Tipper" Gore.

McTipper

*

Screech proudly showing off his new left arm tat, which contains the moving inscriptions of "In the deed the glory" and "If you think this is hot, you should see my other appendages"; while Shamu shared his dream of one day having a back tat of the original Sea World star Shamu juggling five HSL trophy cups on his nose.
TRIP PHOTOS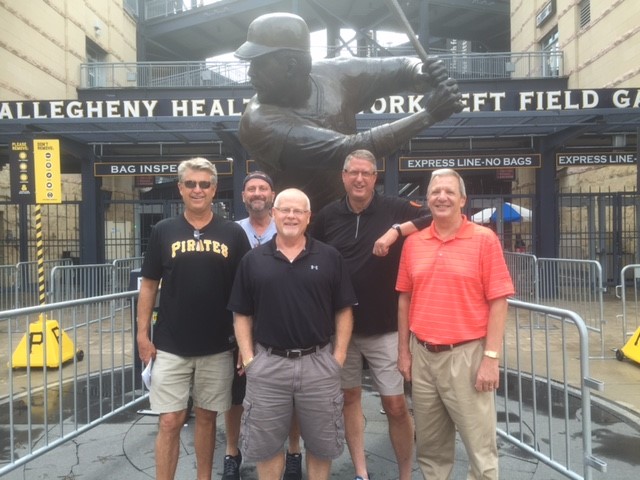 Pittsburgh 2016: Best Trip Ever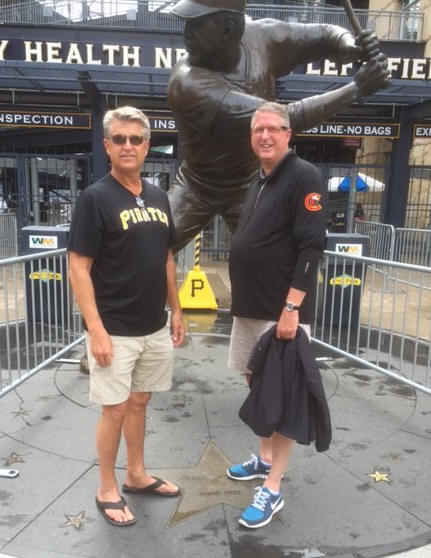 The Sunrise Optimist Club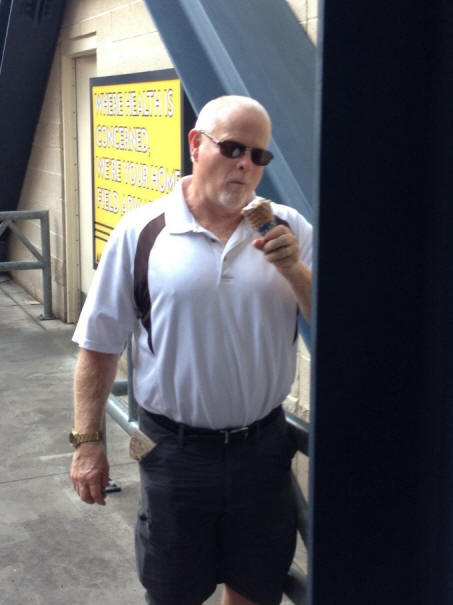 Worth the wait
THE OTHER PNC PARK
Work this week took me to the City of Brotherly Love for one deposition, and then to the wonderfully-named Colt's Neck, New Jersey, for another deposition the following day. In between, it was my fervent hope that I might be able to catch a baseball game that might be going on somewhere in the vicinity. I asked my trusty travel agent, Linda, for my options.
Although the Phillies and their Keystone State rivals, the Pirates, had a four-game tête-à-tête on the schedule at Citizens Bank Ballpark, Linda's dyslexia flared up and she told me that they were playing at the other end of the state at PNC Park in Pittsburgh, making those games logistically undoable. She then told me that I might be able to catch an Eastern League playoff game in Reading, Pennsylvania, but alas and alack, Reading got knocked off in the preliminaries and the playoff series moved to Akron, equally unworkable. She then told me that the Trenton Thunder would be playing in the playoffs, and that Trenton was almost exactly half-way between Philadelphia and Colt's Neck, but unfortunately, the games that they would be playing during the week would be at the aforementioned Akron, Ohio location. Hence, it looked like a baseball game was not in the cards for this particular trip.
But then, just as I was almost resigned to an East Coast trip sans baseball, I took one more look at the minor league website to see if there was anything else within striking distance, and learned that the Scranton/Wilkes-Barre RailRiders would be hosting the Gwinnett Braves in a Governor's Cup playoff game (International League) at PNC Field in Moosic, PA, a suburb of Scranton. A quick check on my iPad informed me that Scranton is a mere 2.5 hours north of Philadelphia, and lo and behold, a plan had been hatched.
SCRANTON, PA
Never having been to the northeastern Pennsylvania town made famous by Harry Chapin's iconic 30,000 Pounds of Bananas, I was excited to have a good excuse to make the trek there. Moreover, all of my kids and I are huge fans of The Office, and so every time I watch an episode and hear the show's theme song, I have thought to myself that I would like to see Scranton with my own eyes. Now that I have, I feel certain I am better for it.
The drive north from Philadelphia through the densely-wooded Pennsylvania countryside--including a trip through the remarkable Lehigh Tunnel--was worth every nickel I had to pay on the toll roads.
After my brief visit to Scranton proper, I made my way south a couple of miles to PNC Field in Moosic, home of the Scranton/Wilkes-Barre RailRiders, the AAA farm club of the New York Yankees. The ballpark, built in 1989, is nestled beautifully in an opening surrounded by tall rock formations and dense woods. It is a fan-friendly venue that has a host of keen features, including: A giant scoreboard in left field, one of the nicest ones I have seen in a minor league ballpark, and the equal of many a major league ballpark scoreboard; the Pennsylvania Lottery bullpen, located in left field just underneath the scoreboard; and the Home Run Porch.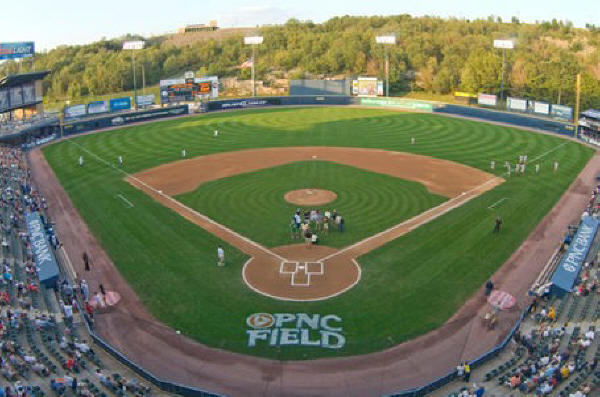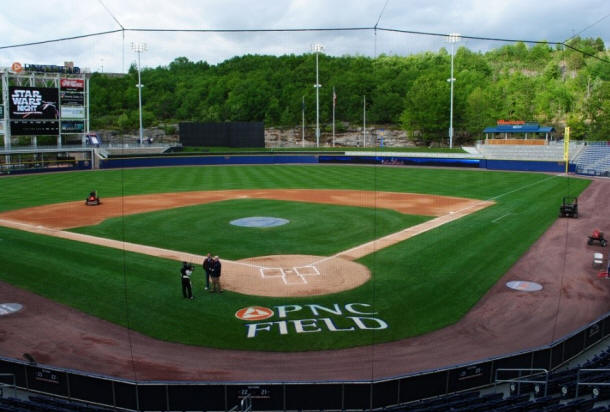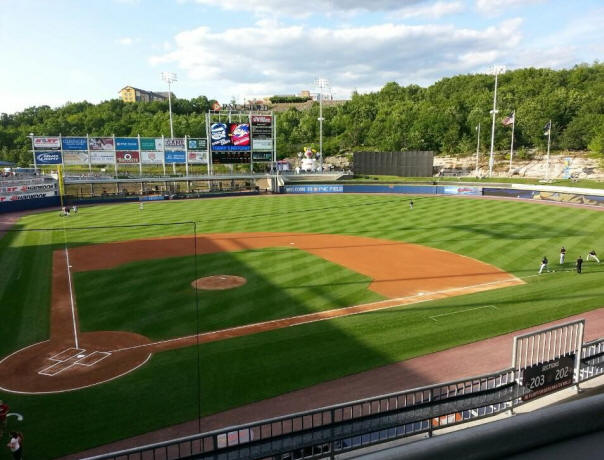 THE GAME
I will confess at the outset that I did not stay for the entire Governor's Cup game, because of my 2.5 hour drive to Colt's Neck, NJ, that had to be made that evening. Sadly, this prevented me from seeing a fantastic finish, as the RailRiders rallied from a 1-0 deficit in the bottom of the 9th to score 2 runs and take the game by the final tally of 2-1. Former Yankee "prospect" Phil Coke pitched 7-1/3 innings of 3-hit ball for the RailRiders, yielding only a single earned run in the top of the 4th when journeyman Ronnier Mustelier scratched out a single off Coke with two outs, and then was driven in by Sean Kazmar with a double to the gap. Coke struck out 9 and walked nobody, lowering his ERA to 0.63 in the process.
The starting pitcher for the Gwinnett Braves was household name Chris Ellis, who threw six innings of no-hit ball while walking 4 and striking out 5. After reliever Madison Younginer earned a hold by pitching 2 innings of shutout ball, the Braves brought in reliever Bradley Roney, who promptly walked 2 of the 3 batters that he faced, and then plunked the third one. After the Gwinnett skipper pulled out the shepherd's hook and yanked Roney, the new Braves pitcher was Maikel Cleto, he of the 7.71 ERA. To the delight of the home crowd, Cleto screwed the pooch and walked RailRider center fielder Jake Cave to push across the tying run, and then issued yet another base on balls to shortstop Pete Kozma to plate the winning run. For Kozma, a walk-off walk, something that doesn't happen very often.
Below is the line score and the box score because this one is worth saving.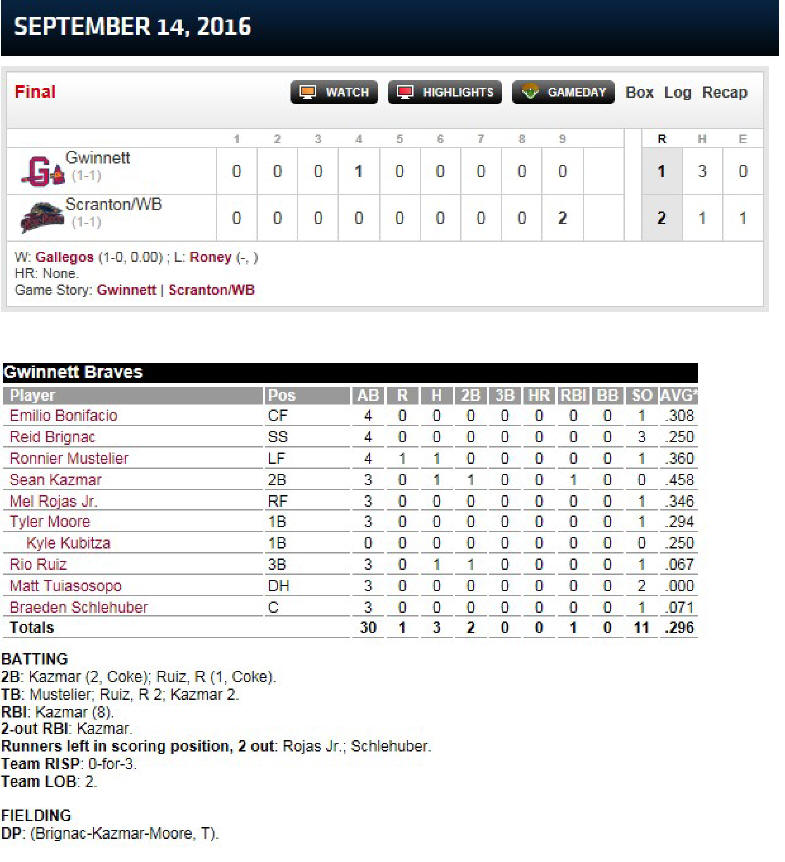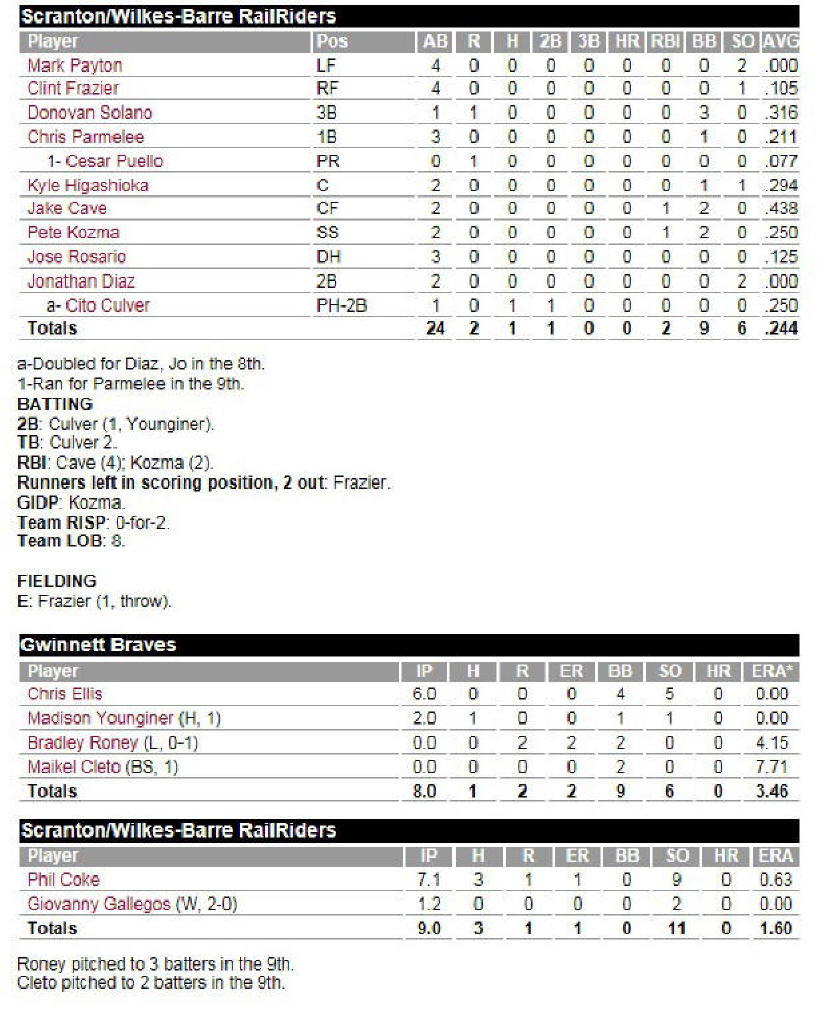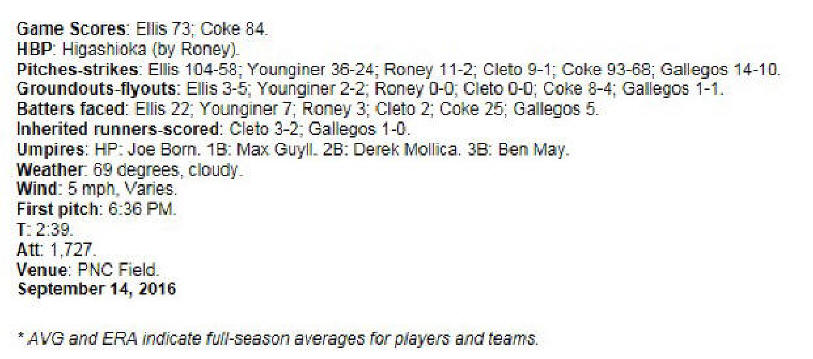 As I watched this game and looked up the backgrounds and statistics on each player, I realized that most of them are not up-and-coming studs who will one day be major league all-stars, nor are they major league has-beens. Most are career minor leaguers who might make it up to the Show for a cup of coffee or two, but are not likely to stick around for long. The future studs of the game and the players with substantial major league experience have already been called up to fill out the 40-man rosters, and so the players on the field, while playing for the International League championship, are in reality not playing for much more.
Wednesday night was another beautiful evening for a baseball game. If you get the chance to go to Scranton and visit PNC Field, take it.
A MINOR ACCOMPLISHMENT
My visit to PNC-Moosic was quite likely my final minor league ballpark visit of the season, since the remaining teams are all in playoffs which conclude before the end of September, and I have no other work junkets scheduled until October. For the summer, Dame Fortune smiled on me to the extent of helping me fit in visits to 11 different minor league venues not previously visited by me, in nine different states, as follows:
| | | |
| --- | --- | --- |
| 04/13/16 | Birmingham, AL | Regions Field |
| 04/15/16 | Charlotte, NC | BB&T Ballpark |
| 04/19/16 | Modesto, CA | John Thurman Field |
| 05/03/16 | Rancho Cucamonga, CA | LoanMart Field |
| 06/08/16 | Cedar Rapids, IA | Perfect Game Field |
| 07/06/16 | Tulsa, OK | ONEOK Park |
| 07/17/16 | Lowell, MA | Edward A. LeLacheur Park |
| 07/18/16 | Manchester, NH | Northeast Delta Dental Stadium |
| 07/27/16 | Orem, UT | Brent Brown Ballpark |
| 08/11/16 | San Bernardino, CA | San Manuel Stadium |
| 09/14/16 | Moosic, PA | PNC Field |
The stars definitely lined up for me this summer with multiple out-of-town expert depositions taking me to venues in the general vicinity (30 minutes-2.5 hours) of minor league ballparks, a pace that I am unlikely to match or exceed unless and until I hang up my trial briefcase or am ushered out to pasture upon reaching abject senility. That said, I already have a baker's half dozen of new venues circled on my baseball map for 2017, to give me something to hope for and dream about during the long off-season:
| | | |
| --- | --- | --- |
| City | Ballpark | Home of the |
| Ft. Wayne, IN | Parkview Field | Ft. Wayne TinCaps |
| Memphis, TN | AutoZone Park | Redbirds |
| Frisco, TX | Dr. Pepper Ballpark | RoughRiders |
| Pensacola, FL | Blue Wahoos Stadium | Blue Wahoos |
| Wilmington, DE | Frawley Stadium | Blue Rocks |
| Buffalo, NY | Coca Cola Field | Bisons |
| Staten Island, NY | Richmond County Bank Ballpark | Staten Island Yankees |
OUR MAN SHAMU
One of the things that's always fun about our Hot Stove League trips is being reminded about stories from the past, not only stories about the Trip, but stories about the Draft, stories about the Hot Stove League, stories about adventures and escapades that we have had together, stories about each other. Of course, the story about Big Guy volunteering to polish off the last drip of adult beverage in Stretch's house--the infamous "French Beer"--comes to mind. The story about Stretch ridiculing one of BT's early Draft picks, and Scott snapping back at him, "You don't know me well enough to say that," and McBlunder's resultant look of utter despair, is another favorite. While the stories could go on and on and on about any and all of our band of 13 brothers, many of my personal favorites center around our beloved Brother Shamu. Here are a few of my faves:
| | |
| --- | --- |
| 10. | Shamu slowing the rest of us down at the Miami airport by having to wait for his 36-cubic-foot steamer trunk, packed to the seams with fresh changes of clothes, a lifetime worth of mesh apparel, and enough Brut products to freshen up Chris Taylor and the entire Iowa State wrestling team from 1973. |
| 9. | Sir Charles' bravura performance as a trial witness in Kyle Johnson's trial advocacy class, when he responded to the question by counsel about how the two people he was watching were dancing with: "They were dancing with their bodies." A brilliant and clearly unrehearsed ad lib line that was undeniably true. |
| 8. | Shamu's mispronunciation in class of the business entity known as a "beauty salon" as a "beauty saloon," perhaps excusable as a Freudian slip. |
| 7. | Chuck's innocent yet somehow still concerning conversation with Scott's son Sam about how Sam's dinker got cold when he was pushed too high on the swing. |
| 6. | Shamu's utter speechlessness when he showed up at Benson Golf course clad uniformly in white, and was asked deadpan by Itchie if he had enrolled in nursing school. |
| 5. | Our lunch at the original Valentino's Restaurant on Holdrege Street in Lincoln, wherein Shamu surreptitiously slipped into sandwich baggies at least 8 to 10 slices of pizza from the buffet, and then into his backpack, to nourish him on a weekend road trip back to Kearney. |
| 4. | Chuck being asked by the aforementioned Kyle Johnson to stand up and give his first opening statement in trial advocacy class instead of delivering it from a seated position, only to realize that he could not read his own chicken scratches on his notes on his desk when his eyes were at standing eye level. |
| 3. | Charles arriving late for Professor Berger's property class, and instead of walking in tardy and risking being called on to discuss cases in front of the whole class, listening in on the lecture hidden in an alcove for 50 minutes, propping open the door with his foot and furiously scribbling illegible notes. |
| 2. | Chuck subbing in for our intramural 3-on-3 basketball team at the Cow Palace because of an injury or unavailability of regular team members, clad in his treadless high school wrestling shoes from the 1970s. |
| 1. | The very first day of law school, when Shamu came lumbering down the stairs and sat down next to me, huffing and puffing, introducing himself as a Kearney State College student who knew a couple of friends of mine, and then after surveying the entire room of 80 or so law students, asking me in complete seriousness, "Hey, how come everyone else already has their books?" ** |
And those are just a small sampling. Love you, Chuck!
* * * * * * *
That's it for this issue. Thanks for the memories, Brothers!
Skipper
___________________________________________
* Yours truly had to scurry down to KU on short notice for family weekend with Savannah.
** Because we were all told to read our first assignments from each book in each class before the commencement of law school.