Gentlemen:
With three weeks of Hot Stove League competition in the can, I give you the standings through games of Sunday, April 24, 2016:
WEEK 3 STANDINGS
| | | |
| --- | --- | --- |
| 1 | Wahoos | 1721.30 |
| 2 | Cubs | 1616.60 |
| 3 | Blues | 1385.00 |
| 4 | Skipjacks | 1367.40 |
| 5 | Chiefs | 1364.00 |
| 6 | Monarchs | 1337.40 |
| 7 | Bums | 1329.00 |
| 8 | Bombers | 1320.80 |
| 9 | Bears | 1299.60 |
| 10 | Tigers | 1250.80 |
| 11 | Tribe | 1186.90 |
| 12 | Senators | 1176.30 |
| 13 | Redbirds | 1175.10 |
SKIPPER'S TAKE
Possum's meteoric rise to the top of the pack is, while disturbing, subject to rational explanation, which is this: Blind-ass luck. While we will give the Devil his due with the selection of Bryce Harper in the first round (duh—like that took a lot of cerebral firepower to come up with), the bulk of the other high-scoring Wahoos to date (Dexter Fowler, David Peralta, Carlos Gonzalez, Eugenio Suárez, Wil Myers, DJ LeMahieu, Vince Velásquez, Rick Porcello, Joe Ross, etc., etc., etc.) are simply marginal players picked by Possum with little strategy in mind, but who are all off to hot starts and potentially all may have deviation-from-the-mean seasons. For anyone to claim that this collection of mediocre players is anything but just that is ludicrous. In fact, the rumor is that Ludacris, my second favorite rapper after Drake, has been writing a new rap single celebrating Possum's early-season HSL success:
My Homey Boy Pos 'Em
My homey boy Pos 'Em,
He be whiter than light.
He make Larry Bird
Look mo' like Barry White.
That Pos 'Em he know stox
'Bout like I know Har Mo Nee
He done put my 'tirement bank
All in stinkin' Level Three
But when it come to baseball,
My Homey, he got pluck.
For him it be throwin' darts
'Cause my Devil Boyz all luck.
I axed my Homey Pos 'Em
How his Wahooz got so good.
He said 'cuz he be hanging
With the Devil in the 'hood.
My Homey Boy Pos 'Em
On his players he be keen
But will he be so cheery
'Pon reversion to the mean?
So there you have it. One expert's opinion.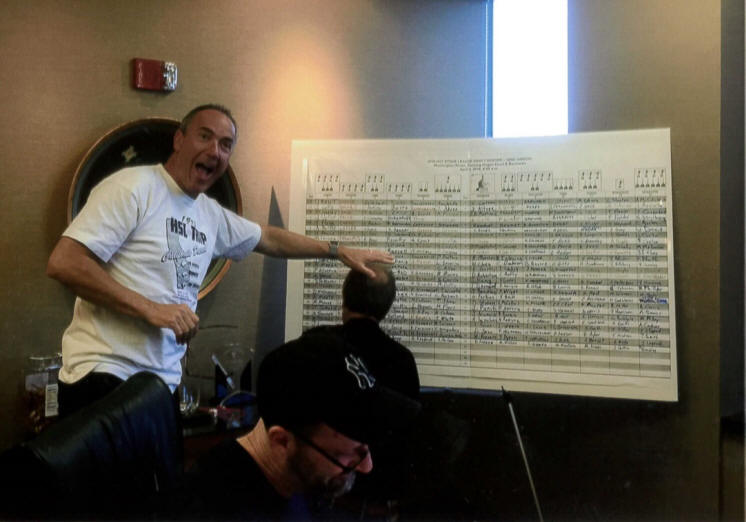 While B.T. was seemingly rubbing Possum's
balding pate for good luck, apparently it
worked the other way around.
WEEK 3 POINTS
| | | |
| --- | --- | --- |
| 1 | Cubs | 552.4 |
| 2 | Bums | 535.5 |
| 3 | Skipjacks | 523.0 |
| 4 | Wahoos | 507.4 |
| 5 | Blues | 499.4 |
| 6 | Bears | 494.8 |
| 7 | Tribe | 490.8 |
| 8 | Bombers | 463.0 |
| 8 | Tigers | 453.4 |
| 10 | Chiefs | 420.6 |
| 11 | Monarchs | 374.9 |
| 12 | Redbirds | 334.7 |
| 13 | Senators | 309.3 |
TOP TEN HITTERS
| | | | |
| --- | --- | --- | --- |
| 1 | Bryce Harper Was - CF,RF | Wahoos | 116.0 |
| 2 | Josh Donaldson Tor - 3B | Bombers | 115.6 |
| 3 | Dexter Fowler ChC - CF | Wahoos | 110.2 |
| 4 | José Altuve Hou - 2B | Redbirds | 106.6 |
| 5 | Manny Machado Bal - 3B,SS | Bears | 104.5 |
| 6 | Colby Rasmus Hou - LF,CF,RF | Bears | 98.3 |
| 7 | Anthony Rizzo ChC - 1B | Bums | 96.0 |
| 8 | Nolan Arenado Col - 3B | Skipjacks | 95.5 |
| 9 | Paul Goldschmidt Ari - 1B | Cubs | 90.0 |
| 10 | Trevor Story Col - SS | Skipjacks | 89.7 |
TOP TEN PITCHERS
| | | | |
| --- | --- | --- | --- |
| 1 | Jake Arrieta ChC - SP | Senators | 144.0 |
| 2 | Chris Sale CWS - SP | Tigers | 135.0 |
| 3 | Clayton Kershaw LAD - SP | Blues | 126.0 |
| 4 | Kenta Maeda LAD - SP | Chiefs | 121.0 |
| 5 | Stephen Strasburg Was – SP | Senators | 118.0 |
| 6 | Mat Latos CWS - SP | Skipjacks | 114.0 |
| 7 | Jason Hammel ChC - SP | Tribe | 111.0 |
| 8 | Jon Lester ChC - SP | Wahoos | 106.0 |
| 9 | Edinson Vólquez KC - SP | Cubs | 102.0 |
| 10 | Drew Smyly TB - SP | Wahoos | 102.0 |
BALTIMORE CHOPS
*

Speaking of Baltimore, many of us consider Earl Weaver, the so-called Earl of Baltimore, one of the greatest managers ever, and his overall record as a Major League pilot (1480-1060, a .583 winning percentage) would seem to bear this out. However, did you know that although Weaver had a star-studded lineup throughout his 17-year tenure as the Orioles' skipper (i.e., Brooks Robinson, Cal Ripken, Davey Johnson, Boog Powell, Frank Robinson, Eddie Murray, Jim Palmer, Dave McNally, Steve Stone, Mike Cuellar, Pat Dobson), and although his Oriole teams won more than 100 games during the regular season an astonishing five times, Weaver was only able to bring the so-called Charm City a single World Series championship, in 1970 over the pre-Big Red Machine Cincinnati ball club, by the margin of 4 games to 1.

The Birds' regular season record that year was an amazing 108-54, or exactly 2 games out of every 3 in the win column.

In 1969, Weaver's second year at the helm, the Orioles won an even more remarkable 109 games against 53 losses, but fell to the manifestly underdog Miracle Mets in five games; in 1971, Weaver's charges won 101 games but were topped in a 7-game Fall Classic by the Pittsburgh Pirates; in 1979, the Orioles piled up 102 wins on their way to claiming the AL pennant, but again fell to the Steel City ball club (of Willie "Pops" Stargell "We Are Family" fame) in another 7-game Series. In 1980, Weaver's Orioles again made the century mark in wins with exactly 100, but the New York Yankees finished atop the Eastern Division of the American League with 103 wins, and then fell to the Kansas City Royals in the American League Championship Series (who in turn lost to the Philadelphia Phillies in the 1980 World Series, the first-ever World Series championship for the City of Brotherly Love).

*

For those of you who think there is nothing good to watch on TV, I commend to you the HBO series Billions, starring Paul Giamatti as a criminal prosecutor in New York City. He is fantastic in this role as a staunch law-and-order guy, who is mostly under control but has at least one outburst of his Vesuvian temper every episode. Although I loved Giamatti in The Cinderella Man and other movies in which he has starred, for my money this is the best role that the son of the former baseball commissioner has ever had. Try it.

*

I read in the paper the other day that Denzel Washington is going to star in a remake of the epic gunslinger movie The Magnificent Seven, one of my favorites. This is reportedly Denzel's first western as a movie actor, and his first reunion with Training Day co-star Ethan Hawke. Along this same line, I recently re-watched The Good, the Bad and the Ugly, starring Clint Eastwood and Eli Wallach, which for me did not stand the test of time. While watching the credits, however, I was reminded that some of the scenes in TGTB&TU were shot in Italy, as were many other westerns from that time period, giving rise to the term "Spaghetti Western" in movie parlance.

*

A client of mine recently shared with me a fascinating story about an Indiana ENT physician-gone-bad, entitled The Runaway Doctor. Apparently this physician's story appeared on something called American Greed or some such show, and may be made into a movie. In any event, it is best just to provide you the link and to recommend that you read it yourself. Truly a cautionary tale about the "Root of All Evil," the love of money.

http://www.vanityfair.com/news/2011/01/missing-doctor-201101

*

I forgot to share this quip about Bartolo Colon when I was recounting our Opening Day visit to Kauffman Stadium in an earlier issue. After Matt Harvey gave up 2 runs in the bottom of the 6th, Mets skipper Terry Collins decided to pull the hook on Harvey and brought in the larger-than-most-forms-of-life Bartolo Colon. As Colon lumbered in from the visitors' bullpen, it was apparent that he did not spend the offseason focused on conditioning and weight loss. As he was warming up, I paid a visit to the men's room, and heard the radio announcer for the Royals comment that, "In comes the veteran Bartolo Colon, who is ageless but certainly not weightless." That one cracked me up.

*

I had a surreal experience the other day at the airport in Omaha as I was coming back from a deposition trip to the Bay Area. As I was disembarking the plane through the jet bridge and about to walk inside the airport, all of a sudden I heard Scott's voice talking to me, saying something like, "Did you get a good workout, Dave?" or words to that effect. At first, I thought that B.T. was at the airport to greet me or something, but that made no sense and before long I figured out that his voice was coming from my phone, and not only his voice, but also his smiling face. Now I was completely confused. What kind of sorcery was this, and might this explain his mastery of the Hot Stove League—being able to appear at will and look in on what his co-owners are doing at any point in their day, such as making free agent decisions and the like? Thankfully, the talking head on my phone quickly cut through my cloud of confusion when he suggested that I must have inadvertently activated the "Face Time" feature of my electronic device, which I quite frankly was not even aware existed, and which heretofore had never been utilized by me. The mystery having been solved, I bid B.T. adieu, wished him a delightful anniversary trip with Beth to Milwaukee and Miller Park (his first visit there), which he secretly planned to surprise his lovely bride (such a giver, and so sensitive, that one), and then spent another five or ten minutes staring blankly at my magical cellular device, not sure quite what to make of it. I would imagine that the look on my face was probably a lot like the looks on the faces of the unsuspecting spectators when they first saw Orville and Wilbur Wright streaking across the sky in their magical flying machines. It's a brave new world, for sure.

*

On my drive home from Iowa City on Tuesday afternoon, I wandered off the grid just a bit and found myself driving through a little burg known as Brooklyn, Iowa. I took the road less traveled that afternoon because I had recently read about the owner of a Negro League baseball team by the name of James Wilkinson, and who hailed from Brooklyn, Iowa, according to a baseball blog by John Holman. Wilkinson reportedly was the only white "founder" in the Negro Leagues, leading the Kansas City Monarchs to professional success as a club owner for nearly 30 years. Wilkinson reportedly signed Jackie Robinson to his first pro contract in 1945, two years before Branch Rickey hand-picked Robinson for his candidate to integrate the Major Leagues. A book is currently being written about him by Kansas City area author Tom Fredrick. If you want to read more about the innovative and color-blind Wilkinson, the following is a link to a Des Moines Register article about him.

http://data.desmoinesregister.com/hall-of-fame/single.php?id=374
R.I.P. MILT
I'm sure that all or most of you read about the passing of Milt Pappas, the former Cub pitcher who came within one pitch of a perfect game against the San Diego Padres on September 2, 1972. He lost the perfect game when umpire Bruce Froemming called a borderline slider a ball, on a pitch which replay showed could easily have been called a strike by a more forgiving umpire. Although he lost the perfect game, Pappas got the next batter to pop up to second base to complete the no-hitter and earn his 197th Major League win. Check the moment out on YouTube, and get a look at the godawful bright yellow colored uniforms of the Padres hitters and the fashionable sideburns being sported by Pappas and Froemming.
A check with BaseballReference.com reveals that Milt "Gimpy" Pappas was born May 11, 1939, in Detroit, Michigan, was signed at age 18 by the Baltimore Orioles as an amateur free agent, and made his rookie debut on August 10, 1957, at age 18 years and 3 months. He pitched his last game on September 18, 1973, at age 34, and left behind a won-lost record of 209-164 and a career ERA of 3.40. Pappas never won 20 games in a season, coming closest in 1971 when he was 17-14 and in 1972 when he was 17-7 with a 2.77 ERA. Rest in peace, Mr. Pappas.
MOON OVER MODESTO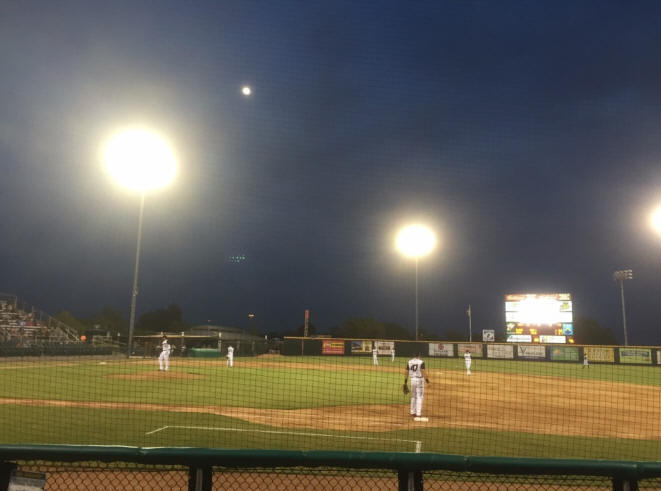 Last week while on assignment in the Bay Area, I fought my way through two hours of rush hour traffic to make it to Modesto and John Thurman Field for a California League, Advanced A, game between the Modesto Nuts and the visiting Bakersfield Blaze. It was an absolutely beautiful, moonlit spring evening to enjoy a baseball game in the San Joaquin Valley. Based upon the demographics at the ballpark, I would have been a hero if I had stood up and shouted "Long live Cesar Chavez!," but while sorely tempted, I allowed the moment to pass.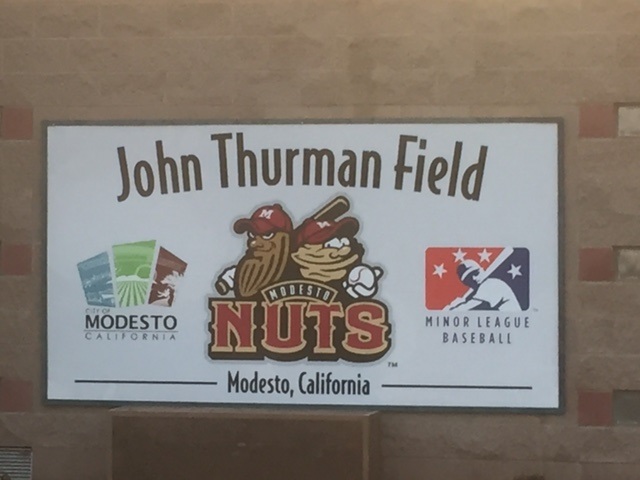 I watched with fascination as the Nuts' starting pitcher, Jesus Tinoco, was beaten like a rented mule, absorbing hard-hit ball after hard-hit ball, until finally the manager's patience wore thin and he got the hook. In the end, the Blaze put it to the Nuts by a score of 6-2.
The Modesto Nuts are the California League, Advanced A farm club of the Colorado Rockies, and walking around the concourse, I found posters of former Nuts Troy Tulowitzki (2005) and current Rockies shortstop Trevor Story, who played in Modesto as recently as 2014.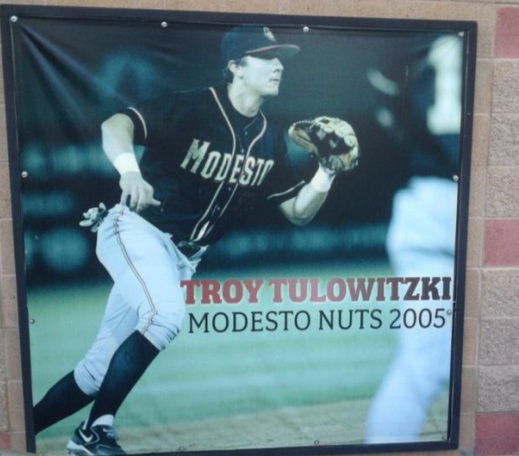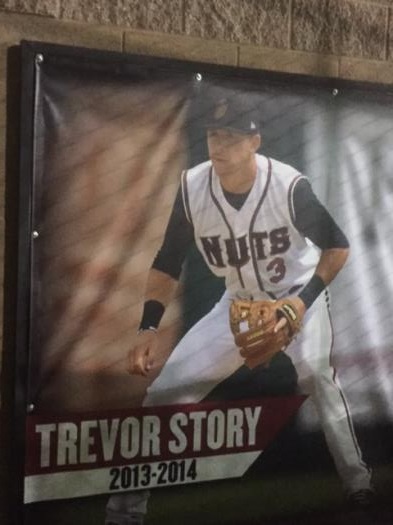 Although John Thurman Field is a swell place to take in a game, it's not likely to make anyone's top 50 list of Minor League ballparks, including my own. It has an interesting bullpen perch for the hometown relievers (as shown in the pictures immediately below) and the craft beer that they sell out of their concession stands is as cold and as tasty as any ballpark anywhere, so there's that. If I was filling out a report card, I would give it a B-.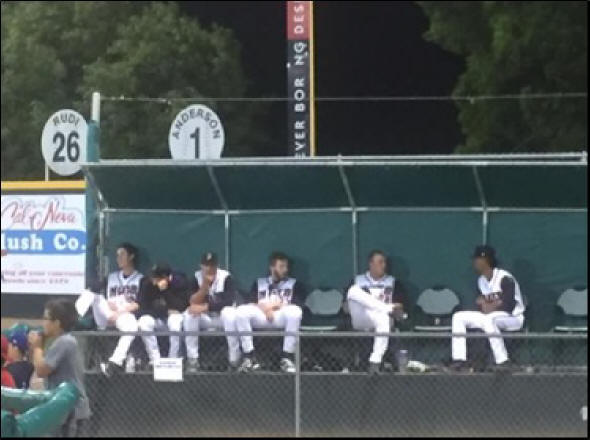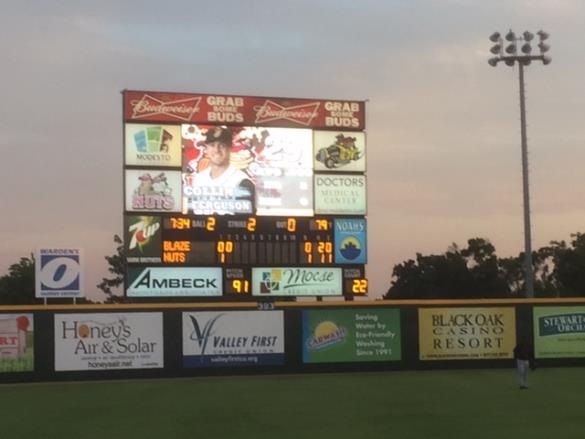 John Thurman Field scoreboard
A MARVELOUS TIME FOR A MOON DANCE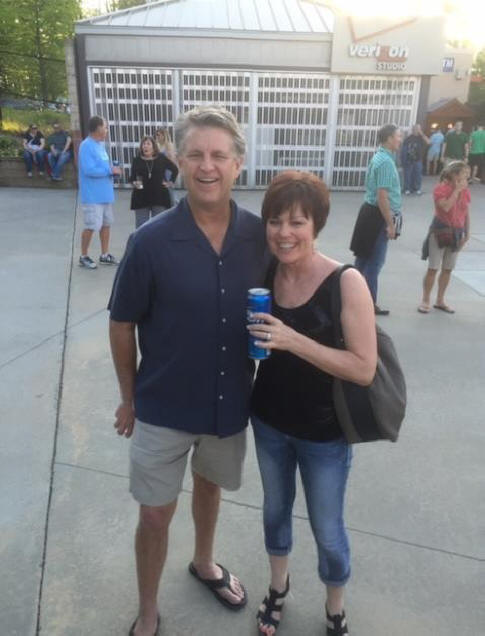 Michele and I ticked off a Bucket List item this past Sunday night when we saw Van Morrison in concert at the Verizon Amphitheatre in Alpharetta, Georgia, just outside Atlanta. While this may be anathema to McJester and other fellow Parrotheads, it was hands down the best concert I have ever been to, and second place isn't even close. The best descriptor that I could come up with at the concert was "exhilarating."
Tupelo Honey has long been one of Michele and my favorite songs, especially the "live" version, and over the past few years I have become more and more familiar with Van Morrison's other music, and just how many great songs he has produced. He started playing professionally in Northern Ireland as a young teenager, and at age 18 he wrote Gloria (G-L-O-R-I-A), a song that has been recorded by the likes of Jimi Hendrix and Bruce Springsteen. At one point in his career, Van Morrison developed stage fright and could not even make eye contact with his adoring crowds, but he eventually conquered this fear and has continued to thrill his audiences ever since.
I started looking at Van Morrison's tour schedule either last year or the year before that, and I realized that he mostly plays in Europe and Canada, and not frequently in the USA. When I saw that he was scheduled for a stop near Atlanta, I knew it was time to pull the trigger. Below is a picture of Van Morrison in the early days as featured on one of his album covers, and below that is the picture that I took of him at the concert. Currently 70 years old, Sir Van is quite short and very stout, and his teeth are an unsettling hue of yellow in the time-honored tradition of the British. With the way Morrison sings, he looks like a chubby little chipmunk on the stage, dressed up in a grown man's suit and hat, but his voice is as mellifluous as ever and, unlike most aging rock musicians, he still has the range to cover the high and low extremes of all of his songs.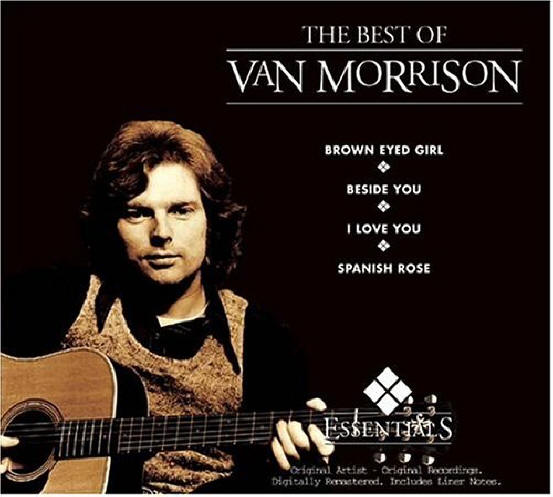 Back then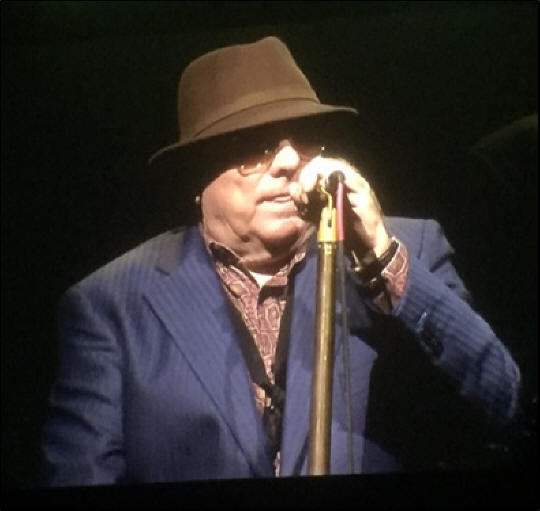 Now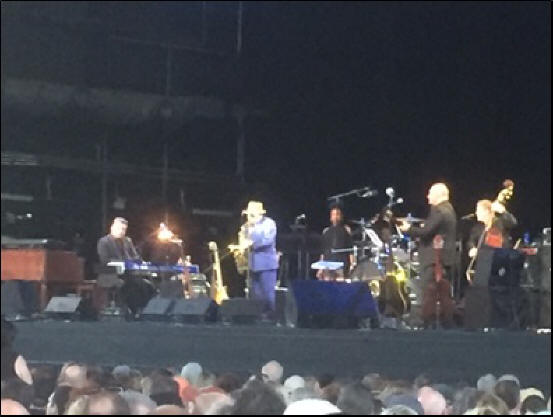 The bottom line is that if you ever get a chance to catch a Van Morrison concert while he is still alive and in fine fettle, do yourself a favor and go see him. A fantastic experience.
Skipper