YES, THE REDBIRDS ARE IN 1ST PLACE,
BUT DON'T CALL ME SHIRLEY
Brethren:
The category for this week's Hot Stove League Jeopardy is Improbable Events, and the Daily Double question to the above answer is: Surely the Redbirds are not leading the Hot Stove League this late in the Season?
That is correct, as improbable as it seems, the long-suffering Redbirds actually finished the 9th week of competition atop the HSL standings, and it appears, gadzooks, that the Crimson Chirpers might actually have a good enough team to make a legitimate run at the title. More later on that unimportant stuff, but now this:
AIRPLANE: The Movie
A couple of weekends ago, the boss and I went to the Jocelyn Art Museum for a special showing of Airplane, presented by an Omaha film historian by the name of Bruce Crawford in a benefit for the Nebraska Kidney Association. Crawford has been putting on this sort of feature film fundraiser for something like 25 years or more, and a couple of years ago we went to see the quintessential World War II movie The Great Escape. Crawford usually brings in one of the actors from the film, or a relative of one of the actors, to talk and answer questions before or after the showing of the film.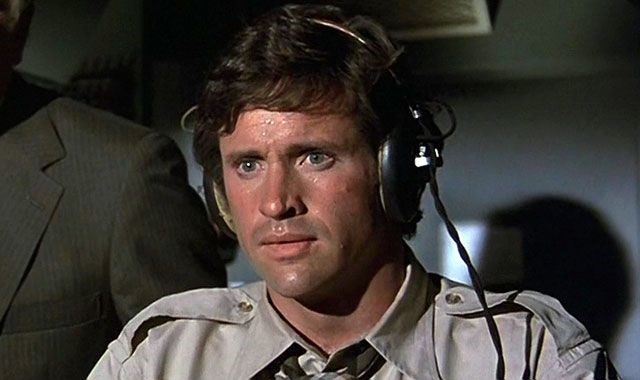 This year the special guest was actor Robert Hays, the male lead in the film who played Captain Ted Striker who, as it turns out, is a graduate of Bellevue High School and attended college at UNO for a couple of years before embarking on his glorious acting career.
Hays spoke off-the-cuff for about 20 minutes and answered audience questions before the showing of Airplane, and it is quite clear why he chose not to go into stand-up comedy as a career choice. The guy just wasn't very funny, and in fact, it was downright awkward listening to him talk extemporaneously and to try to entertain the audience. The best nugget of information that we got out of him was that they originally wanted to cast Pete Rose in the co-pilot role that eventually went to Kareem Abdul-Jabbar, but they were planning to film during the course of the baseball season and did not think that Rose would be available enough to take the part. Can you even imagine Airplane without Kareem or with Rose? Who knows, maybe Rose would have caught the acting bug and spent more time pursuing other roles and less time at the track and gambling on baseball. But surely Petey would have been a flop as an actor, and so it all worked out for the best.
At any rate, if you haven't watched Airplane for a while, you should treat yourself to it soon by popping it into the DVD player. According to the Omaha World-Herald article on the movie a couple of weeks before the showing at Joselyn, one survey ranked Airplane as the funniest movie of all time by virtue of the fact that it adduced 3.0 chuckles per minute in an audience test screening. By the way, Hays also said during his remarks that it was an amazing experience working with Leslie Nielsen, who may be the most gifted deadpan delivery actor of all time. (F1) Naked Gun--also starring Leslie Nielsen--was reportedly the third highest ranking comedic movie on this same laugh scale survey at 2.3 chuckles per minute. (F2)
WEEK 9 STANDINGS
And now back to the HSL. The standings through nine weeks of the 2017 campaign look like this:
| | | | |
| --- | --- | --- | --- |
| 1 | Redbirds | 4450.4 | - |
| 2 | Wahoos | 4423.4 | 27.0 |
| 3 | Chiefs | 4374.8 | 75.6 |
| 4 | Cubs | 4248.8 | 201.6 |
| 5 | Blues | 4115.7 | 334.7 |
| 6 | Tigers | 4088.8 | 361.6 |
| 7 | Bombers | 4068.4 | 382.0 |
| 8 | Bums | 4040.2 | 410.2 |
| 9 | Bears | 4022.1 | 428.3 |
| 10 | Tribe | 4013.4 | 437.0 |
| 11 | Skipjacks | 3871.5 | 578.9 |
| 12 | Senators | 3857.3 | 593.1 |
| 13 | Monarchs | 3711.7 | 738.7 |
A year ago at this time, here is how things stood:
| | | |
| --- | --- | --- |
| 1 | Cubs | 4753.90 |
| 2 | Wahoos | 4653.80 |
| 3 | Tigers | 4419.40 |
| 4 | Bums | 4341.60 |
| 5 | Blues | 4336.40 |
| 6 | Skipjacks | 4264.70 |
| 7 | Senators | 4142.10 |
| 8 | Monarchs | 4093.50 |
| 9 | Bombers | 4083.60 |
| 10 | Chiefs | 4041.70 |
| 11 | Bears | 3940.10 |
| 12 | Redbirds | 3765.90 |
| 13 | Tribe | 3571.70 |
WEEK 9 POINT TOTALS
Here are the Week 9 point totals:
| | | |
| --- | --- | --- |
| 1 | Blues | 639.9 |
| 2 | Monarchs | 551.3 |
| 3 | Bombers | 539.2 |
| 4 | Redbirds | 525.3 |
| 5 | Bears | 521.9 |
| 6 | Wahoos | 478.5 |
| 7 | Skipjacks | 471.5 |
| 8 | Chiefs | 440.6 |
| 9 | Tribe | 421.9 |
| 10 | Bums | 412.2 |
| 11 | Tigers | 409.6 |
| 12 | Senators | 390.2 |
| 13 | Cubs | 364.3 |
COMMENTS: Holy cow, how did the Blues manage to score 639.9 points for the week, and is that a record in our league? Can anyone remember a higher total for a week of Hot Stove League competition? How are the Monarchs still in dead last if they are capable of scoring at the clip of 551.3 points per week? Evidently, they won't be in last place much longer.
TOP 10 HITTERS
| | | | |
| --- | --- | --- | --- |
| 1 | Paul Goldschmidt | Monarchs | 291.3 |
| 2 | Aaron Judge | Skipjacks | 280.8 |
| 3 | Charlie Blackmon | Wahoos | 279.7 |
| 4 | Mike Trout | Cubs | 275.6 |
| 5 | Ryan Zimmerman | Blues | 275.3 |
| 6 | Joey Votto | Tigers | 267.8 |
| 7 | Bryce Harper | Chiefs | 266.3 |
| 8 | Nolan Arenado | Tigers | 255.4 |
| 9 | Zack Cozart | Bombers | 249.3 |
| 10 | Jake Lamb | Wahoos | 248.7 |
TOP 10 PITCHERS
| | | | |
| --- | --- | --- | --- |
| 1 | Chris Sale | Redbirds | 344.0 |
| 2 | Clayton Kershaw | Blues | 330.0 |
| 3 | Dallas Keuchel | Senators | 322.0 |
| 4 | Max Scherzer | Wahoos | 308.0 |
| 5 | Zack Greinke | Tigers | 291.0 |
| 6 | Stephen Strasburg | Cubs | 283.0 |
| 7 | Ervin Santana | Tigers | 280.0 |
| 8 | Lance McCullers Jr. | Chiefs | 264.0 |
| 9 | Jason Vargas | Blues | 245.0 |
| 9 | Michael Fulmer | Bums | 245.0 |
WHO WAS HOT - HITTERS
George Springer of the Blues was the top hitter for the week with 66.5 points, but the Blues also had Ryan Zimmerman (52.2), Kendrys Morales (40.5), Matt Holliday (38.0), and Nelson Cruz (38.0) among the top 25 hitters for the week.
WHO WAS NOT - HITTERS
Brad Miller of the Wahoos had the worst week for a hitter with -4.2 points, followed by Jonathan Lucroy of the Tigers with -2.9, Dustin Pedroia of the Bums and Hunter Pence of the Senators with -0.5, and Chris Owings of the Senators with -0.3.
WHO WAS HOT - PITCHERS
Edinson Volquez of the Bombers was the top pitcher for Week 9 with 76.0 points (is that a misprint?) followed by Ariel Miranda of the Tigers with 55.0 points, followed by Luis Severino of the Bears with 54.0 points. Krikey, did any of these guys even get drafted? The Blues had four of the top pitchers for the week with Sean Manaea (37.0), Clayton Kershaw (37.0), Jason Vargas (34.0) and Mike Foltynewicz (34.0), answering the question as to how the Blues scored so many dadgum points during the week.
WHO WAS NOT - PITCHERS
Derek Holland of the Tigers was definitely not hot for the week, doing a moonwalk to the tune of 19 points for Big Guy's team. Alex Cobb of the Monarchs was close behind with -18, followed by José Quintana of the Wahoos with -14. The Senators (Jerad Eickhoff, Miguel González, Héctor Santiago) and the Cubs (Marco Estrada, Jacob deGrom, Scott Feldman) shared the distinction of having the most pitchers with negative points for the week, with 3 apiece.
So enough about baseball in the Hot Stove League for this week, except for the gratuitous comment that I woke up this morning to find that a total of 7 of my players are currently on the DL, including 5 of my pitchers, including Dallas Keuchel (again) and my top reliever. How could it be going any better for the Senators? Thank God for our 3-man disabled list rule. Right.
TIME FOR A SEGWAY
At this juncture, let me offer a brief and unsolicited endorsement for a Segway Tour of Washington, D.C. Last weekend, on my Girls' Trip (F3) to the District of Columbia to visit Michele's daughter Katy (F4) for a long weekend, we embarked on an adventure that I am sure I have sworn on my life more than once in my life that I would never be a part of--a Segway Tour of D.C., fully helmeted, with guided descriptions of the monuments and historical facts. But yet, here we are in all of our glory, posed in front of the Lincoln Memorial: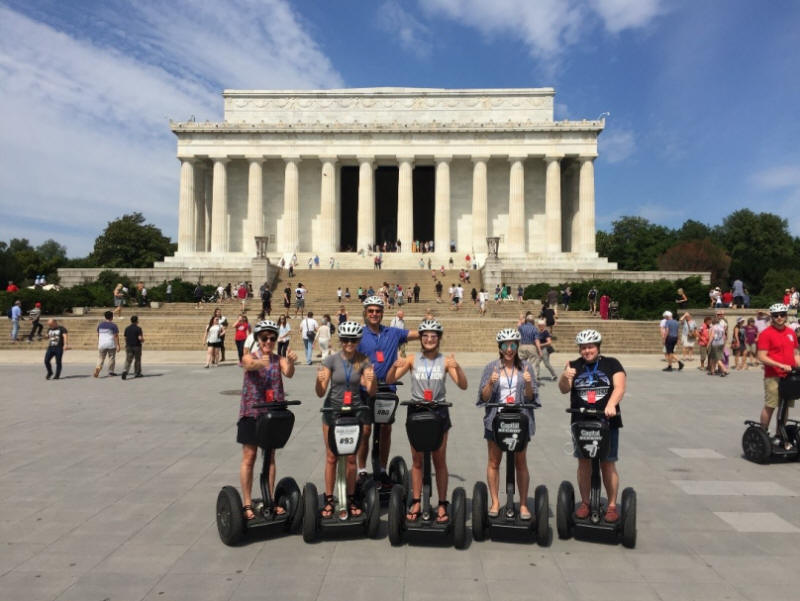 Michele, Emily, me, Savannah, Katy and Molly
Notwithstanding Savannah's dubbing of us as the Whitest Family in America, the Segway Tour was a blast, and by all accounts the best part of a very fun weekend trip to D.C. If you have the chance, take it.
Fun fact learned from one of our guides, an engaging young chap from Kenya by the name of Stefan: Construction on the Washington Monument was commenced in 1848, discontinued during the Civil War, and then recommenced after the laying down of arms but with stone from a different quarry. While the stone appeared to match while it was being placed, it weathered differently over time than did the originally placed stone, and now the monument is clearly a two-tone tribute to the Father of our Country. If you don't believe Stefan, then as the Great Perfesser said more than once, "You kin look it up."
ROCKING IT IN ROCHESTER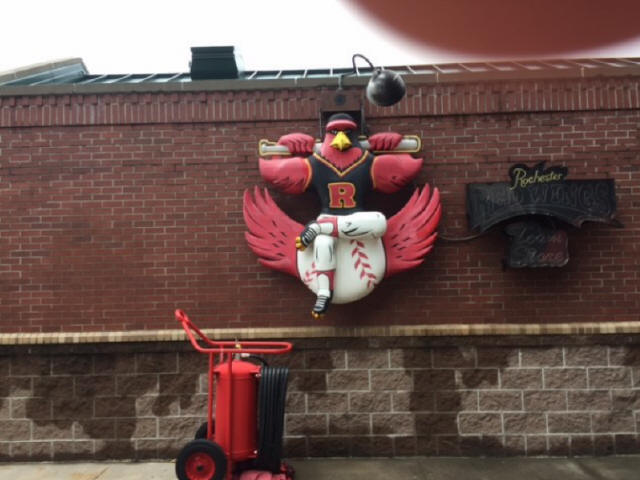 From D.C. it was on up to Rochester, N.Y., (F5) for me to depose a surgery expert, a rather pompous fellow who reminded me of a large cookie jar. Or maybe he just smelled like cookies. Whatever. If I'm not mistaken, it was my first venture to this very old and somewhat dilapidated city of about 200,000 people located along the shore of Lake Ontario, the smallest of the Great Lakes.
One of the most impressive buildings in downtown Rochester is the Kodak Tower, which was built between 1912-1914 and stands 19 stories high. It's just too bad for Mr. Kodak and all of Rochester that somebody didn't warn them that the advent of the cell phone camera would soon be the death knell of the camera and camera film industries, so that they could have diversified into solar energy or electric cars or the making of widgets, or sold short on their own company. The only thing more precipitous than the drop of Kodak stock after the invention of cell phone cameras was the scoring average of Mike McGee after Omaha Norris' last basketball game against Roncalli.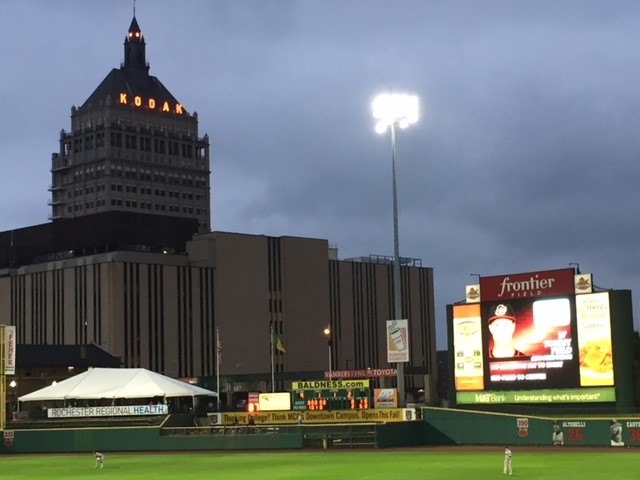 After checking in to the under-renovation (a gross understatement) Hyatt Hotel in downtown Rochester, I hoofed it over to beautiful Frontier Field just a little over a mile away for a AAA International League game between the Red Wings and the visiting Scranton/Wilkes-Barre Yankees. Frontier Field is a beautiful gem of a ballpark, ranked 3rd on a lengthy list of Minor League ballpark rankings that I carry around with me wherever I go, just behind Parkview Field in Ft. Wayne, Indiana, and Blue Wahoos Stadium in Pensacola, Florida. I am unable to disagree. With the aforesaid Kodak Tower looking over the ballpark on the third base side, and an active CSX "Chessie" railroad line located just beyond the outfield from center to right, Frontier Field has a very urban and yet very intimate feel. And although it was only built in 1996, the park reeks of a long history of Red Wing baseball.
THE HURLBUT HUG
There were a lot of things to like about Frontier Field and the ballgame experience to which I was treated, including: The playing of the Star Spangled Banner by the Thomas C. Armstrong ensemble, perhaps the worst music I have ever heard since Joe played the saxophone in the Beadle Middle School band; the tasty Rohrback Red Wing beer served at the concession stand; the statue of the large redbird in flight just inside the stadium entrance, wearing a Red Wings ballcap (see picture below); the display of about 50 plaques for all of the members of the Rochester Red Wing Hall of Fame (see below); and the large banners featuring former Rochester greats which are found all throughout the ballpark.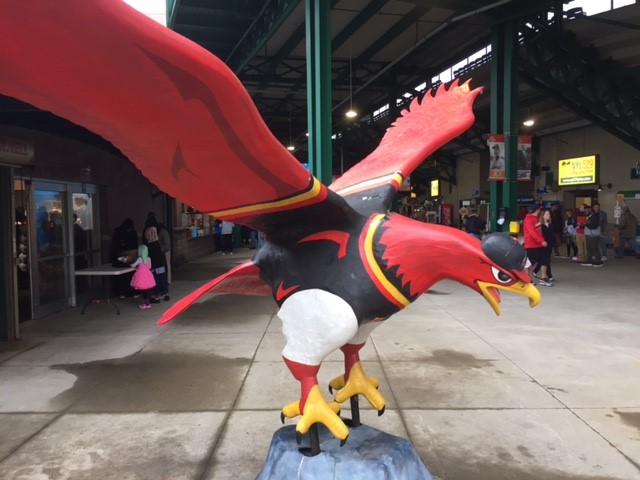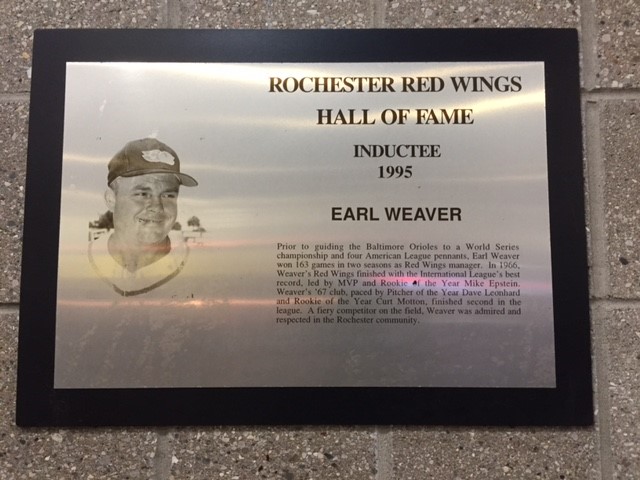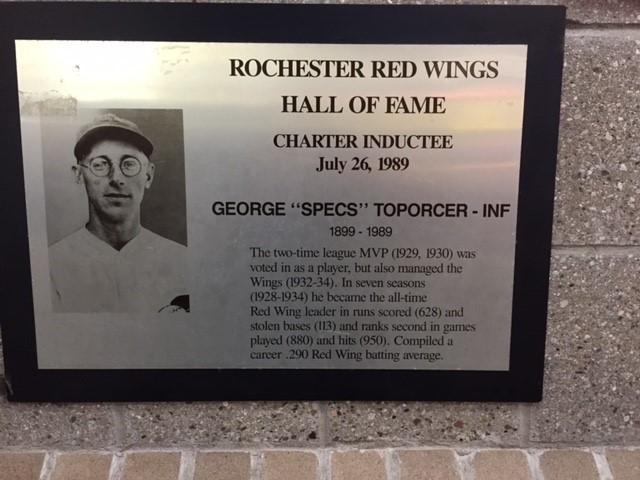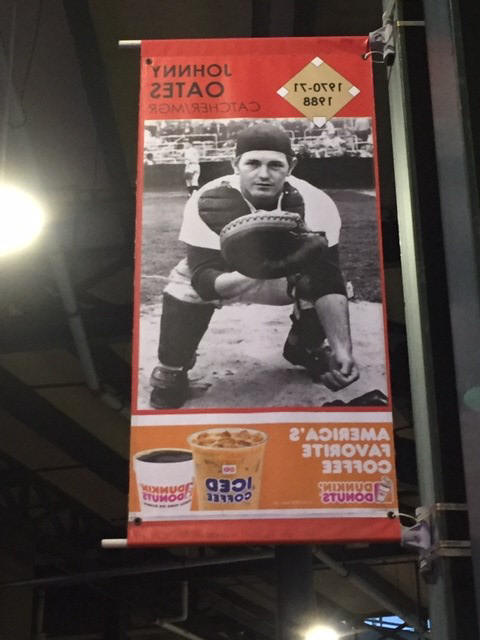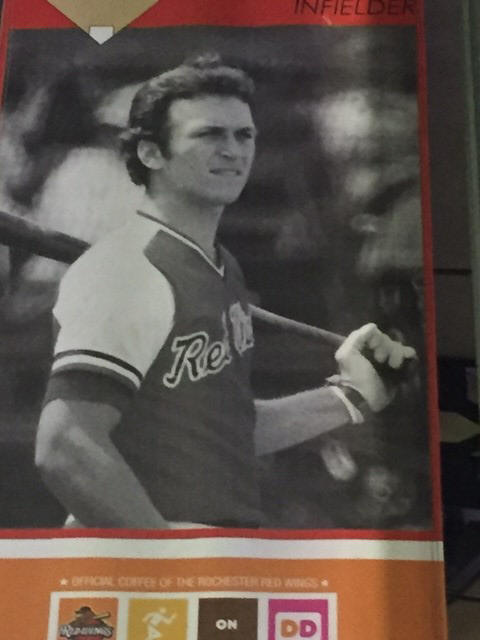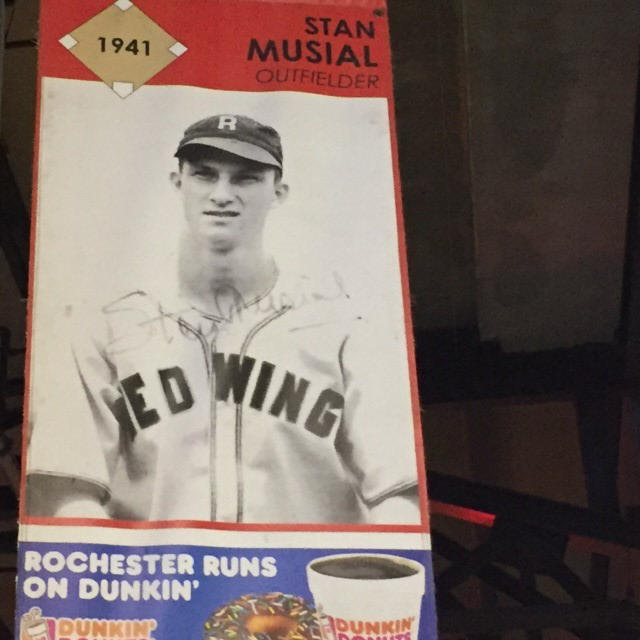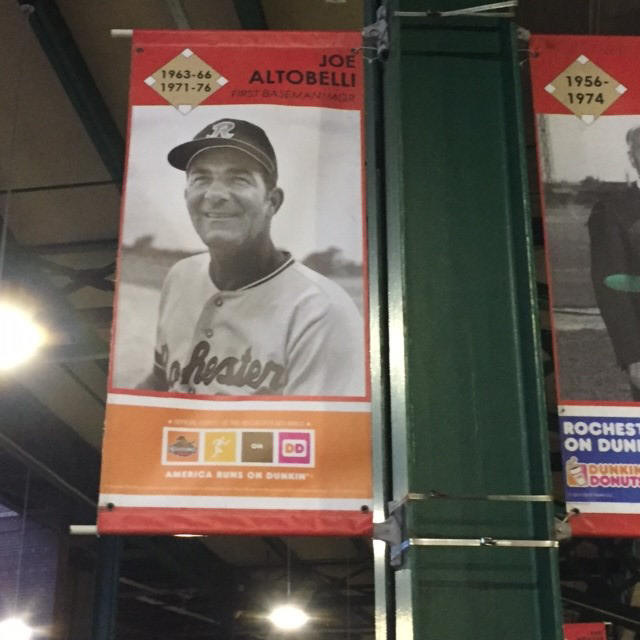 However, one of the best things about the ball game experience at Frontier Field is that they have done away with the dreaded "Kiss Cam" shtick and replaced it with something that they call--I kid you not--The Hurlbut Hug.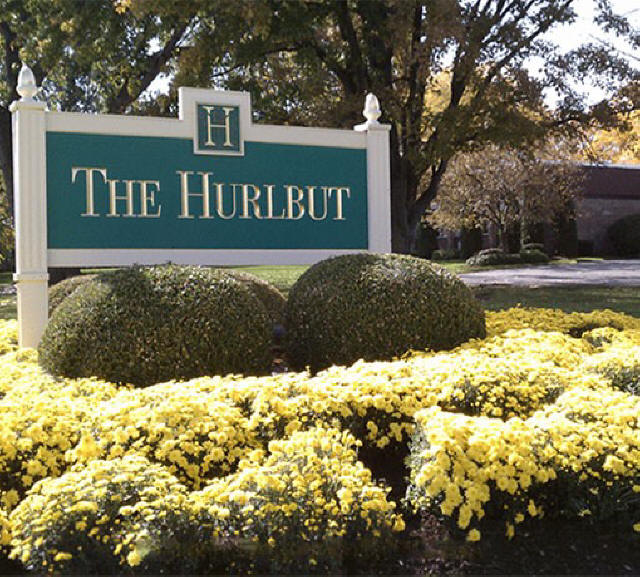 Evidently, one of the team's biggest advertisers is a company which owns a nursing home or similar-type facility for the aged known as The Hurlbut Care Communities. To promote their product, in between an inning of the game the Red Wings focus their camera on two people sitting next to each other at the game (not necessarily limited to heterosexual couples) and encourage them to do the "Hurlbut Hug," not all that dissimilar to the Kiss Cam. This ingenious gimmick caused more than a few awkward embraces and hug refusals, and a couple of young lads sitting nearby merely uttered, "Hunh-uh" when the camera caught them together. Good stuff. (F6)
And last but not least, I absolutely loved the sui generis standing horse figure in the foyer made entirely out of baseball mitts.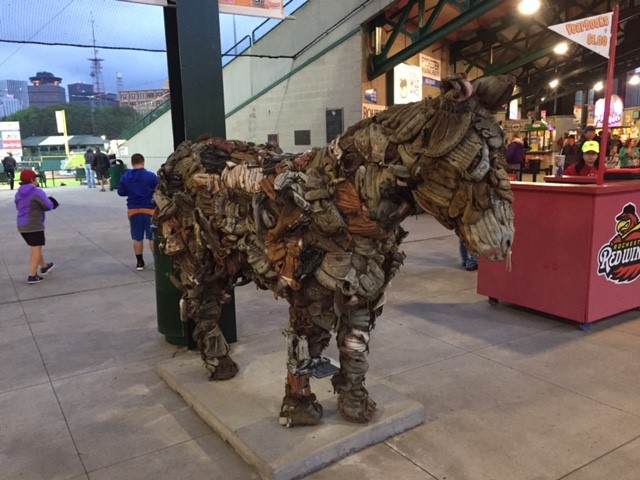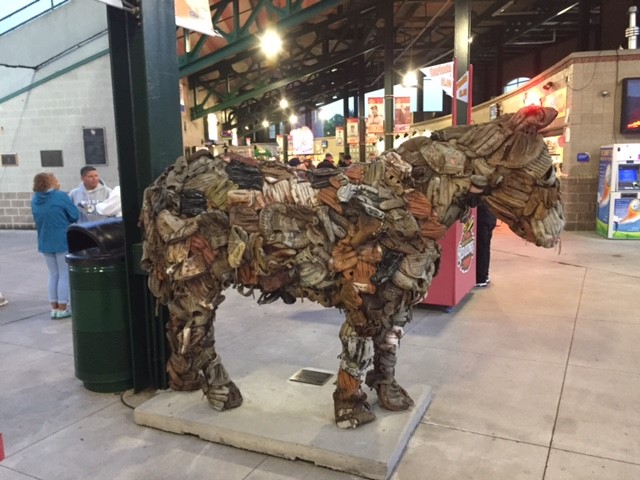 Talk about the old horsehide.
RED WING TRIVIA
Until visiting Frontier Field, I had no idea of the depth of richness of the Red Wing organization. In this the 2017 campaign, the Red Wings are celebrating their 60th anniversary of Rochester Community baseball. The Red Wings are currently affiliated with the Minnesota Twins, but from 1961-2002 they were the showpiece of the Baltimore Orioles organization, and there are a host of former O's greats enshrined in the Red Wing Hall of Fame, including Cal Ripken, Jr., Boog Powell, Eddie Murray, Joe Altabelli, Don Baylor, Steve Bilko, Mike Boddicker, Al Bumbry, Rip Collins, Russ Derry, Luke Easter, Mike "Super Jew" Epstein, and most recently, Merv Rettenmund and Ron Shelton, both of whom were inducted into the HOF in 2016. For those of you who don't recognize his name, Shelton is the former Minor League player (first with the Bluefield Orioles, then the Stockton Ports, then the Dallas-Ft. Worth Spurs, and finally with the Rochester Red Wings from 1967-1971) who gave up his dream of making it to the Majors and ended up becoming a screenwriter and then director. His directorial debut was perhaps the best baseball movie of all time, Bull Durham, which came out in 1988. Shelton's screenplay for that movie earned him a nomination for an Academy Award. Costner's character, minor league journeyman Crash Davis, is said to be a combination of former Red Wings catcher and manager Joe Altabelli, as well as Shelton himself.
OH, YEAH, THE GAME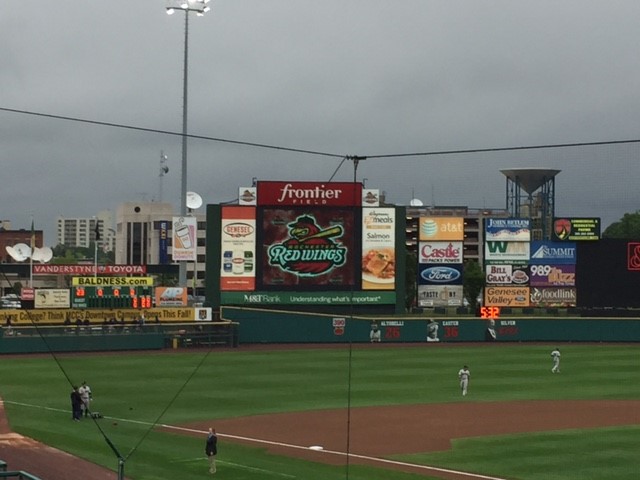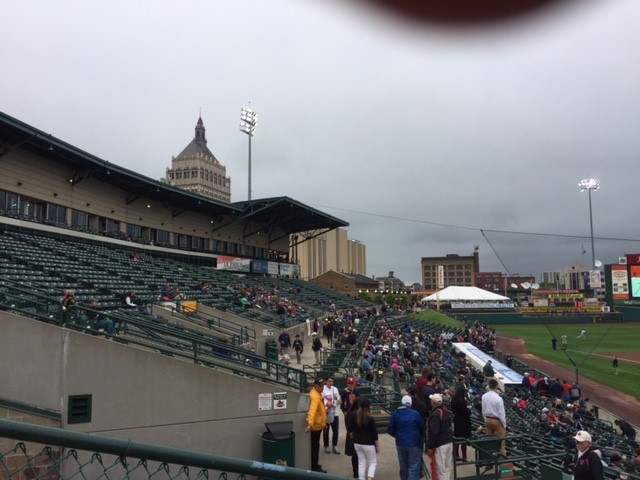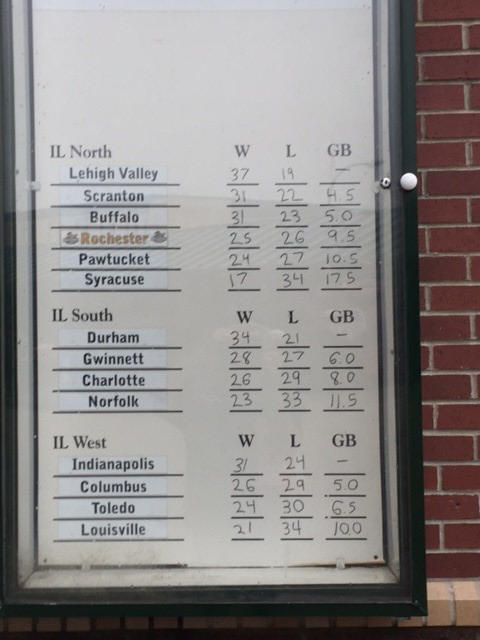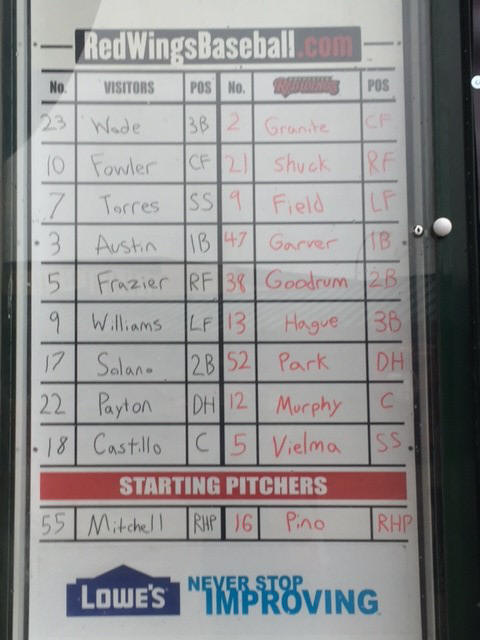 On a chilly northeastern night, I watched the hometown Red Wings take a 2-run lead by pushing across single runs in the 1st and the 3rd, after which Yankees' shortstop Gleyber Torres hit a 3-run blast off Rochester pitcher Yohan Pino in the top of the 6th to take a 3-2 lead. Scranton/WB pushed across 3 more in the top of the 7th, and Rochester added 1 in the bottom of the frame, for the final score of 6-3, Yankees.
CAPTIONING CONTEST
Before I close out this issue of From the Bullpen, I leave you with a picture of a fella that I saw at the Rochester airport, just as I was getting ready to go through security. I was disappointed that I could not stay long enough to watch him stand up and see what would happen with his trousers, but I have a pretty good idea. Anyway, send me your best captions for this photograph and we will post them in the next issue of From the Bullpen.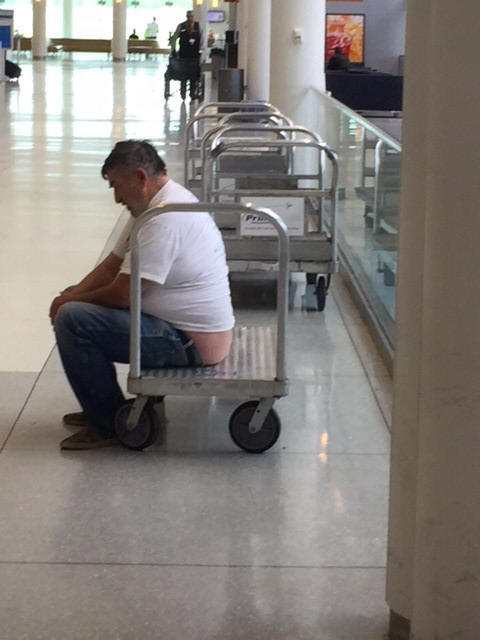 * * * * * *
Thanks again to Mouse for guest authoring last week's Mousetrap, and please be sure to let me know when the rest of you would like to take your turn at the quill.
Skipper
f1 Some of Leslie's (Dr. Rumack) great lines from Airplane:
From "Airplane!" (1980):
Dr. Rumack: Can you fly this plane, and land it?
Ted Striker: Surely you can't be serious.
Rumack: I am serious... and don't call me Shirley!
--
Rumack: You'd better tell the Captain we've got to land as soon as we can. This woman has to be gotten to a hospital.
Elaine Dickinson: A hospital? What is it?
Rumack: It's a big building with patients, but that's not important right now.
--
Rumack: Captain, how soon can you land?
Captain Oveur: I can't tell.
Rumack: You can tell me. I'm a doctor.
Captain Oveur: No. I mean I'm just not sure.
Rumack: Well, can't you take a guess?
Captain Oveur: Well, not for another two hours.
Rumack: You can't take a guess for another two hours?
--
Rumack: What was it we had for dinner tonight?
Elaine Dickinson: Well, we had a choice of steak or fish.
Rumack: Yes, yes, I remember, I had lasagna.
--
Rumack: I won't deceive you, Mr. Striker. We're running out of time.
Ted Striker: Surely there must be something you can do.
Rumack: I'm doing everything I can...and stop calling me Shirley!
--
[an epidemic of food poisoning is sweeping the plane]
Captain Oveur: What is it, Doctor? What's going on?
Rumack: I'm not sure. I haven't seen anything like this since the Anita Bryant concert.
--
--
From "The Naked Gun: From the Files of Police Squad!" (1988):
Lt. Frank Drebin: It's the same old story. Boy finds girl, boy loses girl, girl finds boy, boy forgets girl, boy remembers girl, girl dies in a tragic blimp accident over the Orange Bowl on New Year's Day.
Jane: Goodyear?
Frank: No, the worst.
--
Frank: It's true what they say: Cops and women don't mix. It's like eating a spoonful of Drano; sure, it'll clean you out, but it'll leave you hollow inside.
--
Frank: Just think; next time I shoot someone, I could be arrested.
--
Mayor: Now Drebin, I don't want any trouble like you had on the South Side last year, that's my policy.
Frank: Well, when I see five weirdos, dressed in togas, stabbing a man in the middle of the park in full view of a hundred people, I shoot the bastards, that's *my* policy!
Mayor: That was a Shakespeare-In-The-Park production of "Julius Caesar," you moron! You killed five actors! Good ones!
--
Frank: Jane, since I've met you, I've noticed things that I never knew were there before... birds singing, dew glistening on a newly formed leaf, stoplights.
--
From "The Naked Gun 2 1/2: The Smell of Fear" (1991):
Frank: Now, Jane, what can you tell us about the man you saw last night?
Jane: He's Caucasian.
Ed: Caucasian?
Jane: Yeah, you know, a white guy. A moustache. About six-foot-three.
Frank: Awfully big moustache.
--
Frank: Oh, it's all right. I'm sure that we can handle this situation maturely, just like the responsible adults that we are. Isn't that right, Mr... Poopy Pants?
--
Frank: That's the red-light district. I wonder why Savage is hanging around down there.
Captain Ed Hocken: Sex, Frank?
Frank: Uh, no, not right now, Ed.
--
Frank: I'm single! I love being single! I haven't had this much sex since I was a Boy Scout leader!
[Music stops playing. Everyone stops talking and stares at him]
Frank: [to everybody] I mean at the time I was dating a lot.
--
President George Bush: Frank, please consider filling a post I'm creating. It may mean long hours and dangerous nights, surrounded by some of the scummiest elements in our society.
Frank: You want me to be in your cabinet?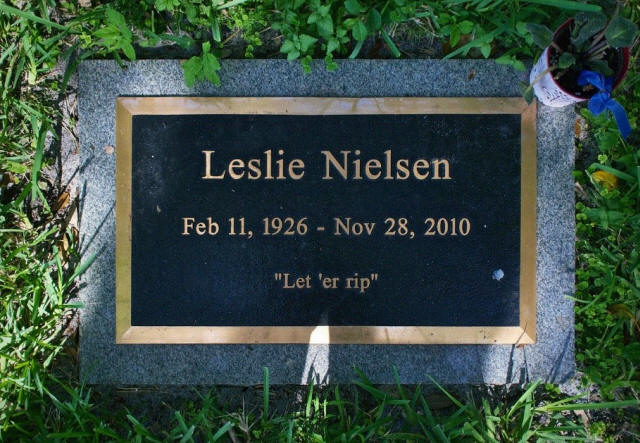 f2 I don't care what the wife or any other woman says, Airplane and Naked Gun are just plain, laugh-out-loud funny, from start to finish. Man humor, maybe, but humor at its very finest.
f3 Michele, her mother, Savannah, Emily, Molly and me--okay, you can think it, but don't say it.
f4 Formerly known as 911Katy, but soon to be known as Physician Assistant Katy Feichtinger.
f5 Nicknamed "The Flour City," as well as "The Flower City," as well as the catchy "The World's Image Center."
f6 If they would only combine the Hurlbut Hug with the Mullet Cam from PNC Park in Pittsburgh, then we'd have something.