Best Trip Ever - Hotlanta and Sun Trust Park
Not since Sherman laid waste to the Confederacy on his March to the Sea has Atlanta seen anything quite like the wreckage left behind by the five HSL members who made this year's league trip. This quintet of canoe paddlers came a'blazin into the ATL, crushed hundreds of beers (and a few Chardonnays), mangled rental vans beyond recognition, trashed hotel rooms, and left roadside diners in shock and awe at the destruction left behind. We made some new friends, picked up a couple new nicknames, and generally had the time of our lives.
First, the New Monikers
With the emergence of hip-hop culture into mainstream society, the Hot Stove League isn't about to get left behind. Much like traditional American Indian names (by means of example, Michael Dog Humper and William Scratches Balls), new HSL nicknames have been borne out of current events. McBlunder's sunny outlook on all things in life and generally happy disposition led one league member to christen him "Sunny Jon". Since that nomenclature conflicts with hip hop etiquette, he is now properly tagged as JSun. (Not Jason, JSun). I think it's a good fit. By his own admission, and I quote, JSun shared this doozie during our trip: "I don't like people". Enough said.
I myself suggested Smooth Johnny (JSmoove) for my own name, but was promptly overruled. Due to my penchant for drinking beer, ingesting toxic levels of sodium (pretzels, peanuts, popcorn, 16 diet Cokes populated with Captain Morgan), and swelling extremities that are pushing me closer and closer to 500 pounds, I was dubbed Quarter Ton by the group. Again, improper form has been corrected and I am now known as QTon.
Dave's insistence on drinking Pink Zinfandel and Chardonnay as his libation of choice earned him the dubbing of Drinks Like Pussy…..hip hop translation to He DLP.
Name Changing seems to be delivering positive results, as the Skipjacks' evolution into the Hot Mess and the Bears' transition to the Bear Turds have coincided with increased production. The Hot Mess will remain intact as long as the climb up the standings continues.
The Trip Details
The trip kicked off with the plan for us five to meet at Hartsfield International airport upon arrival. JSun and He DLP landed first, and took to imbibing with their favorite cocktails at those deeply discounted airport rates while awaiting the others. Big Guy (Guy da Biggie) and I arrived without a hitch. Chuck actually beat us there by 15 minutes, but he thought it might be fun to play Where's Waldo, and led us on a wild goose (whale) chase for 20+ minutes. He would text us a clue as to his whereabouts, then quickly change locations as soon as we got close. After exchanging 15 text messages trying to pin him down, we decided to simply outfox him. We located the nearest Haagen Dazs in the concourse, and lo and behold, the stout ginger (GStout) ambled into the trap not five minutes later.
Collectively assembled, we boarded our 20 person van and headed for the suburbs to locate our lodging venue, the Marriott NW in the toney suburb of Marietta. We arrived in a flash, and were promptly greeted by Precious, the Marriott valet parking queen. Precious eyeballed the van and offered up that if anyone was looking to have a modicum of success with the ladies this weekend, it was gonna require that we swap out the rims and put on some spinners to make that ride sick. She volunteered to take the van overnight in order to get the job done, but He DLP spurned the offer and made it crystal clear that Precious's advice was unwanted and unnecessary.
Friday Night
After checking into our new digs, we gathered the crew to make the 10 minute walk across the bridge to Sun Trust Park, intent on finding tickets, grabbing a pregame brew (or Pink Squirrel), and checking out The Battery Atlanta, the outdoor mall adjacent to the stadium that offers a fine collection of bars, restaurants, shops, and eye candy. It's the place where you Shop before you Chop. Most of our time was spent at Sports and Social, a two level sports bar with plenty of huge screens for watching soccer games, apparently. JSun did leave us for a bit during our pregame meal at Sports and Social to make a quick stop into Sugarboo and Co., a retailer who promotes their business as "a dealer in whimsy". Never thought I would see the day that I'm traveling on a trip with a whimsical renaissance fair aficionado. Pinch me now.
After the appetizers and spirits were consumed, we set about to find tickets for the Friday night game, the marquee matchup to end all matchups, featuring the Braves Mike Foltynewicz against the Brewers Jimmy Nelson. The ticket negotiations were led from our side by two self appointed lawyers, rather than the more logical choice of sending the street savvy salesman into the fray. In their defense, they did secure excellent seats, five together in the lower tier for half their face value. My only concern was the trepidation I felt when the seller said "Done" before we made our initial offer.
Once inside the stadium, we witnessed a competitive matchup, with the Braves ultimately prevailing 5-4, aided by two fielding gems from Dansby Swanson in the 9th inning. After Eric Thames led off Milwaukee's ninth with a double, Dansby snagged a ground ball hit up the middle, pivoted, and threw a laser to third to nail Thames trying to advance. Then, with two outs and the tying run again on second, Dansby made a diving backhand snag of a line drive in the hole, securing the win for the Bravos.
We returned to the hotel for a nightcap and to once again repeat all the stories about law school that seem to change and grow a little bit more interesting with each passing year. Before we knew it, the lights were turned on and we were asked to leave the bar. At the time, I wasn't sure if this was because we had reached curfew/closing time or if they had just run out of Chardonnay. Either way, we'd had enough for our first day and needed to get some rest for the really big day that awaited us on Saturday.
Catfished
On Saturday morning, we awoke from our hangovers and made our way to the buffet breakfast at the hotel, giving us the opportunity to nosh on wet, mushy scrambled eggs, undercooked bacon, and burnt toast. Works for me. Stomachs filled and ready for the day, we headed to the stadium early for a private tour of the ballpark. Dave (He DLP) seemed especially agog, as from his perspective, the primary focus of the entire trip was to meet up with a group of individuals who bill themselves as Ballpark Chasers, who had arranged the tour. Since JSun doesn't like people, he had a strong degree of skepticism for this plan, which ultimately turned out to be well founded. Dave was somehow "catfished" into joining this group on line, insisting that the rest of our traveling party cough up 50 clams and engage with the group as well.
When we showed up at the ballpark and introduced ourselves to the head of the group, JSun's worst fears were realized. This collection of misfits and ne'er-do-wells who had represented themselves as Ballpark Chasers weren't really baseball fans, but were an underground cult consisting of a hodgepodge of Dungeons and Dragons gamers and Harry Potter disciples. Undeterred, (or perhaps quite pleased is more apt), He DLP agreed that we should join the group for the ballpark tour as well as their postgame activities. Can't wait….Quidditch and Dungeoneering after the game. I thought I should make my best effort to fit in, but since I don't have enough hair up top to do a Man Bun, I opted to do a "Back Bun" instead, since there is sufficient hair there to pull off that feat. This seemed to endear me to the Ballpark Chasers.
The tour itself was worthwhile and quite impressive. This 90 minute trek took us through the bowels of the stadium all the way to the peak, and examined every nook and cranny in between. This let us see the nuances and fine touches that just might set Sun Trust Park apart from many of the other new stadiums we have visited. They have done a fabulous job of documenting and displaying the history of the franchise, even though Morgan our tour guide couldn't tell us if they were the Boston Braves or the Milwaukee Braves first. There was a rightful focus on Hank Aaron as well as the tremendous run of success that the Braves had in the 90's. The Cy Young Awards in 6 of 9 years (Maddux, Glavine, Smoltz) and 20 Gold Gloves between Andruw Jones and Greg Maddux were prominently on display. We were able to step onto the field (but damn sure not the grass), and get a nice view into the pricey suite life that is clearly the bell cow for the team's revenue projections. Speaking of cows, one of the more interesting points on the tour was the Chick-Fil-A cow beyond the center field stands, who apparently was aroused by his sandwich board and decided to mount it like a Phi Delt on a sports reporter.
All of our traveling party were impressed by the stadium, and agree that a top 10 rank is warranted. Access to Battery Atlanta is definitely a plus and creates a winning atmosphere for those who enjoy ballparks and brews.
Saturday's game went off without a hitch, in spite of the dire forecast from the weatherman that prompted GStout to bring both a poncho and an umbrella to the game. R A Dickey faced off against Matt Garza, and we sat as a group with the Ballpark Chasers, who handed out handkerchiefs to quell the nosebleeds and portable fans to fend off the heat. The Braves again pulled off a win, beating the Brewers 3-1 behind a surprisingly strong showing from Dickey. Garza followed his all too familiar script, giving up a homer to Brandon Phillips that caused his immediate ejection from the Hot Mess roster, and failed to complete a quality start as per his M.O.
Sunday Breakfast
Given that Qton had only gained 15 pounds in the previous 36 hours, we hatched a plan to find a roadside diner where we could find a hearty breakfast that would rival the one eaten by Vincent Gambini and Miss Mona Lisa Vito at the southern diner in My Cousin Vinny. We succeeded. The Marietta Diner offered a diverse, old school menu of cholesterol rich artery cloggers, including grits with every meal. JSun demonstrated a remarkable affinity with butter, unaware of the ongoing cholesterol problem in the country (see the dead soldiers in the attached picture…they're all his). It was a fabulous meal and a fine start to our final day in Atlanta.
Shortly thereafter, we headed back to the airport to catch our flights home, but not without stopping for a Bloody Mary and a few brews before heading to our gates.
Another year, another trip, another stadium, and new memories to last us a lifetime from the best trip ever. Thanks to all for a great time and best of luck with your team the rest of the way. If you're having troubles, a new moniker just might be what the doctor ordered…..maybe "Run DLP" or Quidditch Chasers? Just sayin…
PHOTOS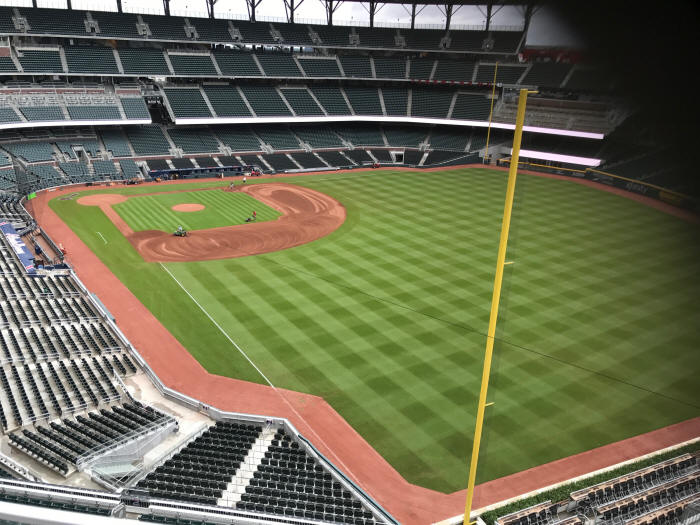 Grounds crew prepares the pristine field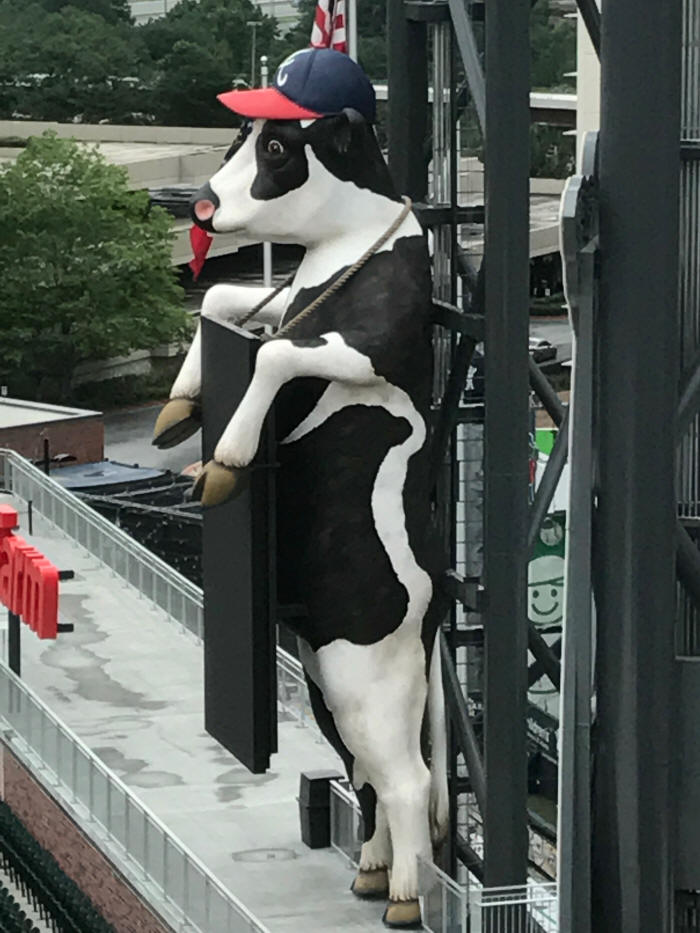 Chick-Fil-A cow "rises" to the occasion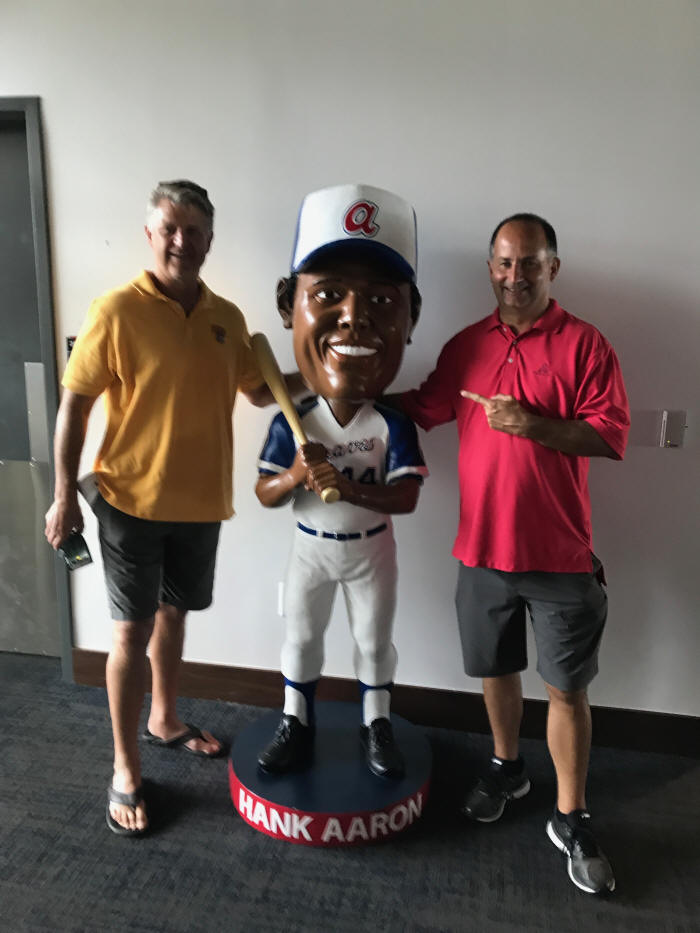 QTon and He DLP with the Hammer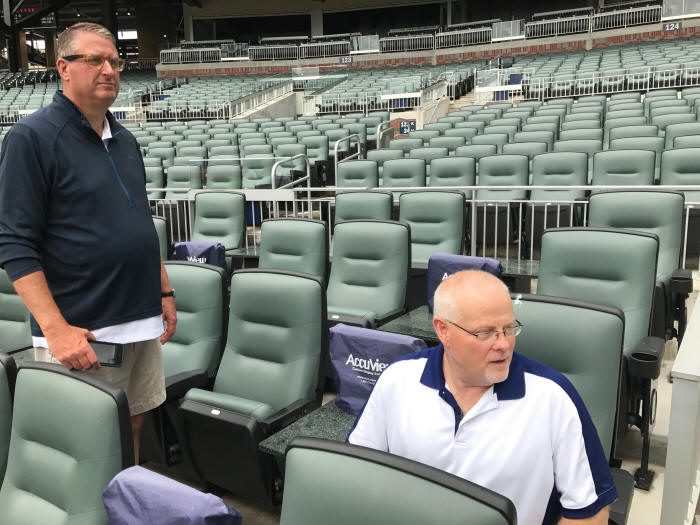 JSun seeks out a section without people...
GStout seeks out discarded mesh hats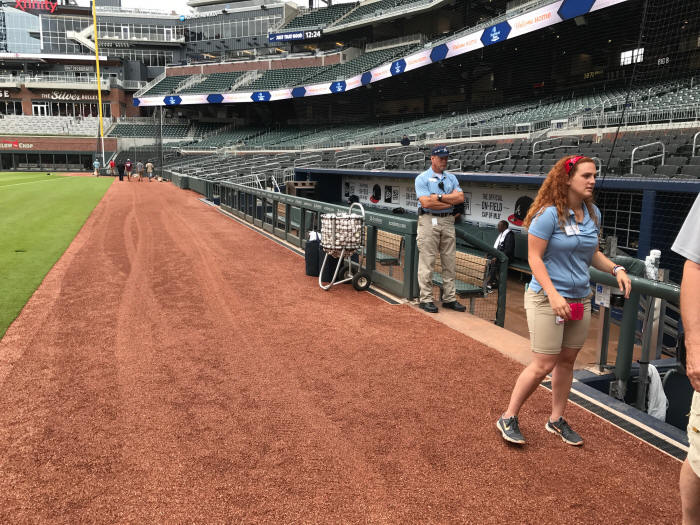 Morgan calls for her assistant to Google "Milwaukee Braves"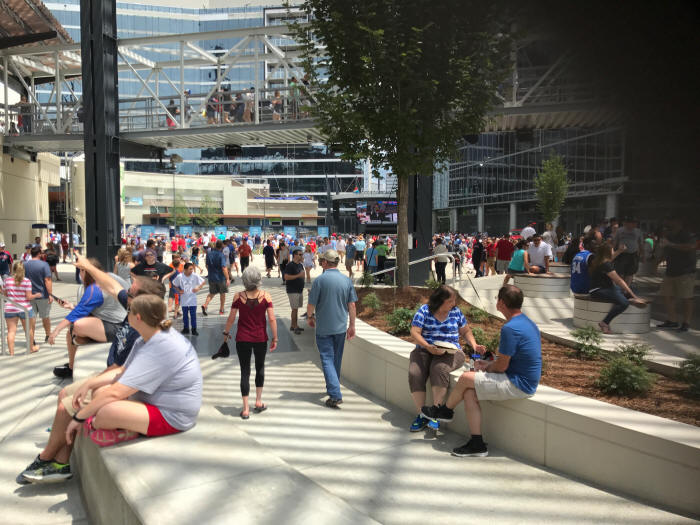 The Battery is hopping!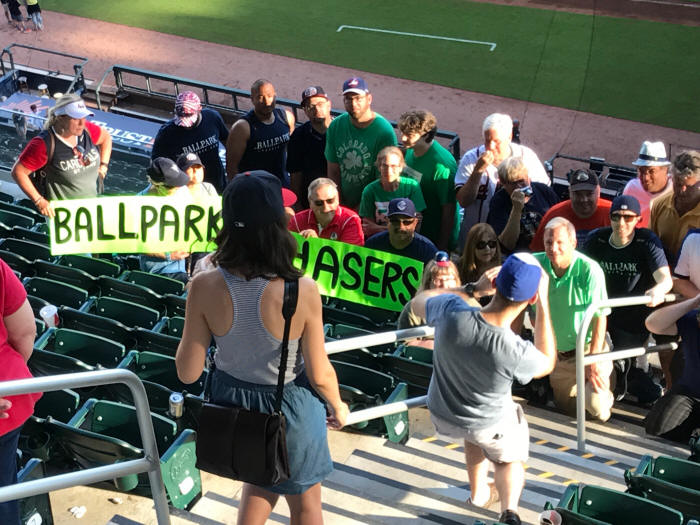 Ballpark Chasers gather to discuss magic potions
and the Salem Witch Trials
Official headgear of the Ballpark Chasers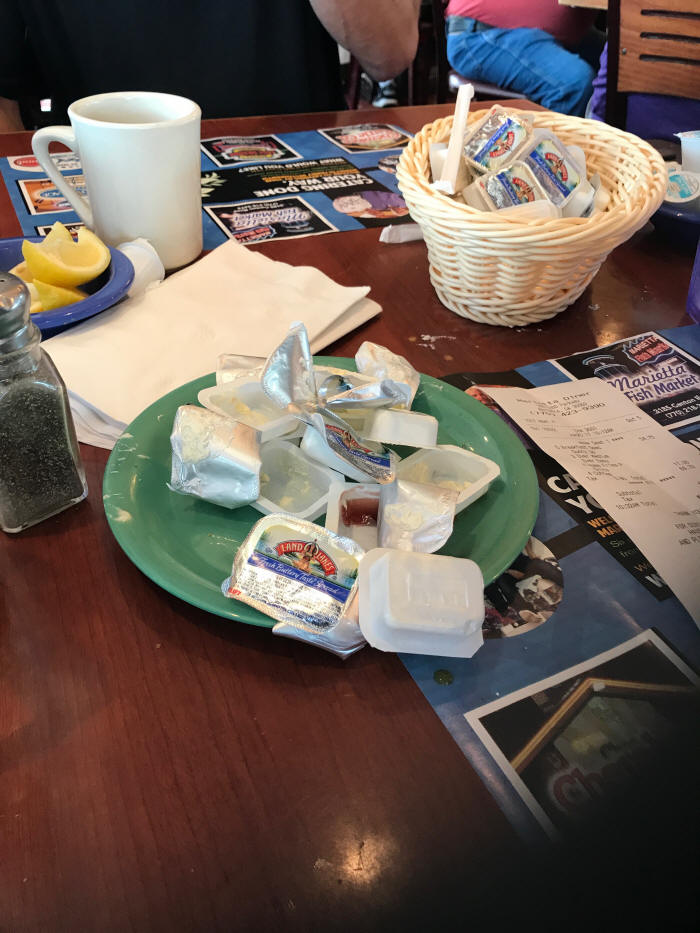 The butter never had a chance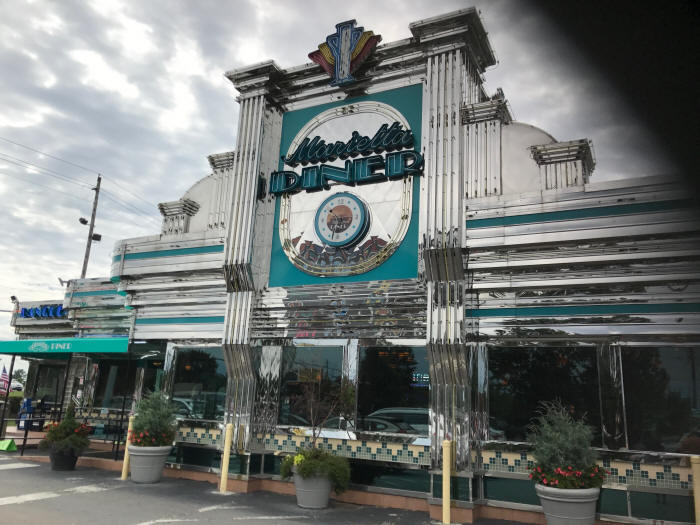 "The Marietta Diner...."we're out of butter, but come try our grits!"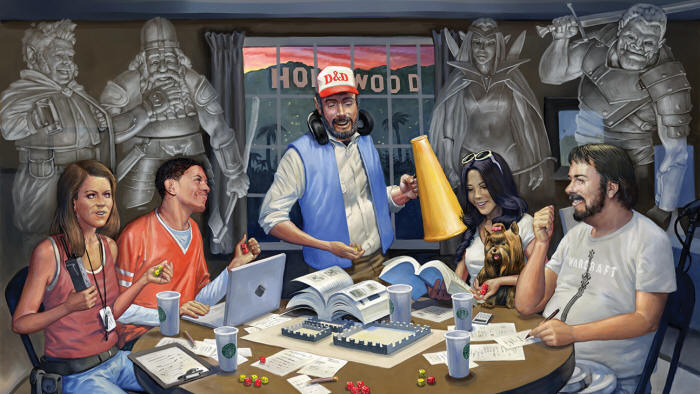 A picture of Postgame activities for the Ballpark Chasers