WAHOOS CLOSE TO CLINCHING;
REDBIRDS STILL HOPEFUL;
BEAR TURDS CONTINUE EN FUEGO FINISH
Gentlemen:
With 24 weeks of play in the jar and a mere fortnight of the regular season left, PAwesome is on the cusp of clinching the first repeat HSL championship title since the Tigers' glorious three-year run from 1987 to 1989. With a 250.7-point lead and plenty of innings left to pitch, it would take an act of God or an Act of Congress or, perhaps, an act of Kim Jong Un to prevent the Wahoos from wrapping up another crown. Don't fail us now, Rocket Man!
Of course, Jim Ed does not plan to sit idly by and accept his fait accompli as bridesmaid once again, and may pull out all the stops in these next two weeks to try to make it interesting, at least.
Meanwhile, the hottest team in the league for the past six weeks or so, the once appropriately-named Bear Turds, forged another 600+-point week to close within 507.3 points of the lead, all but securing another money finish for SloPay. I'm not sure what PED SloPay has been utilizing during the second half of the season, but it's working like a charm. I doubt that there's any way to verify this, but I would venture to say that the Bear Turds have scored more points in one month's time than just about any other team in HSL history. Bully well done, Denny!
And now for all the usual stuff: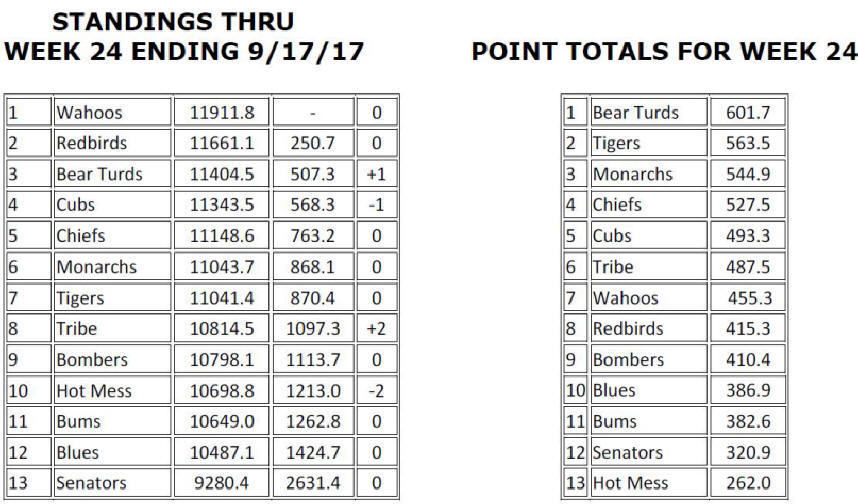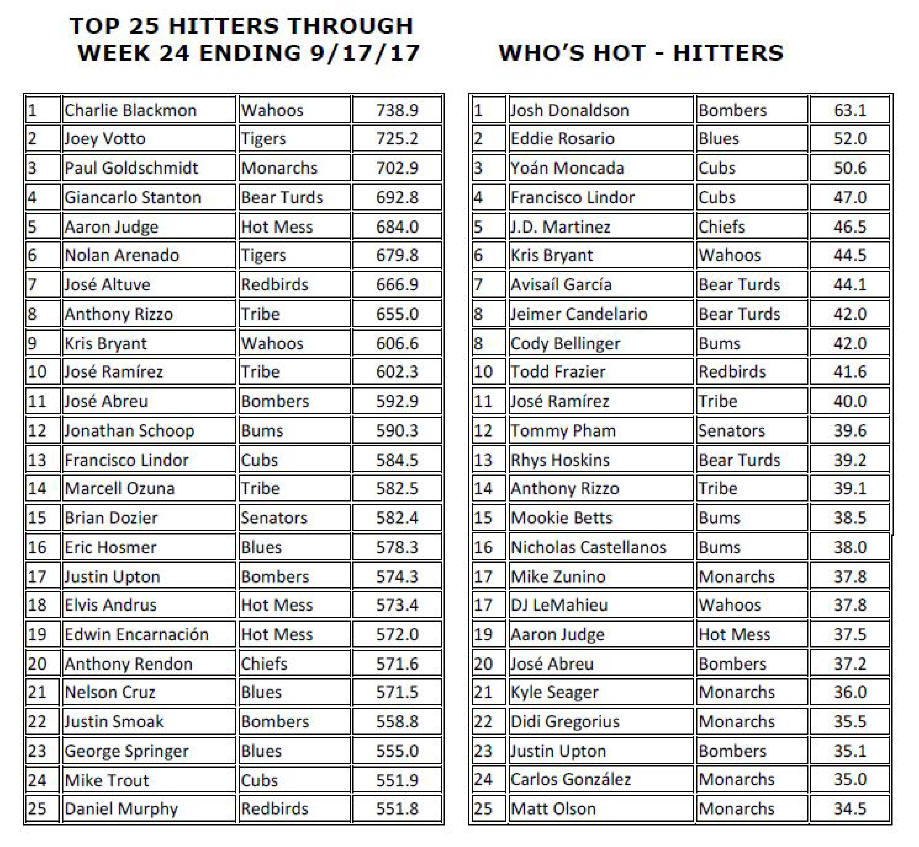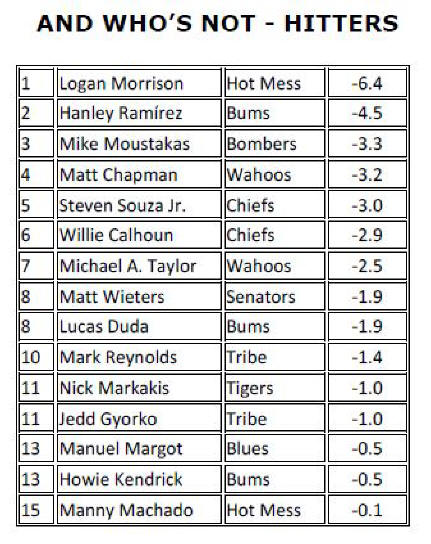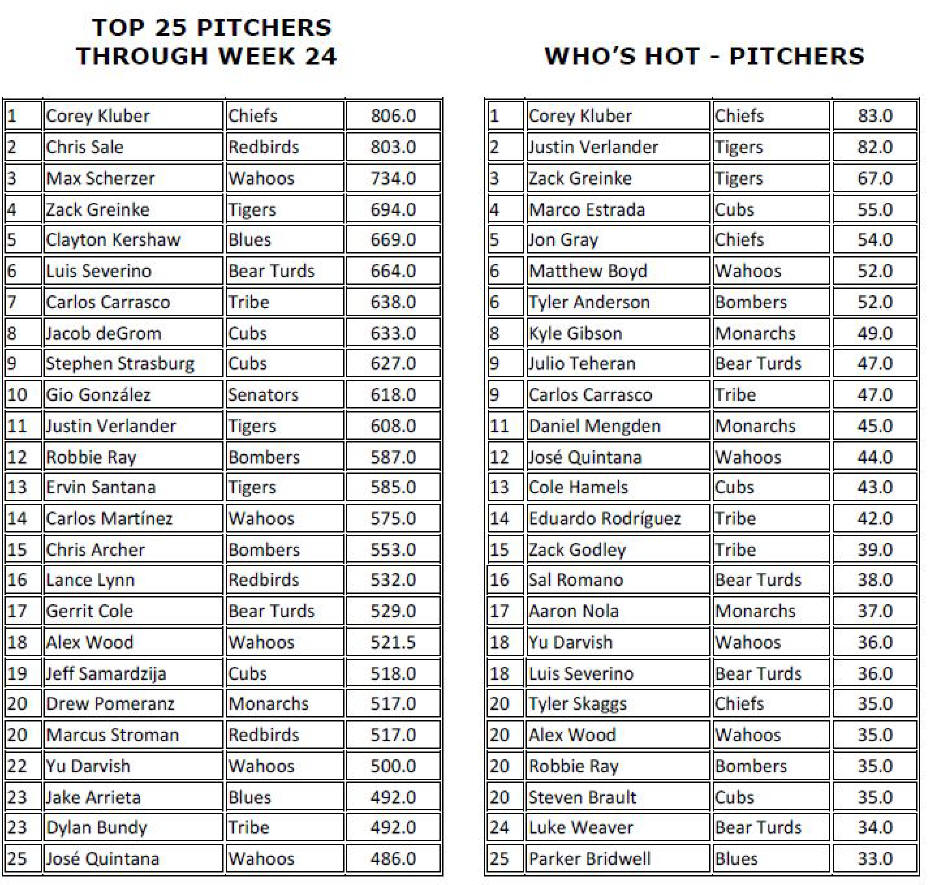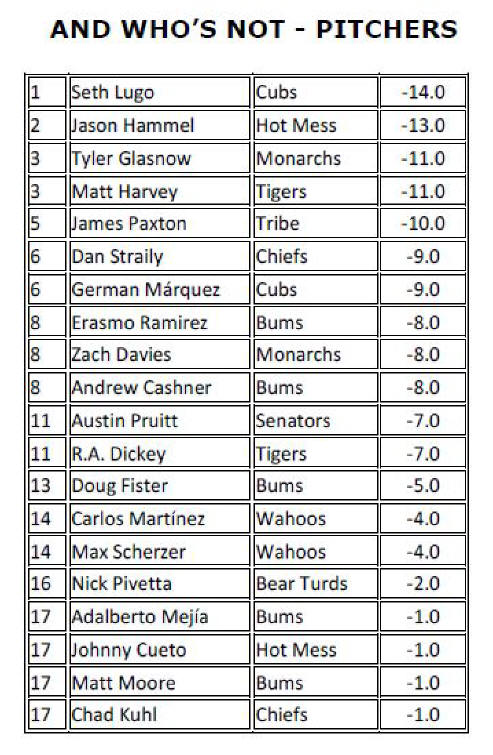 SKIP'S BLIPS
• How did Corey Kluber of the Chiefs suddenly end up at the top of the pitching leaderboard with 806 points? I clearly have not been paying enough attention this season. I would not have guessed him to be in the top 10.

• Okay, until just now, I have never even heard of Daniel Mengden, Zack Godley, Steven Brault or Parker Bridwell, all of whom made the "Who's Hot" list for pitchers this week. I have heard of Sal Romano of the Bear Turds. I'm pretty sure he was a law school classmate of mine from 1981-1983.

• You have to hand it to PAwesome this year. He hitched his wagon to Kris Bryant and Charlie Blackmon, and Bryant has worked his way up to No. 9 on the "Top Hitters" list with 606.6 points, while Blackmon tops the list with 738.9 points.

• Rhys (and is it pronounced "rice" or "reese"?) of the Bear Turds again is on the hitting leaderboard with 39.2 points, 13th best for the week. This guy was one heckuva pickup. Kudos to SloPay for spotting this diamond in the rough. And speaking of diamonds, I see that he also has a guy named Jeimer Candelario on his team, who had 42 points for the week. Will somebody please give me the name of the service that SloPay must subscribe to to get all of these great prospects?
* * * * * *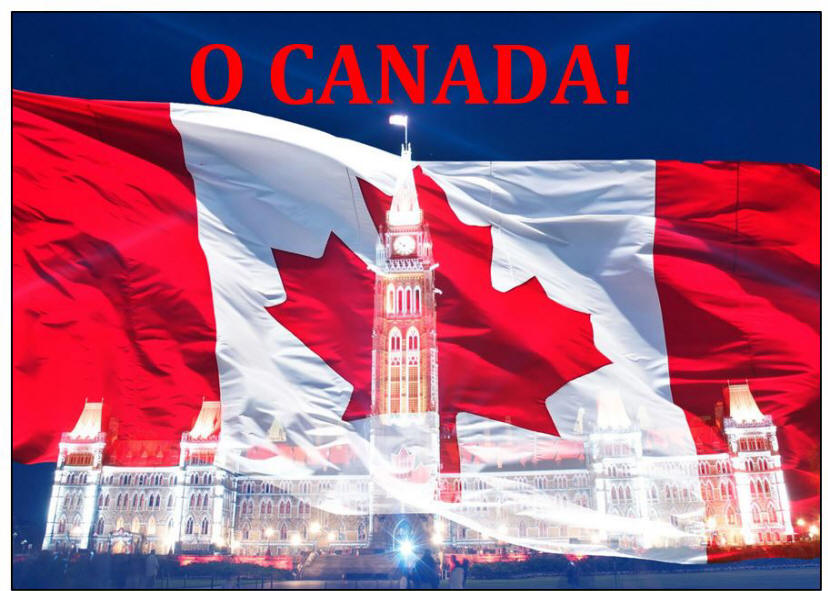 My good friend Chumley the Walrus [F1] recently returned from a trip to Canada, and reported that our neighbors to the north are most hospitable if Americans ever decide that we have had enough of Trump, or Hilary [F2], or the boobs in Congress who can't seem to figure out how to get anything done these days.
Chumley's mini-tour began in the Maritime Province of Prince Edward Island, hard by Nova Scotia, and it is reportedly lovely; and next moved west to New Brunswick, which is just one massive forest. Oddly enough, Chumley reported that as he was walking down a low traffic corridor of his hotel [F3] in New Brunswick, on his way to the workout room, he noticed an obscure collection of framed photographs of what appeared to be baseball players and baseball teams, and upon closer inspection, consisted of the full membership of the New Brunswick Baseball Hall of Fame. Curiosity piqued, Chumley had to take a closer look at this intriguing collection of individuals.
NEW BRUNSWICK BASEBALL HALL OF FAME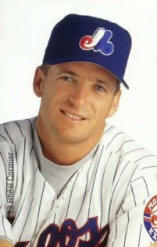 The only two names that Chumley recognized from the list of players in the New Brunswick Hall of Fame were Rheal Cormier and the well-traveled Matt Stairs. Turns out Cormier is the first pitcher from New Brunswick to ever record a win in the Major Leagues. He was inducted into the N.B. Hall in 1991.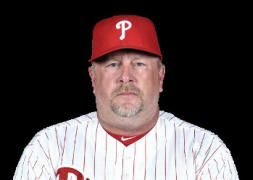 Matt Stairs, "Professional Hitter," was born in St. John, New Brunswick, on February 27, 1968, and went to high school in Fredericton, New Brunswick, the capital city and the home of the New Brunswick Hall of Fame. His Major League debut was on May 29, 1992, and his last game was July 22, 2011. It's not clear when Stairs was inducted into the New Brunswick Baseball Hall of Fame, but he was eligible for the Major League Baseball Hall of Fame in Cooperstown this year, but sadly, garnered not a single vote from the Baseball Writers Association.
Nevertheless, in Canada, Stairs is recognized as one of their greatest baseball players of all time, and in fact, he currently holds the Major League record for most pinch-hit home runs with 23. In second place is Cliff Johnson with 20 pinch-hit home runs. Mr. Stairs is also well-known for being well-traveled, having played for 12 different Major League teams in his professional career, including the Montreal Expos, with whom he broke into the Majors in 1992, and the Toronto Blue Jays, where he hung his hat in 2007 and 2008. Here is the link to a fantastic article by Michael Clair entitled "The Hall of Fame Case: Matt Stairs." Do yourself a favor and read it.
Other members of the New Brunswick Hall of Fame include the following individuals, with a decidedly Franco influence:
Waldo Henderson (1989)
Clement Aloysius O'Conner 'Oakie' (1991)
Eugene 'Foggie' Boudreau (1993)
Rene LeBlanc (1993)
Francois Joseph Dunn (1993)
Father George Parent (1994)
Arthur Edward 'Bush' Nickerson (1996)
Wayne 'Hike' MacPherson (1997)
Philip AJ Bourgeois (1998)
Jean Guy Robichaud (1999)
Clarence Girouard (2003)
Jason Dickson (2016) [F4]
After considering the New Brunswick baseball stars, Chumley decided to look to see if any players born on Prince Edward Island had made it to the Majors. He learned that there were three, if Wikipedia can be believed.
The first was James Vernon Handrahan, who was born November 27, 1936, and died last November, who was a Canadian pitcher who played his entire career for the Kansas City Athletics. He played in a total of 34 games for the A's in 1964 and 1966. The other two P.E.I. players were 19th century baseballers George Wood and Henry Oxley.
FRENCH CONNECTION
As Chumley's Canadian adventure continued on to Quebec City [F5], Chumley was delighted to learn that the finals (their World Series) of the CanAm Baseball League were being held at that very time in Quebec City, at a stadium (Stade Canac) located less than a mile away from his hotel. Although the travel schedule did not allow Chumley to actually attend a game, he sauntered over for a look at this French ballpark built in 1938, and was pleased to find that the ballpark was open and available for viewing. While he was there, a couple of youth teams were on the field going through a practice, and it was fascinating to watch and listen to a bunch of French-speaking youngsters toss around the horsehide and practice this great American game.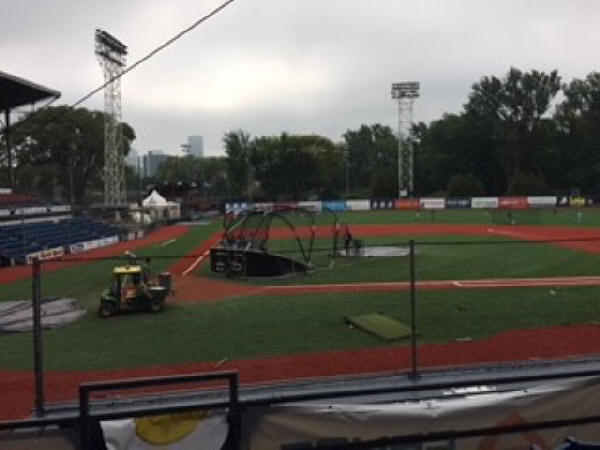 Stade Canac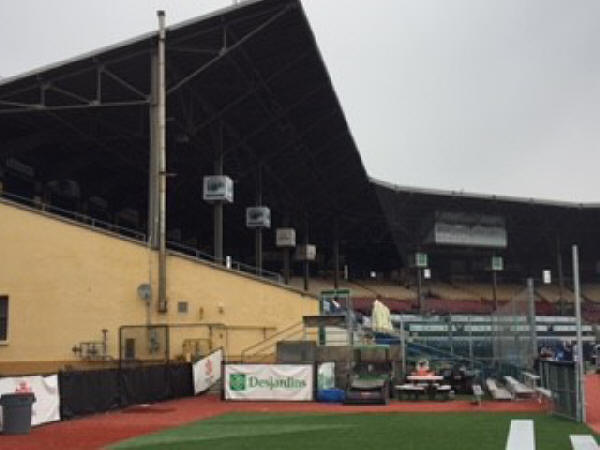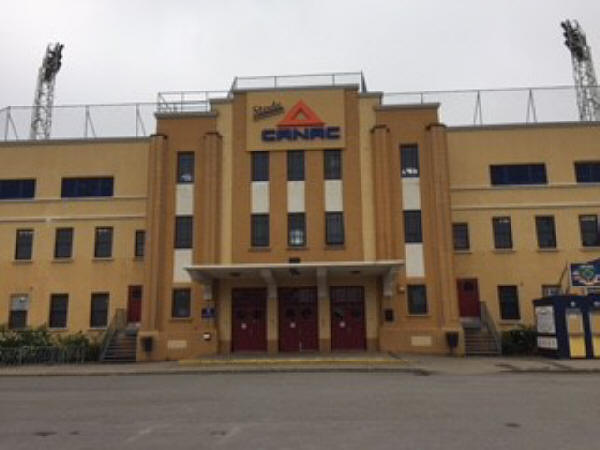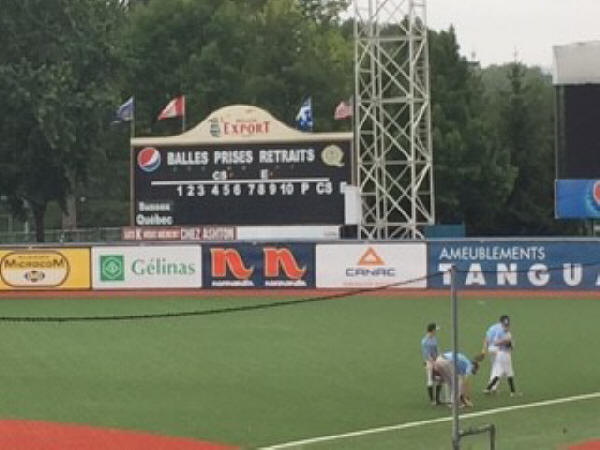 Even though Chumley doesn't read French, he could see from the front of the French newspaper that the Quebec City Capitales were hosting the Rockland (N.Y.) Boulders in the championship series at Stade Canac. As he later learned through follow-up research, the Capitales stormed off to a 5-0 lead in the deciding game and went on to defeat Rockland by the score of 9-3 to win the 2017 Can-Am League Championship. Quebec was led by the left fielder, James McOwen, who went 3-for-4 with a home run, while the sensationally-named DH Balbino Fuenmayor added a pair of Yard balls and knocked in three runs.
While inside Stade Canac, Chumley noted that they have retired four different uniform numbers.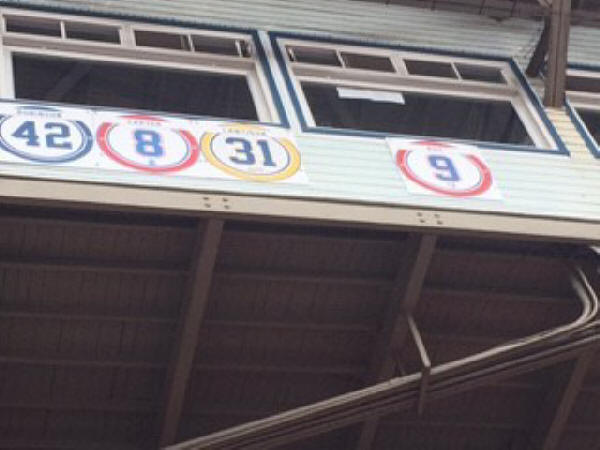 No. 42, of course, is Jackie Robinson, who began his professional baseball career with the Montreal Royals, who were the Brooklyn Dodgers' Triple A franchise in the International League at that time. No. 8 is for Gary Carter, the late Hall of Famer who played for the Montreal Expos for so many wonderful seasons. No. 31 is for Eddie Lantigua, who starred for the Capitales during 1999-2009. No. 9 is for player-manager Jean-Philippe Roy, who was a shortstop for the Quebec Diamants from 1995-1999 and their manager from 2008-2011.
Stade Canac has a wonderful place in their stadium along the outfield wall where they have large color blowups of many of their greatest players from over the years. One of the photographs is of Eric Gagne. Gagne is a former MVP winner for the Los Angeles Dodgers who has spent time with the Capitales in this decade.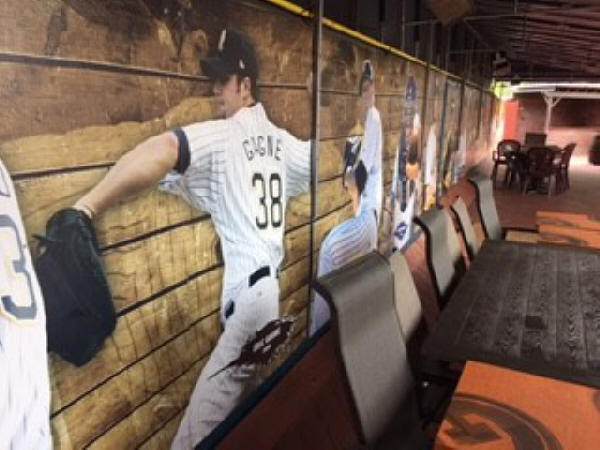 The next time Chumley is in Quebec City, he vows to check the schedule first to make sure that he can made it to a CanAm League ballgame.
RETURN OF THE EXPOS?
The end of the line for Chumley and wife was a visit to Montreal where Chumley attended an ACTW [F6] Conference. The first speaker was the Mayor of Montreal, Denis Coderre, who welcomed the many visitors from America and began his comments by saying, "We build bridges, not walls!", a clear broadside at our Commander in Chief. At the end of his comments, Mayor Coderre promised the audience that the next time that any of them returned to his fair city, the Expos would be back in town and playing baseball once again.
BOOK REPORT:
HERO OF THE EMPIRE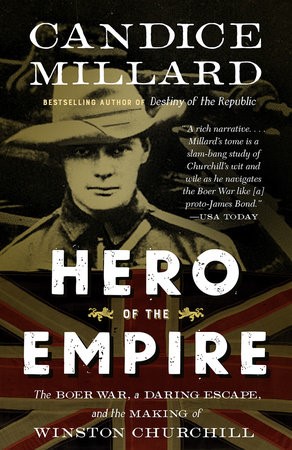 Many thanks to Stretch for recommending to me the book Hero of the Empire, the spellbinding recounting of Winston Churchill's involvement in the Boer War in South Africa in 1899, including his capture while he was serving as a war time correspondent, his daring escape, and his return to glory on the battlefield. Until this book, I hadn't read anything about Churchill as a young man, and did not know that he was so exceedingly arrogant and so widely disliked as the well-heeled scion of Lord Churchill. If anyone is looking for a good book to read, I highly recommend it.
AND FINALLY
Can anyone believe what a train wreck Curt Schilling has devolved into? I heard him interviewed on a radio program recently, and could not believe the level of his homophobia and general looneyness. The guy has lost his marbles.
* * * * * *
See you next time.
Skipper
_____________________________________
[FN 1] Beloved sidekick of Tennessee Tuxedo.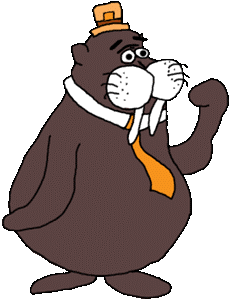 [FN 2] Even though it's possible that Chumley voted for her, he reports that he is so tired of seeing her plug her book on the late-night talk shows that he wants to run screaming into the night--and did.
[FN 3] Delta Hotels by Marriott Fredericton, positioned beautifully on the banks of the St. John River in the capital city of Fredericton, and as Chumley later learned, the site of the 2017 New Brunswick Baseball Hall of Fame induction ceremony.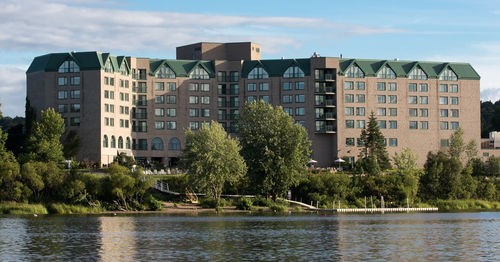 [FN 4] Who recently played in the Major Leagues.
[FN 5] Which, if you have not yet been there, should be on your bucket list. Absolutely beautiful. And even though Chumley doesn't speak a lick of French except Merci Beaucoup, he was pleased to find out that the French-speaking citizens of this great city were extremely friendly and accommodating to their American visitors.
[FN 6] American College of Trial Walruses.