Fellow Owners/Managers:
The 2017 Hot Stove League Draft is in the books, and as previously mentioned in this place, was once again the funnest day of the year. Other than the usual pre-Draft grumbling about rules changes and a wee bit of squawking about our law firm's internet coverage [1] the Draft proceeded smoothly if slowly, punctuated by the usual quips, puns, reminiscing, and back-slapping, with only an occasional [2] gripe or other contentious comment throughout the remainder of the proceedings.
Your bated-breath anticipation is now over. From the Bullpen proudly provides you herewith the sage, canny, gnostic--some might even say prescient--prognostications, pokes, and potpourri conventionally referred to as
SKIPPERS PICKS 'N' PANS [3]
1. WAHOOS (PAwesome)
Studs............... Our league Mountebank's starting outfield trio of Bryant, Blackmon and Granderson will undoubtedly put up some big numbers this year.
Duds................ The 'Hoos are unfathomably weak at 1st (Belt), 3rd (Lamb) and behind the dish (Vogt). What up, PAwesome?
Top Pick.......... Max Scherzer in the 3rd was a steal, if Maxie's right paw (it's only his pitching hand, that's all) is fully healed.
Most Glaring
Error ............... Brandon Belt in the 4th. So, so early. Colonel Nathan R. Jessup was plainly in the throes of another of his ever-more-frequent mental breakdowns at this point in the Draft.
Best Late
Pick ................ Tie between Victor Martinez in the 13th and Curtis Granderson in the 14th. One of these two will put up 500 points this year, just watch.
Predicted
O/O/Finish ..... 3
Predicted Order of Finish 3? Why is that, Skipper?
While PAwesome's Draft strategy of "draft who you like" is praiseworthy--if not complete claptrap--his pick of Kris Bryant as the number one selection of the Draft over Trout, Arenado and Harper, will be the bane of PAwesome's season come October. However, in spite of having a positively lackluster Draft Day, PAwesome's 24/7 devotion to winning during the HSL season [4] will undoubtedly gain him another finish in the money.
2. CUBS (Shamu, Snickler, the Red Rocker)
Studs............... Trout, Braun and Kemp are a salty starting outfield.
Duds................ Shamu's relief quartet of Diaz, Osuna, Kintzler and Rodney will have him buying gallon jars of Tums at Costco.
Top Pick.......... The Fish. Sir Charles nearly coughed up his six Jimmy Johns when PAwesome shockingly and foolishly bypassed Trout in the 1st and left him dangling near Shamu's fishing hook. Take a look at Shamu's Draft sheet. He had already written Nolan Arenado in the 1st. Can you say "blind pig"?
Most Glaring
Error ............... Selecting a team with an average age of 43. It's a young man's game now, Snickler.
Best Late
Pick ................ If he can keep that dang blister healed up, Rich Hill in the 15th will pay large dividends.
Predicted
O/O/Finish ..... 4.
Why, Skipper?
Although Shamu has picked a team with two certain Hall-of-Famers (Cabrera and Beltre), and two others who are Cooperstown likely (Trout and Beltran), it says here that at least one of his three superannuated superstars will spend more time on the DL than Shamu spends with his noggin in the refrigerator. If two of these three prove ready to be put out to pasture, the Red Rocker's Cubs could conceivably even drop to the Lower Division.
3. TIGERS (Big Guy, Whitesot)
Studs............... Big Guy's cross-diamond dynamos, Arenado and Votto, are prime cut, and his top three starting pitchers (Bumgarner, Verlander and Greinke) aren't exactly chopped liver.
Duds................ Nobody will mistake Davis, Bradley and Bruce for Williams, DiMaggio and Ruth. This starting outfield resembles my usual abysmal OF trio.
Top Pick.......... I like Greinke in the 5th. He's likely to have a banner comeback year just to spite Itchie.
Most Glaring
Error ............... Jonathan Lucroy in the 7th. Taking an average or even slightly above average backstop in the 7th was way early, what with most managers waiting until rounds in the 20s.
Best Late
Pick ................ If he is truly back to good health, then getting Garrett Richards in the 21st round was a fetching pick.
Predicted
O/O/Finish ..... 2.
Why, Skipper?
In spite of his usual Eeyore badmouthing of his own team, Big Guy has actually drafted a first-rate squad for the 2017 season. Now, if he can only devote one-tenth of the time that PAwesome, Shamu, and B.T. put into managing their squads, Big Guy will be in contention for his first title since the Dead Ball Era. Go Bengals.
4. CHIEFS (Baby Trumpetfish, the Teutonic Tickler)
Studs............... Harper and Correa are nice players. In fact, way too nice for our bellicose League Jackass.
Duds................ B.T.'s starting pitchers look like pitchers you would not really want to start. Looks like Underbelly's decades-long "Hitting is Everything" brainwashing of B.T. has finally stuck.
Top Pick.......... I like Harper in the 1st. One of these years, he's going to rewrite the record books.
Most Glaring
Error ............... Several severe gaffes to pick from here, but we'll land on Carpenter in the 4th. He may be a Cardinal second baseman, but he's no Joey McEwing.
Best Late
Pick ................ I'm going to say Mike Napoli in the 12th, but only because he's batting cleanup in a great lineup and because B.T. mowed my grass on that one. He may very well end up being another of B.T.'s duds. How fitting.
Predicted
O/O/Finish ..... 9.
Why, Skipper?
B.T.'s constant carping, complaining and caterwauling about our firm's allegedly deficient internet coverage apparently distracted him to the point of dipshittery. Let's face it, he picked a lousy team. If only our self-anointed and abrasive League Jackass had done a little more praying and a little less braying, the Chief chief might have picked a better team.
5. SKIPJACKS (Itchie/Foster/Bender/Big Johnny/Rafserjani)
Studs............... Itchie's starting infield is gold-plated, with Machado, Encarnación, Canó and Longoria. Throw in Posey at catcher and this is a star-studded collection, potentially one of the best ever. Jugdish clearly had some good intel this year.
Duds................ The entire outfield corps, starters and backups. With an injured Ian Desmond being the pick of the litter, you know you have a mongrel bunch.
Top Pick.......... I love Encarnación in the 2nd, but Cueto in the 4th may have been Foster's bright shining moment.
Most Glaring
Error ............... Ignoring outfielders until the 6th round, and then picking one who may be on the DL for a significant stay.
Best Late
Pick ................ Nothing really jumps off the page here. Maybe Liriano in the 19th or Sonny Gray in the 23rd if either is healthy. But that's kind of like picking Itchie himself for anything after 9 p.m., conditioned on if he's sober. Well, in theory it could happen, but nah, it won't.
Predicted
O/O/Finish ..... 7
Why, Skipper?
Inebriated or not, Bender was able to stay alert long enough to stammer out the stellar starting infielder picks recommended by his Kwik Shop tout, but his already suboptimal mentation quickly sagged once the Draft went into the double digit rounds, and it showed. It will take some genuine Itchie magic to manage this squalid group to an Upper Division finish.
6. BUMS (Magpie/Curby/Tricko)
Studs............... Magpie's Red Sox Nation (Betts, HanRam, Pedroia, Benintendi, and Sandoval. Magpie is betting big on the parent New England club. A rising tide raises all boats.
Duds................ Relief pitching (Reed, Bauer, Glover, Nova) plainly was not a priority for Curby.
Top Pick.......... Darvish in the 3rd will be proved when we taste the pudding.
Most Glaring
Error ............... Having his Joe-Oliver-sized head up PAwesome's butt (Itchie's words, not mine) for the bulk of the Draft.
Best Late
Pick ................ Now that he's lost 50 pounds and has a BMI just south of Pavaratti's, Pablo Sandoval in the 17th round is looking like a pretty sweet deal, to coin a phrase from Norm Son-of-a-Gunderson [5].
Predicted
O/O/Finish ..... 1
Why, Skipper?
Because PAwesome has guaranteed it, as we all know. [6] And because PAwesome picked this team for Magpie, it must be good.
7. BLUES (Stretch/McBlunder/McJester/Dead Man Walking)
Studs............... Stretch has put together a potentially high performance outfield, with Cruz, Springer, Yelich and Holliday. And then Brett Gardner, not so much.
Duds................ I'm not exactly gaga over his starting infield, with Hosmer, Kipnis, Swanson and Turner, although they may be serviceable.
Top Pick.......... Clayton Kershaw is the best pitcher of our generation. If his back is healed up, he is your Cy Young winner.
Most Glaring
Error ............... Kendry Morales in the 7th might have been a titch early. Like 10 rounds early.
Best Late
Pick ................ I can't even believe that H. Iwakuma was available in the 19th. How'd that happen? Solid pick.
Predicted
O/O/Finish ..... 6
Why, Skipper?
McBlunder has picked a decent team this year, probably good enough to move up one place to 6th from last year's 7th, but not a title contender. That's next year, right on schedule with Stretch's Championship-Every-Decade philosophy.
8. BRONX BOMBERS (Mouse)
Studs............... Twin Towers Jose Abreau and Chris Davis at 1st sack, just across the diamond from the weirdly coifed but hitter extraordinaire Josh Donaldson.
Duds................ The anemic starting outfield of Gonzo, Upton and Billy (not to be confused with Josh) Hamilton may need a field trip to NU Male Medical for a testosterone booster shot.
Top Pick.......... Snagging Chris Archer in the 4th for his comeback year was a painful mowing of Skipper's grass, after I suffered through him last year.
Most Glaring
Error ............... Wasting a pick on Gonzo in the 5th, after he was healthy all of last year--and hence headed to the infirmary this year.
Best Late
Pick ................ Although not that late, Felix Hernandez in the 8th may make the rest of us look just plain stupid. After a down year in '16, he will probably be the primary benefactor of a much-improved Mariner offense this season.
Predicted
O/O/Finish ..... 10
Why, Skipper?
God love ya, Mouse. I'd love to see you vault all the way to the title in your 25th season of competition, but I just don't think it's in the cards. But go ahead, prove me wrong!
9. MONARCHS (Screech/Friend O Skeezix/The Blair Mystic)
Studs............... With Goldie, Baez, Russell and Seager around the infield horn, this IF can go toe-to-toe with just about any team.
Duds................ Dreadful relief pitching (Colome, Ramos, Watson and Hudson) will have Screech reaching for Shamu's Tums jar.
Top Pick.......... I love Corey Kluber in the 3rd. Surprised he lasted that late.
Most Glaring
Error ............... Greggie Polanco in the 6th was waaaaayyyyyy too early. And now he's hurt. It appears that the Blair Mystic got his signals crossed on this one. Or maybe one of his Tarot cards fell off the table that round.
Best Late
Pick ................ Searching, searching, . . . . . . search failed.
Predicted
O/O/Finish ..... 11
Why, Skipper?
Apparently, the south end of our Washington conference room was not a good place to be on Draft Day. Not only did our Bombastic Braying Ass (fka B.T.) reportedly have constant difficulties with our office internet coverage, but evidently the Blair Mystic also had a real problem tuning into the voices that normally inform his selections on Draft Day, particularly after about round 8. Looks like the Butterflies are trending downward.
10. TRIBE (Underbelly/Masterspieler)
Studs............... The Tribe's starting infield (Rizzo, Odor, Story, Ramirez and Schwarber) has a lot of pizzazz, and was clearly a focus of Underbelly's Draft strategy. If there is such a thing.
Duds................ If your top three pitchers are named Carasco, Paxton and Skaggs, you had better hope that "hitting" is "everything" in this league. [7]
Top Pick.......... Trevor Story in the 2nd. Two words: Coors Field.
Most Glaring
Error ............... Voting for Hillary when you work for a Trump-et. [8]
Best Late
Pick ................ J. Familia in the 13th. How'd we all forget about that guy?
Predicted
O/O/Finish ..... 12
Why, Skipper?
Because U-Bob continues to dogmatically and imprudently adhere to the credo Hitting is Everything in these HSL drafts, ignoring pitching to his own peril. Until he finds good balance in his drafting strategy--not to mention in his work life for Czar Nicholas--he won't be etching his name on The Cup anytime soon.
11. BEARS (SloPay)
Stud ................ Mike Stanton in right. No plurality here.
Duds................ Infield is suspect (Santana, Schimpf, Boegarts and Sano), and starting pitching (Cole, Salazar, Teheran) is about as exciting as an Ernie Chambers filibuster.
Top Pick.......... Gotta stretch to get to this one. Giancarlo in the 3rd. But only if he's healthy.
Most Glaring
Error ............... Buying into whatever baseball tout sheet had Trea Turner being 1st-round-worthy.
Best Late
Pick ................ Taijuan Walker in the 19th. If he pitches like he did in Spring Training, he'll end up with 250 strikeouts.
Predicted
O/O/Finish ..... 13
Why, Skipper?
In his zeal to make sure that he secured both Turner and Boegarts for his roster, SloPay brainlessly passed up scores of eligible draftees who will far outpace his top two selections. Overall, a desultory day at the Draft for this enigmatic yet loveable Rocket Alum. [9] Or as Van Morrison mournfully croons: "Mama said there'd be days like this."
12. SENATORS (Skipper)
Studs............... Just look at that infield! Freeman, Dozier, Villar and Bregman. Somebody pinch me!
Duds................ Okay, my starting outfield (Eaton, Dahl and Cabrera) could have a little more pop. But hey, back off. I was a bit distracted and taken aback by all the griping and whining over our state-of-the-art internet coverage.
Top Pick.......... Let's go with Freddie Freeman in the 1st. 700 points in the bank.
Most Glaring
Error ............... Okay, maybe Bregman in the 4th was a tad early, but with the productive 'Stros lineup around him, he's bound to get plated a hundred times or more.
Best Late
Pick ................ The Dark Knight in the 17th. What were the rest of you thinking?
Predicted
O/O/Finish ..... 8
Why, me?
Rome wasn't built in a day. After escaping the basement last year, and finishing in 12th, management is happy to move up four more spots this year.
13. REDBIRDS (Tirebiter, Jim Ed, E Pluribus Chirpus No Morus)
Studs............... Jimmy's Keystone Combination (Altuve and Segura) looks pretty nifty.
Duds................ Apart from Sale, the Crimson Chirpers' pitching staff is suspect, to say the least.
Top Pick.......... Jose Bautista in the 5th was quite nice.
Most Glaring
Error ............... Lorenzo Cain as Jimmy's starting center fielder is no bueno. All field, no hit.
Best Late
Pick ................ Lance Lynn in the 19th looks pretty good. Ryan Madson in the 24th may be even better.
Predicted
O/O/Finish ..... 5
Why, Skipper?
After spending a season in the league bowels, Tirebiter is motivated to improve his lot and has picked a team which will be competitive and could threaten to finish in the money. [10]
That's it for Skipper's 2017 Picks 'N' Pans. And remember, it's just my opinion. Now, on to a few words about Opening Day.
OPENING DAY:
CAN'T TOP THE TROP!
I had the great good fortune this past weekend of spending it in Florida with the Ernst lads and the legendary Stretch McBlunder, including an Opening Weekend junket to Jupiter, Florida for a couple of Spring Training games and a trip to Tampa for Opening Day.
Earlier in the week, I was at a client (TeamHealth) attorney conference in Amelia Island north of Jacksonville, listening to a couple of long-winded lawyers drone on about some multi-million dollar medical malpractice case in New Jersey that they had settled. My friend Ned from South Carolina, seated directly behind me at the conference--
--found the hour-long session of war stories a bit hard to follow. It just made me glad I don't practice law in Joisy.
On Friday morning last, I drove from Amelia Island south to Tampa to pick up the boys at the airport, and after a hearty four-dollar meal of Steak and Shake, we hit the road south for Jupiter, FLA, heading across cattle country‑‑who would have thought?--for our three-hour drive.
When we arrived in Jupiter, we were delighted to find out that our Courtyard Marriott hotel was located less than a long fly ball from Roger Dean Stadium and on the campus of Florida Atlantic University, with more than a few Owl watering holes nearby. After checking into our hotel, we walked on over to the ballpark [11] for a 7:05 p.m. matchup between the host Marlins and the visiting Tigers. A 26-dollar ticket--the cheapest seat in the house--got us inside the ballpark, and because the crowd was sparse, we were able to snag great box seats just down the third base line.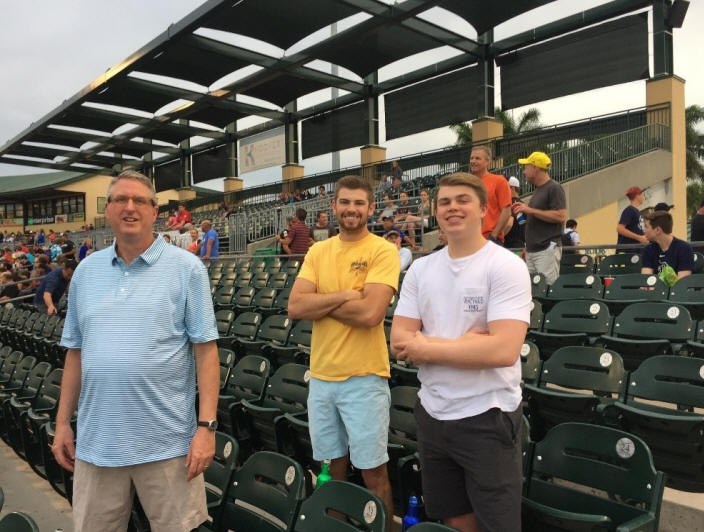 Game highlights: Cold beer, salty peanuts, zesty Polish dogs, and watching Giancarlo Stanton put a ball into orbit off Senator hurler (and soon-to-be Senator discard) Jordan Zimmerman. And the follow-up laser beam line-drive home run by Miggy.
Downside: Paying 12 bucks for a LandShark beer when you could buy a 12-pack of the same brand at the grocery store for less.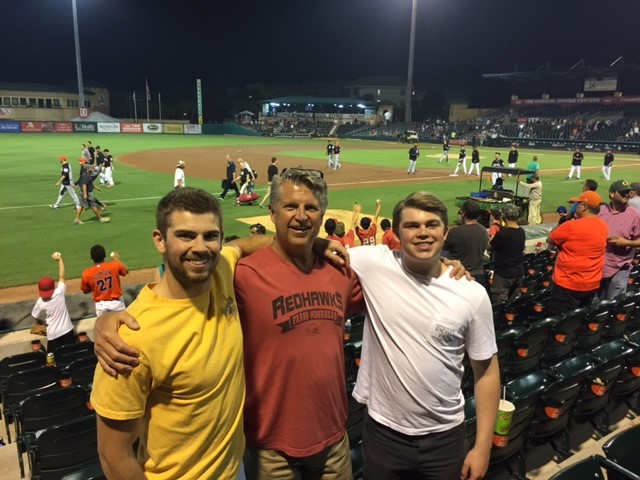 After the baseball game, we repaired to a tavern across the street and bent elbows and told stories for the remainder of the evening before turning in.
On Saturday morning, Scoutmaster Stretch pulled an April Fool's prank and led us on a walking (mis)adventure to a nearby[12] breakfast eatery, with the help of his Mapquest app on his iPhone. When we finally arrived at our destination (the Blue Moon Café) some 45 minutes later, drenched in sweat and resembling baked lobsters, we were treated to a scrumptious breakfast feast.
After breakfast, we headed back to Roger Dean Stadium for another contest between the Tigers and the Marlins, and were accosted by two aggressive ticket-hawking hucksters outside the stadium entrance. They first tried to sell us box seats at a premium over face value, but when we advised them that we were aware that the game would not be a sellout, they quickly lowered their asking price to about 90% of face value for the same four seats, which weren't even together. When we told them that we still were not interested, they continued to lower the asking price as we rebuffed their solicitations and told them that we were heading to the ticket window. Their parting comment to us was, "You'll be back," to which we promptly and firmly responded, "No, we won't," as we parted company and headed to the ticket window. Their final rejoinder was a sarcastic "Have a nice day," as they began looking around in earnest for some other unsophisticated snowbirds to snooker.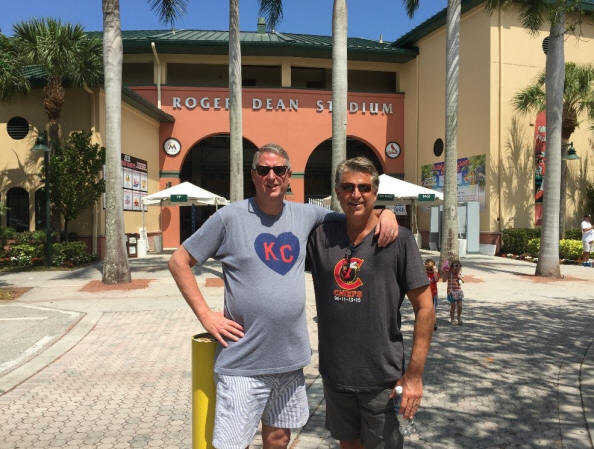 Jupiter, FL: Life is Good.
The highlight of the Saturday game was not on the field but in listening to a pack of wisecracking fans from New Jersey who specialized in catcalls at the Tigers coaching staff, and in picking on a young boy who was selected for a guessing game contest and lost, but still got a prize. "Hey, let's give him a ribbon for 7th place!" and "Everybody gets a participation trophy!" Harsh. But funny.
After the Saturday afternoon game, we hopped back into our SUV and headed north across cattle country once again, on our way back to Tampa. Rural Florida is interesting terrain. Orange groves next to pastures, cows wandering around amidst palm trees. It is no great surprise that Trump carried virtually all of the counties in Florida except those with large, educated populations. We saw one store which was named Spray and Pray Ammunition Supply, and a sign advertising the Crackerville Mobile Home Village. Probably nobody from South Beach living there.
THE BEACH HOUSE CABANAS: A BOUTIQUE HOTEL
Once in Tampa, (or actually, in a suburb known as Treasure Island) we arrived at our lovely and spacious accommodations at a quaint little "boutique" hotel known as the Beach House Cabanas. The proprietor of this fine establishment advertises it as a "boutique" hotel, whatever that means.[13] While the rooms were a bit small and spartan, when one is going to Florida for a vacation trip, it's all about location. [14] Lesson learned: Let Linda pick the hotels.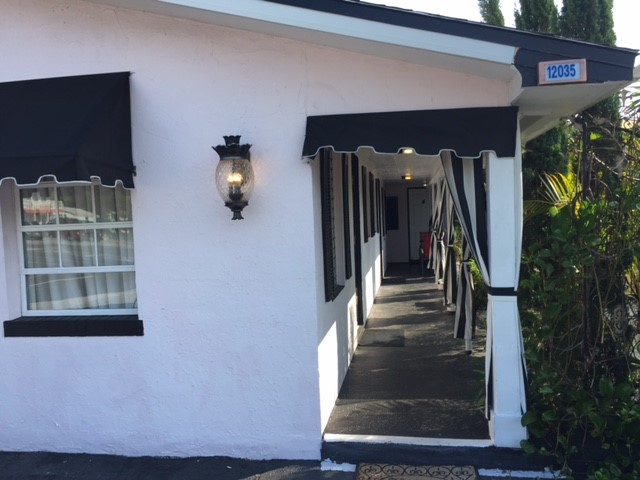 STICKS UP!
After checking into our "resort," we headed into downtown Tampa and Amalie Arena. Since none of us had ever before been to an NHL hockey game, we were excited to see the matchup between the contending hometown Tampa Bay Lightning and the visiting Montréal Canadiens.[15] We had great seats for the match in Section 129, in the lower bowl and just off center ice. The announced sellout crowd of 19,000+ was vocal and thirsty.
We soon learned--during our first trip to the concession stand--that professional hockey is a rich man's sport. That is, you have to be rich to afford the food and beverage choices offered up there, with a beer going for 15 bucks, an ordinary hotdog for $7.50, and a small bag of salted peanuts also bringing in $7.50. It should noted that these steep prices did not deter the fans from thronging to the concession stands and overmatching the vending staff. It's no wonder that the average hockey fan can't afford to go to the dentist, since they have to devote the bulk of their discretionary income to filling up their pie holes at the arena.
In any event, we were treated to one heck of a good hockey match, with the Canadiens taking a 1-0 lead in the second period and the Lightning tying it up with a goal in the 3rd period, and sending the match into overtime. What these four novice hockey fans didn't realize was that NHL overtime matches are now decided with three skaters per team scuffling madly for a single goal in sudden death. Not knowing this, Joe stepped out to use the facilities just ever so briefly, only to return to our seats and find that the game was over--the Canadiens having pushed through a goal in less than a minute of overtime. After the match was over, we decided not to fight the traffic from the arena, and instead followed Will and his iPhone map [16] to Champ's Bar in the Marriott hotel just across the street from Amalie Arena, where we watched the second half of the North Carolina-South Carolina Final Four Semifinal game and talked Boy Talk. [17]
DEAD BOB'S
After leaving Champ's, we drove back to our boutique hotel in Treasure Island, and along the way, saw an interesting saloon by the name of "Dead Bob's" with the sign prominently illuminated by Christmas lights, and thought it might be a fun spot for a nightcap. However, we thought better of it when we pulled in and saw about 50 sets of menacing Biker eyes looking our way unapprovingly, realizing that "Dead Bob" might himself have one day been a curious upper middle class white tourist from the Midwest who stopped in for a drink and a gander.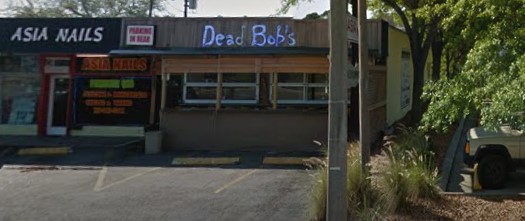 On Sunday, we bypassed church and went instead to the Foxy Café for a ranch hand breakfast, loading up on the food base that we would need to sustain us through a promised long day of baseball, beer and more Boy Talk. [18]
OPENING DAY AT THE TROP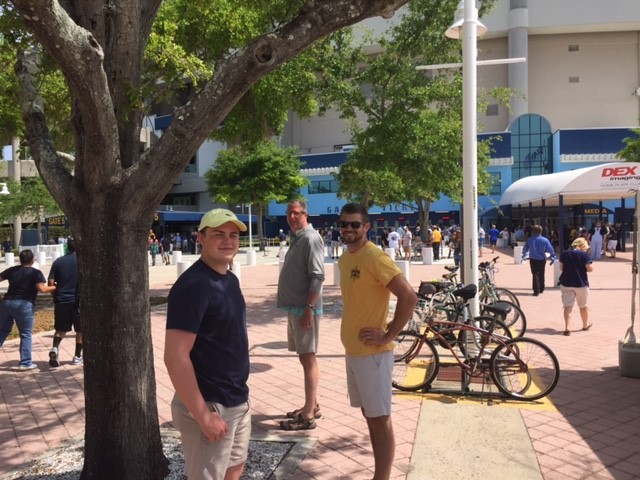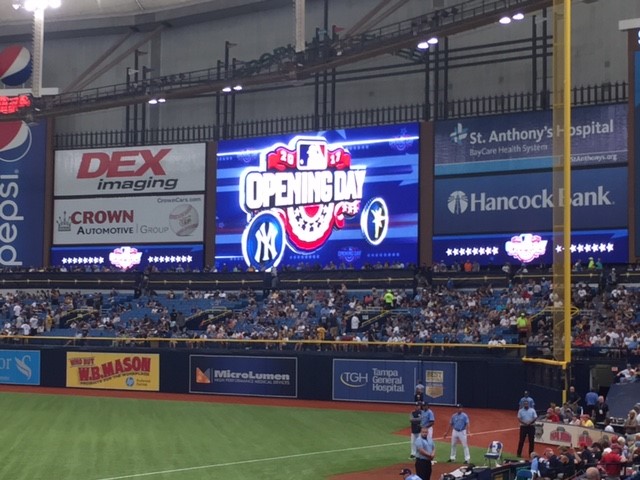 We made our way to Tropicana Field in Tampa Bay, and went in and found our excellent seats in Section 122, just outside the home team dugout. The lads were all pleasantly surprised that the Trop wasn't as dismal and dark as they had been led to believe, and they all thought that it was actually a pretty okay place to see a Opening Day game. It's all about setting the expectations, brutha.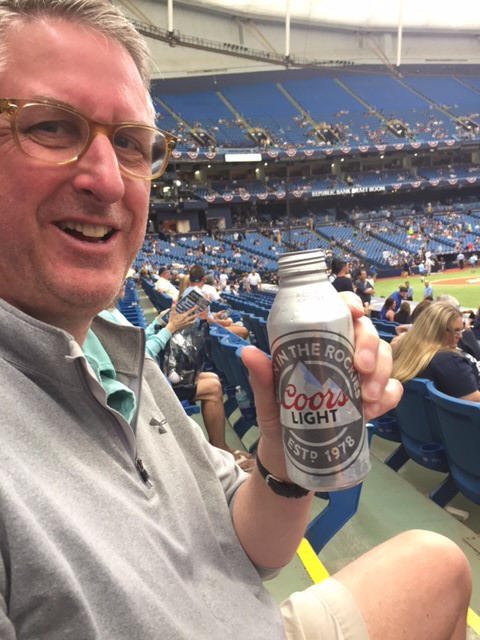 And of course the beers helped.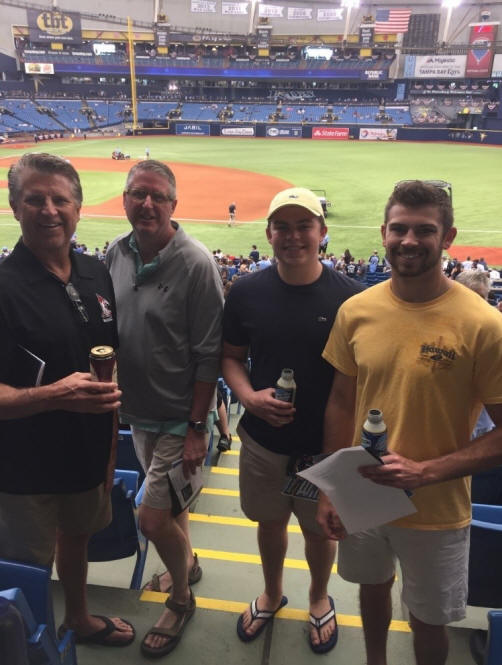 Opening Day at The Trop:
Sharing the Feelings!
Stretch was especially enamored with one of the Rays' mascots, Raymond, and was especially pleased that the Rays actually have a second mascot, DJ Kitty, because with two mascots, it's double the antics, double the fun.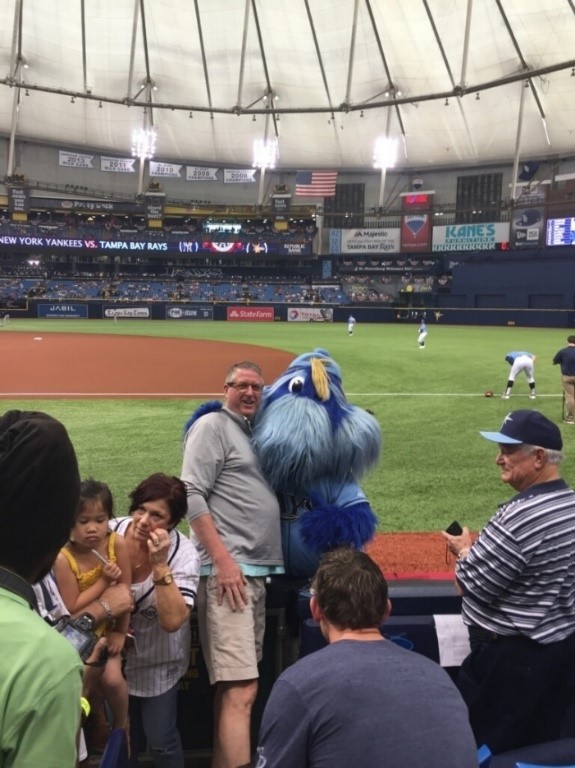 Stretch, Raymond, and Bill Murray's brother.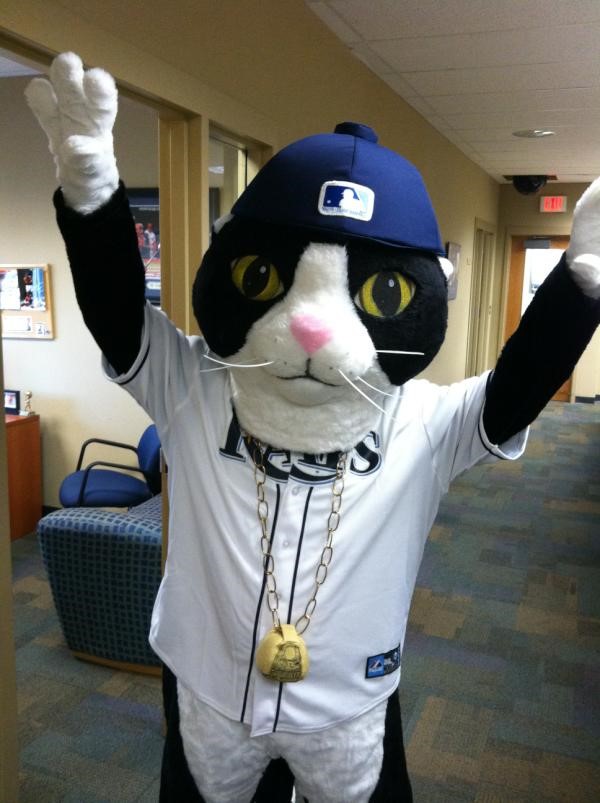 D.J. Kitty
When it was game time, we saw Chris Archer take the mound for the Rays, matched up against Masahiro Tanaka of the Yankees. As we cheered for the hometown Rays in full throat, we celebrated their early and often pounding of the Skipjacks ace, Tanaka. Highlights of the game included home runs by Evan Longoria and Logan Morrison as the Rays coasted to a 7-2 win.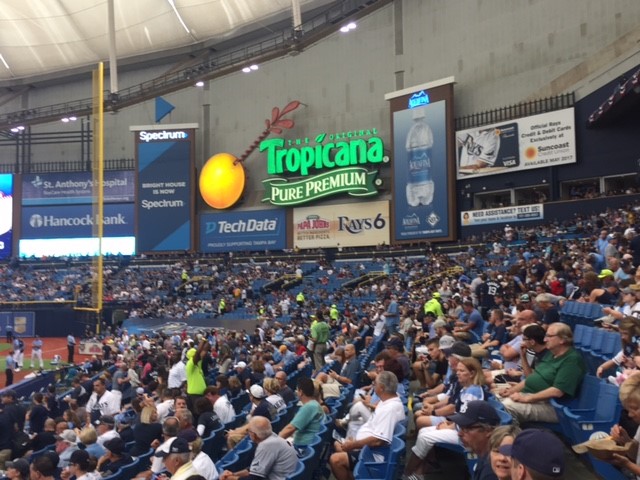 With the game firmly in hand, we made our way out to center field to catch a glimpse of the famed Manta Ray tank which is, frankly, a lot of to-do about not much. But now we can check the box.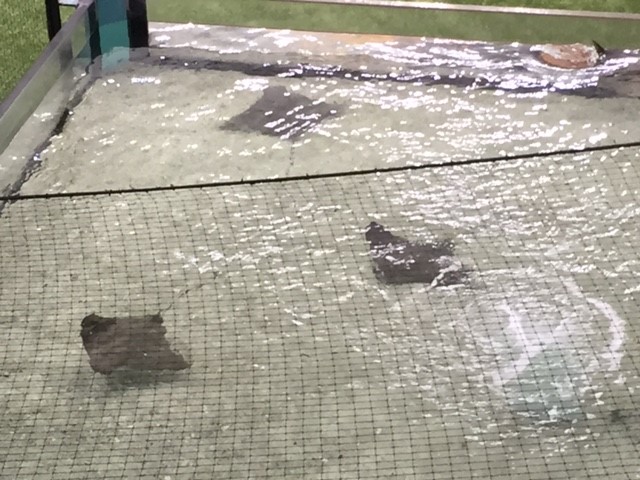 The Manta Ray Tank
After the game, we made our way over to a welcoming tavern next door by the name of Ferg's, where we drank beers from buckets and watched the Diamondbacks/Giants game on TV. After a couple of hours at Ferg's, we headed back to our boutique resort--past Dead Bob's again--and went for a short walk along the beach across the street from our resort, where there was more Boy Talk. [19]
That night, we had dinner at Gigi's in Treasure Island, a nifty little Italian joint. We were seated first at the midget [20] table, and then moved to the adults' table for our Italian feast.
After dinner, we stopped in to the Walgreens liquor store (not fake news--they really have a separate Walgreens store in Treasure Island just for booze) where the old slump-shouldered clerk one by one dispensed alcoholic spirits to seemingly underaged patrons [21] without as much as considering asking for an ID, instead closing out one illegal transaction after another with a monotone, "Next," invitation to the next man, er, boy up.
Back at the resort, we polished off a 12 (or was it 18?) pack of Corona and a bottle of wine around the propaneless and therefore nonfunctioning fire pit in the middle of our Cabana common area grounds, listening to the radio broadcast of the crystal clear enunciations of the increasingly inebriated Mike Shannon as he announced the play-by-play of the Cardinals-Cubs game at Busch, while peeling back the onion a bit more and delving further into our manly feelings. [22]
Since there has to be a morning after [23], there was a price to pay for our Opening Day tomfoolery and shenanigans, as Stretch's alarm went off early so he could shower up and powder his nose [24] before getting picked up by his Uber driver Carl [25] for the trip to the Tampa International Airport, while I struggled mightily to get myself together enough to be able to make it down to the Walgreens store for my hangover remedy [26].
On Monday, our fantasy weekend over, we flew home to our respective home bases.
IN CLOSING
Okay, this newsletter has to end sometime, doesn't it? Suffice it to say that it was a great Opening Weekend experience with Joe and Will [27]and Stretch, and a terrific way to begin another Hot Stove League season of competition. The best of luck to all of you as we embark upon another year.
Skipper [28]