TIGERS POUNCE TO LEAD;
BEARS IN DEEP HIBERNATION
Brethren:
The 2017 Hot Stove League season has begun, and isn't it great to be able to have baseball back in our daily lives once again? Unless you are SloPay or Itchie, that is, whose teams are both off to sluggish starts and are already digging themselves big holes which may be difficult to crawl out from.
But let's not dwell on the negative. Big Guy's Tigers are off to one of the best starts in Hot Stove League history, cranking out an eye-popping 605.60 points during the first week of competition. Led by Khris Davis and Nolan Arenado on the hitting side, and a pair of quality first starts from Ervin Santana and Madison Bumgarner and a quality start from Zack Greinke, the Tigers are out to prove that Big Guy can in fact manage in the Live Ball Era.
The defending champion Wahoos got off to a rough start in PAwesome's quest to defend the Cup, notching a total of a mere 430.70 points by dint of lackluster performances by just about everyone except for Brandon Belt (third highest hitter with 41.10 points) and Yangervis Solarte (the number nine hitter with 37.50 points), and as soon as those two revert to the mean, the Wahoos could plummet to even lower depths. Without a single pitcher in the top 25, the Wahoos must plainly hope that Underbelly's credo, Hitting is Everything, is the fact of the matter.
WEEK 1 POINT TOTALS
| | | |
| --- | --- | --- |
| 1. | Tigers | 605.60 |
| 2. | Senators | 561.20 |
| 3. | Cubs | 551.30 |
| 4. | Blues | 499.80 |
| 5. | Redbirds | 481.30 |
| 6. | Monarchs | 443.90 |
| 7. | Wahoos | 430.70 |
| 8. | Tribe | 422.90 |
| 9. | Bombers | 403.30 |
| 10. | Chiefs | 403.20 |
| 11. | Bums | 389.20 |
| 12. | Skipjacks | 325.70 |
| 13. | Bears | 310.90 |
TOP 10 HITTERS
| | | | |
| --- | --- | --- | --- |
| 1. | Paul Goldschmidt | Monarchs | 42.60 |
| 2. | J.T. Realmuto | Bombers | 42.00 |
| 3. | Brandon Bell | Wahoos | 41.10 |
| 4. | Nomar Mazara | Tribe | 41.00 |
| 5. | Mark Reynolds | Tribe | 39.50 |
| 6. | Miguel Sanó | Bears | 39.40 |
| 7. | George Springer | Blues | 38.60 |
| 8. | Khris Davis | Tigers | 38.50 |
| 9. | Yangervis Solarte | Wahoos | 37.50 |
| 10. | Yasiel Puig | Redbirds | 37.00 |
TOP 10 PITCHERS
| | | | |
| --- | --- | --- | --- |
| 1. | Jake Arrieta | Blues | 63.00 |
| 2. | Noah Syndergaard | Monarchs | 62.00 |
| 3. | Ervin Santana | Tigers | 62.00 |
| 4. | Dallas Keuchel | Senators | 61.00 |
| 5. | Kendall Graveman | Tribe | 60.00 |
| 6. | Lance McCullers Jr. | Chiefs | 55.00 |
| 7. | Chris Archer | Bombers | 53.00 |
| 8. | Stephen Strasburg | Cubs | 49.00 |
| 9. | Danny Duffy | Chiefs | 48.00 |
| 10. | Madison Bumgarner | Tigers | 47.00 |
Comments: While nobody is surprised that Paul Goldschmidt is the top hitter after Week 1 with 42.60 points, there have to be a few raised eyebrows that Mouse's catcher, J.T. Realmuto (42.00 points), is No. 2 on the list. Ditto with the Tribe's Nomar Mazara, No. 4 at 41.00 points, given some of us hadn't even heard of him until this week.
On the pitching side, the Blues' Jake Arrieta is No. 1 with 63 points, followed by the Monarchs' Noah Syndergaard at 62.00 points, and then the Tigers' Ervin Santana at 62.00. The Chiefs have two pitchers in the Top 10, Lance McCullers Jr. in the 6 spot and Danny Duffy in 9th place. This cannot provide much comfort for the Chiefs, who started off the year in 10th place with 403.20 points, in spite of staking all of their hopes on hitting and essentially ignoring pitching.
But as we all know, it's a long, long season, and this is only Week 1. Plenty of time for everyone to right their ships.
R.I.P. BOB CERV
You all may have noticed that Nebraska's own Bob Cerv passed away last Thursday in Blair, Nebraska, at the ripe old age of 91. Born in Weston, Nebraska, a suburb of Wahoo, Cerv was a star baseball and basketball player at the University of Nebraska before going on to a Major League career with the Yankees and the Kansas City Athletics. He continues to hold the record for home runs by a Kansas City Major League baseball player with 38 in 1958.
Nebraska native, former Husker and MLB star Bob Cerv lived 'lucky' life; in prime, he was All-Star in Kansas City
By Rich Kaipust / World-Herald staff writer Rich Kaipust
Apr 7, 2017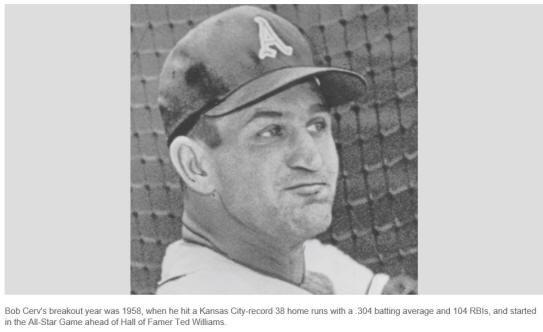 The trade that sent Bob Cerv to Kansas City after the 1956 baseball season pulled him away from marquee times with the New York Yankees, but also gave the Nebraska-born athlete a chance to be more than a platoon player or pinch hitter.
Cerv before long would have a year good enough to make him an All-Star and put him fourth in voting for American League MVP.
Cerv bashed 38 home runs for the Kansas City Athletics in 1958, and his final statistics for 141 games included 104 RBIs, a .305 batting average and a .592 slugging percentage. Although the A's would move to Oakland, the 38 homers remain a single-season record for any Kansas City major leaguer.
Cerv died Thursday night in Blair. He was 91.
"He was a humble man. Dad always was," said daughter Karen Chambers. "He maybe even himself didn't realize the accomplishments throughout his life."
Cerv was a University of Nebraska baseball and basketball standout coming out of small-town Weston, just a few miles southwest of Wahoo. Three stints with the Yankees included six trips to the World Series, time as a roommate with Roger Maris and Mickey Mantle and friendships with other Hall of Famers such as Yogi Berra. He came in at No. 32 on The World-Herald's updated list of the top 100 athletes from Nebraska released in 2015.
But Cerv never saw more than 134 at-bats in a season with the Yankees between 1951 and '56 before being shipped to Kansas City for cash.
He would hit 69 of his 105 career homers over the following three years, and the 1958 season might have been even better if not for a home-plate collision with Detroit catcher Red Wilson in May that left him playing with a broken jaw.
Of going from the Yankees to the Athletics, Cerv two years ago said: "I was tickled to death because I could play every day. And I proved to them that I could play every day."
The Yankees would twice trade to get Cerv back. He played 57 games for New York in 1961 as Maris and Mantle made their historic chase of Babe Ruth's single-season home run record, which Maris would break with 61.
The brushes with fame weren't limited to New York. During his time in Kansas City, Cerv was befriended by former President Harry Truman, and Cerv kept a picture in his room at a Blair nursing home of Truman honoring him on Bob Cerv Night at the old Municipal Stadium.
Cerv said in a 2015 interview that he was probably headed from Weston to play basketball for Eddie Hickey at Creighton after graduating in 1943. College was sidetracked by World War II, however, and he served in the Navy from 1943 to '46, mostly aboard the USS Claxton (DD-571) in the Pacific.
At NU, Cerv was the Huskers' first baseball All-American in 1950 after hitting .444 with nine home runs. He also helped NU to a pair of Big Seven basketball titles and remains the only Husker to letter four times in both baseball and basketball.
"I always said my life was kind of lucky," Cerv said in 2015. "Everything I ever did, it turned out pretty well."
After his 12-year major league career, Cerv was the first baseball and basketball coach when the old John F. Kennedy College opened in Wahoo in 1965. One of his first baseball players was Don Clark, who would remain a close friend for 50 years and is the longtime register of deeds for Saunders County.
"He would be dressed in full uniform every day, taped his ankles … and got out there and worked with you," said Clark, who recalled it not being unusual for Maris or Moose Skowron to come around and visit when Cerv was coaching
Clark said a 6-foot marble statue of Cerv will be unveiled in July at the ballpark in Weston, just a few houses away from his boyhood home. Clark had stopped by the Saunders County Museum on Friday to grab a giant portrait of Cerv in his K.C. Athletics jersey that would be displayed at his memorial and funeral services.
"I just have so much admiration for the man," Clark said.
Nebraska already was planning a Bob Cerv Day for May 5, which would have been his 92nd birthday. It will be part of a veterans/military weekend for Husker baseball at Haymarket Park, and 750 Cerv bobbleheads will be distributed on that Friday night.
Cerv was preceded in death by his wife, Phyllis, and daughters Denise Mahoney and Sithay Cerv. Chambers said his family included 10 children, 33 grandchildren and 20 great-grandchildren.
"His family was the most important thing to him," Chambers said. "For everyone he really ever met, he was always a friend and a coach. Even when he worked with his grandchildren, he'd praise them yet educate them on what the right things were to do."
Cerv was an uncle to Derrie Nelson, a former Nebraska defensive end who was a three-year starter and All-Big Eight player his final two seasons in 1979 and '80.
A visitation and memorial will be held Sunday from 5 p.m. to 7 p.m. at St. John Nepomucene in Weston, followed by funeral services Monday at 10 a.m. at the church.
R.I.P, Bob.
* * * * * *
That's it for this week. Good luck in Week 2, gentlemen!
Skipper
P.S. from Linda: Did you notice? NO footnotes! I guess we all know now who runs this place!