INDEX TO BOOK REPORTS
Book

Author

Date of

Report

Page

Ol' Pete

Jack Kavanagh

07/28/98

1

Memories of Summer

Roger Kahn

08/26/98

3

The Heart of the Order

Tom Boswell

09/09/98

5

Joe DiMaggio—The Hero's Life

Richard Ben Cramer

01/31/01

7

When Pride Still Mattered

David Maraniss

05/15/01

11

George Washington

Willard Sterne Randall

11/14/01

13

Stranger to the Game

Bob Gibson

12/03/02

15

A Flame of Pure Fire

Roger Kahn

02/20/04

19

The Game

Robert Benson

02/19/04

21

Lords of the Realm

John Helyar

02/19/04

25

The Teammates

David Halberstam

08/31/04

29

The Curse of the Bambino

Dan Shonnessy

10/19/04

31

October Men

Roger Kahn

12/16/04

33

Catcher in the Rye

John D. Salinger

04/26/05

37

Don Quixote

Miguel de Cervantes

04/26/05

37

Luckiest Man

Jonathan Eig

05/10/05

39

Baseball in Omaha

Devon Niebling/Thomas Hyde

07/26/05

41

The Head Game

Roger Kahn

01/05/06

47

Foul Ball

Jim Bouton

02/13/06

49

The Summer Game

Roger Angell

02/13/06

49

Game of Shadows

Mark Wada and Lance Williams

04/12/06

51

Ball Four

Jim Bouton

07/18/06

53

The Summer Game

Roger Angell

07/18/06

55

1776

David McCullough

09/13/06

59

The Old Ball Game

Frank Deford

09/13/07

61

The Era

Roger Kahn

12/21/07

63

The Tender Bar

J.R. Moehringer

01/03/08

69

How Life Imitates the World Series

Tom Boswell

04/17/08

71

The Echoing Green

Joshua Prager

04/25/08

75

Three Nights in August

Buzz Bissinger

06/18/08

77

Clemente

David Maraniss

07/17/08

79

Big Russ & Me

Tim Russert

10/01/08

85

The Bronx is Burning

Jonathan Mahler

11/14/08

87

The Heart of the Order

Tom Boswell

02/03/09

89

A False Spring

Pat Jordan

03/06/09

93

The Last Best League

Jim Collins

05/21/09

97

George

Peter Golenbock

08/10/09

99

The Bronx Zoo

Sparky Lyle with P. Golenbock

10/28/09

103

The Machine

Joe Posnanski

12/04/09

107

Cracking the Show

Tom Boswell

12/23/09

111

The Snowball: Warren Buffett

Alice Schroeder

01/29/10

113

Chief Bender's Burden

Tom Swift

03/04/10

115

9 Innings: The Anatomy of a Baseball Game

Daniel Okrent

01/12/11

119

Last Lion: The Fall and Rise of Ted Kennedy

Peter Canellos

02/09/11

121

The Yankee Years

Joe Torre and Tom Verducci

04/08/11

123

Counselor: A Life at the Edge of History

Ted Sorensen

09/26/11

125

47.

Five Seasons

Roger Angell

02/28/12

127

48.

Robert Kennedy and His Times

Arthur Schlesinger

05/23/12

131

49.

Confederates in the Attic

Tony Horwitz

09/28/12

133

50.

My Life in Baseball—The True Record

Ty Cobb with Al Stump

12/27/12

137

51.

Charlie Wilson's War

George Crile

02/21/13

139

52.

Season Ticket

Roger Angell

08/09/13

141

53.

On the Road

Jack Kerouac

07/09/14

143

54.

Rickey & Robinson

Roger Kahn

02/11/15

145

55.

Wait Till Next Year

Doris Kearns Goodwin

02/11/15

147

56.

You Can't Make This Up

Al Michaels with Jon Wertheim

03/24/15

151

57.

The Curse of Rocky Colavito

Terry Pluto

11/25/15

155

58.

A Nice Little Place on the North Side: Wrigley Field at One Hundred

George Will

12/23/15

157

59.

Where Nobody Knows Your Name

John Feinstein

12/23/15

159

60.

This Old Man

Roger Angell

02/05/16

161

61.

Down to the Last Pitch

Tim Wendel

02/19/16

163

62.

The Game

Jon Pessah

03/04/16

165

63.

Alexander Hamilton

Ron Chernow

05/17/16

167

64.

A Well-Paid Slave

Brad Snyder

05/25/16

169

65.

Marvin Miller, Baseball Revolutionary

Robert F. Burk

05/26/16

173

66.

Out of My League

Dirk Hayhurst

06/23/16

175

67.

Bottom of the 33rd

Dan Barry

07/18/16

177

68.

One Summer - America, 1927

Bill Bryson

08/18/16

185

69.

The Making of the President 1960

Theodore H. White

10/28/16

189

70.

Eisenhower in War and Peace

Jean Edward Smith

01/25/17

193

71.

Killing the Rising Sun

Bill O'Reilly and Martin Dugard

03/17/17

199

72.

Elon Musk

Ashlee Vance

05/17/17

203

73.

Hillbilly Elegy

J.D. Vance

05/25/17

205

74.

It Happens Every Spring

Ira Berkow

08/10/17

207

75.

Hero of the Empire

Candice Millard

09/22/17

213

76.

The Arm

Jeff Passan

09/30/17

215

77.

Killing England

Bill O'Reilly and Martin Dugard

11/10/17

221

78.

Summer of 68

Tim Wendel

01/19/18

223

79.

Gator, My Life in Pinstripes

Ron Guidry with A. Beaton

04/18/18

233

80.

A Season in the Sun/The Rise of Mickey Mantle

Randy Roberts & Johnny Smith

05/16/18

235

81.

A Higher Loyalty

James Comey

06/29/18

237

82.

The Best and the Brightest

David Halberstam

08/10/18

241

83.

Billy Martin: Baseball's Flawed Genius

Bill Pennington

09/19/18

245

84.

I'm Keith Hernandez

Keith Hernandez

10/26/18

253

85.

The Fifth Risk

Michael Lewis

11/21/18

255

86.

The Big Fella

Jane Leavy

01/25/19

259

87.

Killing the SS

Bill O'Reilly and Martin Dugard

02/01/19

261

88.

A False Spring (Redux)

Pat Jordan

02/08/19

263

89.

Lincoln's Last Trial

Dan Abrams and David Fisher

03/15/19

267

90.

RED: A Biography of Red Smith

Ira Berkow

05/03/19

269

91.

The Catcher Was a Spy

Nicholas Dawidoff

05/09/19

277

92.

The Years of Lyndon Johnson: The Path to Power

Robert A. Caro

06/20/19

282

93.

The First Wave: The D-Day Warriors Who Led the Way to Victory in World War II

Alex Kershaw

07/03/19

286

94.

Indianapolis: The True Story of the Worst Sea Disaster in U.S. Naval History and the Fifty-Year Fight to Exonerate an Innocent Man

Lynn Vincent and Sara Vladic

08/02/19

288

95.

Late Innings: A Baseball Companion

Roger Angell

08/13/19

290

96.

No Ordinary Time - Franklin and Eleanor Roosevelt: The Home Front in World War II

Doris Kearns Goodwin

09/13/19

306

97.

Game Time, A Baseball Companion

Roger Angell

09/24/19

312

98.

Once More Around the Park: A Baseball Reader

Roger Angell

11/07/19

316

99.

Master of the Senate

Robert Caro

02/27/20

334
SKIPPER'S TOP 10 FAVORITE BASEBALL BOOKS
| | |
| --- | --- |
| 10. | To Every Thing A Season, Bruce Kuklick (1991) |
| 9. | The Boys of Summer, Roger Kahn (1973) |
| 8. | Men at Work, George Will (1989) |
| 7. | Ball Four, Jim Bouton (1976) |
| 6. | Summer of '49, David Halberstam (1989) |
| 5. | Beyond the Boys of Summer, Roger Kahn (2001) |
| 4. | The Catcher was a Spy, Nicholas Dawidoff (1994) |
| 3. | Moneyball, Michael Lewis (2003) |
| 2. | October Men, Roger Kahn (2003) |
| 1. | Why Time Begins on Opening Day, Tom Boswell (1984) |
A few comments on the above are in order:
| | |
| --- | --- |
| ** | This list is not intended to be a paean to Roger Kahn even though I have listed three of his books in the Top 10. I have read at least two of his other baseball books, The Head Game and Memories of Summer, and found them to be somewhat repetitive of his other works, and at times a bit maudlin. For my money, however, you won't find a baseball writer who has Kahn's vocabulary and his ability to turn a phrase, although Boswell can at times give him a run for the money. |
| | |
| ** | The No. 10 book on my list, To Every Thing a Season, was a terrific historical read but not a favorite of the masses because it dealt almost singularly with Shibe Park in Philadelphia. You won't find it in many bookstores, so if anybody wants to borrow my copy, let me know. |
| | |
| ** | If anybody hasn't read The Catcher was a Spy, you need to. It is a real page-turner, and Mo Berg was undeniably one of the most interesting characters to don a major league uniform. |
| | |
| ** | I haven't read Ball Four for at least twenty years, and need to read it again to remind myself why I remember it so fondly. If I do, I'll let you know. |
| | |
| ** | There were many great books that easily could have made the list, and in particular, Lords of the Realm, The Babe, The Iron Horse, Bunts, and biographies that I have read on Joe Dimaggio, Ted Williams, Walter Johnson, John McGraw and Hank Greenberg, the titles of which I am unable to recall. In retrospect, I probably should elevate Lords of the Realm to the Top 10, as it is the seminal analysis of the business of baseball, from the reserve clause to arbitration to free agency. A long, but fascinating study. |
By Jack Kerouac
07/08/14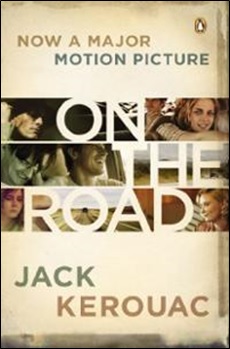 Now that I have finished reading the seminal book about the Beat Generation and road-tripping across the USA, I can hardly believe that I waited this long to pick up a copy and dig it. While it wasn't one of those rare books that I just couldn't put down, it is definitely an intriguing story of travel and the Beat lifestyle of a small cadre of some true and some self-styled intellectuals. Personally, I would be uncomfortable sitting cross-legged on a bed with any of you, staring into your eyes and "digging" you while you blurted out some made-up nonsensical prose, following which we would both snap our fingers. Awkward, with a capital A. But hey, I'm not judging.
What I did not know was that the "Beat" Generation had its true beginnings in the late 1940s, not the '50s, and that most of these people were shiftless loners who sponged off their friends and relatives to support their carefree lifestyles. I found it somewhat surprising that there was not much talk about the use of mind-altering substances to go along with the rampant dialogue about all of the abundant free love that these dudes seemed to be experiencing, until the very end of the book when they made a road trip south of the border and got their hands on some really amazing smokes. Timing-wise, it seems as if the Beat Generation essentially morphed into the 1960s decade of the hippies, and that the hippies took what they liked about the beatniks (freedom, complete lack of responsibility, free-wheeling sex), cut out the stuff they didn't (phony intellectualism, finger-snapping), and added in the psychedelic drugs to give their generation their own mark. Not a terrible formula.
Bottom line on the book: A good read. I'm guessing several of you (Stretch, Possum, Tricko, Screech perhaps) have already read On the Road, but anyone who hasn't and who would like to borrow my copy, let me know and I will drop it in the mail for your consumption. Hope you really dig it, man.
SEASON TICKET
08/09/13
<![if !vml]>
<![endif]>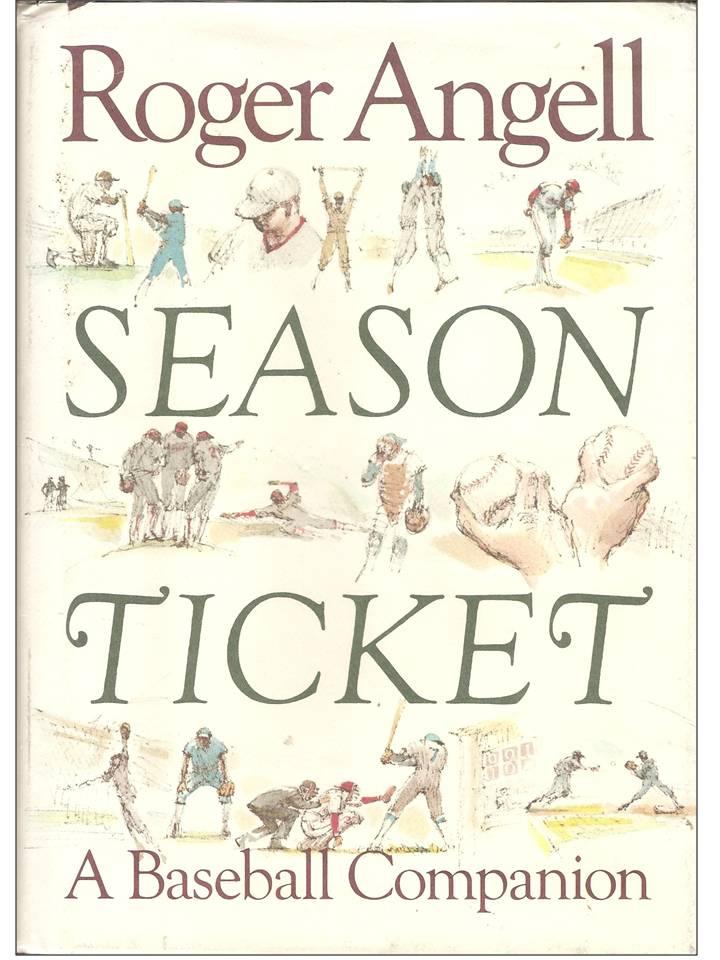 I am about a fourth of the way through a terrific Roger Angell book that was recently loaned to me by an attorney friend, one of which I was not heretofore aware, entitled Season Ticket, published in 1988. I thought I had already read all of Angell's baseball anthologies, but thankfully, I was wrong.
The Penguin. From my late-night reading last evening from the Roger Angell classic "Season Ticket," in which the erudite Angell characterizes the declining fielding skills of Ron "The Penguin" Cey during his 1986 season with the Cubs as being Rodinesque (implying, I think, that he emulated a molded statue while in the field), and in which he refers to a headline in the Chicago paper from that season which reportedly read: "WASHED UP? CEY: IT AIN'T SO!" (from FTB 10/18/13)
BOB BRENLY—A GAME FOR THE AGES
I previously shared with all of you offline an excerpt from this book about the centerfield counterparts in the 1982 World Series, Willie McGee of the Cardinals and Gorman "Walking Strip Mine" Thomas of the Brewers. Here is a short clip (from pages 14-15) about Bob Brenly that I absolutely love, particularly the quote from Roger Craig:
In September 1986, during an unmomentous Giants-Braves game out at Candlestick Park, Bob Brenly, playing third base for the San Franciscos, made an error on a routine ground ball in the top of the fourth inning. Four batters later, he kicked away another chance and then, scrambling after the ball, threw wildly past home in an attempt to nail a runner there: two errors on the same play. A few moments after that, he managed another boot, thus becoming only the fourth player since the turn of the century to rack up four errors in one inning. In the bottom of the fifth, Brenly hit a solo home run. In the seventh, he rapped out a bases loaded single, driving in two runs and tying the game at 6-6. The score stayed that way until the bottom of the ninth, when our man came up to bat again, with two out, ran the count to 3-2, and then sailed a massive home run deep into the left-field stands. Brenly's accountbook for the day came to three hits in five at-bats, two home runs, four errors, four Atlanta runs allowed, and four Giant runs driven in, including the game-winner. A neater summary was delivered by his manager, Roger Craig, who said, "This man deserves the Comeback Player of the Year Award for this game alone." I wasn't at Candlestick that day, but I don't care; I have this one by heart.
I am taking Season Ticket with me on my sojourn next week to the Great Northwest, and will be sure to highlight some more delectable tidbits from the erudite Angell to share with you later.
BOOK REPORT: "Wherever I Wind Up," by R.A. Dickey
05/31/13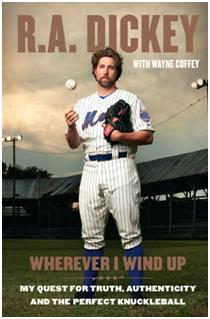 I finished reading R.A. Dickey's highly publicized book, co-authored with Wayne Coffey, entitled "Wherever I Wind Up." It is a very good read, with lots of interesting information about this journeyman pitcher whose life was turned around by the knuckleball and God, although not necessarily in that order. He is clearly a very faith-filled man, and the book is littered with prayers to and praise for the Almighty. (Having said that, I have a mental image of Itchie racing in his car at breakneck speed to the nearest book store to pick up his copy of the book. Just saying.)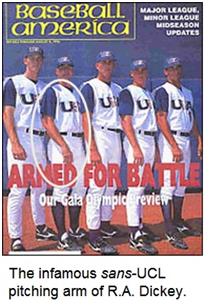 The three most interesting things that I enjoyed about the book were: (1) Learning that Dickey was actually a flame-throwing fastball pitcher as a youth and in college, pitching the University of Tennessee (with the help of Todd Helton) into the College World Series in Omaha in 1995, and throwing two wins for the U.S. Olympic bronze medalist team in Atlanta in 1996; (2) learning that it was a photograph of Dickey on the cover of Baseball America from that year that led someone in the Rangers organization to recommend an MRI of Dickey's throwing arm, because of the odd way that he was holding his arm in the picture—leading to the discovery of a lack of an ulnar collateral ligament (UCL) in that arm and the retraction of his $800+k signing bonus by the Rangers; and (3) discovering that Dickey tried to swim across the Missouri River on June 9, 2007, when he was in Omaha with the Nashville Sounds for a game against the Royals and staying at Ameristar Casino in Council Bluffs, adjacent to the river.

DUMB JOCK TAKES ON

THE MIGHTY MO

As to the river tale, as the story goes, Dickey was staring out of his room on one of the upper floors of the casino, admiring the majesty of the great Missouri River. He was reminded of instances in his youth when he swam across rivers back home in Tennessee, and decided he wanted to challenge the Missouri.

The

next morning, Dickey walked into the Missouri River on the Iowa side, wearing only a pair of shorts and having taped a pair of his flip-flops to his feet, with a handful of teammates on the shore to watch. As he made his way out into the churning Missouri, he realized quickly that he had underestimated its strength, and struggled to make progress toward the Nebraska shore. Before long, he realized that he was not going to be able to make it, and turned around and began heading back toward the Council Bluffs side, but soon realized he was about a quarter mile south of the point of his embarkation. As he fought the river, the muscles in his arms and shoulders filled with lactic acid and became practically frozen, reducing him to the dog paddle to stay alive. As he was almost ready to give up the ghost, he neared the Iowa shore and the hand of a teammate—Grant Balfour—reached out from the heavens and helped pull him out of the water. He survived the swim, and, as he tells it in his book, his life was turned around from that moment on because he realized that he was not the one in control, and he gave his life over to his Maker. He went from having a 2-5 pitching record at that point and a mastodonic ERA to winning the AAA Pitcher of the Year Award, and the rest is history.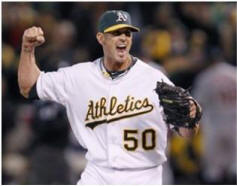 When I saw that Grant Balfour was the teammate who pulled Dickey out, I looked back at my own records and discovered that it was the evening prior to this heroic rescue that Balfour had uncorked a wild pitch from the Nashville bullpen at Rosenblatt and struck a fan named Schrader in the eye, leading to a lawsuit being filed by him against the Omaha Royals and my subsequent taking of the deposition of Mr. Balfour at spring training in Florida in 2009. A pretty eventful two days for the Aussie Balfour, who is now the closer for the Oakland Athletics.
Book Report: Charlie Wilson's War
02/21/13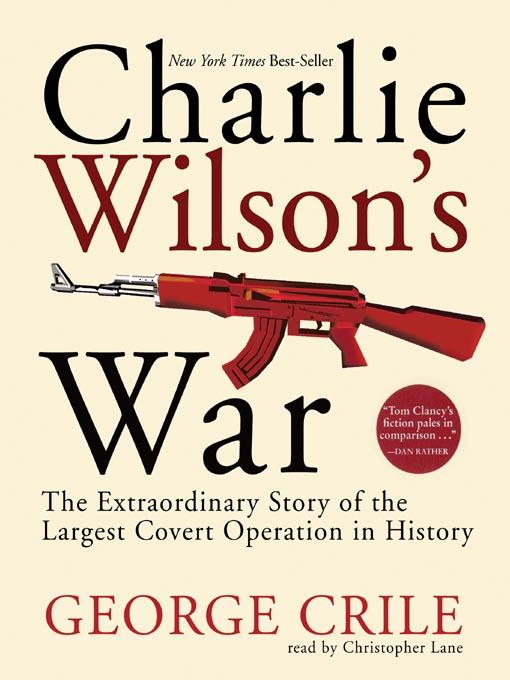 Many or most of you have probably seen the movie Charlie Wilson's War, starring Tom Hanks and Seymour Hoffman, but if you haven't read the book by George Crile, you are selling yourself short. I just finished reading this marvelous tale of intrigue, politics and sex, and it is indeed a page-turner. Until reading this book, I had absolutely no idea of the amount of money that was committed by the United States to fund and arm the Afghan rebels in their thirteen-year occupation by and war with the Soviet Red Army. And from reading the book, I have a much better understanding of why so many people from that region of the world hate the United States of America—they believe that we absolutely turned our backs on them after they fought this surrogate war against Communism for us.
I recently ran into a couple of lawyers from East Texas when I was at the national ABOTA convention in St. Pete, and they were represented by Charlie Wilson for many years and confirmed the image of him in the book as a playboy/party-hound-turned-American-hero.
This book is a great read. I heartily recommend it.
BOOK REPORT: FIVE SEASONS
02/28/12
<![if !vml]>
<![endif]>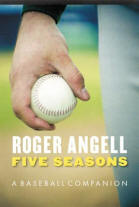 It has been a while since I have done a book report, so let me take this opportunity to tout a sublime baseball read that I just finished, Five Seasons by Roger Angell. First published in 1977, Five Seasons is a collection of Angell's writings covering parts of the baseball seasons of 1972 through 1976.
If I had the ability to write like Roger Angell, I could articulate much more pellucidly why it is that Five Seasons is such a great read. In spite of my limitations, I will try. Angell has a writing style which is so descriptive and so nuanced that at times you feel as if you are actually present with him when he is making his observations about the game of baseball and its many facets and colorful personalities. I feel like he is showing me a few glimpses of life that the general population never has a chance to see, that I am one of the privileged few who get to know his thinking on baseball matters.
I think my favorite part of the book was Angell's recounting of the 1975 World Series between the Big Red Machine of Cincinnati and the Boston Red Sox, quite possibly the best World Series of all time. Angell reminds us that the Red Sox were ahead of the Reds in every single one of the seven games, despite a clear disparity in talent, but that the Big Red Machine was able to come back to win four of those games, including the deciding Game 7 at Fenway. I love the following excerpts from Angell about this Series:
Bernie Carbo, pinch-hitting, looked wholly overmatched against Eastwick, flailing at one inside fastball like someone fighting off a wasp with a croquet mallet. One more fastball arrived, high and over the middle of the plate, and Carbo smashed it in a gigantic, flattened parabola into the center-field bleachers, tying the game.

~~

And so the swing of things was won back again. Carlton Fisk, leading off the bottom of the twelfth against Pat Darcy, the eighth Reds pitcher of the night—it was well into morning now, in fact—socked the second pitch up and out, farther and father into the darkness above the lights, and when it came down at last, reilluminated, it struck the topmost, innermost edge of the screen inside the yellow left-field foul pole and glanced sharply down and bounced on the grass; a fair ball, fair all the way. I was watching the ball, of course, so I missed what everyone on television saw—Fisk waving wildly, weaving and writhing and gyrating along the first-base line, as he wished the ball fair, forced it fair with his entire body. He circled the bases in triumph, in sudden company with several hundred fans, and jumped on home plate with both feet, and John Kiley, the Fenway Park organist, played Handel's "Hallelujah Chorus," fortissimo, and then followed with other appropriately exuberant classical selections, and for the second time that evening I suddenly remembered all my old absent and distant Sox-afflicted friends (and all the other Red Sox fans, all over New England), and I thought of them—in Brookline, Mass., and Brooklin, Maine; in Beverly Farms and Mashpee and Presque Isle and North Conway and Damariscotta; in Pomfret, Connecticut, and Pomfret, Vermont; in Wayland and Providence and Revere and Nashua, and in both the Concords and all five Manchesters; and in Raymond, New Hampshire (where Carlton Fisk lives), and Bellows Falls, Vermont (where Carlton Fisk was born), and I saw all of them dancing and shouting and kissing and leaping about like the fans at Fenway—jumping up and down in their bedrooms and kitchens and living rooms, and in bars and trailers, and even in some boats here and there, I suppose, and on back-country roads (a lone driver getting the news over the radio and blowing his horn over and over, and finally pulling up and getting out and leaping up and down on the cold macadam, yelling into the night), and all of them, for once at least, utterly joyful and believing in that joy—alight with it.

~~

The seventh game, which settled the championship in the very last inning and was watched by a television audience of seventy-five million people, probably would have been a famous thriller in some other Series, but in 1975 it was outclassed. It was a good play that opened on the night after the opening night of King Lear.

~~

Rose led off with a single in the sixth. (He got on base eleven times in his last fifteen appearances in the Series.) With one out, Bench hit a sure double-play ball to Burleson, but Rose, barreling down toward second, slid high and hard into Doyle just as he was firing on to first, and the ball went wildly into the Boston dugout. Lee, now facing Perez, essayed a looping, quarter-speed, spinning curve, and Perez, timing his full swing exactly, hit the ball over the wall and over the screen and perhaps over the Massachusetts Turnpike. The Reds then tied the game in the seventh (when Lee was permitted to start his winter vacation), with Rose driving in the run.

The Cincinnati bullpen had matters in their charge by now, and almost the only sounds still to be heard were the continuous cries and clappings and shouts of hope from the Reds' dugout. Fenway Park was like a waiting accident ward early on a Saturday night.
Five Seasons is a quintessential baseball read and a delightful baseball companion. And if you spend the evening at the ballpark with Roger, you will not wake up with a ringing Jägerbomb hangover such as you might experience after hanging out with certain other baseball companions. Just saying.
BOOK REVIEW: Counselor: A Life at the Edge of History
(09/26/11)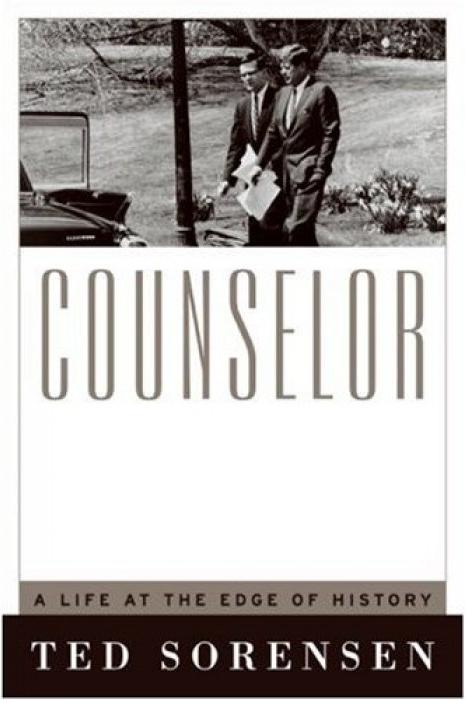 Finally, let me commend to you heartily a wonderful book written by Lincoln native Ted Sorensen, entitled Counselor: A Life at the Edge of History. This marvelous book details some of the high and low points of Sorensen's career in politics and law, including being "in the loop" for such historic events as the Bay of Pigs, the Cuban missile crisis, the launching of the space program to beat the Ruskies to the moon, and the establishment of the Peace Corps.
I did not know that Sorensen's father was once the Attorney General for the state of Nebraska, and a reported shoo-in for a federal judgeship in Lincoln, until partisan politics intervened. I also did not know that his mother was of Jewish lineage, and a nut case. I probably knew at one time but had forgotten that Jimmy Carter nominated Ted Sorensen to lead the CIA, until he found out that his vetters had missed the fact that Sorensen was a conscientious objector, ultimately leading to Sorensen's painful withdrawal from the Senate confirmation process. It was quite clear from the book that Sorensen has little respect for the former peanut farmer from Georgia, or for Senator Joe Biden, who turned his back on Sorensen during the CIA confirmation fiasco.
My favorite quote from the book was about the CIA after agency heads persuaded JFK to approve of the Bay of Pigs mission. The CIA: "Often wrong, but never in doubt." Sounds like somebody in this league that we all know very well.
My second favorite quote in the book is from Harry Truman, whom Sorensen cited for the famous "If you want a friend in Washington, buy a dog" line after his support to be the director of the CIA collapsed like a house of cards.
In any event, you will do yourself a favor if you choose to read this great book. If you want to borrow my copy, let me know.
THE YANKEE YEARS
(04/08/11)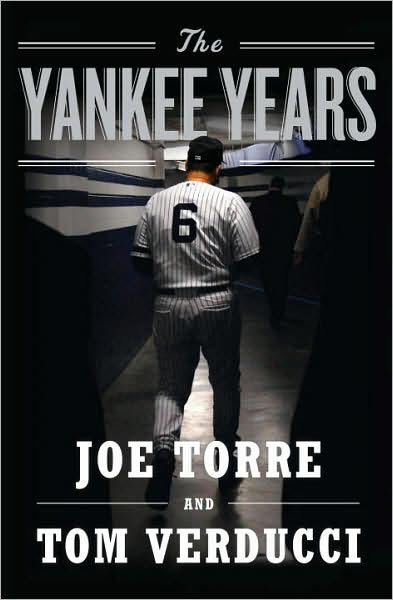 I'm about two-thirds of the way through an excellent book called The Yankee Years, written by Joe Torre (sort of) and Tom Verducci (mostly). To lead with a quote from the Daily News, it is "one of the best books about baseball ever written." I agree.
Verducci is an excellent writer, and Torre is full of great insight about his Yankee teams from 1996 to 2007. It is absolutely required reading for a Yankee fan, so Screech and Mouse, get busy. However, if you are merely a baseball fan, and all of you are rabid ones at that, you should do yourselves a favor and read this book.
Just to whet your appetite, one of the fascinating things that is pointed out by the book is how important healthy starting pitching is to a team's success. During Torre's years at the helm of the Yankee Clipper, there was one year when only two of his starters made at least 25 starts, and that was 2005. In 1997, 2001, 2002, 2004 and 2007, three of his starting pitchers made at least 25 starts. In 1996, 1998, 2000, 2003 and 2006, four of his starters made at least 25 starts. In 1999, five of his starters made at least 25 starts. Torre's four World Championships came in 1996, 1998, 1999 and 2000, all in years in which either four or five of his team's starters made at least 25 starts.
Obviously, not just a coincidence.
There is much more great stuff to share with you from this book. If I remember to do so, I will include a few more tidbits in future Bullpens.
BOOK RECOMMENDATION:
Last Lion: The Fall and Rise of Ted Kennedy
(02/09/11)
<![if !vml]>
<![endif]>Before I close out this short issue of From the Bullpen, let me just put in a short plug for a terrific book that I just finished reading, Last Lion: The Fall and Rise of Ted Kennedy, authored by a team of reporters at The Boston Globe, and edited by Peter Canellos. I can sense that seven or eight of the rock-ribbed Republicans in this group are already turning their noses up at the idea of reading anything about Ted Kennedy –– you know who you are –– and so I'm going to suggest to those of that ilk that it is especially important that each of you read this book, if you can possibly do it with an open mind. Haa! Maybe when pigs can beam through space. But if you can, I think that you will come away from reading this book with an entirely different perception of Ted Kennedy than you have right now. For at least the last ten or fifteen years of his life, Kennedy actually did a whole heck of a lot of good, whether you agree with his political philosophy or not, and my whole perception of him has changed after reading this extremely well-written book.
For the proletariat members of the league, Last Lion will be a rallying cry for justice and equality for all.
So, bottom line, whatever your party affiliation, whether you are on the leftist fringe, a committed right-winger, or a sensible centrist like myself, this book is a good and worthy read.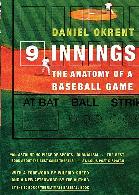 BOOK REPORT:

9 Innings: The anatomy of a baseball game

Finally, although I don't have the time

to do a full book review for you, I want to commend to you an excellent baseball book that I finished reading last fall, entitled 9 Innings: The anatomy of a baseball game, authored by the seasoned baseball scribe, Daniel Okrent. The entire book is centered around a single baseball game between the Milwaukee Brewers and the Baltimore Orioles which took place in June 1982. There are lots of great excerpts from this book, some of which I may share with you later when time allows, but my favorite story is about the Orioles' crusty manager, the Earl of Baltimore, Earl Weaver, as follows:
Weaver drank a lot, and managed to disarm his critics by acknowledging his frailty and by managing to issue the perfect response in the most embarrassing situations. At his most recent arrest, which resulted in the suspension of his driver's license, the arresting officer had asked if Weaver had any physical disabilities. "Only Jim Palmer," he said, referring to the cranky nonpareil of the Baltimore pitching staff.
Great stuff. Do yourself a favor

and read this great book.
BOOK REVIEW:
Chief Bender's Burden
(03/04/10)
<![if !vml]>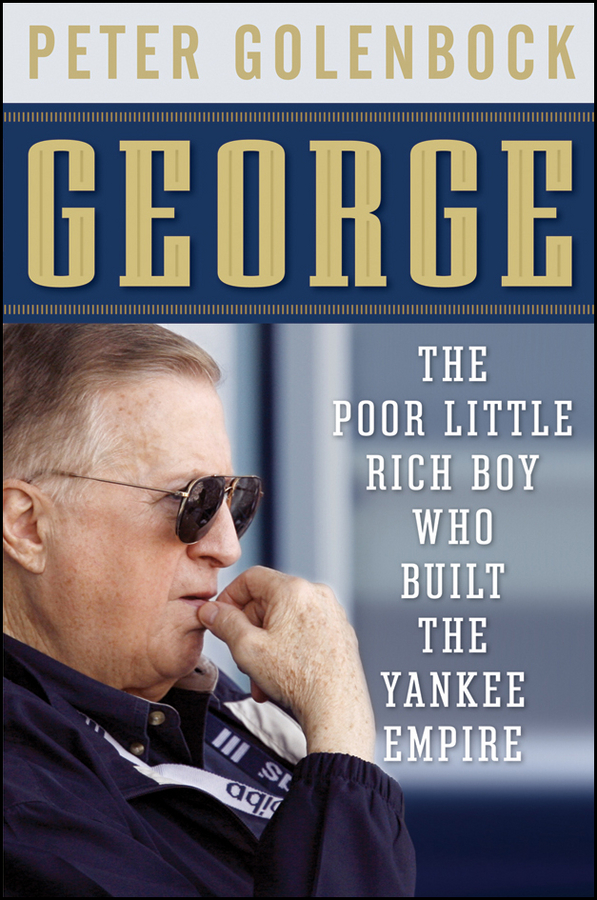 <![endif]>
<![if !vml]>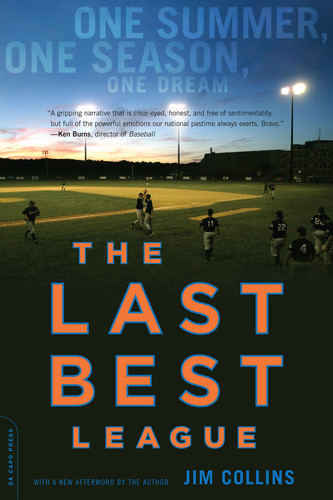 <![endif]>Speaking of the book Chief Bender's Burden, I finished it up on my flight home from California, and so let me give you this short review. Written by a relatively unknown Minnesota author by the name of Tom Swift in 2008, this book, published by the University of Nebraska Press in Lincoln, is based on the premise that Bender was the subject of much anti-American Indian sentiment and prejudice, and that he had to learn to survive in the white man's world in order to become a star baseball pitcher. The subtitle is "The Silent Struggle of a Baseball Star."
My overall assessment of this book is that it is an earnest attempt by a neophyte author to make the case that Charles "Chief" Bender was worthy of the baseball Hall of Fame because of his struggles against prejudice, as much as for his statistics, which seem marginal compared to qualifications of modern starting pitchers who are under consideration for the Hall of Fame. Swift's book begins with Chief Bender's preparations to pitch the opening game of the 1914 World Series between the powerful Philadelphia Athletics of Connie Mack and the "Miracle" Boston Braves, who were in last place in the National League in early July 1914, fifteen games behind the powerful New York Giants of Mugsy McGraw. On July 15 of that season, the Braves were in last place with a record of 33-43, while McGraw's Giants appeared to be cruising to a fourth straight NL pennant. However, the Braves caught fire in the second half of the season, and ended up winning the National League pennant over the Giants by a whopping 10-1/2 games. They then boldly thumped the powerful Mack Men in the 1914 Series, beating the theretofore almost invincible Chief Bender in the first game of the Series and rolling on to an unthinkable 4-0 Series sweep.
While Bender's Burden provides some great information about the powerful Athletics in the first two decades of the last century and the general state of things in the dead ball era, Swift's prose often jumps around from year to year in such a way as to be distracting, and it is often hard to follow which season and which team he is talking about. Unlike most of the books I have reviewed in From the Bullpen, I cannot heartily recommend this one to you. Rather, allow me just to share with you a few of the interesting revelations:
| | |
| --- | --- |
| * | Charles Albert Bender was born either on May 3 or May 5, 1883 or 1884 in Crow Wing County in Northern Minnesota, about 20 miles east of Brainerd, which is often called his birthplace. His father, Albertus Bliss Bender, was one of the early white settlers in Minnesota, a homesteader-farmer of German-American descent. His mother, Mary Razor Bender, was believed to have been a member of the Mississippi band of the Ojibwe tribe, and her Indian name was Pay Shaw De O Quay. |
| * | Shortly after his birth, the Bender family moved to the White Earth reservation in Minnesota, and Bender spent many of his young years on the reservation. Eventually, after receiving a kick in the pants from his father (the details of all of this seem quite suspect), Bender ran away from the reservation and found his way to Carlisle, Pennsylvania, where he attended the famous Carlisle Indian Industrial School of Jim Thorpe fame. Although he pitched for the Carlisle High School team, his high school athletic prowess would have led no one to believe that he would go on to become a Hall of Fame pitcher for the Philadelphia Athletics. |
| * | After high school, Bender was recruited to play for the Harrisburg (PA) Athletic Club, and his success with that organization in the early years of the century led to his signing by Connie Mack in 1902, reportedly to a contract which would pay him $300 a month. He made his major league debut on April 20, 1903 in relief of Rube Waddell, and made his first start on April 27, 1903, twirling the Athletics to a 6-0 win over the Highlanders. At 19 years of age in 1903, Bender had one of the best age-19 seasons in the history of the major leagues. He won 17 games, completed 29, and shut out 2 opponents. He ended up with a 3.07 ERA in 270 innings of work, striking out 127 batters and walking only 65. In spite of his pitching prowess, the Athletics finished second to the powerful Boston Americans by 14-1/2 games in the inaugural major league season of the American League, and the Americans went on to beat the Pittsburgh Pirates in the first World Series. |
| * | Bender began earning his reputation as a big-game pitcher in the 1905 World Series, when he threw a 3-0 shutout in Game Two of the '05 Series against Christy Mathewson's Giants, besting Iron Man Joe McGinnity. In Game 5, he valiantly pitched a five-hitter against the great Christy Mathewson, but Mathewson threw his third shutout of the Series and the Giants beat the Athletics by the tune of 2-0. |
| * | Bender would go on to be the starting pitcher for the Athletics in Game One of the 1910, 1911, 1913 and 1914 World Series. He ended up with a 6-4 World Series mark, a 2.44 World Series ERA, and the utmost respect of his peers and of Connie Mack for his clutch pitching. |
| * | Swift suggests, with very little proof, that an Itchie-like battle with the bottle was the reason that Bender got battered in the Opening Game of the 1914 World Series by the clearly inferior Boston Braves, and that this same native taste for illicit spirits was the reason that Connie Mack put him on waivers at the conclusion of the 1914 season. Seems more likely to me that it was Bender's signing with the upstart Federal League that led to his waiver by Mack. |
| * | Bender completed his major league career with 212 wins, 127 losses, a 2.46 ERA, pitching 3017 innings, giving up 2645 hits, striking out 1711 batters and walking 712. His career WHIP of 1.113 is phenomenal. He was elected to the Hall of Fame by the Veterans Committee in 1953, and died on May 22, 1954 in Philadelphia. |
| * | It is clear from Swift's book that Bender was an upright, intelligent, articulate and honorable individual who was well-liked by all who crossed his path. It is also clear that he did in fact overcome great prejudice to become one of the great major league pitchers of all time, and likely the greatest American Indian pitcher. |
So now you know the story of Chief Bender's Burden.
BOOK REPORT:
The Snowball: Warren Buffett and the Business of Life
(01/29/10)
<![if !vml]>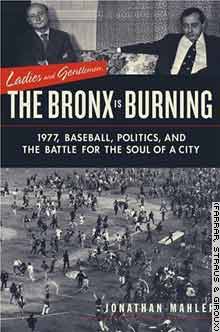 <![endif]>
For those of you who have not yet read it, I highly recommend the seminal work on Warren Buffett, titled above, written by Alice Schroeder, who was granted virtually unlimited access to Buffett and his cadre of business associates, friends, and family members, including the Cardinal of Curmudgeons, Charlie Munger. In a word, the book is fascinating. At 800 pages in length, it is a bit intimidating to start, but it is a page-turner that I polished off in about three weeks.
The Oracle of Omaha is a incredibly brilliant man, but as Ms. Schroeder demonstrates in abundance, he is an extraordinarily complex man with a highly underdeveloped ability to deal with his own emotions. Perhaps because of his refusal to deal with his own father's death, or because of the emotional battering that he and his siblings took from their crackpot mother, Buffett simply cannot deal with the illnesses and deaths of his family members and close friends. Remarkably, he was not even able to attend the memorial service of his late wife, Susie, although the celebrated Bono was there, no doubt trying to cement a large donation to one of his many charitable causes.
There are so many great stories from "Snowball" that I could share with you to whet your appetite for this book, but I don't want to spoil it for you. Let's just say that if you're from Nebraska and you like to read, you won't want to miss out on this great book.
CRACKING THE SHOW, by Tom Boswell
(12/23/09)
THE RUINATION OF FERNANDO
I am almost done reading another excellent book from Tom Boswell, entitled "Cracking the Show," which is basically another collection of his newspaper articles. Good God, I love this man. I could read his stuff every single day, and for the most part, I do.

Anyway, Boswell has a chapter in the book called "Won't Fade Away," which includes an article about Fernando Valenzuela dated May 20, 1989, captioned "Valenzuela Syndrome." The subject of the article is the overuse of rookie sensation Fernando Valenzuela by the Dodgers between 1982 and 1987, and the impact it had on his career. At the time he wrote the article, Fernando was still pitching for the Dodgers, but was coming off of a 5-8 season in 1988 and a 14-14 campaign in 1987, and was showing all the signs of being washed up. Although he finished the 1989 season with a record of 10-13, at the time Boswell wrote his article, Fernando was winless, and as said by Boswell, "reduced to junk balling." As Bowell put it, "the Los Angeles Dodgers have all but ruined him. They didn't mean it. They just didn't know then what everybody's learning now: The faster you rise, the faster you fall."

Boswell later asks the question, "How slow is Fernando? When utility man Mickey Hatcher pitched in the Dodgers' blowout recently, the radar gun clocked him at 82 mph—the same speed as Valenzuela, who sometimes can't get to 80. This is the same man whose fastball once set up 1,048 strikeouts in seven years."

After reading this great article, I looked up Fernando's stats. Sure enough, he was abused badly by the Dodgers. In his rookie campaign in 1981, Fernando pitched 192.1 innings, finishing with a 13-7 record, with 11 complete games and 8 shutouts. The following season, 1982, they pitched him 285 innings, including 18 complete games. In 1983, it was 257.0 innings and 9 complete games. In 1984, it was 261 innings and 12 complete games. In 1985, 272 innings and 14 complete games. And in 1986, 269 innings and 20 complete games.

After Boswell's article, Fernando continued to pitch, bouncing around from the Dodgers to the Angels to the Orioles to the Phillies to the Padres to the Cardinals, notching a 45-63 won-loss percentage over his last eight years after going 118-90 between 1980 and 1988.

I am including the full text of Boswell's three-page article on Valenzuela Syndrome, which you can access through this

link, if you want to read the entire work. He makes a pretty convincing case on abuse by overwork.

BOOK REVIEW:

THE MACHINE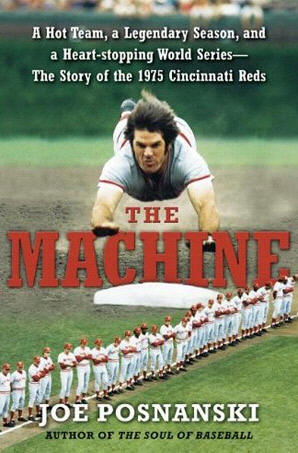 (12/14/09)
After reading an excerpt from it in Sports Illustrated earlier this year, I decided that I had to buy The Machine, subtitled "A Hot Team, a Legendary Season, and a Heart-stopping World Series: The Story of the 1975 Cincinnati Reds," authored by Joe Posnanski, a sports columnist at the Kansas City Star since 1996. By the way, I don't get why they have to use such long subtitles these days. Either too many books, or not enough creativity, I guess.
In any event, although I don't remember being particularly enamored by any of Mr. Posnanski's sports columns in the Kansas City Star when I have stayed in that city in the past, his book about the 1975 Reds is a gem. Perhaps it is because I have such strong memories about the Big Red Machine and the Fall Classic of 1975, when I was a freshman student at the University of Nebraska, but I couldn't wait to read this book, and once I dug into it, I could barely put it down.
To try to whet your appetite for this book a bit, let me share with you this excerpt about Pete Rose which describes his actions in the sixth inning of Game 7 of the 1975 World Series, in Boston, with the great Big Red Machine down by the score of 3-0:
"What the hell's wrong with this team?" Rose shouted, dusting off the dirt from his kamikaze slide. "What the hell is wrong with you?" He paced back and forth, choking in the dust of the dugout, a lion in his cage. He slapped the knees of players. He pumped his right fist. The din outside grew louder, the howls of those desperate and bundled-up Boston Red Sox fans. Fenway Park seemed to be dressed in black wool. And the noise sounded like a wave crashing over a junkyard—all roar and rattle and squeak.
"We're not going to lose this game," Rose shouted. "No way. You hear me? We are not losing tonight. You know what people are going to say about us? We're nothing. They'll say we're losers."
Pete walked up and down the bench and looked hard at each player's face.
"We're not f--king losers," he shouted.
After Rose's tirade, Tony Perez hit a two-run homer off Bill "Spaceman" Lee which sailed far over the Green Monster, closing the gap to 3-2. In the 7th inning, Ken Griffey walked, stole second, and scored on Rose's single. In the top of the 9th, with the score tied, Griffey walked again, and was pushed over to 2nd base on a bunt. After Rose was walked with two outs, Morgan came to the plate, and with the count 2-and-2, he barely got a bat on a nasty slider from Red Sox reliever, Jim Burton, dropping the ball in front of Fred Lynn for a soft single.
In the bottom of the 9th, Will McEnaney got Juan Beniquez to fly to right field, and Bob Montgomery to ground out to shortstop, bringing up the great Yastrzemski. McEnaney threw his best fastball, and Yaz hit a lazy fly ball to Cesar Geronimo in center field which ended the game and the Series.
The best part of the book, in my opinion, is finding out about the interrelationships between the team members, especially the stars, Pete Rose, Joe Morgan, Johnny Bench and Tony Perez, together with their manager Sparky Anderson. There is a great part about a spring training speech that Sparky gave to the Reds in Tampa in February 1975, in which he told the team members as a whole that there were four superstars on the team, the aforementioned Rose, Bench, Morgan and Perez, who made their own rules, who had no curfew, and who had special privileges. As Sparky described it to the team members, these four were royalty, and the rest of the players were "turds." But on the subject of Sparky's clubhouse speeches, Will McEnaney, one of the turds, probably said it best more than thirty years later: "None of us ever knew what the F Sparky was talking about."
One of my favorite quotes from the book came from Sparky, commenting upon the great backstop Johnny Bench, who won ten straight gold gloves for defensive excellence: "Don't ever embarrass anyone by comparing him to Johnny Bench."
I will include one photo from the book, below, showing Johnny and his unique ability to hold seven baseballs in one hand.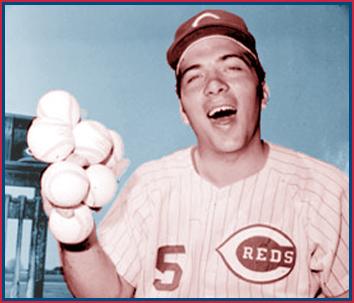 <![if !vml]>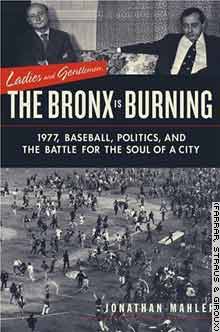 <![endif]>Having met Bench at a Boys Town fundraiser a couple of years ago (see picture below), and having had the chance to shake his hand, I can confirm that he has an absolute set of bear paws for hands.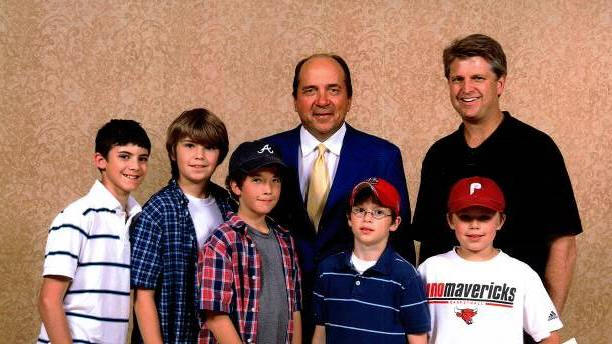 <![if !vml]>
<![endif]>
Do yourself a favor, and read The Machine. It will be worth your while.
BOOK REPORT: THE BRONX ZOO
By Sparky Lyle with Peter Golenbock
Subtitled "The Astonishing Inside Story
of the 1978 World Champion New York Yankees"
(10/28/09)
I just finished reading The Bronx Zoo, Sparky Lyle's "tell-all" about the 1978 New York Yankees season. While this was probably a pretty good read in its day 31 years ago, Lyle's recounting of the 1978 season, while controversial in its day, seems extraordinarily mild by today's standards. In a nutshell, it is a season-long diary of Lyle's heartburn over playing for George Steinbrenner and not getting the raise in pay that he felt that he deserved.
<![if !vml]>
<![endif]>
For my money, the best part of the book was Lyle's recounting of some of the hijinks that were pulled by some of his Yankee teammates. Some of the major pranksters were Fritz Peterson and Mike Kekich, of wife-swapping fame. According to Lyle, Kekich once bought a waterbed in Milwaukee, and went on and on with his teammates about what a terrific bed he had bought. The next day, the waterbed was hanging from the flagpole in front of the scoreboard at Milwaukee's County Stadium, about eighty feet in the air, flapping in the breeze.
Fritz Peterson signed up Mel Stottlemyre for every encyclopedia in print. One time, Stottlemyre got home from a road trip, and waiting for him at his home were boxes and boxes of books with invoices totaling thousands of dollars. He would send the books back, but more books would appear on his doorstep.
MUNSON MAYHEM
In 1972, Peterson pulled a fantastic prank on Thurman Munson. Thurman, a gun enthusiast, had ordered a gun holster from a particular magazine, which he wanted to use to hold his .357 magnum. Thurman filled out the order blank, requesting a holster for a .357 with a four inch barrel, made to fit his waist size of 36, and for a right-handed shooter. However, Fritz Peterson intercepted the letter to the company, erased what Thurman had written, and substituting an order for a tiny .38 snub-nosed pistol, for a person with a 20 inch waist, for someone who was left-handed. It took six weeks for the package to come, and Munson was all excited when he received it, until he ripped off the wrapper, opened up the box, and inside was the holster, about 3 inches long, with a 20 inch waist, for a left-hander. Thurman was extraordinarily pissed off.
Munson put the holster back in the box and returned it, with orders to replace it with a correctly sized and designed holster. Fritz intercepted it once again, kept it in his locker for a couple of weeks, wrapped it up as if it were coming back from the company, and put it back in Munson's locker. Once again, Thurman went nuts. Three different times Fritz did the same thing, and three different times Thurman opened the box, and every time got the same tiny holster, and could not figure out why.
Love it.
SUDDEN SAM
Also I loved this excerpt about Sudden Sam McDowell, who was a Yankee in 1973 and 1974:
Cliff [Johnson] may get drunk every once in a while, but he was nothing compared to Sudden Sam McDowell when he played with the Yankees in 1973 and 1974. When Sam was with us, he had a terrible drinking problem. He was big, about 6 feet 6, and he threw real hard. Five times he led the league in strikeouts. He had as much talent as anybody I've ever seen, and he was past his prime when he was with us. But Sam, for some reason, could not control his drinking then, and it cost him badly. I understand that since Sam has gotten out of baseball, he's been able to control his problem, which makes me feel real good because being with Sam was one of the highlights of my career. He was one of the most fascinating guys I've ever known.
We used to call him Teen Angel because he always slicked his hair back. Sam was notorious for getting in the sauce, getting real rowdy, picking a fight, and getting beat up. This one day we were on a plane heading for a road trip, and Sam's hair was blow-dried, and he had it combed and styled. Everyone was buzzing, "Teen Angel got his hair done."
We were taking bets because we knew something must have happened. When Sam fell asleep, Pat Dobson went back to where Sam was sleeping, lifted back his hair, and there were two big knots on his forehead where somebody had knocked the crap out of him. He had his hair blown dry to cover the knots because Bill Virdon had told him, "No more drinking. One more time and you're gone."
I remember one night Sam had had a few, and he tripped while walking down the sidewalk and sprained his ankle.
This was '73, when Ralph Houk was managing. The next day Sam was supposed to pitch, and his ankle was hurting him so badly he could hardly walk. He went to Ralph and said, "You know what happened? I went shopping yesterday, and I went up the store escalator, and I hurt my ankle." And Sam made up the name of one of Minneapolis's department stores and made up all this stuff. Houk said, "Yeah. Yeah." Sam said, "Really, Skip. It hurt real bad." Ralph didn't say anything, but he had known what had happened. But to show you how Sam would work things through, the next day he went back to Ralph and said, "I just want to tell you everything's OK. I was going to sue those guys in the store, but I went and talked to them today, and I told them I was all right and not to worry that I was going to sue them for that escalator hurting my ankle."
That night we went to the airport, and there was an escalator. Ralph waited for Sam and made him walk up the stairs. Ralph told him, "I wouldn't want you to hurt your ankle again."
Sam used to say, "I have complete control of all of my pitches." Graig would say, "Yeah, you can walk any batter on any pitch." Later we started calling him Topper. It didn't matter what you said, Sam had always done something a little bit better. One day someone said that Warren Spahn held the season record for walks. Sam said, "No he doesn't. One year I walked three hundred and fifty batters." It was about 20 over the first number. After that we started making up things to see what he would say, and always he had done whatever it was, only better. Always.
If any of you want to borrow my copy of The Bronx Zoo, let me know and I will be happy to let you use it.
BOOK REPORT: GEORGE: The Poor Little Rich Boy Who
Built the Yankee Empire, by Peter Golenbock
(08/11/09)
I just finished reading GEORGE: The Poor Little Rich Boy Who Built the Yankee Empire, published in 2009 by John Wiley & Sons, and written by Peter Golenbock, a knowledgeable sportswriter on the subject of the New York Yankees who has previously collaborated with former Yankees Sparky Lyle (The Bronx Zoo), Billy Martin (No. 1), Graig Nettles (Balls), and Johnny Damon (Idiot). The book, of course, chronicles the life and times of George Steinbrenner, the long time General Partner of the ownership group which has owned and operated the New York <![if !vml]>
<![endif]>Yankees since 1973, when this little-known shipbuilder from Cleveland put together a deal to buy the Yankees from CBS for the now-laughable sum of $10 million.
Although Golenbock's writing style and employment of the English language falls well short of some of the more talented baseball wordsmiths such as Roger Kahn, Tom Boswell and Roger Angell, George is nevertheless a good read, primarily because of the fascinating subject of the book, but also because of Golenbock's deep fund of knowledge about him. Getting to read about Steinbrenner's love-hate relationships with Billy Martin, Reggie Jackson and Dave Winfield, among others, and about Steinbrenner's constant meddling with all of the many managers and general managers that he hired and fired during his reign of terror is enough alone to justify the purchase of this book.
A few of the more interesting tidbits about Steinbrenner which are contained in this book are as follows:
| | |
| --- | --- |
| * | Steinbrenner's father, Henry, a stern and humorless Great Lakes shipping magnate, graduated first in his class at MIT in 1927, and was a star hurdler, one of the best in the country. Henry sent George to live and be educated at the Culver Military Academy in Ohio, where George was an average student but a star hurdler like his father. After being rejected admission to more prestigious universities, George attended Williams College in Western Massachusetts, where he starred on the track team. |
| * | Although George made the school football team as a senior (but did not ever play), he reportedly later held himself out to be the captain of the football team, and even represented to some that he had made it all the way to the National Football League. |
| * | After serving a two-year military obligation, during which time his wealthy and influential father was able to keep him stateside during the Korean conflict, George was a high school and college football coach for several years, including a one-year stint at Purdue University. |
| * | George was the principal owner of the Cleveland Pipers ABA basketball team, and if he had been able to raise the amount of $200,000 (he only had commitments for half this much), he would have been able to have his team admitted to the NBA. Because he left a number of creditors—including coaches and players—hanging when the Pipers experienced a financial collapse, George had a black eye among Clevelandites in his first venture into sports team ownership. |
| * | Ravaged by dementia, George had to be driven around in a golf cart for the 2008 All Star Game celebration at Yankee Stadium. By this time, sons Hal and Hank had taken over from their famous father in running the Yankee organization. |
| * | Hank Steinbrenner, who reportedly talks with a bad stutter, arguably because of years of abuse from his father, is said to be even meaner and more hateworthy than his father. Should make things interesting for years to come in the Yankee organization. |
| * | When Billy Martin died in his one-vehicle truck crash on Christmas Day 1989, he was in line to manage the Yankees for the sixth time during the 1990 season. |
| * | After being booed mercilessly by Yankee fans for his treatment of Billy Martin, Reggie Jackson and Dave Winfield, and for his constant meddling in the affairs of his managers, eventually Yankee fans came to love Steinbrenner for bringing them World Series titles in 1977, 1978, 1996, 1998, 1999 and 2000. Everyone loves a winner. |
| * | The side of George that was not known to me was his charitable side, and the final chapter of the book talks about the munificent George Steinbrenner, who quietly funded school scholarships, raised money for the poor and hungry, and came to the aid of many people who were down on their luck, apparently with every effort made to keep his benevolence under the radar screen. The final chapter of the book gave me a whole new outlook on George Steinbrenner. |
In the end, I won't give this book a thumbs up or a thumbs down, but a thumbs sideways. Not a "must" read, but a pretty darned interesting read, particularly for all you Yankee fans out there.
BOOK REPORT: THE LAST BEST LEAGUE
(05/21/09)
<![if !vml]>
<![endif]>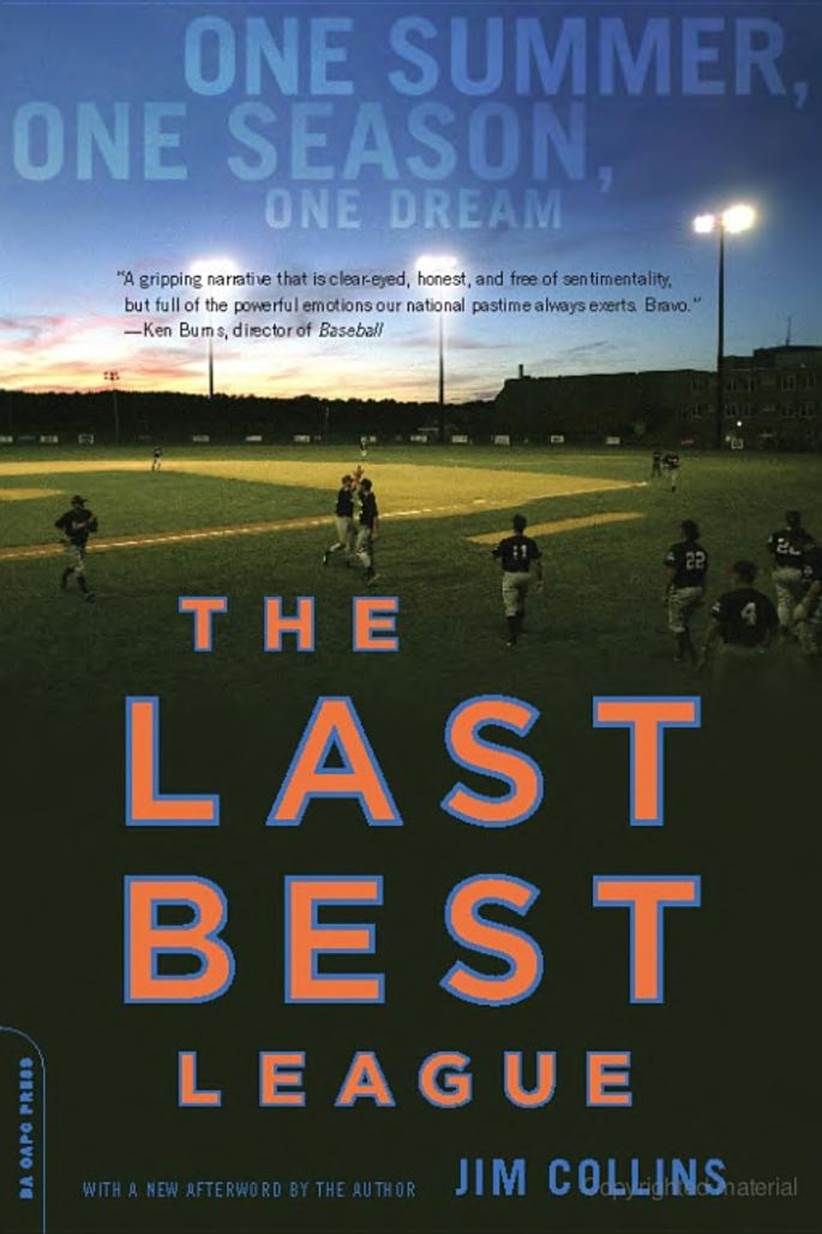 I just finished reading a great book by Jim Collins called The Last Best League, subtitled "One Summer, One Season, One Dream." This marvelous and eminently readable (263 pages) baseball book chronicles a single summer season (2002) in the storied Cape Cod Baseball League, an amateur, wooden bat league which features the best of the best of the college baseball players who are trying to ready themselves for a future in the professional ranks. This tour de force by Collins follows the 2002 season of the Chatham A's, primarily through the eyes of its coach, John Schiffner, a high school history and social studies teacher in Plainfield, Connecticut, a veteran of the Cape Code Baseball League, and a recruiter of baseball talent extraordinaire—and several of the stud players from his 2002 A's team: Jamie D'Antona, a third baseman at Wake Forest; Tim Stauffer, an ace pitcher from Saratoga Springs, New York, who played college ball for the University of Richmond Spiders; and Thomas Pauly, a stud pitcher from Jacksonville, Florida, who was an academic star in chemical engineering at Princeton University and a standout pitcher for the Ivy League school.
The Last Best League is one of the best baseball books you will ever read. Two chapters into it, I was already making mental plans for a summer trip to the Cape to witness a few of these unparalleled contests for myself. When my plans are a bit more concrete for such a trip (probably 2010 or 2011), I will let all of you know, and would welcome the company of each and any one of you. In fact, maybe we should look at a future HSL Trip to Cape Cod, one of these seasons when we do not have a brand new ballpark to explore.
Anyway, I could not recommend The Last Best League any more highly to you. Read it, and savor the experience.
BOOK REPORT: A False Spring, by Pat Jordan
(03/06/09)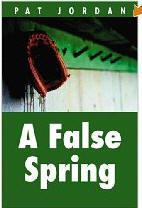 Speaking of spring, I just finished reading an excellent baseball book, A False Spring, written by former minor league player Pat Jordan. This book was initially published in 1973, and I have heard it mentioned over the years, but never saw it in a bookstore and never had a reason to purchase it until recently, when I saw that the University of Nebraska Press was putting out a paperback edition. To my delight, it is a very enjoyable and easy read.
Jordan's book was written by him in the early 1970s, more than a decade after he washed out of the minor leagues after three ignominious seasons in the low level minors. I didn't know this when I bought the book, but his first season in professional baseball was for the Class D McCook Braves of the Nebraska State League. This home state flavor made it even more interesting to read than it otherwise would have been, but the book would still be worth reading even if it was McCook, Montana, or any other small town.
The book begins with Jordan's recounting of having his picture taken on June 27, 1959, at County Stadium in Milwaukee, with the greatest left-hander of all-time, Warren Spahn. Jordan was 18 years old that day and just had signed his first professional baseball contract, which was to pay him a signing bonus of $35,000, four years of college education, and a salary of $500 per month, for a total bonus of a little more than $45,000 distributed over a four-year period. According to Jordan, it was one of the largest bonuses, if not the largest, any young ballplayer had received from the Braves in 1959. Because of this, Jordan had the status of a "bonus baby" among his coaches and peers.
As Jordan describes in the early part of the book, he was a childhood phenom pitcher who at age 12 regularly made the headlines in the sports section of the Bridgeport, Connecticut Post-Telegram newspaper. Four consecutive no-hitters, a season in which he struck out 110 of the 116 batters retired and gave up only 2 hits, 36 strikeouts in a row, and so forth and so on. After his fourth consecutive no-hitter, his parents were called by a reporter working for Ripley's Believe it or Not. Such a talent was Jordan at that early age that he was invited with his parents to appear on Mel Allen's television show prior to a Yankees-Red Sox doubleheader at Yankee Stadium, where they were treated like royalty.
After signing with the Braves, the 18-year-old Jordan was flown to North Platte, Nebraska (by himself, no escort, no helicopter parents), and then driven to McCook where his minor league career began.
There are so many interesting tidbits and excerpts from this book that I could share with you, but I will attempt to be circumspect so that you will have a reason to actually buy and read the book yourself.
►

At his first game as a McCook Brave, almost 800 people came to watch the McCook Braves in their third game of the season, against their nearby rival North Platte Indians. Over the course of that summer, the Braves averaged 700 people per game, about 10% of the town's population. As pointed out by Jordan, this would be comparable to the New York Yankees drawing over 700,000 to each of their games.

►

The Nebraska State League in 1959 consisted of six teams, the Holdrege White Sox, the Kearney Yankees, the Hastings Giants, the North Platte Indians, the Grand Island Athletics, and the McCook Braves. As a rookie league, the teams played games only in July and August of each year.

►

The manager of the McCook Braves in 1959 was Bill Steinecke, who was a catcher in the minors for years but never made it to the major leagues. As reported by Jordan, Steinecke also played professional basketball with the "House of David" touring team which was supposedly made up of orthodox Jews, but actually was comprised primarily of Gentiles, like Steinecke, who was required to wear a fake rabbinical beard during games. According to Jordan, Steinecke stood five feet five inches tall, weighed over 200 pounds--mostly in his stomach--and resembled Nikita Khrushchev.

►

Jordan recounted an episode in McCook in which Steinecke was sitting on the top step of the dugout, berating the home plate umpire, all the while with a woman fan screaming epithets at him. Jordan reported that "Steinie ignored her for a time. She cast aspersions on his manhood. 'Can't cut the mustard anymore, you old fart!' He shouted back at her, 'Not with an old piece of meat like you.' At the end of the inning he returned to the dugout bench, out of the woman's vision. He was cackling to himself. Julius, Overby, Brubaker and I thought he was mad. 'That old whore!' He shook his head as if in admiration. 'Used to be one helluva lay in her day. Yes sirree. But so did we all, I guess.'"

►

The backup catcher on the McCook Braves in 1959 was Elrod Hendricks, described by Jordan as a "black, very limber native of the Virgin Islands," who spoke a rhythmic calypso English. After Jordan showed him up one time in front of the manager, he ran into Hendricks on the downtown streets of McCook, at which time Hendricks beat the holy daylights out of him, putting Jordan in bed for the next couple of games.

►

The first baseman for the '59 Braves was Frank Saia, who at that time was a student at Harvard Law School, just making money during the summertime, with no hopes of eventually making it to the majors.

►

According to Jordan, the tenth-best pitcher on the '59 McCook Braves was a 20-year-old from Blaine, Ohio, named Phil Niekro, who was the only pitcher on the team that ever had a major league career. At that time, Niekro was ineffective because he could not throw his knuckleball over the plate, and was considered no more than a mop-up pitcher on the team.

►

Some of the other players who played in the Nebraska State League in 1959 are well known to all of us: Jose Santiago, later to pitch for the Red Sox; Jim Bouton, described as the fifth fastest pitcher on the Kearney Yankee team; Bill Hands, a future 20-game winner for the Cubs who was a seldom-used pitcher for the Hastings Giants; Al Weiss, who hit .200 for the Holdrege White Sox in 1959, but later played in the majors for over 10 years; and Duke Simms, who later helped the Detroit Tigers reach the 1972 American League playoffs, who was the North Platte Indians' second string catcher in 1959.

►

The following season, the summer of 1960, Jordan pitched for the Quad City Braves in Davenport in the Midwest League. As he described it, Davenport Stadium held almost 13,000 people, but no more than 500 ever seemed to attend any one baseball game.

Jordan's manager at Davenport was Travis Calvin Stonewall Jackson, who was a major league shortstop with the New York Giants for many years, an All Star who retired with a .291 lifetime batting average. He was 58 years old at that time, and there was talk that "Ol' Travis" had "took sick" while he was out of baseball, a euphemism for heavy drinking. Because of Jordan's ineffectiveness while pitching at Davenport Stadium, and the tendency of the fans to boo him off the mound, manager Travis rarely started him at home, but instead put him out on the mound when they were visiting places like Dubuque, Decatur, Waterloo, Quincy and Keokuk. At a game in Keokuk, when Travis visited the mound to talk with Jordan, he found him as he always did, boiling, cursing and kicking dirt. "You're not taking me out of this game, you old bastard!" said Jordon to Travis. As Jordan recalled it, "Travis just smiled his toothless smile and laid his hand on my shoulder. 'Don't you worry, son. You can pitch as long as you like. They love you in Keokuk.'"

►

I loved Jordan's description of the Torre brothers (Frank already in the major leagues with the Braves) "as dark and sinister-looking as a Mexican villain from a Grade B movie"; and Joe (age 19 and in the low minors) "Over 220 pounds, and his unbelievably dark skin and black brows were frightening. He looked like a fierce Bedouin tribesman whose distrust for everything could be read in the shifting whites of his eyes."
After his 1960 season in Davenport, Jordan went on to play in the Florida Instructional League that winter, followed by a brief tour in Eau Claire, Wisconsin, followed by his terminal assignment to Palatka in the Florida State League. I will not spoil the ending for you by recounting how Jordan's minor league career came to an end.
Anyway, I'm quite sure that any of you who take the time to read this book will enjoy it immensely. Happy reading.
BOOK REPORT: Heart of the Order
by Thomas Boswell
(02/04/09)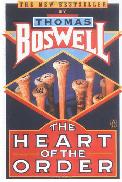 Although I finished it back in the fall sometime, I am just now getting around to providing you with this short burst of praise for Boswell's timeless collection, mainly because the From the Bullpen presses have been shut down for the winter. In any event, like all of his baseball books, Heart of the Order is a wonderful collection of Boswell's best baseball pieces from the Washington Post, augmented and enhanced through his later reflections. The book was particularly enjoyable to me because the time period involved in these writings is the 1980s, which coincides with the blessed rekindling of my passion for this great game of baseball.
To whet your appetites, I list here a few of the chapter headings from Heart of the Order:
DH: Carl Yastrzemski—Captain Beefheart
Shortstop: Don Mattingly—Heart and Soul
Right Field: Fred Lynn—Heartbreaker
Right-handed Pitcher: Doyle Alexander—Heartless
Left-handed Pitcher: Tommy John—Heart Transplant
Coach: Stump Merrill—Heart's Desire
President: Lee MacPhail—Old Sweetheart
And from the section called Five Octobers:
1985: The Hallowed and the Hollow Men of Summer
1986: Ultimate Red Sox
1987: The Mysterious Case of the Cards, Jays and Twins
1988: Minds over Mastodons
My favorite part of the book deals with the 1988 World Series, in which the mediocre and crippled Dodgers topped the powerful Oakland Athletics and their mastodonic twins, McGwire and Canseco. Here are a few delectable tidbits from Boswell's recounting of the 1988 Fall Classic:
►

When you're hot, you guess right. As 1 a.m. approached in the twelfth inning of Game 4, Lasorda called for Jesse Orosco—not his favorite reliever—to face his old Mets mates Keith Hernandez and Darryl Strawberry, a lefty against lefties. Orosco walked Hernandez, then threw ball one to Strawberry. Lasorda, who usually goes to the mound only to remove pitchers, visited Orosco—neck veins bulging, jaw flapping, eye to eye. You'll never see a better chewout. Lip readers had a field day.

"I just gave him a little encouragement," Lasorda said the next day. "Just a few words to let him know we were all behind him."

►

The round manager has now taken the Dodgers to the playoffs six times in twelve years—little credit he usually gets for it. Some might think that this team, because it was won with mirrors and because it has reflected so well on Lasorda, might be his favorite.

Ask him and you get pure Tommy—a story that is such a perfect mix of schmaltz and truth that you want to hug him with one hand and cover your wallet with the other: "When I was fourteen years old, somebody asked my father which of his five sons he loved the most. I knew he was gonna say me. But, instead, he held up his hand and said, 'Which finger do I love the best?'

The previous day, Lasorda had told the same exact story. But that time, he said it was his mother.

►

Gibson's homer did not short-circuit a light tower and burn Chavez Ravine to ash. It just scorched Dennis Eckersley, Tony LaRussa and an Oakland team that would like to get its foot out of its mouth and Gibson's boot off its neck.

►

"Excited? I was going to run around the bases with him," said Mickey Hatcher, king of the L.A. Stuntmen. "I figured they'd have to get a wheelchair out there for him. My first reaction was to go out and kiss him. But the guy doesn't shave."

►

"I didn't even think the guy could walk," said Brian Holton. "I'd forgotten all about Kirk," added Hatcher. "I didn't even see him all night," said Steve Sax.

But Gibson was still hoping. When broadcaster Vince Skully said on TV that Gibson was gone for the night, Gibson growled, "Bullshit," and broke out of his ice wrap like the Thing coming to life.

►

With Davis, a home run threat and former Athletic, at bat, Lasorda deked Oakland nicely by sending the weak Anderson out on deck. Eckersley pitched too carefully and walked Davis, assuming the Dodgers had no power left. "You can't walk the tying run," said Eckersley; ". . . that's why I lost."

As Gibson did a jig of pain after each lunging swing, and even tried a half-speed jog to first on one foul dribbler, the A's continued to pour fastballs at the outside corner. "He didn't look too good on his swings," said Hassey, the catcher, yet he kept ticking off fouls.

But the Dodgers adapted by running. On the first steal attempt, Gibson finally had a decent swing, poking a foul to left. Oh, so that's their game, thought the A's. Can't allow a hit-and-run double to the opposite field.

So they changed plans. On the first slider, Davis stole second and the count ran full. Suddenly, LaRussa had to face a decision with historic overtones. In the 1985 playoffs, in this ballpark, Lasorda pitched to Jack Clark in just such a spot, top of the ninth, with first base open. Next pitch, home run. Season over. . . .

With hindsight, the A's may remember Game Five of the '84 World Series, when Goose Gossage talked Dick Williams into letting him pitch to Gibson with Detroit ahead, 5—4, in the eighth. "Ten bucks says they pitch to me," yelled Gibson to Sparky Anderson. "Ten bucks says they don't," yelled back the Tigers' manager.

They did. Gibson went into the upper deck for three runs and the icing on a world title.

Now it is easy to say you should let Eckersley pitch to right-handed Steve Sax. But, at the moment, Hassey thought "we can freeze Gibson" with a backdoor slider—a pitch that looks like a low outside fastball for a semi-intentional walk, then snaps back to nick the corner and end the game, unhit.

"I tried to make a nasty pitch," said Eckersley. Instead, it proved to be "the only pitch he could hit out."

Already, the home run, probably not a 400-footer, is growing by the hour. Now Sax says Gibson "hit it with one hand." There's a palm tree, about 500 feet from home plate. If it ever dies, folks here will swear Gibson killed it. That won't be true. But if the burly A's somehow lose this Series, there won't be much doubt who killed them.
Pure poetry. You definitely want to read this book. In fact, I insist.
BOOK REVIEW: THE BRONX IS BURNING:
1977, Baseball, Politics, and the Battle for the
Soul of a City
(11/14/08)
<![if !vml]>
<![endif]>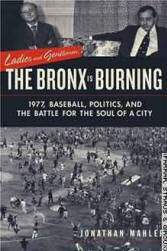 If you want to read a truly fascinating book, one that superbly covers the Bermuda Triangle of Reggie Jackson, Billy Martin and George Steinbrenner during the tempestuous baseball season of 1977, structured around one of the most fascinating years in the history of New York City, then The Bronx is Burning is for you. This fantastic read, written by Jonathan Mahler of Brooklyn, was the framework for the miniseries of the same name which was on television last year or the year before. I bought this book at the airport on my way to Seattle the week before last, and simply could not put it down, finishing it off in two days.
One of the reviews for this book, included in the book jacket, says it all:
Damon Runyon, where are you now? Mahler's rollicking evocation of New York in 1977 –– the year of Son of Sam, the year of the Blackout, the year it refuses to Drop Dead, the year, dammit, the Yankees take the World Series –– is full of Runyonesque characterization, energy, and biting wit . . . . The bases are loaded and Mahler smokes it.
~Harold Evans, author of The American Reader
This book includes the fascinating account of the 1977 New York City mayoral race between the incumbent Abe Beame, Bella Abzug, eventual winner Ed Koch, and Mario Cuomo, in a classic battle for Gracie Mansion. It covers the city's crippling fiscal crisis. It provides a fascinating account of the blackout of July 13, 1977, caused by a lightning strike and the staggering incompetence of the management team at Con Edison. It provides horrifying details of the looting which ravaged the Bushwick neighborhood in North Brooklyn, and chronicles many of the 3,776 arrests which were made in the aftermath of the blackout.
Mahler expertly recounts the terror caused by mass murderer David "Son of Sam" Berkowitz, and his eventual capture and arrest. It relates how Mayor Beame, in an effort to boost his popularity during the heated mayoral race, erroneously reached to shake the hand of Berkowitz during a prearranged press conference, mistaking him for the brave officer who captured Son of Sam. Mahler's tour de force covers the gentrification of the Soho District, the birth of Studio 54, and the phenomenon of "The Summer of Our Discotheques."
Probably my favorite story from The Bronx is Burning is the interviewing of Reggie Jackson after Game 5 of the American League Championship game against the Kansas City Royals in Kansas City, in which Reggie Jackson was benched for Paul Blair because of his pathetic hitting performance in the first four games of the series, and the prospect of facing lefty Paul Splittorff of the Royals, who was death to Jackson. Before the game, Billy Martin was afraid to even tell Reggie that he was benching him, and instead sent Reggie's roommate to deliver the news. Reggie stewed on the bench throughout the game until he was called to pinch hit in the top of the 8th for Cliff Johnson, the designated hitter.
Coming through in the clutch as he would later do in the World Series against the Dodgers, Reggie stroked a single off Royals closer Paul Byrd, knocking in a run to close the gap to one run. The Yankees eventually took the lead in the top of the 9th by virtue of players other than Reggie Jackson, and held on to win the game. In the locker room after the game, most of the reporters surrounded the heroes of the game, but a couple of scribes chose to talk with Reggie. As described by Mahler:
A few lockers away Reggie ended his short lived experiment with stoicism. "Can I explain what it means?", referring to his bloop single in the 8th inning to a few writers. "I can't explain it. I can't explain it because I don't understand the magnitude of Reggie Jackson."
Now that, my friends, is an ego. That statement summed up Reggie as well as anything could.
Anyway, if you haven't already read it, I highly recommend The Bronx is Burning to all of you. You will love it.
BIG RUSS & ME
(10/01/08)
<![if !vml]>
<![endif]>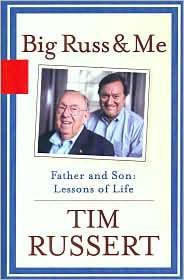 Last week at the Midway Airport, en route to Michigan, I picked up the book written a couple of years ago by the late Tim Russert about his upbringing and his relationship with his dad, entitled Big Russ & Me. I had seen this book on the bookshelves for the past couple of years, and had been meaning to buy it and read it long before Russert passed away earlier this year. With his very sad and premature death this past summer, I knew that I had to buy my copy and read it.
Russert was born and raised in South Buffalo, an Irish Catholic enclave, the son of a hard-working Irish garbageman who also had the name of Tim Russert. As young Tim grew up in a very modest, working-class household, he learned many lessons about life from his taciturn but fair paternal parent. From parochial elementary school to Canisius High School to college and law school in Cleveland to working as the campaign manager for Patrick Daniel Moynihan to attaining his position as moderator on Meet the Press (a post long occupied by the late great Lawrence Spivak), Russert did an excellent job of chronicling the impact of his father's example and advice on his own maturation from child to adolescent to young man to full manhood, as well as how he put his own father's advice to use in living the role of father to his own son.
Big Russ & Me is a very fast (two flights and an hour at Midway) and easy read, and should be required reading for all of us males who are winning the bread for our families and trying to learn or master the worthy and noble job of serving as fathers to our children. Be forewarned, however: Big Russ & Me may leave you misty-eyed as you deal with the melancholy of reconsidering your own upbringing and your relationship with your own father. If you're too much of a manly-man to cry, remember to read it in private.
Anyway, to all of you I commend Big Russ & Me highly. I don't think you could find a better way to spend three hours.
BOOK REPORT: THREE NIGHTS IN AUGUST
(6/18/08)
I

just recently finished reading an excellent baseball book, entitled Three Nights in August, written by Buzz Bissinger (author of Friday Night Lights), and chronicling the managerial career of Tony LaRussa by focusing on a three-game series between the Cardinals and the Cubs in August of 2003. I cannot say that I am more or less of a LaRussa fan after reading this book, but I do have much more of an appreciation of what a manager goes through on a nightly basis. There is one particularly fascinating description of the myriad options that are available to a manager in trying to decide whether to play the infield back or the infield in with runners on the bases and fewer than two outs, which in summary, explains that a manager has about 10 different options or variations on the theme that he must consider and decide upon in the span of about 10 seconds. It is indeed a cerebral game that we love so much.

Bissinger is an eloquent baseball scribe, with a remarkable ability to turn a phrase. A couple of examples follow:
| | |
| --- | --- |
| ► | He tried to cover for Canseco by claiming that he had an injury; and Canseco did in fact have an injury, the crippling baseball disease of disinterest that comes with too much security and too much money and too much attention. Of all the players LaRussa ever managed, no one ever had a more virulent case of it. |
| ► | When you have spent so much of your life in baseball that it becomes your life—when you have managed thousands of games and thousands of players—you see the timeline and transformation of the game from a unique point of privilege. . . . You see the rise of the sinker as the preferred pitch and the neglect of the forkball like an old widow. |
| ► | (On Cal Eldred, a LaRussa reclamation project) He went through Tommy John surgery. He suffered a small fracture in his right elbow and then a stress fracture below his right elbow, requiring the insertion of the five inch screw to somehow patch it back together. It isn't unusual for a pitcher to miss an entire season because of arm troubles and then come back. Arm troubles are to pitchers what girl troubles are to country singers. |
ANOTHER DAMNED BOOK REPORT: The Echoing Green
(04/25/08)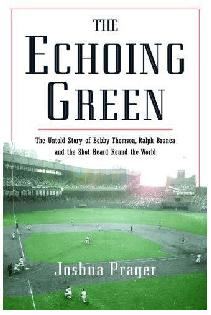 In addition to my savory experience with How Life Imitates the World Series during our recent holiday to Cabo, I also finished up a baseball book that I started way back last fall but then got bogged down on and set aside for a spell. The book, titled The Echoing Green, authored by Joshua Prager and published by Pantheon in 2006, is arguably the definitive work on The Shot Heard Round the World, Bobby Thomson's epic home run off Ralph Branca in the 1-game playoff between the Brooklyn Dodgers and the New York Giants for the National League pennant on October 3, 1951. The premise of the book is that Bobby Thomson received a stolen sign from a bullpen catcher named Sal Yvars that Branca was about to deliver an 0-1 fastball, and that Thomson was able to jump all over the pitch and send it on a linear path over the left field fence and into the second row of seats for the game-winning home run. According to the book, Yvars received the stolen sign via telegraph wire from Giants assistant coach Herman Franks, who was sitting in the clubhouse located just past the centerfield wall at the Polo Grounds, home of the Giants, after Franks was able to steal the sign from the Dodgers' catcher through the use of a telescope.
Echoing Green is a meticulously researched and superbly crafted book which makes a pretty compelling case for the "theory" that Thomson knew that a fastball was coming his way that fateful afternoon in October 1951. However, the author was never able to obtain an interview from one of the key alleged perpetrators, Herman Franks, and the author's conversation with Yvars on the subject produced less than a full admission of guilt. As for Prager's conversations with Thomson—the alleged benefactor of the purloined sign—he never quite owns up to taking a stolen sign and using it to his advantage during the crucial at-bat. From my own perspective, the quantum of proof established through this fine work of investigative journalism may rise to a preponderance of the evidence, but clearly does not reach the level of "beyond a reasonable doubt."
Echoing Green began as a Wall Street Journal article back in 2003, and after much favorable reaction and a suggestion from a friend, author Joshua Prager completed his exhaustive research and interviewing of the subjects and many other witnesses to allow him to expand his article into a hefty book. Although a fascinating subject, I'm not sure that it warranted quite the treatment accorded it by the author. At times the book seems a bit redundant, long-winded, and rambling. A couple of times, I found myself checking how many pages I had left to get through the book, which is usually not a good sign, but in the end the author's eloquence, coupled with a fascinating subject matter, make this read worth the while.
HOW LIFE IMITATES THE WORLD SERIES
(04/17/08)
I just finished reading another Tom Boswell classic, entitled How Life Imitates the World Series. I was a huge Boswell fan before (having previously twice read Why Time Begins on Opening Day, and numerous and sundry other Boswell articles on baseball), but after having finished this book, I am convinced that Bos is the best contemporary baseball writer, better even than Roger Kahn, whose best work is clearly behind him, and Roger Angell, who has not been heard from much on the subject of baseball, lately.
If you haven't read this classic collection of Boswell's best, do yourself a huge favor and buy it. I so enjoyed reading it on our trip to Cabo, it felt like the book, or Boswell, or both, had become a good friend. That may sound a bit strange, but it's true.
Since he writes for the Baltimore Sun, Boswell has written a lot about his beloved Orioles and their cantankerous former manager, the Earl of Baltimore, shown below with two of his lifelong friends.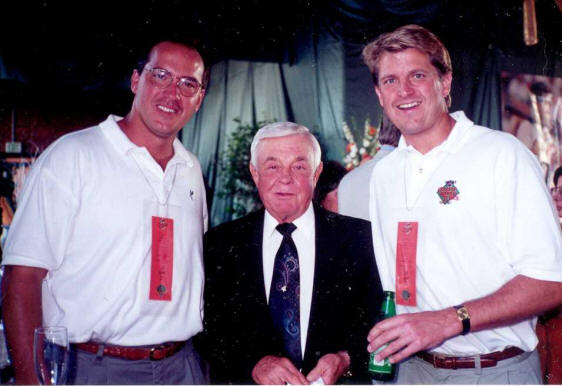 Allow me to share with you a few of my favorite excerpts about Weaver from this book:
It is perhaps Weaver's dominant managerial characteristic that his players seldom think of him in terms of love or hate. Weaver is so candid, yet somehow stays so naturally aloof, that his players regard him not with affection or loathing, but with a strong professional respect and a tepid, unemotional loyalty. "We're all on speaking terms," says Weaver. Other managers would shudder at such tenuous relationships.
With Weaver, the deep lines, the lines of character that run to the core, are all rooted in his 20-year purgatory in the bush leagues. "You learn the lesson the first day in class D . . . you're always going to be a rotten bastard, or in my case, a rotten little bastard, as long as you manage," he says. "That's the rule. To keep your job, you fire others or bench them or trade them. You have to do the thinking for 25 guys, and you can't be too close to any of them."
Weaver's confidence in his own decisions is his trademark. He once watched Mike Cuellar get knocked out early in 13 consecutive starts, before finally removing him from the rotation. Sadly, Weaver said, "I gave Mike Cuellar more chances than my first wife."
There's a great chapter in How Life Imitates the World Series about Thurman Munson called Captain Bad Body, which is laugh-out-loud good reading. I share with you parts of it:
Thurman Munson, who died at 32 in a crash while piloting his private airplane, cultivated a misunderstanding with the world at large, just as he nurtured a powerful camaraderie with those he loved—his teammates and his family.
Small talk, which might only bore others, infuriated Munson. Good manners he disdained as weakness or fraud. Intransigence—take me or leave me—he had raised to a standard of personal integrity. Introduced to a stranger, he might begin, "Where'd you get that ugly shirt?" It was his method for finding his social bearing quickly. "The same place you got that ugly face," was always a proper answer.
. . . .
"I seem to attract dirt," Munson once said with pride. "The game was only ten pitches old tonight and I was filthier than anyone else all night." To those who appreciated him, Munson was a sweathog, who, beneath the tools of ignorance, was the essence of pride and rude wit.
. . . .
At the plate, where he was a .300 hitter five times, batted .339 in three playoffs and .373 in three Series, Munson took his sweet time, digging in his back foot defiantly, adjusting his batting glove interminably, twisting the last kink out of his fidgety neck, then pawing, yanking and nodding until he was absolutely ready. His message to the pitcher was evident to the entire stadium: "When I get all of this finished, you're in trouble."
. . . .
On the bases, Munson revealed the all-sport athlete who was concealed under shinguards and chest protectors as he dashed first-to-third as though his britches were on fire, ending his digging, stumbling dashes with a variety of wildly improvisational slides that left him deliciously filthy.
. . . .
"Munson always said, 'How's it going, kid?' to rookies, and 'How's the family?' to the veterans when he came to the plate," Mark Belanger said. "One day, I got furious and said, 'Thurman, we all know what you're doing. You're trying to distract me and I'm hitting .190. Just leave me the hell alone. Just shut up when I'm up here or I'll hit you with my bat.'
"He got this terrible hurt expression and said, 'Jeez, Blade, I didn't know you felt that strongly. I swear I'll never say another word to you.'"
On his next at-bat, Belanger was all ready to swing when the high-pitched penetrating voice behind him said, "How's the family, Blade?"
. . . .
Ballplayers do not leave epitaphs, only memories and friends. Munson, the man who may have been baseball's ideal teammate, was rich in both.
Beautiful stuff. If any of you want to borrow my copy of this book, let me know and I will be happy to share it with you.
(1/3/08)
I want to do all of you the same favor that my good friend Joe Grant did for me a couple of weeks ago, which is, to recommend a book entitled The Tender Bar. Authored by J.R. Moehringer and published in 2005 -- and available at fine bookstores everywhere –– The Tender Bar is a remarkably entertaining "memoir" about the author's upbringing in a fatherless and utterly unconventional home in a small town in Long Island, New York, known as Manhasset. In essence, it is a story about a young man in search of male guidance who received it from the company and advice of a host of colorful characters who frequented a nearby tavern called, first, Dickens and later, Publicans. As I learned near the end of the book, Moehringer's closest friend growing up was his cousin McGraw, who grew up in the same crazy household, and who later in the book was revealed to be McGraw Milhaven, a former college pitcher for the Cornhusker baseball team and radio personality in Omaha, now on the airwaves in St. Louis.
One of my favorite lines in the book has to do with some advice that Moehringer received after agreeing to go with a first date who was a hottie to see a "clay" exhibit at a Manhattan museum, which turned out to be a nonstarter. After relating the story to one of the barflies at Publicans, the man known there as "Cager" "swiveled on his barstool to face me and he pushed his visor back so I could see his face." Cager then dispensed his sagacious advice: "Next time some broad tells you to take her to a museum, take her to f---ing Cooperstown." Loved it.
Since I usually only read baseball and political biographies, taking on The Tender Bar was a short leap of faith for me, but well worth the hop. I found myself wanting to read it in the morning before taking off for work, a most unusual reading time for me. Do yourself a favor and buy it and read it. I think you'll be glad you did.
BOOK REVIEW: THE OLD BALL GAME
(09/13/07)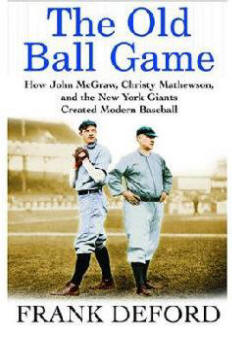 I've been meaning for some time to recommend to all of you a fantastic baseball book that I read a while back, actually in 2006, entitled: The Old Ball Game, written by noted Sports Illustrated contributor Frank Deford. I actually saw this on a bookshelf in Seattle last year, in the baseball section at the Barnes & Noble bookstore, and was surprised to see that Mr. Deford had written a book solely about baseball, since I don't necessarily think of him as a baseball author. In any event, after glancing at just a couple of pages, I could immediately tell that it was going to be a very good read, so I purchased it and began reading it while on that trip. It turned out to be one of those books that you don't want to put down, but you also don't want to finish it because you just want to savor the experience. It may sound odd, I know, but when I find a great read like The Old Ball Game, the book becomes like a reliable old friend, something I can pick up each night at bedtime and know that I'm going to enjoy the experience.
I made a whole bunch of crib notes about some of my favorite excerpts from The Old Ball Game that I was planning on sharing with my baseball brothers, but it seems that some irresponsible, unnamed individual at the Ernst house discarded them (grrrr), so I will have to give you just a couple of them from memory. First of all, I found it fascinating that one of the greatest managers of all time, John McGraw, and his wife would share a residence in Manhattan with Christy Mathewson and his wife, at the time Mattie was playing for McGraw. Sure, times were different then, but I would have thought that there was a line of separation between manager and player which would have prevented this. Another winning feature of the book is Frank Deford's masterful recounting of the 1905 World Series, in which the Big 6 (Mattie's nickname) won three games and absolutely dominated the opposing Philadelphia Athletics, hurling three complete game shutouts and striking out 18 batters while walking only one. Wow.
In summary, The Old Ball Game is a short, easy, and pleasurable read. I highly recommend it.
The Era: 1947-1957 When the Yankees, the Giants and the Dodges Ruled the World
(12/21/07)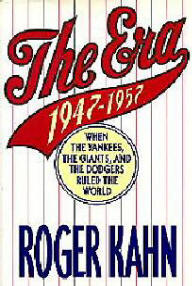 I commend to you all another Roger Kahn baseball book that I just recently finished reading, The Era, subtitled 1947-1957 When the Yankees, the Giants, and the Dodgers Ruled the World. Kahn grew up in New York City and began his baseball writing career during this magical baseball time for the Big Apple, during which 9 of the 11 World Series titles were won by a New York-based team (seven times by the Yankees, once each by the Dodgers and the Giants), and during which time center field was occupied for these teams by Joe DiMaggio, Mickey Mantle, Duke Snider and Willie Mays.
This is not Kahn's best work, and probably doesn't make it into his top three, but it is still vintage Kahn, with his impressive but not snobbish use of vocabulary and his very personal recounting of his marvelous memories of this splendid time in baseball. One of my favorite stories that is woven by Kahn in The Era is of the alcohol-induced implosion of Yankee GM Larry McPhail (called the "Roarin' Redhead" by Kahn, a terrific sobriquet) after the Bombers captured the 1947 Series. Listen to this:
A full complement of reporters attended the Yankee victory party in 1947, held in the Grand Ballroom of the Biltmore Hotel on the night of October 6. Neither McPhail nor the old gentlemanly press code really survived the evening.

As the Yankees moved toward their final victory, McPhail began serious drinking. He left his box during the seventh inning and began to mix Scotch and beer, with speed and gusto. . . . Writers came running down the corridors far below the three-tiered stands at Yankee stadium. McPhail pushed his way through them, tears rushing down his face, and threw an arm around dour, chipmunk-cheeked George Weiss, his farm director.

"Here, you guys," McPhail shouted at the reporters. "I want you to say this in your stories. I'm the guy that built up the losers, the Brooklyn club. Here's the man who really built the Yankees." He raised George Weiss' right arm.

"Now I gotta talk to my players . . . ."

He started crying again. Then he went looking for Branch Rickey and found him amid another swarm of reporters. "You've got a fine team," McPhail said. "I want to congratulate you."

Rickey leaned in very close. His whisper was ice. "I'll shake your hand because I have to with these people watching. But I don't like you, sir. Don't care for you at all." McPhail wheeled away. He needed another drink.

Toward eight p.m. he came staggering into the press room at the Biltmore Hotel. "I got some things to tell you writers," he said. "Stay away from me or get punched. . . ."

Sid Keener, the sports editor of the St. Louis Stars-Times, had known McPhail for thirty years. "Larry," he said mildly, "everybody gets criticized in your business even when they win. Branch Rickey won in St. Louis and . . . ."

"Rickey?" McPhail shouted. "Bible-quoting, hypocritical, tight-wad son of a bitch. He's worse than Chandler (the commissioner), worse than that goddamned hayseed we have as a commissioner."

McPhail was shouting all of this at reporters from every major newspaper in the country. . . .

He (McPhail) spotted Dan Topping, big, Anaconda copper-rich Dan Topping, who owned one-third of the Yankees.

"Hey, Topping," McPhail said. "You know what you are? A guy born with a silver spoon in his mouth who never made a dollar in his life."

Topping seized McPhail's left arm. "Listen, you," Topping said. "We've taken everything from you we're going to take." Topping wrestled McPhail into the hotel kitchen. He was bigger than McPhail, younger by twenty years, physically stronger, and considerably more sober. He shook McPhail roughly in the kitchen, punched him with a few body blows, and ordered McPhail to behave. "If you act up again, Larry," Topping said, "I'm going to knock your head off. Now go into the washroom and clean yourself up and for Christ sakes, comb your hair."

About a half hour later--ten p.m.--a subdued McPhail returned, properly groomed. But the whiskey and the mindless rage still burned within him.

He walked up to Joe Page, who was sitting with his wife. "What were you, Joe, before I picked you up? A bum. You and this broad here, you were nothing. I bought a home for you. You're wearing nice clothes now. You're drinking champagne. But without me, the two of you would be starving."

Topping was approaching with a murderous look. Mrs. Page burst into tears.

McPhail weaved away from the couple. Then this wondrous, bizarre, driven character staggered out of the room and out of the victory party and out of baseball.
Wow. And all of this after McPhail's Yankees won the World Series.
THE YANKEE CLIPPER FOR THE KID?
Kahn also tells a story in the book about a get-together between McPhail and fellow owner Tom Yawkey at Toots Shor's nightclub, in which a very interesting trade was discussed, if not agreed upon:
McPhail's next attempt to discard his somber centerfielder showed the man at his roarin' redheaded best. He invited Tom Yawkey, the multimillionaire bon vivant who owned the Red Sox, to join him for a night of talk and drink at Toots Shor's. Yawkey kept his distance from the press, in the manner of many moneyed men, but Shor's was a safe saloon for public drinking. By unwritten rule, what went on at Shor's was off the record, unless a specific exception was made.

. . . .

McPhail threw out no booze at Shor's. He knocked back drinks, and Yawkey joined him. McPhail got to his idea. "I have this big dago in center field. He hits the hell out of the ball, but to left center. We got a spot out there that's 475 feet from home. He hits these tremendous drives, home runs anywhere else, and in my ballpark they're just damn long outs."

"That's the way this game is," Yawkey said. "I got this skinny kid, pulls everything left-handed, hits these long balls to right and right center. In my ballpark, right center reaches 420 feet from home."

The men drank some more. Yawkey wanted to know what McPhail thought about Rickey's plan to bring "nigras" into baseball. Shor later recalled the conversation for me.

"Gonna kill our business," McPhail said.

Yawkey nodded. (Yawkey's Red Sox did not employ a black ballplayer until 1959, fully twelve years after Robinson's major league debut.) They were both drinking hard and they were getting along very well. After a while, at 2 in the morning, McPhail proposed his trade.

The big dago for the skinny kid.

No cash, no other ballplayers.

Even up, Joe DiMaggio for Ted Williams.

"Helluvan idea," Yawkey said.

"Put the dago up there with your close-in left field wall," McPhail said, "and he'll hit 60 homers."

"Right," Yawkey said. "Put the kid in the stadium, with the right field stands so close, and he'll hit 70!"

"We got a deal?"

"We got a deal!"

"Shake."

"Skoal."

"Let's have another."

According to Kahn, the following morning Yawkey called McPhail and said, "I can't do it, Larry." After McPhail responded that he thought they had a deal, Yawkey reportedly said, "We did. I'm not denying that. But I can't do it. They let Babe Ruth out of Boston. If I let Williams go, the fans will crucify me."
Whether you believe the story or not, it's a heckuva yarn, and one only wonders how their careers might have differed if The Kid had been in pinstripes and Joltin' Joe in a Red Sox uniform.
One of the great quotes from the book is from the great right-handed pitcher Early Wynn: "Every job has drawbacks. The drawback of my job is that I gotta pitch to Joe Dimaggio."
There are plenty of other good stories and lines in The Era, including the description of DiMaggio's first wife, Dorothy Arnold (a blonde knockout and aspiring actress from Minnesota), as DiMaggio's "spring training for Marilyn Monroe." I love it. Do yourself a favor and buy The Era as a stocking stuffer for yourself.
(01/06/06)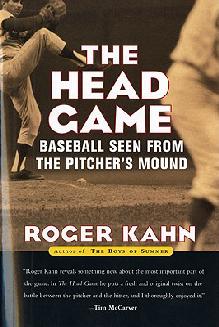 Although I haven't seen it in print yet, somebody told me that Leo Mazzone has been lured away from his job as the Braves' pitching coach. I was stunned to learn of this, as I thought that he and Bobby Cox was a package deal who would both coach together until one of them keeled over dead. This is a huge loss for Atlanta, and I predict that their string of Eastern Division titles may be nearing an end.
There's a wonderful chapter (13: The Pope of Pitching) on Mazzone in the Roger Kahn baseball book that I am just now finishing up, The Head Game, which is extremely complimentary of Mazzone and makes one appreciate just what a talented pitching coach he is. Even so, Mazzone didn't have a clue as to what happened to Mark Wohlers, whose career turned on a dime after three outstanding seasons in a row netted 97 saves for the Braves, and during which Wohlers used his 100 mph fastball to whiff 282 batters in 211 innings. During Wohlers' rehab stint in the minors, there was a time when he gave up 38 walks and 28 runs in 12 innings. After Mazzone was asked one too many times if he knew what went wrong with Wohlers, he responded testily that, "If I knew what the fuck went wrong, I would have fixed it." Good point, Leo.
Although not necessarily as riveting as some of Kahn's other baseball books, I still recommend The Head Game as good baseball reading for these dreary winter months.
BOOK REPORT (Preliminary): Ball Four
(07/18/06)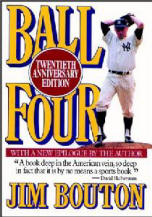 I digress here, but did you know that Rich Rawlins was one of the members of the one-year Seattle Pilots, made famous by Jim Bouton in his classic Ball Four? I know this only because I am re-reading this madcap diary of the baseball world as it was unveiled in 1970.
I further digress, but let me share with you here a telling excerpt from Ball Four that presaged some of our very disturbing recent distractions to our national pastime.
I guess it wasn't too good for my elbow. When I got through pitching, it felt like somebody had set fire to it. I'll treat it with aspirin, a couple every four hours or so.
I've tried a lot of other things through the years –– like Butazolidin, which is what they give to horses. And D.M.S.O. –– dimethyl sulfoxide. Whitey Ford used that for a while. You rub it on with a plastic glove and then as soon as it gets on your arm, you can taste it in your mouth. It's not available anymore, though. Word is it can blind you. I've also taken shots –– Novocaine, cortisone and Xylocaine. Baseball players will take anything. If you had a pill that would guarantee a pitcher twenty wins but it might take five years off his life, he'd take it.
From pp. 48-49. More later from Ball Four after I have finished re-reading it.
(07/18/06)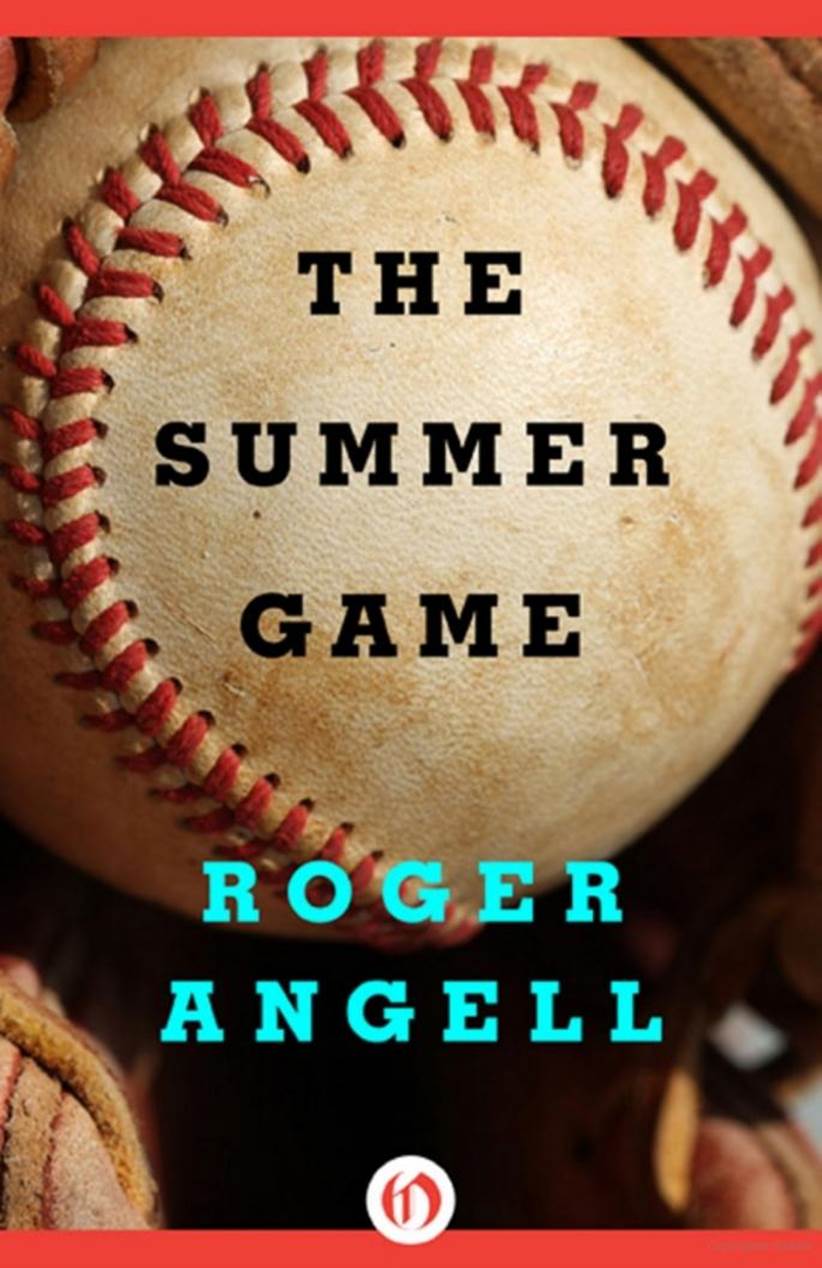 I wish now to commend to all of you one of the best, most intelligent baseball books you will ever read, Roger Angell's The Summer Game, which I recently finished. This wonderful book, published by the University of Nebraska Press, is a collection of Angell's best writings on baseball between 1962 and 1971, most of which appeared initially in The New Yorker magazine. I can say with a high degree of confidence that you won't find better baseball prose anywhere.
This is a book to be savored, read over the course of weeks or months, not days. Most of the time that I was reading Angell's writings, I felt myself sporting a silly grin on my face, often accompanied by goose pimples on my arms whenever Angell struck a particularly harmonious chord in my baseball soul.
As with many first-rate literary works, one has to invest some time and effort to complete this seminal piece, as many of the words that Angell employs are not within the average baseball fan's common parlance. By way of example, but not by way of dissuasion from reading this book, you will find the following words in this book that many of your high school English teachers may not have pounded into your thick skulls, even though several of you had repeated opportunities for such learning:
cognominal
juvenescence
senectuous
sans-culottes
baldachin
escarpment
obduracy
panjandrum
vivified
Funny thing is, even though I had to consult Noah Webster on several of these, Mr. Angell uses these words with such flair and adeptness that I had a sense of their meaning even before consulting my dictionary.
One of my favorite features of the book is Angell's poetic naming of the sections and chapters of the book. Have a look:
Rustle of Spring
The Old Folks behind Home
Farewell
A Tale of Three Cities
Taverns in the Town
West of the Bronx
A Terrific Strain
The Flowering and Subsequent Deflowering of New England
A Little Noise at Twilight
Days and Nights with the Unbored
The Baltimore Vermeers
Part of a Season: Bay and Back Bay
Some Pirates and Lesser Men
The Interior Stadium
If the Pulitzer people ever awarded a prize for chapter and section naming, Angell would be a shoo-in for the crown.
There are at least a score of passages from this book that I would love to share with you here, but being fully aware of the attention spans that I am dealing with, allow me to include just a few:
October 1969
(after the Miracle Mets topped the Baltimore Orioles
in the deciding Game 5 of the World Series by a score of 5-3)
Later, in his quiet office, Earl Weaver was asked by a reporter if he hadn't thought that the Orioles would hold on to their late lead in the last game and thus bring the Series back to Baltimore and maybe win it there. Weaver took a sip of beer and smiled and said, "No, that's what you can never do in baseball. You can't sit on a lead and run a few plays into the line and just kill the clock. You've got to throw the ball over the goddam plate and give the other man a chance. That's why baseball is the greatest game of them all." (p. 233.)
October 1966
(Orioles/Dodgers World Series)
[B]ut this knowledge should not keep anyone from remembering how close the Series still looked early on that final afternoon. If Drysdale could win, if the Dodgers could stop drowning in two feet of water, Koufax would pitch the next game, and only members of the Flat Earth Society are prepared to bet that Koufax can lose two Series games in a row. Then the Series would move back to Los Angeles, surely at no worse than even odds. This quick, close, yet one-sided Series was so mystifying that in the early innings on Sunday the representatives of the magazine Sport, which awards a sports car each year to the outstanding player in the Series, were helplessly asking for nominees in the press rows. The most sensible suggestion, assuming a Baltimore victory that day, was to permit each of the Orioles to drive it for a week and to donate the safety belt to Willie Davis. (p. 153-154.)
The Interior Stadium
This inner game -- baseball in the mind -- has no season, but it is best played in the winter, without the distraction of other baseball news. . . . With luck, we may even penetrate some of its mysteries. One of those mysteries is its vividness -- the absolutely distinct inner vision we retain of that hitter, that eager base-runner, of however long ago. . . . And, back across the river again, Carl Hubbell. My own great pitcher, a southpaw, tall and elegant. Hub pitching: the loose motion; two slow, formal bows from the waist, glove and hands held almost in front of his face as he pivots, the long right leg (in long, peculiar pants) striding; and the ball, angling oddly, shooting past the batter. Hubbell walks gravely back to the bench, his pitching arm, as always, turned the wrong way around, with the palm out. Screwballer. (p. 292-294.)
The bottom line on this review is that if you haven't yet treated yourself to the pleasure of turning the pages of The Summer Game, it's high time that you favor your baseball soul with this masterpiece from the Rembrandt of baseball literature.
(09/13/06)
Although it has nothing to do with baseball, lads, I would be remiss if I did not put in a plug for the excellent book that I just finished, 1776 by historian David McCullough. For the literate minority among you, do yourself a huge favor and pick up a copy of this fascinating recounting of the watershed events of the Revolutionary War. For the rest of you, I would even recommend buying this book on tape and listening to this marvelous tale of the events that shaped our country. If nothing else, give up an episode or two of The Simpsons and at least read the thrilling account of Colonel Henry Knox's transporting of the guns of Ticonderoga from Lake Champlain in upstate New York across the snow-covered plains of western Massachusetts, and up Dorchester Heights in the middle of the night as the rebels forced the Brits out of their Boston stronghold; or just say no to tonight's episode of the reality show du jour and read about Washington's Christmas night foray across the Delaware River before routing the Redcoats and the Hessians in Trenton.

I loved re-reading Thomas Paine's goosebump-inducing famous words:

These are the times that try men's souls. The summer soldier and the sunshine patriot will, in this crisis, shrink from the service of their country; but he that stands by it now, deserves the love and thanks of man and woman. Tyranny, like hell, is not easily conquered; yet we have this consolation with us, that the harder the conflict, the more glorious the triumph.

These are the times that try men's souls. Wow. Eight simple words that sum it all up.

These were some rugged hombres, these ragged rebels, who went to hell and back to gain our independence from Britain. If not for these guys, we might all be talking like Benny Hill and have teeth like Austin Powers. Of course, for some of you this would be an improvement, but I'm not naming names. Anyway, I'm not sure that there are many dudes around today who would be able to survive all of the hardships that our patriot forefathers weathered for the sake of our freedom. Maybe it's just me, but I have a hard time picturing Itchie in a tricornered hat and wearing newspapers for shoes, trudging across the frozen turf toward battle; or imagining Shamu subsisting on a soldier's rations instead of his frequent visitations to the Grand Italian buffet at Valentino's. But I could be wrong.

And not to pick on Johnny and Sir Charles too much, but at about the same ages that Washington and Lee were leading the shabbily dressed, poorly financed and inadequately trained rebel forces into battle against seemingly insurmountable numbers and odds, Itchie was getting a snootful at Sweep Left on a nightly basis, and locking himself into the back seat of his car to avoid getting pummeled by some bar tough that he pissed off with his wisecracking patter; while Shamu was getting a bellyful and then a snootful before trying to pillage every conscious (or not) coed at the Kearney bars. I'm not saying that our two chums don't have the mettle of heroes, but J.T. has been known to call in sick when the automatic seat heater in his Lexus is on the fritz, and I'm not sure if General George would have been sympathetic to Shamu's claims of hypoglycemia every four hours between full feedings, or his practice of scooping up buffet "extras" into his gunpowder satchel for a midnight feeding.

Of course, when you think about it, you know there had to be a Shamu look-alike in Washington's Delaware crossing party. If we see them in every ballpark, you know that they were also on every battlefield as well. On the other hand, if Shamu had been born 200 years earlier, I'm not sure if he would have been a rebel or a Redcoat -- it probably would have depended on who was winning at the time. If Sir Charles was a Redcoat, I picture him in full British dress as a cross between famed English actor Charles Laughton and the lovable Sergeant Schultz from Hogan's Heroes.

I apologize for my wild digressions. Feel free to get back to what really matters -- the next episode of The Simpsons starts in about ten minutes.

BOOK REVIEWS: Foul Ball and Summer Game

(02/13/06)

One of the best parts about any beach vacation is the chance to catch up on reading. Among the library of books I packed for this trip were two baseball books, Foul Ball: My Life and Hard Times Trying to Save an Old Ballpark, by Jim Bouton; and the classic Summer Game by Roger Angell of The New Yorker.

Angell's book is a must-read for any true baseball fan with romance in his soul. The prose is both eloquent and image-provoking, but it pays to have a dictionary nearby when you read it.

Foul Ball is also well worth reading, but it will never be a classic baseball tome. Rather, it is a well-written and entertaining tale of Jim Bouton's attempt to buy and refurbish one of the country's oldest and most historic minor league fields, Wahconah Park in Pittsfield, Massachusetts. The book begins in 2001, when Bouton and his two partners are attempting to offer an alternative plan to razing Wahconah Park and building a brand-new $18.5 million ballpark to house a Class A minor league baseball team, a plan put together by the politicians, the lawyers, and the financial movers and shakers of Pittsfield, but voted down by the general public. It should probably be required reading for Poly Sci 101, since it is a primer on how politics, power and money can prevail over imminent good sense. Foul Ball is currently available in softcover at your local bookstore, but if you're too cheap or too lazy to buy and read the book, you can probably get the gist of the story by going to

www.foulball.com.

After reading Bouton's book, I definitely want to take a trip to Pittsfield, Mass., and the nearby Berkshire Mountains, listening to James Taylor's Sweet Baby James all along the way. Sounds like a beautiful area, and if they haven't torn it down in the next few years, I definitely want to take a walk inside Wahconah Park. I also want to see the recently-discovered "Broken Window Bylaw," in which the inhabitants of the town of Pittsfield voted in 1791 to ban the playing of baseball within eighty yards of a new Town Hall to protect against the breaking of windows. Some baseball historians believe that this bylaw gives Pittsfield bragging rights as the earliest-known place where baseball was played, beating Cooperstown's bogus 1839 claim by almost half a century.

I also learned from Bouton's book that there is an alternative Baseball Hall of Fame of sorts located in the public library in Pasadena, California, known as The Baseball Reliquary: The Shrine of the Eternals. Its enshrinees include Jim Bouton (presumably because of Ball Four), Moe Berg, Dock Ellis, Bill Lee, Curt Flood, Pam Postema, and Bill Veeck, among others. Quirky, but something we all need to see.

The last kernel I will leave you from Bouton's book is a saying of Bouton's old Yankee pitching coach, Johnny Sain (of Spahn and Sain and two days of rain fame), describing how a starting pitcher feels after winning a tough ballgame:

"The cool of the evening."

In Sain's view, the mound victor can sit back and relax, knowing he has accomplished something and doesn't have to go back out there on the mound again for a few more days. To Sain, this felt like "the cool of the evening." Perfect.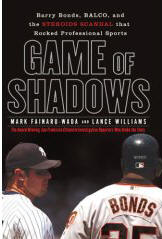 BOOK REPORT: GAME OF SHADOWS
(04/13/06)
I just finished reading the excellent book on Balco and Barry Bonds, Game of Shadows. If anyone is looking for a reason to cheer against Barry Bonds -- and who isn't -- dig into this book for some startling revelations. After reading this book, it would be surprising to learn that Barry Bonds has a single friend in this world. He is not a nice person.
(05/10/05)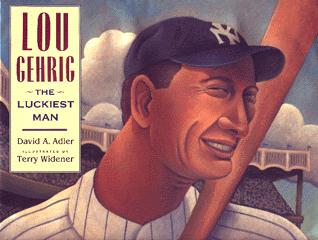 I have almost finished reading the excellent book on Lou Gehrig, Luckiest Man, by Jonathan Eig, that was graciously gifted to me by Possum on Draft Day. I highly recommend it to all of you. Among other things, I learned from this book that:
** Sweet Lou was the stud player for the most highly-touted high school team in the country, Commerce High of New York City, and took a trip to Chicago during his senior year to play in a highly-publicized game at Wrigley Field. In his last at-bat in this all-star game, Lou lived up to his press clippings by blasting a home run way out of Wrigley and onto Waveland Avenue. As a senior in high school, for criminy sakes.

** Lou was a star football player for Columbia U. and a projected superstar for the Columbia baseball team. However, because he was busted for playing pro ball under an assumed name during college, he had to sit out a year at Columbia. The lure of a professional contract with the Yankees proved to be too much to withstand, and so Lou's college baseball glory days were over before they ever really got started.

** While in the minor leagues playing for nearby Hartford, Lou was not only a top hitter on the team, he also was a feared southpaw hurler. Remind you of anyone else in that organization?

** According to Eig, the Wally Pipp headache story was apocryphal, and the reason that Gehrig replaced Pipp at first base was that Pipp was stinking up the joint with his hitting and the Yankees were losing. Turns out, the same day that Gehrig replaced Pipp, two other Yankee regulars were replaced in the starting line-up as well. So much for that baseball myth.

** As great a player as he was, Gehrig's career was often overshadowed by virtue of playing alongside the supersized personality of Babe Ruth in the early part of his career, and then with media darling Joe DiMaggio in the sunset years of his career. To give you an idea of how underappreciated he was in his prime, in 1934, Gehrig won the triple crown but finished fifth in the voting for AL MVP. Go figure.

** During much of his career, Lou was thought of as a "mama's boy," as his strong-willed mother dominated his personal life. While other players were taking wives (and probably girlfriends) to spring training with them to Florida, during one such trip Lou took his mother along with him. It was a different time, wasn't it?

** Gehrig was a late-season all-up by the Yankees when they won their first World Championship in 1923, finally beating McGraw's New York Giants after losing the two previous Fall Classics to the Giants. It's not surprising that Ruth hit three home runs in the 1923 World Series, but I was surprised to learn that Casey Stengel, the Old Perfesser, hit two home runs for the Giants in that series.

** The book admirably recounts the 1927 season of the New York Yankees, the famous "Murderer's Row," which many people consider to be the best baseball team of all time. This was the year that Ruth and Gehrig had a dramatic, season-long home run derby race, until Ruth pulled ahead late in the season to finish with 60, while Gehrig languished in August and September and finished with 47.

** According to Eig, the 1927 Yankees were so good that in 1928, there were cries of "break up the Yankees!" The rumor mill had the Yankees trading Gehrig in response to pressure from around the league. The Yankee payroll in '27 was a whopping $350,000, tops in the majors by a ton. Some things never change.
Do yourself a favor and read this outstanding book. You won't be sorry. Thanks again, Possum.



BOOK REPORT: BASEBALL IN OMAHA
(07/26/05)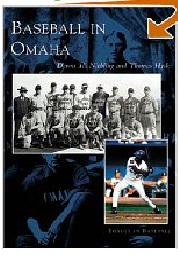 Baseball in Omaha, Arcadia Publishing, Copyright 2004, by Devon Niebling and Thomas Hyde.
The other day while browsing at a bookstore, I came across the above-entitled book, and without giving it much thought, plunked down my $19.99 to purchase this 127-page book. While there is some interesting history and a few nice baseball pictures I haven't seen before, on balance it's a lightweight literary work and not one which I can heartily recommend to you for purchase. You will at least want to wait until it goes on the sale rack at Borders. In fact, you needn't spend a penny. I will share with you all the highlights worth knowing here:
**

Rosenblatt Stadium opened up for business in 1949 as Municipal Stadium, the new home of the Omaha Cardinals of the Western League, a Class A affiliate of the St. Louis Cardinals. However, the first game played at the new ballpark at 13th and Deere Streets in South Omaha was an exhibition game on October 17, 1948, between a team composed of professional players and a local semi-pro team, the Johnny Monahan Storz' team. The professional team included Nebraska natives Richie Ashburn of Tilden (Phillies, outfield); Mel "Chief" Harder of Beemer, Nebraska (Indians, pitcher); Johnny Hopp of Hastings, Nebraska (Pirates, first base); and Omaha's own Rex Barney (Brooklyn Dodgers, pitcher). Mayor Glenn Cunningham tossed the ceremonial first pitch for the game which was ultimately won by the professional players, 11-3.

**

When our law firm took a trip to Baltimore in 1996 or 1997 or so, we took in an Orioles game at Camden Yard. The visiting dignitaries from Omaha got a chance during batting practice to meet the Orioles' long-time and legendary announcer, Rex Barney. I will never forget what a gentleman Mr. Barney was to all of us, holding court and telling us baseball stories right up until the very second he had to go on the air for some pregame announcements. In his humble, matter-of-fact style, Mr. Barney informed us that he pitched the first-ever game at now-Rosenblatt Stadium, and though he didn't mention it at the time, I now know that it was as the starting pitcher for the team of professionals in the aforementioned exhibition game.

**

Please allow me a brief digression to mention a couple of other things about the late Mr. Barney. He had a relatively short major league career, but experienced the thrill of throwing a no-hitter over the over the New York Giants in 1948. His inability to throw strikes consistently did him in, however, and his career totals of 410 walks and 336 career strikeouts probably were the reason that one baseball pundit observed at the time that, "Rex Barney would be an all-star if home plate was high and outside."

**

Prior to the construction of Municipal Park (later, Rosenblatt Stadium), the Omaha Cardinals were playing their games in Council Bluffs. Omaha since has been host to a professional baseball team since 1936.

**

Professional baseball was played in Omaha in the 1900s, but the teams and the leagues they played in were generally financially unstable and subject to change on almost an annual basis. It wasn't until the turn of the century that Omaha consistently put a professional baseball team out on the field for its fans to cheer. In the early 1900s, Omaha's minor league teams played mostly at Nonpareil Park, later named League Park, located at 13th and Vinton. This early Omaha baseball edifice seated 3600 fans, more than enough to host today's Omaha Royals games, which is a sad commentary.

**

In 1904, playing in the Western League, the Omaha Rourkes (named after team owner William "Papa" Rourke) won its first league pennant, overtaking Denver by winning 17 of the last 18 games. The Rourkes were paced by pitcher Mordecai "Three-Fingers" Brown, later to become famous with the Chicago Cubs, and eventually inducted into the Hall of Fame.

**

In 1911 the ballpark (then known as the Vinton Street Park) was renovated. That year, Ty Cobb's Tigers came to town for an exhibition game, but did not play owing to inclement weather.

**

In 1921, the team was sold to Barney Finch Burch, and a team known as the Omaha Buffaloes, later the Prophets. The team changed hands again in 1934 when Burch was in bankruptcy, first to a Branconier of St. Louis, and then again in 1936 to Larry Harlan, a Lincoln insurance man. On August 13 of that season, after Satchell Paige's All-Stars played the famous House of David team, League Park caught fire and burned to the ground. The team was moved to Council Bluffs for the rest of the season, and Omaha did not see professional baseball within its city limits again until 1949.

**

In 1955 the St. Louis Cardinals' AAA affiliate moved from Columbus, Ohio, to Omaha, becoming the new tenants of Rosenblatt Stadium. It was a relatively short marriage, lasting only until 1959. Some of the major league Cardinal players of note who played in Omaha during this 1955-59 era were Bob Gibson, Curt Flood, Gib Frey, Nick Schofield, and Don Blasingame. Gibby pitched parts of three seasons with Omaha, 1957, 1958 and 1959, before making his major league debut with the parent club in 1959.

**

After the Omaha Cardinals left for Rochester following the 1959 season, Omaha suffered the 1960 season without professional baseball. In 1961 and 1962, Omaha was home to the Dodgers' AAA farm club. Manager Danny "The Wizard of Oze" Ozarks managed the Omaha Dodgers to a last-place finish in the American Association in 1961. Joe Altobelli played first base for the club in 1962.

After the artful Dodgers flew the coop following the 1962 season, Omaha had no team to call its own from 1963-68. It was not until the Kansas City Royals team came in 1969 that Omaha again had minor league baseball. That season, a cigar-chomping maverick known as "Trader Jack" McKeon came to Omaha and managed the team for the Omaha Royals.
(12/16/04)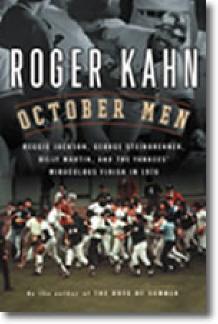 I finally finished reading October Men, a terrific baseball book. After weeks, probably months, of reading only one or two paragraphs a night in bed before dozing off –– only to have the book fall out of my hands and off my bed to brain Bear, our black Lab (now I know why they call it "dog-earred") –– I finally found time on an airplane ride to finish up this terrific book by Roger Kahn, better known for his seminal work The Boys of Summer. Although it's a bit of a rambling work, the subject matter (Billy Martin and the 1978 Yankees) is fascinating, and Kahn's prose is as enjoyable to read as any baseball author I have encountered. Let me just share with you a few of my favorites from the book:
u "I don't care for the way the Red Sox played baseball," Robert Frost told me, one clear September afternoon in 1960. "They play too much in the manner of Boston gentlemen." We were standing outside Frost's cabin on the shoulder of a steep Vermont hill.
"How do you like your baseball played?" I said.
Frost was eighty-five. He said, "Spike 'em as you go around the bases." His green eyes twinkled.
u Of Yankee manager Casey Stengle, during his playing days, Damon Runyon wrote:
This is the way old "Casey" Stengle ran yesterday afternoon running his home run.
This is the way old "Casey" Stengle ran running his home run in a giant victory by a score of 5-4 in the first game of the World's Series of 1923.
This is the way old "Casey" ran, running his home run home, when two were out in the ninth inning and the score was tied and the ball was still bounding inside the Yankee yard.
This is the way ––
His mouth wide open.
His warped old legs bending beneath him at every stride.
His arms flying back and forth like those of a man swimming with a crawl stroke.
His flanks heaving, his head far back . . . .
u By every reasonable standard, the 1978 Yankees should have been terminally exhausted. Their opening day manager, Alfred Manuel "Billy" Martin, had been drinking so heavily that his personality, none too tranquil when he was sober, had erupted with repeated explosions of anger, hatred, and paranoia, until he had finally gotten himself "resigned" back in July. While his great predecessor, Casey Stengle, mellowed with drink, booze turned Martin into a human Gatling gun. "You always wanted to be around Billy for the first drink," suggests Gene Michael, then the Yankees first base coach. "You never wanted to be around him for the last one."
u Steinbrenner on owning the Yankees: "I've had lots of offers to sell. No way. Owning the Yankees is like owning the Mona Lisa."
u Sutton saw, or thought he saw, a swagger in (Reggie) Jackson's manner. This annoyed the Dodger ace, such that before his catcher could put down a sign, Sutton looked at Jackson and made a small, thrusting motion with his right hand and wrist, the universal signal for fastball. Pitchers use that sign when warming up, to tell the catcher what kind of pitch is coming. But here in a brash and naked dare, Sutton was telling Jackson that he was going to throw his fastball. I'll tip what I'm going to throw, you swaggering SOB, and you still won't be able to hit it. That is not precisely what happened. Sutton threw his fastball, and Jackson hit a huge high drive that cracked into the top of the right-field foul pole. "Through all the twenty-five years I caught," Johnny Oates, then with the Dodgers, told me, "that was the single hardest-hit ball I ever saw."
u The next day the Orioles knocked out Catfish Hunter and Gossage knocked down the Baltimore catcher, Rick Dempsey. Short, feisty Earl Weaver, the Lord of Baltimore, complained to Joe Brinkman, the home-plate umpire, who heard him out. After Weaver returned to the dugout, Brinkman summoned Martin to home plate and told him that he wanted the high, tight pitching stopped right now. Martin nodded, but he never liked being lecture to, particularly in public. he clenched his fists, and instead of walking toward Gossage or his own dugout, he strode toward Weaver. "You're making trouble, you little son of a bitch," he shouted.
Weaver himself was hardly tongue-tied. "I'm paid to make trouble for you," he said.
"Brinkman and another umpire grabbed Martin and turned him 180 degrees. No formal statistic exists on major-league managers punching other managers during a ball game, but without Joe Brinkman, Billy Martin could have been the first. The Daily News continued its merry honking:
O's Blast Cat 6-1;
Billy, Earl Feud
There were many other great quotes from this book, some of which I may dig out and share with you later. I highly suggest that each of you put October Men on your Christmas list.
HISTORICAL BASEBALL ABSTRACT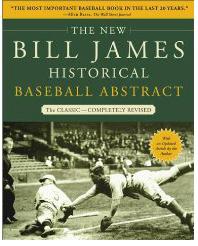 I got the New Bill James Historical Baseball Abstract for my birthday, and, as I have mentioned to a few of you, this is absolutely a must-have book for baseball fans. It's about a thousand pages of great statistical analysis, player rankings, commentary, and great inside stories that you'll never get tired of reading. You can pick it up for five minutes or an hour, and there is always something great to read, including a reprint of the wonderful description of Lonnie Smith's ability to recover from defensive misplays.

A few excerpts:
w "Lonnie can calculate with the instinctive astrophysics of a tennis player where a ball will land when it skips off the heel of his glove, what the angle of glide will be when he tips it off the webbing, what the spin will be when the ball skids off the thumb of the mitt. Many players can kick a ball behind them without ever knowing it; Lonnie can judge by the pitch of the thud and the subtle pressure on his shoe in which direction and how far he has projected the sphere. He knows exactly what to do when a ball spins out of his hand and flies crazily into a void on the field, when it is appropriate for him to scramble after the ball and when he needs to back up the man who will have to recover it. He has experience it these matters; when he retires he will be hired to come to spring training and coach defensive recovery and cost containment. This is his specialty, and he is good at it."
w "Hughie Jennings got a letter from a small town in Michigan, a letter from a pitcher who claimed he could strike out Ty Cobb anytime on three pitches. The guy said it would only cost $1.80 – his train fare to Detroit – for Jennings to find out. Hughie figured, well, you never know, and sent the dollar-eighty. The pitcher showed up – great, big, gangly kid, 6-foot-4 and all joints. They let him warm up and called out Cobb.
Cobb hit his first pitch against the right field wall. His second pitch went over the right field wall. The third pitch went over the center field wall. Cobb was thinking they ought to keep this guy around to help him get in a groove.
"Well," said Jennings. "What have you got to say?"
The pitcher stared hard at the batter in the batter's box. "You know," he said, "I don't believe that's Ty Cobb in there."
w King Kelly was the first matinee idol of the National League. A handsome man with red hair and a long mustache, Kelly was regarded as a great defensive outfielder, and as the greatest baserunner of his time. He was the first baseball player followed on the streets. The fans loved him so much they presented him with a glistening white horse and a beautiful carriage so he could ride to the park in style. Kelly was the highest-paid star in baseball for much of his career, but spent every dime on wine, women, song and fancy clothes. When he died of pneumonia in 1894, aged 36, he was reportedly destitute. . . . To tell the true story of Mike Kelly is impossible, and even to summarize all of the legends would require at least three books.
w It is almost impossible to explain just how weird are Kelly's defensive statistics. Among all major league outfielders playing 1000 games at the position, the highest rate of baserunner kills (assists) per game is by Hall of Fame outfielder Tommy McCarthy, who had 268 kills in 1,189 games, which is 36.5 kills per 162 games; all of the highest rates are by 19th century players. The highest rate by a 20th-century player is 26.9, by Tris Speaker. Paul Radford, who didn't quite play 1,000 games, has a ratio a little higher than McCarthy, 39.0 kills per 162 games.
w And then there is King Kelly, whose kill rate is: 61.6. He must be . . . I don't know, ten standard deviations above the norm or something. OK, I checked . . . taking all outfielders in history playing 500 or more games, he is 7.5 standard deviations above the norm. He has more than 50% more baserunner kills than the second-best guy. It's unbelievable. How can you do that?
w But wait a minute; I didn't say he was a great outfielder; I said he was a weird outfielder. All of his numbers are that odd. His error rate is every bit as bad as his baserunner kill rate is good. His career fielding percentage, in the outfield, was .820 – one error every 5.5 chances. Every other outfielder in history, playing 500 or more games, had a career fielding percentage of at least .844. Kelly's error rate (.180) is 24 points higher than any other outfielder's.
w How is this possible? He was playing the position differently than anyone else, I think. Kelly, at times when he was listed as an outfielder, may actually have abandoned the outfield to play as a fifth infielder. It is documented that at times, when he was expecting a bunt, he would come in and play within a few feet of the batter. He may have done this even when he was listed as an outfielder; I don't know.
w Kelly's numbers as an outfielder are not a lot stranger than his numbers as a catcher. As a catcher, he was charged with 368 errors and 417 passed balls, in 583 games. His rate of passed balls is astronomical, his error rate easily the worst of all time, for a catcher appearing in 500 or more games. Kelly fielded .892 as a catcher; everybody else, even his contemporaries, is over .900. If statistics can be larger than life, King Kelly's numbers are larger than life."
There are many, many more anecdotes that are simply great, and I particularly like the ones about the early days of baseball.
Lords of the Realm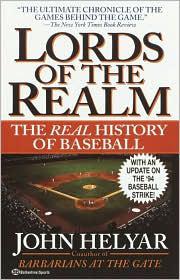 Speaking of Steinbrenner and his ilk, I just picked up the other day and started to read a terrific book on major league baseball and its management-labor history, titled Lord of the Realm. It was written in 1994, and I either bought it or somebody gave it to me a number of years ago, but I just now am digging into it. U-Bob would love it, because it's basically a paean to his union crusading hero, Marvin Miller. I always thought that Miller was a labor lawyer who probably started as an underling in the chain of baseball lawyers, but he actually cut his teeth as a numbers-cruncher for the United Steelworkers of America. He only became involved as a representative of the MLB Players Association because the first choice of the players, some judge whose name has been long forgotten, didn't want to move to where the players wanted him to be based. Since the judge was cozy with the owners – unbeknownst to the players – it was a twist of fate for the players to have ended up with their second choice, Marvin Miller. The rest is history.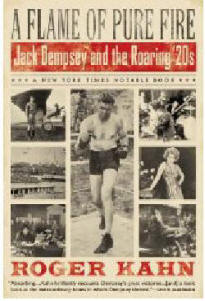 I just finished a great book by baseball author Roger Kahn about the great Jack Dempsey, the heavyweight champion of the world during the Roaring Twenties. The book is entitled A Flame of Pure Fire, and is a fascinating recounting of life during the first couple of decades of the last century.
I always thought Jack Dempsey retired as the heavyweight champion of the world, but in fact he retired after losing his second bout to Gene Tunney. The first loss to Tunney was the infamous "long count" fight, in which Tunney spent eighteen seconds with his face on the canvas, but was never counted out by the referee, whom many historians, including Kahn, believe was on the take. I also learned from reading this book that Dempsey was tried by the federal government for being a "slacker" during World War I. "Slacker" was the parlance of the time for a draft dodger. In part because of lies spread by his bitter prostitute ex-wife, the government sought to prove that Dempsey had lied about supporting his wife and family to avoid having to serve in the Armed Forces. After his crackerjack trial lawyer reduced the harlot to ribbons through his cross-examination, it took the jury but a few minutes to exonerate the great Dempsey of all charges, even after his confident trial lawyer waived his right to give a summation at the close of the case.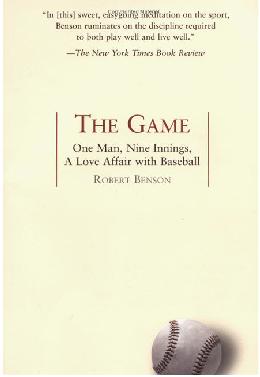 Lastly, my final offering to you is a wonderful excerpt from the book The Game by Robert Benson, in which he concludes his book by sharing his feelings about what he hopes his own children will have gotten out of their many trips to the ballpark together:
I do not know if my children will remember any of these things when they are grown-ups and taking their kids to the ballpark. I do not even know for sure that they will take their kids to the ballpark, though Heaven knows that I have tried to be a good parent. If they learn to be responsible adults, pay their taxes, stay out of jail, hold a good job and do good work, be kind to their neighbors and clean their rooms and vote in local and national elections, but do not take their kids to the ballpark, I will have failed them somehow.
I do not know if they will remember the tarp being pulled up during the rain delays, or the clubhouse guy who came out that night in the rain and slid in the puddles, making us all laugh and cheer even though we were cold and wet and shivering. I do not know if they will keep the baseballs or remember sitting on the left-field fence or in the dugouts.
There is no way to tell if they will remember the day that we went to the game and looked at our ticket stubs and discovered that their faces were on the tickets, because the team photographer had taken their picture the summer before and then used it when they printed tickets for the next season. I do not know how long my son will remember the picnic on the stone wall or how long my daughter will remember hitting in the cage where the big guys hit.
One cannot know if my kids will remember meeting Lasorda or Durham or any of the others. Or watching Nunez as he would fly down the base paths or Wehner diving behind second base to rob somebody of a hit or Laker hitting one over the wall as though it was so easy that anyone could do it. Or even if it will matter much to them if they do.
Will they remember checking on Nunez's stats that summer at the beach? Will they remember keeping score next to me in the stands? Will they take their kids to hit baseballs in the spring? I do not know the answers to those questions either.
"What I do know," wrote Roger Angell once when he was trying to sum up his feelings about the game and the people who love it, "is that this belonging and caring is what our games are all about; this is what we come for." True enough, I think.
I do not know if my kids will remember any of these things, or if they do that they will hold them to be as dear as I do. But from time to time I have a sneaking suspicion, a suspicion that is the beginning of a hope, that they will remember.
More than anything, what I hope they will remember are the things that the game can teach them.
I hope that they will remember that baseball is game about going home. And in that way at least, it is a game that mirrors everything, because everything in life is about going home again. It is about leaving home, and going out to a place where home is far away, and then doing the things that you must to get home again, some of them simple and routine, some of them occasionally heroic and glorious.
I hope that they will remember that the only thing worth doing is the thing that you love to do and have been given the gifts to do and have found a place in which to do it, whether it be playing a game on a green field in the sun, or teaching a child to read in a classroom in a school, or writing a sentence in a room where no one visits. And that they will recall from time to time that the game that has called them, be it baseball or biology or bus driving, requires that they learn the steps in its dance and practice them well. That only then can they hope to do it with the joy and the grace that it deserves.
I wish for them that they will remember that there will be days when the best that can be done is to move the runner, and to offer themselves up for someone else; that what happens to them is not as important as what they can do for someone else. I wish, too, for them to remember that even the best of us, and not just the worst of us, strike out a fair amount, and come home at the end of the day with not much to show for our efforts. That life is like that somehow, a series of routine plays and sacrifices and near misses that are part and parcel of life itself.
If I could decide, then I would have them remember, too, that there will be days in their life when they will be the star, the center of some universe, large or small. Days when they will be the one who hit the ball out of the park somehow and those around them will cheer loud and long. I hope that they remember that such times are precious and fleeting and glorious, and not to be missed because one is not paying attention.
And I hope that they will remember that there are other days as well, days when their hearts will be broken, when the home team will come up empty, and that there will be little cause for joy in Mudville or anywhere else. And that on those days they can stand up and sing as well, perhaps even more than once, for it is often the only thing left for any of us to do.
In the end, I hope that they will remember some of these stories and add to them their own. I want them to remember the days when we sat in the sunshine, when we were young and strong, and the call to play ball was the best sound on earth.
My sneaking suspicion that they will remember began when my daughter left our seats at the ballpark the night that we saw Leon, saying that she would be right back. She and her brother were whispering between them for a minute or two, and then she went off up the stairs. She was gone for a while, and though I was not worried about whether or not she would be okay, I was anxious for her to get back for the start of the game. She has started keeping score along with me now, and it makes her a little crazy to miss anything.
In a few minutes she slipped in beside me just as the national anthem was over and the crowd shouted, "Play ball." She tapped me on the arm and held out a baseball. It had Leon's signature on it.
"It's for you, Dad. For bringing us to the ballpark."
Wow. Baseball really is life.
BOOK REPORT: LORDS OF THE REALM
(03/23/04)
During my recent vacation trip to Mexico, I finished reading Lords of the Realm, the excellent book by John Helyar (who also authored Barbarians at the Gate) which chronicles the labor struggles in major league baseball during the past thirty years, and particularly the rise to power of Marvin Miller. It is an absolutely fantastic book, and should be required reading for all Hot Stove Leaguers who have not yet had the chance to read it. Not only does the book go into depth on the history of labor and management struggles between the owners and the players, it provides an excellent history of the game from about 1970 to 1994, and excellent insights into the personalities of such baseball notables as Marvin Miller, Bowie Kuhn, Ted Turner, Bart Giamatti, Fay Vincent, Augie Busch, Bud Selig, Charlie Finley and many others. Let me share with you just a couple of the excerpts or stories from the book that I found interesting:
Charlie Finley personally attended to the signing of several of his star players, including Catfish Hunter and Johnny Lee Odom. Finley traveled to Macon, Georgia, to try to sign Odom, a high school buzz-saw who had gone 42-and-2 with eight no-hitters. However, as Odom's high school graduation approached, the Red Sox had the inside track, and a Boston scout was literally camped out at the Odoms' house, paying the family $15 a night for lodging, which was a lot of money for this dirt-poor family. Along came Finley, and took a room in the Odom house for $30 a night. After moving in, Finley then went to a produce store and bought mounds of groceries, including watermelons, peanuts, chicken, and every vegetable under the sun. It took a half-ton pickup to deliver all of the food to the Odom house, according to the book. Finley then rustled up a feast for the Odom family, drawing upon his Southern roots and his "prodigious cooking skills," and put together a dinner of fried chicken, corn on the cob, black-eyed peas, collard greens, and the works.
Finley stayed at the Odom house for just one night. But by the time he checked out, he had signed Odom for $75,000, and had installed him with his new nickname, "Blue Moon" Odom. He later signed Jim Hunter for the same $75,000 amount, and gave him his new nickname, "Catfish."
***
All of you have heard about the Big Red Machine of the 1970s, the Cincinnati Reds team that won the 1975 and 1976 World Series. However, many of you may not know that the No. 2 man in the Reds organization during those years was none other than Underbelly's uncle, Dick Wagner. According to this book, Wagner was the chief enforcer of general manager Bob Howsam's love of order and discipline, and earned the nickname (behind his back) of "The Fuhrer." Wagner reportedly kept Riverfront Stadium absolutely immaculate, cleaning up the stadium throughout the course of the game so that it was as spotless in the 9th inning as in the 1st inning. Reds players had to be clean-shaven and wear polished black spikes. During spring training, they had to eat all of their meals at the club's complex in Tampa, signing in at the cafeteria "like schoolchildren."
***
John McMullen was at one time the owner of the Houston Astros, infamous for signing Nolan Ryan –– then with a very mediocre pitching record –– for $4.5 million. Prior to joining the Astros, McMullen was one of the limited partners of George Steinbrenner in the ownership of the Yankees. McMullen had a wonderful quote about this experience: "There's nothing quite so limited as being a limited partner of George Steinbrenner."
***
Prior to the time that Fay Vincent announced that he was resigning as the Commissioner of baseball, he wrote a defiant letter to the owners on August 20, 1992, in which he promised: "I will not resign –– ever. Even if there is a meeting and a vote to remove me from office, or an attempt to limit my powers . . . I will not leave. I will continue to carry out my responsibilities until such time as the highest court of this land tells me otherwise." Then, after he was informed that three-fourths of the owners had voted to try to remove him from the Commissioner's office, Vincent put his tail between his legs and resigned. So much for his credibility
***
After chronicling the incredible gains made by the players association in the '70s and '80s, Helyar provided this wonderful analogy: "It all greatly resembled the final scene in George Orwell's 'Animal Farm.' The pigs, who'd once led a barnyard rebellion against the oppressive farmers, now shared many of their traits and, at the end, were sharing a sumptuous meal with them. Wrote Orwell, 'The creatures outside looked from pig to man, and from man to pig, and from pig to man again; but already it was impossible to say which was which.'" Love it.
The book is full of such wonderful baseball vignettes. I commend it highly to you all.
BOOK REPORT: STILL ANGRY AFTER ALL THESE YEARS
(12/03/02)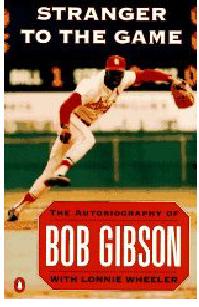 After sitting motionless on my bookshelf for quite some period of time, I finally picked up and started reading Bob Gibson's 1994 "autobiography" titled Stranger to the Game. So far, I am about half-way through it, and it is a very interesting read, in large part because of Gibson's recounting of his childhood in Omaha. However, while some of his invective in telling his life's tale might have been designed to sensationalize matters to sell copy, the clear undercurrent of the book is that Gibson felt and still feels that he has been continually wronged because he is black, and an outspoken black man at that. If you read the book, which I commend to you, you will have to make your own judgment on this, but from the outside looking in, it is hard to see how the progression of his major league baseball career was really hampered because of his color. Certainly he was subjected to things in the Jim Crow south in the '50s and early '60s which should never be tolerated in a civilized society, but it seems as if he was always treated pretty darn fairly by the St. Louis Cardinals organization.
In any case, a couple of the more interesting tidbits of information from this book are as follows:
s Gibson's father died when he was a very tender age, and he was more or less raised by his older brother, Josh, who was a Creighton University graduate and a leading coach and father figure to many young black athletes in North Omaha.

s In addition to Gibson, Gale Sayers, Roger Sayers, Bob Boozer, Ron Boone, Marlin Briscoe, and Johnnycakes Rogers are all alumni of Josh Gibson's North Omaha sports programs.

s Gibson lived many years in the Logan Fontenelle housing project in North Omaha, back when it was almost new and a pretty nice place to live. The projects at that time were integrated, and he played youth sports with white boys, Indians and other children of his own race.

s Gibson played on a touring black baseball team known as the Omaha Monarchs in his youth, which traveled all around Nebraska and Iowa playing local, small-town teams.

s Gibson was known more for his basketball playing in high school and college, as he started for Omaha Technical High for three years on the basketball team but was not allowed to play baseball, according to him, because it was reserved for the white boys. When he was a senior in high school, his Omaha Tech team got beat by Fremont 40-39 in the semifinal game of the state high school playoffs in Lincoln, a loss which he blamed on biased officiating against a team with an all-black starting five. Gibson went to Creighton University primarily to play basketball, although he also played baseball and high-jumped for the track team. He was a three-year starter on the basketball team, and when he finished his college career in 1957, he was the all-time leading scorer for Creighton University. He also was the first member of the CU Sports Hall of Fame.

s When the Harlem Globetrotters came to Omaha after Gibson had completed his college career, he was invited to play for the opposing team, as was customary in those days. (In those days, the opposing team really tried to beat the Globetrotters.) Gibson's fourthquarter performance was so spectacular that he was invited to play on the real Globetrotters' team, and spent several months touring with the 'Trotters and playing with Meadowlark Lemon. However, after one season with the 'Trotters, the St. Louis Cardinals organization decided that it was too big of an off-season distraction for him, and offered to pay him the same $4,000 that the Globetrotters paid him if only he would not play for Abe Saperstein's touring team.

s After signing with the St. Louis Cardinals, Gibson spent parts of a couple of years playing for the Omaha AAA affiliate of the Cardinals, but a greater share of his AAA seasoning was with the Cardinals' AAA club in Rochester, which was considered a higher level than the Omaha club. Gibson was definitely an "old-school" player, one who did not fraternize with players on other teams or even give his own teammates much of a glimpse into his mental pitching book. He was also fiercely independent and stubborn, as illustrated by this story from Joe Torre about the 1965 All-Star game.
In the 1965 game in Minnesota, I was catching and he came in to pitch the last inning. We had a 6-5 lead, and the first man up was Tony Oliva. It goes strike one, strike two, and I know what I want him to do next. Oliva's a great low fastball hitter, so I want him to come up with the ball. I think, should I just signal that, or should I go out and tell him so I won't second-guess myself? I went out and said, "Bob, a good fastball up and in. Not down and in, up and in." He just looked at me as if I wasn't there. I turned around and went behind the plate and called fastball. He threw it down and in. Double to left center. I said, Well, fuck it, I did what I had to do. He then proceeded to strike out the next three guys. One of them was Killebrew, who killed fastballs and had already homered against Maloney, who threw as hard as anybody in baseball. Gibson threw him nothing but fastballs. The last out was Joe Pepitone, and I'll never forget it. He threw Pepitone two fastballs, and Gibson's fastball sailed so much that after the second one, Pepitone turned to me and said, "Throw me that high slider again." I said, "Okay." Gibson throws another fastball and strikes him out on three pitches. After the game, he and I are the last two in the shower. I turn to him and say, "Great pitching." He's just soaping himself down like I'm not even in the damn shower. Wouldn't say a word. That's just the way he was. When I was traded to the Cardinals four years later, he was the first one to welcome me.
BOOK REPORT: George Washington: A Life
(11/14/01)
Not that it has anything to do with baseball, but I just finished a great book titled George Washington: A Life, by Willard Sterne Randall. It only took me four months to read it at my usual one-page a night clip. But it was well worth the wait.
How many of you knew that:
(a) George Washington was 6-foot-4 and 210 pounds, a giant of a man in an era when the average height was about 5-foot-7.
(b) George Washington was a wilderness trailblazer for years in the frontier of America (Western Virginia, Ohio, Pennsylvania) before becoming a soldier and then politician
(c) George never once set foot in England his entire life, but he spent several months in Barbados with his ailing uncle, where he caught and survived small pox.
(d) As a military leader, he got whipped in about the first five or six armed conflicts that he led, making it a wonder that he became the Supreme Commander of the Americans in the Revolutionary War.
(e) He lost far many more Revolutionary War battles than he won, and really only outlasted the British instead of making them cry uncle, and would almost certainly have lost the war outright if the French Navy had not entered the fray on behalf of the Stars and Stripes.
(f) The reason you never see George smiling in any portraits is that he had possibly the worst teeth of all time, and was embarrassed by them. He was continually trying to wear different kinds of dentures in the later years of his life, including one set made out of pigs teeth. Nice.
I highly recommend that you read it in your spare time.
BOOK REVIEW: When Pride Still Mattered
(05/15/01)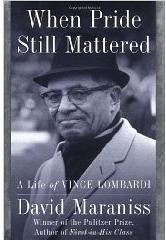 If any of you are looking for a really, really, really excellent book, read When Pride Still Mattered, the former bestseller book about Vince Lombardi by David Maraniss, copyright 1999, Simon and Schuster. Believe me, I am not a fan of pro football, but having grown up when the Packers were in their glory years, I thought that it looked like an interesting read. It is.
Until reading this book, I did not know that Lombardi was one of the fabled Seven Blocks of Granite, the powerful front line of the Fordham football team of 1936. Of this famous line, Grantland Rice wrote his famous poem:
Great, mighty Minnesota fell, upon a fateful day,
Both Yale and Army felt the axe, and tossed their crowns away,
Big Holy Cross, an early boss, hears no more winning hands,
Yes, strange things happened everywhere, but the Fordham Wall still stands.
Who took the thrust of SMU and rolled its charges back?
Who stood the Gaels upon their heels and broke up each attack?
Who held young Goldberg at the line, with willing hearts and hands?
The answer rings from Coast to Coast: The Fordham Wall still stands.
I also did not realize, until reading the book, that Lombardi coached at Army under Red Blaik from 1949, right after their glorious national championship years, until 1954, when he left (three years after the infamous West Point cadet scandal of 1951) and became the offensive coordinator for the New York Giants of the NFL. Tom Landry, by the way, was the defensive coordinator for the same New York Giants team. Not a bad staff. Anyway, read When Pride Still Mattered. You'll be glad that you did.