MINOR LEAGUE BALLPARK VISITS
| | |
| --- | --- |
| Date | Ballpark |
| | |
| | |
| | |
| 06/05/15? | |
| 01/05/15 | |
| 07/23/14 | |
| 07/22/14 | |
| 06/02/14 | |
| 05/29/14 | |
| 08/30/10 | |
| 07/08/10 | |
| 06/16/10 | Colorado Springs, Colorado |
| 08/06/09 | |
| 03/16/09 | |
| 03/16/09 | |
| 03/14/09 | |
| 05/14/08 | |
| 05/30/07 | |
| 08/01/06 | |
| 07/21/06 | |
| 06/29/06 | |
| 05/15/03 | |
06/05/15
My God-given right to pursue happiness was decidedly exercised last week as I ventured down to the Lone Star State for a meeting with an expert witness in Houston. Although the Astros were in town during my trip, instead of seeing another game at Minute Maid Park, I decided instead to incorporate a slight detour (just a short 3-1/2 hour drive) down to Corpus Christi (or in Spanish, the Body of Christ) to catch a Hooks (the AA Texas League franchise of the Astros) game at Whataburger Field. And what a field it is!
Built in 2004, Whataburger Field is a beautiful gem of a ballpark venued in the downtown port area of Corpus Christi, right next door to a water park, with the expansive Harbor Bridge as the backdrop. The bridge is the means of getting from downtown Corpus Christi to an area called North Beach, a tourist area that has seen its better days, for sure. At night, the bridge is lit up in a kaleidoscope of colors, making it very visually pleasing to the eye of anyone seated at Whataburger Field.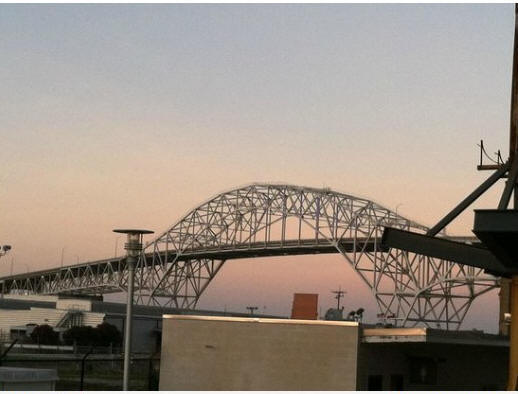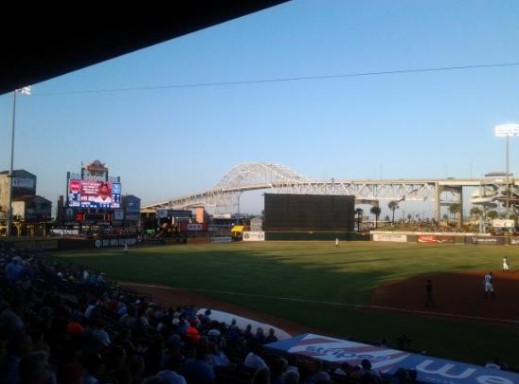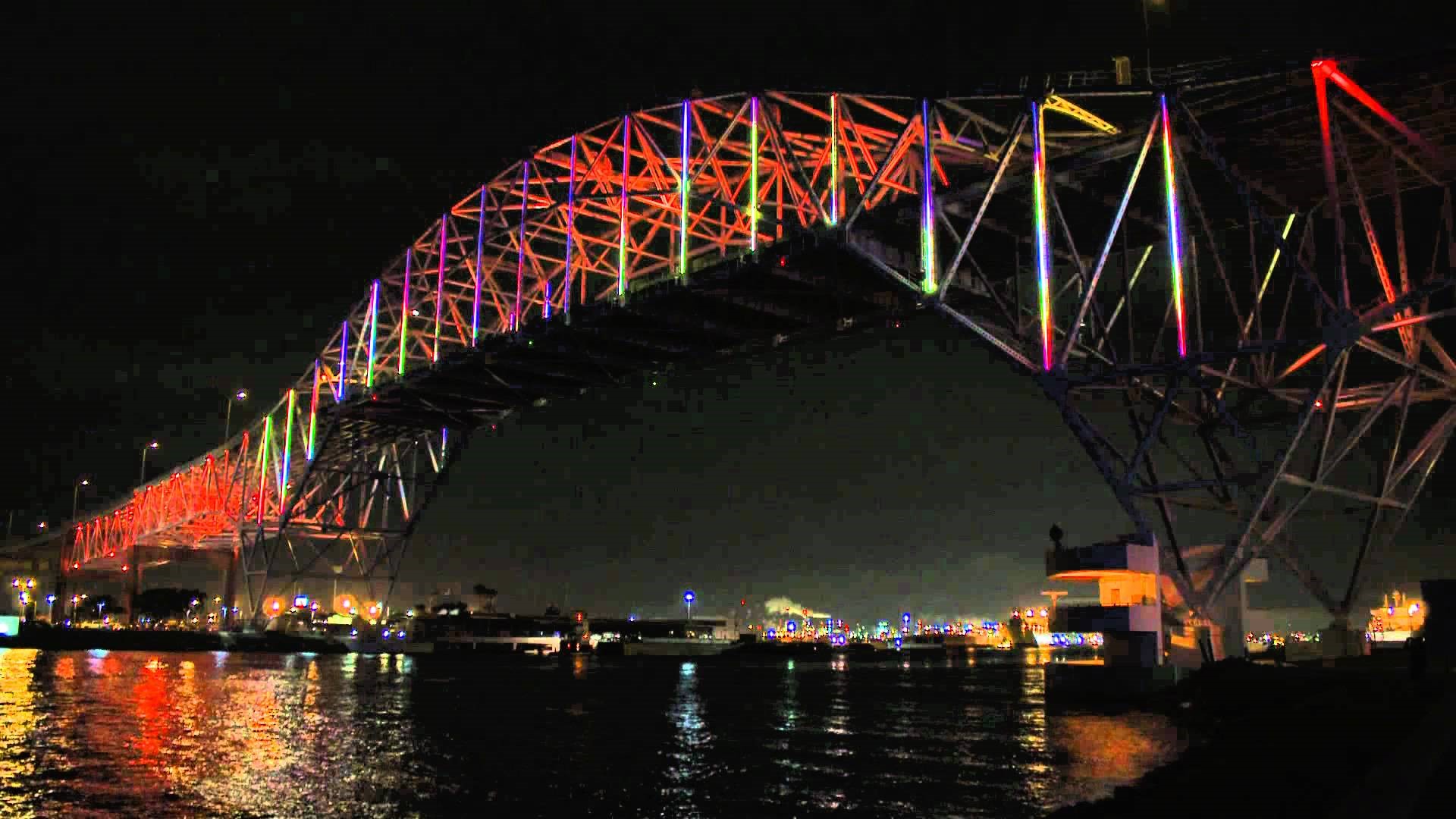 Whataburger Field is a cozy and intimate place to see a baseball game, with gobs of epicurean delights awaiting the fan all along the concourse. Texas barbecue is the sandwich of choice, including the Nolan Ryan restaurant known as Smoke 5714 (the same number of strikeouts that Ryan had in his career).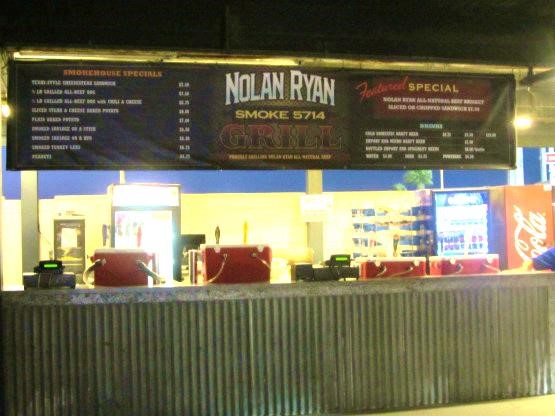 Just outside the playing field itself, beyond the outfield seats, there are a host of facilities intended for use by kids of all ages, including a miniature playing field for whiffle ball or kick ball, a ground-level trampoline, a full basketball court with rubberized floors, a rock-climbing wall, multiple pieces of playground equipment, and more. It is a perfect place for the parents to drop off the kids while they take in a Hooks baseball game.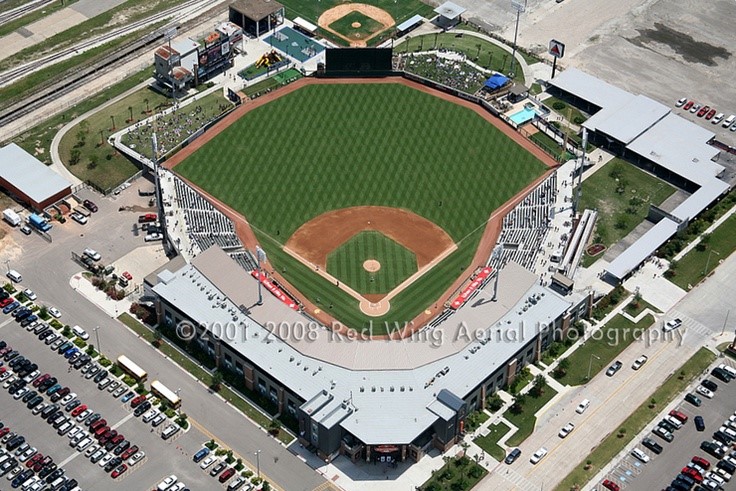 Just past the power alley in right center, there is a swimming pool and hot tub that can be rented out by party groups who want to watch the game while keeping cool from the South Texas heat. Although it was not in use on the particular evening that I was at the ballpark, I would imagine that it gets rented out most weekends for parties.
Prior to the start of the game, players on the Hooks' team signed autographs for kids and posed for pictures with youngsters, in a way that you would certainly not be likely to see at a Major League baseball game. Just prior to the singing of the National Anthem, the Hooks' starting players went out to their respective positions with a player or two from a local youth baseball team, which was reminiscent of a couple of events that we lined up a dozen years ago at Rosenblatt with the then-Royals, when Joe and Will were playing youth baseball.
The crowd at the game was a decent one for a Tuesday night game, mostly loyal fans who likely attend the bulk of the Hooks games, mixed with people just looking for a good excuse to drink beer and sit outside in the beautiful early-summer weather before the smothering humidity of July and August comes to town.
By merely sitting in my seat and listening to the voices of my fellow fans, it was crystal clear that I was in South Texas. By visual observation alone, I'm not sure that I could have made that connection, although with the significant number of Latino fans present, I think I could have guessed that we were either in South Texas, Arizona, New Mexico or Southern California.
The game itself was a pleasure to watch, with the hometown Hooks using mostly speed and small ball to race out to a 5-0 lead through six innings. The starting pitcher for the Hooks, Vincent Velasquez, held the visiting NW Arkansas Naturals (a AA farm club of the Kansas City Royals) in check, yielding no hits through 6-1/3 frames before giving up a solo bomb down the left field line to Royals prospect Jorge Bonifacio. The final score of the game was 6-1, raising the Hooks' record to 34-16 and dropping the Naturals to 31-18.
One of the youngsters who played for the Northwest Arkansas Naturals that night was Raul Mondesi, the shortstop, who is 19 years old and apparently the son of formerly Major League star player Raul Mondesi. Young Raul had a rough night at the plate, going 0-for-4 with two strikeouts, and committed one error at shortstop. It will be interesting to watch his progression through the Minors. In trying to get more information about him on the internet, it looks to me like there may be another Minor League player, three years older than this one, who also is the son of Raul Mondesi, and who also is playing Minor League baseball. I guess if George Foreman could have eight or nine kids named George, then Raul should be able to have two sons named Raul.
I'm not sure where I will rank Whataburger in the hierarchy of Minor League ballparks that I have seen. My initial reaction is that it is one of my favorite Minor League venues, but then whenever I visit a new Minor League ballpark, I tend to initially rank it very highly while still in the throes of my excitement over attending a game in a new ballpark. After a few months or years of solemn reflection, I will give Whataburger Field its proper due (by my lights), but I am confident that it will end up in my All-Time Top Ten, somewhere close to Campbell Field in Camden, New Jersey, Louisville Slugger Field in Louisville, and Franklin Covey Field in Salt Lake City.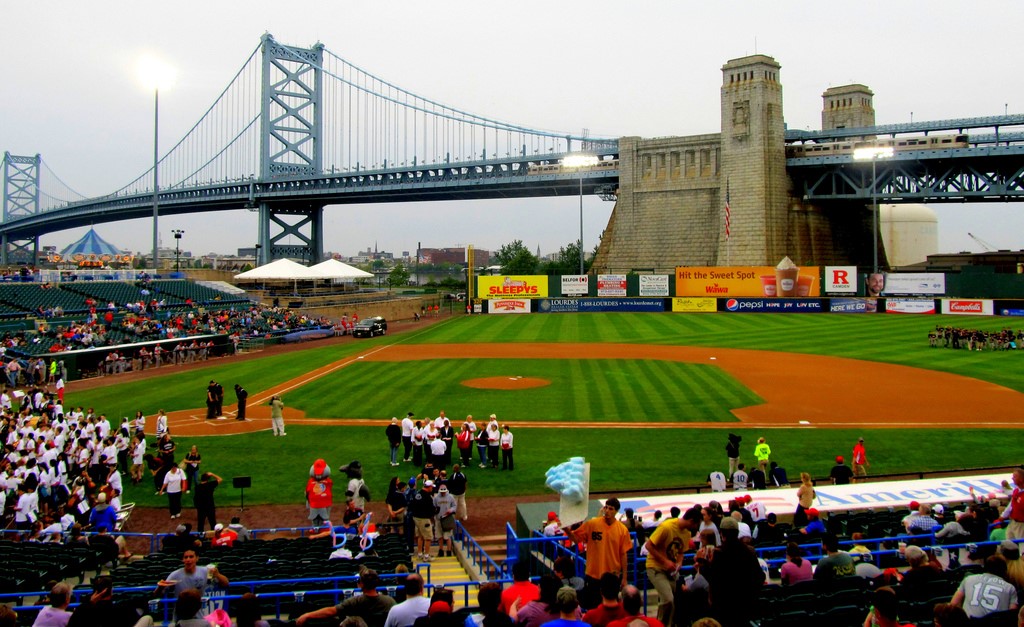 Campbell Field, Camden, NJ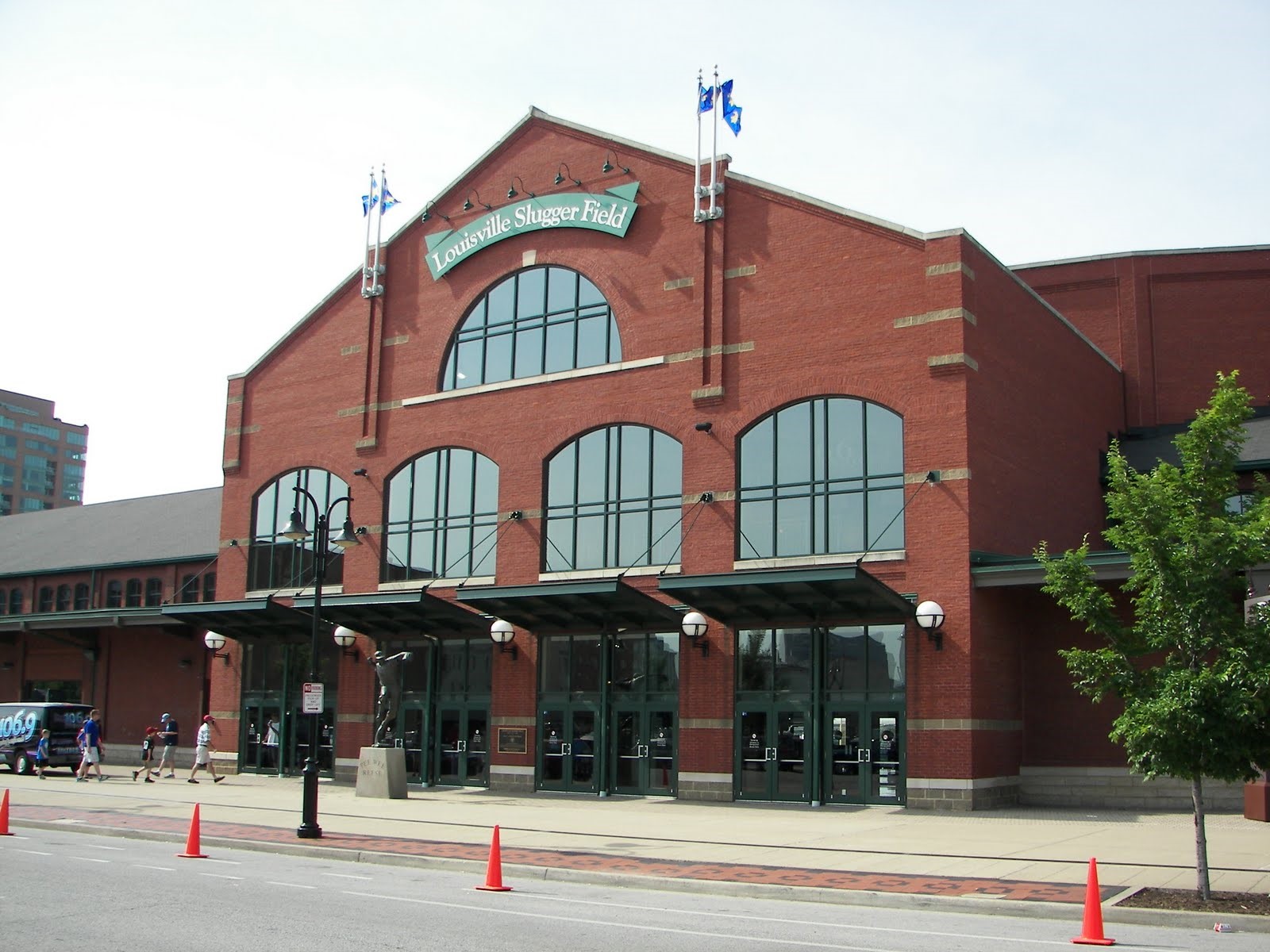 Louisville Slugger Field, Louisville, KY

Louisville Slugger Field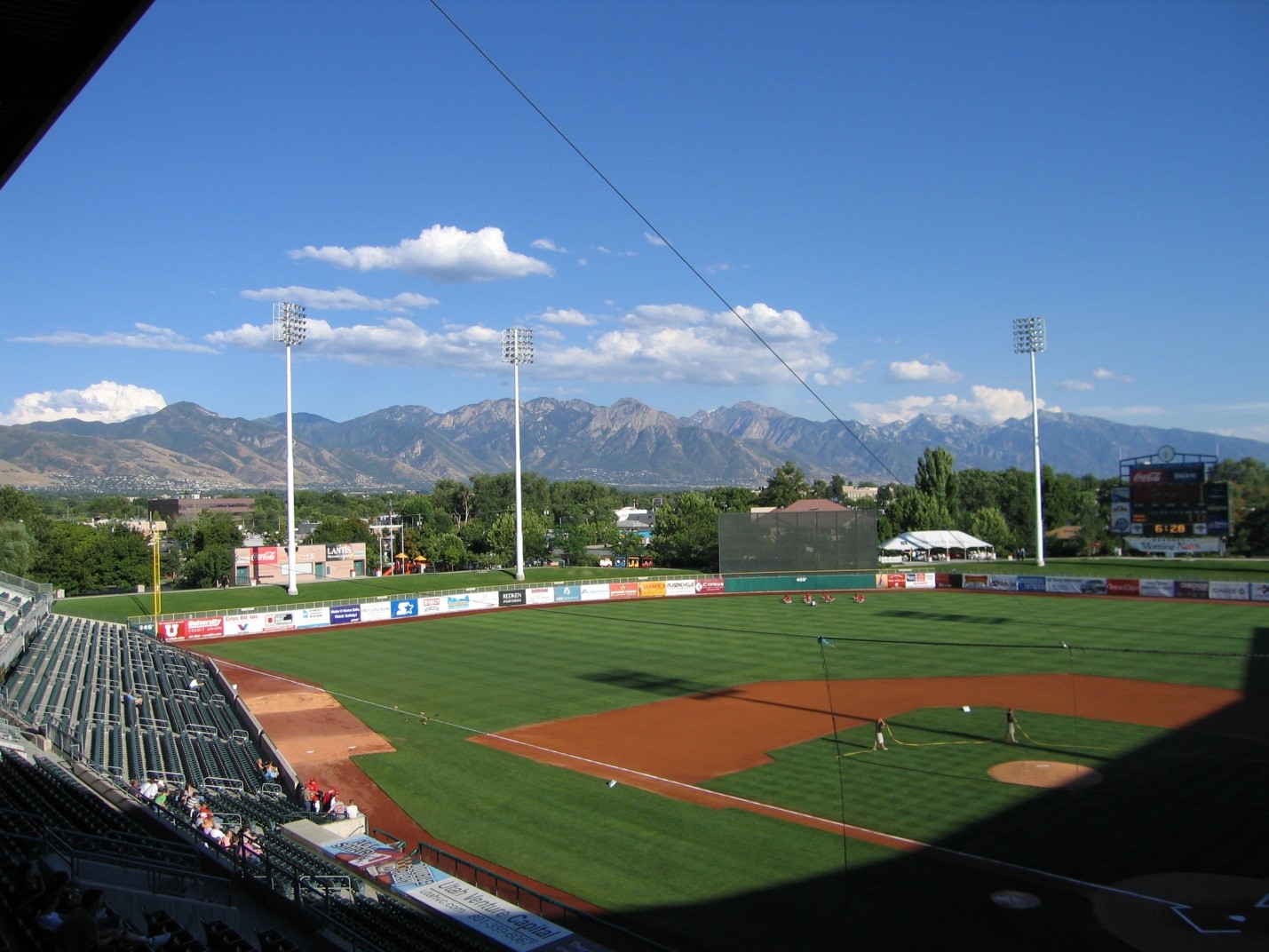 Franklin Covey Field, Salt Lake City, UT
Whataburger Park, which opened in 2005, is located on what used to be old cotton warehouses upon the city's waterfront. Naming rights were paid for by Whataburger, Inc., which was headquartered in Corpus Christi before relocating to San Antonio in 2009. Fans are able to see the USS Lexington and the Texas State Aquarium from inside the park. Whataburger Field features 5,050 fixed seats, 19 luxury suites and two outfield berm areas that are able to accommodate nearly 2,000 fans.
On June 30, 2005 the stadium unveiled For the Love of the Game, an 18-foot statue depicting a young ballplayer in a contemplative pose. The statue is believed to be the largest bronze statue of a baseball player.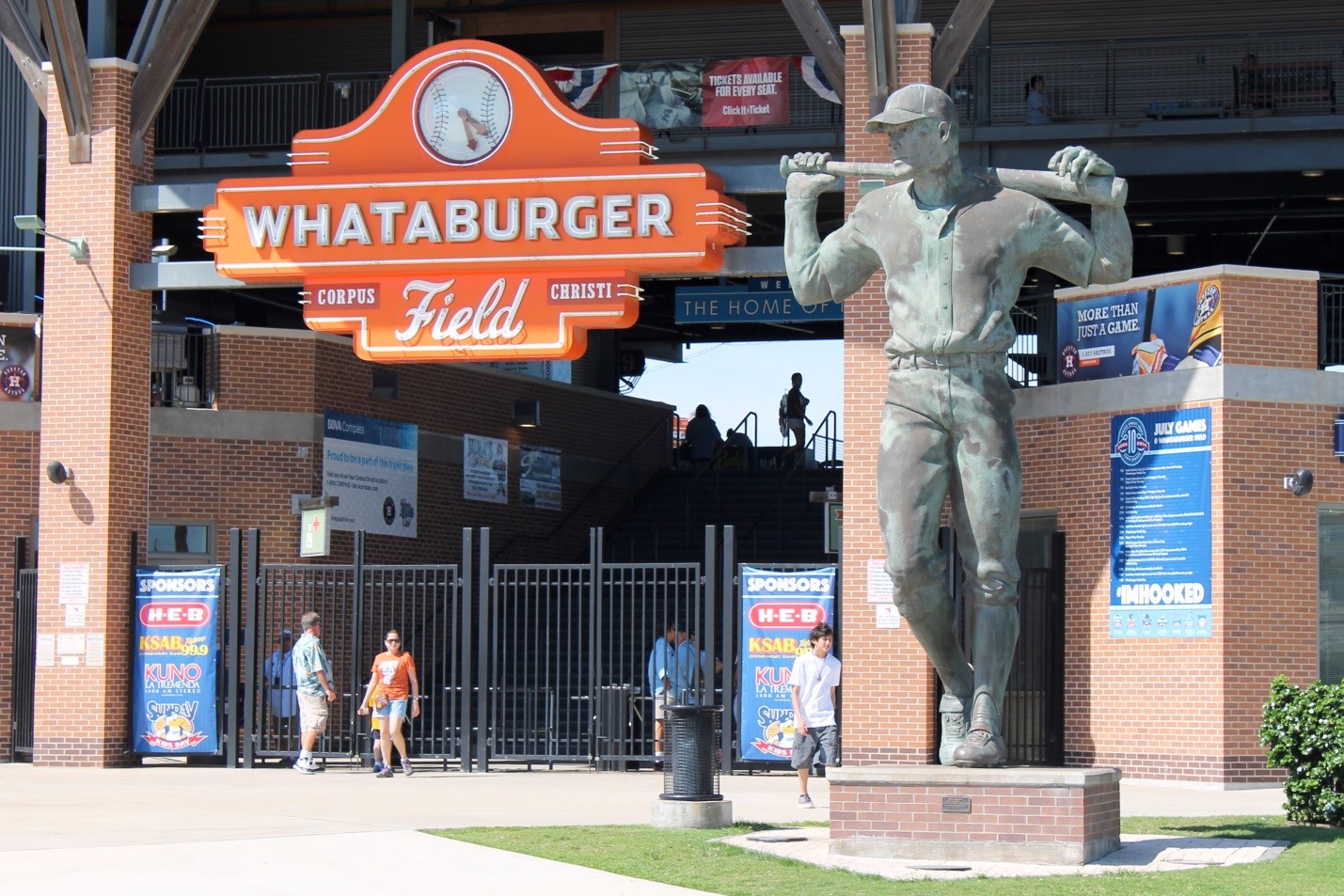 IN CASE YOU WERE WONDERING
Since it is a big enough deal to sponsor a Minor League baseball park, I was naturally curious to find out a little bit more about the franchise known as Whataburger, which, unlike Carl's Jr. and In-and-Out Burger, I have not yet had the pleasure of sampling for myself. Turns out Whataburger was founded way back in 1950 by two fellas by the names of Harmon Dobson and Paul Burton, with the first restaurant opening in Corpus Christi that year. As of 2012, there were 735 Whataburger stores across the Southern United States.
According to the internet (so it must be correct), Dobson's goal was to make a better hamburger that took two hands to hold, and tasted so good that when you took a bite you would say, "What a burger!" The burger originally cost 25 cents. In 1951, Burton and Dobson ended their partnership after arguing about Dobson's desire to raise the price of the burger from 25 cents to 30 cents. Currently, the company is privately held by the Dobson family, with headquarters in San Antonio and annual sales of over a billion dollars.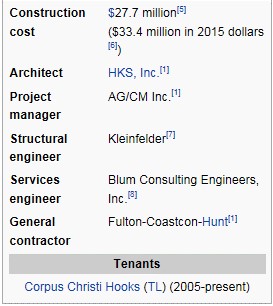 In addition to my destination visit to Whataburger Field, my side junket to Corpus Christi was also edifying in several other respects. As I made the drive south and west from Houston on Highways 59 and 77, through such towns and villages as Wharton, El Campo, Ganado, Edna, Victoria, Refugio (birth place of Nolan Ryan), and Sinton, I was able to see that the landscape is mostly made up of rugged pastureland and oil fields, and very little cropland. Most of the businesses along the highway are related to the oil industry or ranching, with a remarkable number of small churches and barbecue restaurants interspersed between the cities. As a matter of fact, I stopped in at a friendly little place called Junior's along the drive, and for $5.95 was treated to one of the biggest and tastiest pork brisket sandwiches that I have ever introduced to my pie hole. It certainly put Famous Dave's and every other Omaha-area barbecue joint to shame, that's for sure.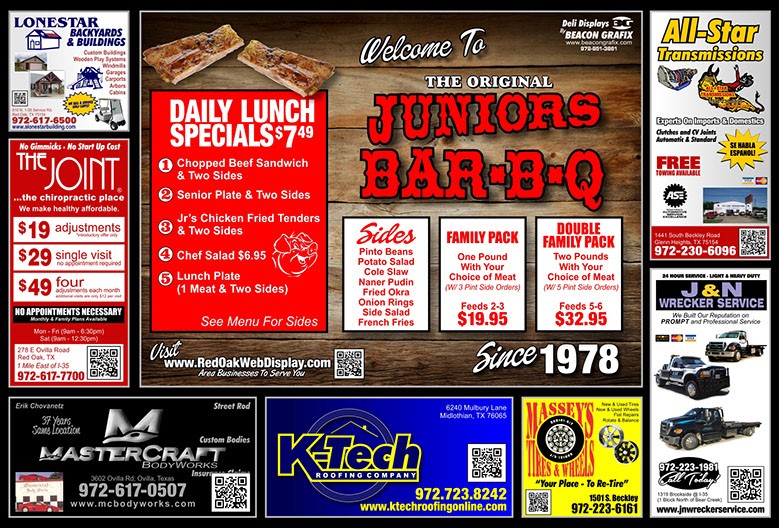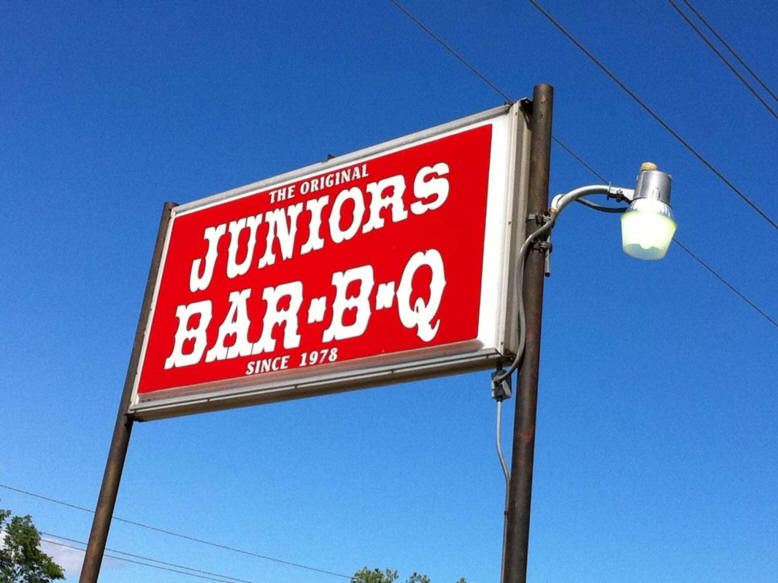 I should also point out that although we are nowhere near an election cycle, from the signs posted along the way, it is quite clear that South Texas would not be in favor of a third term for President Obama, and will not likely be voting for Hilary Clinton in November of next year, as well. Having said that, there is no shortage of American flags on display along the highways and byways of South Texas, and so it is clearly a patriotic bunch, staunch defenders of the (alleged) right to bear arms and of freedom of speech, just as long as your speech is being written by a rock-ribbed Republican. I know several Hot Stove Leaguers who would fit in well here, and a few who might be at risk for being lynched. Just saying.
07/22/14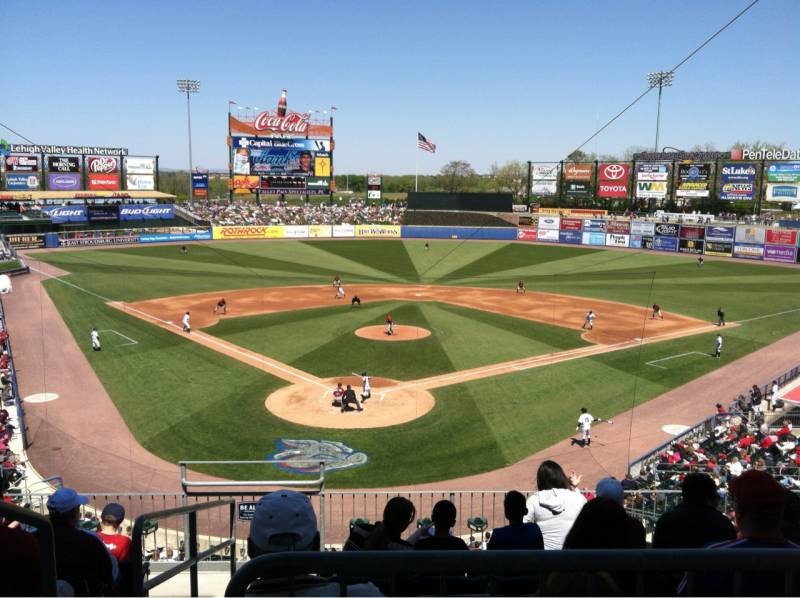 On my recent trip to Philadelphia for a deposition, I ventured north up to Allentown (about an hour drive) to catch the Phillies' Triple-A team, the Lehigh Valley IronPigs, in a contest against their International League rival, the Pawtucket Sox. The IronPigs' ballpark, Coca-Cola Park, was built in 2008, on land formerly owned by LSI Corporation, near the heart of Old Allentown. To get to it, you have no choice but to drive through a significant part of Old Allentown, a heavily-decayed area that would probably benefit greatly from a massive earthquake or flood. I haven't gone back and listened to his song of the same name since my visit, but I will be curious to find out what it was that Billy Joel found so compelling about Allentown.
Coca-Cola Park itself is a breath of fresh air for this decrepit city, sitting up high and offering a wide-ranging view of downtown Allentown and the surrounding area. Inside the park, the remarkable feature about this venue is the right field outfield wall, decorated with dozens of advertisers' signs, as seen in the above picture.
Beyond the structure itself, the food offered up by the ballpark vendors was tasty and moderately-priced, if not particularly memorable, and the stadium employees were accommodating and friendly, seemingly belying their eastern Pennsylvania roots. Based upon my single visit to Coca-Cola Park, I would rank it as a top 25 Minor League ballpark.
SANTA ANA, MEXICO
01/05/15
On Monday, Duo hires Juan Carlos to take them in his taxi to the village of Santa Ana, 45 minutes away, for a beisbol game, only to have his transmission go out halfway there.
Dave and Michele are transferred over to Juan Carlos' friend Luis' taxi (in pitch blackness, on a deserted and menacing highway exit) which drove them the rest of the way to the game, just in time for the start of the 7th inning (Juan Carlos told them the game started at 7:00 p.m., but it actually started at 5:30 p.m.).
The bride and groom are transferred into the trustworthy hands of Luis' friend Mateo, who spoke not a word of the English language, but who escorted the white-faced newlyweds into the game, where they saw the final three innings of the Aguilas' 4-1 victory over the hometown Toros, with Manny Ramirez leading the way for the winning Aguilas.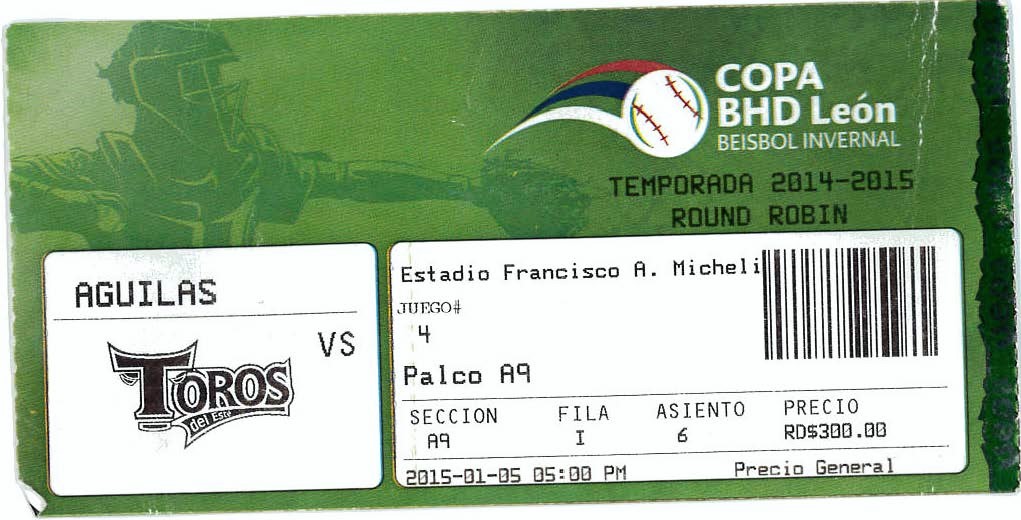 07/23/14
On that same trip to Philadelphia, I was lucky enough to be able to catch a few innings of an 11:00 a.m. Businessman's Special game at Campbell's Field in beautiful (not really) Camden, New Jersey. Venturing across the Delaware River via the Ben Franklin Bridge, I quickly found myself in Camden, also known as "The Land That Time Forgot," and braced myself to begin dodging stray bullets from drive-by shootings. Fortunately, it was a quiet morning and I didn't hear a single gunshot.
Located directly adjacent to the Camden campus of Rutgers University, Campbell's Field is located virtually in the shadow of the Ben Franklin Bridge, as shown in this picture that I took from my seat inside the ballpark: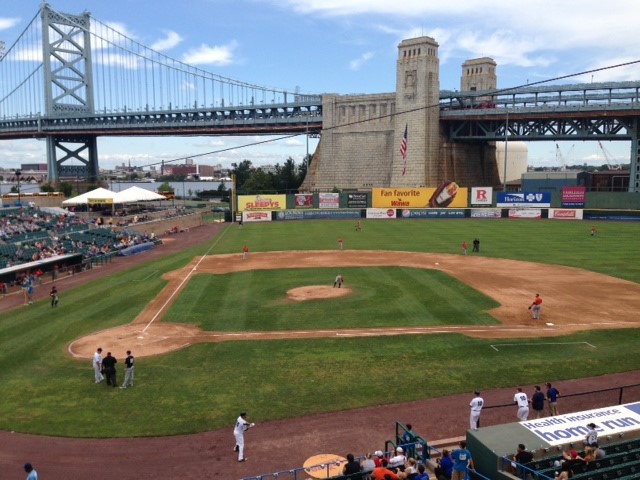 As I settled into my seat to watch the hometown Riversharks take on the visiting Long Island Ducks in an Atlantic League game, on a beautiful late July day, I was awestruck by the beautiful setting of this little baseball jewel, comparable to the backdrop of the Pittsburgh skyline one sees when seated in PNC Park. Positively jaw-dropping. The developers and architects for this ballpark got it just exactly right.
Enhancing my enjoyment of the day, I struck up a conversation with another fan seated nearby who caught a foul ball just behind me, a retired chief of the Camden Fire Department by the name of Ken Penn. Within a few minutes, it was clear that Mr. Penn is also a ballpark aficionado, as he has visited many different venues across the country. Most impressive to me, however, was that he previously attended baseball games at Shibe Park, the one-time home of Connie Mack's Philadelphia Athletics, and he could recite the name of every starting player on the Philadelphia Athletics teams of the 1950s. He was also a huge fan of Nebraska native Richie Ashburn, who was a star player for the Phillies in the 1950s and then a beloved announcer of Phillies games for many, many years. I could have spent the entire game kibitzing with Mr. Penn about baseball and Tilden native son Ashburn, but soon I had to leave to make my flight home to Omaha from the Philadelphia airport.
In any event, if you ever get a chance to visit Campbell's Field, take it. I definitely put it in the top 5 of my favorite Minor League ballparks visited to date.
06/02/14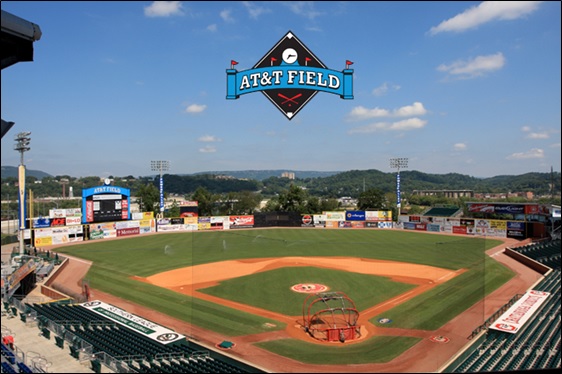 Last month I took a trip to Chattanooga to depose an expert in emergency medicine, and as luck would have it, the Chattanooga Lookouts, a AA farm club of the Los Angeles Dodgers, was in town and hosting the Mobile Bay Bears at AT&T Field. Built in 2000, AT&T Field is a charming venue located in downtown Chattanooga, adjacent to the Tennessee River.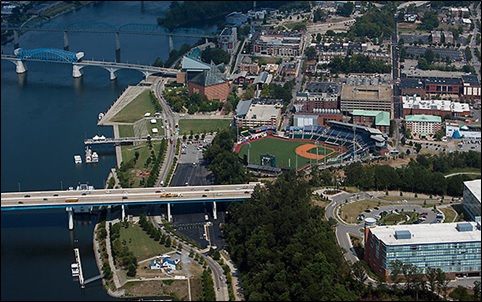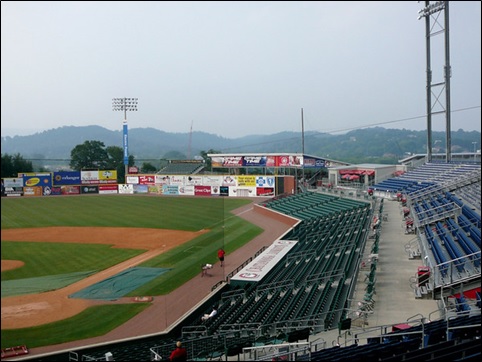 AT&T Field is a beautiful jewel of a ballpark, with uber-friendly stadium workers with sweeter-than-honey southern drawls. The ballpark features Lasorda's Landing (see picture below, with beloved mascot Looie the Lookout working the crowd) along the first base line, and a section deep down the first base line where you can sit and look directly down the line to the batter, a spectacular viewpoint for the game.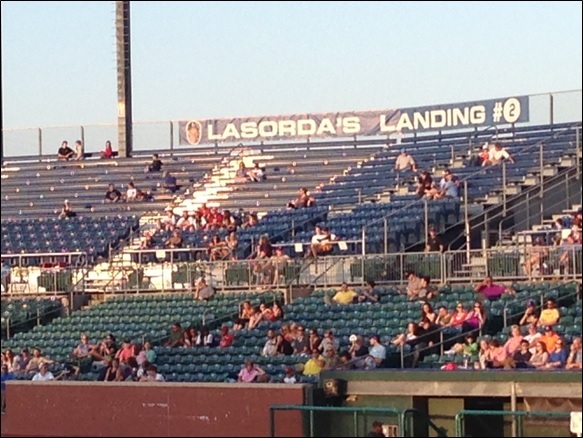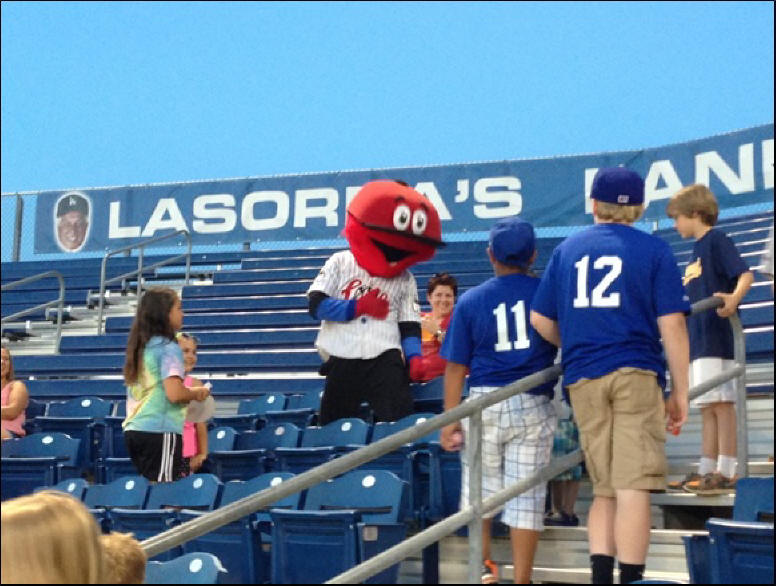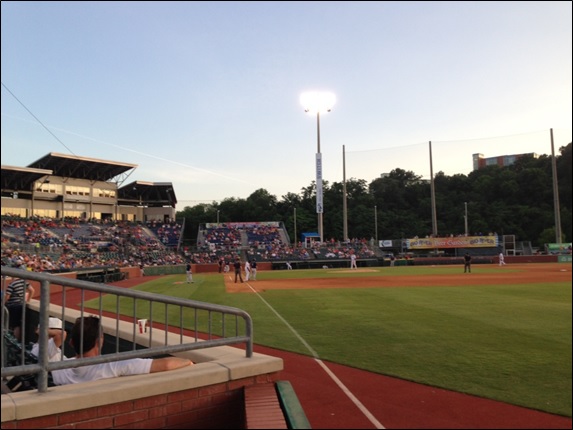 The quintessential minor league journeyman, Razor Shines, manages the Lookouts and was entrenched in the third base coaching box for the game, as depicted here.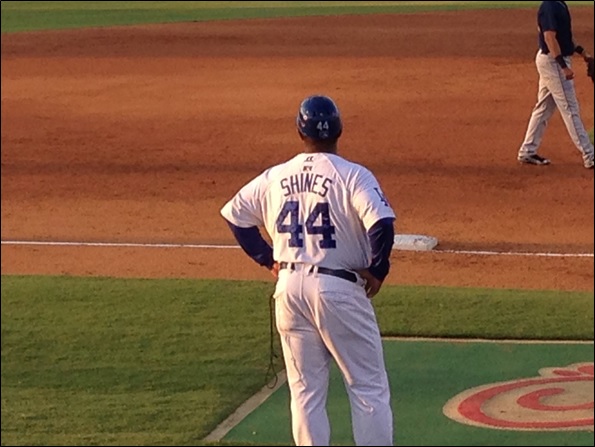 Last season, Yasiel Puig began the year at Chattanooga, and absolutely tore up Double-A pitching before being promoted to the parent club. This season, a 23-year-old native of Cedar Rapids by the name of Scott Schebler is the hitting star for the Lookouts. After high school, he played for a season or two at Des Moines Area Community College before being drafted by the Dodgers in the 26th round of the 2010 Amateur Draft and entering the professional ranks. The night before the game I saw, Schebler had a monster game at the plate, hitting for the cycle.
Scott Schebler came to hit in the ninth inning knowing what he needed to do.
The game was pretty much out of hand, with Schebler's Chattanooga Lookouts down, 16-7, to Mobile in the Double-A Southern League. But Schebler, No. 15 on the Dodgers' Top 20 prospect list, knew he needed just one more hit for his first professional cycle: a home run.
With one on and one out, Schebler came through off of Jimmy Sherfy, hitting a two-run shot to give himself the hard-to-achieve offensive feat, albeit in a 16-9 defeat.
The homer, Schebler's 11th of the season, capped off a four-hit day for the outfielder. The No. 5 hitter in Chattanooga's lineup, Schebler started off with a strikeout in the second. He then singled and scored in the fourth, tripled to lead off the bottom of the sixth, doubled in a run in the seventh, then hit the two-run blast his final time up.
A year ago, Schebler put his name on the radar map with a huge year in the California League, leading the Class A Advanced circuit in extra-base hits and total bases, finishing with 27 homers and 91 RBIs to go along with his .581 slugging percentage. His 11 home runs this year puts him in a tie for second in the Southern League and he's third in slugging with a .533 mark
On the night (June 2) that I saw Schebler play, he had a double and an RBI in a 7-6, 10-inning win, but he also hit a monster blast that was just foul down the right field line, and then another long ball that was caught at the fence in right. Not that the Dodgers have a lot of room for outfielders in their lineup, but I would look for this young fellow to be a future Major League fixture in L.A.
In addition to Razor Shines, also coaching for the Lookouts was Shawn Wooten and Scott Radinsky, once again demonstrating that there is always a spot somewhere in the Minors for a former Major Leaguer of good character and good cheer.
For my money, AT&T Field is one of the top Minor League venues in the land.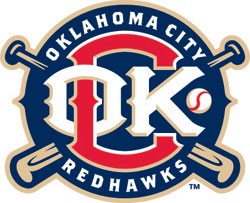 As I was motoring home from Ft. Worth, right around 6:00 p.m. last evening, I was passing through Oklahoma City when I saw a sign that there was a ballgame at the old ball yard, the Chickasaw Bricktown Ballpark, to be precise. What luck. A venue which I have long yearned to visit, and wouldn't you know it, the hometown RedHawks were playing in a PCL game against El Paso there that very evening at 7:05 p.m. Not one to turn his back on such pure kismet, I persuaded my Ford Explorer off the interstate and across the Cinderella City until I reached 2 South Mickey Mantle Drive. I parked my car, walked past the impressive granite tributes to hometown hero Johnny Bench and the winningest southpaw of all time, Warren Spahn, and plunked down my 13 bucks at the ticket window for a seat inside Bricktown.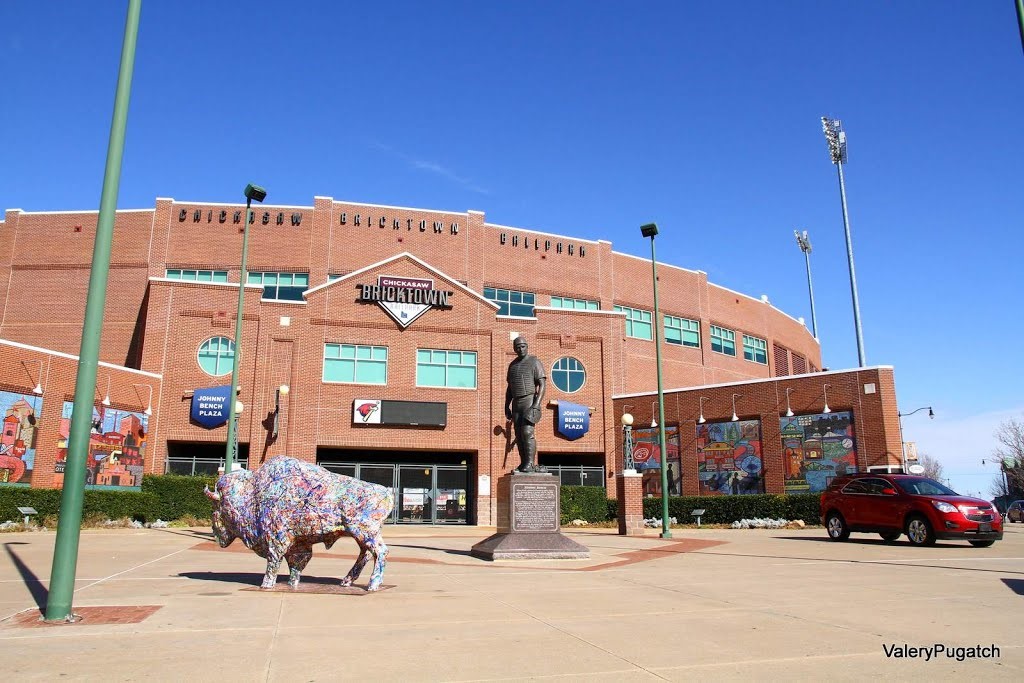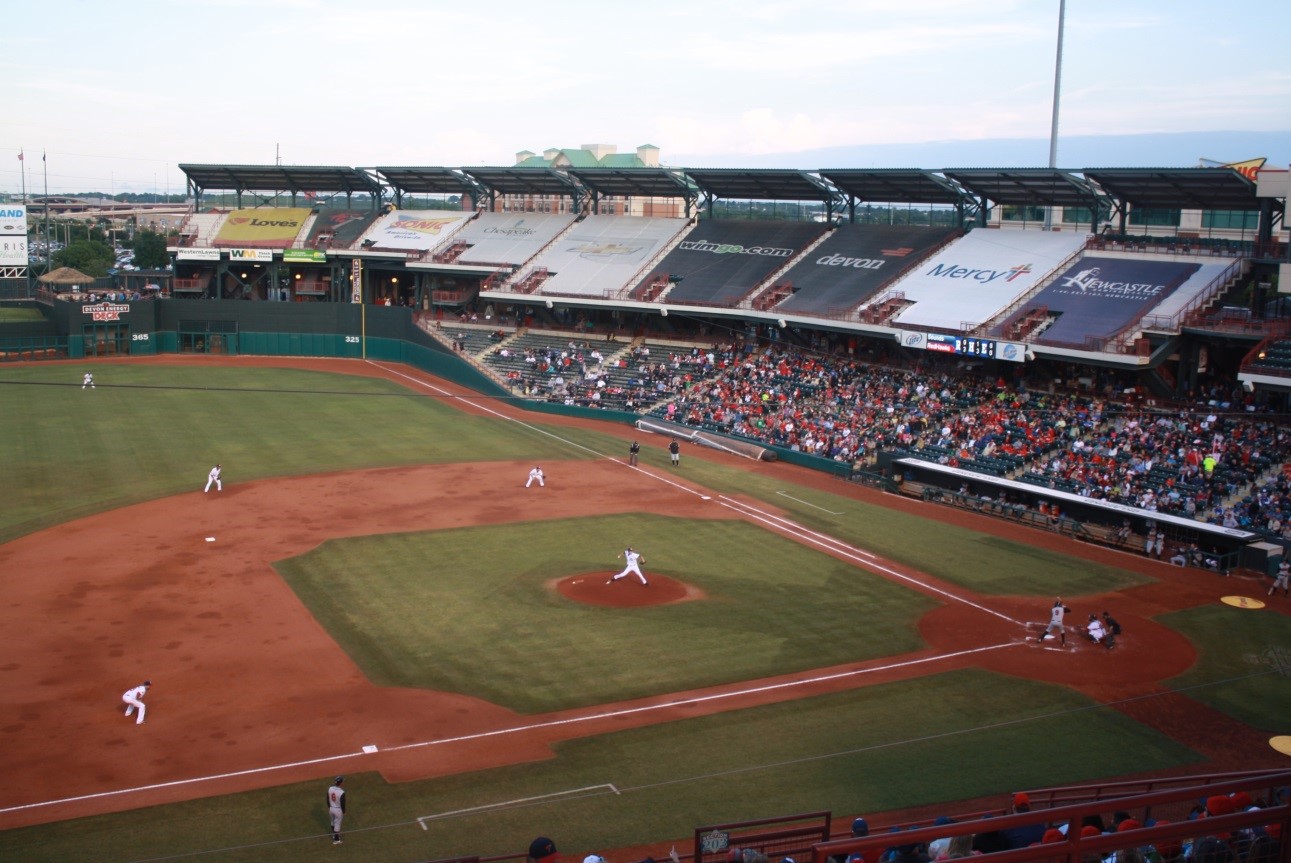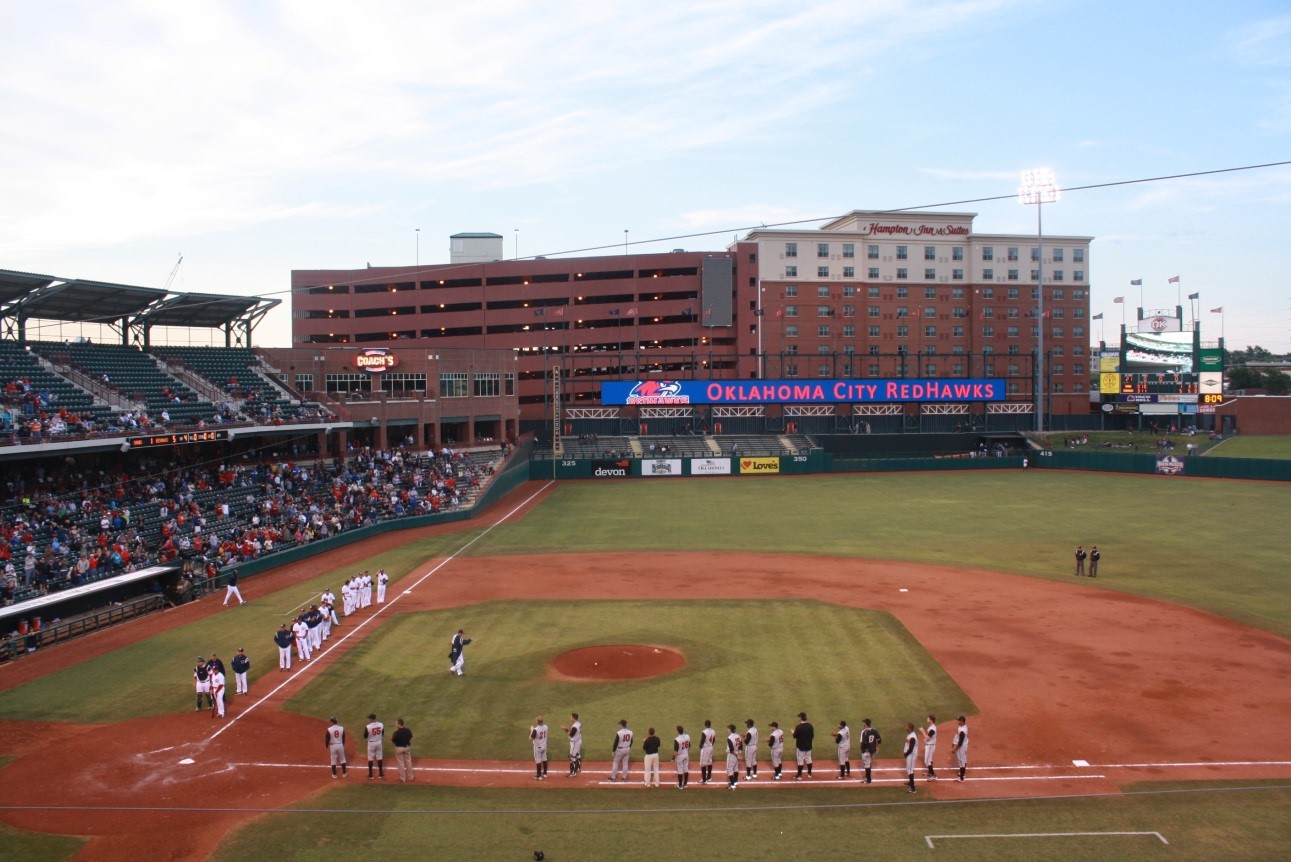 Once inside the ballpark, I immediately understood all of the hullaballoo about this beautiful baseball cathedral. Red brick and green steel forming the structural elements of the ballpark, green grass and Oklahoma-red dirt on the pitcher's mound, batter's boxes, base lines and warning track. Two tall red brick hotels just beyond the left field fence, close enough so that motel guests on the upper floors can stand on their balconies and watch games in progress. It isn't hard to see why the Bricktown Ballpark is the annual site of the Big 12 baseball championships.
Yet in spite of its visceral appeal, the Brickyard Ballpark this night played host to fewer than 500 paying customers, by my unofficial estimate. The 97-degree heat and blazing sun at game time might have had something to do with this. As a beneficiary of this sparse attendance, I watched the ballgame and drank my cold ales and enjoyed my salted goobers from some of the best seats in the house. Not a single Turk in sight.
I caught the first six innings of the game between the RedHawks, the Triple A affiliate of the Houston Astros, and the El Paso Chihuahuas, the Triple A farm club of the San Diego Padres, before heading back to the interstate so I could make it to Wichita before calling it a day on the road. When they announced the Chihuahuas' starting lineup, I learned that former Senator Jeff Francoeur was now back down in Triple A after a stint with the Padres (both as an outfielder and pitcher), and that Jason Lane was batting in the DH hole for the Chihuahuas. You may recall an earlier reference to Lane's comeback attempt on the Message Board earlier this year, in which it was reported that after finally reaching the end of the road as a hitter in the Major Leagues, Lane was trying a comeback as a pitcher for the Padres. After several seemingly successful stints on the mound, Lane continued to inexplicably find himself back on a Triple A Minor League roster. Undaunted by the odds, Lane continues to pursue his quest to prolong his professional baseball career, either as a pitcher or a hitter.
At 37 years of age, Lane has a remarkable baseball resume, as reported on Wikipedia:
Jason Dean Lane (born December 22, 1976) is an American professional baseball player for the San Diego Padres of Major League Baseball. Originally starting his career as an outfielder, Lane has since switched positions and is now a pitcher.
He was drafted into MLB in the sixth round in 1999. Lane graduated from El Molino High School in Forestville, California in 1995. Notably, Lane is one of those rare pitchers in major league history who throws left-handed but bats right-handed.
Amateur career
First attended Santa Rosa Junior College, where he was selected as the 1997 California Junior College Northern California Player of the Year and Bay Valley Conference MVP before transferring to University of Southern California. At Southern California, Lane earned All-America honors during his senior season (1999), including pitching 2.2 innings in the 1998 College World Series championship game to pick up the win and help USC to its 12th NCAA baseball championship, topping Arizona State University 21-14. Lane served as the DH in the game, going 3-6 with a ninth inning grand slam setting a CWS record with 11 hits overall, and led the tournament with a .417 batting average. Morgan Ensberg was also his college teammate on the USC national championship squad.
Professional career
Houston Astros
The Astros believed Lane's future was at the plate rather than on the mound, so he began his professional career as a first baseman. He was later moved to the outfield because of Jeff Bagwell, who played first base.
In 2005, while hitting 26 home runs, he led the major leagues in fly ball percentage (51.3%). When asked after Game 4 of the 2005 National League Division Series (an 18-inning game) who would pitch if Roger Clemens had begun to tire, Astros manager Phil Garner stated that he would have had Lane pitch for the victory with Clemens taking his place in the outfield. Lane hit the last home run and made the last out at Busch Memorial Stadium on October 19, 2005.
On July 12, 2006, Lane was optioned to Triple-A Round Rock after Houston acquired utility slugger Aubrey Huff. In August, Lane was called back to the majors, and on August 29, 2006, he hit a pinch hit grand slam off Milwaukee Brewers relief pitcher Dan Kolb in the 8th inning.
Lane finished the 2006 season with 15 home runs, although he hit just .201 over 112 games.
Lane began the 2007 season with the Astros, but carried an abysmal .165 batting average into June. With Rookie of the Year candidate Hunter Pence's spectacular play earning him the starting job in center field, Lane became expendable and was demoted to Round Rock. On July 23, with Pence out with a fractured wrist and Lance Berkman struggling with a hand injury, Lane was called back up to the big league club. Lane had hit well at Round Rock (.308 with 8 HR and 35 RBI in just 42 games), but then again, he has always hit well at the minor league level where he has a lifetime batting average just under .300 and has hit over 100 HR. The Astros hoped that he could repeat his 2005 success and become the outfield mainstay that they had long expected him to be, but it would not happen despite Lane being given every opportunity to succeed. While Pence was on the DL, Lane received the bulk of the playing time at center field despite an abysmal .172 average as of August 12, 2007.
On August 22, 2007 Lane was demoted once more to Triple-A. The Astros recalled relief pitcher Travis Driskill to the majors to help their bullpen. Lane was recalled when rosters expanded in September.
San Diego Padres
On September 24, 2007, he was traded to the San Diego Padres for cash consideration. Lane was not offered a new contract by the Padres and became a free agent on December 12, 2007.
New York Yankees
On January 10, 2008, Lane agreed to a minor league contract with the New York Yankees and was invited to spring training. However, he did not make the team, and was assigned to the Yankees Triple-A affiliate in Scranton/Wilkes-Barre.
Boston Red Sox
On August 19, 2008, after opting out of his contract with the Yankees, Lane signed a minor league contract with the Boston Red Sox. He became a free agent at the end of the season.
Toronto Blue Jays
Lane signed a minor league contract with the Toronto Blue Jays in December and was invited to spring training. Lane had a chance to take the DH role, but instead it went to Adam Lind. He was then sent to triple-A Las Vegas.
Southern Maryland Blue Crabs
Lane signed an Atlantic League (independent league) contract with the Southern Maryland Blue Crabs. His first appearance for the Blue Crabs was pinch hitting on June 28, 2010. At his first and only at bat of the game he was walked.
Arizona Diamondbacks
On December 9, 2011, Lane signed a minor league contract with the Arizona Diamondbacks, now playing as a pitcher. He was invited to spring training, and in his first professional outing, allowed 3 hits and an unearned run in an inning.
Sugar Land Skeeters
In June 2012, Lane signed a contract with the Sugar Land Skeeters of the Atlantic League. In July 2012, Lane was awarded "July Pitcher of The Month" of the Atlantic League. This coming as Lane's first year as a full-time pitcher since his college days at University of Southern California. At the end of the Sugar Land Skeeters 2012 season, Jason has been named as the Skeeters first ever MVP. He was the ace of the pitching staff and an anchor in the middle of the batting order. Lane returned to the Skeeters for the 2013 season.
Second stint with Padres
Lane signed a minor league contract with the San Diego Padres on July 23, 2013. He was called up to the major leagues on June 3, 2014, entering the game (against the Pittsburgh Pirates) in the 4th inning. Lane retired all 10 hitters he faced. He was designated for assignment on June 7. He was called back up to start on July 28, 2014 against the Atlanta Braves. Lane became the oldest starting pitcher to make his debut for the Padres, breaking the mark set by Walter Silva, who was 32 in his first start for San Diego. Lane pitched well, allowing just one earned run in six innings in a losing effort. He was designated for assignment for the second time the next day. [Editor's note: And hence his appearance with the Chihuahuas in OKC.]
Like Chelsea, Jason Lane is a Warrior.
JEWEL ON THE ARKANSAS RIVER: DICKEY-STEPHENS PARK
08/30/10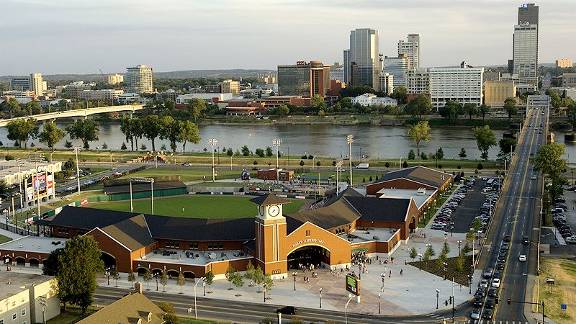 On Tuesday evening last, I made the excellent decision to attend an Arkansas Travelers baseball game against the Tulsa Drillers at beautiful Dickey-Stephens Park, located just across the Arkansas River from downtown Little Rock. This beautiful gem of a baseball diamond opened in 2007 as the new home of the Arkansas Travelers of the Southern League, an institution in Little Rock for a good many years. Although situated hard by the Arkansas River just a mile from downtown Little Rock, the ballpark is officially located in "North Little Rock," and for some reason the team hats have "North" and the letters L and R on them. Must be something political with the name.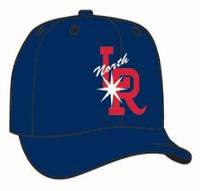 Anyway, Dickey-Stephens Park is named after two sets of brothers: Hall of Fame catcher Bill Dickey of the Yankees, and his brother George "Skeeter" Dickey, who caught for both the Crimson Hose and the Pale Hose; and the Stephens brothers, Witt and Jack, who were contractors in Little Rock and doers of public good and were the uncle and father of Warren Stephens, the man who purchased and donated the property for the site of the ballpark. And speaking of good, this is a very good ballpark, as colorful and charming as any that you will come across in the minor leagues, with the best view of a downtown skyline after PNC Park in Pittsburgh. Not only can you see the famous Peabody Hotel and the old Statehouse located right next to it, you can even see the Clinton Presidential Library from the ballpark, so at least it has that going for it, which is nice.
CORNDOG ON A STICK
The food at this ballpark was quite sumptuous and ever so affordable. Although I don't think I've had a corndog since college, the foot-long corndog for four bucks was too tempting to resist, and as it turned out, an excellent choice. The only disadvantage was that the corndog stick in the middle was a foot long and sharp as a spike, and one has to take care not to give oneself a tracheostomy while working one's way down the corndog. Houston salted peanuts were two bucks a bag, and pretty good, but not great. The tangy polish sausage that I had for dessert was mouth-watering good, and came at the modest price of three bucks. They serve a wide variety of tasty beers at the park, ranging in price from $3 to $6.50, so it is much cheaper to get a snootful at Dickey-Stephens than at Yankee Stadium, for sure.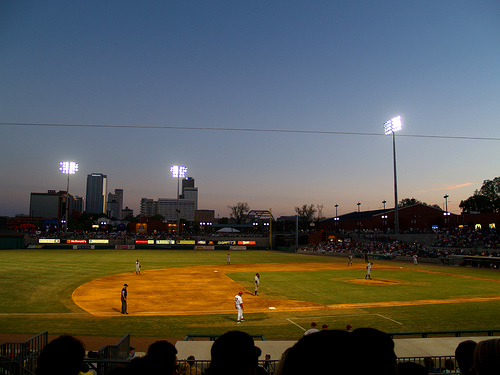 One remarkable feature of this ballpark is that it has a large section of bleachers past the first base line in which smoking is allowed, if not encouraged. When I first got to the ballpark, I sat in one of the seats in this area, not knowing that it was for smokers, but I was quickly puffed out of the section by multiple fans lighting up and creating a stink. Later on in the game, when I moved around to the other side and had a better view of the smoking section, I concluded that there were probably just about as many fans in the smoking section – maybe a thousand or fifteen hundred – as in all of the other sections of the stadium combined. I guess this shouldn't be surprising, it is Little Rock, after all.
July 8, 2010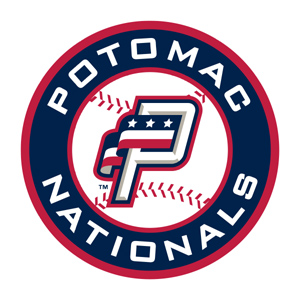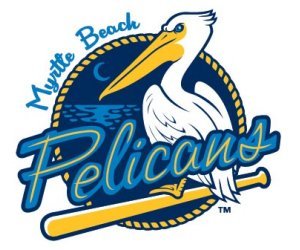 While in the D.C. area on business week before last, I had a chance to take in a baseball game at the G. Richard Pfitzner Stadium in Woodbridge, Virginia, between the Class A Potomac Nationals and the Myrtle Beach Pelicans, an affiliate of the Atlanta Braves organization. All I can say is: What a great night at the ballpark.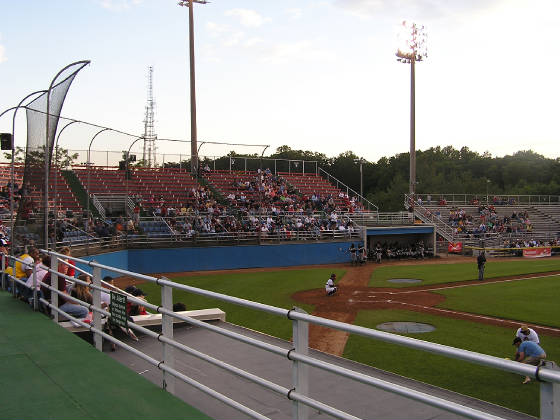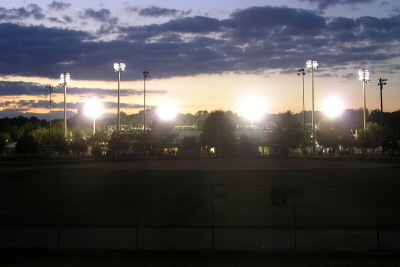 When I arrived at Pfitzner Stadium, there was a small jazz band playing in the entry plaza of the ballpark, consisting of three men who appeared to be in their 50s or early 60s and a delightful young woman, perhaps a daughter of one of the trio, who appeared to be perhaps 20 to 25 years of age, named Emma Bailey (no relation to Homer, I am sure).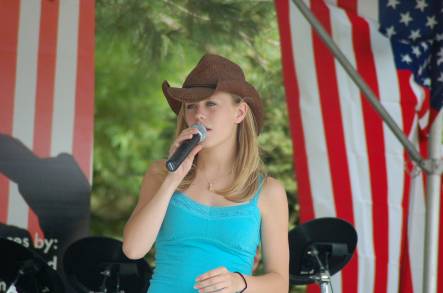 Dame Fortune smiled on me that night as it happened to be Dollar Beer Night at Good Old Pfitz Stadium, and after investing my first Washington on the Longhammer IPA beer stock, I sat down at a table to listen to the intoxicating (in tandem with the Longhammer) voice of young Ms. Bailey as she belted out the most hauntingly beautiful rendition of "Moondance" (Van Morrison) that I have ever heard. It was love at first sound. As I continued to fish crumpled Washingtons out of my pocket to take advantage of the bargain beers, Ms. Bailey continued to wow our small crowd with one beautiful song after another, including "Proud Mary," "Kansas City," "Mustang Sally," and "Alley Cat." On a humid, 95-degree-plus tidal basin night, I had goose bumps on almost every part of my body.
After the pregame festivities concluded, I headed inside the ballpark for my seat in the fourth row, a Longhammer IPA in each fist and a sack of salted peanuts in my shorts pocket. To my great good fortune, the National Anthem that evening was sung by none other than our beautiful young Ms. Bailey, and a more beautiful version of the song I have never before heard –– at a ballpark or elsewhere –– including prior exposures to the Nitty Gritty Dirt Band, the great saxophonist Branford Marsalis, and, egad, even Van Cliburn. If only my Hot Stove brethren could have been with me to thrill to the phenomenal music that blessed all of us at the Pfitz that evening.
Although the Pfitz is not one of the most handsome ball yards that I have been to, there was much about it and the game to commend it to others. A few of the highlights from the evening:
*

The P-Nats, as they are called, have a nightly "K Man of the Game" contest, and if the designated player on the opposing team (who is announced to the crowd as he is in the on deck circle) strikes out during the designated at bat, the team gives out free slushies for anyone, not everyone, for as long as they last. On this particular night, young Miles Cole of the Pelicans, all 5-foot-5 of him, was unlucky enough to be picked as the K Man of the Game. Miles seemed quite determined to not strike out during his at-bat, flailing furiously at every pitch that was in the same area code. He must have spoiled off five or six pitches before he finally thrilled the throng by whiffing, which immediately led to a substantial number of loyal fans rocketing from their seats to bullrush the concession stands for their free slushies before supplies gave out. A textbook example of demand exceeding supply.

*

The visiting Pelicans had players surnamed Jones batting in the 3, 4 and 5-holes and playing first base, second base and shortstop. This novelty was not lost on the P-Nat crowd, as the heckling rose to a crescendo with each plate visitation by the Jones trio. Collectively, the Jones boys went 2-for-10, with one walk and one RBI in the Pelicans' loss to the hometown P-Nats.

*

The fences at the Pfitz are an inviting 315 400 315. Two P-Nats players took advantage of the bandbox dimensions by depositing Yard balls on hits that probably would have been routine outs in almost any other ballpark. Left fielder Robert Jacobson went Yard in the 6th inning to tie the game at 1 apiece, after which P-Nats first baseman Tyler Moore left the building in the7th inning for his team-leading 10th home run of the season, vesting P-Nats pitcher Brad Peacock with his second win of the season against eight losses.

*

I noted in my P-Nats game book that catcher Derek Norris is considered the No. 2 prospect in the Nationals organization. A future Hot Stove Leaguer, no doubt.

*

Pfitzner Park alumni include the great Albert Pujols, Magglio Ordonez, and Barry Bonds.

*

I was interested to see that there are only two umpires who work games at the A level. A lot of work for a two-man crew. At the game I attended, there was a young pup (Joey Amaral, maybe 25?) behind the plate and a grizzled veteran, Tyler Wilson, working the infield. No doubt trying to impress someone, Amaral demonstrated his no-nonsense approach by ejecting Nationals manager Gary Cathcart in the ninth inning for arguing balls and strikes.

*

The owner of the Potomac Nationals is a former Brooklynite by the name of Art Silber, a Jewish fellow who retired from banking in Baltimore at age 55 and has owned the team since 1990. His daughter Lannie Silber Weis, a JAP if ever there was one, is the president of the organization, while son Seth is the treasurer.

*

The Potomac Nationals play in the Carolina League, which was established in 1945 and currently is made up of the Nationals, the Pelicans, the Frederick Keys, the Lynchburg Hillcats, the Wilmington Blue Rocks, the Kinston Indians, the Salem Red Sox, and the Winston-Salem Dash. Former Tigers catcher Matt Nokes is the hitting coach for the Nationals.

*

I've saved the best for last. Of course, I speak of the Nationals lovable mascot, "Uncle Slam."

As he no doubt learned at mascot college, Uncle Slam kept the crowd of 1,955 people in constant rapture, as we were doubled over in laughter in between every inning at Uncle Slam's madcap antics and prat balls. Had McJester been present for the game, I have no doubt that Uncle Slam would have been dodging sniper fire from the rooftop of the Pfitz.
I don't know the "when" or "where," but I can't wait to attend the next Carolina League baseball game. This is truly baseball as it is meant to be played and seen.
June 16, 2010

I had a deposition in Denver last week and had a chance to take in a Sky Sox ballgame in Colorado Springs with my old chum Larry Larson on Monday night. The ballpark in Colorado Springs, known as Security Service Field, is not the prettiest venue that I have ever visited, but there are worse places to watch a ballgame. For 12 bucks apiece, we were able to sit in the second row just a few feet away from home plate, and the concession stand serving up frosty Alaskan ale was no further away from me than the pitcher's mound. Watching the Sky Sox against the Tacoma Rainiers, sipping on an Alaskan ale and munching on salted peanuts, and reliving 40-plus years of stories with Larry, well, it doesn't get a whole lot better than that.
I can't believe how many current and former major league players were on the rosters of the Sky Sox and the Rainiers. Dexter Fowler was starting in center field for the Sky Sox, down from the Rockies to regain his batting stroke. Jack Wilson from the Mariners was the starting shortstop by the Tacoma Rainiers, evidently for the same reason. A host of other known former major leaguers dotted the roster of each team, including the starting Sky Sox first baseman, Brad Eldred, who has to be leading the Pacific Coast League in home runs and runs batted in with 16 and 52, respectively. If I'm not mistaken, this big fellow was playing either for the Phillies or for the Pirates when we made our Hot Stove League trip to Philly back in 2005 and was the buzz of the league because of his Frank Howard-like stature (6-foot-5, 290 lbs.) and his awesome power. If the Rockies were in the American League, I have to think that this big lurp would be the starting DH for the club, but he apparently can't beat out Todd Helton at first base. Either that, or he can't hit a major league curveball.


I had the good fortune on Thursday evening of last week, August 6, to attend a Triple A baseball game between the Albuquerque Isotopes and the Portland Beavers at Isotopes Field in Albuquerque. This is an absolutely gorgeous ballpark, as you can see from the pictures below.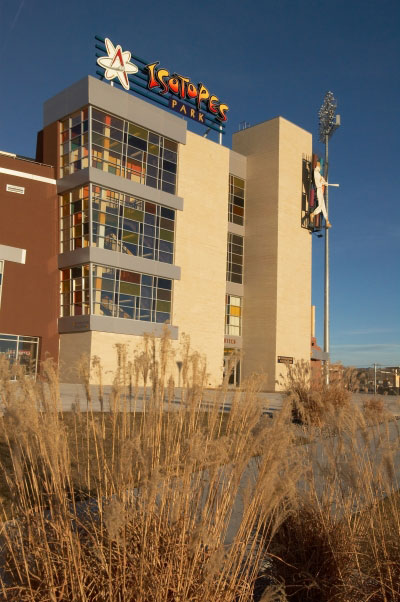 Isotopes Park is located just across the street from the University of New Mexico's Lobos Stadium, and this beautiful little jewel offers a spectacular view of the majestic Sandia Mountains in the background, reminiscent of the beautiful ballpark in Salt Lake City. There was absolutely nothing that I didn't like about this ballpark. Some of its best features are: great concessions (The Sweet Spot and More;
<![if !vml]>
<![endif]>
the Pecos River Café; We're Bananas; and lots more); cold Dos Eckes and Tecate on tap; a multi-tiered cheap seat berm area in right field, with kiddie rides and all kinds of family-friendly features behind it; a big, bright, colorful scoreboard; irregular outfield dimensions, 400 feet to dead center, but 428 feet to deep right center and deep left center, due to an unusual configuration; terrific organ music (can't believe I'm saying that); fan-friendly music, games, contests and such; and of course, a madcap monstrosity of a team mascot by the name of "Orbit" (see pictures below), which McBlunder would absolutely love to hate.
<![if !vml]>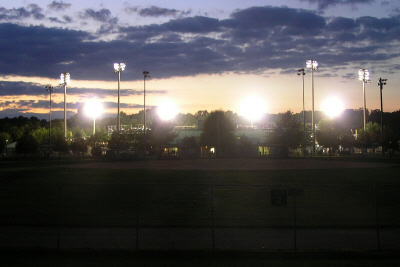 <![endif]> <![if !vml]>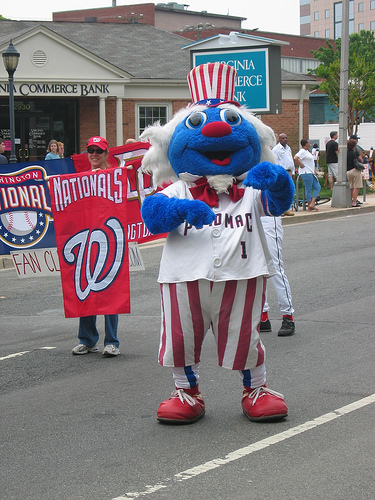 <![endif]>
Triple A baseball in Albuquerque has a rich and long history, mostly through its long-time affiliation with the Los Angeles Dodgers. For many years, the Albuquerque franchise went by the team name of the "Dukes," until being renamed the Isotopes in 2003 after fan voting elected to take this name from the fictional "Springfield Isotopes" of The Simpsons fame. After being connected with another major league team for most of the past ten years or so, the Isotopes once again became affiliated with the Los Angeles Dodgers in 2009.
Tommy Lasorda managed in Albuquerque prior to taking the helm in Los Angeles. Numerous future Dodger stars (Ron Cey, Steve Garvey, Bill Russell, Mike Marshall) made their way through Albuquerque before starring in Los Angeles. Mike Marshall was a three-time PCL MVP while playing for the Albuquerque Dukes, including his Triple Crown year in 1981. Many people consider the 1981 Albuquerque Dukes the greatest minor league team of all time.
Anyway, if you ever get the chance to visit Isotopes Park, I highly encourage you to do so.
~~~~~
<![if !vml]>

<![endif]>
Being the church-going types that we are, our golfing quartet attended Saturday afternoon services at the beautiful Green Cathedral known as Scottsdale Stadium, where the hometown Giants took on the visiting Padres' spring squad. Amidst a packed house of sun-drenched baseball fans and surgically enhanced young women
| | |
| --- | --- |
| <![if !vml]><![endif]> | <![if !vml]><![endif]> |
| | |
| --- | --- |
| <![if !vml]><![endif]> | <![if !vml]><![endif]> |
looking for future major league husbands or presently-wealthy baseball sugar daddies, we had a great time watching Cactus League baseball in this beautiful jewel of a stadium. As Itchie talked shop with his autograph stalker Coleman buddy, B.T. and I reminisced about an earlier visit to Scottsdale Stadium, when a screaming missile of a foul ball split the distance between his melon and Underbelly's grape and plunked an old boy sitting behind us with a sickening thud, fracturing at least two or three ribs. We all sipped slowly (not really) on our first-ever eleven-dollar beers (hey, I'll get this round, I've got a fifty right here), and B.T. discovered the Scottsdale Stadium All-That-You-Can-Eat-In-A-Box China Buffet, tearing into his pillow-sized carton of oriental goodies like an emaciated G.I. just rescued off of the Bataan Death March. Don't get cheated, Rommel. All in all, a fantastic day to be alive.
<![if !vml]>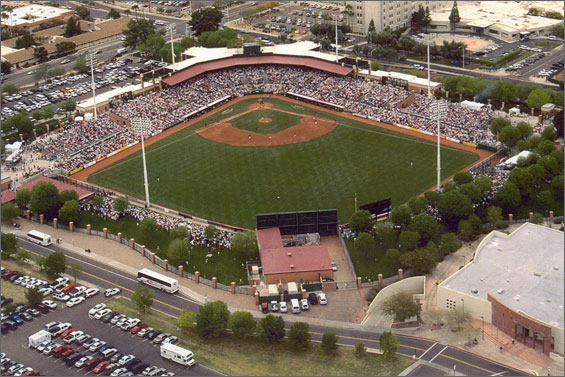 <![endif]>
~~~~~
MEANWHILE, OVER IN THE GRAPEFRUIT LEAGUE
As if my four days in the Valley of the Sun weren't enough to make it a great week, the rigors of my law practice called me down here to Florida for Wednesday and Thursday of this week, for the purpose of taking the deposition of Grant Balfour—currently a pitcher for the Tampa Bay Rays, but in 2007 a member of the Nashville Sounds, and the pitcher who threw a warm-up pitch in the visitors bullpen at Rosenblatt which eluded the bullpen catcher and doinked a fan in nearby Section 11. As the defender of the Omaha Royals, and indeed of the concept of open-air baseball without a protective netting around the entire ballpark, I was compelled to travel to Port Charlotte to defend the deposition of Mr. Balfour taken by the attorney for the injured fan. While some slackers might have thought it good enough to simply attend this deposition by telephone, in my ceaseless quest for justice and civil liberty I felt it my clear duty to make the sacrifice and travel to southwest Florida for the deposition.
FIRST STOP, McKECHNIE FIELD
<![if !vml]>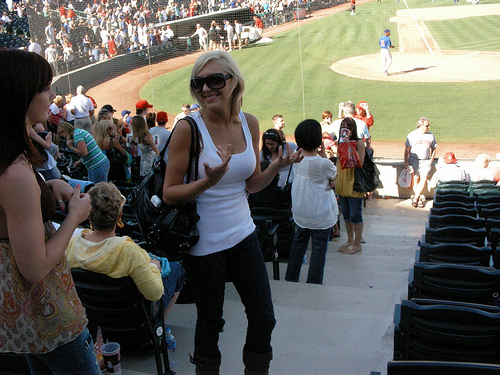 <![endif]>
After flying into Tampa on Wednesday morning, my rental car, as if pre-programmed, drove itself straight into Bradenton, Florida, hometown of former Husker Tommy Frazier and the spring training site since 1969 of my beloved Pittsburgh Pirates. McKechnie Field, the beautiful baseball-bauble shown above, has hosted baseball since 1923, and was completely rebuilt in 1993.
With a near-capacity crowd on hand to watch the Pirates' contest against the Minnesota Twins, I settled into my bleacher seat amongst the sun-splashed Pirate and Twin faithful. As I scanned the ballpark to take in the glorious sights and sounds, I immediately noticed a stark contrast between the fans at McKechnie Field and the gathering that I witnessed at Scottsdale Stadium last Saturday afternoon: These Florida fans were mostly old, wrinkled, deeply tanned and apparently quite comfortable in their own skin, as opposed to the much younger, neo-affluent, narcissistic, hyper-augmented Scottsdale Stadium attendees.
<![if !vml]>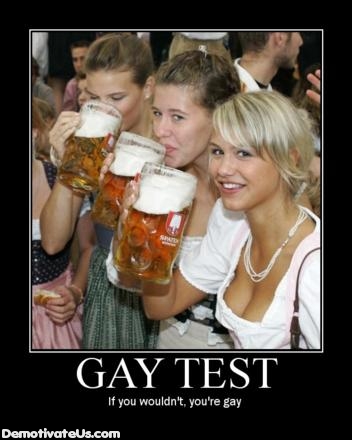 <![endif]>
It was Old School fans versus See-and-Be-Seen Pseudo fans, a Cocoon showing versus the Nip-and-Tuck generation. In about twenty more years, when he is properly seasoned and grizzled, B.T. in his Rommel chapeau and a wrinkled, too-big shirt with a mustard stain on the collar, will fit hand-in-glove with the McKechnie Field faithful.
<![if !vml]>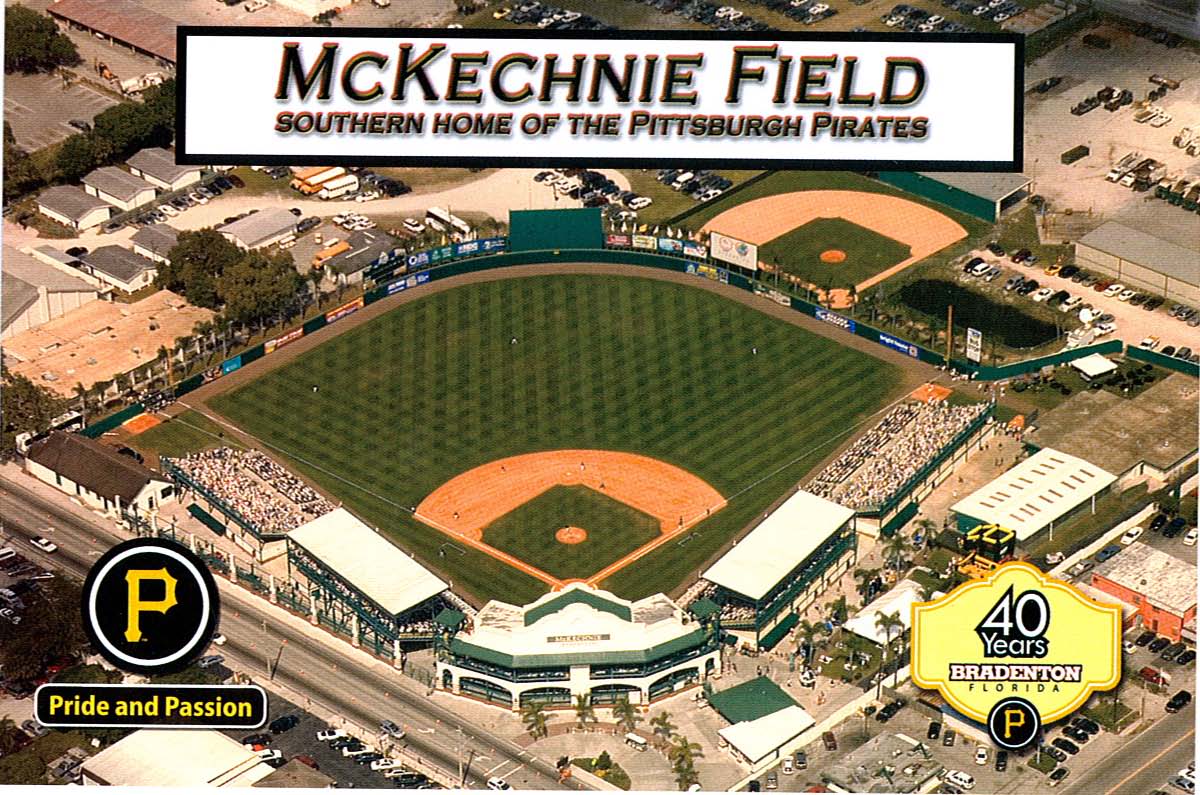 <![endif]>
After savoring a frosty ale and a bag of salted nuts and five innings of splendor in the warm Bradenton sun, I bade a fond farewell to McKechnie Field and its Chamber of Commerce-friendly gate attendants (average age approximately 80) and hopped into my car for the forty-five minute drive to Port Charlotte. I hoped to catch the last few innings of the Tampa Bay Rays vs. Cincinnati Reds game at the Rays' new spring training facility (Charlotte Sports Park, also the new home of the minor league Charlotte StoneCrabs) and especially that I might get to see that evening's deponent take the hill for an inning or two. Just as I walked into Charlotte Sports Park before the start of the eighth inning, the P.A. announced that No. 50, the aforementioned Grant Balfour, was about to take the mound for the Rays. I quickly hustled inside and found a choice empty seat right behind home plate and just in front of five crusty, 60-ish female Cincinnati Reds fanatics, and settled in to watch Balfour retire the side in order, the final two hitters by strikeout. Mission accomplished. I stuck around for the rest of the game, won by Tampa Bay by the score of 7-3, and after picking up a couple of souvenir baseballs for Joe and Will, it was back in the car and down the road a bit to the Holiday Inn Express for Mr. Balfour's deposition.
~~~~~
FIVE COUNTY STADIUM, ZEBULON, NORTH CAROLINA
I had a great trip to North Carolina on Monday and Tuesday, including a visit to Duke University and to Five County ballpark in Zebulon, North Carolina, home of the Carolina Mudcats, a Double-A franchise of the Florida Marlins in the Southern League. If you ever get a chance to go to Five County Stadium, take it.
<![if !vml]>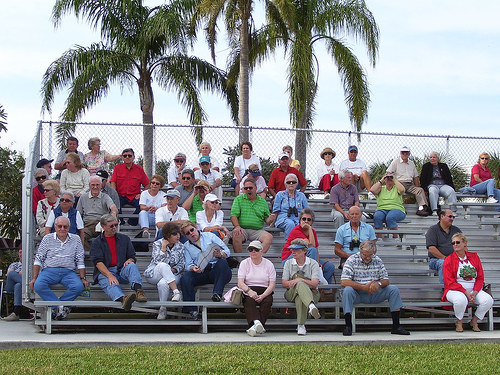 <![endif]>
<![if !vml]>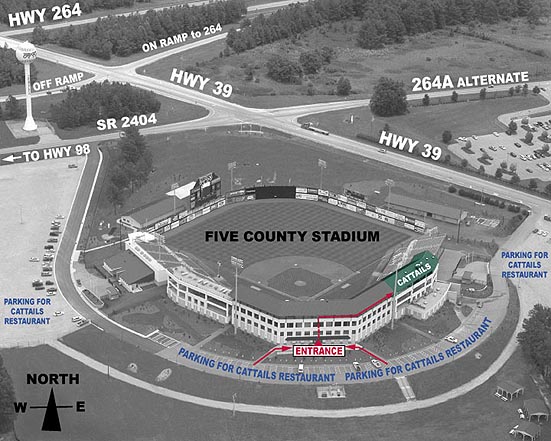 <![endif]>
<![if !vml]>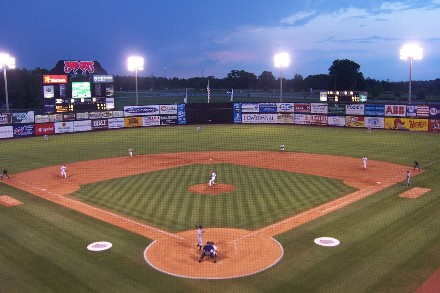 <![endif]>
<![if !vml]>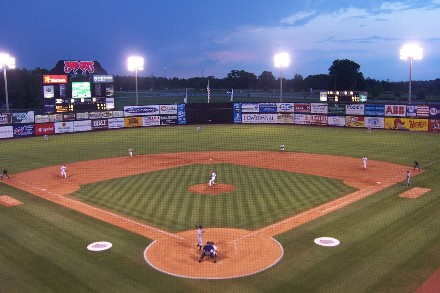 <![endif]>
<![if !vml]>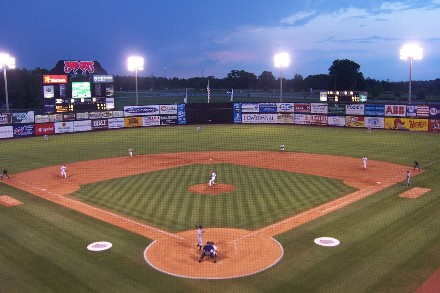 <![endif]>
<![if !vml]>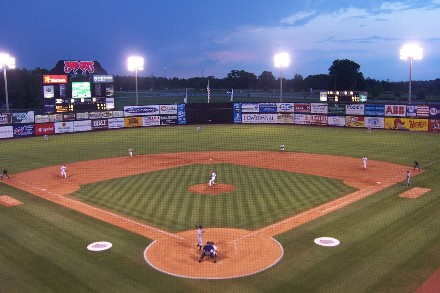 <![endif]>
<![if !vml]>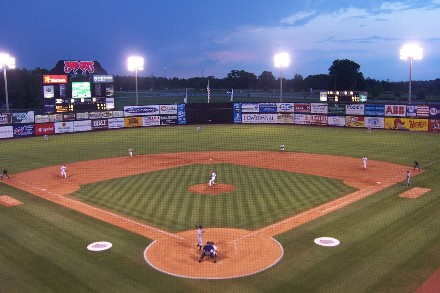 <![endif]>
It is a beautiful and quaint little ballpark that was built specifically for the Mudcats, and hence has a decidedly fishy theme (i.e., Cattails Restaurant, "catfish on a stick," etc.). Most intriguing to me was the team mascot, "Muddy," a five-foot tall playful and mischievous catfish who tools around the ballpark on an ATV, pranking umpires, players and fans alike.
HEEEEEEEEEERE'S MUDDY!
<![if !vml]>

<![endif]>
People who really love mascots, such as Stretch, can even sign up to be a "Muddy Buddy," which would be a feather in anyone's cap.
Anyway, although it was colder in Zebulon than the Omaha I left behind, I stayed warm in my new Mudcats jacket and watched the Mudcats dig themselves deep (6-0) into a hole against the Chattanooga Lookouts (Reds) before rallying in the 7th and 8th innings to take a 9-7 win. I was able to see former Senator draft pick Cameron Maybin patrol center field for the Mudcats, but after a pitiable performance at the plate, I can understand why he was sent down by the parent club for more seasoning at Double-A. Still, Maybin figures to be an MLB star of the future.
Walking up to the gate at game time, for ten bucks I was able to secure a seat behind home plate that was closer to home plate than is the pitcher's mound. I loved looking at the program and trying to spot some ex-major leaguer who is now coaching for these minor league teams. There always seems to be a spot for an ex-major leaguer. At this game, I found former White Sox pitcher Chris Bosio listed as the pitching coach for the Mudcats. There were probably others, but Bosio was the only one that I recognized.
The best part of the game, though, was watching the Mudcats pitcher, Aaron Thompson, a tall and rangy lefty who reminded me of "Meat," the character played by Tim Robbins in Bull Durham. In the first couple of innings, when he was mostly winning the pitching battles, he was stomping around the mound like a cocky rooster. However, when he started to tire and the visiting Lookouts started to smoke his "meat" pitches all over the ballpark, he began talking to himself and pulling his hat down over his eyes and generally losing the battle to stay focused on his pitching. After getting severely tattooed by the Lookouts, he left the game after 5 innings down 6-1, and looked to be the sure loser until the Mudcats forged their nifty comeback.
One of these days we need to steer our HSL trip over to a Double-A baseball game. There's nothing like sitting in the third row behind home plate and watching these young players before they become spoiled multimillionaires.
~~~~~
<![if !vml]>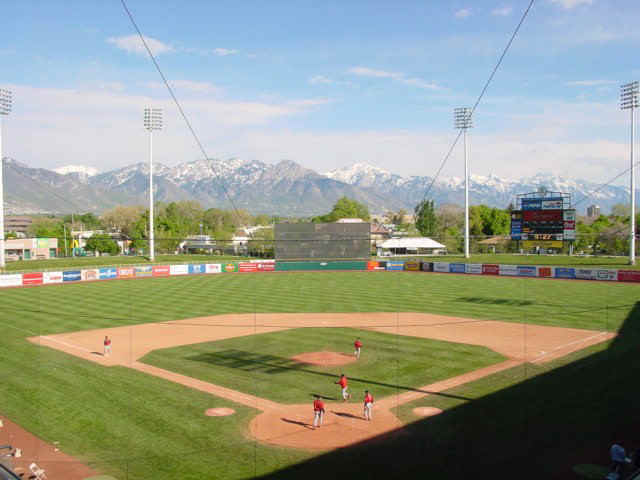 <![endif]>
Although my baseball administration duties have kept me chained up close to home these past few months, I had to venture down to Wichita for the deposition of an accident reconstruction expert (read: prostitute) two weeks before last. To my great good fortune, the AA farm club of the Omaha Royals -- the Wichita Wranglers -- was in town for a game, and the white-haired stadium in which they play, Lawrence-Dumont Stadium, was just a quick walk over the Arkansas River from my downtown hotel. To my delight, I learned that it was "5-dollar ticket" night at the ballpark, in which all seats to the game were priced at only half a sawbuck. My crispy green Abe Lincoln got me a seat on the aisle a mere four rows behind the home dugout on the third base side, no better place in the galaxy to watch a game.
<![if !vml]>
<![endif]>

I settled into my seat behind an amiable albeit moderately tattooed cluster of dedicated Wrangler fans. Being the open-minded chap that I am (hey! suppress that scoff, mister!), I disallowed the charming body ink to color my perception of these fine local denizens, remembering that one should never judge a book by its cover. At the same time, I wondered to myself how many shots of tequila must have been involved in making some very questionable ornamentation decisions.
Lawrence-Dumont Stadium is a darned good place to watch a baseball game. Although the infield playing surface is curiously composed of Astroturf -- which added nothing to the ambience -- the ballpark offers a charming view of the Wichita skyline, which is nothing to write home about, but pleasant enough. The scoreboard is old style, sans jumbotron and blaring rap music. The cleverly-named seating sections in the stadium offer "Marshall," "Sheriff," "Deputy," and "Outlaw" game seats. Or, if one is particularly adventuresome, he or she can watch the game from the "Sunset Saloon," featuring seating for 180 fans in front of the visitor's bullpen down the right field line. If only the Omaha Royals had this kind of crackerjack marketing plan, they wouldn't have to think about replacing Rosenblatt.
My program informed me that Lawrence-Dumont Stadium was built in 1934 to play host to the National Baseball Congress World Series, which continues to be an annual event at this ballpark. The park was originally named for Robert Lawrence, an influential former Wichita mayor and civic leader. Hap Dumont, the founder of the NBC tournament, was added to the marquee in 1972. The ballpark seats 6,111 fans, but if there were 300 people in attendance on the evening of May 30, I would be surprised. Lawrence-Dumont Stadium is currently the 7th oldest ballpark in use in all of professional baseball. Which makes one wonder, what are the six ballparks that are older?
As the game start time neared, the National Anthem was sung by the gaily-festooned Air Capital Quartet, a cheerful band of aging baby boomers who knocked the socks off of the small but vocal throng in attendance with their harmonic rendition of baseball's greatest song. And with that, the game was under way.
Unfortunately for the hometown faithful, the woeful Wranglers were pummeled by the visiting Frisco Roughriders, dropping their record to 22 and 30 and sinking them lower into the Texas league standings. Inasmuch as this will be the Wranglers' last season in Wichita -- they are moving next year to the Bentonville, Arkansas area, where they will no doubt be renamed the Wal-Mart Mega-Merchandisers, or something similar -- this is not the way that the Wrangler faithful had hopes to finish their stay in Wichita.
Knowing of his love of wacky sports mascots, I heartily encourage our beloved Brother McBlunder to attend a Wranglers game before the end of this season, if for no other reason than to be able to set his eyes on Wilbur the Wrangler, a Mr. Ed look-alike who added great joy and frivolity to all in attendance on this magical evening. As I learned throughout the course of the evening, Wilbur is a bodaciously mischievous but lovable horse-like mascot whose madcap antics included "sneaking" out onto the playing surface and whipping the crowd into a lather by holding up a homemade sign which encouraged the rabid throng of attendees to chant, "Swing, batter, swing!" What will these crazy mascots come up with next?
And if that wasn't enough, in the top of the 8th, who should show up at the ballpark but the "Garbage Gremlin," encouraging all good little ballpark boys and girls to "clean up their litter" and to make the place tidy for the following evening's game.
And if I forgot to mention it, one of the whimsical features of baseball at Lawrence-Dumont Stadium is the sound of a horse whinny (no doubt that of Wilbur) whenever a foul ball hits the press box or comes in close proximity to it. Nice touch.
The World Baseball Congress has its own remarkable history, which is detailed in numerous places in the concourse. For example, Joe Garagiola played at this stadium during WW II, when he was stationed at an army base in Wichita as an 18-year-old. More recently, Barry Bonds, Rafael Palmeiro and Pete Incaviglia all played at Lawrence-Dumont Stadium as members of the same baseball team, participating in the 1982 (if memory serves) WCBC National tournament. Oddly enough, this talent-laden team did not even make it to the championship game that year.
And so on and so forth. I also learned that when the WBC hosts its national tournament in August, covering a 10-day time frame, the participant teams play around the clock during the concluding weekend of the tournament. Imagine playing your way through the losers bracket with a 4 a.m. start time! One of these days, I suggest that we load up the mobile sewage treatment plant and head the gang south to Wichita to attend this history-rich event.
~~~~~
During our family vacation, we took a drive to Sacramento and we had an opportunity to take in a minor league baseball game between the Sacramento River Cats, a Triple A farm club of the Oakland A's, and the Colorado Sky Sox, the top farm club of the Colorado Rockies. The game was played at Raley's Field, which is no great work of architectural wonder, but we did have a chance to see former Husker great Shane Komine pitch his final game for the River Cats before being called up to the Majors for his debut on July 30. Komine had a perfect game going through the first three or four innings, before giving up a blooper single to center field. He ended up pitching a gem of a game, going 8 innings and giving up 4 hits, while striking out 9 and walking not a single man. He has definitely put on a few pounds, and looks ready to begin a nice major league career. Had we known that he was going to debut in Oakland on Sunday, we probably would have made the drive to the Bay area that day to see him pitch, but I didn't know about this until seeing the news that evening.
Also playing for the River Cats that day was former Husker hitting great Dan Johnson, who had been recently demoted by the parent club. With three hearty Husker fans there to cheer him on, Johnson smashed out a monster home run to right field that may still be bouncing in the parking lot, having cleared the fence by about 60 to 70 feet. As Possum might say, "The boy can 'rake.'"
One final comment from this game in Sacramento. I noticed right away that the Sacramento catcher had about the biggest posterior and thickest chassis that I have ever seen on a baseball player, and I even pointed this out to the boys before I noticed in the program that his name was Jeremy Brown. I then remembered reading about Billy Bean drafting a big, slow-footed catcher from Alabama in the classic work "Money Ball." Sure enough, they are one and the same. As I remember it, he was drafted by Bean because he had a very high on-base percentage, in spite of the fact that he has a very ugly, nonathletic-appearing physique. At the time of our game in Sacramento, Brown was only hitting about .240 or so, and his on-base percentage wasn't published in my program, but I am guessing that he has been able to earn a lot of free passes. It will be interesting to see if he makes it up to the parent club and has any impact.
~~~~~
On Monday afternoon, after finishing with my deposition preparation sessions in Solon, Ohio, an eastern suburb of Cleveland, I drove down Highway 9 to Akron, Ohio, to catch a AA baseball game between the Akron Aeros and the Altoona Curve, a farm club of the Pittsburgh Pirates. Had the Cleveland Indians not been away on a long road trip, I would have taken in a game or two at Jacobs Field, but since this was not an option, Akron turned out to be a pretty good alternative. While it is always a thrill to see a major league baseball game when I am in a major league city, I have recently found that attending minor league baseball games can be every bit as enjoyable, and certainly a much more intimate experience.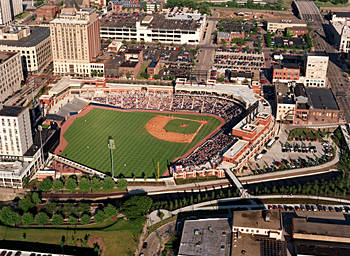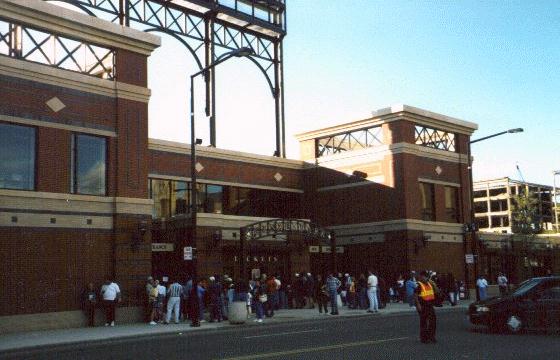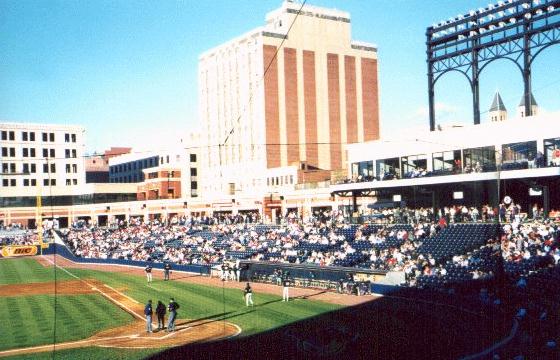 The Aeros play in a beautiful little jewel of a stadium known as Canal Park, located in the heart of downtown Akron. One of the coolest things about this ballpark is that it is located right next to a children's hospital, and it looks like there must be 30 or 40 patient rooms which look out onto the field and which seem to afford a good view of the game to ailing children. On the opposite side, just outside the right field fence, there is a restaurant and bar which offers an enticing target to a left-handed pull hitter. I imagine that a few dinners and cocktail parties on the terrace have experienced the thrill of a ball being hit into their vicinity.
For a mere ten bucks, I had a terrific seat between home plate and third base, thankfully in the shade on this 95-degree evening. I shared the ballpark with several thousand participants and spectators of the National Soap Box Derby championship, which apparently is a fixture in Akron. Together we saw the hometown Aeros pummel the visiting Curve by a score of 7-1, featuring a grand slam by a promising young Aero named Kevin Kouzmanoff. I expect that he will be playing with the parent club -- the Cleveland Indians -- later this season when the major league teams expand their rosters, or at some point within the next couple of years. One of the side benefits of watching minor league baseball is seeing the future stars of the game before they hit it big.
~~~~~
A MORE CONVENIENT TRUTH: SALT LAKE CITY
No sooner had I landed home in Omaha from St. Louis than I had to pack for my next day's trip to Salt Lake City for a couple of depositions. Justice knows no state borders. After finishing up official business in Park City on a beautiful Monday, I checked the local paper and learned that the Salt Lake City Bees, the Triple A farm club for the Los Angeles Angels, were hosting the Las Vegas 51s at Franklin Covey Field. So, lo and behold, my night's entertainment was laid out before me.
When I arrived at the ballpark, about a mile due south of downtown Salt Lake, I saw what Rosenblatt Stadium once was and could be again: a beehive of activity, bustling with excited fans eagerly anticipating an evening of great minor league baseball and camaraderie. A sawbuck purchased a box seat directly behind the Bees' dugout, where I immediately spotted Nuke LaLouche -- I mean Jered Weaver, freshly sent down from the parent club for more seasoning. Seeing Weaver and several other fuzz-faced teammates standing up in the dugout and eagerly leaning over the rail to watch the start of the game was a breath of fresh air, particularly when contrasted with the bored complacency of certain unnamed veteran major leaguers. The truth is, I knew immediately that I was in for a special evening.
The game was a smorgasbord of sights, sounds, and smells, flooding the senses. The 51s had a big ol' lefty on the mound, whose name I didn't catch, but his batterymate was a young Hispanic named Dinor Navarro, whose batting average that night dipped from .045 to .042 (truly), but who is obviously on the team because he has a rocket launcher for a right arm, gunning out several would-be base-stealing Bees. The 51s also featured a hot-headed and erratic right-fielder by the name of Delwyn Young, whose play in right field can best be described as Lonnie Smith-like. Delwyn, who may or may not be related to Dmitri and the other mendacious Young, looked like he was on roller skates as he moved across the outfield trying to rendezvous with fly balls in his zone of responsibility. More than once when he realized that his mental vector diagram was off course, he started flapping his wings like a frenzied hummingbird as he attempted to shift directions to meet up with the white sphere, ultimately using his left arm to stab into the air like an errant knight to spear the ball. Some of the ugliest outs imaginable. Lonnie would look downright fluid alongside Delwyn.
Howie Kendrick, the Bees' second baseman, made some of the loudest outs in memory as he watched his still-glistening batting average drop from .402 to .398. With Howie's superlative batting average, his power, his speed and his prowess as a member of the keystone combination, it is hard to imagine why this guy isn't in the Bigs. It's not like the Angels have Rogers Hornsby or Eddie Collins playing at the second sack spot or anything.
Any one of you would have enjoyed watching Bees Coach Eppard, No. 10, a grizzled veteran baseball man, manning the box at first base, stopwatch in hand to time the throws, something sage to say to each and every Bees baserunner. I'd like nothing more than to sit down and have a cup of coffee, or better yet, a tall mug of cold beer, with Coach Eppard, to ask him a hundred questions about his career in baseball.
There was so much to like about this night at the ballpark that I can't even begin to capture it in words, but I'll try anyway: The Bees' pitcher, Dustin Mosley, with his rocking-chair, fast-pitch softball pitcher windup, gritting it out for a complete game victory; the organist playing "Ooh, What a Lucky Man He Was," when an opposing player rapped out a base hit, or "These Boots Are Made For Walking" when a player got a free pass; the perpetually happy Bumblebee mascot (Stretch would not be pleased) cruising around the field in his ATV, whipping the park youth into a frenzied lather; fresh, salty peanuts from local legendary vendor Western Nuts; the wholesome Utah Dairy Queen (no kidding) working the crowd, giving autographs; the educated Bees fans voting Yogi Berra as the most popular Salt Lake City minor leaguer ever, besting David Ortiz, Mickey Rivers, and former Bronx Bomber Tony Lazzeri; the Del Taco logo on the home and away batting circles; the "Injured? Go with the big hitter 1-801-ITS-EASY Keith Barton" lawyer advertisement adorning (putrefying) the top of the home dugout; the nubile young Honey Bees working the crowd, tossing Frisbees and tee-shirts, spreading enormous cheer and good will; the big tough Utah rancher sitting a few rows in front of me, with his finely waxed handlebar mustache and fingers the size of polish dogs, affectionately patting his red-headed pre-teen son on the back, sharing the bond of baseball; seeing 95%-deaf Curtis Pride, No. 19, veteran of many major and minor league campaigns, poised in the dugout and ready to be sent in if called upon by his manager, in this the last of his remarkable career. I'd love to be there when the crowd rises as one to applaud his legacy when he takes the field for the final time.
And perhaps best of all, this splendid day at the park blessed me with a million dollar view of the spectacular Wasatch mountain range to the east, framed perfectly by the ballpark architects, so beautiful that you just didn't want to stop looking at it to watch the game. Heaven on Earth, right here at the ballpark.
<![if !vml]>
<![endif]>
If any of you ever have the opportunity, I heartily recommend a trip to Franklin Covey Field in Salt Lake to see a minor league game. You will not regret it.
~~~~~
GREENVILLE, NORTH CAROLINA: RESTING PLACE OF JOE JACKSON
Today and yesterday I had the good fortune of being able to visit Greenville, North Carolina, the resting place of Shoeless Joe Jackson, the famous--some would say infamous--major league baseball star for whom Joe Jackson Ernst is named. Shoeless Joe was born near here in the little mountain town of Pickens in northwest South Carolina in 1889, and returned to this area and settled in Greenville after he was railroaded out of baseball following the 1920 season in the aftermath of the Black Sox scandal of the 1919 World Series. Even though Jackson led both teams in batting average during the 1919 World Series (.375); led his team in runs scored (5) and runs batted in (6); hit the only home run of the whole Series; even though he didn't make any errors in the field during the Series; and even though he was acquitted in the 1921 conspiracy trial, he was banished from the game by Commissioner Kenesaw Mountain Landis at the peak of his career. Moreover, Jackson has been kept out of the Major League Hall of Fame in Cooperstown because of the 1919 Series scandal, in spite of "retiring" with the third highest career batting average (.356) of all time.
Jackson used a bat called "Black Betsy" to get his many hits, and had a swing so pretty that it is said that Babe Ruth copied his swing from Shoeless Joe. Not only was Jackson a wonderful hitter, he was a swift and talented outfielder. It was said that Jackson's glove was where "triples go to die."
The town of Greenville erected a statue to Joe Jackson in the West Market area of downtown, which I visited this morning. Jackson is buried in this city as well, and there is a Joe Jackson Memorial Park, but time did not permit me to visit these two shrines. Next time, definitely. I was told that people regularly visit his place of burial and leave baseballs, letters and other memorabilia behind at his grave.
A trial deposition of Dr. James Sanders in the Estate of Daniel Messinger case brought me down to Asheville, North Carolina, yesterday. Since my flight to Asheville was scheduled to arrive there in the late afternoon, I thought that I should try to find a minor league baseball game in the area to watch, but in checking on the internet, I learned that the Asheville, N.C. Triple A team was playing on the road, as was the Knoxville, Tennessee minor league team. However, I discovered that the Greenville Braves of the AA Southern League were in town, and that Greenville was only an hour drive from Asheville, so Greenville, S.C. became my subdestination for this business trip. It was a brilliant, if seat-of-the-pants, decision.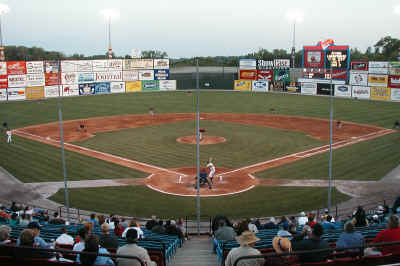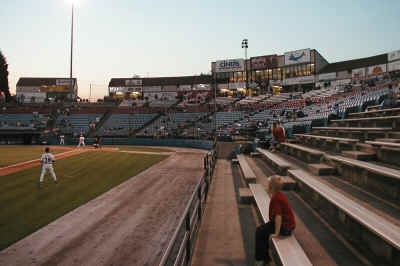 After flying into Asheville, I drove down to Greenville on Highway 25, a drive of a little over an hour. I went directly to the center of the city and found a stately old hotel, known as the Westin Poinsett. It is a beautiful old hotel that recently underwent a $25 million refurbishment, and has a great deal of character. The price wasn't bad, and they had a room at the inn for me, so I checked in and dumped off my belongings so I could head for the Greenville Municipal Stadium to see my first Double A minor league baseball game. What a terrific experience.
After arriving at the ballpark, I went up to the ticket window to see what was available. I learned that I could either put down $6.50 for a general admission ticket and sit in the bleachers, or pay a whopping $2 more and get a box seat in the front row directly behind the visitors' dugout. I paid the extra two bucks for this premium spot. One of the two young ladies in the ticket booth told me I was a dead ringer for their local weatherman on Channel 4, while her giggling friend said I looked just like the sportscaster. After debating the issue, they decided that I was a mixed breed, looking halfway like the weatherman and halfway like the sportscaster. Like almost all of the people that I have come across in North and South Carolina, these young ladies were very friendly and advanced well the notion of Southern hospitality.
Being inside the Greenville baseball park is a slice of Americana. The field is a gorgeous combination of bright green grass and the reddish-brown dirt/clay that is native to this area. The outfield fence consists of three rows of large billboards, stacked one on top of the other. There is an ad for Ingles Supermarkets on the third tier of billboards in right center field which contains a circular bull's eye, with the promise of a $1000 award if a player hits the bull's eye. The vendors sell Thomas Creek beer and Grandpa's Cajun Boiled Peanuts. The ballpark holds maybe 3000 people, and there were maybe 500 or 750 present for the game I attended.
I was going to buy a program, but the friendly lady at the concession stand handed me a free roster sheet showing the updated roster and stats of the Greenville Braves and their visiting opponents, the West Tennessee Diamond Jaxx. After grabbing a beer and some peanuts (of course), I headed down to my seat directly behind the visitors' dugout. Joe and Will would have loved being there, because there was ready and unfettered access to autographs from the visiting players, who were only an arm's length away. At the AA level, these young players are not yet spoiled or snooty and don't charge for autographs, but give them away happily and freely.
The only other person in my row was a young lady named Diane who has season tickets two seats from where I was sitting, and who keeps score of each and every inning of each and every home game. Her friend Sheila sat in the row behind us. Sheila roams the stadium during games taking pictures of the Braves' players, and then gets autographs from them. Diane, a divorced sales manager for a medical devices company, appeared to be in her late 30s, and Sheila, a mom and baseball fanatic who appeared to be in her mid-40s, are what I would call baseball "groupies," and they reminded me a lot of the movie Bull Durham, in which actress Susan Sarandon played the part of a baseball groupie who followed a team and her young baseball playing boyfriend to each and every game.
Diane was a rich source of information on the Braves, generally knowing where each player came from and was headed to; about who was hot, and who was not; about who was a promising prospect, and who was a washed up has-been; and the like. When I asked her whether the starting pitcher for the Braves, Bubba (not kidding) Nelson, was a good pitcher, her simple response was that "He's getting better." I think she just couldn't bring herself to utter any critical words about one of her "boys," even though as the game wore on it was apparent to me that Bubba isn't likely to be in the major leagues any time soon. To say the least, Diane was a well-informed fan, and it was a treat to sit near her and hear all about Southern League baseball. She invited me back to join her again for tonight's game against the Diamond Jaxx, but I told her that I had to get back to Omaha. She was pretty impressed, by the way, when I told her all about Harbor Field, and in particular, about Joe Ernst being named after Shoeless Joe Jackson.
Sheila was less knowledgeable about baseball, and seemed to be more infatuated with the players. She proudly showed off her sheet with six pictures of the pitcher from the previous night's game, Adam Wainwright, a handsome 6-foot-6, 190-pound 21-year-old who was a first round draft choice of the Braves organization in 2000. Sheila beamed as she showed us where Adam had autographed four of the six pictures that she had taken of him when she collared him at the ballpark earlier that evening.
I can't forget to mention how interesting it was to watch the batboy for the visiting Diamond Jaxx, a local lad wearing a Braves uniform who bore a striking resemblance to the banjo-playing boy from the movie Deliverance. I don't know how to describe him without sounding cruel, but he appeared to be the product of some hillbilly inbreeding. He certainly was having a good time at the game, exchanging glances, conversation and hand signals with everyone whose eyes he met in the stadium.
The Greenville Braves won the game by a score of 6 to 5, with 22-year-old pitcher Mike Nannini--just promoted from Roundrock, where he had a 7-and-10 record last year--picking up the win. Nannini started the game with five perfect innings before the Braves broke through for two runs in the bottom of the 6th. I also saw Jose "Hose" Velasquez, a 27-year-old from Guayama, Puerto Rico, hit his first home run of the season. At age 27 and still playing AA ball, Jose is probably a real long shot to make it to the major leagues.
This was my first minor league baseball game other than seeing the Triple A Omaha Royals playing at Rosenblatt. After this great experience, I am definitely planning on trying to work minor league baseball into my/our future travel plans, business and vacation.