Gentlemen,
Welcome to the 2013 guest edition of the Curbside Chronicles.

Standings
As customary, the following are the standings as of 6/18/13:
| | | |
| --- | --- | --- |
| 1. | | 5436.9 |
| 2. | | 5295.2 |
| 3. | | 5090.0 |
| 4. | | 5044.0 |
| 5. | | 5038.6 |
| 6. | | 4995.1 |
| 7. | | 4931.7 |
| 8. | | 4856.0 |
| 9. | | 4784.3 |
| 10. | | 4767.9 |
| 11. | | 4655.5 |
| 12. | | 4636.4 |
| 13. | | 4571.7 |
Jim Ed is being rewarded for his stellar efforts in securing the Porn Palace in Scottsdale for this year's draft. Jim is such a good guy that I am sure everyone is happy to see Tirebiter atop the HSL standings. Seeing Bob and Rick occupy the remaining money slots also shows that being a good guy pays off eventually.
However, in addition to being a good guy, Buser is also special because he has the dubious distinction of being a lackey for both Ernie and Scott, and also because Tirebiter is an alien…an Iowan to be exact. Iowans must be aliens because apparently there are classes which teach you to speak Iowan, as shown by this article in the Wall Street Journal.
So, Buser how's your corn and hogs and Hawks doin? Remember, as Meatloaf said, two out of three ain't bad.
History Lesson
Twenty years ago, we were "California Dreaming." Yes, it was another three-ballpark mega-trip with a 15 passenger rental van.
These are the cover pages of the programs for the games we attended: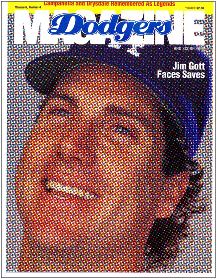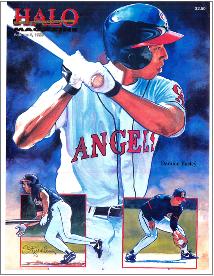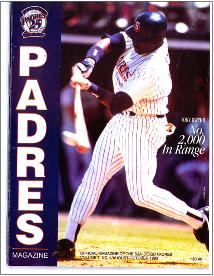 To check out Ernie's fantastic recap of these games, click here.
The '93 HSL Trip was memorable for several reasons. The top ten reasons are:
| | |
| --- | --- |
| 10 | · Mouse loses Mexican meal to Chuck |
| 9 | · Pantyhose |
| 8 | · Scratched side of van |
| 7 | · Slightly scratched roof of van |
| 6 | · Coronado Island |
| 5 | · Traffic jam |
| 4 | · "Comp-ed" ain't good nuff for me! |
| 3 | · The "Other Trip" |
| 2 | · Tall Tactician |
| 1 | · 2000th Hit |
The "Tall Tactician" bet involved Itchie and Skippy. The question was "Who was the Tall Tactician"? Skippy was certain it was Frank Chance and Itchie said it was Connie Mack. The stakes, loser pays off the mortgage on the residence of the winner. Moral of the story is either "Never bet with Itchie" or "Dave may be in error, but he is never in doubt."
The story of the bet reminded me of all the "neighborly banter" that Itchie and Ernie (aka "Cheesedick") exchanged when they lived next to each other. Using Dave's great compilation of FTB materials (Vol. I, 1986-1996), attached are some of the written exchanges between these two old neighbors. Dave, when will you release Vol. II?
Tony Gwynn's 2000th hit is rated as the number one memory because I was fortunate enough to tell Mr. Gwynn about the HSL being at the game to witness it. Like Dave, I have traveled a fair bit for my jobs. However, unlike Dave, most of my trips are not to state capitals, minor league ballparks, cushy lawyer offices in large cities or other such places. Rather, my travels usually lead me to desolate, harsh and unpleasant locales.
One such place is Imperial County, California, home of the Salton Sea, one of the most foul smelling, polluted bodies of water in the world. A place with 26% unemployment, 120 degree temperatures, fields full of 400 million tons of onions, half a million cattle on feed, and geothermal power plants. It is the filming location for the "Sand People" from Star Wars.
During the early evening of July 25, 2004, I was in the commuter terminal of the San Diego Airport, waiting to board the United Express 120 Embraer turboprop headed to Imperial Valley Airport. This is a trip I have made countless times. The boarding area was populated with the usual suspects, a couple of 60-year old hippies, a couple of local families, a couple of cowboys, about a half dozen farm workers, a smidge of this and a dash of that.
With about an hour to go before the flight, a portly fellow sat down one chair away from me. He sat there anonymously for 10 or 15 minutes before he asked me if this was the flight to Imperial Valley. When I looked up to respond, I realized Tony Freakin' Gwynn was asking me the question.
I told him that he was in the right place and asked him why on earth he was going to Imperial Valley. He laughed and said that he was attending a grand opening of a Walmart.
Tony has a .338 career BA, 3,141 hits, seven Silver Sluggers, five Gold Gloves, 15 All Star appearances and 8 batting titles!
Admittedly, Tony was not yet a HOFer, having retired only three years earlier, but still…opening a Walmart in Imperial Freakin' Valley, California?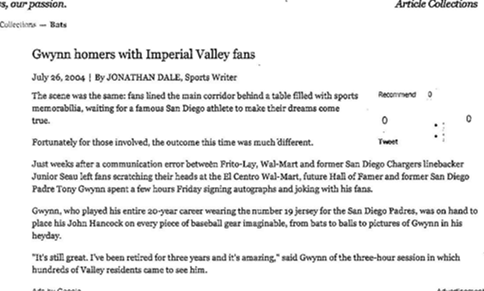 Anywho, Tony asks what is taking me to the garden spot of the desert. After a brief explanation (yes, Dave, it was brief!), I told Tony that the HSL had seen him get his 2000th hit in San Diego. He was truly amused to hear about the HSL and our tradition of baseball trips. After he asked me a couple of questions about Omaha and the HSL, I asked him if he would give me an autograph for my sons.

Tony Gwynn was very pleasant and genuine. I will always be a fan and forever remember meeting a future HOFer on the way to the IV.
Neighbors
Speaking of neighbors, my quaint subdivision is also the home base of Mike Morris. In the subdivision, we have a little neighborhood newsletter which has articles about homeowners and their children's accomplishments, new businesses in the area, reminders of upcoming events and other things of general interest to the residents of The Ridges.
In a recent edition, the newsletter touted "The Yard of the Month," congratulating Mouse on his "beautiful yard." It notes that Mouse "loves to putter in the yard and take on his own small projects." The article may give Mouse more credit than he deserves without mentioning his staff of gardeners.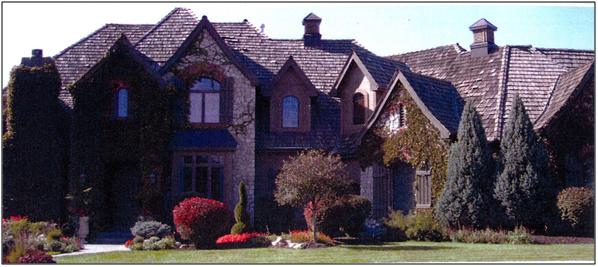 However, you can clearly see an unmistakable Mouse "project" when you view this photo: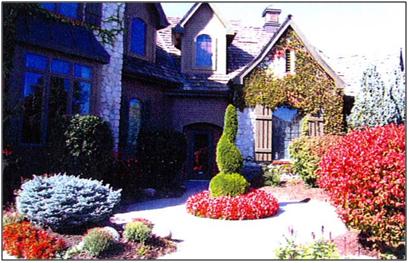 Is that an evergreen rendition of a foam finger? A deformed exclamation mark? I will leave it up to your imagination to guess what Mike was sculpting when he trimmed this bush.
Odds and Ends
· Father's Day reminded me of this great story Big Guy always tells on himself. Rick's secretary comes into his office for some routine business. After a short discussion of something business-related, she notices a picture (Karl Malden) in a frame on Big Guy's desk. She then asks Rick, "Is that your Dad?" See for yourself.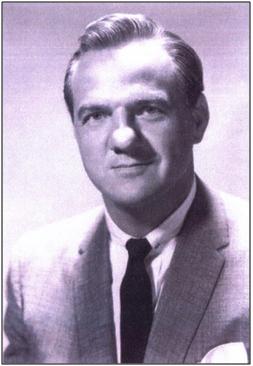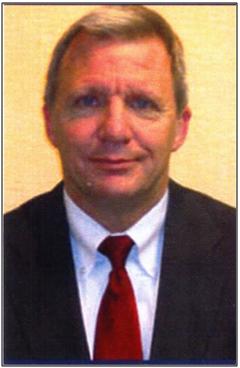 · Ted is right. Possum's mantra about hitting was legitimized by the WSJ 5/28/13: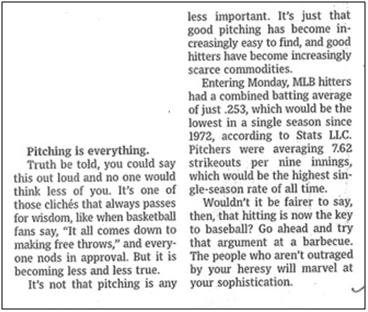 · One of the 1993 San Diego Padre games was "Padre Beach Towel" night (Chuck still has his towel). Even though these pictures were taken 20 years ago, nobody has changed:
i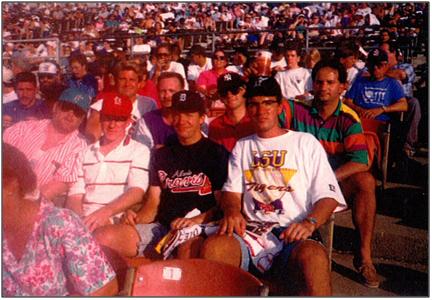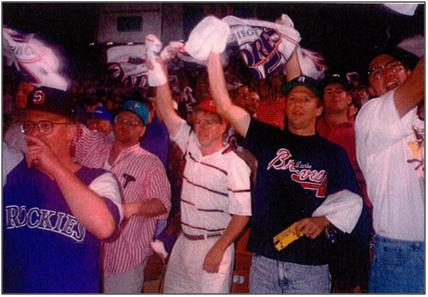 o Big Guy still should not wear hats.
o Jim Ed still has that cockeyed intoxicated look brought on by those delicious ballpark beers.
o Chuck still wears button-down shirts to ballgames.
o Mouse still travels incognito.
o Scott still has that youthful exuberance when he wins "mound ball."
o Johnny is still using "volumizing" shampoo.
o Dave still smirks before he breaks wind (notice I changed seats).
One last tidbit before the cartoons. This past Sunday, I played a golf match with a guy at Shadow Ridge as part of a club tournament. As typical, we agreed to each ask another person to play in order to fill out a foursome.
For the past three years, I have been shelling out $15-$30 each weekend during the golf season to Big Johnny because he plays 3-4 strokes under his handicap when there is money on the line (does that surprise anyone?). So, as a favor (which cost me a chicken sandwich at the turn), I asked JT to play with us. He graciously agreed. Unfortunately for my opponent, his buddy was a no-show.
God love Itchie! He had no stake in the match, but he asserted himself for my benefit in a keen, calculated and ultimately crushing manner. The other guy, Seth (name changed to protect the innocent), never knew what hit him.
Seth elected to walk while Johnny piloted me in our golf cart. At the first tee, Itchie began asking Seth all about his wife and kids. Then, all about his work history. Lo and behold, Seth was in the banking business and specialized in the credit card area. Itchie knew a little about that business, he told Seth. In fact, Big Johnny surmised correctly that Seth was part of a transaction that JT had closed with a New York bank. John reminded Seth of the "consideration" John had given to the bank executives to consummate the deal. Seth said something about a statute of limitations.
Thereafter, Johnny owned Seth. He asked Seth if he inhaled or exhaled during his backswing. JT critiqued Seth's golf swing, drove over his ball and frequently commented on how hot and humid it was that day ("You must be getting worn out carrying that heavy bag.").
In short, JT was like a surgeon, "Doctor Smoove." He removed Seth's confidence, dissected his self-esteem and carved up what remained of his focus. Dr. Smoove replaced these items with doubt, confusion and self-loathing.
By the 18th hole, Seth was a shell of a man. The same self-assured, happy golfer on the first tee was now a skittish, paranoid man barely able to swing a club. Seth was held together only by his desire to survive. It would only take one comment from Dr. Smoove to collapse this man into years of psychoanalysis.
As luck would have it, by the 18th hole, I had squandered a two-hole lead and things were even. However, I got a stroke on 18. Although I played the hole beautifully, it took me four shots to reach the green. Same for Seth. Unfortunately, Seth had a putt of 4 feet and mine was three times as long.
After hitting my putt perfectly, an unrepaired cleat mark caused my ball to barely stay out of the cup, opening the door for Seth. As Seth lined up his game-tying putt, Dr. Smoove said "Whatever you do, don't leave it short!" Seth lipped out his putt and the legend of Dr. Smoove grew bigger that day.
· Cartoons
Bob's latest idea to escape Scott's totalitarian regime fails:

Marriage Advice for Blongo: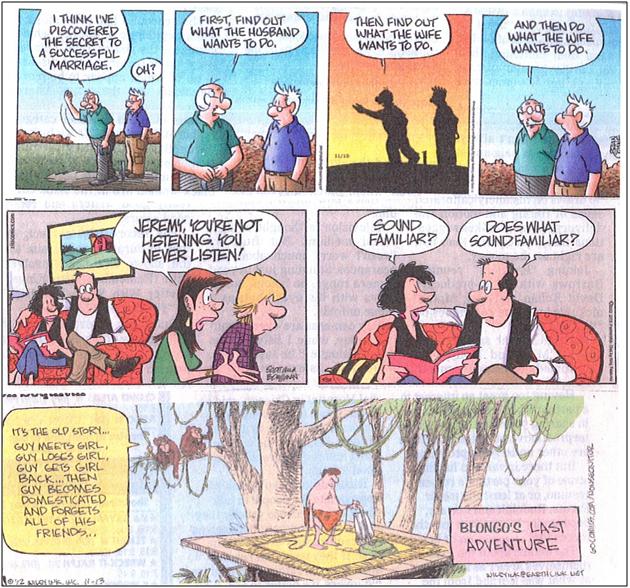 Zach's Father's Day Present to Itchie:

Linda "helps" Dave again:

Dave vs. Technology:

Retired Dave:

Jim Ed's Philosophy:

Grandson gets to know Grandpa Bob:

Caveman Blongo:

Tracy Finally Confronts Ted: