Welcome

This is the website of the Nebraska Hot Stove League, a fantasy baseball league organized in 1985, originally consisting of five teams, now composed of thirteen. This website is used to post league standings, point totals, newsletters and messages to each other.

This

season, the 35th in the storied existence of the Nebraska Hot Stove League, we honor the greatest slugger and the most iconic figure of our great American game, the one, the only, Babe Ruth.

THE CALLED SHOT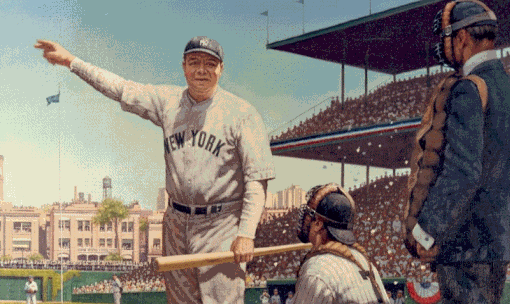 One of

the

most famous home runs in World Series history happened on Oct

ober 1, 1932, during Game 3 of the 1932 Fall Classic. It was the New York Yankees vs. the Chicago Cubs, and the Yankees won the first 2 games at Yankee Stadium. Game 3 was at Wrigley Field in Chicago.

Charlie Root was the Cubs pitcher. He would give up a

three-run homer to Babe Ruth in the first inning and a solo shot to Lou Gehrig in the third. The Cubbies would score a run in the first, two in the third and another in the fourth. So after four innings the score was tied at 4-4.

In the top of the fifth inning, Joe Sewell led off for the Yankees and grounded out to short. Up next was "The Babe" – already a larger than life

figure. As he stepped to the plate, the Cubs' bench was riding him mercilessly. Babe would yell and gesture back. With the count 2 balls and two strikes, Ruth seemed to point two fingers toward center field. Then he belted the next pitch deep in the center field seats.

This photo shows Babe Ruth after hitting that mammoth home run.
He is greeted at home plate by Lou Gehrig. Looking on is the Cubs catcher

Gabby Hartnett. Gehrig would follow with a home run, giving each player two for the day. But it was Ruth's second home run that would garner all the ink in the next day's papers.

Ruth would confirm that he did call the home run. Charlie Root would say that he was giving

two

fingers to the crowd showing he had two strikes on him and still had one left.

Decades later, people still argue whether he was pointing or not. It will always remain in baseball folklore.

https://youtu.be/HkEX0eb2eBo (3 minutes)

BABE RUTH'S (1932 WS) CALLED HOME RUN SHOT / RARE VIDEO & COMMENTARY